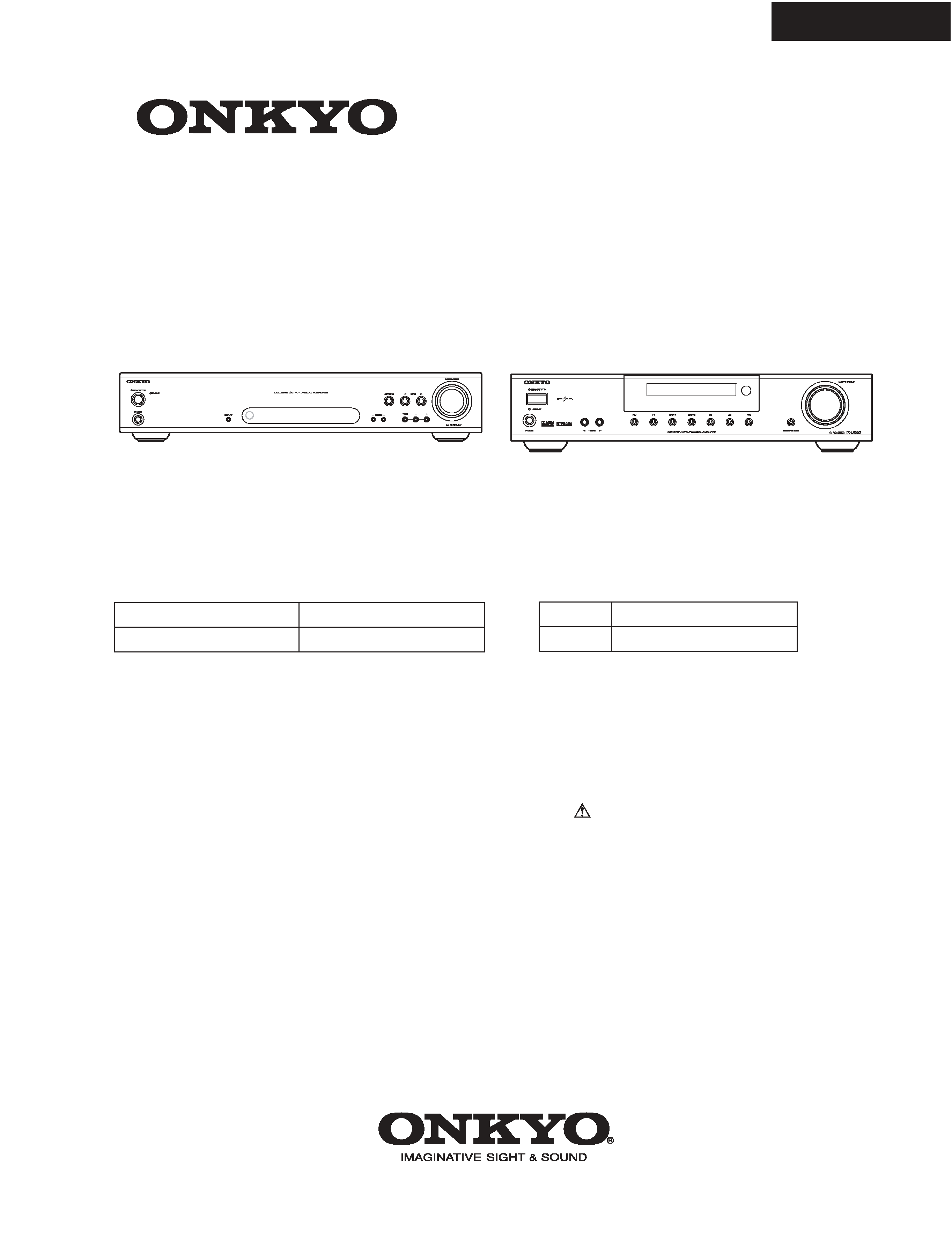 Titanium and Silver models
COMPONENTS IDENTIFIED BY MARK
SCHEMATIC DIAGRAM AND IN THE PARTS LIST ARE
CRITICAL FOR RISK OF FIRE AND ELECTRIC SHOCK.
REPLACE THESE COMPONENTS WITH ONKYO
PARTS WHOSE PART NUMBERS APPEAR AS SHOWN
MAKE LEAKAGE-CURRENT OR RESISTANCE
MEASUREMENTS TO DETERMINE THAT EXPOSED
PARTS ARE ACCEPTABLY INSULATED FROM THE
SUPPLY CIRCUIT BEFORE RETURNING THE
APPLIANCE TO THE CUSTOMER.
---

Specifications and features are subject to change without
10 Hz~60 kHz/+1.5 dB, +/-3 dB (AUX)
±12 dB, 20,000 Hz (TREBLE)
S/N ratio (Direct mode): 100 dB (AUX, IHF-A)
Input sensitivity, output
level and impedance: 1.0 Vp-p/75
(component and S-Video Y)
Tuning frequency range: 87.5~107.9 MHz
Stereo 17.2 dBf, 2.0 µV (75
Mono 11.2 dBf, 1.0 µV (75
30 Hz~15 kHz/+1 dB, Ð1 dB
Tuning frequency range: 530~1710 kHz
17-1/8" x 3-9/16" x 14-7/16"
Component video inputs:2 (COMPONENT VIDEO 1, 2)
3 (DVD, VIDEO 1, VIDEO 2)
3 (DVD, VIDEO 1, VIDEO 2)
3 (Optical 1, 2, Coaxial)
5 (AUX, VIDEO 1, VIDEO 2, TV, DVD)
---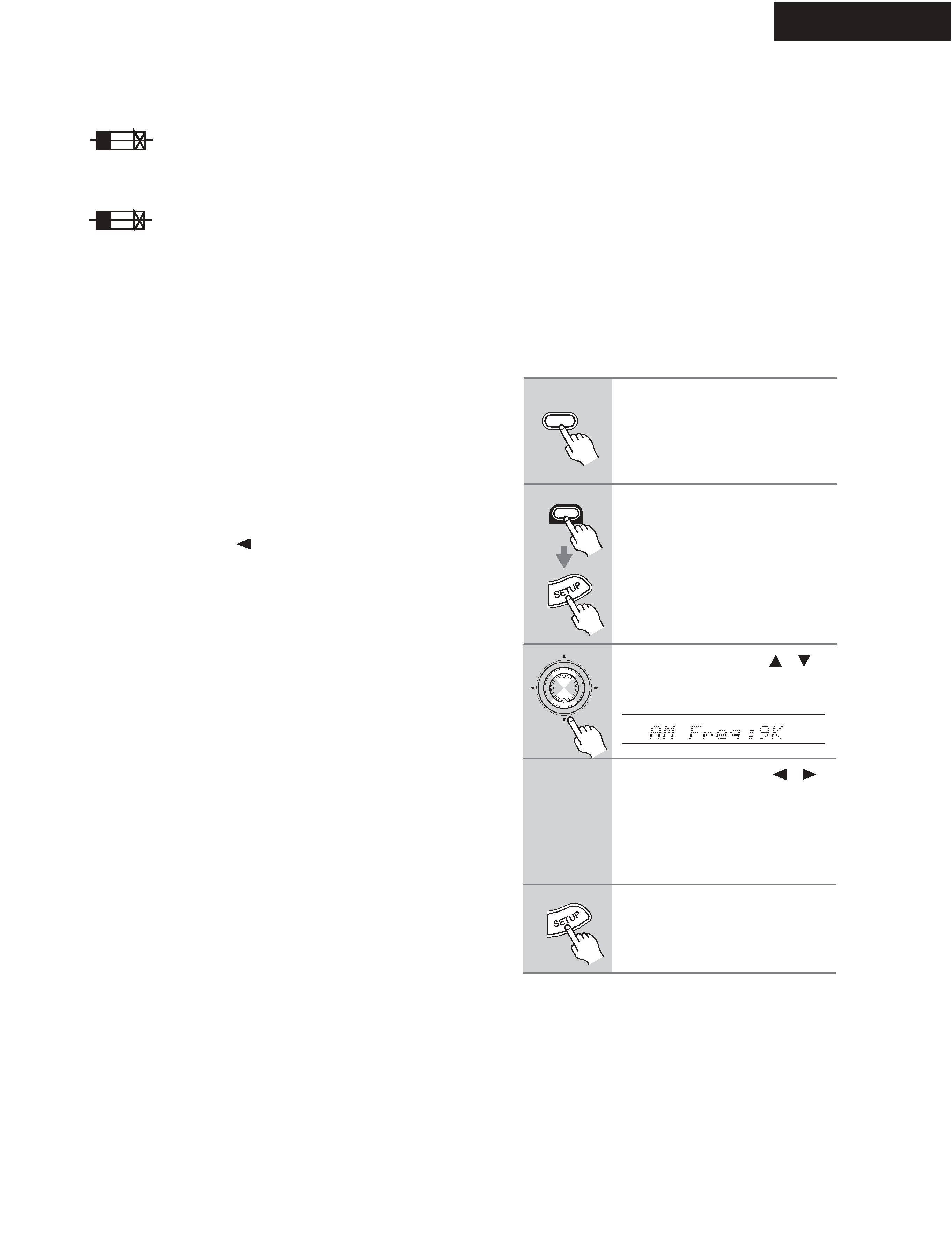 2. To initialize the unit
The TX-L55/LR552 contain a micro processor for signal processing
and control functions. In very rare situations, severe interference,
noise from an external source, or static electricity may cause it to lockup.
In the unlikely event that this happens, unplug the power cord from the
wall outlet, wait at least Þve seconds, and then plug it back in again.
After correcting the original service problem, perform the
following safety check before releasing the set to the customer.
Measure leakage current to a known earth ground(water pipe,
conduit, etc.) by connecting a leakage current tester between
the earth ground and exposed metal parts of the appliance
(input/output terminals, screwheads,metal overlays, etc.).
Plug the power supply cord directly into a 120V AC 60 Hz outlet
and turn Standby switch on. Any current meausred must not
This symbol located near the fuses indicates that the
fuse used is fast operating type. For continued protection against
fire hazard, replace with same type fuse. For fuse rating refer to
the marking adjacent to the symbol.
Ce symbole indique que le fusible utlise est a rapide.
Pour une protection permanente, n'untiliser que fusibles de
meme type. Ce darnier est la qu le present symbol est
5.Setting the AM tuning step frequency
Note: <D>:120V model only
To reset the TX-L55/LR552 to its f actor y defaults, turn it on and,
] TUNING button, press the
[STANDBY/ON] button. When the reset is complete,
"Clear" appears on the display and the TX-L55/LR552 enter
The TX-L55/LR552 use a battery-less memory backup sys-
tem (C7001) in order to retain radio presets and other settings
when it's unplugged or in the case of a po wer failure.
Although no batteries are required, it must be plugged
into an AC outlet in order to charge the backup system.
Once it has been charged, the TX-L55/LR552 will retain the
settings for several weeks, although this depends on
the environment and will be shorter in humid climates.
If you are using the Asian model, you need to set the AM
tuning interval for compatibility with AM broadcasts in
your particular country. The initial setting is 9 kHz.
Use the INPUT SELECTOR [TUN]
Press the REMOTE MODE [AMP]
button followed by the [SETUP]
All presets will be deleted when you change the AM
buttons to select Ò6.Hardware,Ó
Press the [SETUP] button.
---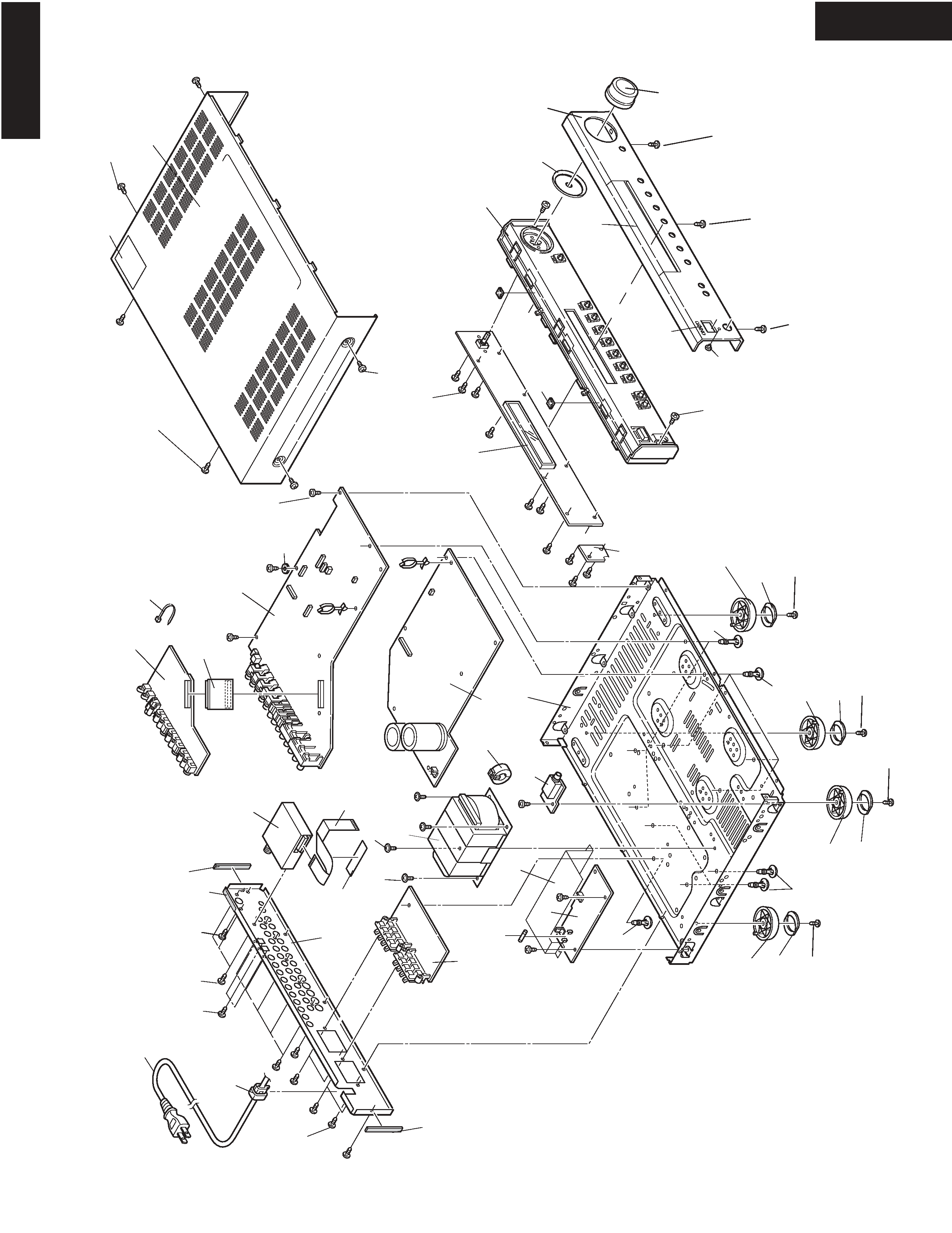 ---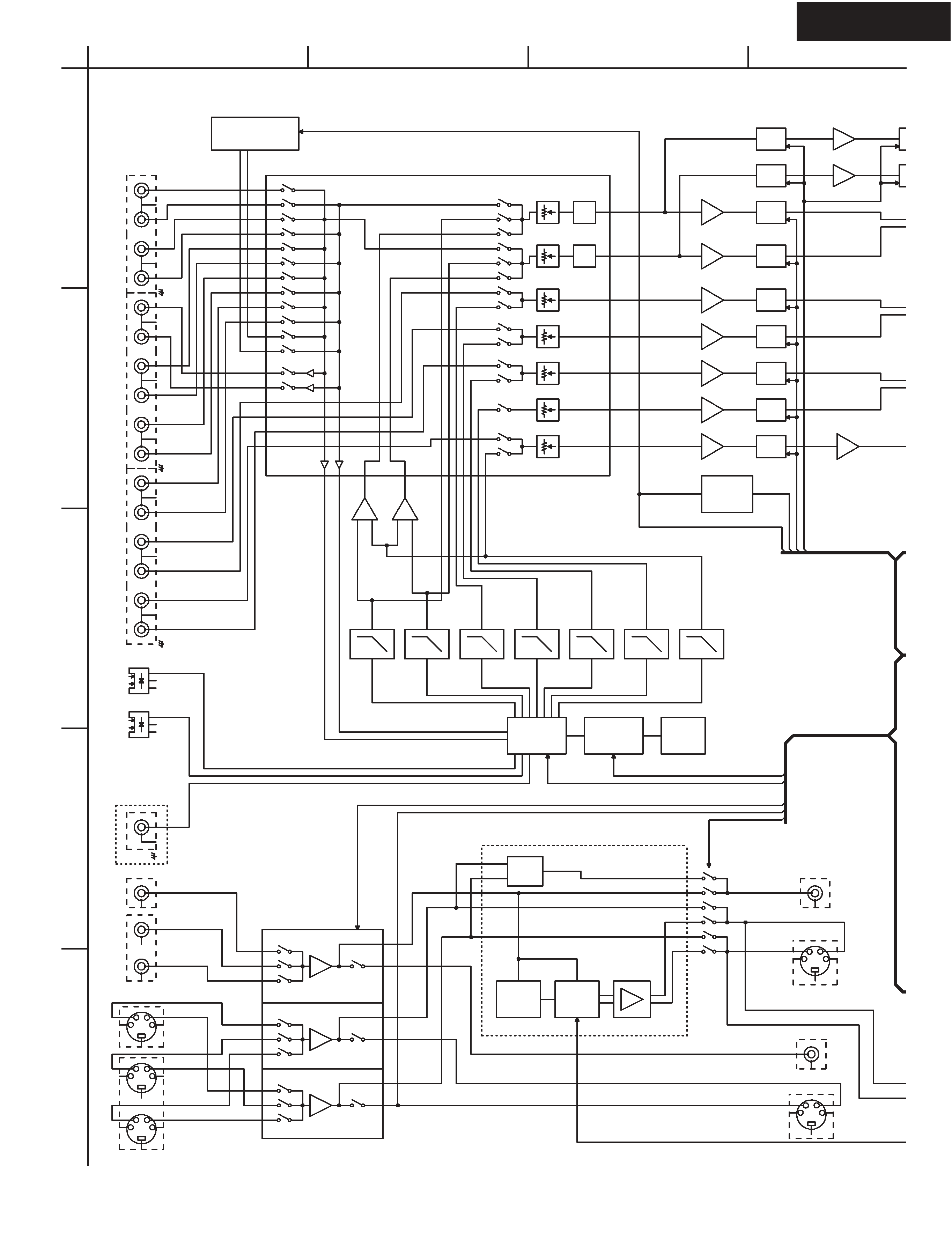 ---