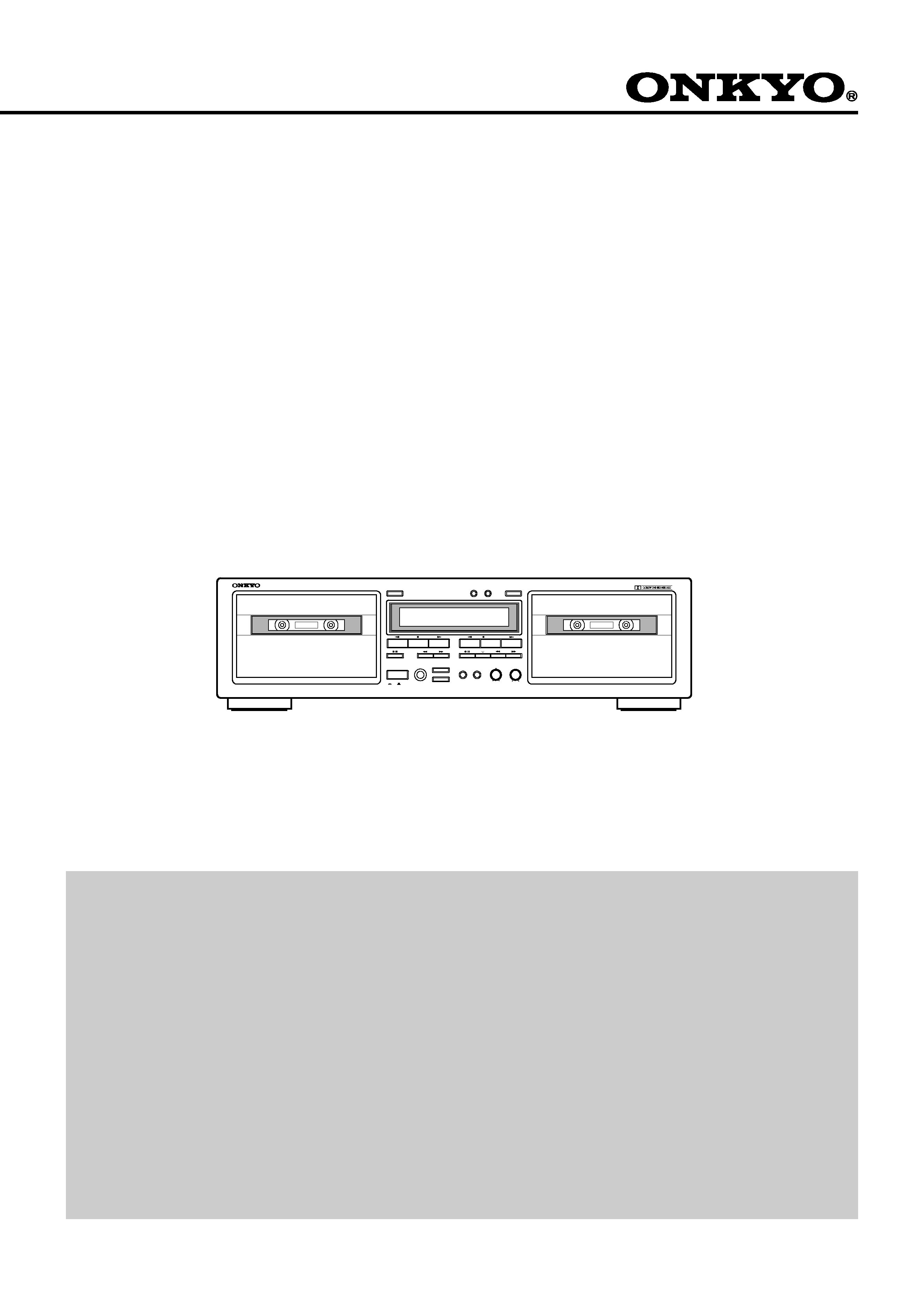 Features ................................................ 2
Important Safeguards ........................... 3
Precautions .......................................... 3
Control Positions and Names .............. 4
Setting the Voltage Selector ................ 5
System Connections ............................ 5
Power Connections .............................. 5
To Play a Tape ..................................... 6
Useful Functions Available during Playback
(TA-RW544 Only) .............................................. 7
Recording ............................................ 8
Tape Dubbing .................................... 12
Useful Recording Functions .............. 13
Making Good Sound Recordings ...... 13
Connecting ONKYO Components
for z Components ........................... 14
CD Synchro Recording System ......... 14
Reverse Mode Function ..................... 15
Handling Cassette Tapes ................... 16
Cassette Deck Maintenance ............... 17
Specifications .................................... 17
Troubleshooting Guide ...................... 18
STEREO CASSETTE TAPE DECK
---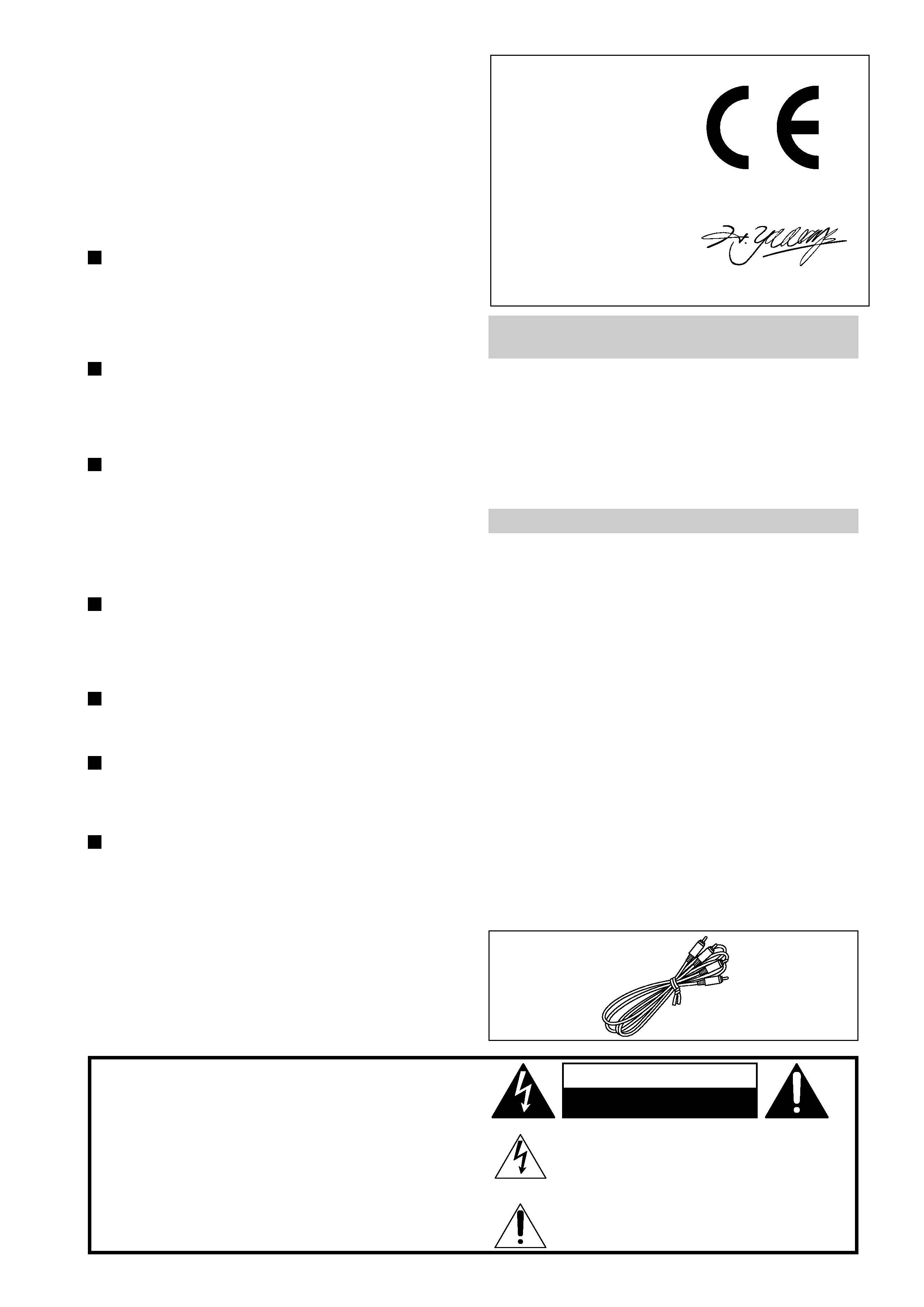 Declaration of Conformity
declare in own responsibility, that the ONKYO product described
in this instruction manual is in compliance with the corresponding
technical standards such as EN55013, EN55020, EN60555-2, -3
ONKYO EUROPE ELECTRONICS GMBH
· The lightning flash with arrowhead symbol, within an
equilateral triangle, is intended to alert the user to the
presence of uninsulated "dangerous voltage" within the
product's enclosure that may be of sufficient magni-
tude to constitute a risk of electric shock to persons.
· The exclamation point within an equilateral triangle is
intended to alert the user to the presence of important
operating and maintenance (servicing) instructions in
the literature accompanying the appliance.
"TO REDUCE THE RISK OF FIRE OR ELECTRIC
SHOCK, DO NOT EXPOSE THIS APPLIANCE TO RAIN
"TO REDUCE THE RISK OF ELECTRIC SHOCK, DO
NOT REMOVE COVER (OR BACK). NO USER-SERV-
ICEABLE PARTS INSIDE. REFER SERVICING TO
QUALIFIED SERVICE PERSONNEL."
(POUR LE MODELE CANADIEN)
· For models having a power cord with a polarized plug
CAUTION:
TO PREVENT ELECTRIC SHOCK, MATCH
WIDE BLADE OF PLUG TO WIDE SLOT, FULLY INSERT.
· Sur les modèles dont la fiche est polarisée.
ATTENTION:
POUR ÉVITER LES CHOCS
ÉLECTRIQUES, INTRODUIRE LA LAME LA PLUS LARGE
DE LA FICHE DANS LA BORNE CORRESPONDANTE DE
LA PRISE ET POUSSER JUSQ'AU FOND.
ATTENTION FOR BRITISH MODEL
· Replacement and mounting of an AC plug on the power
supply cord of this unit should be performed only by qualified
· IMPORTANT: The wires in the mains lead are coloured in
accordance with the following code:
As the colours of the wires in the mains lead of this apparatus
may not correspond with the coloured markings identifying the
terminals in your plug, proceed as follows:
The wire which is coloured blue must be connected to the
terminal which is marked with the letter N or coloured black.
The wire which is coloured brown must be connected to the
terminal which is marked with the letter L or coloured red.
A 5 amp fuse is fitted in this plug. Should the fuse need to be
replaced, please ensure that the replacement fuse has a rating of 5
amps and that it is approved by ASTA or BSI to BS1362. Check
for the ASTA mark or the BSI mark on the body of the fuse.
IF THE FITTED MOULDED PLUG IS UNSUITABLE FOR
THE SOCKET OUTLET IN YOUR HOME THEN THE FUSE
SHOULD BE REMOVED AND THE PLUG CUT OFF AND
DISPOSED OF SAFELY. THERE IS A DANGER OF SEVERE
ELECTRICAL SHOCK IF THE CUT OFF PLUG IS IN-
SERTED INTO ANY 13 AMP SOCKET.
Thank you
for your purchase of the
ONKYO TA-RW544/344 Cassette Tape Deck.
Please read this manual thoroughly before making connections
and plugging in the AC power cord.
Following the instructions in this manual will enable you to
obtain optimum performance and maximum listening enjoyment
from your new TA-RW544/344.
Please retain this manual for future reference.
Convenient dubbing & nonstop music
Excellent performance is not this deck's singular feature.
The TA-RW544 is two outstanding recording decks in one.
So you can make a copy for yourself and one for a friend at
the same time. Or keep recording or playing tape after tape
with its dual auto reverse (to capture and enjoy those longer
Rugged 2 x 2 motor transport system
Separate capstan and reel motors for each transport not only
prevent overloading, they provide the precise tape move-
ment needed for accurate reproduction. They also contribute
to the long-life, trouble-free performance that ONKYO
cassette decks are famous for.
Dolby HX Pro headroom extension
Dolby HX Pro extends the dynamic headroom to capture the
wider musical dynamics of CDs and other digital sources. It
provides noticeably cleaner reproduction of those crucial
higher frequencies by improving the tape's ability to capture
high-level signals without saturation. Another plus is the
tapes you record with Dolby HX Pro can be played back on
decks without Dolby HX Pro, for improved sound perform-
Music search (TA-RW544 only)
When you're playing a tape back, our Music Search system
does just what you might expect--lets you automatically
skip forward or backward to easily find the exact beginning
of each selection. It works by sensing pauses between music
One-touch CD synchronized recording
This handy feature lets you effortlessly and accurately record
your favorite CDs when your deck is connected to virtually
any z compatible ONKYO CD player.
z (Remote Interactive) system compatible
As might be expected, the TA-RW544/344 is fully compat-
ible with ONKYO's z (Remote Interactive) system. This
means you can control virtually all of the cassette deck's
major functions with other ONKYO remote controls.
Automatically sets bias and equaliza-
tion for the type of tape you insert.
Handy for inserting blank spaces when re-
recording or editing tapes, or recording from CDs, records
· Full repeat: Repeats both A and B sides of both transports
up to eight times, then shuts off automatically.
· 8-segment fluorescent peak metering:
accurately adjust recording levels for optimum performance.
---

You can find the serial number on the rear panel of the unit. In
case of warranty claim, please report this number.
Recording of copyrighted material for other than personal use is
illegal without permission of the copyright holder.
· Do not use or leave in direct sunlight or in other places
subject to high temperature and humidity. The unit should
also not be left in potentially hot places such as near heating
appliances. Excessive heat and moisture can lead to internal
damage and serious malfunctions. (This also applies to
cassette tapes.) The recommended ambient temperature range
· Avoid damp and dusty places and locations prone to vibra-
· Be extremely careful with the recording/playback heads.
Clean and demagnetize them regularly, but under no circum-
stances should magnets or other metals be used anywhere
· This unit is extremely sensitive to magnetic fields, so do not
use near large speakers or other devices which generate
· Hum may even be included by magnetic flux leakage from
the power transformer in certain amplifiers. Therefore, this
unit should also be kept clear of the amplifier.
· Do not remove the cabinet case. If any of the internal parts
are handled, there is a considerable danger of electric shock.
· Cassettes with poorly formed cases that rattle during rewind
· Low cost cassettes with no guide roller or pressure pad spring
should never be used for stereo.
· C-120 cassettes -- because the tape and the coating are
extremely thin, distortion levels are high. Also, even a slight
stretching of the tape will make it susceptible to being caught
up in the pinch roller and capstan.
· Endless tapes, if used for a long period of time, can overheat.
BEFORE PLUGGING IN THE UNIT FOR THE FIRST
TIME, READ THE FOLLOWING SECTION CARE-
Some models are designed for use only with the power
supply voltage of the region where they are sold.
European and Australian models: AC 230 V, 50 Hz
U.S.A. and Canadian models:
· Voltage Selector (Rear Panel)
The worldwide model is equipped with a voltage selector
to conform with local power supplies. Be sure to set this
switch to match the voltage of the power supply in your
area before plugging in the unit. (See "Setting the Voltage
Selector [Worldwide Model Only]" on page 5.) Models
without a voltage selector can only be used in areas where
the power supply voltage is the same as that of the unit.
All the safety and operating instructions
should be read before the appliance is operated.
2. Retain Instructions --
The safety and operating instructions
should be retained for future reference.
All warnings on the appliance and in the
operating instructions should be adhered to.
4. Follow Instructions --
All operating and use instructions should
The appliance should not be used near
water -- for example, near a bathtub, washbowl, kitchen sink,
laundry tub, in a wet basement, or near a swimming pool, and the
The appliance should be used only with a
cart or stand that is recommended by the manufacturer.
6A. An appliance and cart combination should be moved with care. Quick
stops, excessive force, and uneven surface may cause the appliance
and cart combination to overturn.
7. Wall or Ceiling Mounting --
The appliance should be mounted
to a wall or ceiling only as recommended by the manufacturer.
8. Ventilation ­ The appliance should be situated so that its location
or position does not interfere with its proper ventilation. For example,
the appliance should not be situated on a bed, sofa, rug, or similar
surface that may block the ventilation openings; or if placed in a
built-in installation, such as a book case or cabinet that may impede
the flow of air through the ventilation openings, there should be free
space of at least 20 cm (8 in.) and open up behind the appliance.
9. Heat -- The appliance should be situated away from heat sources
such as radiators, heat registers, stoves, or other appliances (including
amplifiers) that produce heat.
The appliance should be connected to a power
supply only of the type described in the operating instructions or as
The polarization of the plug is a safety feature. The
polarized plug will only fit the outlet one way. If the plug does not fit
fully into the outlet, try reversing it. If there is still trouble inserting
it, the user should seek the services of a qualified electrician. Under
no circumstances should the user attempt to defeat the polarization of
12. Power-Cord Protection --
Power-supply cords should be routed
so that they are not likely to be walked on or pinched by items placed
upon or against them, especially near plug, convenience receptacles,
and the point where they exit from the appliance.
13. Cleaning -- The appliance should be cleaned only as recom-
mended by the manufacturer.
The power cord of the appliance should be
unplugged from the outlet when left unused for a long period of time.
15. Object and Liquid Entry --
Care should be taken so that objects
do not fall and liquids are not spilled into the enclosure through
16. Damage Requiring Service --
The appliance should be serviced
by qualified service personnel when:
A. The power-supply cord or the plug has been damaged; or
B. Objects have fallen, or liquid has been spilled into the appliance;
C. The appliance has been exposed to rain; or
D. The appliance does not appear to operate normally or exhibits a
marked change in performance; or
The appliance has been dropped, or the enclosure damaged.
The user should not attempt to service the appliance
beyond that described in the operating instructions. All other
servicing should be referred to qualified service personnel.
Dolby noise reduction and HX Pro headroom extension
manufactured under license from Dolby Laboratories Licens-
ing Corporation. HX Pro originated by Bang & Olufsen.
"Dolby," the double-D symbol and "HX PRO" are trademarks
of Dolby Laboratories Licensing Corporation.
---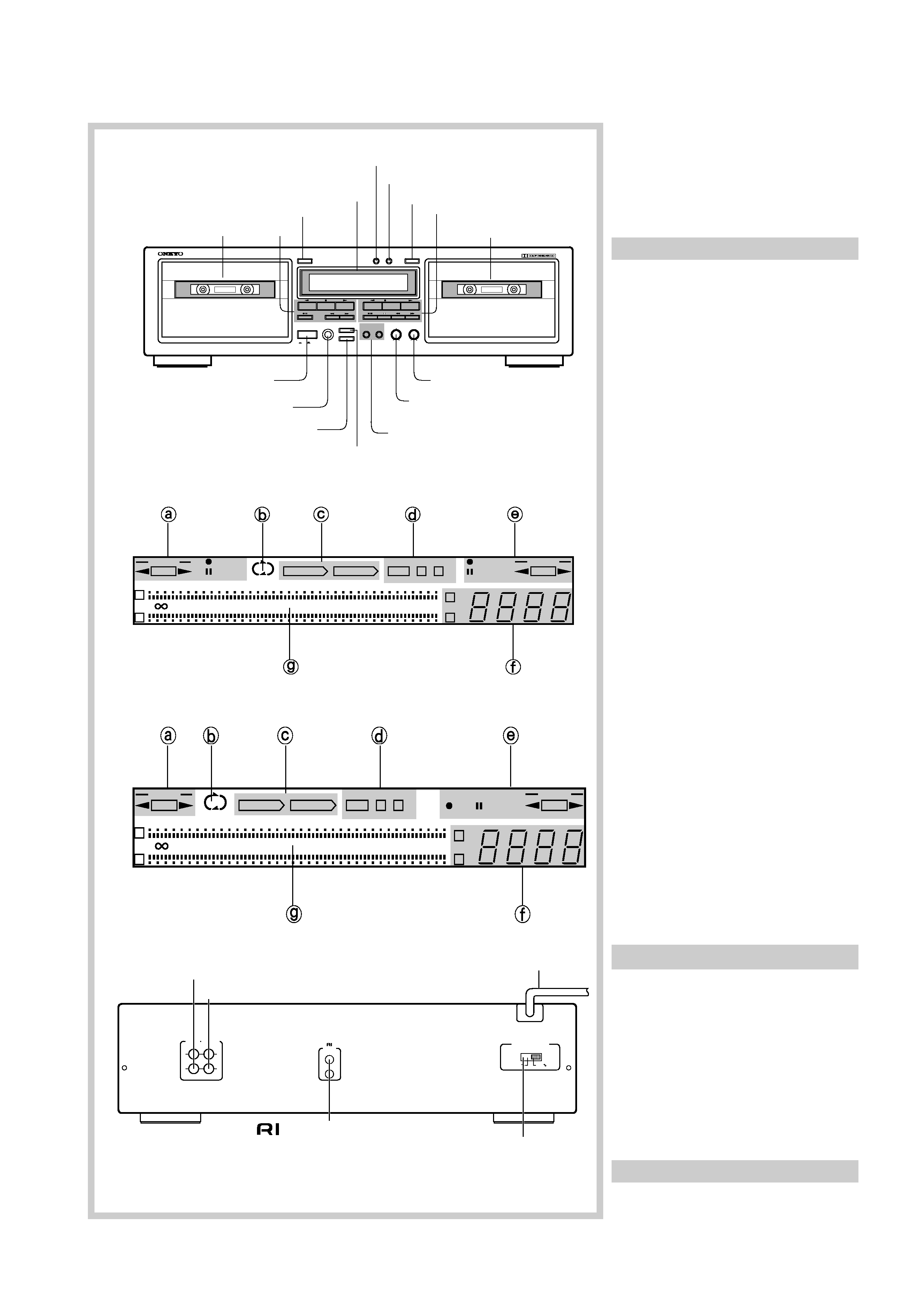 Control Positions and Names
If there is a protective film on the surface of
the display, which makes it difficult to read
For more information about a button or
control, turn to the page number listed in
1. Deck A cassette holder
2. Deck A operation buttons
: Reverse play button [6]
t : Rec/pause button [9,10,11]
f: Fast forward button [7]
3. Deck A EJECT button [6,8]
5. DECK A/B counter button
6. Counter RESET button [9,10,11]
7. Deck B EJECT button [6,8]
8. Deck B operation buttons
: Reverse play button [6]
e DUBB.STOP : Stop button
t : Rec/pause button [9,10,12]
; : Auto space button [13]
f: Fast forward button [7]
9. Deck B cassette holder
10. REC LEVEL control knob
11. REC BALANCE control knob
[9,10,11] (TA-RW544 only)
12. DUBBING buttons (NORMAL/
14. DOLBY NR button [6,8]
15. PHONES (Headphones) jack [7]
a Deck A operation and direction
e Deck B operation and direction
3. Voltage selector [5] (Worldwide
4. Remote control jacks [14]
STEREO CASSETTE TAPE DECK
---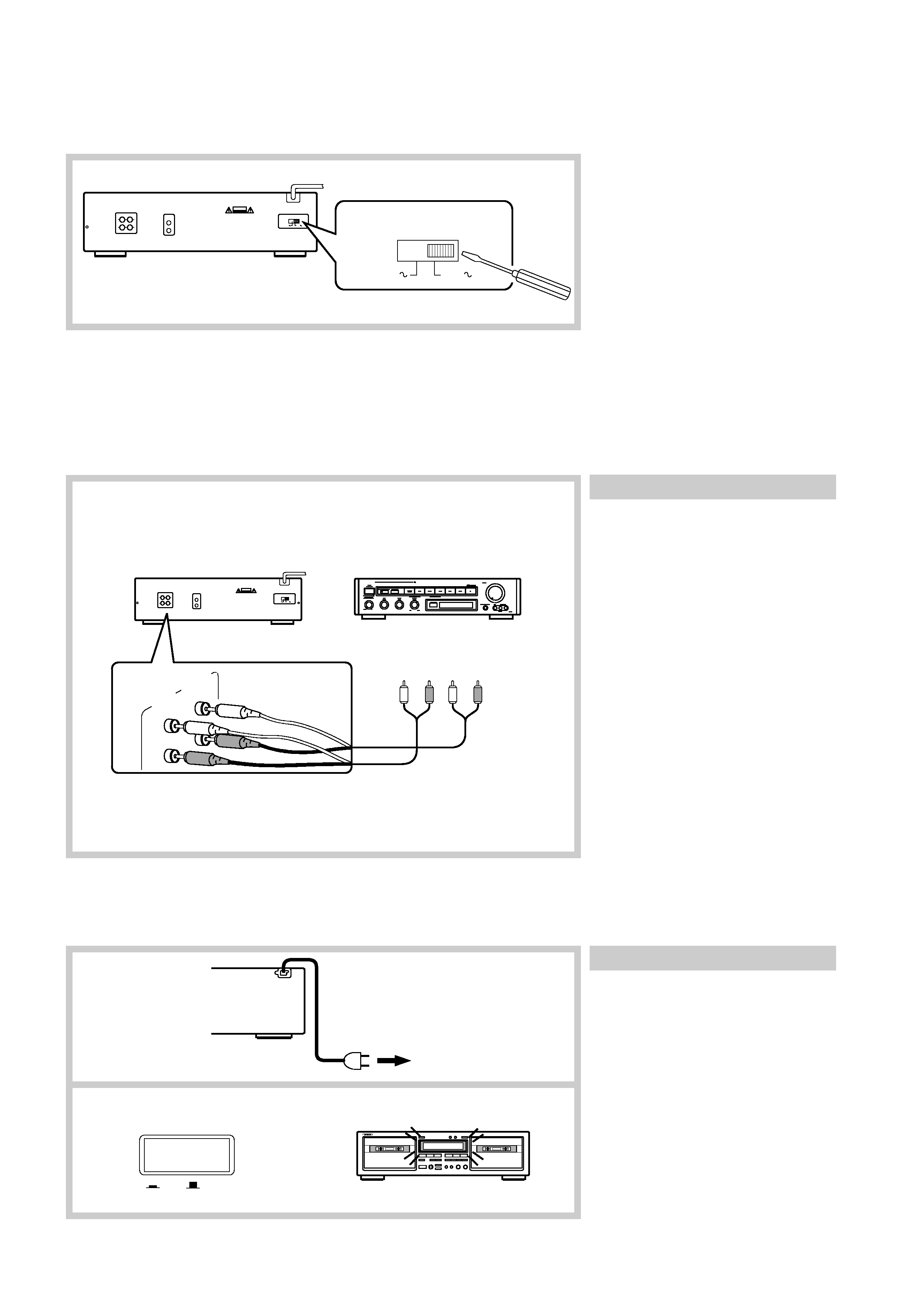 Setting the Voltage Selector
(Worldwide Model Only)
Models without a voltage selector can only be used in areas where the power supply is the same as that of the cassette deck.
1. Determine the proper voltage for your
area: 220-230 V or 120 V.
2. If the preset voltage does not conform
to your area, insert a screwdriver into
the groove in the switch. Slide the
switch all the way to the right (120 V)
or to the left (220-230 V), whichever is
· Do not plug in the AC power cord until all other connections have been made.
· On each pair of input or output jacks, the lower jack (marked R) corresponds to the right channel, and the upper jack (marked L) to
the left channel. Refer to the amplifier's instruction manual for further information on connections.
Connecting to an amplifier
Connect the tape deck LINE IN jacks to the
TAPE REC jacks on the rear panel of the
amplifier and the tape deck LINE OUT
jacks to the amplifier TAPE PLAY jacks.
Refer to the amplifier's instruction manual
for further information on connections.
1. Plug the AC power cord into a
2. Press the POWER button.
---