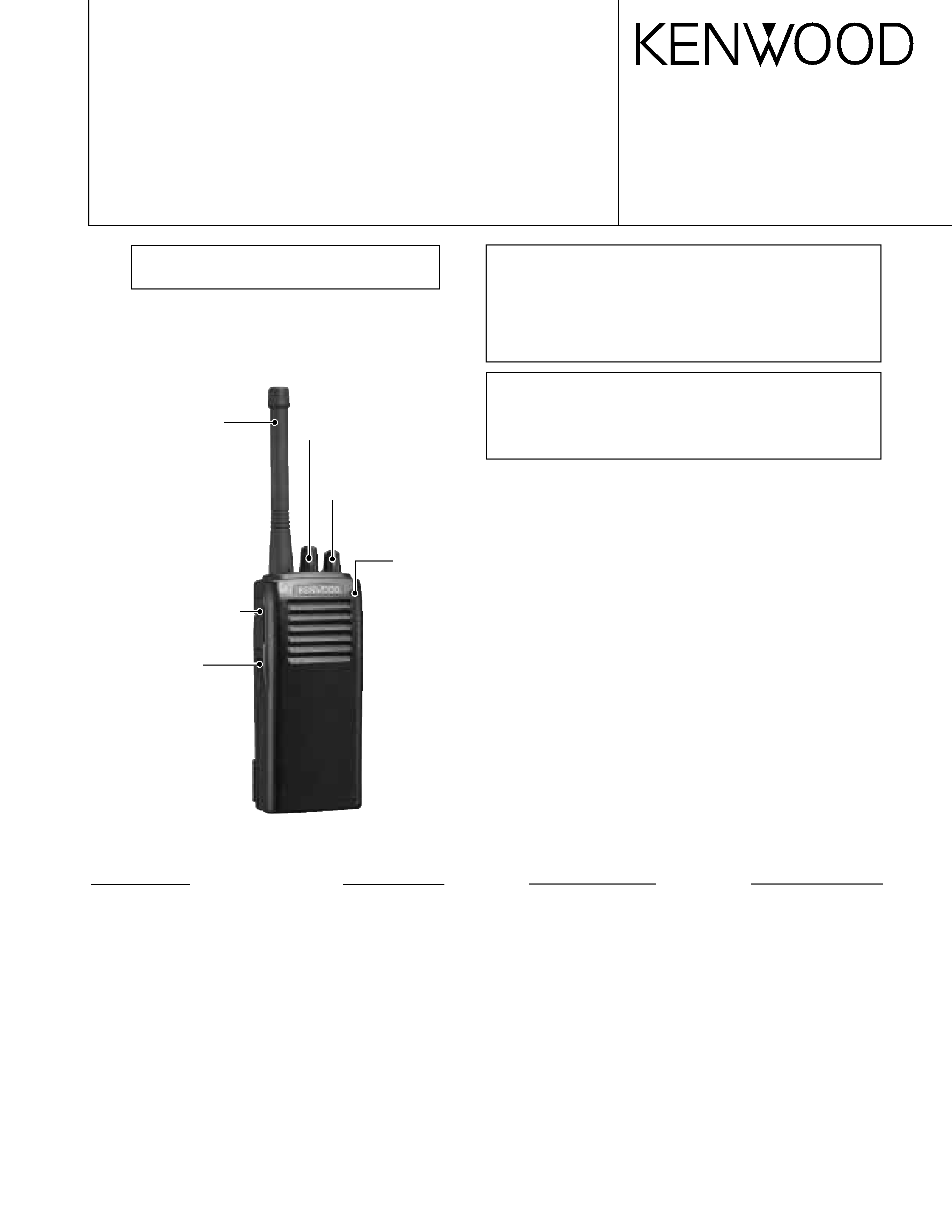 UHF FM TRANSCEIVER / UHF FM
©
2002-10 PRINTED IN JAPAN
PARTS LIST .......................................................... 2
EXPLODED VIEW ................................................. 9
PACKING ............................................................ 10
ADJUSTMENT ................................................... 11
TX-RX UNIT (X57-617X-XX) ........................ 23
SCHEMATIC DIAGRAM ..................................... 29
BLOCK DIAGRAM .............................................. 33
LEVEL DIAGRAM ............................................... 35
KNB-14/KNB-15A (Ni-Cd BATTERY) ................ 36
KMC-17/KMC-21 (SPEAKER MICROPHONE) .. 37
SPECIFICATIONS ............................ BACK COVER
................................................................... 2
............................................................ 9
..................................................................... 10
..................................................................... 11
TX-RX (X57-617X-XX) ........................... 23
................................................................. 29
................................................................. 33
................................................................. 35
KNB-14/KNB-15A () .......................... 36
KMC-17/KMC-21() ............................ 37
..................................................................... 39
This service manual is aimed to revise and update the
information on the PC Board that is used in the TK-378G
transceiver having the serial number 4700201 and the
later serial numbers. Refer to the original TK-378G
(M,M4) service manual (B51-8517-00) for any
information which are not contained in this manual.
---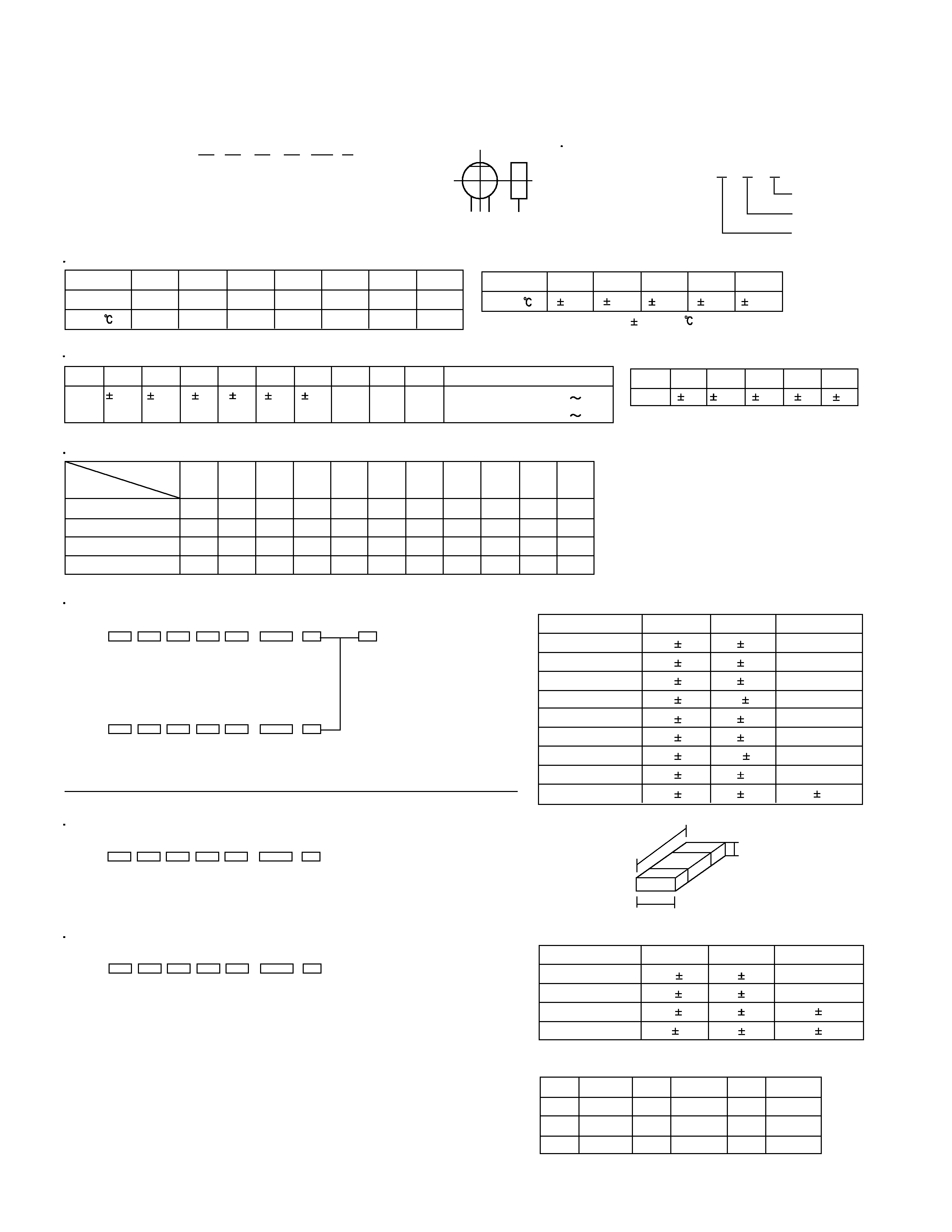 1 = Type ... ceramic, electrolytic, etc.
2 = Shape ... round, square, ect.
Tolerance (More than 10pF)
Refer to the table above.
Carbon resistor (Nomal type)
Dimension (Chip capacitors)
Dimension (Chip resistor)
---

Y: PX (Far East, Hawaii) T: England
indicates safety critical components.
Parts without Parts No. are not supplied.
Les articles non mentionnes dans le Parts No. ne sont pas fournis.
Teile ohne Parts No. werden nicht geliefert.
RF COAXIAL RECEPTACLE(SMA)
SHIELDING COVER(POWER MODULE)
SHIELDING COVER(TX-RX UNIT)
COIL SPRING(BATT RELEASE)
CUSHION(POWER MODULE COVER)
PROTECTION BAG (100/200/0.07)
PROTECTION BAG (75/100/0.08)
HARDWARE FIXTURE(HAND STRAP)
HARDWARE FIXTURE ASSY(HAND STRAP)
SPECIAL SCREW(BATT TERMINAL +)
PAN HEAD MACHINE SCREW(CHASSIS)
PAN HEAD SEMS SCREW W(POWER MODULE)
PAN HEAD TAPTITE SCREW(TX-RX B/2)
PAN HEAD TAPTITE SCREW(BATT TERMINAL -)
PAN HEAD TAPTITE SCREW(TX-RX A/2)
VARIABLE RESISTOR(VOLUME)
TX-RX UNIT (X57-6170-XX) -20:M, -21:M4
---

---

CERAMIC TRIMMER CAP(10PF)
SMALL FIXED INDUCTOR(18NH)
SMALL FIXED INDUCTOR(22NH)
SMALL FIXED INDUCTOR(3.3UH)
SMALL FIXED INDUCTOR(15NH)
SMALL FIXED INDUCTOR(10NH)
SMALL FIXED INDUCTOR(12NH)
SMALL FIXED INDUCTOR(1UH)
SMALL FIXED INDUCTOR(27UH)
SMALL FIXED INDUCTOR(3.3UH)
SMALL FIXED INDUCTOR(18NH)
SMALL FIXED INDUCTOR(22NH)
SMALL FIXED INDUCTOR(27NH)
SMALL FIXED INDUCTOR(18NH)
SMALL FIXED INDUCTOR(100NH)
SMALL FIXED INDUCTOR(180NH)
SMALL FIXED INDUCTOR(0.56UH)
SMALL FIXED INDUCTOR(100NH)
SMALL FIXED INDUCTOR(180NH)
SMALL FIXED INDUCTOR(27UH)
SMALL FIXED INDUCTOR(100NH)
---