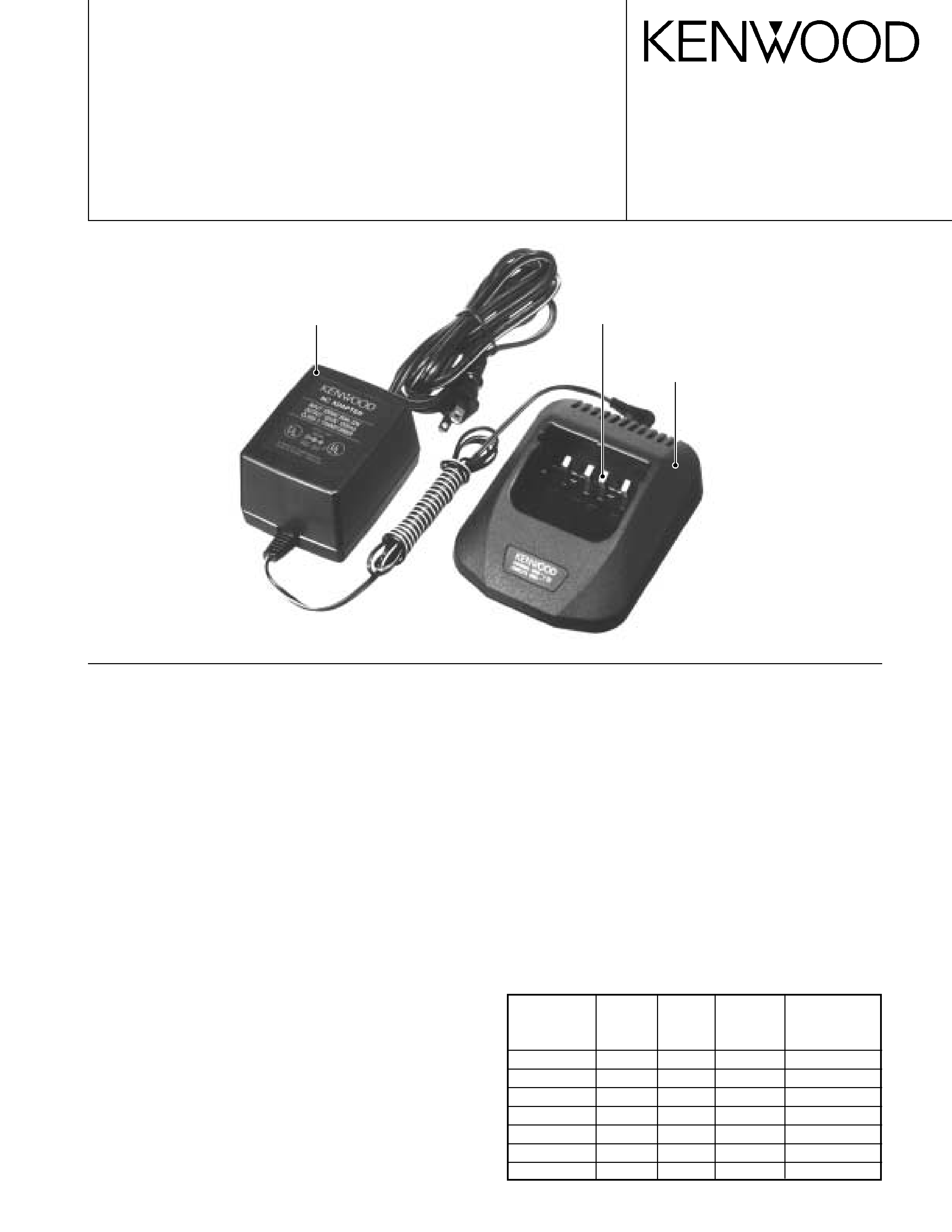 1. The power supply generates constant current (1.1A)
from the input voltage (rated 15V DC) from the adapter.
2. IC101 is a DC/DC converter.
3. R117 is a resistor for current detection.
4. R110 and R111 are resistors for no-load voltage detec-
tion (non-load voltage : 14V).
5. IC201 is a power supply/reset IC for the microcomputer
· Reset output : "H" (Normal)
s Charging Control Section
1. The microcomputer (IC202) controls the following;
· Peak detection (Detected when fully charged, pin 27 of
· Temperature control (Pin 2)
· Detection of abnormality, such as a short terminal (Pin
· LED control (Red : Pin 21, Green : Pin 22)
· Trickle charging (Pin 18)
· Quick charging (Pin 17)
2. X201 is an oscillator that generates clocks for the micro-
© 2001-5 PRINTED IN JAPAN
s Charging Switch Section
1. Q201 is a transistor that turns quick charging on and off.
2. Q202 is a transistor that turns trickle charging on and off.
3. The resistor (R204) determines the leakage current.
1. LED201 is a two-color LED that indicates the charging
2. Red on ............... Quick charging or warming up
Green on ............ Charging is complete
Red blinking ....... Abnormal (short terminal, short bat-
The charging time for each pack is shown in the table.
---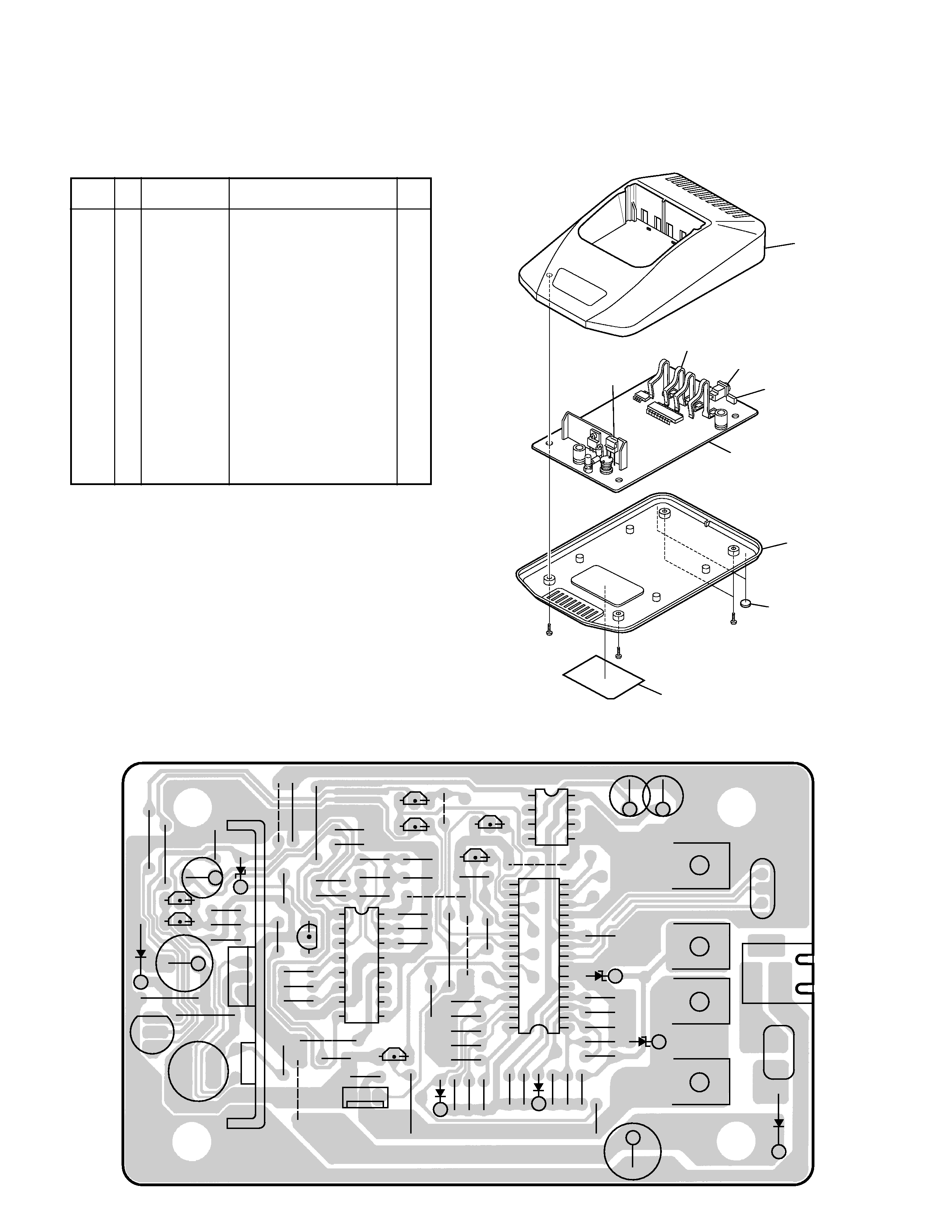 PARTS LIST / EXPLODED VIEW / PC BOARD VIEW
Electric circuit module (W02-1932-08)
---
---

14-6, Dogenzaka 1-chome, Shibuya-ku, Tokyo 150-8501, Japan
KENWOOD SERVICE CORPORATION
P.O. BOX 22745, 2201 East Dominguez Street, Long Beach, CA 90801-5745, U.S.A.
KENWOOD ELECTRONICS CANADA INC.
6070 Kestrel Road, Mississauga, Ontario, Canada L5T 1S8
KENWOOD ELECTRONICS DEUTSCHLAND GMBH
Rembrücker Str. 15, 63150 Heusenstamm, Germany
KENWOOD ELECTRONICS BELGIUM N.V.
Mechelsesteenweg 418 B-1930 Zaventem, Belgium
KENWOOD ELECTRONICS FRANCE S.A.
13, Boulevard Ney, 75018 Paris, France
KENWOOD ELECTRONICS U.K. LIMITED
KENWOOD House, Dwight Road, Watford, Herts., WD1 8EB United Kingdom
KENWOOD ELECTRONICS EUROPE B.V.
Amsterdamseweg 37, 1422 AC Uithoorn, The Netherlands
KENWOOD ELECTRONICS ITALIA S.p.A.
Via G. Sirtori, 7/9 20129 Milano, Italy
Bolivia, 239-08020 Barcelona, Spain
KENWOOD ELECTRONICS AUSTRALIA PTY. LTD.
16 Giffnock Avenue, Centrecourt Estate, North Ryde, N.S.W. 2113 Australia
KENWOOD ELECTRONICS (HONG KONG) LTD.
Unit 3712-3724, Level 37, Tower one Metroplaza, 223 Hing Fong Road, Kwai Fong, N.T., Hong Kong
KENWOOD ELECTRONICS TECHNOLOGIES(S) PTE LTD.
1 Ang Mo Kio Street 63, Singapore 569110
Charging current ....................................... 1100
Source voltage .......................................... Approx. 15V
Usable temperature range ........................ 0
°C to 40°C (32°F to 104°F)
Line voltage (AC adapter) ......................... 120V AC (K)
Dimensions (Body only) ............................ 2-11/64 in (55mm) H x 4-1/8 in (105mm) W x 5-5/16 in (135mm) D
Weight (Body only) ................................... Approx. 180g / 6.3oz
---