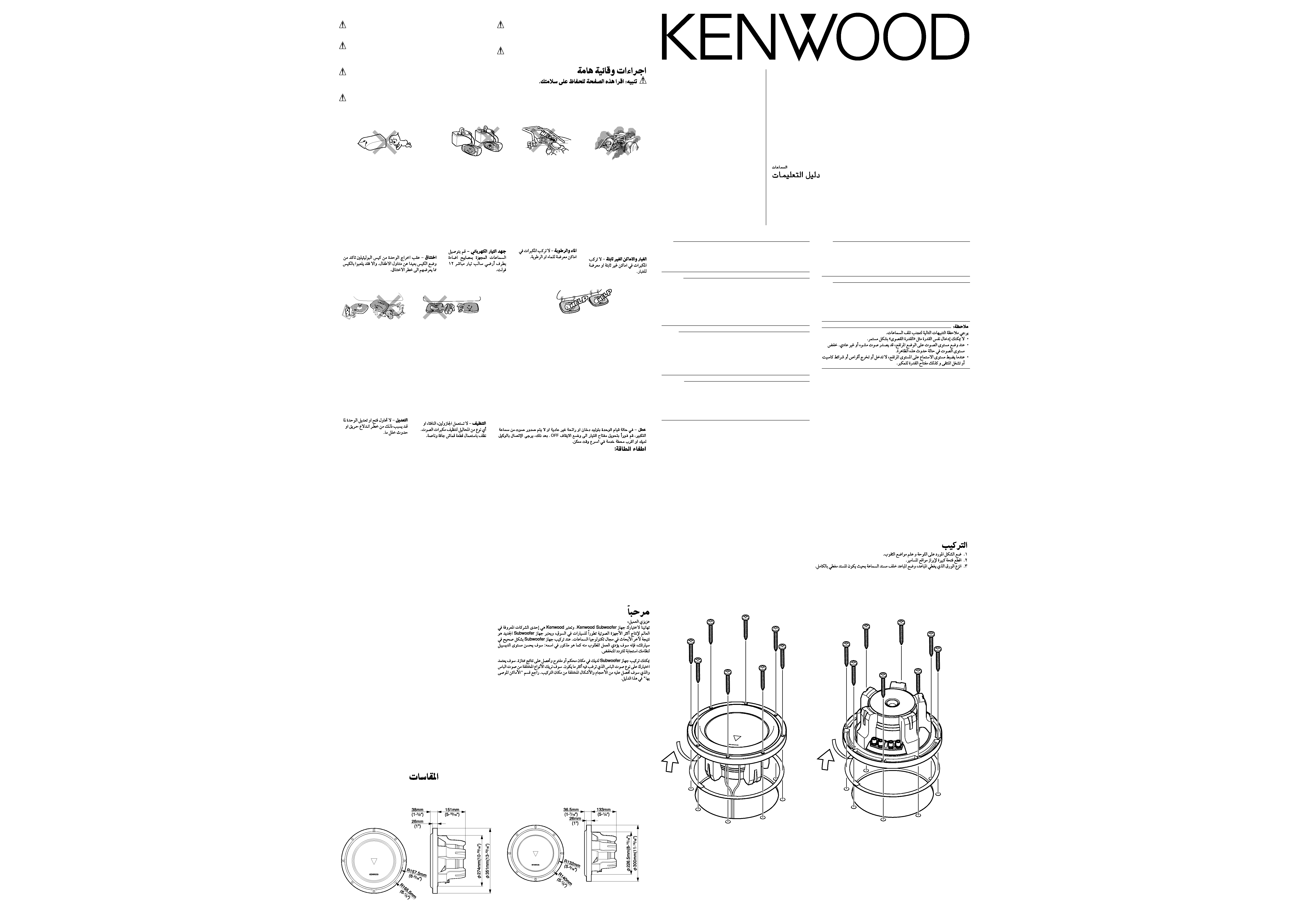 Observe the following cautions to prevent damage to the speakers.
· You cannot input the same power as "peak power" continually.
· When the volume is set too high, the sound may be distorted or abnormal.
Reduce the volume promptly in case of such phenomena.
· While the listening volume is set to a high level, do not load or eject a disc or
cassette tape or operate the selector and power switches of the amplifier.
Respecter les consignes suivantes pour éviter que les haut - parleurs ne soient
· Vous ne pouvez pas régler une puissance identique à la "puissance crête" de
· Si le niveau de sortie est trop puissant, les sons peuvent étre déformés ou
anormaux. Réduire le niveau de sortie aussitôt que l'on constate ce
· Si le niveau de sortie a été réglé à une valeur élevée, ne pas mettre en place
ou éjecter un disque ou une cassette, ne pas agir sur les sélecteurs ou l'inter-
rupteur d'alimentation de l'amplificateur.
Die folgenden Hinweise beachten, um Schäden der Lautsprecher zu verhindern.
· Es kann nicht die gleiche Leistung kontinuierlich als "Spitzenleistung"
· Wenn die Lautstärke zu hoch eingestellt wird, kann der Klang verzerrt sein oder
In diesem Fall sollte die Lautstärke umgehend vermindert werden.
· Während die Lautstärke auf einem hohen Pegel eingestellt ist, keine CD oder
Kassette einlegen oder entnehmen und nicht die Wahlschalter und den
Netzschalter des Verstärkers betätigen.
Voorkom beschadiging van de luidspreker en let derhalve op de volgende pun-
· U kunt de luidsprekers niet continue op "piekvermogen" belasten.
· Wanneer het volume te hoog is ingesteld, wordt het geluid vervormd of klinkt
het geluid niet normaal. Verlaag in dat geval direkt het volume.
· Plaats of verwijder geen CD of cassette en bedien de keuzeschakelaar en
spannìngsschakelaar van de versterker niet wanneer het volume op een hoog
Per evitare danni ai diffusori, osservate le seguenti precauzioni.
· Non è possibile alimentare continuamente i "correnti di cresta".
· Se il volume è troppo alto, il suono può risultare distorto o anormale. In tat
caso, riducete il volume immediatamente.
· Se il volume di ascolto è stato impostato ad un livello elevato, non caricate o
espellete un disco o una cassetta, non azionate nè il selettore nè gli interruttori
di alimentazione dell'amplificatore.
Tome las precauciones siguientes para evitar estropear los altavoces.
· No es posible suministrar la misma potencia como "potencia máxima" continua-
· Cuando ajuste un volumen demasiado alto, el sonido podrá distorsionarse o no
ser normal. Reduzca rápidamente el volumen en este caso.
· Mientras el volumen de escucha esté ajustado a un nivel alto, no introduzca ni
expulse un disco o un casete, ni utilice los selectores ni el interruptor de la ali-
mentación del amplificador.
Caution : Read this page carefully to keep your safety.
AVERTISSEMENTS IMPORTANTS
Attention : Lire attentivement cette page pour votre
WICHTIGE SICHERHEITSHINWEISE
BELANGRIJKE VOORZORGSMAATREGELEN
Let op: Lees voor uw veiligheid deze bladzijde
Attenzione : Per vostra sicurezza, leggete attenta-
Precaución: Para su seguridad, lea con atención esta
1. Suffocation -- After taking the unit out of the polyethylene
bag, be sure to dispose of the polyethylene bag out of the
reach of children. Otherwise, they may play with the bag, which
could cause hazard of suffocation.
Etouffement -- Après avoir retiré l'appareil du sac de
polyéthylène, bien placer ce dernier hors de la portée des
enfants. S'ils jouent avec ce sac, un risque d'étouffement est
Erstickungsgefahr -- Nach der Entnahme der Lautsprecher
aus dem Polyäthylenbeutel muß dieser für Kinder unerreichbar
endsorgt werden. Wenn Kinder mit dem Beutel spielen, besteht
Verstikking -- Nadat u de luidsprekers uit de polyethyleen zak
heeft verwijderd, moet u deze zak weggooien. Zorg dat de zak
uit de buurt van kinderen blijft. Kinderen zouden met de zak
kunnen gaan spelen en de zak bijvoorbeeld over hun hoofd
trekken met verstikking tot gevolg.
Pericolo di soffocamento -- Estratta l'unità dal sacchetto in
polietilene, gettatelo in modo che non possa cadere in mano a
bambini. Essi potrebbero altrimenti rimanere soffocati.
Asfixia -- Después de sacar la unidad de la bolsa de poli-
etileno, asegúrese de poner la bolsa de polietileno donde no
puedan alcanzarla los niños. De otra forma, éstos podrían
jugar con la bolsa y se podría producir un peligro de asfixia.
2. Power supply voltage -- Connect the
illumination lamp-equipped speakers to
Tension d'alimentation -- Raccorder
les haut-parleurs munis d'in éclairage
sur 12 V CC, mise à la terre négative.
Betriebsspannung -- Die Lautsprecher
mit Beleuchtung an Gleichstrom 12 V
mit negativer Masse anschließen.
Spanningvoorziening -- Verbind de
luidsprekers voorzien van verlichting
met een 12 Volt, negatieve geaarde
Alimentazione -- Se i diffusori
possiedono indicatori, collegateli ad
una sorgente di energia a 12V di c.c. a
Tensión de alimentación -- Conecte
los altavoces equipados con lámpara
de iluminación a una batería de 12 V
CC con puesta a masa negativa.
3. Water and moisture -- Do not install
the speakers in locations which may
be subject to water or moisture.
Eau et humidité -- Ne pas installer
les haut-parleurs dans des endroits où
ils peuvent être exposés à de l'eau ou
Wasser und Feuchtigkeit -- Die
Lautsprecher nicht an Stellen ein-
Feuchtigkeit ausgesetzt werden.
Water en vocht -- Installeer de luid-
sprekers niet op plaatsen waar ze
mogelijk aan water of vocht bloot wor-
Acqua ed umidità -- Non installate i
diffusori in posizioni esposte ad acqua
Agua y humedad -- No instale los
altavoces en lugares sometidos al
4. Dust and unstable locations -- Do
not install the speakers in unstable
locations or locations subject to dust.
Poussière et endroits instables --
Ne pas installer les haut-parleurs dans
des endroits instables ou exposés à de
Staub und unstabile Stellen -- Die
Lautsprecher nicht an unstabilen
Stellen oder Stellen, wo sie Staub aus-
Stoffige en instabiele plaatsen --
Installeer de luidsprekers niet op stof-
fige plaatsen of instabiele plaatsen
onderhevig aan trillingen.
Urti e polvere -- Non installate i diffu-
sori in posizioni pericolose instabili o
esposte a polvere e sporco.
Polvo y ubicaciones inestables --
No instale los altavoces en lugares
inestables ni en lugares donde haya
5. Modification -- Do not attempt to open or
modify the unit, for this could cause fire haz-
Modification -- Ne pas essayer de
démonter ni de modifier l'appareil car ceci
risque de provoquer un risque d'incendie ou
un fonctionnement incorrect.
Veränderungen -- Niemals versuchen, die
Lautsprecher zu öffnen oder zu verändern,
Fehlfunktionen hervorgerufen werden
Aanpassingen -- Voorkom brand of
beschadiging en open derhalve de luid-
sprekers niet en breng er geen veranderin-
Modifiche -- Non tentate di aprire o modifi-
care l'unità, dato che ciò potrebbe causare
incendi o errori di funzionamento.
Modificación -- No trate de abrir ni modi-
ficar la unidad porque podría producirse un
peligro de incendio o una avería.
6. Cleaning -- Do not use gasoline, naphtha,
or any type of solvent to clean the speakers.
Clean by wiping with a soft, dry cloth.
Nettoyage -- Ne pas utiliser d'essence, de
naphte ni de diluant pour nettoyer les haut-
parleurs. Les nettoyer avec un chiffon doux
Reinigung -- Zum Reinigen der Laut-
sprecher niemals Benzin, Farbverdünner
oder andere Lösungsmittel verwenden. Zum
Reinigen ein weiches, trockenes Tuch ver-
Reinigen -- Gebruik geen benzine, thinner
of andere oplosmiddelen voor het reinigen
van de luidsprekers. Reinig de luidsprekers
met een zachte, droge doek.
Pulizia -- Non pulite l'unità con benzina,
nafta o solventi molto volatili in generale.
Usate solo un panno morbido ed asciutto.
Limpieza -- No utilice gasolina, nafta ni
ningún otro tipo de disolvente para limpiar
los altavoces. Límpielos con un paño suave
7. Malfunction -- In the event the unit generates smoke or abnormal smell or no sound comes out
from the speaker, immediately switch the power OFF. After this, please contact your dealer or near-
est service station as soon as possible.
Mauvais fonctionnement -- Dans le cas où l'appareil dégage de la fumée ou une odeur anormale,
ou si aucun son ne provient du haut-parleur, couper immédiatement l'alimentation. Contacter
ensuite votre concessionnaire ou centre de service le plus proche le plus rapidement possible.
Fehlfunktion -- Wenn aus dem Gerät Rauch austritt oder kein Ton von den Lautsprechern zu
hören ist, so schalten Sie sofort die Stromversorgung aus. Wenden Sie sich anschließend so bald
wie möglich an Ihren Händler oder an die nächstliegende Kundendienststation.
Storing -- Wanneer er rook of een vreemde geur uit de luidsprekers komt of deze in het geheel
geen geluid produceren, moet u direct de stroom uit (OFF) schakelen. Raadpleeg vervolgens uw
handelaar of een erkend onderhoudscentrum.
Malfunzionamento -- Nel caso che l'unità producesse del fumo o un odore anomalo, oppure non
si sentisse nessun suono dagli altoparlanti, spegnerla immediatamente (OFF).Ciò fatto, contattare
appena possibile il rivenditore di fiducia o il centro di assistenza tecnica più vicino.
SCOLLEGATE L'ALIMENTAZIONE!
Fallo de funcionamiento -- En caso de que la unidad genere humos u olores anormales o no
genere sonido a través del altavoz, desconecte inmediatamente la alimentación. Después, consulte
con su concesionario o centro de reparaciones más cercano tan pronto como sea posible.
¡DESCONECTE LA ALIMENTACION!
This Product is not installed by the manufacturer of a
vehicle on the production line, nor by the professional
importer of a vehicle into an EU Member State.
Ce produit n'est pas installé par le constructeur d'un
véhicule sur le site de production, ni par l'importateur
professionnel d'un véhicule dans un Etat membre de
Dieses Produkt wird weder vom Hersteller eines
Fahrzeugs während der Produktion noch von einem pro-
fessionellen Importeur eines Fahrzeugs in einen EU-
Mitgliedsstaat eingebaut.
Dit product wordt niet geïnstalleerd door de fabrikant van
een voertuig op de productielijn, noch door de profes-
sionele invoerder van een voertuig in EU-lidstaten.
Questo prodotto non è installato dal produttore di un vei-
colo della linea di produzione, nemmeno dall'importatore
professionale di un veicolo negli stati membro della UE.
Este producto no ha sido instalado en la línea de pro-
ducción por el fabricante de un vehículo, ni tampoco por
el importador profesional de un vehículo dentro del esta-
Congratulations on your choice of a Kenwood Subwoofer. Kenwood is known world-
wide for producing some of the most advanced car audio products on the market, and
our new Subwoofer is the result of the latest research in speaker technology. Installed
properly, your Subwoofer will do just what the name says: it will boost the decibel level
of your system's low frequency response.
You can install your Subwoofer in a sealed or ported enclosure with excellent results.
Your choice will depend on the kind of bass sound you like best. We show you the dif-
ferent kinds of bass sound that you'll get from different sizes and styles of enclosures.
See "Recommended Enclosures" on this manual.
Nous vous remercions d'avoir porté votre choix sur le haut-parleur Kenwood
Subwoofer. Kenwood est réputée dans le monde entier pour fabriquer certains des
équipements audio les plus perfectionnés qui soient, et le nouveau Subwoofer est le
fruit de nos recherches intensives dans le domaine des haut-parleurs. Convenablement
installé, le Subwoofer mettra en valeur la réponse de votre installation dans le registre
Vous pouvez obtenir d'excellentes performances en installant le Subwoofer dans une
enceinte fermée ou bien dans une enceinte pourvue d'un évent. Le choix dépend du
type de sonorités graves que vous aimez. Des exemples des sonorités que vous pouvez
obtenir en fonction de la nature et des dimensions de l'enceinte sont indiqués dans ce
manuel. Voir "Enceintes recommandées" dans ce manuel.
Herzlichen Glückwunsch zu Ihrer Wahl eines Kenwood Subwoofers. Kenwood ist in
aller Welt bekannt für fortschrittliche Audio-Produkte für das Kraftfahrzeug, und unser
neuer Subwoofer ist daher keine Ausnahme, denn er entspricht dem neuesten Stand
der Lautsprechertechnologie. Richtig installiert, führt Ihr Subwoofer aus, was sein Name
verspricht: Er betont den Dezibel-Pegel der niederfrequenten Signale Ihres
Sie können Ihren Subwoofer in einem geschlossenen oder offenen Gehäuse mit hervor-
ragenden Ergebnissen einsetzen. Ihre Wahl hängt von dem Baßsound ab, den Sie am
liebsten mögen. Wir zeigen Ihnen die unterschiedlichen Typen der Baßsounds, die Sie
von verschiedenen Gehäusegrößen und -typen erhalten können. Siehe "Empfohlene
Gehäuse" in dieser Anleitung.
Gefeliciteerd met uw keuze van een Kenwood Subwoofer. Kenwood staat wereldwijd
bekend als producent van sommige van de meest vooruitstrevende auto audio pro-
ducten die op dit moment op de markt zijn en onze nieuwe Subwoofer is het resultaat
van onze meest recente research in luidspreker technologie. Als hij op de juiste wijze is
geònstalleerd, zal uw Subwoofer precies doen wat z'n naam al zegt: het decibel-niveau
van de lage frequentie weergave van uw systeem opkrikken.
U kunt uw Subwoofer met uitstekende resultaten zowel in een afgesloten opstelling als
in één met openingen gebruiken. Uw keuze hangt af van het soort basweergave waar u
van houdt. We hebben voor u de verschillende soorten basweergave geïllustreerd die u
krijgt met opstellingen van verschillende afmetingen en vormen. Zie "Aanbevolen
opstellingen" elders in deze handleiding.
Ci congratuliamo con voi per aver scelto di un dB+Subwoofer Kenwood. Kenwood è
conosciuta in tuttom il mondo come la produttrice di alcuni fra i più avanzati sistemi
audio per automobili, ed il nostro nuovissimo dB+Subwoofer è il prodotto più recente
delle mostre ricerche nel campo dei diffusori. Installato correttamente, il dB+Subwoofer
fa quanto promette: aumenta la potenza in decibel dei bassi prodotti dal vostro sistema.
Potete installare il Subwoofer in un alloggiamento sigillato o aperto con risultati eccellen-
ti. La scelta da fare dipende dal tipo di bassi che si preferiscono. Mostreremo i tipi diver-
si di bassi che si possono ottenere con alloggiamenti di differenti dimensioni e stili.
Vedere la sezione "Alloggiamenti raccomandati" di questo manuale.
Enhorabuena por haber elegido un Kenwood Subwoofer. La marca Kenwood es famosa
en todo el mundo por producir algunos de los productos de audio para el automóvil más
avanzados del mercado, y nuestro nuevo Subwoofer es el resultado de la investigación
más reciente en tecnología de altavoces. Instalado correctamente, su Subwoofer hará
justamente lo que su nombre indica: reforzar el nivel de decibelios de la respuesta de
baja frecuencia de su sistema.
Podrá instalar su Subwoofer en una caja acústica sellada o con orificios y obtener exce-
lentes resultados. Su elección dependerá del tipo de sonidos graves que usted prefiera.
Le mostraremos las distintas clases de sonidos de graves que podrá obtener con cajas
acústicas de tamaños y estilos distintos. Consulte el apartado de "Cajas acústicas
recomendadas" de este manual.
1. Place the supplied template on the panel and then mark the hole positions.
2. Cut open a large hole and make screw holes.
3. Peel off the covering sheet from the spacer, and attach the spacer on the back of the
speaker flange so that the flange is completely covered.
1. Placer le gabarit fourni sur le panneau et marquer les positions des trous.
2. Découper un trou de grande dimension et percer trous pour les vis.
3. Retirez la feuille de protection placée sur la bande et fixez cette bande sur le bord
arrière du haut-parleur de manière qu'il soit entièrement couvert.
1. Die mitgelieferte Schablone auf das Blech legen und die Lochpositionen markieren.
2. Eine große Öffnung schneiden und Schraubenlöcher bohren.
3. Die Schutzfolie vom Abstandshalter abziehen und den Abstandshalter an der
Rückseite des Lautsprecherflansches so anbringen, daß der Flansch vollständig
1. Plaats het bijgeleverde malplaatje op het paneel en markeer de gaten.
2. Snijd een opening en maak schroefgaten.
3. Verwijder het beschermende vet van de tussenring en bevestig de tussenring aan de
achterzijde van de luidsprekerflens zodat de flens geheel bedekt is.
1. Posate la mascherina, in dotazione, sul pannello e marcate le posizioni per i fori.
2. Tagliate un grande foro e eseguirei fori per le viti.
3. Togliete il foglio protettivo del distanziale e applicatelo sul bordo posteriore del diffu-
sore, in modo che esso sia completamente coperto.
1. Ponga la plantilla suministrada en el panel y luego marque las posiciones de los agu-
2. Haga un agujero grande y agujeros para los tornillos.
3. Desprenda la cubierta del espaciador y coloque el espaciador en la parte posterior de
la brida del altavoz para que la brida quede cubierta completamente.
KFC-XW1202DVC / KFC-WPS1202D
KFC-XW1002DVC / KFC-WPS1002D
---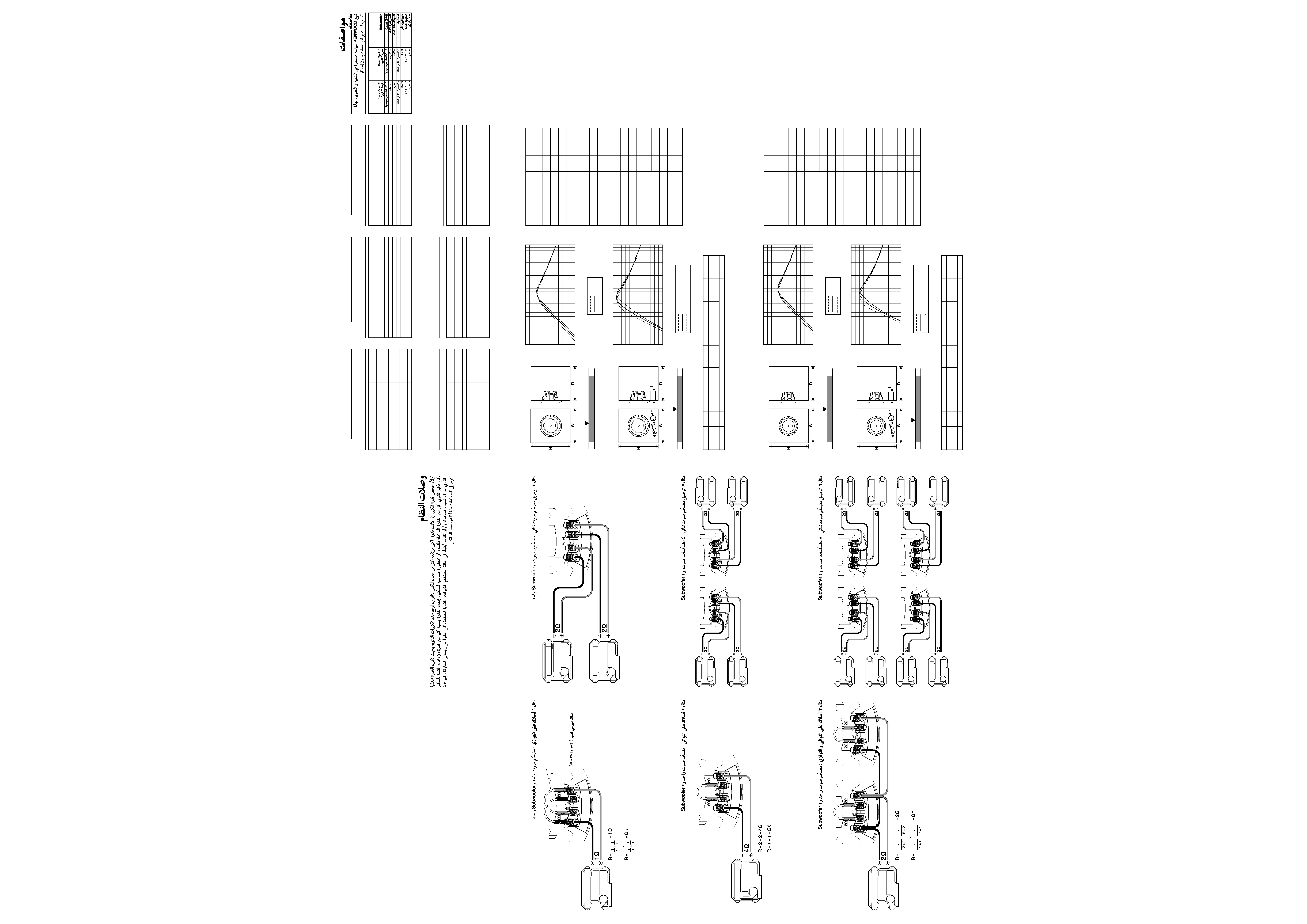 First, check the power of the amplifier. If the power of the amplifier is higher than the subwoofer's rated input power,
increase the number of subwoofers so that the power fed to each subwoofer is lower than its rated input power, or lower
the sensitivity of the amplifier. Supplying power greater than its rated input power of the subwoofer will cause noise and/or
breakage. Also, if using multiple subwoofers, be careful about the total impedance. Change the connecting pattern of the
speakers according to the capable impedance of the amplifier.
Raccordement de l'ensemble
Vérifier d'abord la puissance de l'amplificateur. Si la puissance de l'amplificateur est plus élevée que la puissance d'entrée
nominale du subwoofer, augmenter le nombre de subwoofers de façon à ce que la puissance par subwoofer soit inférieure
à la puissance d'entrée nominale, ou inférieure à la sensibilité de l'amplificateur. Le fait d'appliquer une puissance
supérieure à la puissance d'entrée nominale du subwoofer va créer des parasites et/ou provoquer une panne. Aussi, en cas
d'utilisation de plusieurs subwoofers, surveiller l'impédance totale. Modifier le schéma de connexion des haut-perleurs en
fonction de l'impédance de l'amplificateur.
Prüfen Sie zuerst die Leistung des Verstärkers. Wenn die Leistung des Verstärkers höher als die Nenneingangsleistung des
Subwoofers ist, erhöhen Sie die Anzahl der Subwoofer, so daß die Leistung pro Subwoofer niedriger ist als die
Nenneingangsleistung, oder senken Sie die Empfindlichkeit des Verstärkers. Wenn eine höhere Leistung als die
Nenneingangsleistung des Subwoofers angelegt wird, werden Störungen und/oder ein Geräteausfall verursacht. Bei paral-
lel geschalteten Subwoofern auf die Gesamtimpedanz achten. Ändern Sie das Anschlußschema der Lautsprecher
entsprechend der zulässigen Impedanz des Verstärkers.
Controleer eerst het vermogen van de versterker. Als het vermogen van de versterker hoger is dan het nominale
ingangsvermogen van de subwoofer, gebruikt u een groter aantal subwoofers zodat het vermogen per subwoofer lager is
dan het nominale ingangsvermogen of de gevoeligheid van de versterker. Het te hoog belasten van de luidspreker kan ruis
veroorzaken of de luidspreker doen beschadigen. Bij gebruik van meerdere subwoofers moet u bovendien letten op de
totale impedantie. Verander het aansluitpatroon van de luidsprekers op basis van de impedantie van de versterker.
Example 1 Parallel connection : One Amplifier and One Subwoofer
Exemple 1 Connexion parallèle : Un amplificateur et un Subwoofer
Beispiel 1 Parallelverbindung: Ein Verstärker und ein Subwoofer
Voorbeeld 1 Parallelle schakeling: Eén versterker en één subwoofer
Esempio 1 Collegamento in parallelo: un amplificatore ed un subwoofer
Ejemplo 1 Conexión en paralelo: Un amplificador y un Subwoofer
Example 2 Series connection : One Amplifier and One Subwoofer
Exemple 2 Connexion série : Un amplificateur et un Subwoofer
Beispiel 2 Serielle Verbindung: Ein Verstärker und ein Subwoofer
Voorbeeld 2 Serieschakeling: Eén versterker en één subwoofer
Esempio 2 Collegamento in serie: un amplificatore ed un subwoofer
Ejemplo 2 Conexión en serie: Un amplificador y un Subwoofer
Example 3 Series-Parallel connection : One Amplifier and Two Subwoofers
Exemple 3 Connexion série-parallèle : Un amplificateur et deux Subwoofers
Beispiel 3 Serielle/Parallele Verbindung: Ein Verstärker und zwei Subwoofer
Voorbeeld 3 Serieparallelschakeling: Eén versterker en twee subwoofers
Esempio 3 Collegamento in serie-parallelo: un amplificatore e due subwoofer
Ejemplo 3 Conexión en serie-parallelo: Un amplificador y dos Subwoofers
Example 4 Bi-amplifer connection : Two Amplifiers and One Subwoofer
Exemple 4 Connexion bi-amplis : Deux amplificateurs et un Subwoofer
Beispiel 4 Bi-Verstärker-Verbindung: Zwei Verstärker und ein Subwoofer
Voorbeeld 4 Schakeling met tweevoudige versterkers: Twee versterkers en één subwoofer
Esempio 4 Collegamento con due amplificatori: due amplificatori ed un subwoofer
Ejemplo 4 Conexión con dos amplificadores: Dos amplificadores y un Subwoofer
Example 5 Bi-amplifier connection : Four Amplifiers and Two Subwoofers
Exemple 5 Connexion bi-amplis : Quatre amplificateurs et deux Subwoofers
Beispiel 5 Bi-Verstärker-Verbindung: Vier Verstärker und zwei Subwoofer
Voorbeeld 5 Schakeling met tweevoudige versterkers: Vier versterkers en twee subwoofers
Esempio 5 Collegamento con due amplificatori: quattro amplificatori e due subwoofer
Ejemplo 5 Conexión con dos amplificadores: Cuatro amplificadores y dos Subwoofers
Example 6 Bi-amplifier connection : Eight Amplifiers and Four Subwoofers
Exemple 6 Connexion bi-amplis : Huit amplificateurs et quatre Subwoofers
Beispiel 6 Bi-Verstärker-Verbindung: Acht Verstärker und vier Subwoofer
Voorbeeld 6 Schakeling met tweevoudige versterkers: Acht versterkers en vier subwoofers
Esempio 6 Collegamento con due amplificatori: otto amplificatori e quattro subwoofer
Ejemplo 6 Conexión con dos amplificadores: Ocho amplificadores y cuatro Subwoofers
Innanzi tutto, controllate la tensione dell'amplificatore. Se la tensione dell'amplificatore supera la tensione di entrata nomi-
nale del subwoofer, aumentate il numero di subwoofer in modo tale ché la tensione per ogni subwoofer sia inferiore rispet-
to alla tensione di ingresso nominale oppure inferiore al sensibilità dell'amplificatore. Se fornite una tensione superiore
rispetto alla tensione di ingresso nominale del subwoofer, questo può causare la generazione di rumore e/o dar luogo a
guasti. Inoltre, se usate più subwoofer, fate attenzione all'impedenza totale. Cambiate la struttura di collegamento degli
altoparlanti a seconda dell'impedenza ammessa dall'amplificatore.
Primero, compruebe la potencia del amplificador. Si la potencia del amplificador es mayor que la potencia de entrada nomi-
nal del altavoz de frecuencias ultrabajas (subwoofer), aumente el número de altavoces de frecuencias ultrabajas de manera
tal que la potencia por cada altavoz sea menor que la potencia de entrada nominal, o menor que la sensibilidad del amplifi-
cador. El suministro de una potencia mayor que la potencia de entrada nominal del altavoz de frecuencias ultrabajas
causará ruido y/o ruptura. Asimismo, si usa múltiples altavoces de frecuencias ultrabajas, tenga cuidado con la impedancia
total. Cambie el patrón de conexión de los altavoces según la capacidad de impedancia del amplificador.
Short pin cord (Parts included)
Cordon à broche courte (Pieces comprises)
Kurzes Pinkabel (Mitgeliefertes zubehör)
Korte verbindingskabel (Bijgeleverde onderdelen)
Cavo a spinotti corti (Parti incluse)
Cable de clavijas cortas (Partes incluidas)
Use 21 mm or
3
/
4
inch thick Medium Density Fiberboard (MDF) or High Density Particleboard.
*W, H, D..................External Dimensions
Mounting Hole Port Diameter d
Use 21 mm or
3
/
4
inch thick Medium Density Fiberboard (MDF) or High Density Particleboard.
*W, H, D..................External Dimensions
KENWOOD arbeitet ständig an der technologischen
Weiterentwicklung seiner Produkte. Aus diesem Grund bleibt die
Änderung der technischen Daten vorbehalten.
KENWOOD technische gegevens zijn ter produktverbetering
zonder voorafgaande kennisgeving wijzigbaar.
KENWOOD follows a policy of continuous advancements in
development. For this reason specifications may be changed
KENWOOD sigue una política de avances continuos en el
campo del desarrollo. Por esta razón, las especificaciones están
sujetas a cambios sin previo aviso.
(Tweevoudige spreekspoel) 2 + 2 (Tweevoudige spreekspoel)
(Doppel-Schwingspule) 2 + 2 (Doppel-Schwingspule)
Momentane Spitzenbelastung 1200 W
Nenn-Eingangsleistung 300 W
Ausgangsschalldruckpegel 93 dB/W bei 1 m
(Dual Voice Coil) 2 + 2 (Dual Voice Coil)
(Bobina de voz doble) 2 + 2 (Bobina de voz doble)
Potencia máxima de entrada
Potencia de entrada nominal
Resonancia al afire libre 23 Hz
Mounting Hole Port Diameter d
320 (12 -
7
/
16
) 330 (12 -
13
/
16
)
425 (16 -
9
/
16
) 300 (11 -
11
/
16
)
KENWOOD persegue una politica di continua ricerca e sviluppo.
Per tale ragione, i dati tecnici sono soggetti a modifiche senza
KENWOOD applique une politique de progrès continus. Les car-
actéristiques peuvent donc être modifiées sans préavis.
(A doppia bobina della fonia) 2 + 2 (A doppia bobina della fonia)
Potenza di ingresso di picco
Cône en polypropylène de carbone
Cône en polypropylène de carbone
(Double bobine mobile) 2 + 2 (Double bobine mobile)
Entrée de crête momentanée
Niveau de pression sonore de sortie 93 dB/W à 1 m
---