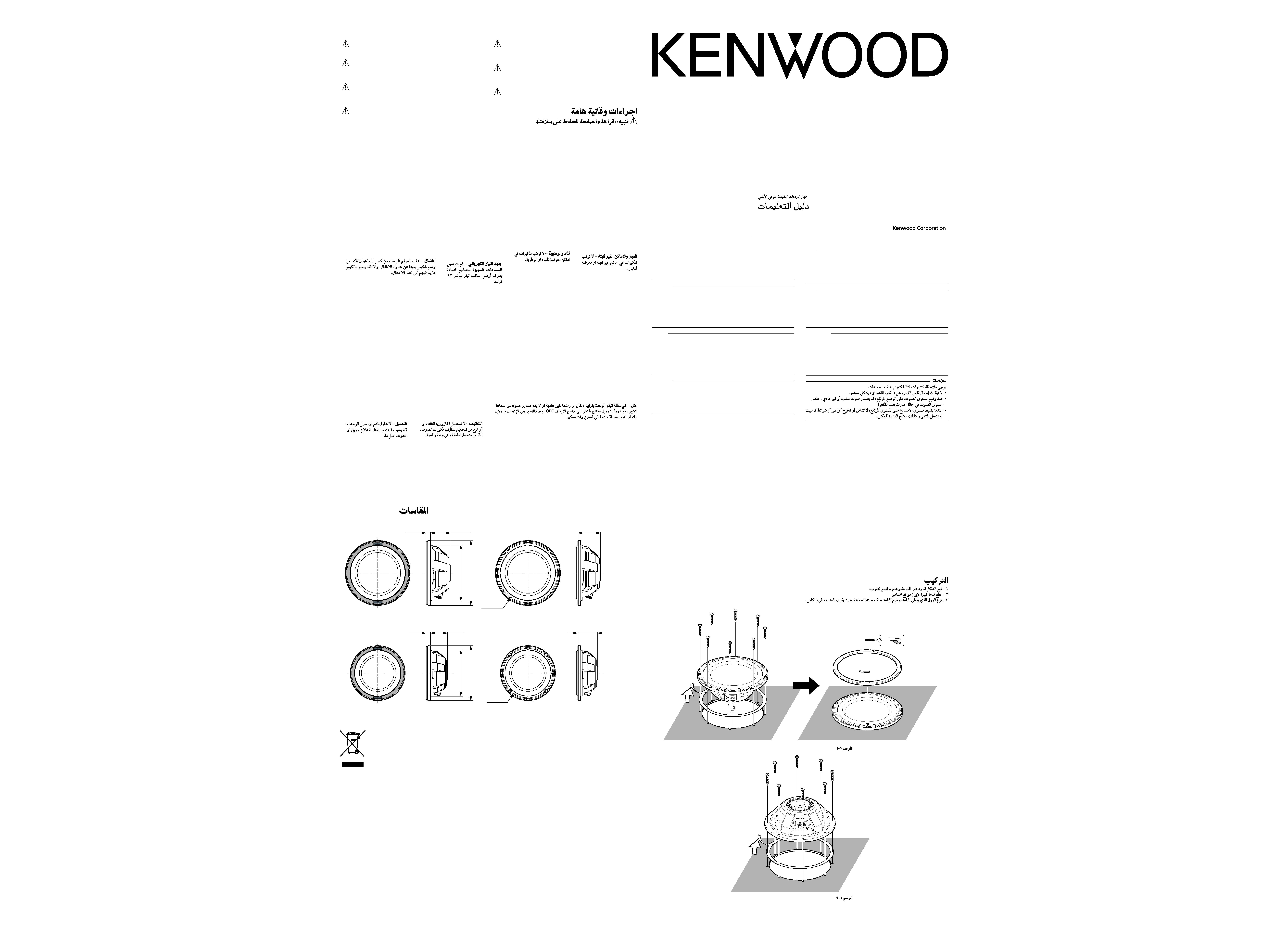 HAUT-PARLEUR D'EXTRÊME GRAVE PLAT
ALTAVOZ DE SUBGRAVES PLANO
Caution : Read this page carefully to keep your safety.
AVERTISSEMENTS IMPORTANTS
Attention : Lire attentivement cette page pour votre
WICHTIGE SICHERHEITSHINWEISE
Achtung : Diese Seite aus Sicherheitsgründen sorgfältig
BELANGRIJKE VOORZORGSMAATREGELEN
Let op : Lees voor uw veiligheid deze bladzijde zorgvuldig
Attenzione : Per vostra sicurezza, leggete attentamente
Precaución : Para su seguridad, lea con atención esta
1. Suffocation -- After taking the unit out of the polyethylene
bag, be sure to dispose of the polyethylene bag out of the
reach of children. Otherwise, they may play with the bag,
which could cause hazard of suffocation.
Etouffement -- Après avoir retiré l'appareil du sac de polyé-
thylène, bien placer ce dernier hors de la portée des enfants.
S'ils jouent avec ce sac, un risque d'étouffement est possible.
Erstickungsgefahr -- Nach der Entnahme der Lautsprecher
aus dem Polyäthylenbeutel muß dieser für Kinder unerreich-
bar endsorgt werden. Wenn Kinder mit dem Beutel spielen,
besteht Erstickungsgefahr.
Verstikking -- Nadat u de luidsprekers uit de polyethyleen
zak heeft verwijderd, moet u deze zak weggooien. Zorg dat
de zak uit de buurt van kinderen blijft. Kinderen zouden met
de zak kunnen gaan spelen en de zak bijvoorbeeld over hun
hoofd trekken met verstikking tot gevolg.
Pericolo di soffocamento -- Estratta l'unità dal sacchetto in
polietilene, gettatelo in modo che non possa cadere in mano
a bambini. Essi potrebbero altrimenti rimanere soffocati.
Asfixia -- Después de sacar la unidad de la bolsa de polie-
tileno, asegúrese de poner la bolsa de polietileno donde no
puedan alcanzarla los niños. De otra forma, éstos podrían
jugar con la bolsa y se podría producir un peligro de asfixia.
2. Power supply voltage -- Connect
the illumination lamp-equipped
speakers to DC 12V, negative ground.
Tension d'alimentation -- Raccorder
les haut-parleurs munis d'in éclairage
sur 12 V CC, mise à la terre négative.
B e t r i e b s s p a n n u n g -- D i e
Lautsprecher mit Beleuchtung an
Gleichstrom 12 V mit negativer Masse
Spanningvoorziening -- Verbind de
luidsprekers voorzien van verlichting
met een 12 Volt, negatieve geaarde
Alimentazione -- Se i diffusori pos-
siedono indicatori, collegateli ad una
sorgente di energia a 12V di c.c. a
Tensión de alimentación -- Conecte
los altavoces equipados con lámpara
de iluminación a una batería de 12 V
CC con puesta a masa negativa.
3.Water and moisture -- Do not
install the speakers in locations which
may be subject to water or moisture.
Eauethumidité -- Ne pas installer
les haut-parleurs dans des endroits où
ils peuvent être exposés à de l'eau ou
WasserundFeuchtigkeit -- Die
Lautsprecher nicht an Stellen ein-
b a u e n , w o s i e W a s s e r o d e r
Feuchtigkeit ausgesetzt werden.
Waterenvocht -- Installeer de luid-
sprekers niet op plaatsen waar ze