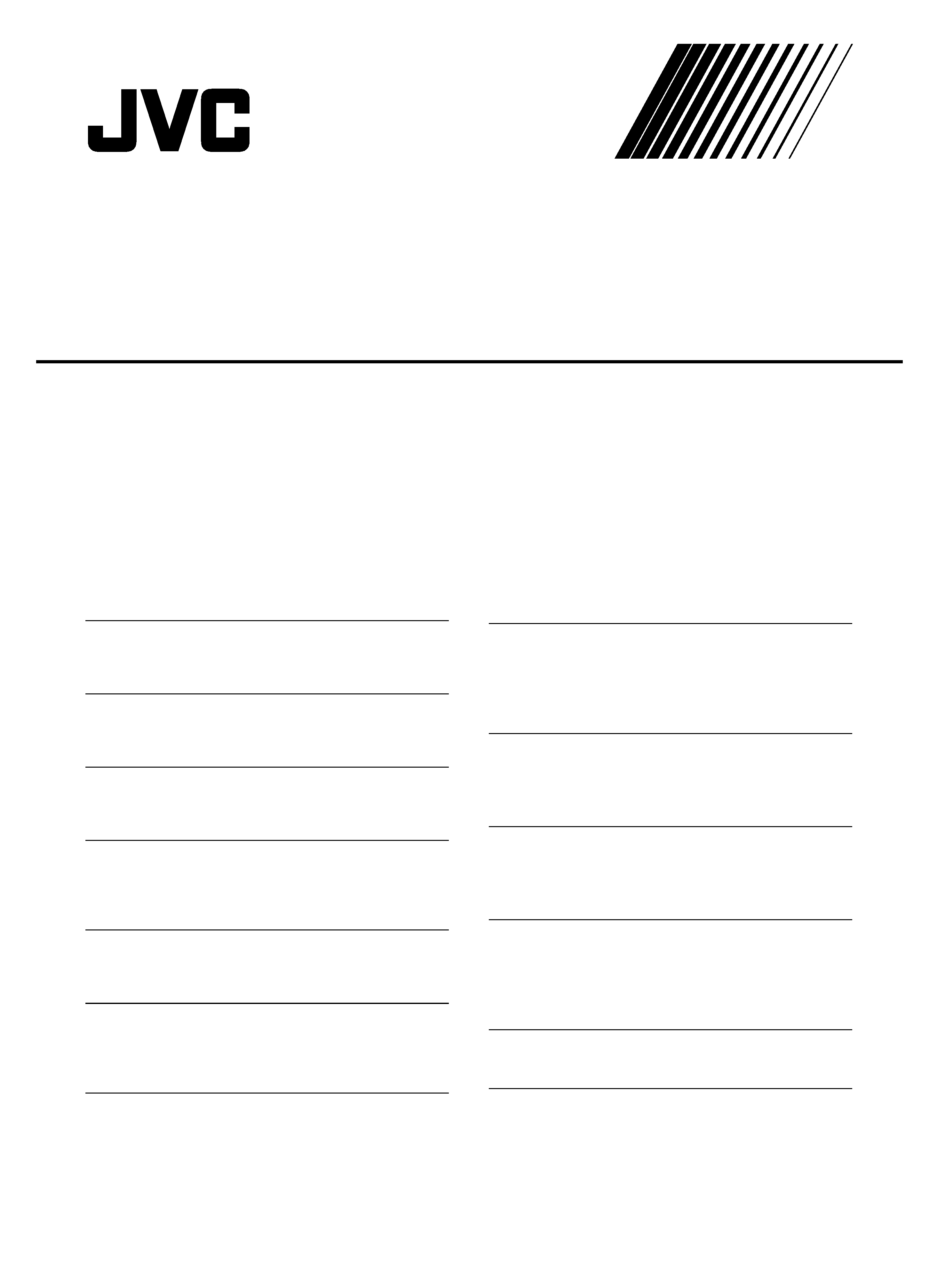 Kiitos siitä että päädyit valinnassasi JVC-kaiuttimiin.
Ennen kuin alat käyttää niitä, lue käyttöohje huolellisesti, jotta ne
toimisivat parhaalla mahdollisella tavalla. Jos Sinulla on kysyttävää
ota yhteys JVC-edustajaan.
Dzikujemy Pastwu za zakup glonika firmy JVC.
Przed jego zastosowaniem prosimy o szczególowe przeczytanie
niniejszej instrukcji celem jak najlepszego wykorzystania
wietnych wlaciwoci tego wyrobu. W przypadku jakichkolwiek
zapyta prosimy si zwróci do najbliszego punktu sprzeday
Köszönjük, hogy JVC reproduktort vásárolt.
Használatba vétele eltt figyelmesen tanulmányozza át ezt az
utasítást, hogy a legnagyobb mértékben kihasználhassa ezen
termék kitn tulajdonságait. Bármilyen kér dése
esetén,kérjük,forduljon az Ön JVC üzleti képviseljéhez.
Dkujeme vám, ze jste zakoupili reproduktor JVC.
Ped jeho pouzíváním si pecliv proctte tento návod k pouzití,
abyste mohli co nejlépe vyuzívat vynikající vlastnosti tohoto
výrobku. Budete-li mít jakékoli dotazy, obrat'te se na svého
!"#$%&'()*+,!"-./%012'345
BEDIENUNGSANLEITUNG: SATELLITEN-LAUTSPRECHER-SYSTEM
MANUEL D'INSTRUCTIONS: SYSTEME HAUT-PARLEURS SATELLITE
GEBRUIKSAANWIJZING: SATELLIET LUIDSPREKERSYSTEEM
MANUAL DE INSTRUCCIONES: SYSTEMA DE ALTAVOZ DE SATÉLITE
ISTRUZIONI: SISTEMA DI ALTOPARLANTI SATELLITE
BRUKSANVISNING: SATELLITHÖGTALARSYSTEM
VEJLEDNING: SATELLIT HØJTTALERSYSTEM
KÄYTTÖOHJE: SATELLIITTIKAIUTINJÄRJESTELMÄ
INSTRUKCJA OBSLUGI: SYSTEM GLONlKÓW SATELITARNYCH
PÍRUCKA OBSLUZE: KÜLS HANGFALRENDSZER
HASZNÁLATI UTASÍTÁS: SATELITNÍ REPRODUKTOROVÁ SOUSTAVA
Thank you for purchasing JVC speakers.
Before you begin using them, please read the instructions care-
fully to be sure you get the best possible performance. If you have
any questions, consult your JVC dealer.
Vielen Dank für den Kauf dieser JVC-Lautsprecher.
Lesen Sie bitte diese Bedienungsanleitung vor Ingebrauchnahme
sorgfältig durch, um stets optimale Ergebnisse zu erzielen.Wenden
Sie sich bei etwaigen Fragen bitte an Ihren JVC Händler.
Nous vous remercions pour l'achat de ces enceintes JVC.
Avant de les utiliser, lire ces instructions avec attention pour en
obtenir les meilleures performances possibles. En cas de ques-
tions, consulter votre revendeur JVC.
Dank u voor de aanschaf van deze luidsprekers.
Lees alvorens over te gaan tot aansluiten, deze gebruiksaanwijzing
door zodat u de best mogelijke prestaties zult verkrijgen. Neem
kontakt op met de JVC dealer indien u vragen heeft.
Le estamos muy agradecidos por haber adquirido estos altavoces
Antes de utilizarlos, sirvase leer las instrucciones detenidamente
a fin de obtener el mejor rendimiento posible. Si tienenaluna
pregunta, acuda a su agente de JVC.
Grazie per aver acquistato questi altoparlanti della JVC.
Prima di cominciare l'uso degli altoparlanti, leggete attentamente
le istruzioni per assicurare le migliori prestazioni. Qualora
sorgessero dei dubbi, rivolgetevi al vostro rivenditore JVC.
Tack för ditt val av dessa JVC-högtalare.
Innan du kopplar in högtalarna i din ljudanläggning bör du för att
f å maximala prestanda fr å n h ö gtalar na l ä sa igenom
bruksanvisningen noggrant. Kontakta din JVC-återförsäljare om
du har frågor eller känner dig osäker.
Tak for købet af JVC-højttalerne.
Gennemlæs venligst vejledningen omhyggeligt før de tages i brug,
så De kan opnå den bedst mulige ydelse. Forhør hos Deres JVC
forhandler hvis De har nogen spørgsmål.
SP-X103
­ Consists of SP-X103F and SP-X103C
Bestehend aus SP-X103F und SP-X103C
Se compose de SP-X103F et SP-X103C
Bestaat uit SP-X103F en SP-X103C
Consta de SP-X103F y SP-X103C
L'impianto è formato da SP-X103F e SP-X103C
Består av SP-X103F och SP-X103C
Består of SP-X103F og SP-X103C
Sisältää seuraavat osat SP-X103F ja SP-X103CZestaw
przyrzadów SP-X103F a SP-X103C
A készülék SP-X103F és SP-X103C egységekbl áll
Sestava komponent SP-X103F a SP-X103C
---

This equipment has been designed and manufactured to meet international safety standards but, like any electrical
equipment, care must be taken if you are to obtain the best results and safety is to be assured.
Do read the operating instructions before you attempt to use the equipment.
Do ensure that all electrical connections (including the mains plug, extension leads and interconnections between
pieces of equipment) are properly made and in accordance with the manufacturer's instructions. Switch off and with-
draw the mains plug when making or changing connections.
Do consult your dealer if you are ever in doubt about the installation, operation or safety of your equipment.
Do be careful with glass panels or doors on equipment.
DON'T continue to operate the equipment if you are in any doubt about it working normally, or if it is damaged in any
way -- switch off, withdraw the mains plug and consult your dealer.
DON'T remove any fixed cover as this may expose dangerous voltages.
DON'T leave equipment switched on when it is unattended unless it is specifically stated that it is designed for unat-
tended operation or has a standby mode.
Switch off using the switch on the equipment and make sure that your family know how to do this.
Special arrangements may need to be made for infirm of handicapped people.
DON'T use equipment such as personal stereos or radios so that you are distracted from the requirements of traffic
safety. It is illegal to watch television whilst driving.
DON'T listen to headphones at high volume as such use can permanently damage your hearing.
DON'T obstruct the ventilation of the equipment, for example with curtains or soft furnishing.
Overheating will cause damage and shorten the life of the equipment.
DON'T use makeshift stands and NEVER fix legs with wood screws -- to ensure complete safety always fit the
manufacturer's approved stand or legs with the fixings provided according to the instructions.
DON'T allow electrical equipment to be exposed to rain or moisture.
­ NEVER let anyone, especially children, push anything into holes, slots or any other opening in the case.
­ this could result in a fatal electrical shock;
­ NEVER guess or take chances with electrical equipment of any kind
­ it is better to be safe than sorry!
-- SAFETY INSTRUCTIONS --
"SOME DOS AND DON'TS ON THE SAFE USE OF EQUIPMENT"
---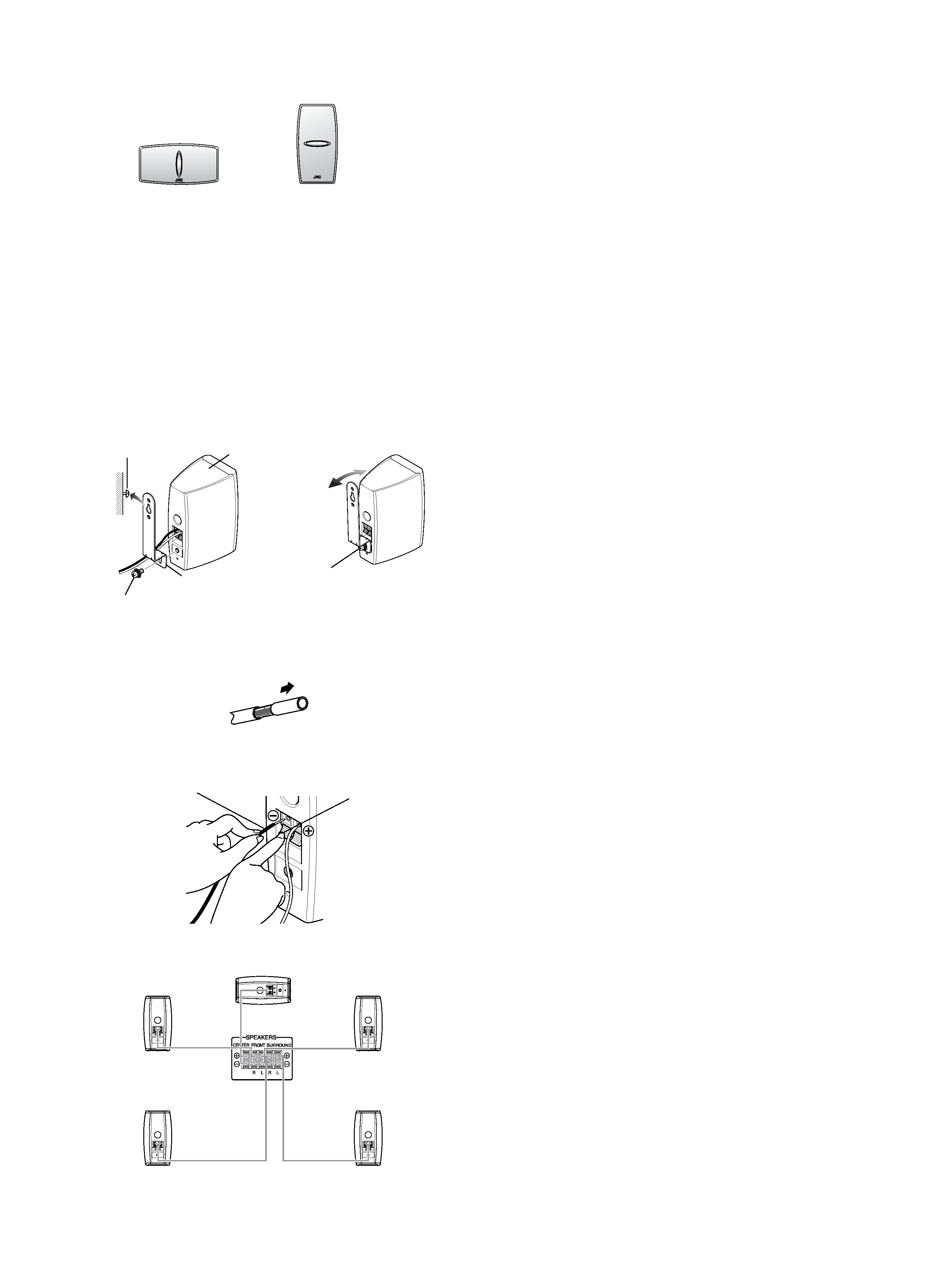 I Types of speaker systems
I Precaution for when hanging the speaker system on walls
G Check and make sure that the walls and pillars are strong enough to
enable the installation of the speaker system. If they are weak, it is
imperative that you reinforce them.
If walls or pillars with insufficient strength are employed, the speaker
system may fall, resulting in injury and/or trouble.
G Installing the provided wall hanging bracket.
1) Connect the speaker cord.
2) Install the provided wall hanging bracket onto the speaker body with
the screw that is also provided.
3) Adjust the angle of the speaker body.
4) Use the hole of wall hanging bracket and hang it on a nail or a wooden
You can adjust the angle by loosening the screw.
Tighten the screw after adjusting the angle.
1. If cords are covered with insulation, twist the core of the cord at the end
of each cord,then remove the insulation.
2. Insert it into the hole while pressing down the terminal lever.
· Connect the LEFT speaker terminals of the amplifier to the terminals of
the LEFT speaker and RIGHT to RIGHT and CENTER to CENTER using
the attached speaker cords as shown in the figure making sure polarity is
correct; (+) to (+) and (­) to (­). Connect the black speaker wire to the
· Turn off power to the whole system before connecting the speakers to
· The nominal impedance of the SP-X103 is 8
. Select for use an amplifier
to which a speaker system with the load impedance of 8
· The maximum power handling capacity of the SP-X103 is 100 W.
Excessive input will result in abnormal noise and possible damage. In
cases where the signals described below are applied to the speakers,
even if the signals are below the maximum allowable input, they may
cause an overload and burn the wiring of the speakers. Be sure to lower
the amplifier volume beforehand.
1) Noise during FM tuning.
2) High level signals containing high frequency components produced
by a tape deck in the fast forward mode.
3) Click noise produced when turning power of other components on and
4) Click noise produced when connecting or disconnecting cords with
5) Click noise produced when the cartridge is replaced with the power
6) Click noise produced when operating amplifier switches.
7) Continuous high frequency oscillation or high pitch electronically
produced musical instrument sound.
8) Howling when using a microphones.
I SPEAKER FOR A/V COMBINATION
SP-X103 have a magnetically-shielded design for placement adjacent to
TVs and monitors without causing color aberrations. However, color may be
affected as a result of how the speaker system is installed. Therefore, be
careful of the following:
1. When placing these speakers near a TV set, turn off the TV's main power
switch or unplug it before installing the speakers.
Wait at least 30 minutes after the system is installed before turning on
2. If another speaker system has been set up near the TV set, that system
may cause color unevenness in the TV's picture.
3. In spite of the shielded design of these speakers, some types of TV's
may be affected by them. If this happens, move the speakers a short
distance form the TV set.
: 1-way 2-speaker Bass-Reflex Type
(Magnetically-shielded type)
(10 m) .................................. 2
(5 m) .................................... 3
Bracket ................................ 2
---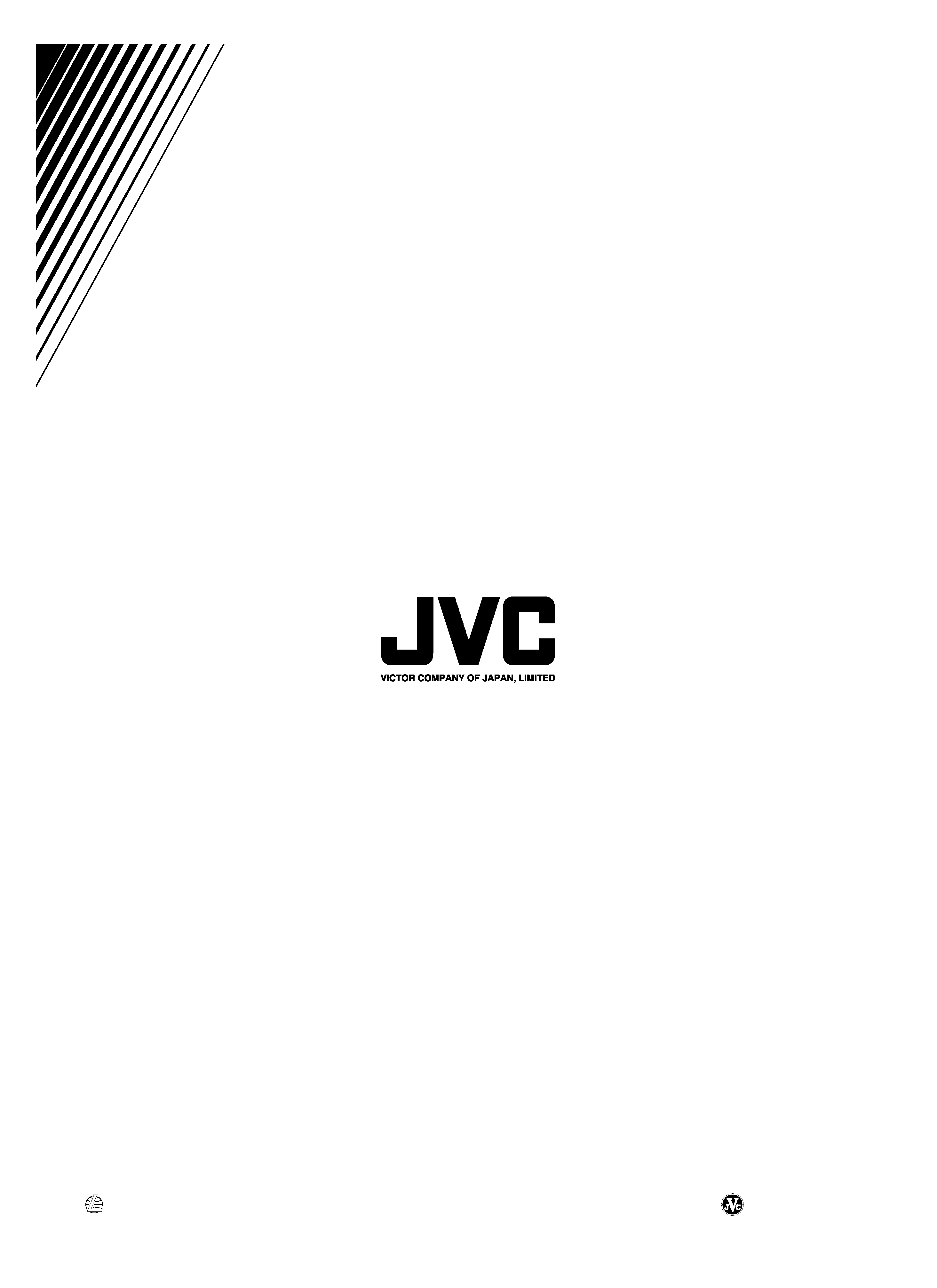 EN. GE. FR. NL. SP. IT. SW. FI. DA. PO. HU. CZ. RU. CT. KO
©2003 VICTOR COMPANY OF JAPAN LIMITED
---