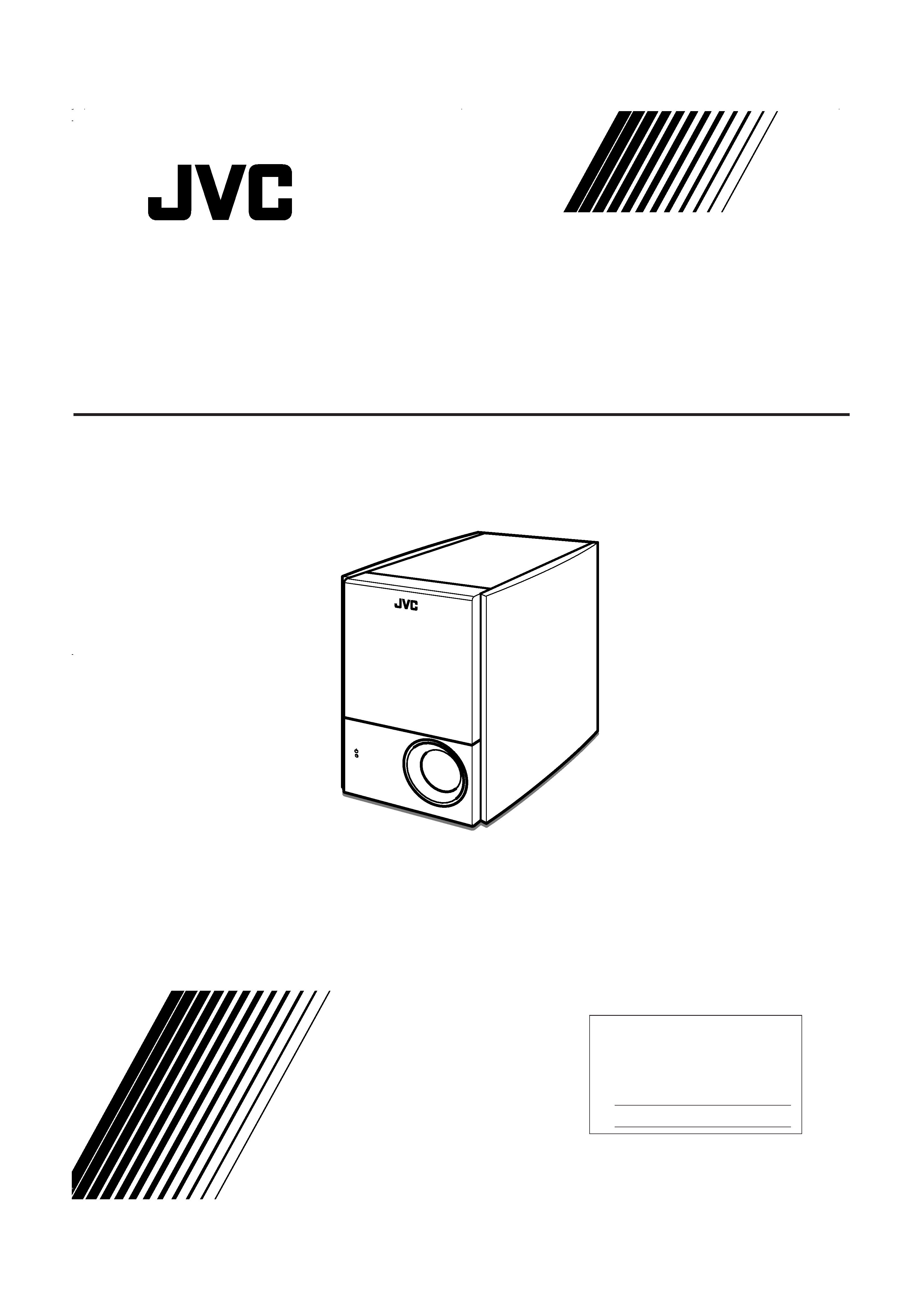 Enter below the Model No. and Serial
No. which are located either on the rear,
bottom or side of the cabinet. Retain this
information for future reference.
Enter below the Model No. and Serial No.
which are located on the rear, bottom or
side of the cabinet. Retain this information
---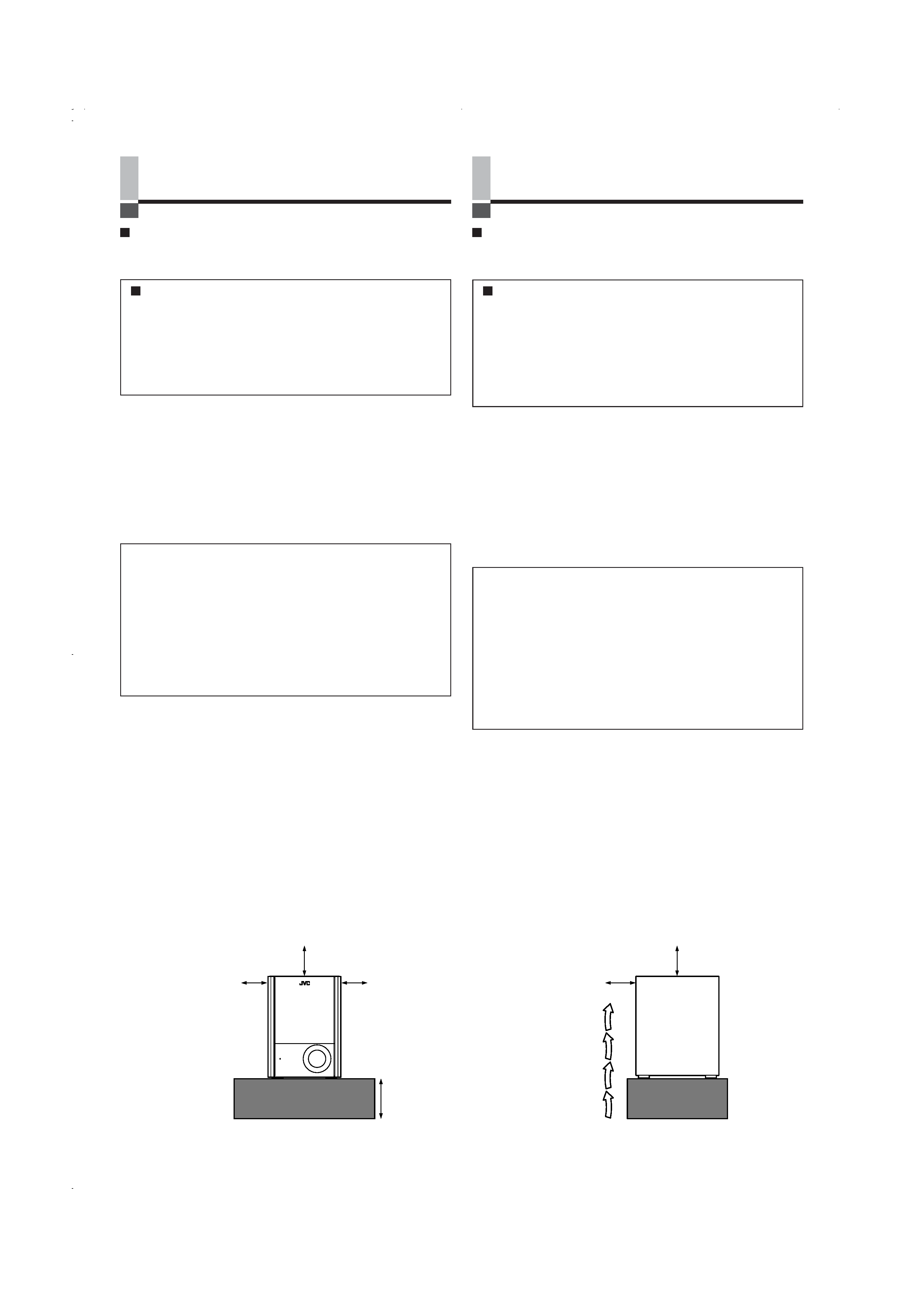 Warnings, Cautions and Others
To reduce the risk of electrical shocks, fire, etc.:
1. Do not remove screws, covers or cabinet.
2. Do not expose this appliance to rain or moisture.
This apparatus is provided with a POWER switch to be able to minimize
power consumption for safe use. Therefore,
1. When doing initial setting, complete all the connections required, connect
the mains plug into the wall outlet, and set the POWER switch
2. When not in use, set the POWER switch to OFF.
3. Disconnect the mains plug to shut the power off completely. The POWER
switch in any position do not disconnect the mains line.
Caution: Proper Ventilation
To avoid risk of electric shock and fire, and to prevent damage, locate the
No obstructions and open spacing.
No obstructions should be placed in the areas shown by the
Place on the level surface. Maintain an adequate air path for
ventilation by placing on a stand with a height of 10 cm or more.
· Do not block the ventilation openings or holes.
(If the ventilation openings or holes are blocked by a
newspaper or cloth, etc., the heat may not be able to get out.)
· Do not place any naked flame sources, such as lighted candles, on the
· When discarding batteries, environmental problems must be considered
and local rules or laws governing the disposal of these batteries must be
· Do not use this apparatus in a bathroom or places with water. Also do not
place any containers filled with water or liquids (such as cosmetics or
medicines, flower vases, potted plants, cups, etc.) on top of this apparatus.
Advertencias, precauciones y notas
Para reducir el riesgo de incendios, descargas eléctricas, etc.:
1. No retire los tornillos, las cubiertas o la caja.
2. No exponga este aparato a la lluvia o la humedad.
Precaución ­ Conmutador POWER
Este aparato está provisto de un conmutador POWER capaz de reducir el
consumo de energía al mínimo para un uso seguro. Por consiguiente,
1. Cuando realice los ajustes iniciales, efectúe todas las conexiones requeridas,
conecte el enchufe de la red en el tomacorriente de pared, y ajuste el
2. Cuando no esté en uso, ajuste el conmutador POWER a OFF.
3. Extraiga el enchufe del tomacorriente para desconectar la alimentación por
completo. La línea de la red no se desconecta en ninguna de las posiciones
Precaución: Ventilación apropiada
Para evitar riesgos de incendios o de descargas eléctricas u otros daños, coloque
el aparato de la siguiente manera:
Sin obstrucciones y con espacio abierto.
2. Laterales/parte superior/parte trasera:
No debe haber ninguna obstrucción dentro de las áreas indicadas por las
Debe instalarse sobre una superficie nivelada. Para una ventilación
adecuada, colóquelo sobre un soporte de 10 cm o más de altura para
permitir el paso de aire.
· No obstruya las rendijas o los orificios de ventilación.
(Si las rendijas o los orificios de ventilación quedan tapados con un
periódico, un trozo de tela, etc., no se podrá disipar el calor).
· No ponga sobre el aparato ninguna llama al descubierto, como velas
· Cuando tenga que descartar las pilas, tenga en cuenta los problemas
ambientales y observe estrictamente los reglamentos o las leyes locales
sobre disposición de las pilas.
· No utilice este aparato en el cuarto de baño o en lugares donde hay agua.
Tampoco coloque ningún recipiente que contenga agua u otros líquidos
(frascos de cosméticos o medicinas, floreros, macetas, vasos, etc.) encima
---

Thank you for purchasing JVC speakers.
Before you begin using them, please read the instructions carefully to be
sure you get the best possible performance. If you have any questions,
Le estamos muy agradecidos por haber adquirido estos altavoces de JVC.
Antes de utilizarlos, sirvase leer las instrucciones detenidamente a fin de
obtener el mejor rendimiento posible. Si tienenaluna pregunta, acuda a su
Confirming Supplied Accessories ............................................... 1
Precautions for Use ..................................................................... 1
Precautions for Installation .......................................................... 1
Names of Parts and Functions ................................................... 2
Connections ................................................................................ 3
Operation .................................................................................... 5
Troubleshooting ........................................................................... 6
Specifications .............................................................................. 6
Confirmación de los accesorios suministrados ........................... 1
Precauciones sobre el uso .......................................................... 1
Precauciones sobre la instalación .............................................. 1
Nombres de las partes y funciones ............................................. 2
Conexiones ................................................................................. 3
Funcionamiento ........................................................................... 5
Solución de problemas ................................................................ 6
Especificaciones ......................................................................... 6
---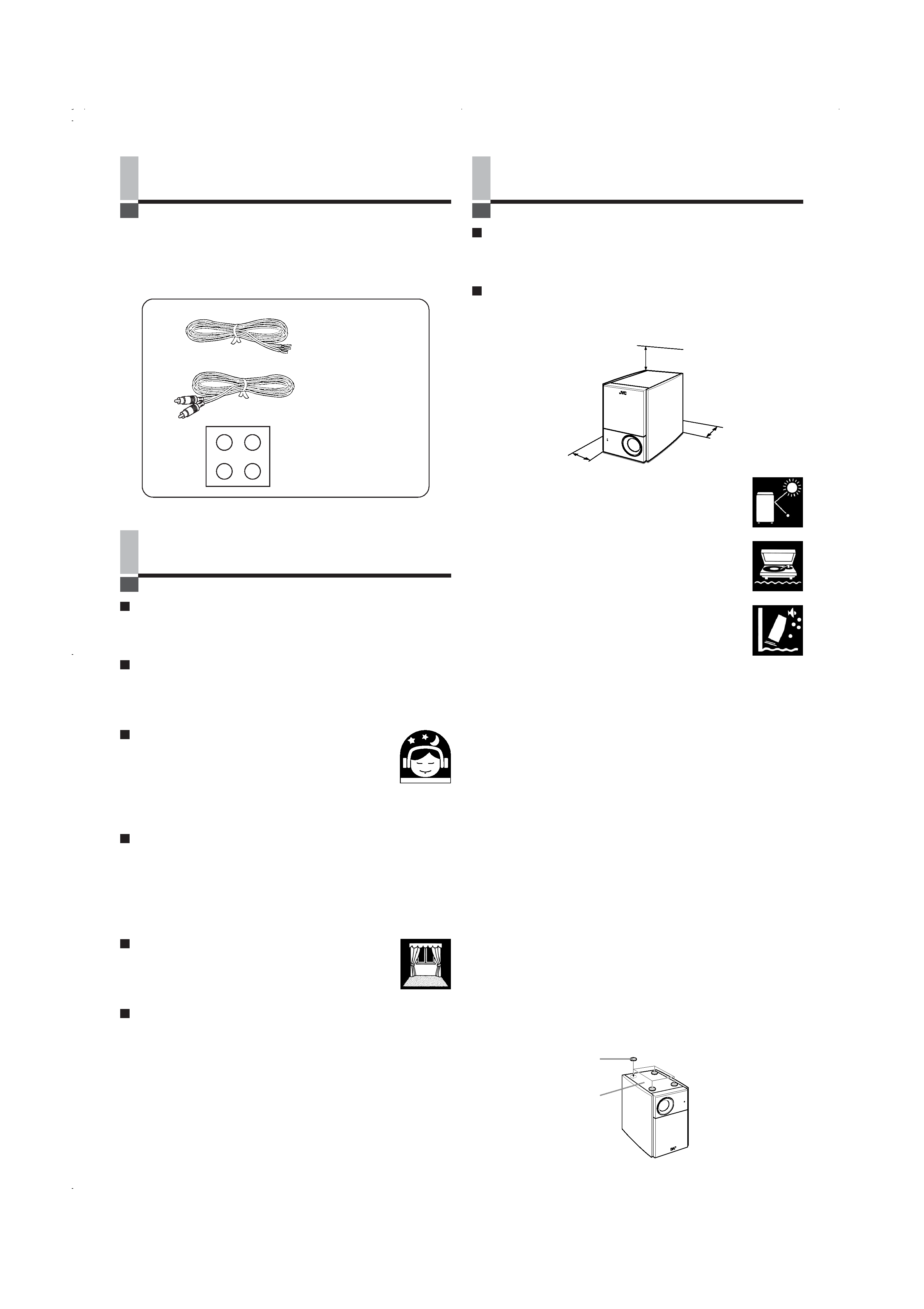 Confirming Supplied Accessories
Confirmación de los accesorios suministrados
Before use, check that you have received all of the following items, which are
Como primer paso, compruebe que tiene todos los elementos siguientes, que se
suministran con la unidad.
Precautions for installation
·
Leave much space in the front.
·
Leave at least 15 cm of space on the sides.
·
Leave at least 20 cm of space on top.
·
Leave at least 20 cm of space in the rear.
Precauciones sobre la instalación
·
Deje mucho espacio libre en la parte delantera
·
Deje por lo menos 15 cm de espacio en los costados.
·
Deje por lo menos 20 cm de espacio en la parte superior.
·
Deje por lo menos 20 cm de espacio en la parte trasera.
·
To prevent deformation or discoloration of the cabinet, do
not install the unit where it is exposed to direct sunlight or
high humidity, and avoid installation near air conditioning
·
Para evitar la deformación o la alteración de color de la caja,
no instale la unidad en un sitio expuesto a la luz directa del
sol o a la alta humedad ni cerca de las bocas de salidas del
·
Speaker vibrations may cause howling. Place the unit as far
away from the player as possible.
·
Las vibraciones del altavoz pueden producir aullido.
Coloque la unidad lo más lejos posible del tocadiscos.
·
Take the occurrence of earthquakes or other physical shocks
into consideration when selecting the installation place, and
secure the unit thoroughly.
·
Al decidir el sitio de instalación de la unidad, tenga en
cuenta las eventualidades tales como los terremotos y otros
golpes físicos y asegúrela firmemente para evitar que se
·
This unit is magnetically shielded so as not to cause color distortions on color
television sets. However, depending on the installation method, color
distortions may occur. Please pay attention to the following points when
1. When placing these speakers near a TV set, turn off the TV's main power
switch or unplug it before installing the speakers.
Wait at least 30 minutes after the system is installed before turning on the
2. If another speaker system has been set up near the TV set, that system may
cause color unevenness in the TV's picture.
3. In spite of the shielded design of these speakers, some types of TV's may
be affected by them. If this happens, move the speakers a short distance
·
Esta unidad está aislada magnéticamente para evitar la distorsión de color en
los televisor a color. Sin embargo, dependiendo del método de instalación,
puede producirse distorsión de color. Preste atención a los puntos siguientes
cuando instale la unidad.
1. Al colocar los altavoces cerca de un televisor, desactivar el interruptor de
alimentación principal del televisor o desconectarlo antes de instalar los
Esperar por lo menos 30 minutos después de instalar el sistema y antes de
activar la alimentación del televisor.
2. Si otro sistema del altavoz ha sido instalado cerca del televisor, este sistema
puede causar una desigualdad de color en la imagen de televisor.
3. A pesar de la protección de estos altavoces, algunos tipos de televisores
pueden ser afectados por ellos. En este caso, mover los altavoces a una
distancia corta de la unidad del televisor.
·
When setting the speaker system, affixing the feet to the cabinet base is
recommended in order to cope with unsteadiness, etc.
The setting surface may slightly discolor depending on the material when
setting the unit using the supplied feet for an extensive period.
·
Cuando instale el sistema de altavoces, se recomienda colocar las patas en la
base de la caja para asegurar una mayor estabilidad, etc.
Dependiendo del material, la superficie de instalación podría sufrir una ligera
pérdida de color tras haber dejado la unidad con las patas suministradas
durante un tiempo prolongado.
To maintain the look of the unit
Wipe with a dry, soft cloth if the cabinet or control panel should become dirty.
If very dirty, apply a small amount of water or neutral detergent to the cloth and
wipe clean. Then wipe with a dry cloth.
Para mantener la apariencia externa de la unidad
Si se ensucia la caja o el panel de control, limpie con un paño suave y seco.
Si está muy sucio, limpie con un paño humedecido con agua o detergente neutro,
y seque con un paño seco.
Good manners when listening to stereo
When you are listening to music on a stereo system, please
listen at volume that will not disturb your neighbors. At night,
in particular, even soft sounds spread easily to the surround-
ings. Please shown consideration and close windows, or listen
using headphones, etc. in order to maintain a pleasant living
The symbol shown here is the Sound Etiquette symbol mark.
Respete las reglas de convivencia cuando escucha música
Cuando escucha música estereofónica, ajuste el volumen de manera tal que no
moleste a sus vecinos. Especialmente, tenga en cuenta que de noche, incluso los
sonidos suaves tienden a propagarse a los alrededores. Por favor sea considerado
con sus vecinos y cierre las ventanas o escuche la música con los auriculares, etc.
y contribuya a mantener un entorno de vida placentero.
El símbolo mostrado es la señal de "ética del sonido".
Improving the sound field
·
If the speakers are facing a solid wall or glass door, etc., it is
recommended to furnish the wall with materials that absorb
sound, for example by hanging up heavy curtains, to prevent
generation of reflections and standing waves.
Mejoramiento del campo acústico
·
Si los altavoces están frente a una pared sólida o una puerta de vidrio, etc., se
recomienda cubrir la pared con un material que absorba el sonido, por
ejemplo, con cortinas pesadas, para evitar que se produzcan resonancia y
Precauciones sobre el uso
Precautions for Installation
Precauciones sobre la instalación
Leave at least 20 cm of space
Deje por lo menos 20 cm de espacio
---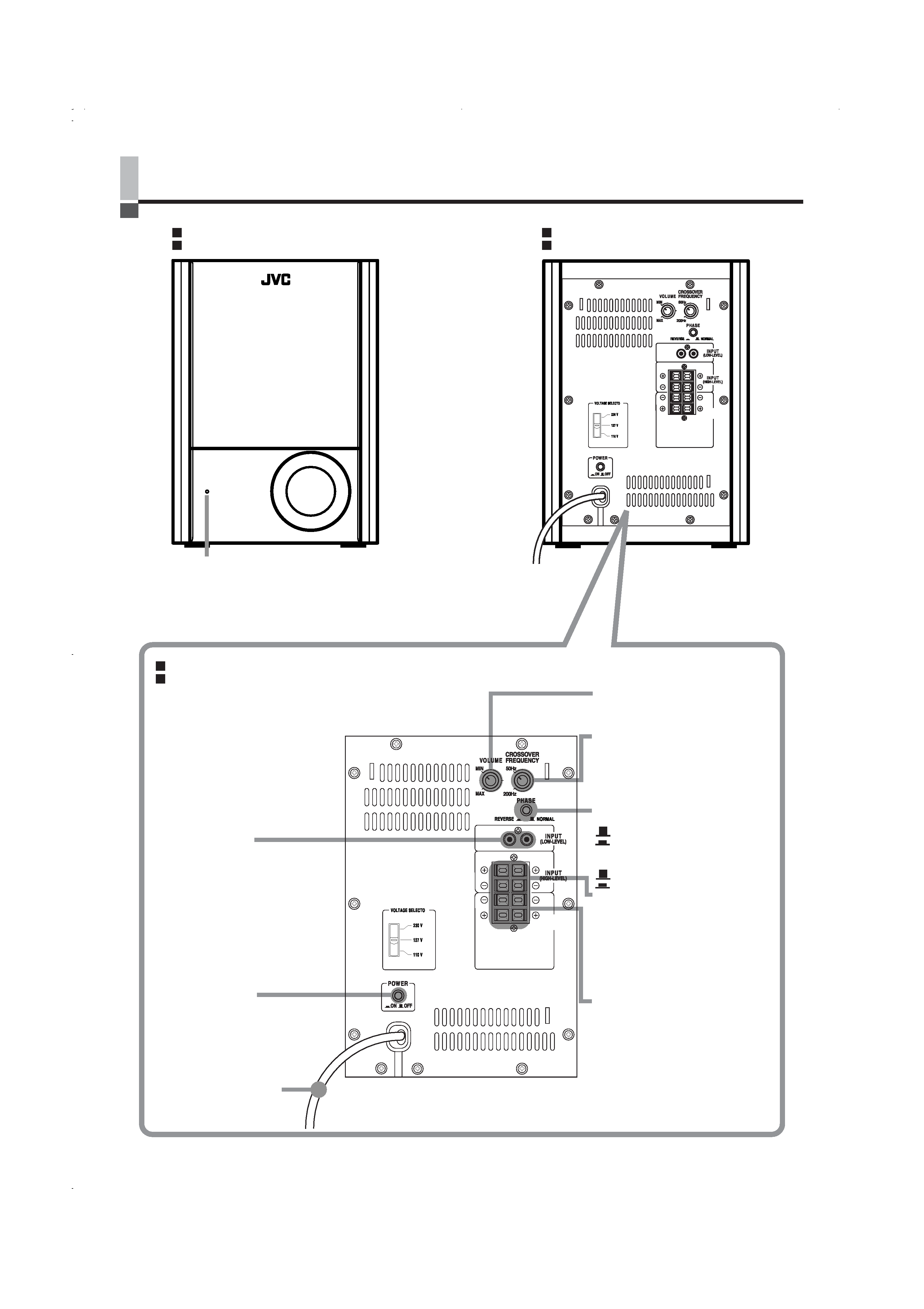 Names of Parts and Functions
Nombres de las partes y funciones
This lights when the power is ON, and when the unit is in the standby mode.
Se enciende mientras la unidad está encendida o en espera.
You can connect the subwoofer output
terminal, MONO output terminal, or line
output terminals of the amplifier, etc., here.
(For details, see "Connections" on the next
Se utiliza para conectar el terminal de
salida del subwoofer, el terminal de salida
MONO, o los terminales de salida de línea
(Para más información, consulte
"Conexiones" en la página siguiente).
Botón de alimentación (POWER)
Se utiliza para encender/apagar la unidad.
Used to adjust the volume.
Mando de volumen (VOLUME)
Se utiliza para ajustar el volumen.
Cable de alimentación de CA
Used to obtain a rich bass sound.
Se utiliza para obtener un sonido con mayor riqueza de graves.
This adjusts tonal linkage with the main speaker system.
(For details, refer to [Operation] in Page 5.)
Perilla de frecuencia de cruce (CROSSOVER FREQUENCY)
Ajusta el encadenamiento tonal con el sistema de
altavoces principales. (Para los detalles, refiérase a
[Funcionamiento] en la página 5.
This is connected to the speaker output
terminals of the amplifier, etc. when there is
no subwoofer output terminal on the
connecting amplifier, etc.
Se conecta a los terminales de salida de
altavoz del amplificador, etc., cuando no se
dispone de terminal de salida de subwoofer
en el amplificador a conectar, etc.
When an amplifier without subwoofer output
terminal is connected to the INPUT
(HIGH-LEVEL), this is connected to the main
speaker system. (For details, see "Connec-
tions" on the next page.)
Cuando conecte un amplificador sin terminal
de salida de subwoofer al terminal de INPUT
(HIGH-LEVEL), se conecta al sistema de
altavoces principales. (Para los detalles,
véase "Conexiones" en la página siguiente).
---