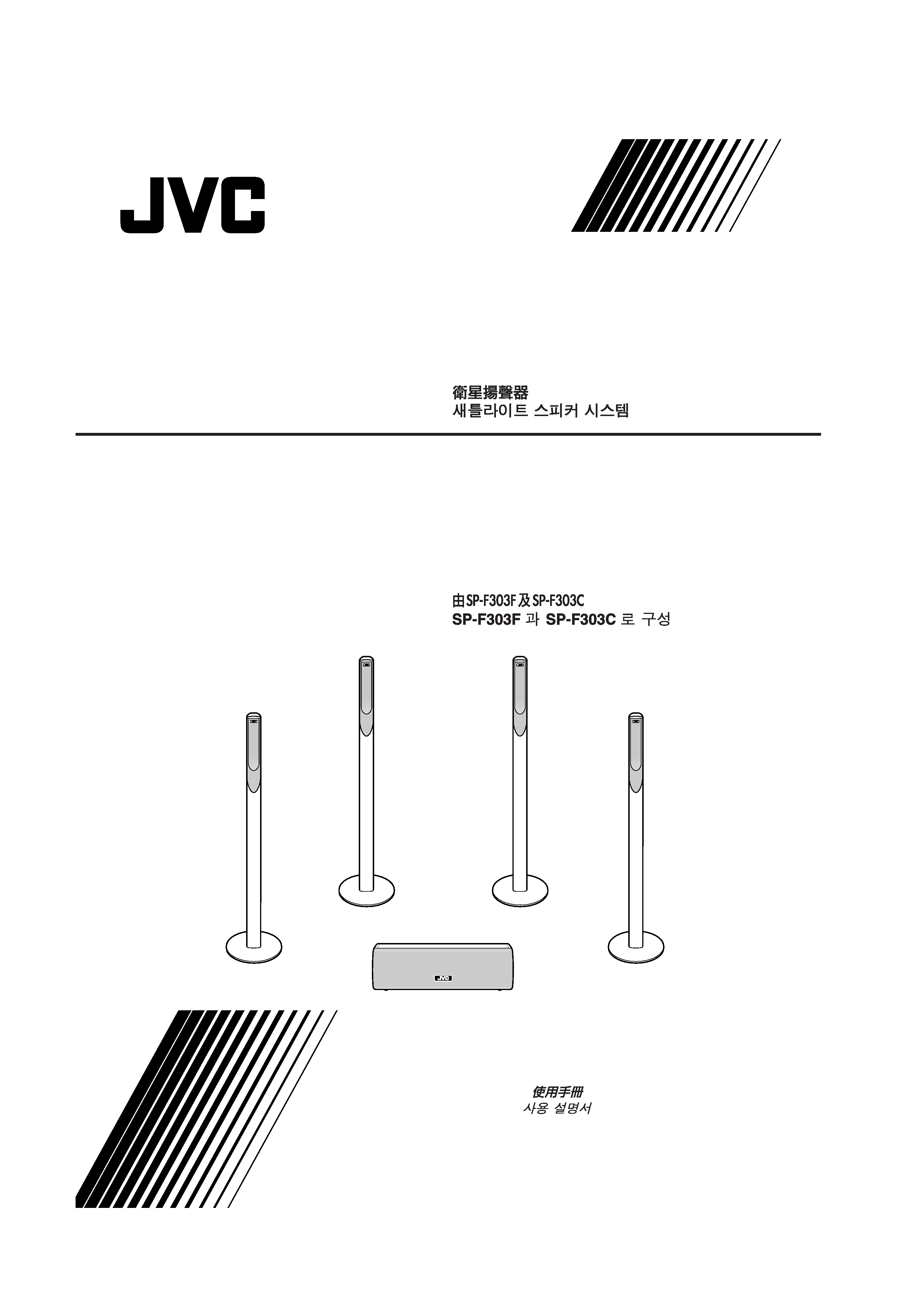 SATELLITEN-LAUTSPRECHER-SYSTEM
SYSTEME HAUT-PARLEURS SATELLITE
SATELLIET LUIDSPREKERSYSTEEM
SYSTEMA DE ALTAVOZ DE SATÉLITE
SISTEMA DI ALTOPARLANTI SATELLITI
SATELLIITTIKAIUTINJÄRJESTELMÄ
SYSTEM GLONIKóW SATELITARNYCH
SATELITNÍ REPRODUKTOROVÁ SOUSTAVA
-- Consists of SP-F303F and SP-F303C
Bestehend aus SP-F303F und SP-F303C
Se compose de SP-F303F et SP-F303C
Bestaat uit SP-F303F en SP-F303C
Consta de SP-F303F y SP-F303C
L'impianto è formato da SP-F303F e SP-F303C
Består av SP-F303F och SP-F303C
Består of SP-F303F og SP-F303C
Sisältää seuraavat osat: SP-F303F ja SP-F303C
Zestaw przyrzadów SP-F303F a SP-F303C
A készülék SP-F303F és SP-F303C egységekbl áll
Sestava komponent SP-F303F a SP-F303C
---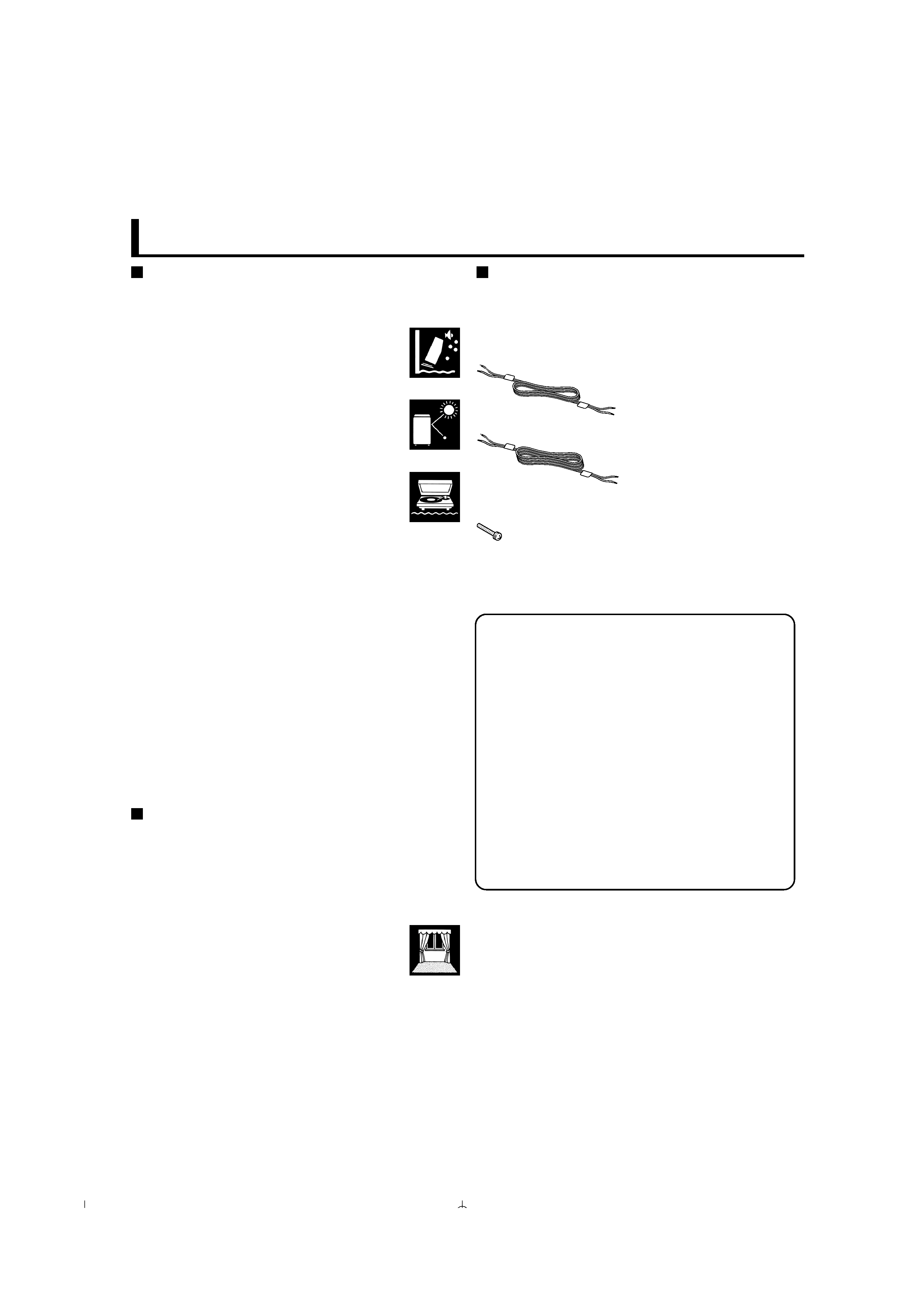 Warnings, Cautions and Others
Thank you for purchasing a JVC speaker system.
Before you begin using these speakers, please read the
instructions carefully to be sure you get the best possible
performance. If you have any questions, consult your JVC dealer.
Precautions for installation
· Do not install the speakers on an uneven surface or in a place
subject to vibration; otherwise, they may fall over, causing
­ Take the occurrence of earthquakes or other
physical shocks into consideration when
selecting the installation place, and secure
· To prevent deformation or discoloration of the
cabinet, do not install the speakers where they
are exposed to direct sunlight or high humidity,
and avoid installation near air conditioning
· Speaker vibrations may cause howling. Place the
speakers as far away from the player as possible.
· The speakers are magnetically shielded to avoid color
distortions on TVs. However, if not installed properly, it may
cause color distortions. So, pay attention to the following when
­ When placing the speakers near a TV set, turn off the TV's
main power switch or unplug it before installing the
Then wait at least 30 minutes before turning on the TV's
Some TVs may still be affected even though you have followed
the above. If this happens, move the speakers further away
· Tuner reception may become noisy or hissing if a speaker is
installed near the tuner. In this case, leave more distance
between the tuner and the speakers or use an outdoor
antenna for better tuner reception without interference from
Precautions for Daily Use
· To maintain the appearance of the speakers
Wipe with a dry, soft cloth if the cabinet or control panel should
If very dirty, apply a small amount of water or neutral detergent
to the cloth and wipe clean, then wipe with a dry cloth.
· To improve the sound field
If the speakers are facing a solid wall or glass
door, etc., it is recommended to furnish the wall
with materials that absorb sounds, for example by
hanging up thick curtains, to prevent reflections
· To use the speakers without any trouble
­ Do not reproduce sounds at so high a volume that they are
distorted; otherwise, the speakers may be damaged by
­ When moving the speakers, do not pull the speaker cords;
otherwise, the speakers may fall over, causing damage or
­ When holding a satellite speaker, do not grasp the speaker
(upper) portion, but always grasp the leg (lower) portion of
Checking the supplied Accessories
Check to be sure you have the following supplied accessories.
The number in parenthesis indicates the quantity of the piece
If any of the items above are missing, contact your dealer
Speaker and Speaker cords--
to improve the sound quality
When connecting the speaker cords
Make sure to match the polarity (
the sound will lose the surround effect.
After connecting, check that the exposed cores are fully
inserted into the terminal.
When using other speaker cords
· Buy thick speaker cords rather than thin cords, and
make them as short as possible for connection.
· Use speaker cords of the same length for both left and
· Do not use long speaker cords; otherwise, the sound
For satellite speakers for front left/
right channel and center speaker
For satellite speakers for surround
---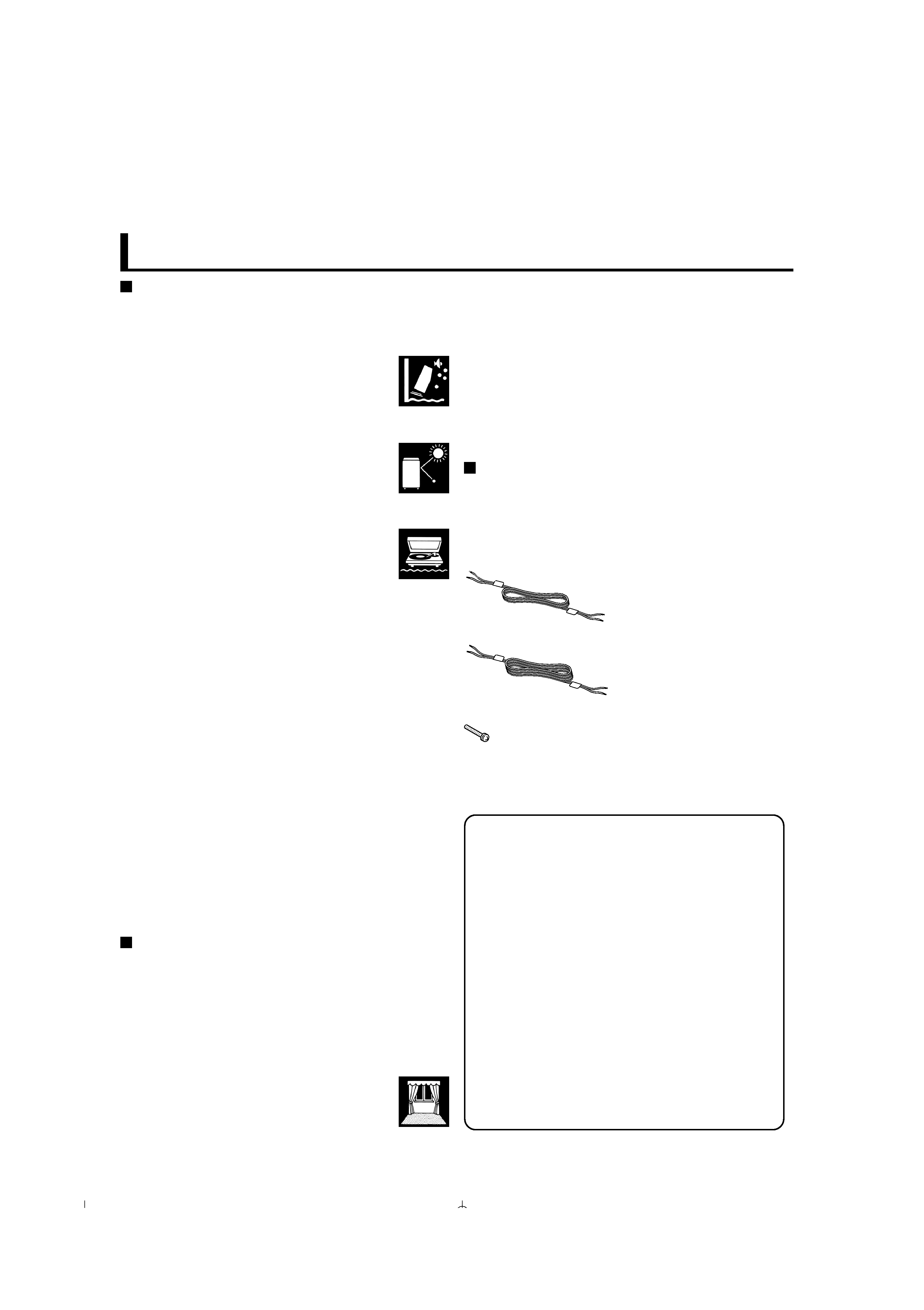 Warnungen, Vorsichtshinweise usw.
Vielen Dank, dass Sie sich für einen JVC-Lautsprecher entschieden haben.
Lesen Sie die Bedienungsanleitung vor der Verwendung dieser
Lautsprecher sorgfältig durch, um eine optimale Geräteleistung zu
erzielen. Wenden Sie sich bei etwaigen Fragen bitte an Ihren JVC
Vorsichtsmaßnahmen für die Installation
· Stellen Sie die Lautsprecher nur auf ebenen und
erschütterungsfreien Flächen auf, da sie sonst möglicherweise
umkippen und Schäden oder Verletzungen verursachen
­ Beachten Sie bei der Auswahl des
Aufstellungsorts auch die Möglichkeit von
Erdstößen und anderen äußeren
Krafteinwirkungen und stellen Sie sicher, dass die
Lautsprecher sicher und fest angebracht sind.
· Um eine Verformung oder Verfärbung des
Gehäuses zu vermeiden, stellen Sie die
Lautsprecher so auf, dass sie nicht direktem
Sonnenlicht oder hoher Luftfeuchtigkeit ausgesetzt
sind, und wählen Sie den Aufstellungsort nicht in
der Nähe von Klimaanlagen.
· Erschütterungen der Lautsprecher können
Pfeifgeräusche verursachen. Stellen Sie die
Lautsprecher so weit entfernt wie möglich vom
· Die Lautsprecher verfügen über eine magnetische
Abschirmung, um Farbveränderungen im Fernsehgerät zu
verhindern. Wenn sie jedoch nicht ordnungsgemäß aufgestellt
werden, kann es zu Einbußen in der Bildqualität kommen.
Achten Sie darum bei der Installation der Lautsprecher auf
­ Wenn Sie die Lautsprecher in der Nähe eines
Fernsehgeräts aufstellen, schalten Sie den Hauptschalter
des Fernsehgeräts aus oder ziehen Sie den Netzstecker ab,
bevor Sie die Lautsprecher aufstellen.
Warten Sie dann mindestens 30 Minuten, bevor Sie den
Hauptschalter des Fernsehgeräts wieder einschalten.
Manchmal kann ein Fernsehgerät dennoch Störungen
ausgesetzt sein, obwohl Sie die obigen Anweisungen befolgt
haben. Stellen Sie die Lautsprecher in diesem Fall weiter
entfernt vom Fernsehgerät auf.
· Wenn ein Lautsprecher in der Nähe des Tuners aufgestellt
wird, kann der Tunerempfang durch Rauschen oder
Nebengeräusche beeinträchtigt werden. Sorgen Sie in diesem
Fall für einen größeren Abstand zwischen Lautsprechern und
Tuner oder verwenden Sie eine Außenantenne, um besseren
Tunerempfang ohne den störenden Einfluss durch die
Lautsprecher zu erzielen.
Vorsichtsmaßnahmen für den Gebrauch
· So halten Sie die Lautsprecher sauber
Wischen Sie die Box oder das Bedienungsfeld mit einem
trockenen, weichen Tuch ab, wenn sie schmutzig geworden sind.
Wenn sie sehr schmutzig geworden sind, dann geben Sie
etwas Wasser oder eine kleine Menge eines neutralen
Reinigungsmittels auf das Tuch und reiben sie sauber. Dann
wischen Sie mit einem trockenen Tuch ab.
· Verbessern des Klangfeldes
Wenn die Lautsprecher gegenüber einer Wand
oder Glastür usw. aufgestellt sind, ist es
empfehlenswert, die Wand mit Klang dämpfenden
Materialien zu versehen, z. B. mit schweren
Vorhängen, um so Reflexionen und Stehwellen
· So verwenden Sie die Lautsprecher richtig
­ Stellen Sie die Lautstärke nie so hoch ein, dass es zu
Klangverzerrungen kommt, da die Lautsprecher ansonsten
durch die Wärmeentwicklung im Inneren beschädigt werden
­ Ziehen Sie nicht an den Lautsprecherkabeln, um die
Lautsprecher zu verschieben, da die Lautsprecher dadurch
kippen und Schäden oder Verletzungen verursachen
­ Wenn Sie den Satellitenlautsprecher anheben möchten,
halten Sie ihn nicht am Lautsprecherteil (oben), sondern
immer am Fußteil (unten) fest.
Prüfen des zum Lieferumfang gehörigen Zubehörs
Überprüfen Sie, dass alle nachfolgend aufgeführten Zubehörteile
in der Verpackung enthalten sind.
Die Zahl in Klammern gibt die Menge der zum Lieferumfang
· Schrauben (mit Unterlegscheiben)
Sollte eines der oben angegebenen Teile fehlen, setzen Sie sich
umgehend mit Ihrem Fachhändler in Verbindung.
Lautsprecher und Lautsprecherkabel--
für verbesserte Klangqualität
Wenn Sie die Lautsprecherkabel anschließen
Sicherstellen, dass die Polung (
ansonsten geht der Surround-Effekt des Klangbilds
Nach dem Anschließen überprüfen, dass die freigelegten
Kerndrähte vollständig in die Anschlussklemmen
Wenn Sie andere Lautsprecherkabel verwenden
· Kaufen Sie lieber stärkere Lautsprecherkabel als dünne
und halten Sie die Kabel für den Anschluss so kurz wie
· Verwenden Sie gleich lange Lautsprecherkabel für die
linken und die rechten Lautsprecher.
· Verwenden Sie nicht zu lange Lautsprecherkabel, da die
Klangqualität ansonsten beeinträchtigt werden kann.
Für Satellitenlautsprecher für
vorderen Kanal (links/rechts) und
Für Satellitenlautsprecher für
Surround-Kanal (links/rechts)
---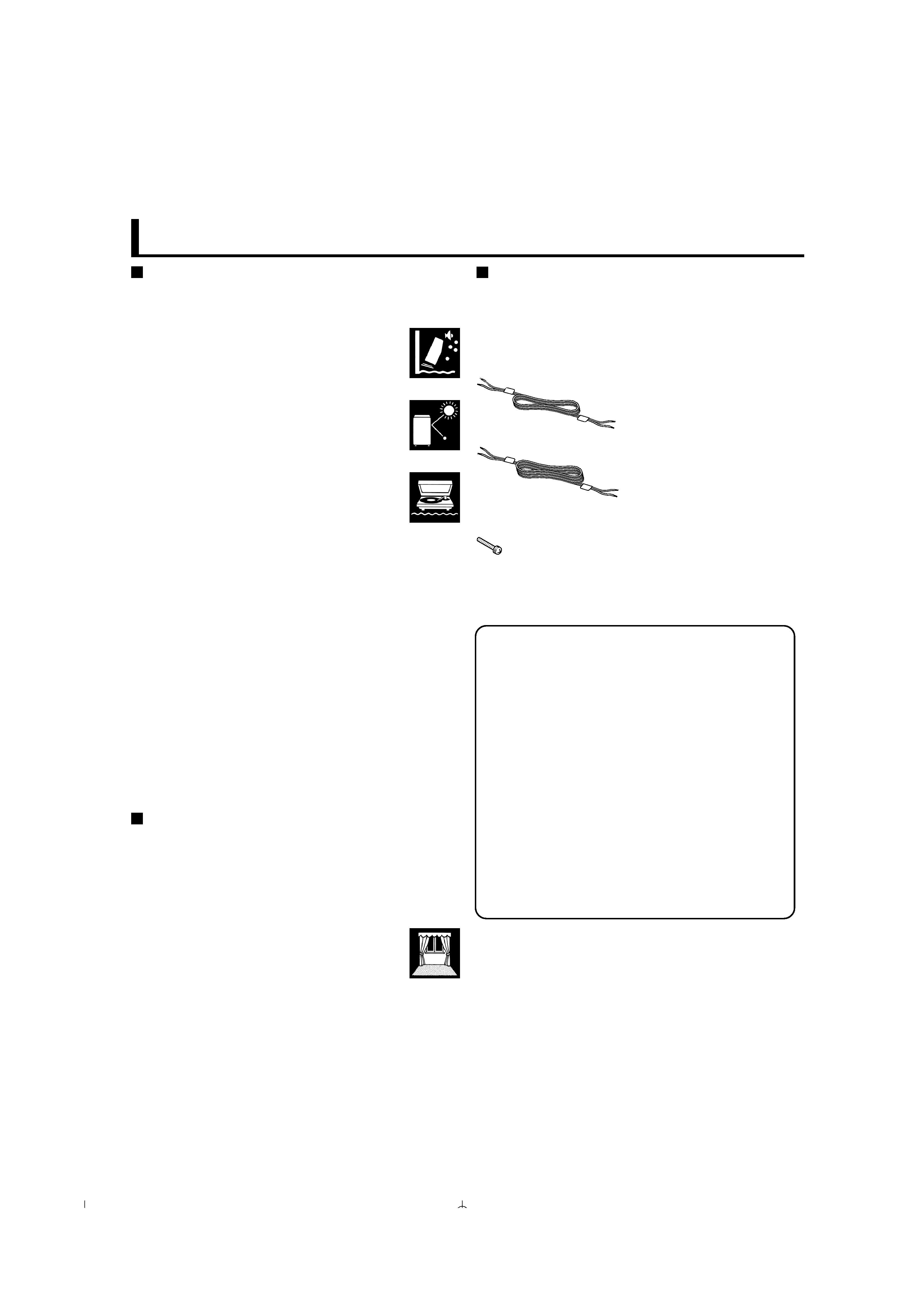 Avertissements, précautions et autres
Merci pour avoir acheté une enceinte JVC.
Avant d'utiliser ces enceintes, veuillez lire attentivement ces
instructions afin d'obtenir les meilleures performances possibles.
En cas de questions, consulter votre revendeur JVC.
Précautions pour l'installation
· N'installez pas les enceintes sur une surface accidentée ou
dans un endroit sujet aux vibrations ; sinon, elles risquent de
tomber causant des dommages ou des blessures.
­ Lors de la sélection de l'emplacement d'installation
des enceintes prenez aussi en considération les
tremblements de terre ou d'autres chocs
physiques, et fixez les en conséquence.
· Pour éviter la déformation ou la décoloration du
boîtier, n'installez pas les enceintes dans un
endroit exposé directement au soleil ou à une
forte humidité, et évitez de les installer près d'une
· Les vibrations des enceintes peuvent causer des
hurlements. Placez-les aussi loin que possible
· Les enceintes sont blindées magnétiquement pour éviter toute
distorsion des couleurs sur les téléviseurs. Cependant, si elles
ne sont pas installées correctement, elles peuvent causer des
distorsions des couleurs. Faites attention aux points suivants
lors de l'installation des enceintes.
­ Lors de l'installation des enceintes près d'un téléviseur,
mettez le téléviseur hors tension ou débranchez-le avant
d'installer les enceintes.
Attendez ensuite 30 minutes avant de remettre le téléviseur
Certains téléviseurs peuvent quand même être affectés même
si vous avez suivi les points ci-dessus. Si cela se produit,
éloigné les enceintes du téléviseur.
· La réception du tuner peut devenir parasitée ou des
sifflements peuvent se produire si une enceinte est installée
près du tuner. Dans ce cas, éloigné un peu plus le tuner de
l'enceinte ou utilisez une antenne extérieure pour obtenir une
meilleure réception du tuner sans interférence des enceintes.
Précautions pour une utilisation quotidienne
· Pour conserver l'apparence des enceintes
Nettoyer avec un chiffon sec et doux si le coffret ou le
panneau de configuration se salissent.
S'ils sont très sales, humecter légèrement le chiffon avec de l'eau ou
un détergent neutre et nettoyer. Essuyer ensuite avec un chiffon sec.
· Amélioration du champ acoustique
Si les enceintes font face à un mur solide ou à une
porte vitrée, etc., il est recommandé de recouvrir le
mur de matériaux absorbant le son, comme par
exemple en suspendant des rideaux épais, afin
d'éviter les réflexions et les ondes stationnaires.
· Pour utiliser les enceintes sans aucun problème
­ Ne reproduisez pas des sons à un volume si élevé qu'ils
sont déformés ; sinon, les enceintes peuvent être
endommagées par un échauffement interne.
­ Lors du déplacement des enceintes, ne tirez pas sur les
cordons d'enceinte ; sinon, les enceintes risquent de tomber
et de causer des dommages ou des blessures.
­ Pour porter l'enceinte satellite, ne la tenez pas par la partie
(supérieure) enceinte, mais tenez la toujours par la partie
Vérification des accessoires fournis
Assurez-vous que vous avez bien tous les accessoires fournis
Le nombre entre parenthèses inique la quantité d'articles
Si un des éléments ci-dessus manquait, contactez votre
Enceinte et cordon d'enceinte--
pour améliorer la qualité du son
Lors de la connexion des cordons d'enceinte
Assurez-vous de respecter les polarités (
le son perdra son effet Surround.
Après la connexion, vérifiez que les fils mis à nu sont
complètement insérés dans les prises.
Lors de l'utilisation d'autres cordons d'enceinte
Respectez les points suivants ;
· Achetez des cordons d'enceinte épais plutôt que des
fins, et rendez les aussi court que possible lors de la
· Utilisez des cordons d'enceinte de la même longueur
pour les enceintes gauche et droite.
· N'utilisez pas de cordon d'enceinte trop long ; sinon, la
qualité du son pourrait être détériorée.
Pour les enceintes satellites
placées en position avant et pour
Pour les enceintes satellites
placées en position arrière
---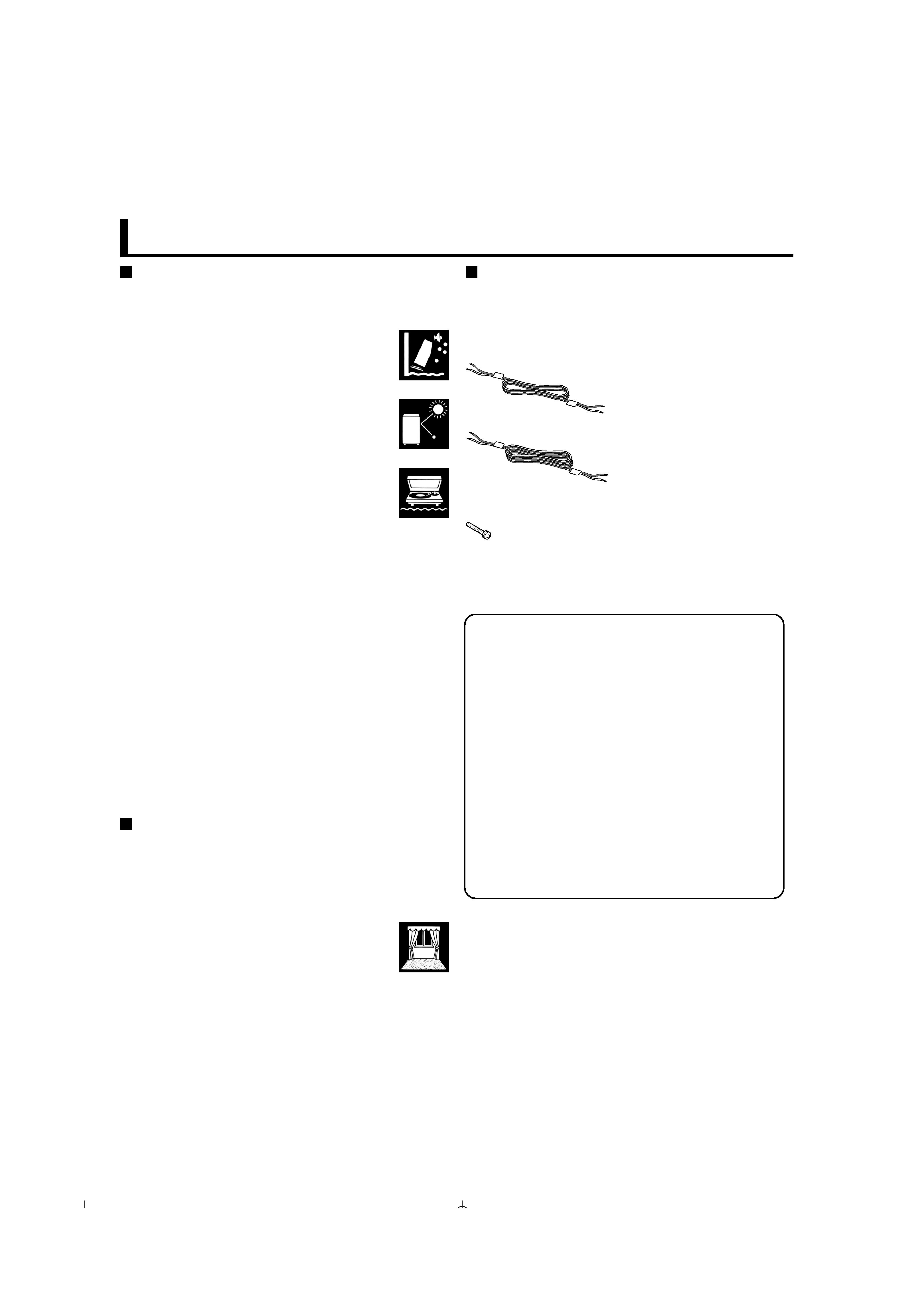 Waarschuwingen en andere aandachtspunten
Dank u voor de aanschaf van een JVC luidspreker.
Lees voor een optimale werking de aanwijzingen goed door
alvorens deze luidsprekers in gebruik te nemen. Neem contact
op met de JVC dealer indien u vragen heeft.
Voorzorgen voor de installatie
· Installeer de luidsprekers niet op een ongelijk of scheef oppervlak en
niet op plaatsen die aan trillingen onderhevig zijn; de luidsprekers
zouden anders kunnen vallen met beschadiging of letsel tot gevolg.
­ Houd rekening met aardbevingen, schokken of
stoten bij het bepalen van de installatieplaats
en bevestig de luidsprekers stevig.
· Voorkom vervorming of verkleuring van de
behuizing van de luidsprekers en installeer ze
derhalve niet op plaatsen die aan het directe
zonlicht of een hoge vochtigheid onderhevig zijn of
in de directe luchtstroom van een airconditioner.
· Luidsprekervibraties kunnen een hoog
rondzingend geluid veroorzaken. Plaats de
luidsprekers zo ver als mogelijk uit de buurt van
· De luidsprekers zijn magnetisch afgeschermd om kleurvervorming
van het beeld van TV's te voorkomen. Door een verkeerde
installatie kunnen de kleuren echter wel worden vervormd. Let
derhalve op het volgende bij het installeren van de luidsprekers.
­ Indien u deze luidsprekers in de buurt van een TV plaatst,
moet u de hoofdschakelaar van de TV in de uit-stand
drukken of de stekker uit het stopcontact trekken alvorens
de luidsprekers te installeren.
Wacht vervolgens tenminste 30 minuten alvorens de
hoofdschakelaar van de TV weer in de aan-stand te drukken.
Het beeld van bepaalde TV's wordt mogelijk nog vervormd,
ookal heeft u het hierboven beschrevene opgevolgd. U moet in
dat geval de luidsprekers verder van de TV plaatsen.
· De tuner-ontvangst wordt mogelijk gestoord of u hoort ruis
wanneer de luidsprekers in de buurt van de tuner zijn geplaatst.
U moet in dat geval de luidsprekers verder van de tuner plaatsen
of een buitenantenne gebruiken voor een betere ontvangst met
de tuner, zonder door deze luidsprekers veroorzaakte storing.
Voorzorgen voor dagelijks gebruik
· Behouden van mooie luidsprekers
Veeg de behuizing of het bedieningspaneel af met een droge,
zachte doek als deze vuil geworden is.
Als het vuil hardnekkig is, kunt u een beetje water of sop op de
doek doen om het vuil te verwijderen. Wrijf na met een droge doek.
· Verbeteren van het geluidsveld
Indien de luidsprekers naar een solide muur of
glazen deur zijn gericht, dient u bij voorkeur de
muur of deur met geluidsabsorberend materiaal
te bedekken, door bijvoorbeeld dikke gordijnen op
te hangen, zodat reflectie van het geluid en
geluidsgolven worden voorkomen.
· Gebruik van de luidsprekers zonder problemen
­ Vermijd een dermate hoog volume dat het geluid vervormd
klinkt; de luidsprekers worden anders mogelijk beschadigd
door interne opgehoopte hitte.
­ Trek bij het verplaatsen van de luidsprekers niet aan de
luidsprekersnoeren; de luidsprekers zouden anders kunnen
vallen met beschadiging of letsel tot gevolg.
­ Bij het vasthouden van een satelliet-luidspreker houdt u niet
het (bovenste) luidsprekergedeelte vast, maar pakt u altijd
het (onderste) gedeelte met de poot vast.
Controleren van de bijgeleverde accessoires
Controleer dat de volgende accessoires zijn bijgeleverd.
Het tussen haakjes aangegeven cijfer toont het aantal van het
· Schroeven (met sluitring)
Raadpleeg direct de plaats van aankoop indien een van de
hierboven beschreven onderdelen ontbreekt.
Luidspreker en luidsprekersnoeren--
voor een betere geluidskwaliteit
Bij het aansluiten van de luidsprekersnoeren
Zorg dat de snoeren met de juiste polariteit (
zijn aangesloten; het surroundeffect gaat verloren indien
de snoeren omgekeerd werden aangesloten.
Controleer na het aansluiten dat de blootliggende
kerndraden geheel in de aansluitingen zijn gestoken.
Bij gebruik van andere luidsprekersnoeren
· Gebruik dikke snoeren in plaats van dunne snoeren en
houd de snoeren zo kort als mogelijk.
· Gebruik luidsprekersnoeren met dezelfde lengte voor
zowel de linker- als rechterluidsprekers.
· Gebruik geen lange luidsprekersnoeren; de
geluidskwaliteit is anders mogelijk niet optimaal.
Voor satelliet-luidsprekers aan de
Voor satelliet-luidsprekers aan de
---