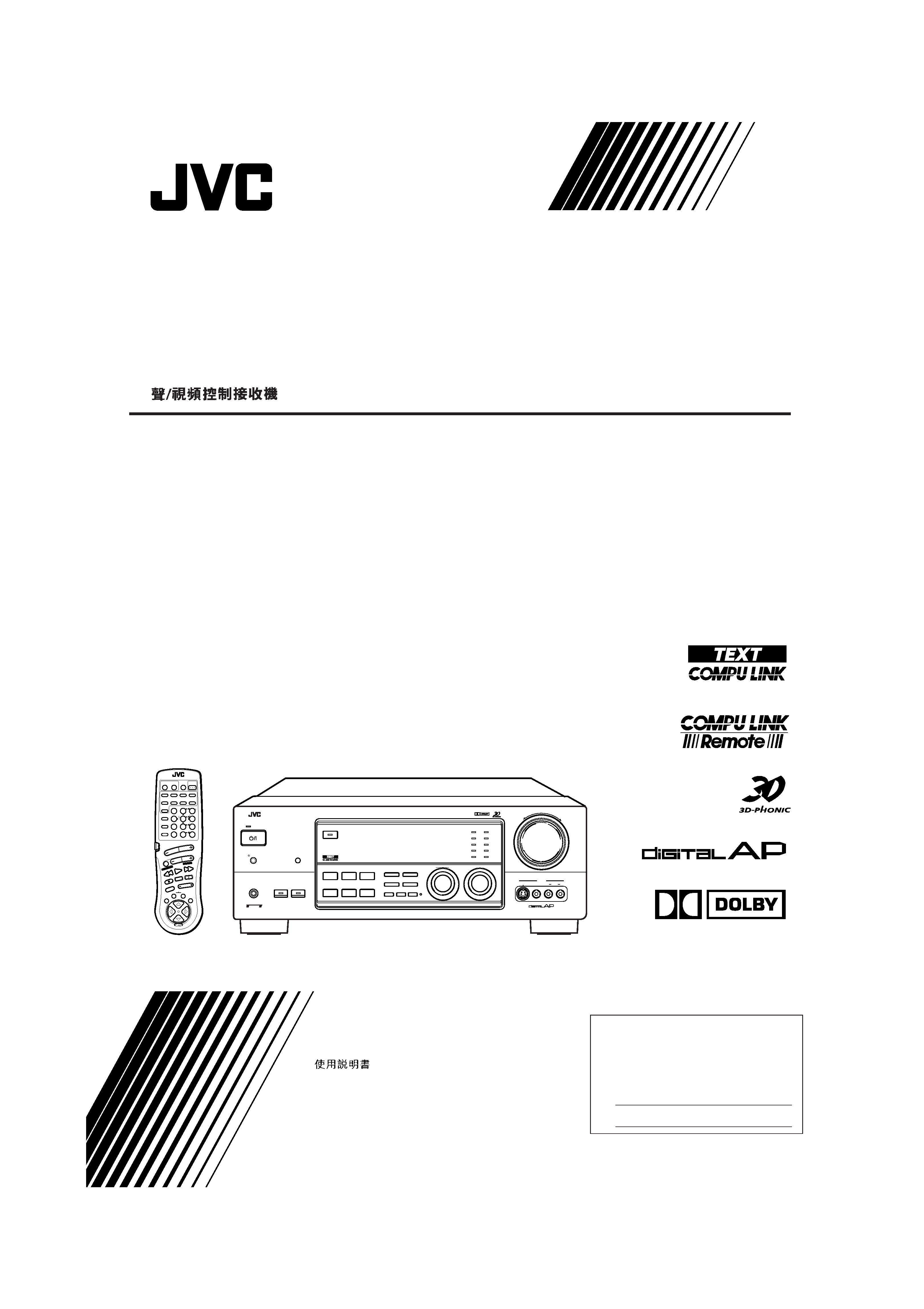 Enter below the Model No. and Serial
No. which are located either on the rear,
bottom or side of the cabinet. Retain this
information for future reference.
AUDIO/VIDEO CONTROL RECEIVER
RECEPTOR DE CONTROL DE AUDIO/VÍDEO
RECEPTOR DE COMANDO AUDIO/VÍDEO
RM-SR884XU REMOTE CONTROL
RX-884P AUDIO/VIDEO CONTROL RECEIVER
ENHANCED COMPULINK CONTROL SYSTEM
---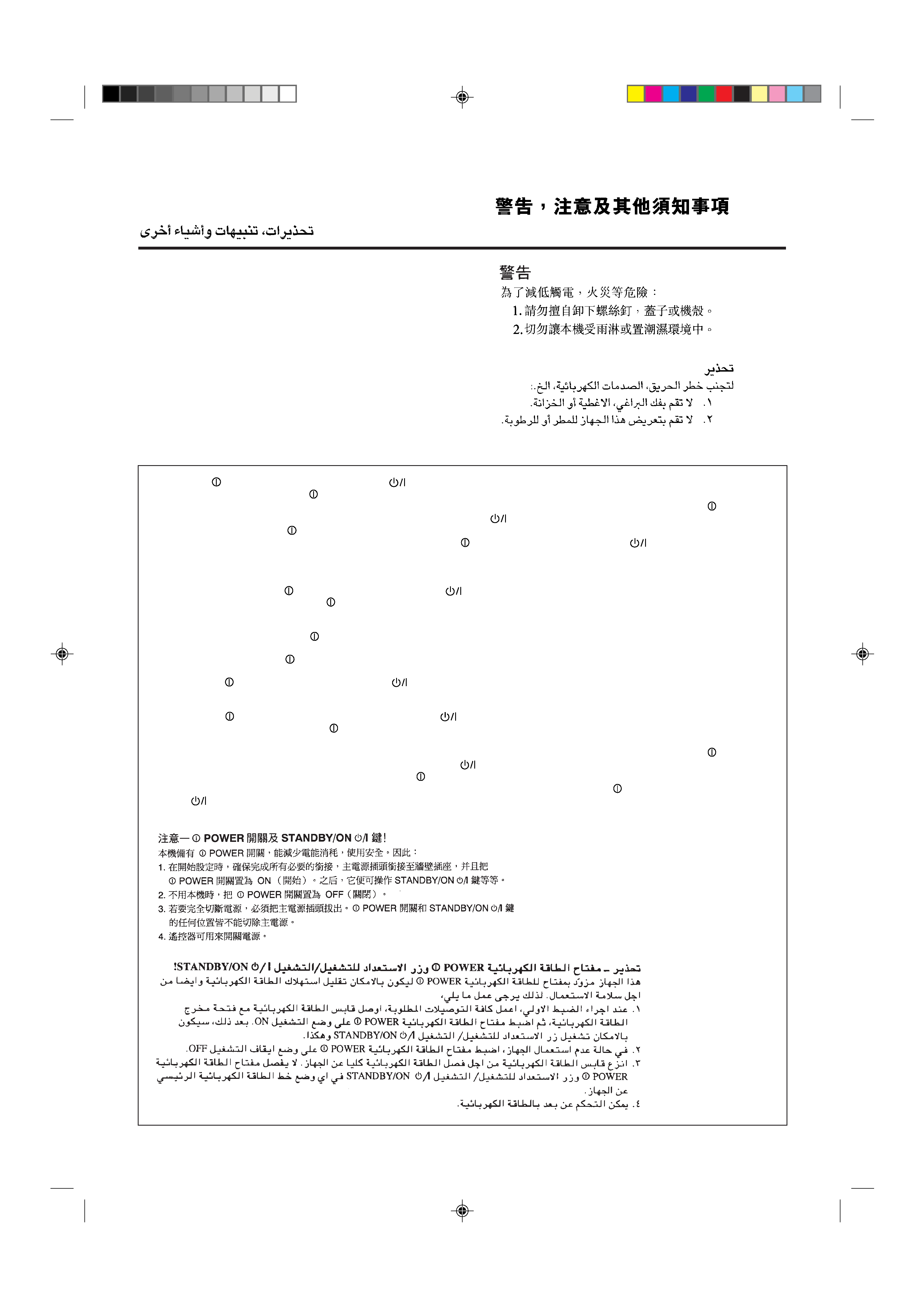 Warnings, Cautions and Others / Avisos, precauciones y otras notas /
Advertêcias, precauções e outras notas /
POWER switch and STANDBY/ON
This apparatus is provided with a
POWER switch to be able to minimize power consumption for safe use. Therefore,
1. When doing initial setting, complete all the connections required, connect the mains plug into the wall outlet, and set the
switch to ON. After these, it will be available to operate STANDBY/ON
2. When not in use, set the
3. Disconnect the mains plug to shut the power off completely. The
POWER switch and STANDBY/ON
button in any position do
not disconnect the mains line.
4. The power can be remote controlled.
Precaución ­­ Interruptor
Esta unidad dispone de un interruptor
POWER que sirve para reducir al mínimo el consumo de alimentación para proporcionar mayor
seguridad operacional. Por lo tanto,
1. Al ejecutar el ajuste inicial, después de completar todas las conexiones requeridas, conectar el cable de alimentación a una toma de
pared, y activar el interruptor
POWER. Entonces, será posible ejecutar operaciones tales como la conmutación del estado de
2. Desactivar el interruptor
POWER al dejar la unidad fuera de uso.
3. Desconectar el cable de alimentación para desactivar la alimentación totalmente. Cualquier que sea la posición de ajustes del
POWER y el botón STANDBY/ON
, la alimentación no es cortada completamente.
4. La alimentación puede ser controlada remotamente.
Interruptor POWER e botão STANDBY/ON
Este aparelho dispõe de um interruptor
POWER que possibilita reduzir ao mínimo o seu consumo de energia por medida de segurança.
1. Nos ajustes iniciais, efetue todas as conexões necessárias, ligue o plugue de alimentação à tomada e coloque o interruptor
em ON. Feito isso, será possível operar o botão STANDBY/ON
2. Quando não utilizar o aparelho, coloque o interruptor
3. Remova o plugue de alimentação da tomada para desligar o aparelho completamente. O interruptor
, em qualquer de suas posições, não desligam a alimentação do aparelho.
4. É possível controlar remotamente a função do interruptor POWER.
To reduce the risk of electrical shocks, fire, etc.:
1. Do not remove screws, covers or cabinet.
2. Do not expose this appliance to rain or moisture.
Para reducir riesgos de choques eléctricos, incendio, etc.:
No extraiga los tornillos, los cubiertas ni la caja.
No exponga este aparato a la lluvia o a la humedad.
Para reduzir riscos de choques eléctricos, incêndio, etc.:
1. Não retire parafusos nem desmonte as tampas ou o gabinete.
2. Não exponha este aparelho à chuva nem à umidade.
---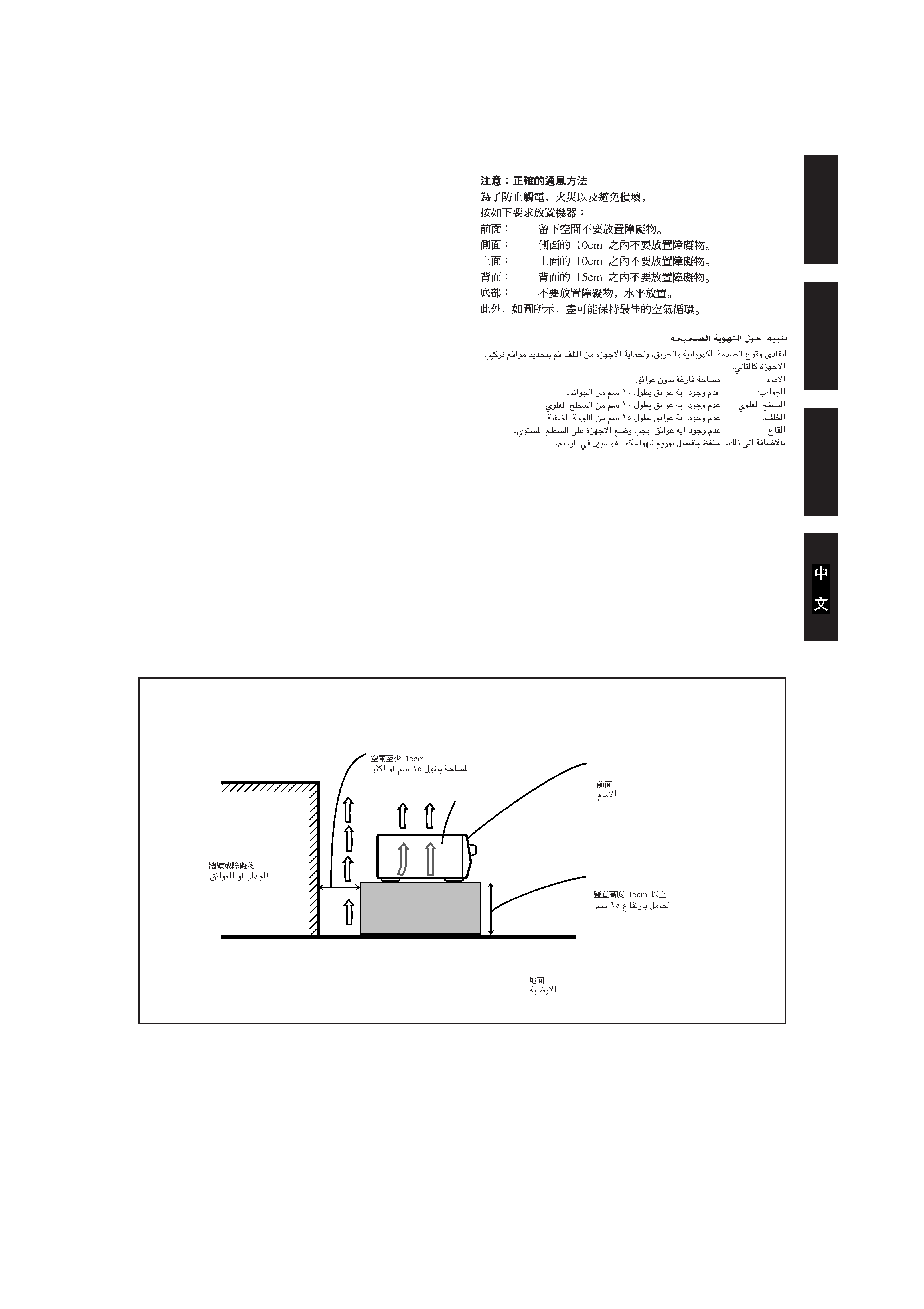 Caution: Proper Ventilation
To avoide risk of electric shock and fire and to protect from damage.
Locate the apparatus as follows:
No obstructions open spacing.
No obstructions in 10 cm from the sides.
No obstructions in 10 cm from the top.
No obstructions in 15 cm from the back
No obstructions, place on the level surface.
In addition, maintain the best possible air circulation as illustrated.
Precaución: Ventilación Adecuada
Para evitar el riesgo de choque eléctrico e incendio y para proteger el
Ubique el aparato de la siguiente manera:
Espacio abierto sin obstrucciones
10 cm sin obstrucciones a los lados
Parte superior: 10 cm sin obstrucciones en la parte superior
15 cm sin obstrucciones en la parte trasera
Sin obstrucciones, colóquelo sobre una superficie
Además, mantenga la mejor circulación de aire posible como se
Stand height 15 cm or more
Allura del soporte 15 cm o más
Base com altura de 15 cm ou mais
Precaução: ventilação apropriada
Para prevenir o risco de choque elétrico ou incêndio e para proteger o
Localize-o da seguinte maneira:
Espaço aberto, sem obstruções
Espaço de 10 cm sem obstruções nos lados
Espaço de 10 cm sem obstruções acima
Espaço de 15 cm sem obstruções atrás
Sem obstruções. Coloque o aparelho em superfície
Mantenha, além disso, a maior circulação de ar possível, como indica
---

Parts Identification ...................................................................................... 3
Getting Started........................................................................................... 4
Before Installation ................................................................................................................................................................... 4
Checking the Supplied Accessories ........................................................................................................................................ 4
Setting the Voltage Selector Switch ........................................................................................................................................ 4
Connecting the FM and AM Antennas ................................................................................................................................... 5
Connecting the Speakers ......................................................................................................................................................... 6
Connecting Audio/Video Components ................................................................................................................................... 9
Connecting the Power Cord .................................................................................................................................................. 13
Putting Batteries in the Remote Control ............................................................................................................................... 13
Basic Operations ....................................................................................... 14
Turning the Power On and Off (Standby) ............................................................................................................................. 14
Selecting the Source to Play ................................................................................................................................................. 14
Adjusting the Volume ............................................................................................................................................................ 15
Selecting the Front Speakers ................................................................................................................................................. 16
Muting the Sound .................................................................................................................................................................. 16
Recording a Source ............................................................................................................................................................... 16
Attenuating the Input Signal ................................................................................................................................................. 17
Adjusting the Subwoofer Output Level ................................................................................................................................ 17
Basic Settings........................................................................................... 18
Changing the Source Name .................................................................................................................................................. 18
Selecting the Input Mode ...................................................................................................................................................... 18
Adjusting the Front Speaker Output Balance ....................................................................................................................... 19
Setting the Subwoofer Information ....................................................................................................................................... 19
Listening at Low Volume (Loudness) ................................................................................................................................... 19
Digital Input (DIGITAL IN) Terminal Setting ...................................................................................................................... 20
Setting the Speakers for the DSP Modes .............................................................................................................................. 20
One Touch Operation .................................................................................. 23
About the One Touch Operation ........................................................................................................................................... 23
Using the One Touch Operation ............................................................................................................................................ 23
Receiving Radio Broadcasts ........................................................................ 24
Setting the AM Tuner Interval Spacing ................................................................................................................................ 24
Tuning in Stations Manually ................................................................................................................................................. 24
Using Preset Tuning .............................................................................................................................................................. 25
Selecting the FM Reception Mode ....................................................................................................................................... 26
Assigning Names to Preset Stations ..................................................................................................................................... 27
Using the SEA Modes ................................................................................ 28
Selecting Your Favorite SEA Mode ...................................................................................................................................... 28
Creating Your Own SEA Mode ............................................................................................................................................. 29
---

Using the DSP Modes ................................................................................ 30
Using the 3D-PHONIC Modes ............................................................................................................................................. 31
Using the DAP Modes .......................................................................................................................................................... 34
Using the Dolby Digital and Dolby Pro Logic Modes ......................................................................................................... 36
Using the Theater Surround Mode ........................................................................................................................................ 39
Using the On-Screen Menus........................................................................ 43
Selecting the Source to Play ............................................................................................................................................ 43
Selecting the Different Sources for Picture and Sound ................................................................................................... 43
Using the DSP Modes ..................................................................................................................................................... 43
Adjusting the Front Speaker Output Balance .................................................................................................................. 44
Listening at Low Volume (Loudness) ............................................................................................................................. 44
Attenuating the Input Signal ........................................................................................................................................... 44
Adjusting the Subwoofer Output Level ........................................................................................................................... 45
Adjusting the DSP Modes ............................................................................................................................................... 45
Selecting Your Favorite SEA Mode ................................................................................................................................ 46
Creating Your Own SEA Mode ....................................................................................................................................... 47
Basic Settings .................................................................................................................................................................. 47
Operating the Tuner ......................................................................................................................................................... 48
Storing the Preset Stations .............................................................................................................................................. 48
Assigning Names to the Preset Stations .......................................................................................................................... 49
COMPU LINK Remote Control System ......................................................... 50
TEXT COMPU LINK Remote Control System................................................. 51
Showing the Disc Information on the TV Screen ........................................................................................................... 52
Searching a Disc (Only for the CD Player) ..................................................................................................................... 53
Using the User File (Only for the CD Player with the User File Function) .................................................................... 55
Entering the Disc Information ......................................................................................................................................... 56
Operating JVC's Audio/Video Components ................................................... 58
Operating Other Manufactures' Components ............................................... 62
Troubleshooting ......................................................................................... 66
Specifications............................................................................................ 67
---