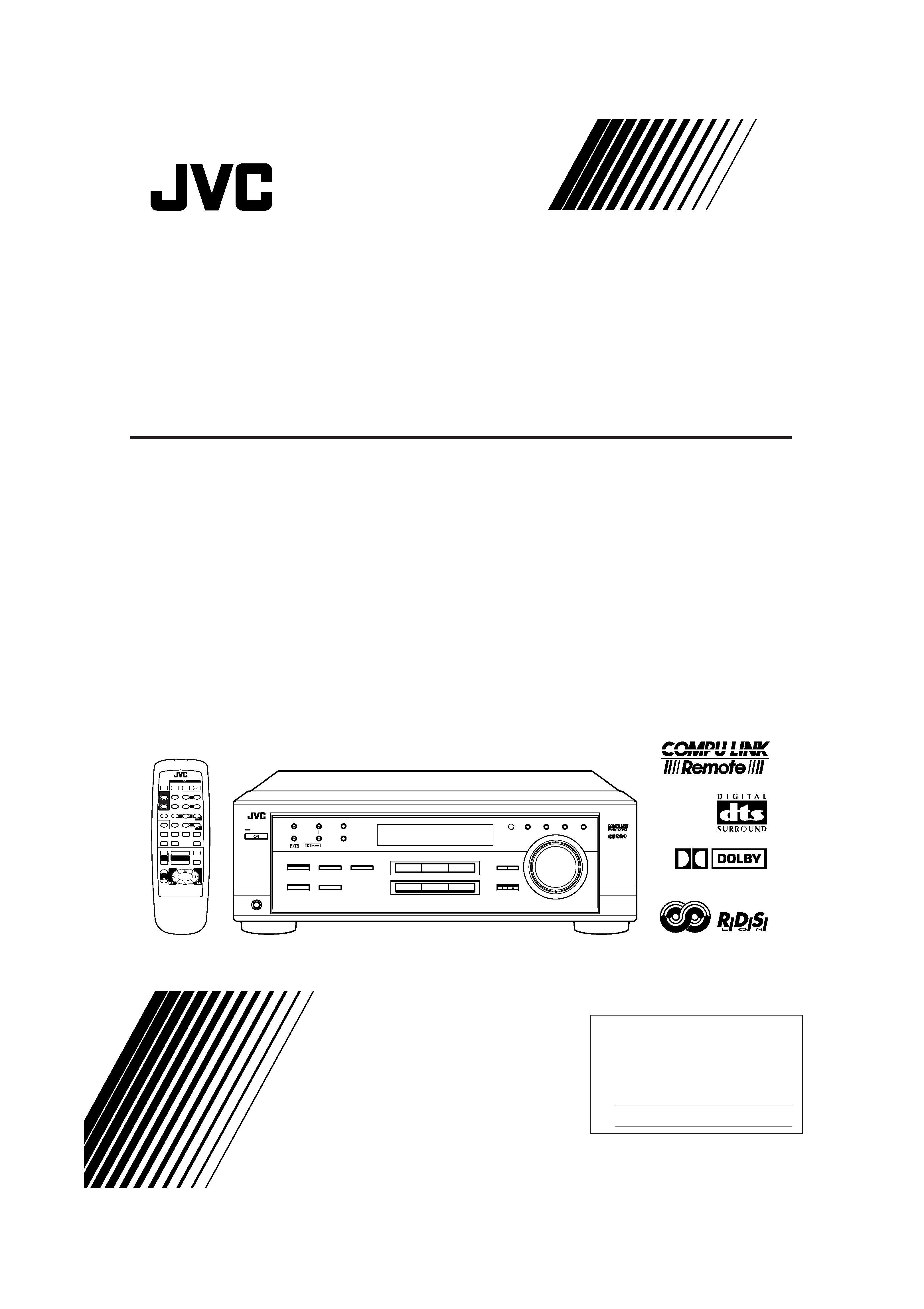 Enter below the Model No. and Serial
No. which are located either on the rear,
bottom or side of the cabinet. Retain this
information for future reference.
AUDIO/VIDEO CONTROL RECEIVER
AUDIO/VIDEO-FÖRFÖRSTÄRKARE
AUDIO/VIDEO FORFORSTÆRKER
AUDIO/VIDEO-RECEIVER MIT STEUEREINHEIT
AMPLI/TUNER DE COMMANDE AUDIO/VIDEO
RECEPTOR DE CONTROL DE AUDIO/VÍDEO
RICEVITORE DI CONTROLLO AUDIO/VIDEO
AUDIO/VIDEO CONTROL RECEIVER
---

Déconnecter la fiche de secteur pour couper complètement le
ne coupe jamais complètement la
ligne de secteur, quelle que soit sa position. Le courant peut être
Precaución ­­ Interruptor
Desconectar el cable de alimentación para desactivar la alimentación
totalmente. Cualquier que sea la posición de ajuste del interruptor
, la alimentación no es cortada completamente. La alimentación
puede ser controlada remotamente.
Attenzione ­­ L'interruttore
Disinserire la spina del cavo di alimentazione dalla presa della rete
elettrica per staccare completamente l'alimentazione. L'interruttore
in nessuna posizione stacca la linea di alimentazione elettrica
principale. È possibile il controllo remoto dell'alimentazione.
Att observera -- Nätströmsknapp (
Drag ut nätströmssladden för att stänga av strömmen helt.
kopplar ej bort nätströmmen. Nätströmmen kan
styras med fjärrkontrollen.
Jos haluat katkaista laitteistosta virran kokonaan, irrota sähköpistoke
seinäpistorasiasta. Virta on päällä kaikissa virtakytkimen (
asennoissa. Virran voi kytkeä myös kaukosäätimellä.
Forsigtig -- STRØMAFBRYDER! (
Tag netstikket ud for at afbryde strømtilførslen fuldstændigt. Med
Strømafbryderen alene kan man ikke helt afbryde lysnetforbindelsen.
Strømtilførslen kan fjernbetjenes.
Den Netzstecker aus der Steckdose ziehen, um die Stromversorgung
vollkommen zu unterbrechen. Der Schalter
Stellung die Stromversorgung vollkommen. Die Stromversorgung kann
mit der Fernbedienung ein- und ausgeschaltet werden.
Vältä sähköiskun ja tulipalon vaara:
Älä avaa ruuveja tai koteloa.
Älä jätä laitetta sateeseen tai kosteaan paikkaan.
Tuuletusrakoja tai -aukkoja ei saa tukkia.
(Jos tuuletusraot tai -aukot tukitaan sanomalehdellä tai
vaatteella yms., lämpö ei mahdollisesti pääse ulos.)
Laitteen päälle ei saa asettaa avotulen lähteitä, kuten palavia
Paristoja hävitettäessä on huomioitava ympäristöongelmat.
Näiden paristojen hävitystä koskevia paikallisia määräyksiä ja
lakeja on noudatettava ehdottomasti.
Tätä laitetta ei saa käyttää kylpyhuoneessa tai kosteissa
tiloissa.Tämän laitteen päälle ei saa asettaa myöskään vedellä
tai nesteillä täytettyjä astioita (kuten kosmetiikkaa tai lääkkeitä,
kukkavaaseja, ruukkukukkia, kuppeja yms.).
Blockera inte ventilationsöppningarna på apparaten.
(Om ventilationsöppningarna blockeras av en tidning, en duk
eller liknande kan värme i apparaten eventuellt inte komma
Placera ingenting med öppen låga, exempelvis ett tänt ljus, på
Använda batterier måste handhas på ett miljömässigt korrekt
sätt och de lagar och förordningar som gäller på platsen för
begagnade batterier måste följas noga.
Använd inte apparaten i badrum eller på annan plats med
vatten. Placera inte heller behållare fyllda med vatten eller
annan vätska (såsom kosmetika, mediciner, blomvaser,
blomkrukor, koppar med mera) ovanpå apparaten.
För att minska riskerna för elektriska stötar, brand, etc.:
Lossa inte på skruvar, lock eller hölje.
Utsätt inte enheten för regn eller fukt.
Varningar, att observera och övrigt/Varoitukset, huomautukset, yms/
Advarsler, forsigtighedsregler og andet/Warnung, Achtung und sostige
Hinweise/Mises en garde, précautions et indications diverses/Avisos,
precauciones y otras notas/Avvertenze e precauzioni da osservare
RX-6010&6012R[EN]SAFETY_f
---

For at reducere faren for elektrisk stød, brand, etc.:
Fjern ikke skruer, dæksler eller kabinet.
Udsæt ikke dette apparat for regn eller fugt.
Undgå at tilstoppe ventilationsåbningerne.
(Hvis de tilstoppes af avispapir, en klud el.lign., vil varmen
muligvis ikke kunne komme ud).
Undlad at anbringe åben ild (f.eks. tændte stearinlys) oven på
Ved bortskaffelse af batterier bør de miljømæssige konse-
kvenser tages i betragtning, ligesom de relevante lokale be-
stemmelser nøje skal overholdes.
Apparatet må ikke bruges i et badeværelse eller i nærheden
af vand. Der bør heller ikke anbringes beholdere med vand
eller anden væske (kosmetik, medicin, blomstervaser,
potteplanter, kopper osv.) oven på apparatet.
Zur Verhinderung von elektrischen Schlägen, Brandgefahr, usw:
Keine Schrauben lösen oder Abdeckungen enternen und
nicht das Gehäuse öffnen.
Dieses Gerät weder Regen noch Feuchtigkeit aussetzen.
Blockieren Sie keine Belüftungsschlitze oder -bohrungen.
(Wenn die Belüftungsöffnungen oder -löcher durch eine Zeitung
oder ein Tuch etc. blockiert werden, kann die entstehende Hitze
Stellen Sie keine offenen Flammen, beispielsweise
angezündete Kerzen, auf das Gerät.
Wenn Sie Batterien entsorgen, denken Sie an den
Umweltschutz. Batterien müssen entsprechend den geltenden
örtlichen Vorschriften oder Gesetzen entsorgt werden.
Setzen Sie die Anlage nicht in einem Badezimmer oder an
Orten ein, an denen Wasser verwendet wird. Stellen Sie
auch keine Behälter, die mit Wasser oder anderen
Flüssigkeiten gefüllt sind (beispielsweise Kosmetik- oder
Medikamentenbehälter, Blumenvasen, Topfpflanzen, Tassen
No obstruya las rendijas o los orificios de ventilación.
(Si las rendijas o los orificios de ventilación quedan tapados con
un periódico, un trozo de tela, etc., no se podrá disipar el calor).
No ponga sobre el aparato ninguna llama al descubierto, como
Cuando tenga que descartar las pilas, tenga en cuenta los
problemas ambientales y observe estrictamente los reglamen-
tos o las leyes locales sobre disposición de las pilas.
No utilice este aparato en el cuarto de baño o en lugares donde
hay agua. Tampoco coloque ningún recipiente que contenga
agua u otros líquidos (frascos de cosméticos o medicinas,
floreros, macetas, vasos, etc.) encima de este aparato.
Para reducir riesgos de choques eléctricos, incendio, etc.:
No extraiga los tornillos, los cubiertas ni la caja.
No exponga este aparato a la lluvia o a la humedad.
Afin d'éviter tout risque d'électrocution, d'incendie, etc.:
Ne pas enlever les vis ni les panneaux et ne pas ouvrir le
Ne pas exposer l'appareil à la pluie ni à l'humidité.
Ne bloquez pas les orifices ou les trous de ventilation.
(Si les orifices ou les trous de ventilation sont bloqués par un
journal un tissu, etc., la chaleur peut ne pas être évacuée
correctement de l'appareil.)
Ne placez aucune source de flamme nue, telle qu'une bougie,
Lors de la mise au rebut des piles, veuillez prendre en
considération les problèmes de l'environnement et suivre
strictement les règles et les lois locales sur la mise au rebut
N'utilisez pas cet appareil dans une salle de bain ou un autre
endroit avec de l'eau. Ne placez aucun récipient contenant de
l'eau (tel que des cosmétiques ou des médicaments, un vase de
fleurs, un pot de fleurs, une tasse, etc.) sur cet appareil.
Per ridurre il rischio di scosse elettriche, incendi, ecc...
Non togliere viti, coperchi o la scatola.
Non esporre l'apparecchio alla piogggia e all'umidità.
Evitare di ostruire le aperture o i fori di ventilazione con giornali,
indumenti etc., in quanto s'impedirebbe al calore di fuoriuscire.
Non collocare fiamme libere (es. candele accese)
Le batterie devono essere smaltite nel rispetto dell'ambiente,
attenendosi ai regolamenti locali in materia.
Non usare l'apparecchio in bagno o in locali dove sia presente
l'acqua. Evitare assolutamente di collocare contenitori
contenenti acqua o liquidi (flaconi di cosmetici o medicinali,
vasi di fiori, piante in vaso , tazze etc.) sull'apparecchio.
"Si dichiara che il questo prodotto di marca JVC è conforme
alle prescrizioni del Decreto Ministeriale n.548 del 28/08/95
pubblicato sulla Gazzetta Ufficiale della Repubblica Italiana
RX-6010&6012R[EN]SAFETY_f
---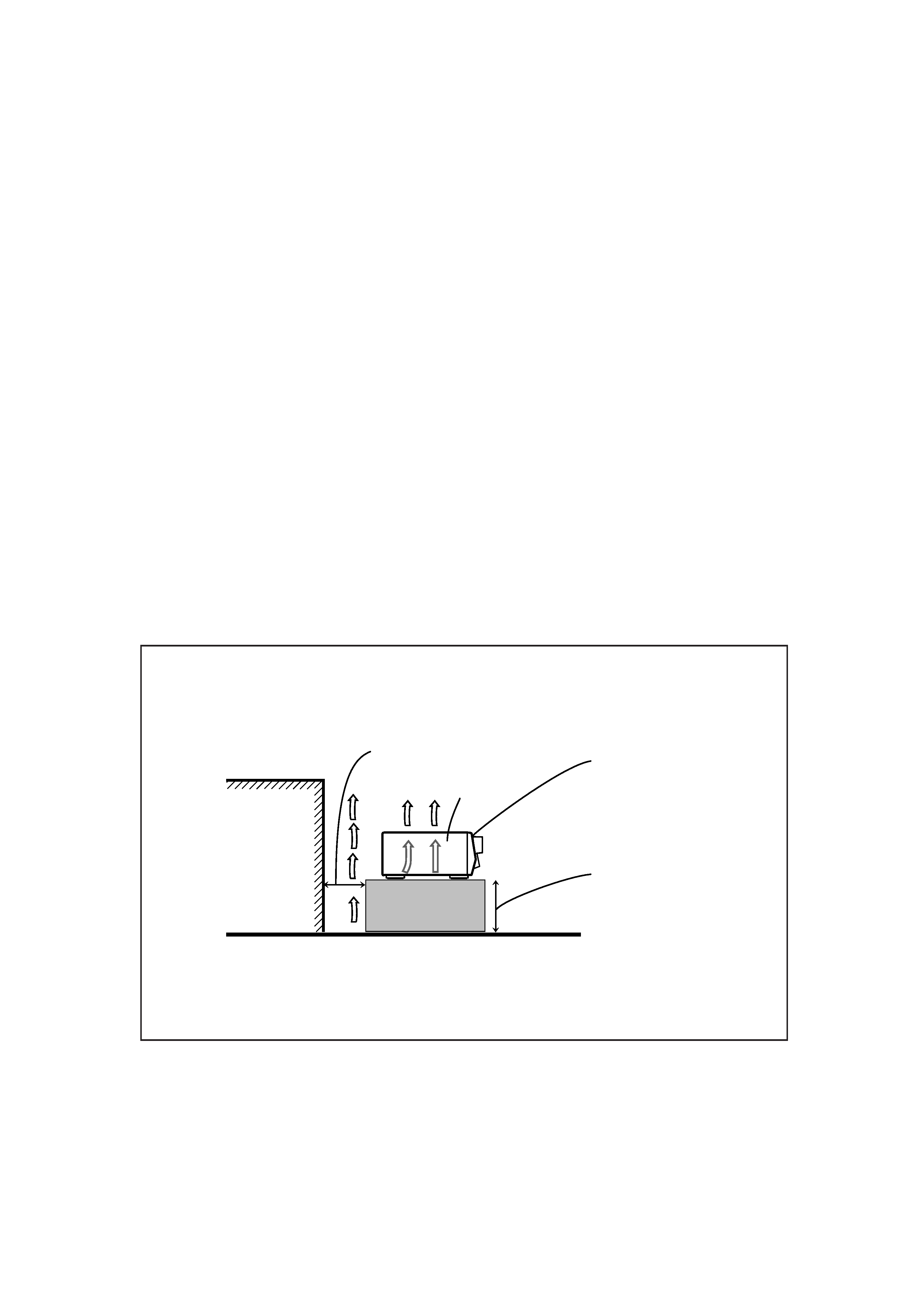 Achtung: Angemessene Ventilation
Stellen Sie das Gerät zur Verhütung von elektrischem Schlag und
Feuer und zum Schutz gegen Beschädigung wie folgt auf:
Vorderseite: Offener Platz ohne Hindernisse.
Keine Hindernisse innerhalb 10 cm von den Seiten.
Keine Hindernisse innerhalb 10 cm von der Oberseite.
Keine Hindernisse innerhalb 15 cm von der Rückseite.
Keine Hindernisse. Auf eine ebene Oberfläche stellen.
Zusätzlich die bestmögliche Luftzirkulation wie gezeigt erhalten.
Att observera: Ordentlig ventilation
Placera apparaten på följande sätt för att unvika risk för elektriska
stötar och eldsvåda, och för att skydda den mot skador:
Öppet utrymme utan hinder.
Inga hinder inom 10 cm från sidorna.
Inga hinder inom 10 cm ovanför ovansidan.
Inga hinder inom 15 cm bakom baksidan.
Undersidan: Inga hinder. Ställ apparaten på en plan yta.
Se dessutom till att ventilationen blir så god som möjligt (se figuren).
Huomautus: Riittävä ilmanvaihto
Sijoita laite seuraavalla tavalla, jotta saadaan vältettyä sähköisku- ja
tulipalovaara ja suojattua laite vaurioilta:
10 cm avoin tila sivuista
10 cm avoin tila laitteen pinnasta
15 cm avoin tila laitteen takaseinästä
Ilmanvaihto on lisäksi pidettävä riittävänä kuvassa näytetyllä tavalla.
Forsigtig: Tilstrækkelig ventilation
Anbring apparatet som anvist herunder, således at risiko for elektriske
stød og brand samt beskadigelse undgås:
Åbent sted uden forhindringer.
Ingen forhindringer indenfor 10 cm fra siderne.
Ingen forhindringer indenfor 10 cm fra oversiden.
Ingen forhindringer indenfor 15 cm fra bagsiden.
Undersiden: Ingen forhindringer. Anbringes på en plan flade.
Sørg derudover altid for bedst mulig luftcirkulation som vist på
Telineen korkeus: 15 cm tal enemmän
Standhøjde de 15 cm eller mere
Standhöhe 15 cm oder mehr
Afstand på 15 cm eller mere
Abstand von 15 cm oder mehr
RX-6010&6012R[EN]SAFETY_f
---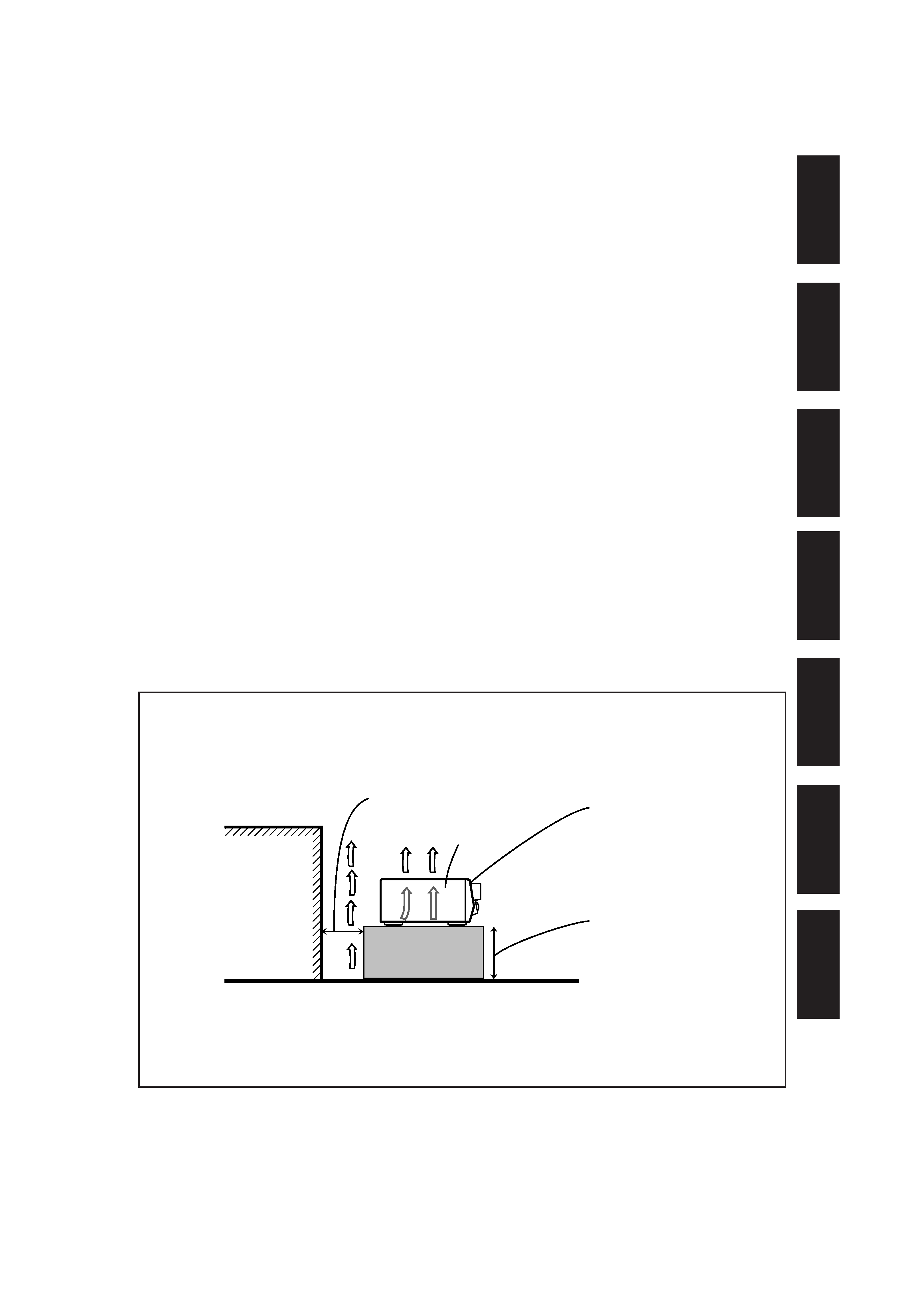 Attention: Ventilation Correcte
Pour éviter les chocs électriques, l'incendie et tout autre dégât.
Disposer l'appareil en tenant compte des impératifs suivants
Rien ne doit gêner le dégagement
Laisser 10 cm de dégagement latéral
Laisser 10 cm de dégagement supérieur
Laisser 15 cm de dégagement arrière
Rien ne doit obstruer par dessous; poser l'appareil sur
Veiller également à ce que l'air circule le mieux possible comme
Precaución: Ventilación Adecuada
Para evitar el riesgo de choque eléctrico e incendio y para proteger el
Ubique el aparato de la siguiente manera:
Espacio abierto sin obstrucciones
10 cm sin obstrucciones a los lados
Parte superior: 10 cm sin obstrucciones en la parte superior
15 cm sin obstrucciones en la parte trasera
Sin obstrucciones, colóquelo sobre una superficie
Además, mantenga la mejor circulación de aire posible como se
Attenzione: Problemi di Ventilazione
Per evitare il rischio di folgorazioni ed incendi e proteggere l'unità da
danni, installarla nel modo seguente.
Nessun ostacolo, spazio libero
Nessun ostacolo per almeno 10 cm
Nessun ostacolo per almeno 10 cm
Nessun ostacolo per almeno 15 cm
Inoltre, mantenere il più possibile la circolazione dell'aria.
Hauteur du socle: 15 cm ou plus
Allura del soporte 15 cm o más
Altezza del tavolino 15 cm p plù
Dégagement de 15 cm ou plus
RX-6010&6012R[EN]SAFETY_f
---