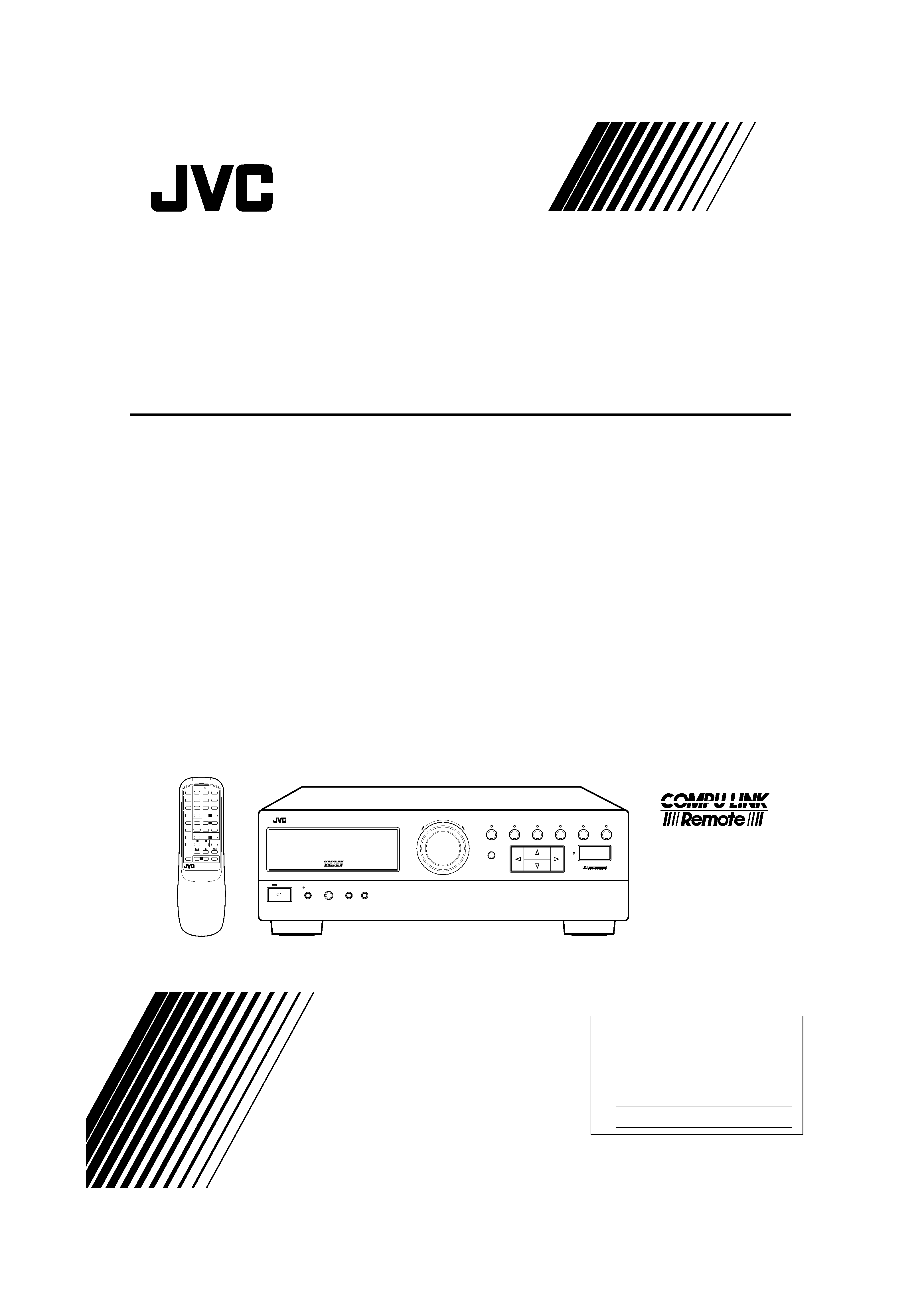 Enter below the Model No. and Serial
No. which are located either on the rear,
bottom or side of the cabinet. Retain this
information for future reference.
AUDIO/VIDEO CONTROL RECEIVER
AUDIO/VIDEO-RECEIVER MIT STEUEREINHEIT
AMPLI/TUNER DE COMMANDE AUDIO/VIDEO
GEINTEGREERDE AUDIO/VIDEO-VERSTERKER
RECEPTOR DE CONTROL DE AUDIO/VÍDEO
RICEVITORE DI CONTROLLO AUDIO/VIDEO
AUDIO/VIDEO CONTROL RECEIVER
ENHANCED COMPULINK CONTROL SYSTEM
RM-SR430EU REMOTE CONTROL
RX-430VBK(EF)_0022-001A_Cover
---

Warnings, Cautions and Others/Warnung, Achtung und sonstige Hinweise/
Mises en garde, précautions et indications diverses/Waarschuwingen,
voorzorgen en andere mededelingen/Avisos, precauciones y otras notas/
Avvertenze e precauzioni da osservare
DO NOT cut off the mains plug from this equipment. If the plug
fitted is not suitable for the power points in your home or the cable
is too short to reach a power point, then obtain an appropriate
safety approved extension lead or consult your dealer.
BE SURE to replace the fuse only with an identical approved type,
If nonetheless the mains plug is cut off ensure to remove the fuse
and dispose of the plug immediately, to avoid a possible shock
hazard by inadvertent connection to the mains supply.
If this product is not supplied fitted with a mains plug then follow
the instructions given below:
DO NOT make any connection to the terminal which is marked with
the letter E or by the safety earth symbol or coloured green or
The wires in the mains lead on this product are coloured in
accordance with the following code:
As these colours may not correspond with the coloured markings
identifying the terminals in your plug proceed as follows:
The wire which is coloured blue must be connected to the terminal
which is marked with the letter N or coloured black.
The wire which is coloured brown must be connected to the
terminal which is marked with the letter L or coloured red.
IF IN DOUBT - CONSULT A COMPETENT ELECTRICIAN.
"Si dichiara che il questo prodotto di marca JVC è conforme
alle prescrizioni del Decreto Ministeriale n.548 del 28/08/95
pubblicato sulla Gazzetta Ufficiale della Repubblica Italiana
RX-430VBK(EF)_0022-001A_G-Page
---

Afin d'éviter tout risque d'électrocution, d'incendie, etc.:
1. Ne pas enlever les vis ni les panneaux et ne pas ouvrir le coffret
2. Ne pas exposer l'appareil à la pluie ni à l'humidité.
Per ridurre il rischio di scosse elettriche, incendi, ecc...
Non togliere viti, coperchi o la scatola.
Non esporre l'apparecchio alla piogggia e all'umidità.
Zur Verhinderung von elektrischen Schlägen, Brandgefahr, usw:
1. Keine Schrauben lösen oder Abdeckungen enternen und nicht
2. Dieses Gerät weder Regen noch Feuchtigkeit aussetzen.
To reduce the risk of electrical shocks, fire, etc.:
1. Do not remove screws, covers or cabinet.
2. Do not expose this appliance to rain or moisture.
Para reducir riesgos de choques eléctricos, incendio, etc.:
No extraiga los tornillos, los cubiertas ni la caja.
No exponga este aparato a la lluvia o a la humedad.
Ter vermindering van gevaar voor brand, elektrische schokken, enz.:
Verwijder geen schroeven, panelen of de behuizing.
Stel dit toestel niet bloot aan regen of vocht.
RX-430VBK(EF)_0022-001A_G-Page
--- POWER switch and STANDBY/ON
This apparatus is provided with a
POWER switch to be able to
minimize power consumption for safe use. Therefore,
1. When doing initial setting, complete all the connections required,
connect the mains plug into the wall outlet, and set the
switch to ON. After these, it will be available to operate STANDBY/
2. When not in use, set the
3. Disconnect the mains plug to shut the power off completely. The
POWER switch and STANDBY/ON
do not disconnect the mains line.
4. The power can be remote controlled.
POWER-Schalter und STANDBY/ON
Dieses Gerät hat einen Netzschalter (
Stromverbrauch für sichere Verwendung auf ein Minimum bringen zu
können. Verfahren Sie deshalb wie folgt:
1. Beim ursprünglichen Aufbau alle erforderlichen Anschlüsse
herstellen, den Netzstecker in eine Wandsteckdose stecken, und
POWER-Schalter einschalten. Anschließend ist Betrieb
2. Wenn das Gerät nicht verwendet wird, den
3. Den Netzstecker aus der Steckdose ziehen, um die
Stromversorgung vollkommen zu unterbrechen. Der
Schalter und die STANDBY/ON
-Taste unterbrechen in keiner
Stellung die Stromversorgung vollkommen.
4. Die Stromversorgung kann mit der Fernbedienung ein- und
POWER et d'une touche STANDBY/
Cet appareil est équipé d'un commutateur
réduire sa consommation d'électricité pour une utilisation plus sûre.
1. En procédant au réglage initial, compléter toutes les connexions
nécessaires, connecter la fiche secteur dans la prise murale et
POWER sur la position ON. Ensuite, il
sera possible de contrôler la touche STANDBY/ON
POWER sur la position OFF lorsque
l'appareil n'est pas utilisé.
3. Déconnecter la fiche secteur pour couper complètement le courant.
POWER et la touche STANDBY/ON
coupent jamais complètement l'alimentation, quelle que soit leurs
4. L'alimentation peut être télécommandée.
Dit apparaat is voorzien van een
POWER hoofdschakelaar om het
apparaat gebruiksklaar te zetten, maar te zorgen dat het stroomverbruik
minimaal blijft. Neem in verband hiermee het volgende in acht:
1. Bij de eerste ingebruikneming zorgt u eerst dat alle aansluitingen
in orde zijn, dan steekt u de stekker in het stopkontakt en dan zet
POWER schakelaar in de "ON" stand. Daarna kunt u het
apparaat aan- en uitschakelen met de STANDBY/ON
2. Wanneer u het apparaat geruime tijd niet gebruikt, kunt u beter de
POWER schakelaar in de "OFF" stand zetten.
3. Om de stroomtoevoer geheel uit te schakelen, trekt u de stekker
uit het stopkontakt. Anders zal er altijd een geringe hoeveelheid
stroom naar het apparaat lopen, ongeacht de stand van de
4. U kunt het apparaat ook met de afstandsbediening aan- en
Precaución ­­ Interruptor
Esta unidad dispone de un interruptor
reducir al mínimo el consumo de alimentación para proporcionar
mayor seguridad operacional. Por lo tanto,
1. Al ejecutar el ajuste inicial, después de completar todas las
conexiones requeridas, conectar el cable de alimentación a una
toma de pared, y activar el interruptor
posible ejecutar operaciones tales como la conmutación del
2. Desactivar el interruptor
POWER al dejar la unidad fuera de
3. Desconectar el cable de alimentación para desactivar la
alimentación totalmente. Cualquier que sea la posición de ajustes
POWER y el botón STANDBY/ON
alimentación no es cortada completamente.
4. La alimentación puede ser controlada remotamente.
Attenzione ­­ Interruttore
Per ridurre al minimo l'assorbimento di corrente ai fini della sicurezza,
questo apparecchio è stato dodato di un interruttore
1. Al momento dell'impostazione iniziale, completare tutti i
collegamenti richiesti, inserire la spina del cavo di alimentazione
nella presa a muro della rete elettrica e impostare l'interruttore
POWER in posizione ON. Fatto ciò, sarà pronto all'uso
2. Quando non in uso, impostare l'interruttore
3. Disinserire la spina del cavo di alimentazione dalla presa della rete
elettrica per staccare completamente l'alimentazione. L' interruttore
POWER e il tasto STANDBY/ON
staccano la linea di alimentazione elettrica principale.
4. È possibile il controllo remoto dell'alimentazione.
RX-430VBK(EF)_0022-001A_G-Page
---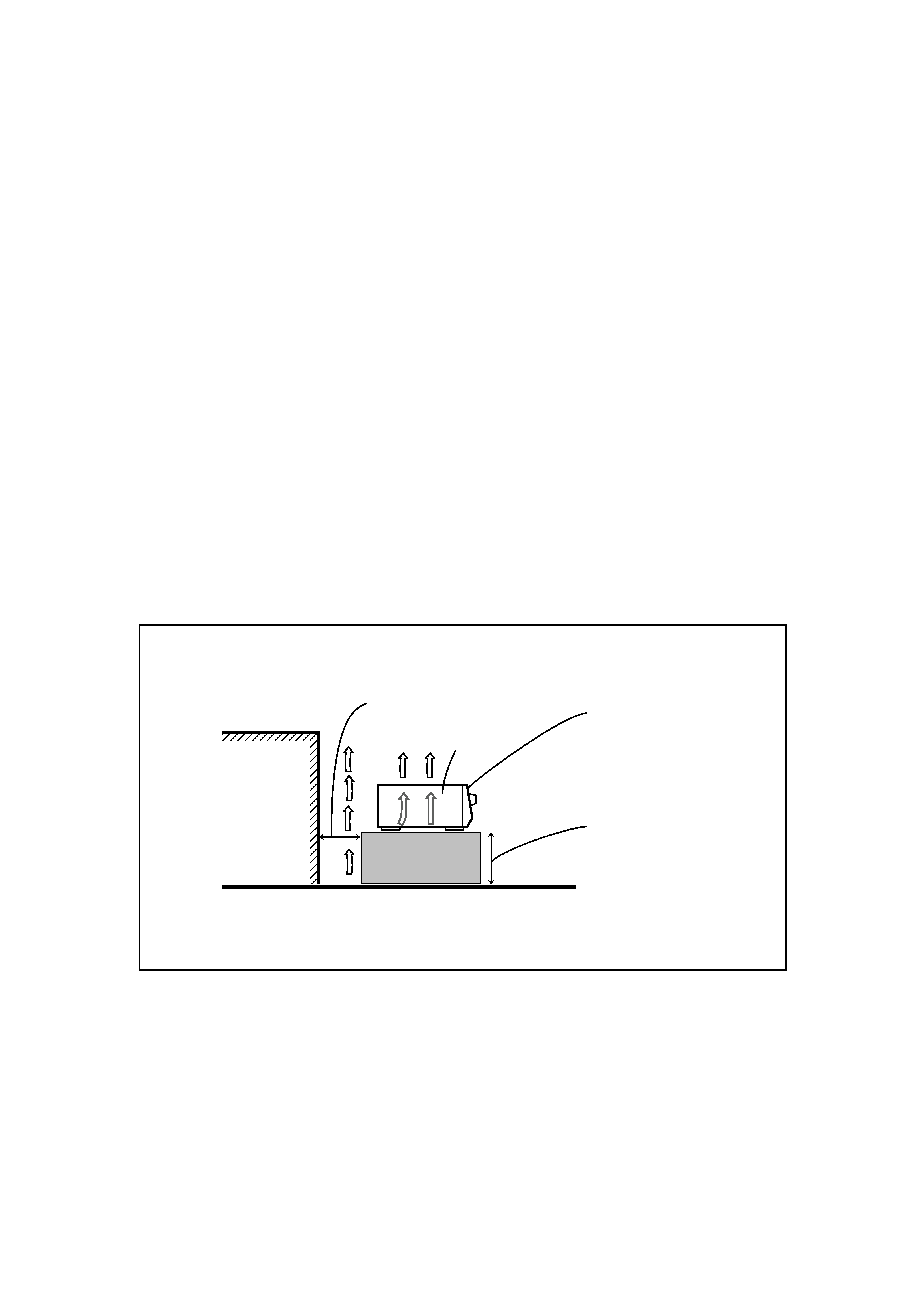 Caution: Proper Ventilation
To avoide risk of electric shock and fire and to protect from damage.
Locate the apparatus as follows:
No obstructions open spacing.
No obstructions in 10 cm from the sides.
No obstructions in 10 cm from the top.
No obstructions in 15 cm from the back
No obstructions, place on the level surface.
In addition, maintain the best possible air circulation as illustrated.
Achtung: Angemessene Ventilation
Stellen Sie das Gerät zur Verhütung von elektrischem Schlag und
Feuer und zum Schutz gegen Beschädigung wie folgt auf:
Vorderseite: Offener Platz ohne Hindernisse.
Keine Hindernisse innerhalb 10 cm von den Seiten.
Keine Hindernisse innerhalb 10 cm von der Oberseite.
Keine Hindernisse innerhalb 15 cm von der Rückseite.
Keine Hindernisse. Auf eine ebene Oberfläche stellen.
Zusätzlich die bestmögliche Luftzirkulation wie gezeigt erhalten.
Attention: Ventilation Correcte
Pour éviter les chocs électriques, l'incendie et tout autre dégât.
Disposer l'appareil en tenant compte des impératifs suivants
Rien ne doit gêner le dégagement
Laisser 10 cm de dégagement latéral
Laisser 10 cm de dégagement supérieur
Laisser 15 cm de dégagement arrière
Rien ne doit obstruer par dessous; poser l'appareil sur
Veiller également à ce que l'air circule le mieux possible comme
Voorzichtig: Zorg Voor Goede Ventilatie
Om gevaar voor brand of een elektrische schok te voorkomen, dient u
bij opstelling van het apparaat op de volgende punten te letten:
Voldoende ruimte vrij houden.
Minstens 10 cm aan weerszijden vrij houden.
Niets bovenop plaatsen; 10 cm speling geven.
Minstens 15 cm ruimte achteraan vrij houden.
Opstellen op een egaal horizontaal oppervlak.
Bovendien moet er rondom voldoende luchtdoorstroming zijn, zoals in
de afbeelding aangegeven.
Precaución: Ventilación Adecuada
Para evitar el riesgo de choque eléctrico e incendio y para proteger el
Ubique el aparato de la siguiente manera:
Espacio abierto sin obstrucciones
10 cm sin obstrucciones a los lados
Parte superior: 10 cm sin obstrucciones en la parte superior
15 cm sin obstrucciones en la parte trasera
Sin obstrucciones, colóquelo sobre una superficie
Además, mantenga la mejor circulación de aire posible como se
Attenzione: Problemi di Ventilazione
Per evitare il rischio di folgorazioni ed incendi e proteggere l'unità da
danni, installarla nel modo seguente.
Nessun ostacolo, spazio libero
Nessun ostacolo per almeno 10 cm
Nessun ostacolo per almeno 10 cm
Nessun ostacolo per almeno 15 cm
Inoltre, mantenere il più possibile la circolazione dell'aria.
Abstand von 15 cm oder mehr
Dégagement de 15 cm ou plus
Minstens 15 cm tussenruimte
Stand height 15 cm or more
Standhöhe 15 cm oder mehr
Hauteur du socle: 15 cm ou plus
Standard op minstens 15 cm van de vloer
Allura del soporte 15 cm o más
Altezza del tavolino 15 cm p plù
RX-430VBK(EF)_0022-001A_G-Page
---