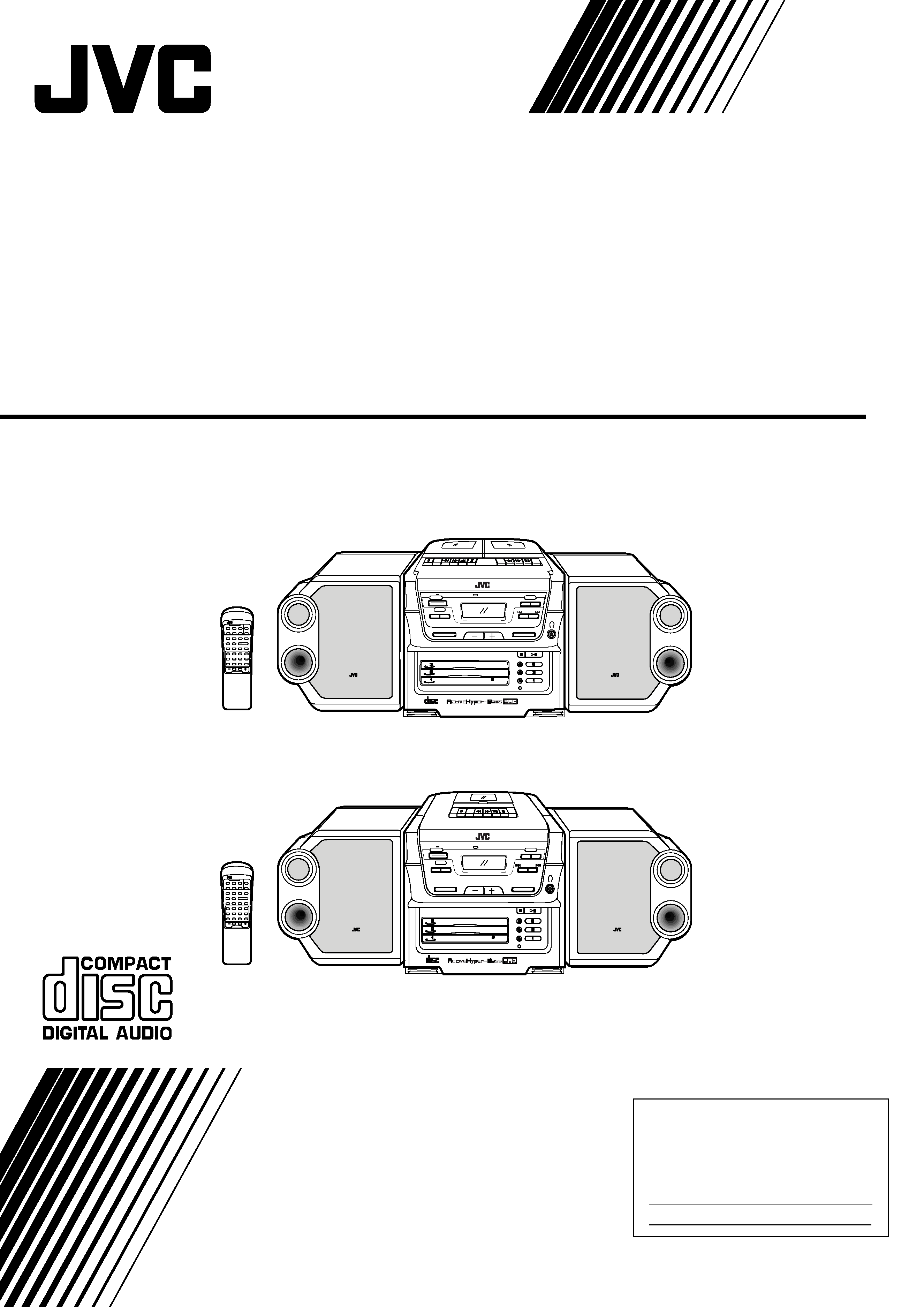 CD PORTABLE COMPONENT SYSTEM
SISTEMA PORTATIL DE COMPONENTES DE CD
CHAINE PORTABLE A LECTEUR CD
Enter below the Model No. and Serial
No. which are located on the rear of the
cabinet. Retain this information for future
CD PORTABLE COMPONENT SYSTEM
CD PORTABLE COMPONENT SYSTEM
---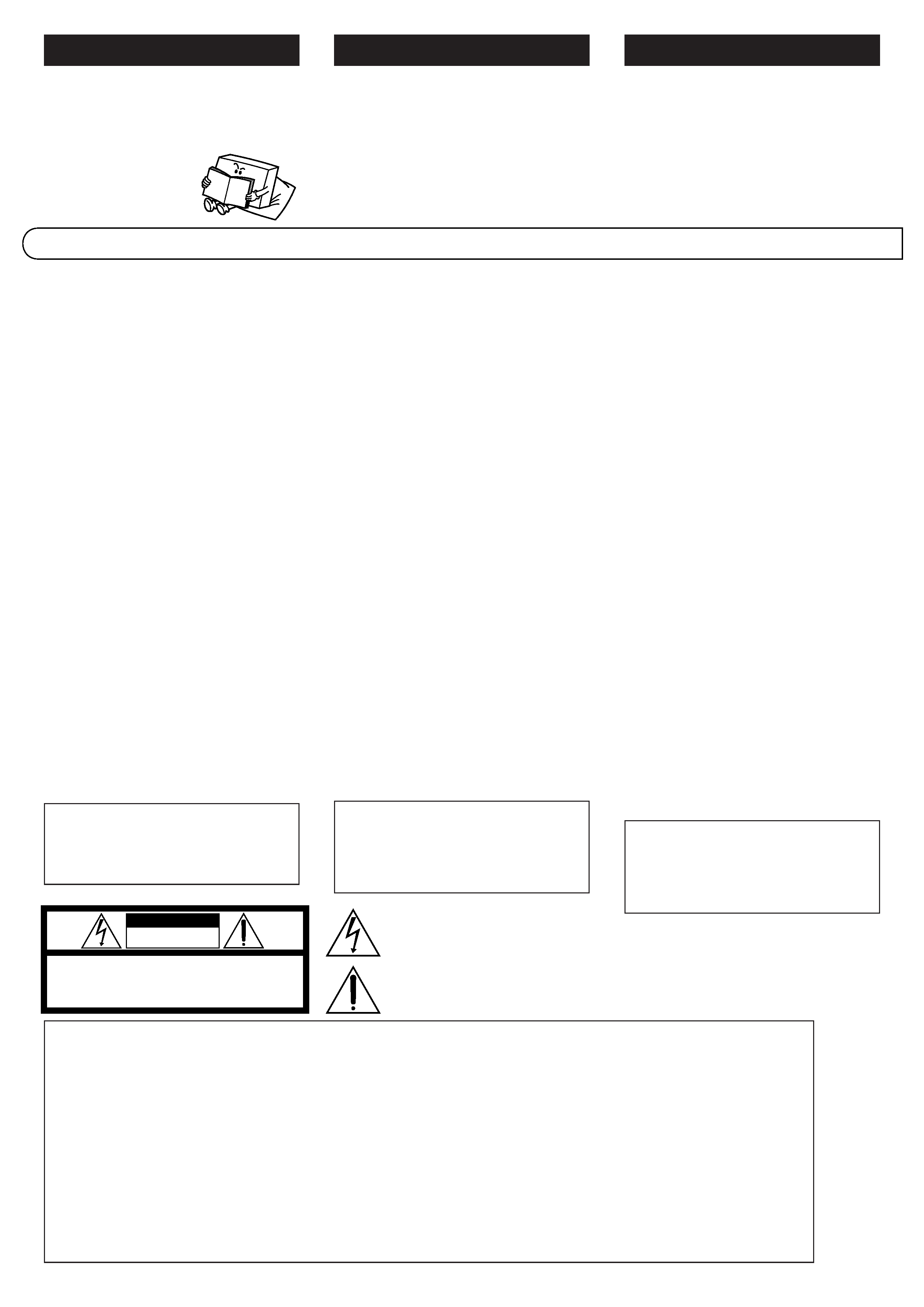 Thank you for purchasing this JVC product.
Please read these instructions carefully before
starting operation to be sure to obtain optimum
performance and a longer service life from the
Le agradecemos la adquisición de este producto
de JVC. Por favor lea detenidamente las
instrucciones antes de comenzar la operación
para obtener de esta unidad un rendimiento
óptimo y una vida de servicio más larga.
Nous vous remercions d'avoir acheté cet
appareil JVC. Veuillez lire consciencieusement
ce manuel d'instructions avant de commencer
à faire fonctionner l'appareil de façon à être sûr
d'obtenir les performances optimales et une
durée de vie plus longue de cet appareil.
Features ............................................... 3
Safety precautions .............................. 3
Handling precautions ......................... 5
Attaching/detaching the speakers ..... 6
Connections ........................................ 7
Power supply ....................................... 8
Names of parts and their functions . 10
Remote control unit .......................... 13
Switching the power on/off .............. 15
Volume, tone and other controls ..... 17
Handling CDs. .................................... 18
Playing CDs ....................................... 19
Handling cassette tapes. .................. 26
Cassette playback ............................. 26
Relay playback (From Deck B to
Deck A) (PC-XC12 only) .................... 27
Radio reception ................................. 28
Recording .......................................... 31
Tape dubbing (Synchro start dubbing)
(PC-XC12 only) .................................. 33
Wake up timer operations ................ 34
Sleep timer operations ..................... 36
Maintenance ...................................... 37
Troubleshooting ................................ 38
Specifications .................................... 39
Características .................................... 3
Precauciones de seguridad ............... 3
Precauciones de manipulación ......... 5
Fijación/retiro de los altavoces .......... 6
Conexiones .......................................... 7
Alimentación ........................................ 8
Nombres de las partes y sus
funciones ........................................... 10
Unidad de control remoto ................ 13
Conexión/desconexión de la
alimentación ...................................... 15
Volumen, tono y otros controles ..... 17
Manipulación de CD .......................... 18
Reproducción de CD ......................... 19
Manipulación de cassettes de cinta 26
Reproducción de cassettes ............. 26
Reproducción por relevo (De la
platina B a la platina A)
(PC-XC12
exclusivamente) .......................................
Radiorrecepción ................................ 28
Grabación .......................................... 31
Copia de cinta (Copia con inicio
sincronizado)
(PC-XC12 exclusivamente)
33
Operaciónes del temporizador
despertador ....................................... 34
Operaciónes del temporizador de
desconexión ...................................... 36
Mantenimiento ................................... 37
Detección de problemas ................... 38
Especificaciones ............................... 39
Caractéristiques .................................. 3
Consignes de sécurité ........................ 3
Précautions de manipulation ............. 5
Fixation/retrait des haut-parleurs ...... 6
Raccordements ................................... 7
Alimentation ........................................ 8
Noms des pièces et leurs fonctions 10
Boîtier de télécommande ................. 13
Commutation marche/arrêt de
l'alimentation ..................................... 15
Volume, tonalité et autres
commandes ....................................... 17
audionumériques .............................. 18
audionumériques .............................. 19
Manipulation des cassettes ............. 26
Lecture de cassette ........................... 26
Lecture avec relais (De la Platine B à
la Platine A) (PC-XC12 uniquement) 27
Réception radio ................................. 28
Enregistrement .................................. 31
Copie de bande (Copie à démarrage
synchro) (PC-XC12 uniquement) ..... 33
minuterie de réveil ............................ 34
Fonctionnement de la minuterie de
sommeil .............................................. 36
Entretien ............................................. 37
En cas de pannes .............................. 38
Caractéristiques techniques ............ 39
This equipment has been tested and found to comply with the
limits for a Class B digital device, pursuant to Part 15 of the FCC
Rules. These limits are designed to provide reasonable protection
against harmful interference in a residential installation. This
equipment generates, uses, and can radiate radio frequency
energy and, if not installed and used in accordance with the
instructions, may cause harmful interference to radio
communications. However, there is no guarantee that interference
will not occur in a particular installation. If this equipment does
cause harmful interference to radio or television reception, which
can be determined by turning the equipment off and on, the user
is encouraged to try to correct the interference by one or more of
­ Reorient or relocate the receiving antenna.
­ Increase the separation between the equipment and receiver.
­ Connect the equipment into an outlet on a circuit different from
that to which the receiver is connected.
­ Consult the dealer or an experienced radio/TV technician for
D'INCENDIE OU D'ELECTROCUTION, NE
PAS EXPOSER L'APPAREIL A LA PLUIE
TO REDUCE THE RISK OF ELECTRIC SHOCK.
DO NOT REMOVE COVER (OR BACK).
NO USER-SERVICEABLE PARTS INSIDE.
REFER SERVICING TO QUALIFIED SERVICE PERSONNEL.
The lightning flash with arrowhead symbol, within an
equilateral triangle, is intended to alert the user to the
presence of uninsulated "dangerous voltage" within the
product's enclosure that may be of sufficient magnitude
to constitute a risk of electric shock to persons.
The exclamation point within an equilateral triangle is
intended to alert the user to the presence of important
operating and maintenance (servicing) instructions in
the literature accompanying the appliance.
TO REDUCE THE RISK OF FIRE OR
ELECTRIC SHOCK, DO NOT EXPOSE THIS
APPLIANCE TO RAIN OR MOISTURE.
INCENDIO O DE CHOQUES ELECTRICOS,
NO EXPONGA ESTE APARATO A LA
---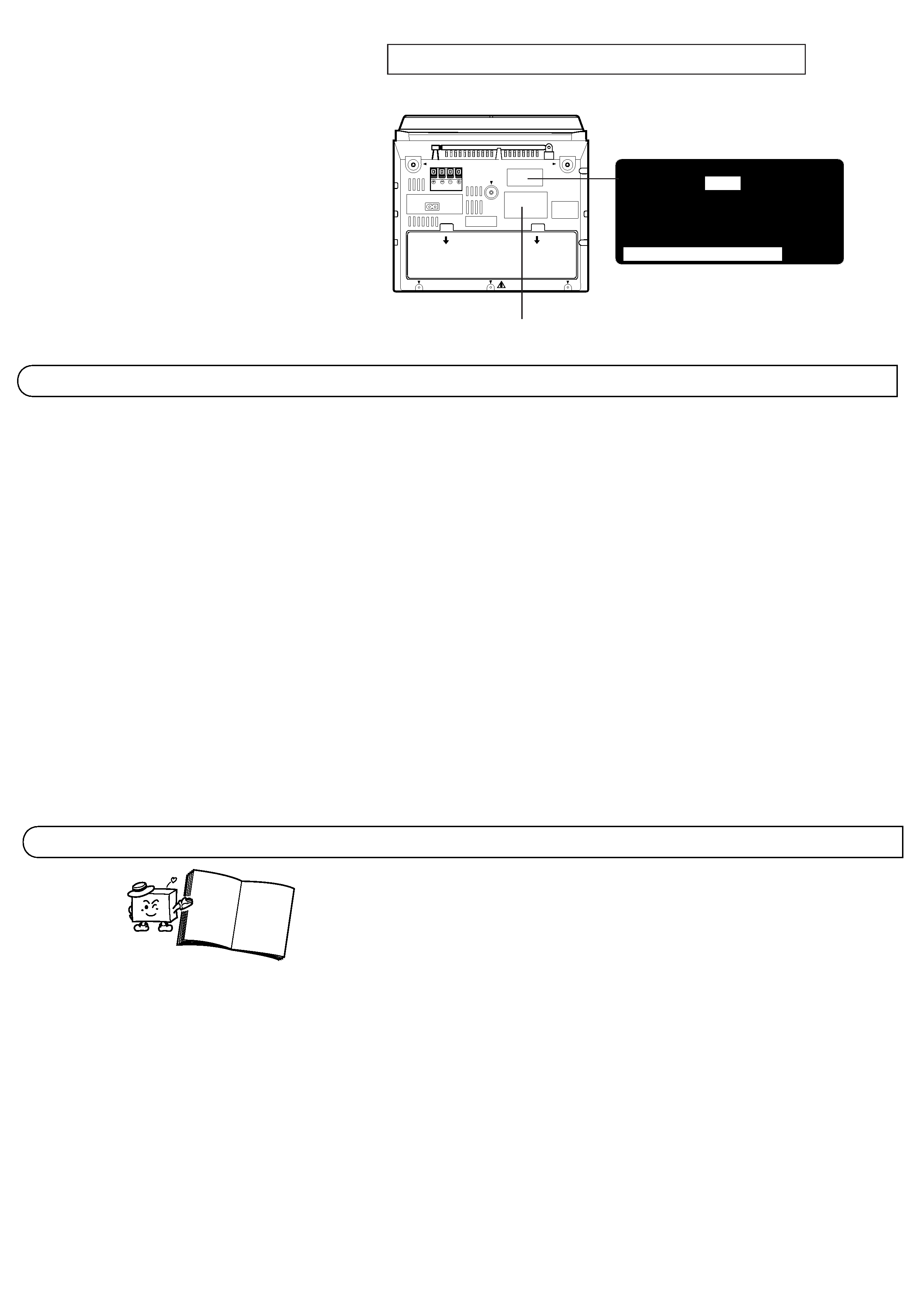 US JVC CORP. 41SLATER DRIVE ELMWOOD PARK. N.J.07407
Product complies with DHHS Rules 21 CFR
Subchapter J in effect at date of manufacture.
* 1 The date of manufacture.
* 2 The ID code of manufacturing plant.
IMPORTANT FOR LASER PRODUCTS
2. DANGER: Invisible laser radiation when open and
interlock failed or defeated. Avoid direct exposure
3. CAUTION: Do not open the rear cover. There are
no user serviceable parts inside the unit; leave all
servicing to qualified service personnel.
4. CAUTION: Use of controls for adjustments and the
performance of procedures other than those
specified herein may result in exposure to
IDENTIFICATION LABEL AND CERTIFICATION LABEL
Prevention of Electric Shocks, Fire Hazards
1. Even when the POWER button is set to
standby, a very small current will flow. To save
power and for safety when not using the unit
for an extended period of time, disconnect
the power cord from the household AC outlet.
2. Do not handle the power cord with wet hands.
3. When unplugging from the wall outlet, always
grasp and pull the plug, not the power cord.
4. Consult your nearest dealer when damage,
disconnection, or contact failure affects the
5. Do not bend the cord severely, or pull or twist
Prevención de choques eléctricos, peligro
1. Aunque el botón de alimentación POWER,
esté colocado en espera, fluye una
pequeñísima corriente eléctrica. Para
ahorrar energía y por seguridad cuando no
utiliza esta unidad durante un largo período,
desconecte el cordón eléctrico del
2. No manipule el cordón eléctrico con las
3. Cuando lo desenchufa del tomacorriente de
la pared, sujételo siempre por el enchufe,
4. En caso de que el cordón sea afectado por
daños, desconexión, o falso contacto,
consulte a su agente más cercano.
5. No doble en ángulo agudo el cordón, no jale
del mismo ni lo retuerza.
Prévention contre l'électrocution, les
incendies et les dommages
1. Même quand la touche POWER est réglée
en attente, il circule un très faible courant.
Pour économiser l'énergie et pour la sécurité,
si l'appareil n'est pas utilisé pendant une
longue période, débrancher le cordon
d'alimentation de la prise secteur.
2. Ne pas saisir le cordon d'alimentation avec
3. En débranchant de la prise secteur, toujours
tenir et tirer sur la fiche, pas sur le cordon.
4. Consulter le revendeur le plus proche si une
panne, un ennui ou un mauvais contact se
5. Ne pas plier le cordon sévèrement et ne pas
÷ Multi-function 3-CD changer
÷ Active Hyper-Bass PRO circuit for low-
frequency sound reproduction
÷ One-touch operation (COMPU PLAY) (only
÷ 33-key remote control unit
÷ Direct Disc Select/Skip Play/Search Play/
Continuous Play/Repeat Play/Random Play
÷ Programmed play of up to 20 tracks
÷ Double-cassette mechanism (Deck A for
recording and playback, Deck B for playback)
÷ Single cassette mechanism (PC-XC8 only)
÷ 2-Band digital synthesizer tuner with 30-
station (15 FM and 15 AM) preset capability
÷ Wake up timer can be set up to 12 hours in
÷ Sleep timer can be set for up to 120 minutes
÷ Cambiador de 3-CD con múltiples funciones
÷ Circuito Active Hyper-Bass PRO para
reproducción sonidos de baja frecuencia
÷ Control de modo de sonido
÷ Operación de un solo toque (COMPU PLAY)
(para uso con CA exclusivamente)
÷ Unidad de control remoto con 33 teclas
÷ Selección directa de disco/reproducción con
salto/reproducción con búsqueda/reproducción
contínua/repetición de reproducción/reproducción
÷ Reproducción programada hasta 20 pistas
÷ Mecanismo para dos cassettes (platina A
para grabación y reproducción, platina B para
reproducción) (PC-XC12 exclusivamente)
÷ Mecanismo de un sólo cassette (PC-XC8
÷ Sintonizador sintetizador digital de 2 bandas
con capacidad para presintonización de 30
estaciones (15 de FM y 15 de AM)
÷ Sintonización búsqueda/manual
÷ Sintonización programada automática
÷ El temporizador despertador puede ser
÷ El temporizador despertador puede ser
programado hasta un máximo de 120 minutos
÷ Changeur 3-CD à fonctions multiples
÷ Circuit hyper-grave actif PRO pour la
reproduction du son basse fréquence
÷ Commande de mode de son
÷ Fonctionnement une touche (COMPU PLAY)
(seulement lorsque l'alimentation CA est
÷ Télécommande à 33 touches
÷ Sélection directe de disque/saut/recherche/
lecture continue/lecture répétée/lecture
÷ Lecture programmée jusqu'à 20 pistes
÷ Mécanisme double cassette (Platine A pour
l'enregistrement et la lecture, Platine B pour
la lecture) (PC-XC12 uniquement)
÷ Mécanisme à simple cassette (PC-XC8
÷ Syntoniseur à synthétiseur numérique 2
gammes avec possibilité de préréglage de 30
stations (15 FM et 15 AM)
÷ Syntonisation par recherche/manuelle
÷ Syntonisation automatique des préréglages
÷ La minuterie de réveil peut être réglée jusqu'à
÷ La minuterie de sommeil peut être réglée pour
PRECAUCIONES DE SEGURIDAD
---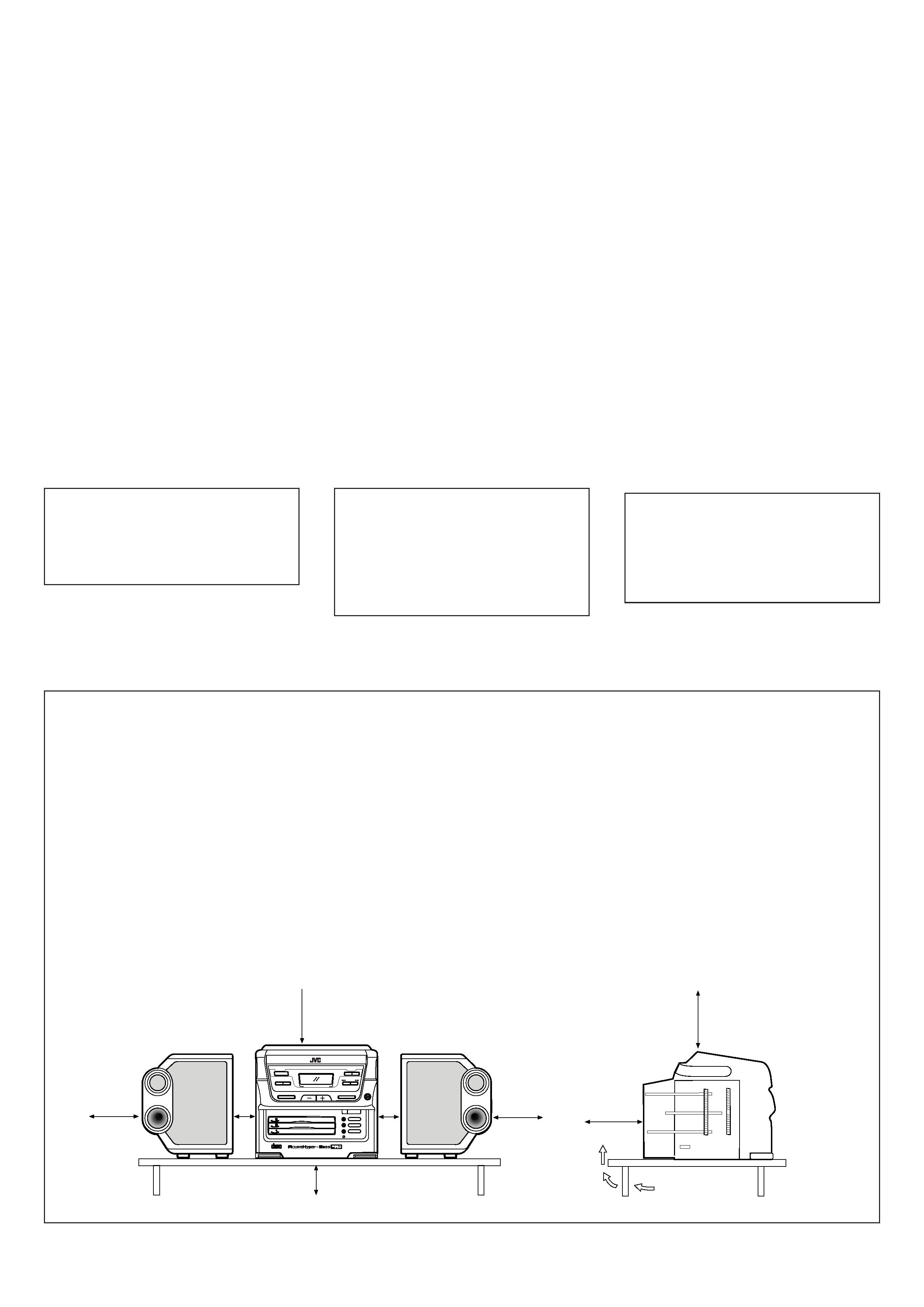 6. Do not modify the power cord in any manner.
7. To avoid accidents, do not remove screws
to disassemble the unit and do not touch
anything inside the unit.
8. Do not insert any metallic objects into the
9. Unplug the power cord when there is a
possibility of lightning.
10.If water gets inside the unit, unplug the power
cord from the outlet and consult your dealer.
11. Do not block the unit's ventilation holes that
Do not install the unit in a badly ventilated
12.Since this unit uses a motor-driven CD holder
or CD tray, make sure that your hand or other
object does not obstruct holder or tray
13.Since the speaker sections of this unit are
detachable, be sure that each speaker is
firmly connected to the main unit when
carrying the unit and avoid dropping or
striking it, and other forms of impact.
6. No modifique el cordón eléctrico de ninguna
7. Para evitar accidentes, no extraiga los
tornillos para desarmar la unidad y no toque
8. No inserte ningún objeto metálico dentro de
9. Desenchufe el cordón eléctrico cuando
haya posibilidad de caída de rayos.
10.Si se introduce agua dentro de la unidad,
desenchufe el cordón eléctrico del
tomacorriente y consulte a su agente.
11.No bloquee los orificios de ventilación de la
unidad que permiten el escape de calor.
No instale la unidad en un lugar mal
12.Como esta unidad utiliza un portadisco o
una bandeja de CD motorizado, asegúrese
de que su mano u otro objeto no obstruya
13.Como los altavoces de esta unidad pueden
ser extraídos, asegúrese de que cada
altavoz esté firmemente conectado a la
unidad principal y evite dejarlos caer,
golpearlos o cualquier otra for ma de
impacto, cuando los transporta.
6. Ne pas modifier le cordon d'alimentation.
7. Pour éviter des accidents, ne pas retirer les
vis pour démonter l'appareil et ne rien
8. Ne pas introduire d'objets métalliques dans
9. Débrancher le cordon secteur en cas
10.Si de l'eau pénètre dans l'appareil,
débrancher le cordon secteur de la prise et
11.Ne pas boucher les trous de ventilation de
l'appareil qui permettent à la chaleur de
Ne pas installer l'appareil dans un endroit
12.Comme cette appareil utilise un porte disque
ou un tiroir CD à commande motorisée, bien
s'assurer que votre main ou autre chose ne
gêne pas le mouvement du tiroir.
13.Comme les parties haut-parleur de cet
appareil sont détachables, bien s'assurer que
chaque haut-parleur est bien fixé à l'appareil
principal lors du transport. Eviter de laisser
tomber l'appareil, de le cogner, et de lui
affliger toute forme de choc.
When this unit is plugged into an AC outlet,
it consumes a small current to operate the
remote control and timer, or to back up the
memory of the microprocessor, even when
the POWER button is set to standby.
Esta unidad consume una pequeña
corriente cuando se la conecta a un
tomacorriente de CA, para hacer funcionar
el controlador remoto y el temporizador, o
microprocesador, aún cuando se haya
colocado el botón POWER en espera.
Lorsque cet appareil est branché à une
prise secteur, il consomme un léger courant
pour commander la télécommande et la
minuterie, ou pour maintenir la mémoire du
microprocesseur, même quand la touche
To avoid risk of electric shock and fire, and to
prevent damage, locate the apparatus as
No obstructions and open spacing.
No obstructions should be placed in the
areas shown by the dimensions below.
Place on a level surface. Maintain an
adequate air path for ventilation by placing
on a table with a height of 10 cm or more.
Para evitar el riesgo de descargas eléctricas
e incendio y prevenir posibles daños, instale
el equipo en un lugar que cumpla los
Sin obstrucciones, espacio abierto.
2. Lados/Parte superior/Parte posterior:
No debe haver ninguna obstrucción en las
áreas mostradas por las dimensiones de
Sitúe el equipo sobre una super ficie
nivelada. Mantenga un espacio adecuado
para permitir el paso del aire y una correcta
ventilación, situando el equipo sobre una
mesa de 10 o más cm de altura.
Pour prévenir tout risque électrique ou
d'incendie et éviter toute détérioration, placez
l'appareil de la manière suivante:
Bien dégagé de tout objet.
Ne laissez rien aux endroits indiqués dans
Posez l'appareil sur une surface plane et
horizontale. Veillez à ce que sa ventilation
correcte puisse se faire en le plaçant sur
une table d'au moins dix centimètres de
---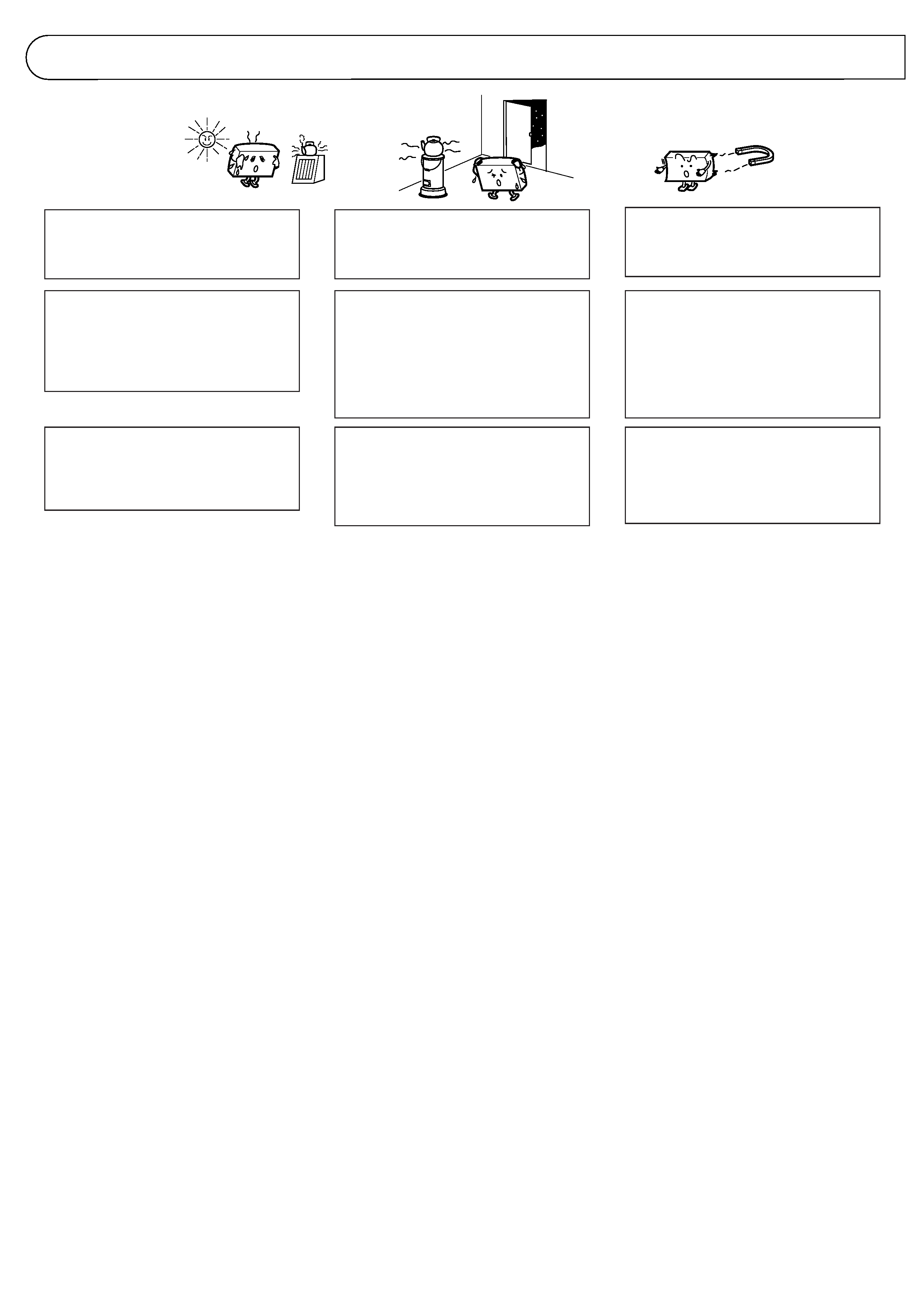 Do not use this unit in direct sunlight or leave
the unit in closed automobiles (or yachts,
etc.) where it would be exposed to high
temperatures above 40°C (104°F).
No utilice esta unidad bajo la luz directa del
sol ni la deje en automóviles cerrados (o
yates, etc.), donde podría quedar expuesta
a temperaturas superiores a 40°C.
Ne pas utiliser cet appareil en plein soleil ou
laisser l'appareil dans une voiture fermée (ou
un yacht, etc.) où il pourrait être exposé à des
températures élevées au-dessus de 40°C.
÷ When abnormal operation occurs.
* Unplug the AC power cord from the AC
outlet and remove all the batteries.
Then reload the batteries after a few
minutes, reconnect the AC power cord
÷ Quand un fonctionnement anormal se
* Débrancher le cordon d'alimentation
secteur de la prise de courant et retirer
toutes les piles. Puis remettre les piles
au bout de quelques minutes, rebrancher
le cordon d'alimentation secteur et mettre
l'alimentation sur marche.
1. Eviter l'installation dans les endroits
÷ Où il pourrait être sujet aux vibrations.
÷ Dans des endroits trop humides, comme
÷ Où il pourrait être magnétisé par un aimant
2. Faire attention à la poussière
Bien s'assurer de fermer le porte disque ou
le tiroir CD pour que la poussière ne
s'accumule pas sur la lentille.
Dans les cas suivants, la condensation peut
se produire dans l'appareil, dans ce cas
l'appareil peut ne pas fonctionner correctement.
÷ Dans une pièce où le chauffage vient juste
÷ Dans un endroit sujet à la fumée ou à
÷ Quand l'appareil est déplacé directement
d'une pièce froide vers une pièce chaude.
Dans ces cas, mettre la touche POWER sur
en attente et attendre 1 ou 2 heures avant de
Un disque audionumérique produit un souffle
très faible comparé à des sources analogiques.
Si le niveau de volume est réglé pour ces
sources, les haut-parleurs peuvent être
endommagés par une augmentation soudaine
du niveau de sortie. Par conséquent, baisser
le volume avant le fonctionnement et le régler
comme requis pendant la lecture.
5. Ne pas placer de cassette, etc. près des
Comme il y a des aimants dans les haut-
parleurs, ne pas placer de bande enregistrée
ou de carte magnétique à proximité, un
important matériel enregistré peut être effacé.
6. Garder cet appareil éloigné de votre
Si cet appareil est utilisé près d'un téléviseur,
l'image du téléviseur peut être distordue. Si
cela arrive, éloigner cet appareil du
téléviseur. Si ce n'est pas suffisant, éviter
d'utiliser cet appareil quand le téléviseur est
Si le coffret devient sale, l'essuyer avec un
chiffon doux et sec. Ne pas utiliser de
benzine ou de diluant qui pourrait abîmer le
1. Evite instalarla en los siguientes lugares
÷ Donde pueda ser sujeta a vibraciones.
÷ Donde haya humedad excesiva, tal como
÷ Donde pueda ser magnetizada por un
2. Preste atención al polvo
Asegúrese de cerrar el portadisco o
compartimiento de CD para que el polvo no
se deposite sobre la lente.
En los siguientes casos, puede producirse
condensación dentro de la unidad y en
consecuencia la unidad no funcionará
÷ En una sala donde haya un calentador
÷ En un lugar donde haya humo o gran
÷ Cuando se traslada rápidamente la
unidad de una sala fría a una templada.
En estos casos, coloque el botón POWER
en espera y espere 1 o 2 horas antes de
Los productos de CD producen muy poco
ruido comparados con las fuentes
analógicas. Si ajusta el nivel de volumen
para estas fuentes, es posible que los
altavoces sean dañados por el incremento
brusco del nivel de salida. Por ello, reduzca
el volumen antes de la operación y ajústelo
como desee durante la reproducción.
5. No coloque cassettes de cinta, etc.,
Como hay imanes en los altavoces, no
coloque cintas o tarjetas magnéticas sobre
los mismos, ya que los datos grabados
6. Mantenga esta unidad lejos de su TV
Cuando se usa esta unidad próxima a un
TV, la imagen de éste puede ser
distorsionada. Si ello ocurre, mueva esta
unidad lejos del TV. Si esto no corrige el
problema, evite usar esta unidad cuando el
Si el gabinete se ensucia límpielo con un
paño suave y seco. Nunca utilice bencina o
solventes ya que estos pueden dañar la
terminación de la superficie.
1. Avoid installing in the following places
÷ Where it could be subject to vibrations.
÷ Where it is excessively humid, such as in
÷ Where it could be magnetized by a magnet
Be sure to close the CD holder or CD tray so
that dust does not collect on the lens.
In the following cases, condensation may
occur in the unit, in which case the unit may
÷ In a room where a heater has just been
÷ In a place where there is smoke or high
÷ When the unit is moved directly from a cold
In these cases, set the POWER button to
standby and wait 1 or 2 hours before use.
CDs produce very little noise compared with
analog sources. If the volume level is
adjusted for these sources, the speakers
may be damaged by the sudden increase of
output level. Therefore, lower the volume
before operation and adjust it as required
5. Do not place cassette tapes, etc. near the
Since there are magnets in the speakers, do
not place tapes or magnetic cards on them
as recorded data could be erased.
6. Keep this unit away from your TV
When this unit is used near a TV, the TV
picture could be distorted. If this happens,
move this unit away from the TV. If this does
not correct the situation, avoid using this unit
when the TV is turned on.
If the cabinet gets dirty, wipe it with a soft,
dry cloth. Never use benzine or thinner as
these could damage the surface finish.
When the AC power cord is unplugged,
never close the open tray by hand. To
close it, plug the power cord in again and
0 button. Otherwise it may
cause damage to the unit.
Cuando se desenchufa el cordón de
alimentación CA, nunca cierre el
portadisco con la mano. Para cerrarlo,
enchufe otra vez el cordón de alimentación
Si le cordon d'alimentation secteur est
débranché, ne jamais fermer un tiroir
ouvert à la main. Pour le fermer, rebrancher
le cordon d'alimentation et appuyer sur la
0. Sinon l'appareil peut être
÷ Cuando ocurre una falla de
* Desenchufe el cordón de CA del
tomacorriente y extraiga todas las
pilas. Luego recoloque las pilas
después de transcurridos unos pocos
minutos; reconecte el cordón de CA y
conecte ON la alimentación.
---