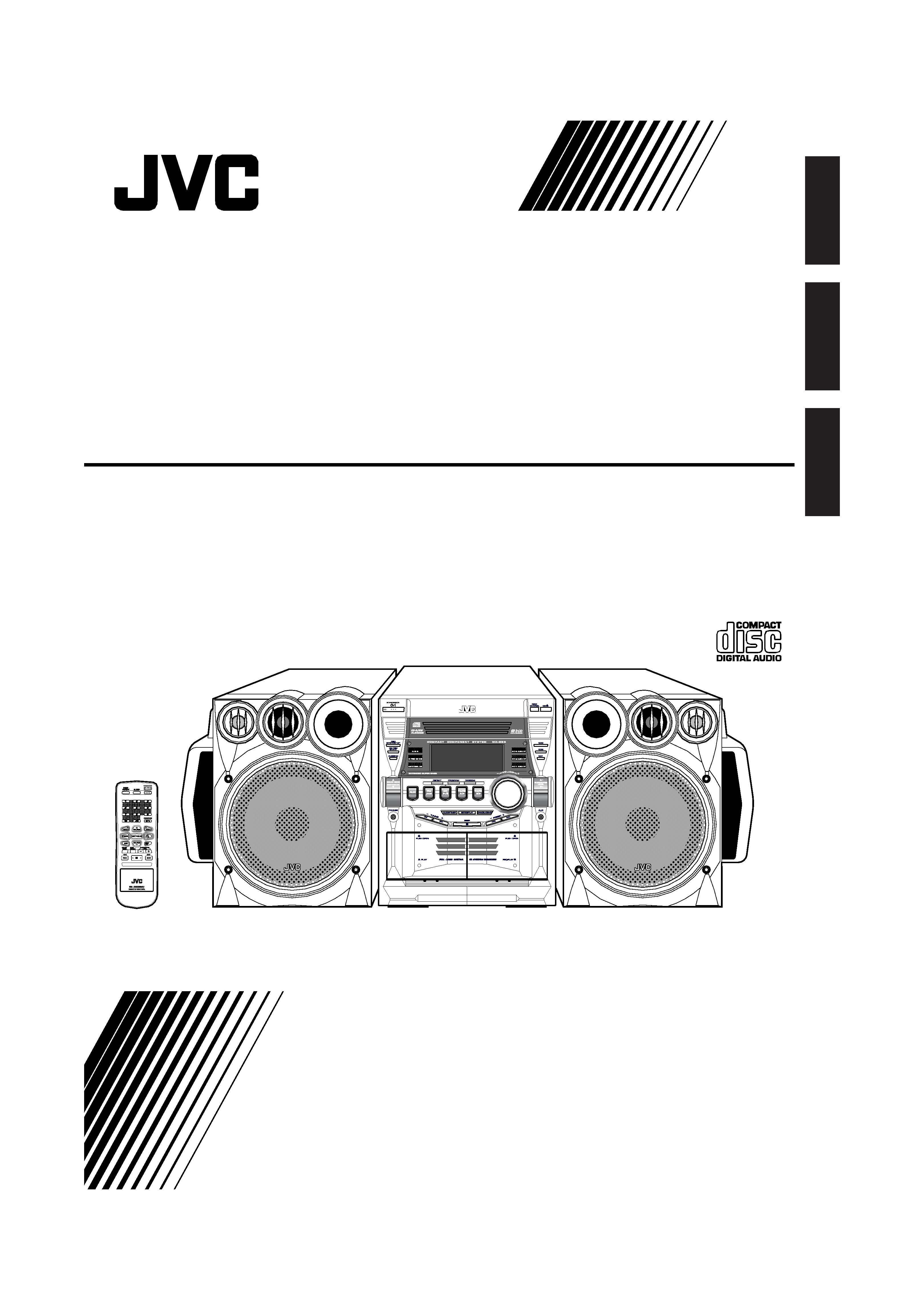 SISTEMAS DE COMPONENTES COMPACTOS
SISTEMA DE COMPONENTE COMPACTO
--Consists of CA-MXGB5 and SP-MXGB5
--Consta de CA-MXGB5 y SP-MXGB5
--Consiste em CA-MXGB5 e SP-MXGB5
---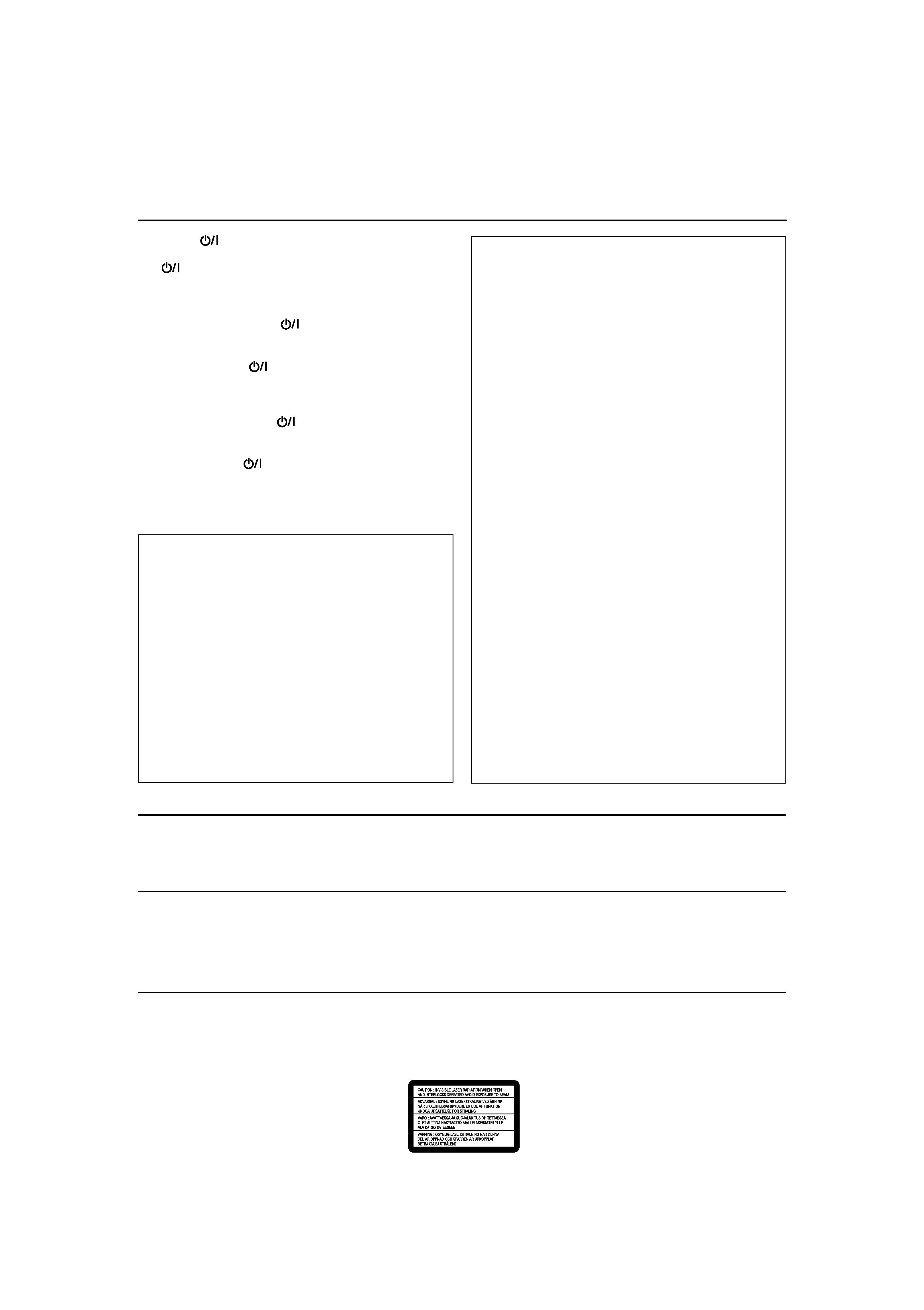 Disconnect the mains plug to shut the power off completely.
STANDBY/ON button in any position does not
disconnect the mains line. The power can be remote
Precaución ­­ Interruptor
Desconectar el cable de alimentación para desactivar la
alimentación totalmente. Cualquier que sea la posición de
STANDBY/ON, la alimentación no
es cortada completamente. La alimentación puede ser
Desconectar o cabo de alimentação para desligar a
alimentação por completo. Qualquer que seja a posição de
STANDBY/ON, a alimentação não é
completamente cortada. A alimentação pode ser controlada
Warning, Cautions and Others
Avisos, precauciones y otras notas
Advertências, precauções e outras notas
To reduce the risk of electrical shocks, fire, etc.:
1. Do not remove screws, covers or cabinet.
2. Do not expose this appliance to rain or moisture.
Para reducir riesgos de choques eléctricos, incendio, etc.:
1. No extraiga los tornillos, los cubiertas ni la caja.
2. No exponga este aparato a la lluvia o a la
Para reduzir riscos de choques elétricos, incêndio, etc.:
1. Não remova parafusos e tampas ou desmonte a
2. Não exponha este aparelho à chuva nem à
Do not block the ventilation openings or holes.
(If the ventilation openings or holes are blocked by a newspa-
per or cloth, etc., the heat may not be able to get out.)
Do not place any naked flame sources, such as lighted
candles, on the apparatus.
When discarding batteries, environmental problems must be
considered and local rules or laws governing the disposal of
these batteries must be followed strictly.
Do not expose this apparatus to rain, moisture, dripping or
splashing and that no objects filled with liquids such as vases
shall be placed on the apparatus.
No obstruya las rendijas o los orificios de ventilación.
(Si las rendijas o los orificios de ventilación quedan tapados
con un periódico, un trozo de tela, etc., no se podrá disipar el
No ponga sobre el aparato ninguna llama al descubierto,
Cuando tenga que descartar las pilas, tenga en cuenta los
problemas ambientales y observe estrictamente los
reglamentos o las leyes locales sobre disposición de las pilas.
No exponga este aparato a la lluvia, humedad, goteos o
salpicaduras. Tampoco ponga recipientes conteniendo
líquidos, como floreros, encima del aparato.
Não obstrua as aberturas e orifícios de ventilação. (Se os
orifícios ou aberturas de ventilação estiverem obstruídos por
qualquer papel ou tecido, não haverá circulação do ar
Não coloque nenhum objeto com chamas, como velas
acesas, sobre o aparelho.
Ao descartar as baterias, leve em consideração os problemas
que possam ser causados ao meio ambiente e os
regulamentos e leis locais e governamentais sobre
recolhimento dessas baterias devem ser rigorosamente
Não exponha este aparelho à chuva, umidade, pingos ou
esguichos de água, nem coloque em cima do mesmo
qualquer tipo de recipiente que contenha líquidos, como por
IMPORTANT FOR LASER PRODUCTS
CAUTION: Do not open the top cover. There are no user serviceable parts inside the unit; leave all servicing to qualified service personnel.
CAUTION: Visible and invisible laser radiation when open and interlock failed or defeated. Avoid direct exposure to beam.
REPRODUCTION OF LABEL: CAUTION LABEL, PLACED INSIDE THE UNIT.
IMPORTANTE PARA PRODUCTOS LÁSER
PRECAUCIÓN: No abra la tapa superior. En el interior de la unidad no hay piezas que pueda reparar el usuario; encargue el servicio a
personal técnico cualificado.
PRECAUCIÓN: Radiación láser visible e invisible en caso de apertura o con interbloqueo averiado o defectuoso. Evite la exposición directa
REPRODUCCIÓN DE LA ETIQUETA: ETIQUETA DE PRECAUCIÓN, COLOCADA EN EL INTERIOR DE LA UNIDAD.
PARA PRODUTOS LASER, IMPORTANTE
PRODUTO LASER DE CLASSE 1
PRECAUÇÃO: não abrir a cobertura superior. Dentro da unidade não existem partes cuja manutenção tenha de ser feita pelo usuário; deixe
qualquer manutenção a cargo do pessoal de serviço qualificado.
PRECAUÇÃO: radiação laser visível e invisível quando se abre e com a conexão interna em falha ou frustrada. Evite a exposição direta ao raio.
REPRODUÇÃO DE ETIQUETA: ETIQUETA DE AVISO SITUADA NO INTERIOR DA UNIDADE.
---

Caution: Proper Ventilation
To avoid risk of electric shock and fire, and to prevent damage, locate the apparatus as follows:
No obstructions and open spacing.
2 Sides/ Top/ Back: No obstructions should be placed in the areas shown by the dimensions below.
Place on the level surface. Maintain an adequate air path for ventilation by placing on a stand with a height
Precaución: el aparato debe estar bien ventilado
Para evitar posibles riesgos de descargas eléctricas e incendios y prevenir cualquier posible daño, coloque el aparato del
No ponga nada delante, deje el espacio libre.
2 Laterales/ parte superior/ parte trasera: No se debería colocar nada en las áreas y las distancias que se detallan a
Coloque el aparato sobre una superficie recta. Debe haber buena circulación de aire; para ello, coloque
el aparato sobre una base a una altura mínima de 10 cm.
Precaução: Ventilação adequada
Para evitar riscos de choques elétricos e incêndios, e prevenir avarias, instale o aparelho como segue:
Sem obstruções e espaços abertos.
2 Partes laterais/Tampa/Posterior: Nenhuma obstrução deverá ser colocada entre as áreas cujas dimensões são indicadas
Instale-o sobre uma superfície plana. Deverá ser mantido espaço suficiente para a ventilação se este
for instalado numa posição que tenha uma altura de 10 cm ou mais.
Ventilador de enfriamiento*
Ventilador de esfriamento*
A cooling fan is mounted on the rear panel of the unit to prevent abnormal temperature inside the unit, thus assuring normal operation of the
unit. The cooling fan automatically starts rotating to intake external cool air when the volume is increased up to more than a certain level.
* Ventilador de enfriamiento
En el panel trasero de la unidad central se provee un ventilador de enfriamiento para evitar el aumento anormal de la temperatura interior de
la unidad, asegurando así el normal funcionamiento de la misma. El ventilador de enfriamiento comienza a girar automáticamente para
introducir aire frío exterior cuando se aumenta el volumen por encima de un cierto nivel.
* Sobre o ventilador de esfriamento
O ventilador de esfriamento é instalado no painel traseiro da unidade para evitar temperaturas anormais dentro dela, garantindo assim a
operação normal da unidade. O ventilador de esfriamento começa a girar automaticamente para aspirar ar frio externo quando o volume
aumenta além de um certo nível.
---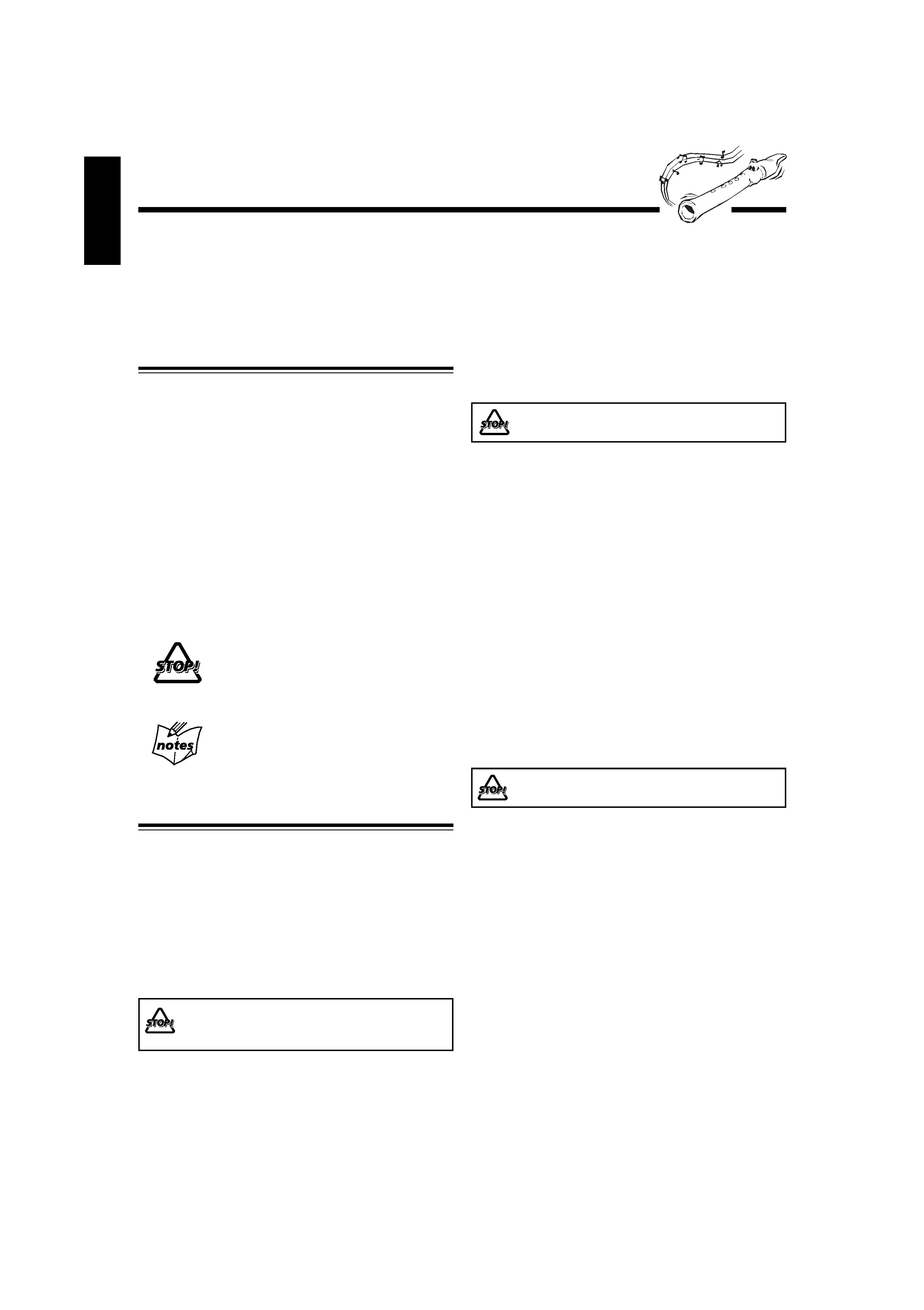 This manual is organized as follows:
· The manual mainly explains operations using the
buttons and controls on the unit. You can also use the
buttons on the remote control if they have the same or
similar names (or marks) as those on the unit.
If operation using the remote control is different from
that using the unit, it is then explained.
· Basic and common information that is the same for many
functions is grouped in one place, and is not repeated in
each procedure. For instance, we do not repeat the
information about turning on/off the unit, setting the
volume, changing the sound effects, and others, which are
explained in the section "Common Operations" on pages 9
· The following marks are used in this manual:
Gives you warnings and cautions to prevent
damage or risk of fire/electric shock.
Also gives you information which is not good
for obtaining the best possible performance
Gives you information and hints you had better
· Do not grasp the control knobs when moving or carrying
· Install in a place which is level, dry and neither too hot nor
too cold--between 5°C and 35°C.
· Install the unit in a location with adequate ventilation to
prevent internal heat built-up in the unit.
· Leave sufficient distance between the unit and the TV.
· Keep the speakers away from the TV to avoid interference
DO NOT install the unit in a location near heat
sources, or in a place subject to direct sunlight,
excessive dust or vibration.
We would like to thank you for purchasing one of our JVC products.
Before operating this unit, read this manual carefully and thoroughly to
obtain the best possible performance from your unit, and retain this manual
· When unplugging from the wall outlet, always pull the
plug, not the AC power cord.
DO NOT handle the AC power cord with wet
Moisture may condense on the lens inside the unit in the
· After starting heating in the room
· If the unit is brought directly from a cold to a warm place
Should this occur, the unit may malfunction. In this case,
leave the unit turned on for a few hours until the moisture
evaporates, unplug the AC power cord, and then plug it in
· Should any metallic object or liquid fall into the unit,
unplug the unit and consult your dealer before operating
· If you are not going to operate the unit for an extended
period of time, unplug the AC power cord from the wall
DO NOT disassemble the unit since there are no
user serviceable parts inside.
If anything goes wrong, unplug the AC power cord and
---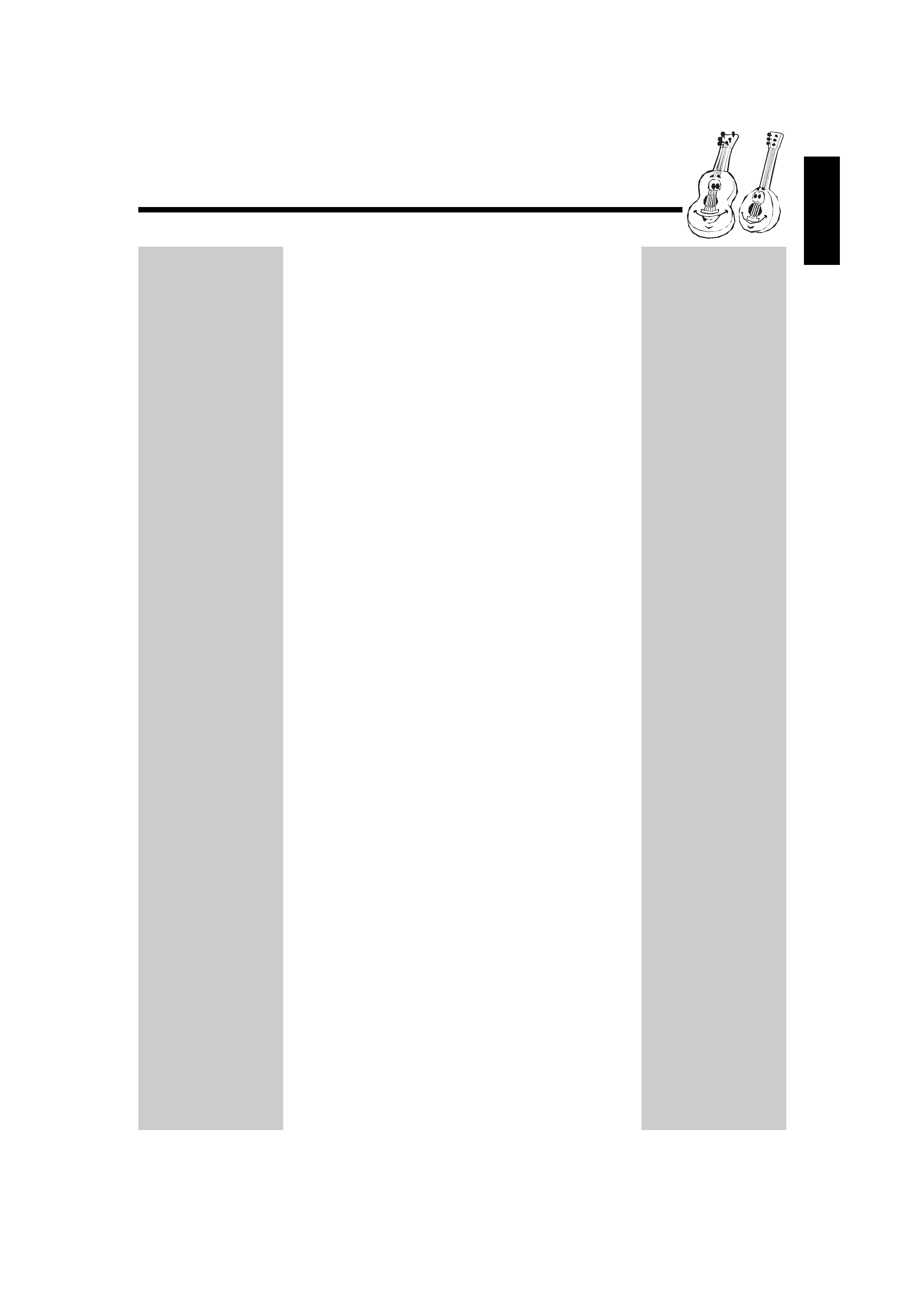 Location of the Buttons and Controls ....................... 3
Front Panel ................................................................. 3
Remote Control .......................................................... 5
Getting Started ............................................................ 6
Unpacking .................................................................. 6
Putting the Batteries into the Remote Control ........... 6
Connecting Antennas ................................................. 6
Connecting Speakers .................................................. 7
Connecting Other Equipment ..................................... 8
Adjusting the Voltage Selector ................................... 8
Canceling the Display Demonstration ....................... 8
Common Operations .................................................. 9
Turning On or Off the Power ....................................... 9
Setting the Clock ........................................................ 9
Setting the AM Tuner Interval Spacing ...................... 9
Selecting the Sources ................................................. 10
Adjusting the Volume ............................................... 10
Reinforcing the Bass Sound ..................................... 10
Enjoying the Powerful Sound--RHYTHM AX ....... 10
Selecting the Sound Modes ...................................... 11
Turning On or Off the Key-touch Tone .................... 11
Listening to the Radio .............................................. 12
Tuning in to a Station--Auto Search ....................... 12
Presetting Stations .................................................... 12
Tuning in to a Preset Station .................................... 12
Playing Back CDs ..................................................... 13
Loading CDs ............................................................ 13
Playing Back CDs--All Disc and One Disc ............ 13
Basic CD Operations ................................................ 15
Changing the MP3 Playback Mode .......................... 17
Turning On or Off the Resume Play for MP3 Disc .. 17
Programming the Playing Order of the Tracks
--Program Play .................................................. 18
Playing at Random--Random Play ......................... 19
Repeating Tracks or CDs--Repeat Play .................. 19
Prohibiting Disc Ejection--Carrousel Lock ............ 19
Playing Back Tapes ................................................... 20
Playing Back a Tape ................................................. 20
Recording .................................................................. 21
Recording a Tape on Deck B .................................... 21
Dubbing Tapes .......................................................... 22
CD Synchronized Recording ..................................... 22
Using the Timers ....................................................... 23
Using Daily Timer .................................................... 23
Using Recording Timer ............................................ 24
Using Sleep Timer .................................................... 25
Timer Priority ........................................................... 25
Maintenance .............................................................. 26
Troubleshooting ........................................................ 27
Specifications ............................................................. 28
---