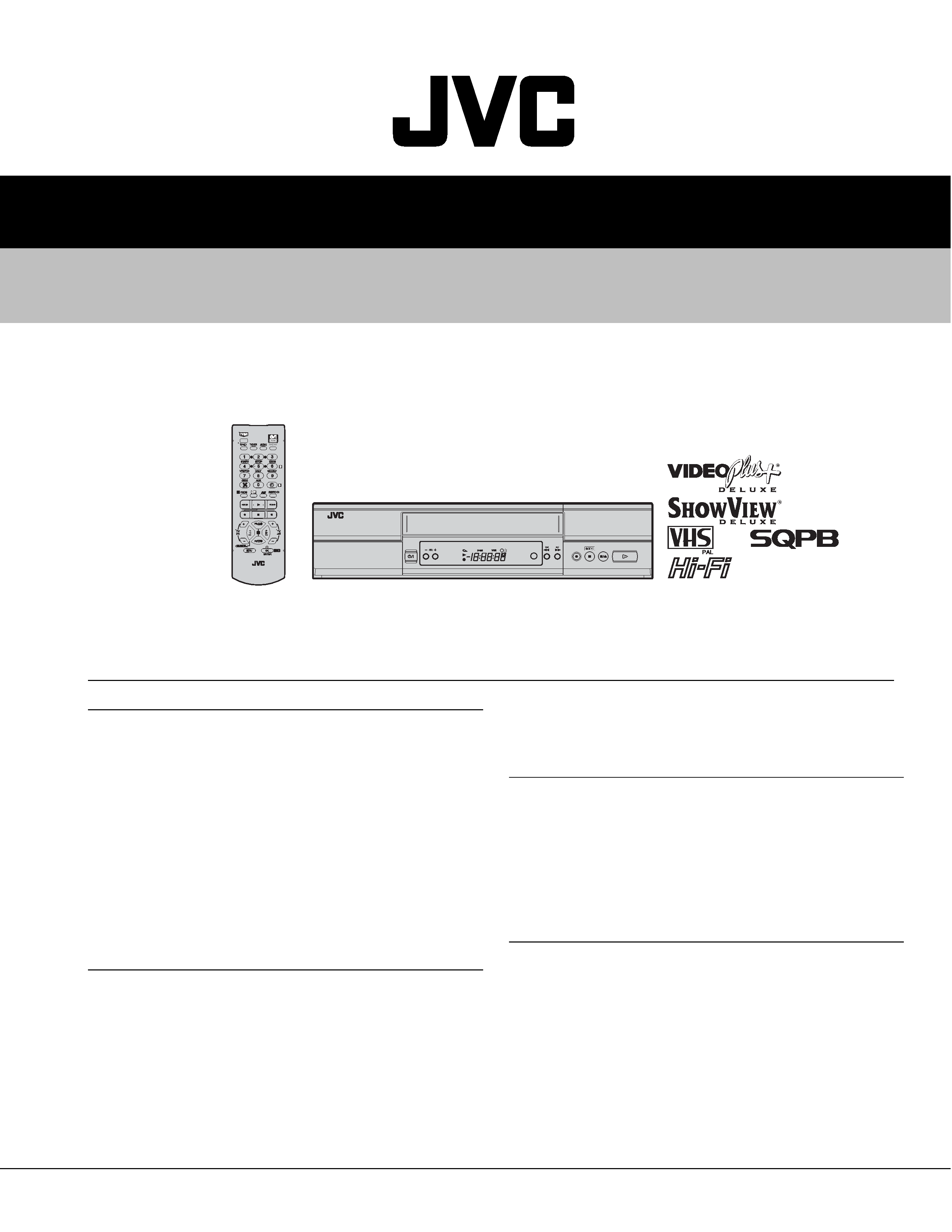 COPYRIGHT © 2003 VICTOR COMPANY OF JAPAN, LTD.
HR-V600E
X
,HR-V601E
X
,HR-V605EF,
HR-V605EK,HR-V606EK,HR-V705EK
SPECIFICATION
(The specifications shown pertain specifically to the model HR-V600EX, HR-V601EX)
Regarding service information other than these sections, refer to the service manual No. 82961 (HR-S5960EX).
Also, be sure to note important safety precautions provided in the service manual.
For disassembling and assembling of MECHANISM ASSEMBLY, refer to the SERVICE MANUAL No.86700 (MECHANISM ASSEMBLY).
AC 220 V - 240 V~, 50 Hz/60 Hz
(SP) 240 min. with E-240 video cassette
(LP) 480 min. with E-240 video cassette
PAL-type colour signal and CCIR
monochrome signal, 625 lines 50 fields
DA4 (Double Azimuth) head helical scan
IN/OUT x 1, IN/DECODER x 1RCA
99 positions (+AUX position)
Frequency synthesized tuner
47 MHz - 89 MHz/104 MHz - 300 MHz/302
UHF channels 22 - 69 (Adjustable)
: RF cable, Infrared remote control unit,
Lithium battery - CR2032-
: Satellite Controller RM-SD1
Specifications shown are for SP mode unless specified otherwise.
E. & O.E. Design and specifications subject to change without
HR-V600EX,HR-V601EX,HR-V605EF,HR-V605EK,HR-V606EK,HR-V705EK
---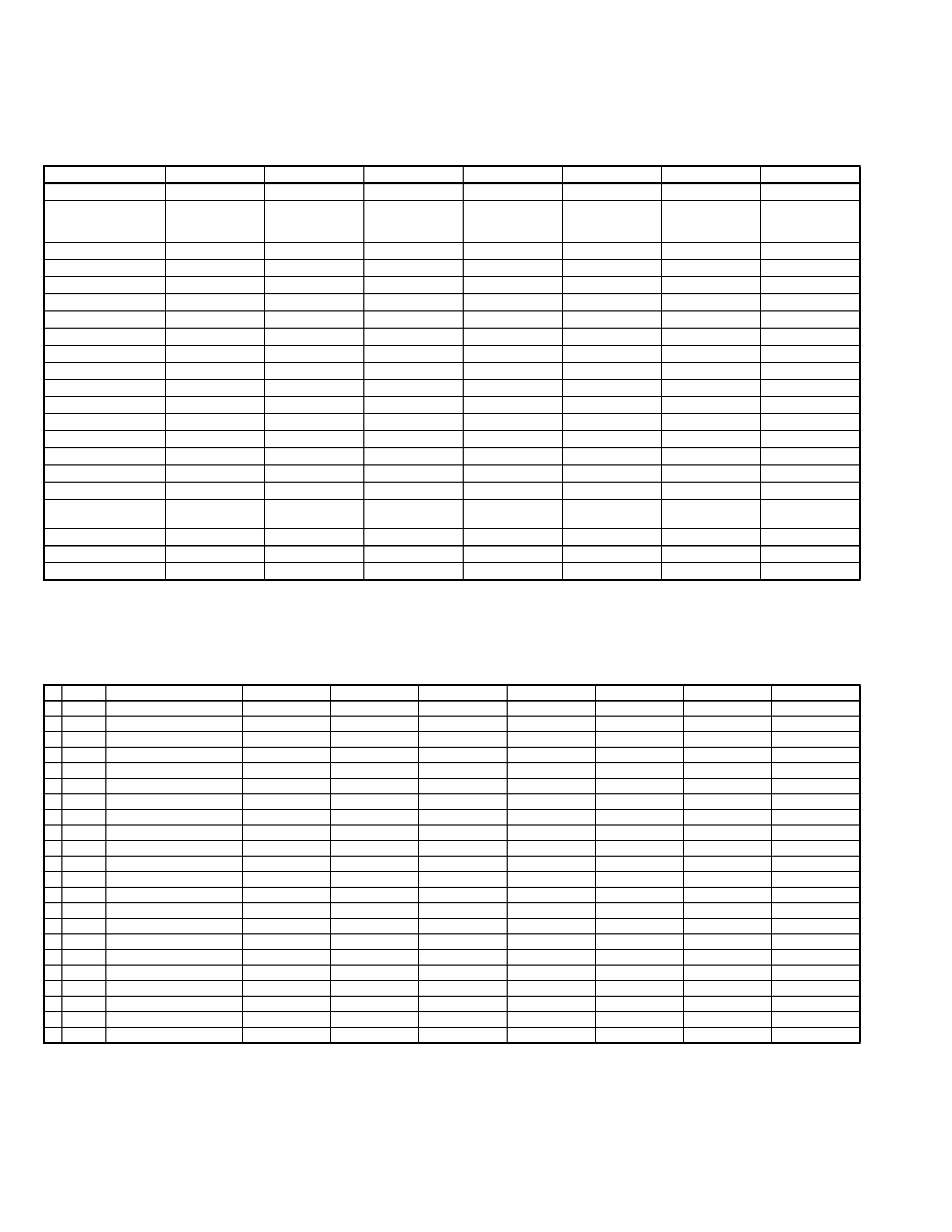 DIFFERENT TABLE OF FEATURE
The following table indicates main different points between models HR-S5960EX, HR-V600EX, HR-V601EX, HR-V601EX, HR-
V605EF, HR-V605EK, HR-606EK, and HR-V705EK.
DIFFERENT TABLE OF PARTS LIST
PACKING AND ACCESSORY ASSEMBLY<M1>
---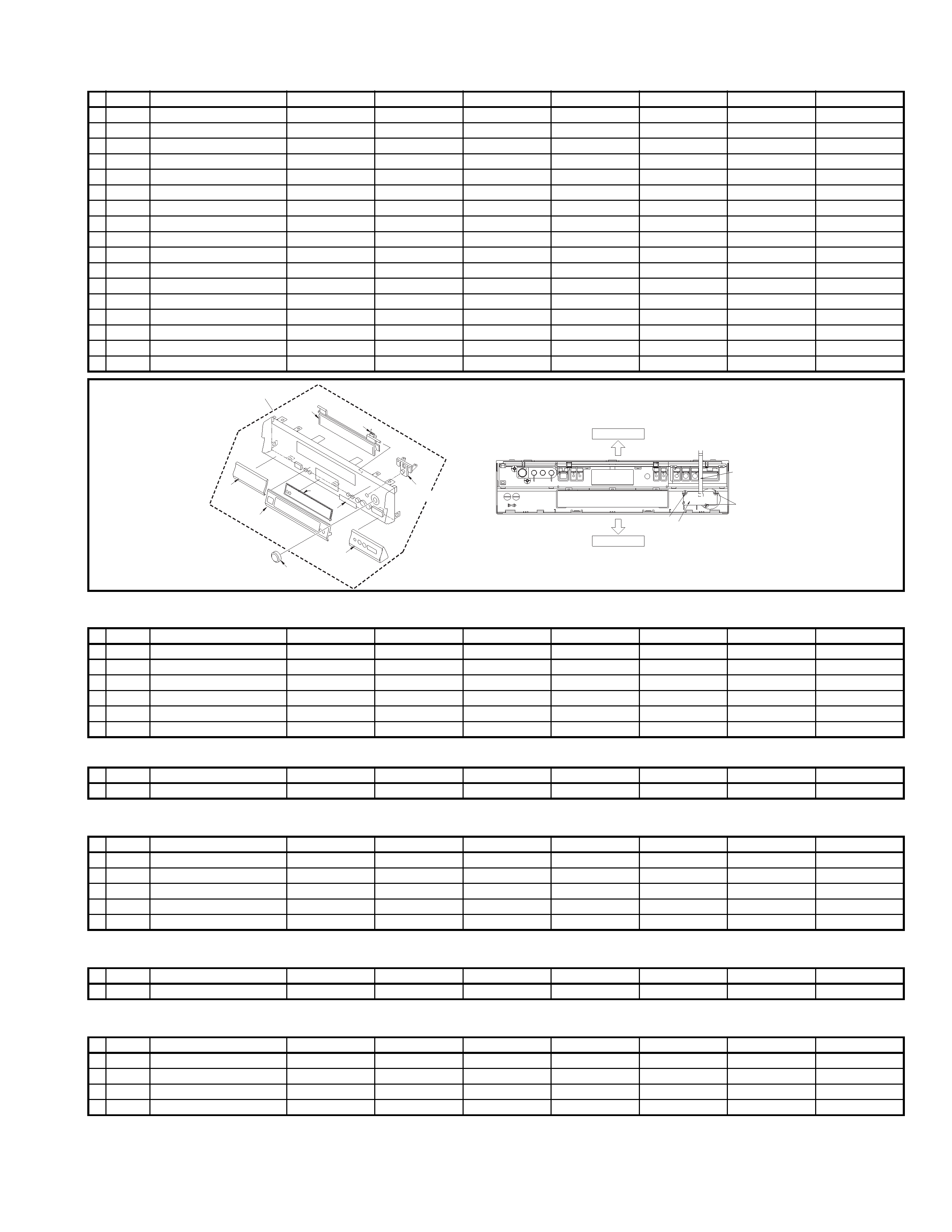 ADV JOG BOARD ASSEMBLY<39>
SAT CTL BOARD ASSEMBLY<94>
TAP SCREW TOP COVER SIDE QYTDSF3010R
J 7108 MINI JACK, SAT CTL
---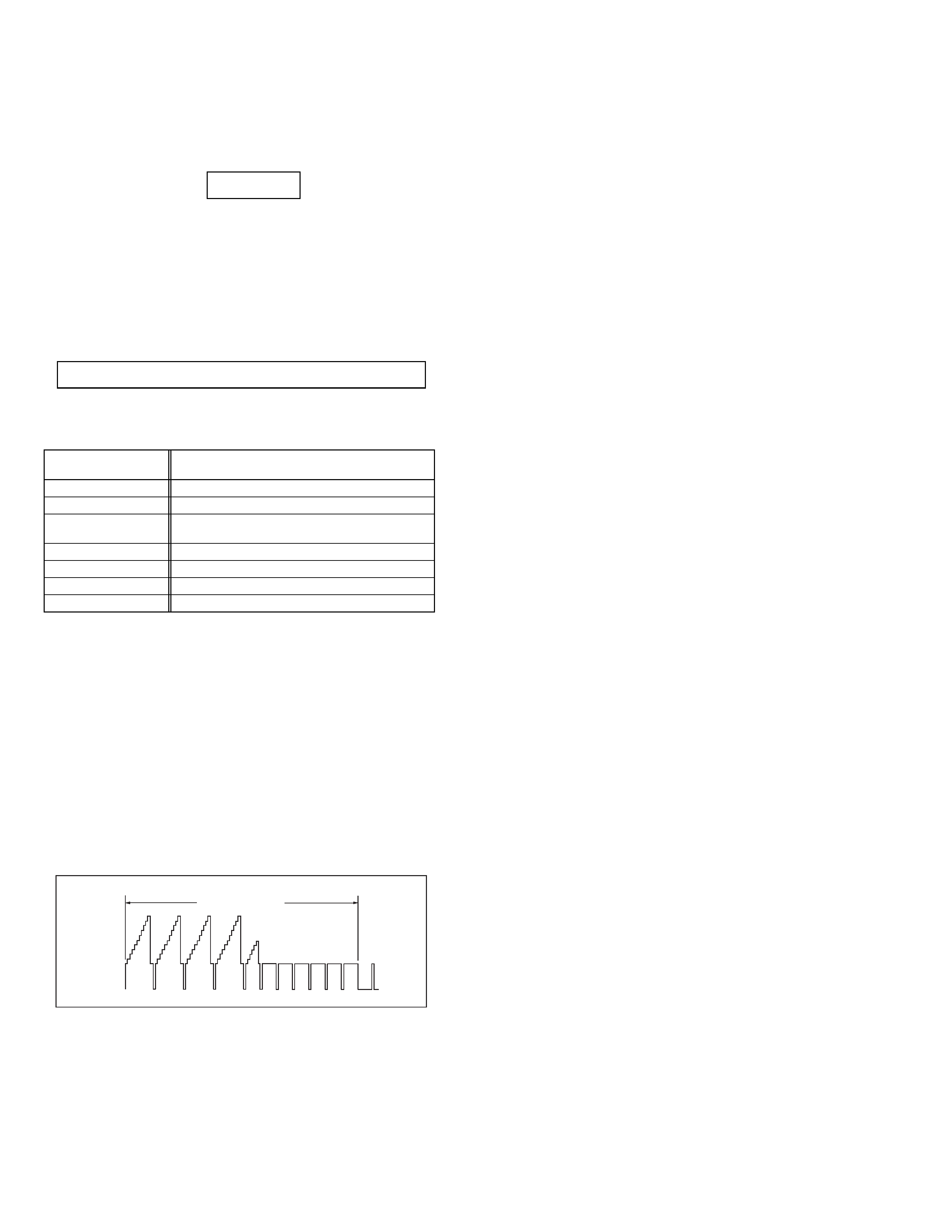 The difference point(s) compared with the reference model are
EE Y/PB Y (S-VHS/VHS) LEVEL
3.3.4 PAL/SECAM converter circuit [EF model]
Adjustment procedure and value are changed.
(1) Play back the signal (A1) of the alignment tape (A2).
(2) Apply the external trigger signal to D.FF (E) to observe the
VIDEO OUT waveform and V.PB FM waveform at the mea-
suring points (D1) and (D2).
(3) Set the VCR to the manual tracking mode.
(4) Adjust tracking so that the V.PB FM waveform becomes
(5) Set the VCR to the Auto adjust mode by transmitting the
code (F) from the Jig RCU. When the VCR enters the stop
mode, the adjustment is completed.
(6) If the VCR enters the eject mode, repeat steps (1) to (5)
(7) Play back the alignment tape (A2) again, confirm that the
switching point is the specified value (G).
Fig.3-3-1a Switching point
· Alignment tape(LP,stairstep,PAL) [MHPE-L]
· VIDEO OUT terminal (75 ohm terminated)
Specified value (G) · 6.5 ± 0.5H
Adjustment tool (H) · Jig RCU [PTU94023B]
---

AV & MULTIMEDIA COMPANY VIDEO RECORDER CATEGORY 12, 3-chome, Moriya-cho, kanagawa-ku, Yokohama, kanagawa-prefecture, 221-8528, Japan
VICTOR COMPANY OF JAPAN, LIMITED
---