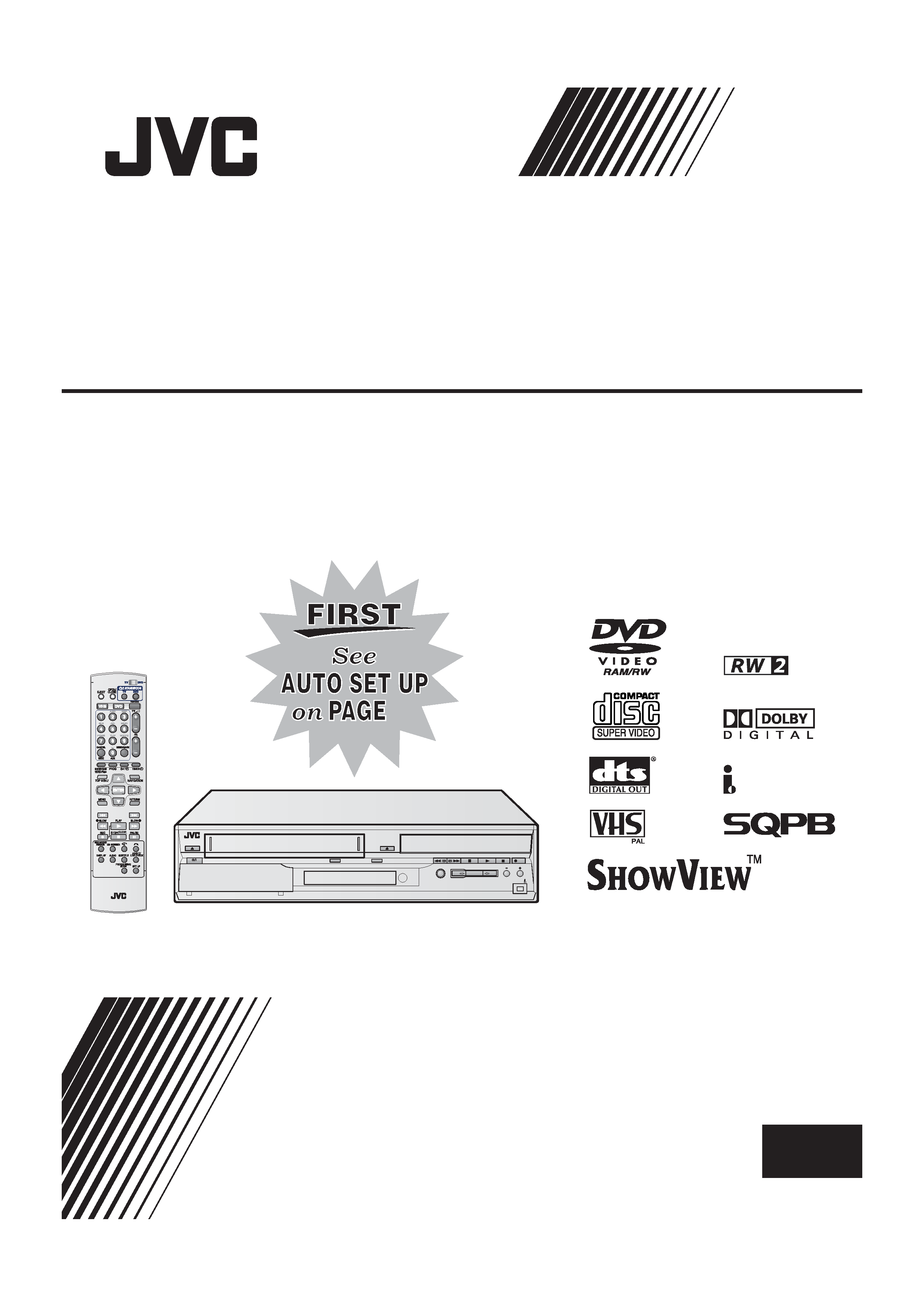 Filename [MV5S_01Cov1.fm]
MV5S_01Cov1.fm Page 1 Friday, July 8, 2005 6:08 PM
---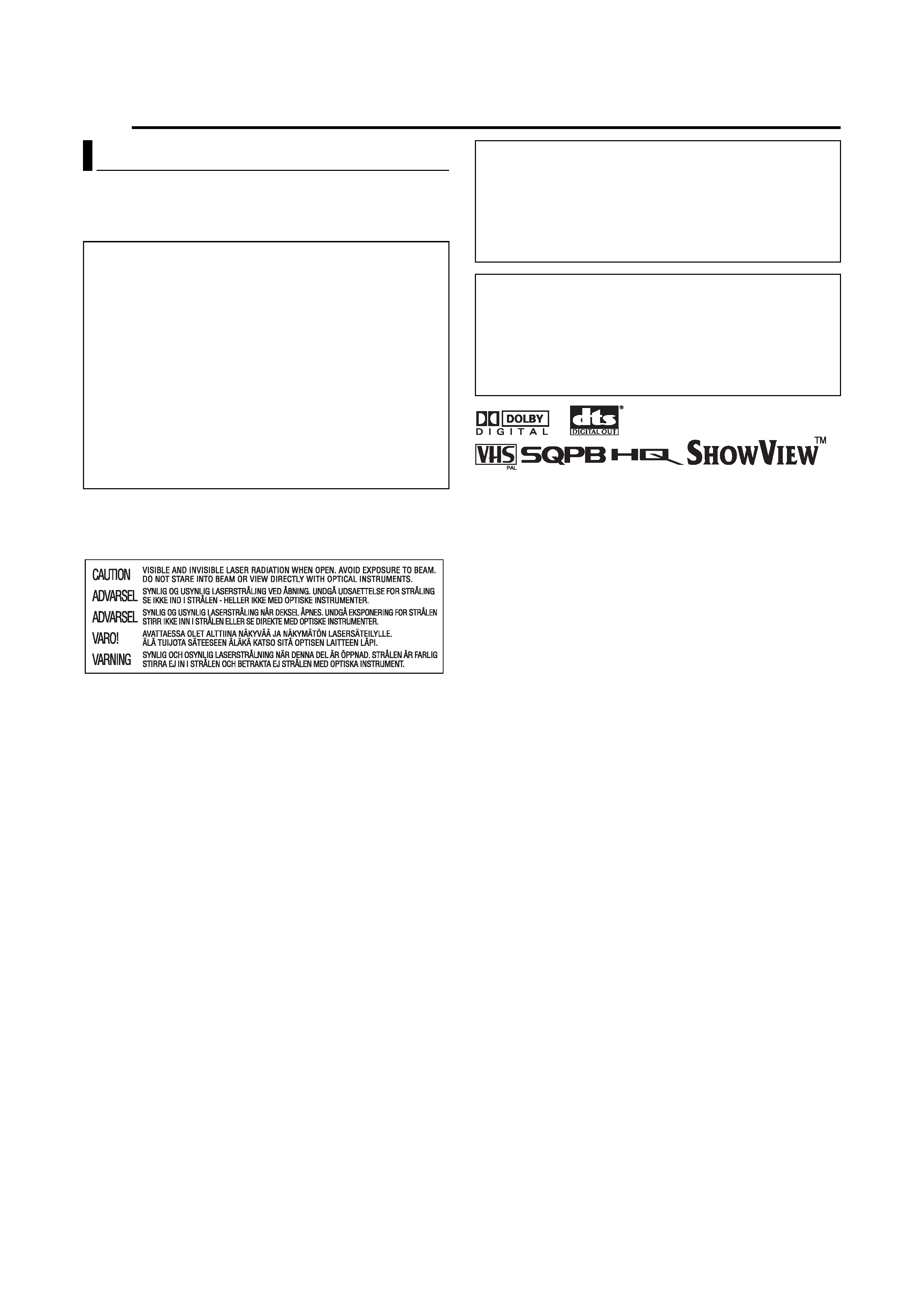 Filename [MV5S_02Safety.fm]
Friday, 8 July 2005 18:07
The rating plate and the safety caution are on the rear of the unit.
WARNING: DANGEROUS VOLTAGE INSIDE
WARNING: TO PREVENT FIRE OR SHOCK HAZARD, DO NOT
EXPOSE THIS UNIT TO RAIN OR MOISTURE.
WARNING LABEL INSIDE OF THE UNIT
Manufactured under license from Dolby Laboratories. "Dolby" and
double-D symbol are trademarks of Dolby Laboratories.
"DTS" and "DTS Digital Out" are trademarks of Digital Theater
Cassettes marked "VHS" (or "S-VHS") can be used with this unit.
However, S-VHS recording is not possible with this model.
This model is equipped with SQPB (S-VHS QUASI PLAYBACK) that
makes it possible to play back S-VHS recordings in the SP mode with
HQ VHS is compatible with existing VHS equipment.
S
HOW
V
IEW
is a trademark of Gemstar Development Corporation. The
S
HOW
V
IEW
system is manufactured under licence from Gemstar
This product incorporates copyright protection technology that is
protected by method claims of certain U.S. patents and other
intellectual property rights owned by Macrovision Corporation and
other rights owners. Use of this copyright protection technology must
be authorised by Macrovision Corporation, and is intended for home
and other limited viewing users only unless otherwise authorised by
Macrovision Corporation. Reverse engineering or disassembly is
A UNIT IS A CLASS 1 LASER PRODUCT. HOWEVER THIS
UNIT USES A VISIBLE LASER BEAM WHICH COULD CAUSE
HAZARDOUS RADIATION EXPOSURE IF DIRECTED. BE
SURE TO OPERATE THE UNIT CORRECTLY AS
WHEN THIS UNIT IS PLUGGED INTO THE WALL OUTLET, DO
NOT PLACE YOUR EYES CLOSE TO THE OPENING OF THE
DISC TRAY AND OTHER OPENINGS TO LOOK INTO THE
USE OF CONTROLS OR ADJUSTMENTS OR
PERFORMANCE OF PROCEDURES OTHER THAN THOSE
SPECIFIED HEREIN MAY RESULT IN HAZARDOUS
DO NOT OPEN COVERS AND DO NOT REPAIR YOURSELF.
REFER SERVICING TO QUALIFIED PERSONNEL.
8 Please read the various precautions on pages 2 and 3 before
installing or operating the unit.
8 It should be noted that it may be unlawful to re-record pre-
recorded tapes, DVDs, or discs without the consent of the
owner of copyright in the sound or video recording, broadcast
or cable programme and in any literary, dramatic, musical, or
artistic work embodied therein.
8 When you are not using the unit for a long period of time, it is
recommended that you disconnect the power cord from the
8 Dangerous voltage inside. Refer internal servicing to qualified
service personnel. To prevent electric shock or fire hazard,
remove the power cord from the mains outlet prior to
connecting or disconnecting any signal lead or aerial.
MV5S_02Safety.fm Page 2 Friday, July 8, 2005 6:07 PM
---
Filename [MV5S_02Safety.fm]
Friday, 8 July 2005 18:07
When the equipment is installed in a cabinet or a shelf, make sure
that it has sufficient space on all sides to allow for ventilation
(10 cm or more on both sides, on top and at the rear).
When discarding batteries, environmental problems must be
considered and the local rules or laws governing the disposal of
these batteries must be followed strictly.
Failure to heed the following precautions may result in
damage to the unit, remote control or disc.
1. DO NOT place the unit --
-- in an environment prone to extreme temperatures or
-- in a dusty environment.
-- in an environment where strong magnetic fields are
-- on a surface that is unstable or subject to vibration.
2. DO NOT block the unit's ventilation openings or holes.
(If the ventilation openings or holes are blocked by a newspaper
or cloth, etc., the heat may not be able to get out.)
3. DO NOT place heavy objects on the unit or remote control.
4. DO NOT place anything which might spill on top of the unit
(If water or liquid is allowed to enter this equipment, fire or
electric shock may be caused.)
5. DO NOT expose the apparatus to dripping or splashing.
6. DO NOT use this equipment in a bathroom or places with
water. Also DO NOT place any containers filled with water or
liquids (such as cosmetics or medicines, flower vases, potted
plants, cups, etc.) on top of this unit.
7. DO NOT place any naked flame sources, such as lighted
candles, on the apparatus.
8. AVOID violent shocks to the unit during transport.
Moisture in the air will condense on the unit when you move it from
a cold place to a warm place, or under extremely humid
conditions--just as water droplets form on the surface of a glass
filled with cold liquid. In conditions where condensation may occur,
disconnect the unit's power plug from the wall and keep it
disconnected for a few hours to let the moisture dry, then turn on
"It is declared that this product, brand JVC, conforms to the
Ministry Decree n. 548 of 28 Aug.'95 published in the Official
Gazette of the Italian Republic n. 301 of 28 Dec.'95"
The STANDBY/ON 1 button does not completely shut off
mains power from the unit, but switches operating current on and
off. "`" shows electrical power standby and "
!
" shows ON.
Using a mobile phone in the vicinity of the unit may cause picture
vibration on the TV screen or change the screen to a blue back
Some TVs or other appliances generate strong magnetic fields.
Do not place such appliances on top of the unit as it may cause
Information for Users on Disposal of Old Equipment
This symbol indicates that the electrical and
electronic equipment should not be
disposed as general household waste at its
end-of-life. Instead, the product should be
handed over to the applicable collection
point for the recycling of electrical and
electronic equipment for proper treatment,
recovery and recycling in accordance with
your national legislation.
By disposing of this product correctly, you
will help to conserve natural resources and
will help prevent potential negative effects on the environment
and human health which could otherwise be caused by
inappropriate waste handling of this product. For more
information about collection point and recycling of this product,
please contact your local municipal office, your household waste
disposal service or the shop where you purchased the product.
Penalties may be applicable for incorrect disposal of this waste,
in accordance with national legislation.
If you wish to dispose of this product, please visit our web page
www.jvc-europe.com to obtain information about the take-back
[Other Countries outside the European Union]
If you wish to dispose of this product, please do so in
accordance with applicable national legislation or other rules in
your country for the treatment of old electrical and electronic
MV5S_02Safety.fm Page 3 Friday, July 8, 2005 6:07 PM
---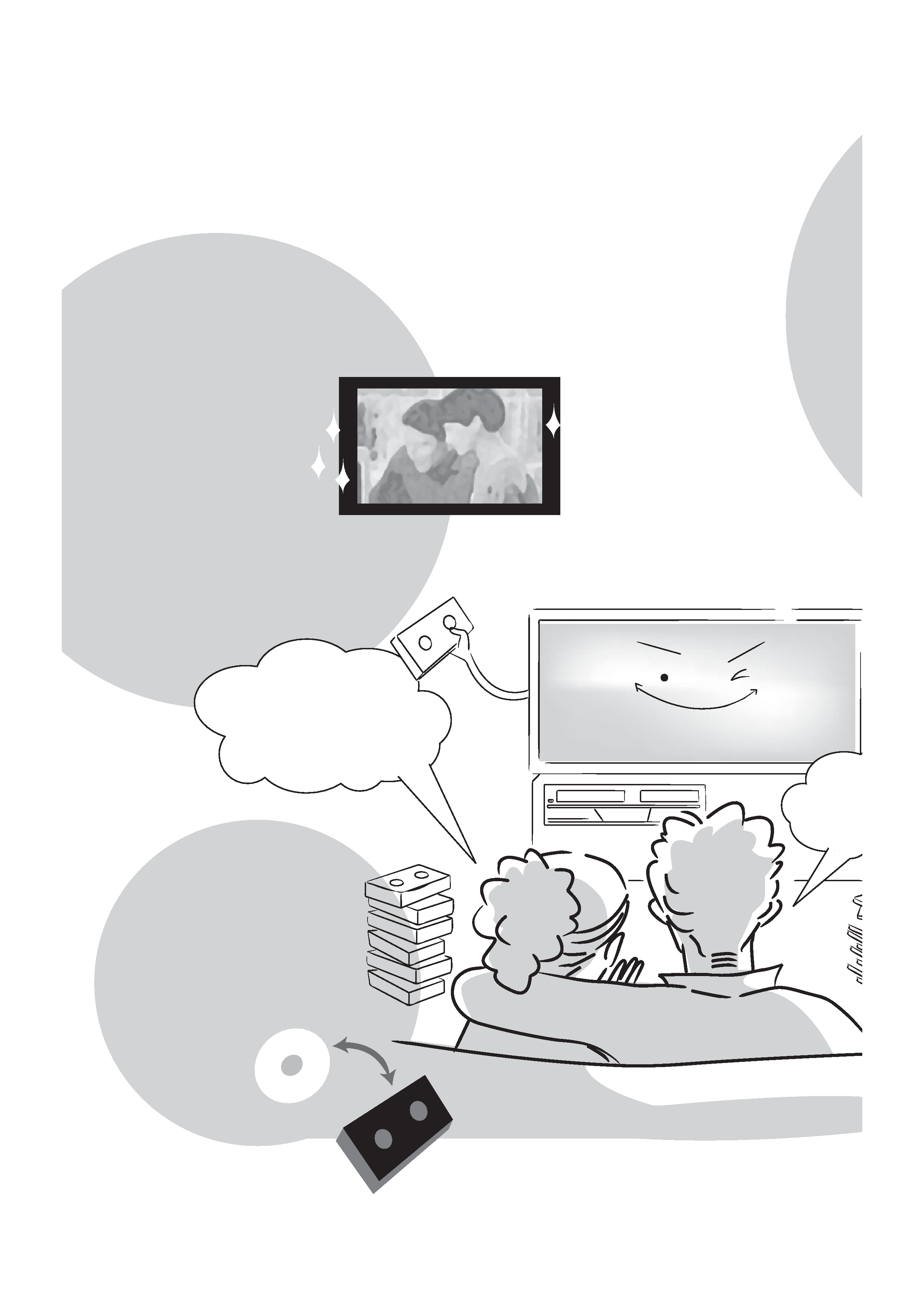 Filename [MV5S_03Contents.fm]
Wednesday, 6 July 2005 14:05
Enjoying your life with
DV
Enjoy the vivid picture quality of
With the simple operation, you
can dub from DVD to tape or
MV5S_03Contents.fm Page 4 Wednesday, July 6, 2005 2:06 PM
---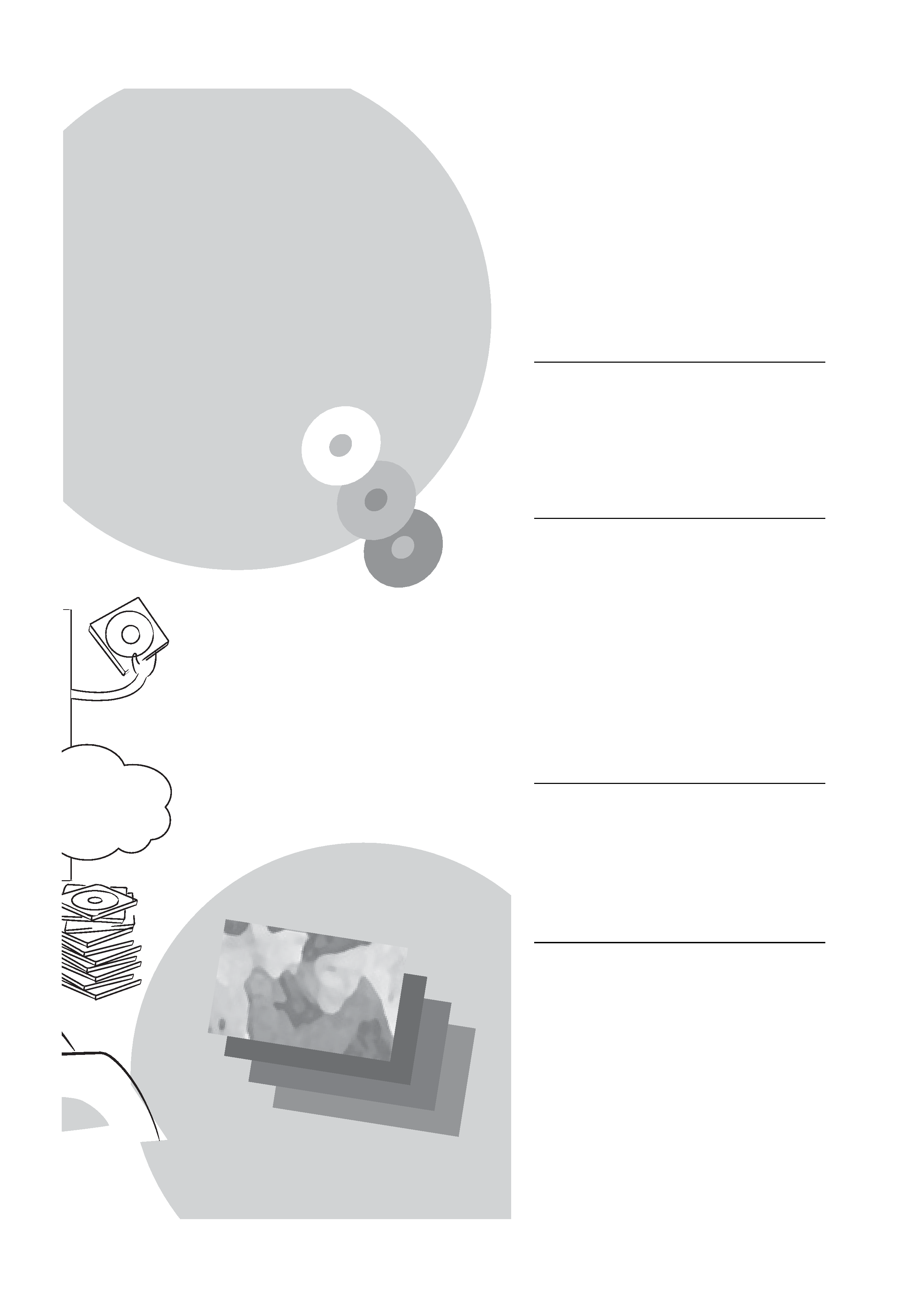 Filename [MV5S_03Contents.fm]
Wednesday, 6 July 2005 14:05
For your safety .................................... 2
About discs .......................................... 6
Index ................................................. 10
­ connections ­ .............. 15
Initial settings .................................... 17
Basic playback .............. 24
Basic recording .............. 26
Using timer ....................................... 29
All over dubbing ................................ 37
Advanced playback ........................... 47
Advanced recording .......................... 61
What's navigation? ............................ 65
1 remote control is good enough! ..... 74
For better sound ................................ 76
It can be more useful ......................... 78
Tips for your trouble .......................... 91
Terms ................................................. 98
recording from DVD-RAM, DVD-
Navigation function helps you to
find the disc and programme you
MV5S_03Contents.fm Page 5 Wednesday, July 6, 2005 2:06 PM
---