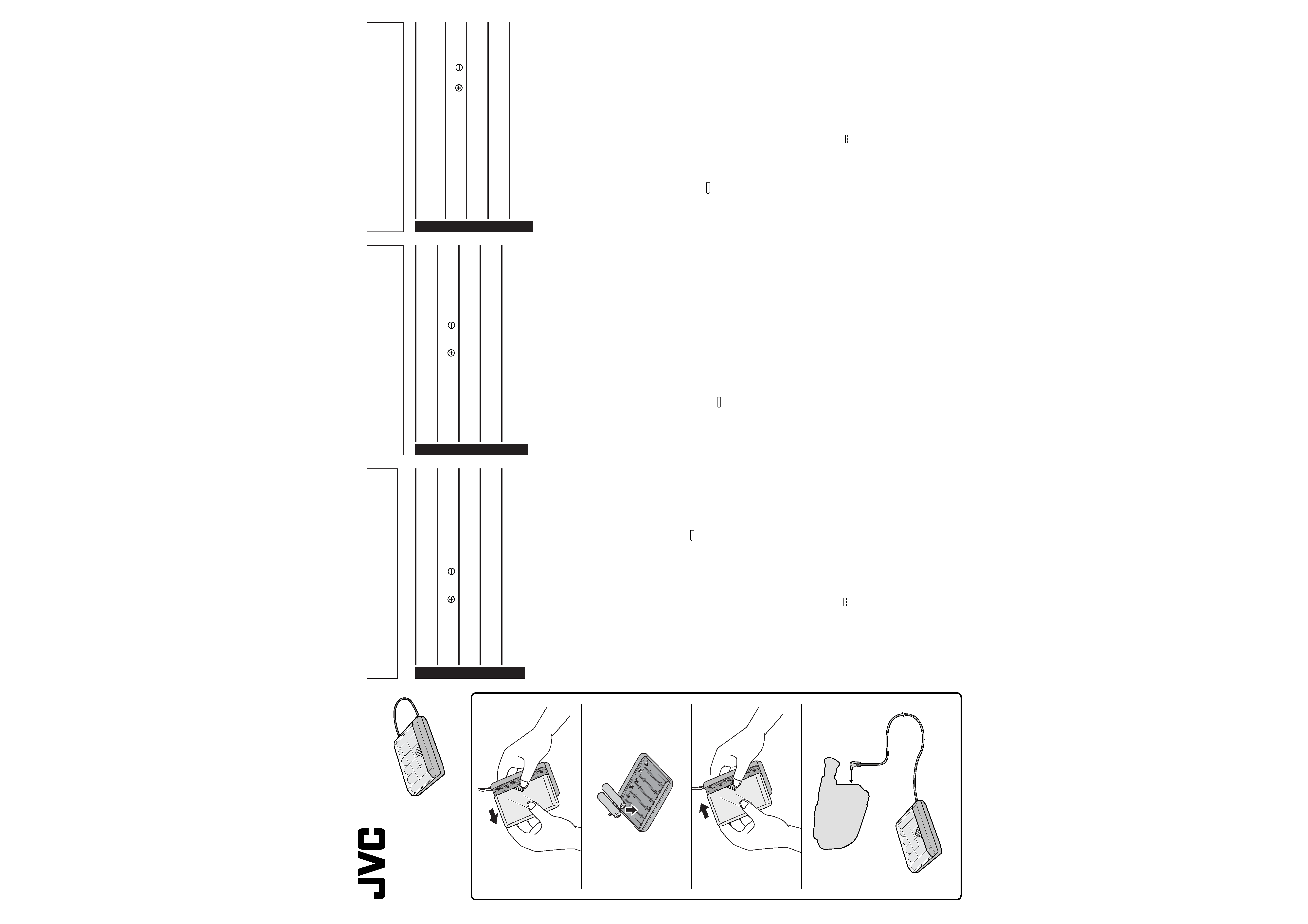 D'ALIMENTATION DE SECOURS
1
While pushing the cover on the Batter
ection as indicated by the ar
2
Insert 6 alkaline batteries in the corr
y Rescue Pack's cover in the direction
4
Plug the DC cord into the DC IN jack of your JVC
5
Star t shooting with the Batter y Rescue Pack placed
This Battery Rescue Pack is designed exclusively for JVC camcorders.
Be sure to use size "LR6" alkaline batteries. Shooting time varies depend-
ing on the type of alkaline batteries you use. Do not use any manganese or
nickel-cadmium batteries.
Do not incinerate or disassemble; may explode or release toxic chemicals.
Do not short circuit; batteries may cause burns.
If the unit is exposed to extreme cold (below 10°C/50°F), the effective
operational time decreases significantly, or may render the batteries
When alkaline batteries become cool in an environment subject to cold
temperatures such as during winter, the usage time of the batteries tends to
become shorter. If this happens, place the batteries in your pocket or other
warm, protected location for a short time, then try using them again.
Avoid using batteries in extremely low temperatures.
During transportation, carry the Battery Rescue Pack in a plastic bag.
Be sure to insert the batteries in the correct direction, according to the (+)
Do not use leaking batteries. If battery leakage happens during use,
replace the batteries with new ones after wiping off the liquid completely.
Do not use different kinds of batteries or old and new batteries together. To
obtain the maximum shooting time, be sure to change all 6 batteries.
When the battery power comes close to nil, the
Since the batteries warm up during operation, exercise caution when
The Battery Rescue Pack becomes warm during or after use; this is not due
When you are not using the Battery Rescue Pack for an extended period of
time, be sure to remove the batteries.
If the terminals of the Battery Rescue Pack become dirty or dusty, wipe
gently with a soft cloth.
Shooting time will decrease significantly when used with the camcorder's
Since the voltage drops rapidly with alkaline batteries, if you use the zoom
in/out when the batteries are exhausted, the camcorder power may shut
Do not expose the Battery Rescue Pack to temperatures exceeding 60°C
(140°F), as this may cause the Battery Rescue Pack to overheat or malfunc-
Avoid using strong cleaning agents such as benzine or alcohol.
, LR6 alkaline battery x 6
: 67(W) x 94(H) x 19(D) mm
: All VHS-C models except the following: models with no
DC IN jack, models with an LCD monitor and S-VHS-C
models. Please consult your nearest JVC dealer for details
on other JVC camcorders applicable to this Battery
Rescue Pack as well as availability.
E. & O.E. Design and specifications are subject to change without notice.
Thank you for purchasing the JVC Battery Rescue Pack. This Battery
Rescue Pack enables emergency operation with 6 alkaline dry batteries,
allowing approximately 20 ` 50 minutes of viewfinder operation.
Cordon d'alimentation continue
1
Den Deckel des Reserve-Batteriebehälters wie
gezeigt andrücken und in Pfeilrichtung abnehmen.
2
6 Alkali-Batterien polrichtig unter Beachtung der
3
Den Deckel des Reserve-Batteriebehälters wie
gezeigt in Pfeilrichtung vollständig aufschieben.
4
Das Gleichspannungskabel an die Buchse DC IN des
JVC Camcorders anschließen.
5
Der Camcorder kann nun von dem in Ihrer
Jackentasche etc. verstauten Reserve-Batteriebehälter
mit Strom versorgt und betrieben werden.
Dieser Reserve-Batteriebehälter ist ausschließlich zum Anschluß an einen JVC
Ausschließlich Alkali-Batterien vom Typ "LR6" verwenden. Die
Batterienutzungsdauer variiert in Abhängigkeit von der Ausführung der Alkali-
Batterien. Niemals Mangan- oder Nickel-Cadmium-Batterien verwenden!
Batterien niemals zerlegen oder verbrennen. Andernfalls können diese platzen
oder giftige Chemikalien freigeben.
Niemals die Batteriepole kurzschließen. Andernfalls besteht Verbrennungs-
Bei der Einwirkung von niedrigen Umgebungstemperaturen (unter 10° C) kann
die Nutzungsdauer deutlich verkürzt werden bzw. kann die Leistungsabgabe
der Batterien vollständig unterbleiben.
Falls sich Alkali-Batterien infolge von Kälteeinwirkung (z.B. im Winter)
abkühlen, verkürzt sich die Nutzungsdauer. In diesem Fall die Batterien
vorübergehend in einer schützenden Mantel- oder Jacken-Innentasche etc. zur
Aufwärmung aufbewahren und dann erneut verwenden.
Vermeiden Sie es, Batterien bei extrem niedrigen Temperaturen zu verwenden.
Beim Transportieren den Reserve-Batteriebehälter in einer Plastiktüte
Batterien stets polrichtig unter Beachtung der Symbolmarkierungen (+ und ­)
Niemals Batterien verwenden, aus denen Batterieflüssigkeit ausläuft. Leckende
Batterien umgehend entnehmen und nach sorgfältiger Reinigung des Reserve-
Batteriebehälters durch frische Batterien ersetzen.
Niemals gleichzeitig frische und gebrauchte Batterien bzw. verschiedene
Batterieausführungen verwenden. Bei einem Batteriewechsel stets alle 6
Wenn die Batterieleistung nahezu vollständig erschöpft ist, blinkt die
Da sich die Batterien bei Betrieb erwärmen, diese nach Betrieb vorsichtig
Bei und unmittelbar nach dem Gebrauch tritt eine Erwärmung des Reserve-
Batteriebehälters auf. Dies ist nicht auf eine Fehlfunktion zurückzuführen.
Bei längerem Nichtgebrauch des Reserve-Batteriebehälters die Batterien
Wenn die Kontaktflächen des Reserve-Batteriebehälters verschmutzt sind, diese
vorsichtig mit einem weichen fusselfreien Tuch reinigen.
Die Batterienutzungsdauer verkürzt sich wesentlich, wenn der Camcorder mit
eingeschalteter Videoleuchte betrieben wird.
Da die Spannung bei Alkali-Batterien rasch abfällt, kann sich die Kamera beim
Ein- oder Auszoomen ggf. selbstätig ausschalten, wenn die Batterien entladen
Den Reserve-Batteriebehälter niemals Temperaturen über 60° C aussetzen.
Andernfalls kann es zu Überhitzungen und/oder Fehlfunktionen am Reserve-
Niemals starke Lösungsmittel wie Benzin oder Alkohol zur Reinigung
Spannungsabgabe : 9 V Gleichspannung, 6 Alkali-Batterien (LR6)
: 67(B) x 94(H) x 19(T) mm
: Alle VHS-C-Modelle mit den folgenden Ausnahmen:
Modelle ohne DC IN-Eingang, Modelle mit LCD-Monitor
oder S-VHS-C-Modelle. Falls Sie Fragen zur Eignung des
Reserve-Batteriebehälters für Ihren Camcorder haben,
wenden Sie sich bitte an Ihren JVC Fachhändler.
Irrtümer und Änderungen der Konstruktion und der technischen Daten ohne
Vorankündigung vorbehalten.
Vielen Dank für den Kauf des JVC Reserve-Batteriebehälters, der mit 6
Alkali-Batterien bestückt werden kann. Falls Ihnen kein ausreichend
geladener Akku zur Verfügung steht, versorgt dieser Reserve-Batteriebehälter
die Kamera bei Sucherbetrieb für ca. 20 bis 50 Minuten mit Strom.
1
Tout en appuyant sur le couvercle du Boîtier
d'alimentation de secours, le faire glisser dans le
2
Introduire 6 piles alcalines dans le bon sens, en
suivant les indications de polarité
3
Pour fermer le Boîtier d'alimentation de secours,
faites glisser le couvercle dans le sens de la flèche.
4
Brancher le cordon d'alimentation continue sur la
prise DC IN du camescope JVC.
5
Filmer en conservant le Boîtier d'alimentation de
secours dans une poche, etc.
Ce boîtier d'alimentation de secours est conçu exclusivement pour des
Bien utiliser des piles alcalines de taille "LR6". La durée de prise de vues varie
en fonction du type de piles alcalines que vous utilisez. Ne pas utiliser de piles
manganèse ou cadmium-nickel.
Ne pas mettre au feu ni démonter; peut exploser ou libérer des produits
Ne pas court-circuiter; les piles peuvent causer des brûlures.
Si l'appareil est exposé au froid extrême (en dessous de 10°C), la durée
effective de fonctionnement diminue de façon significative, ou peut rendre les
Si les piles alcalines sont conservées au froid, par exemple, l'hiver, en extérieur,
leur durée de service tend à diminuer. En ce cas, placer les piles pendant
quelques minutes dans une poche, ou tout autre endroit chaud, puis les utiliser.
Eviter d'utiliser les piles lorsque la température est extrêmement basse.
Pendant le transport, porter le boîtier d'alimentation de secours dans un sac en
Bien introduire les piles dans le bon sens, en suivant les indications de polarité
Ne pas utiliser de piles qui coulent. Si une fuite de pile se produit pendant
l'utilisation, remplacer les piles par des nouvelles après avoir essuyer
Ne pas utiliser différentes sortes de piles ou des piles usagées et des neuves
ensemble. Pour obtenir la durée de prise de vues maximale, bien changer
clignote dans le viseur lorsque les piles sont presque
Comme les piles chauffent pendant le fonctionnement, soyez prudent en les
Le boîtier d'alimentation de secours devient chaud pendant et après
l'utilisation; ce n'est pas un défaut.
Si vous n'utilisez pas le boîtier d'alimentation de secours pendant une longue
période, bien retirer les piles.
Si les bornes du boîtier d'alimentation de secours devient sales, les essuyer
gentiment avec un chiffon doux.
La durée de prise de vues diminuera sensiblement quand la torche vidéo du
Etant donné que la tension des piles alcalines chute rapidement, l'utilisation du
zoom tandis que les piles sont usagées peut provoquer l'arrêt de l'alimentation
Ne pas exposer le Boîtier d'alimentation de secours à des températures
excédant 60°C car cela peut provoquer une surchauffe du Boîtier
d'alimentation de secours et une anomalie de fonctionnement.
Eviter l'usage de puissants agents de nettoyage tels que l'essence ou l'alcool.
CARACTÉRISTIQUES TECHNIQUES:
Source d'alimentation : CC 9V
: 67(L) x 94(H) x 19(P) mm
: Tous les modèles VHS-C, sauf les suivants:
modèles sans prise DC IN, modèles avec écran
LCD et modèles S-VHS-C. Pour de plus amples
détails concernant la disponibilité de ce Battery
Rescue Pak et les autres camescopes JVC
concernés, consulter le revendeur JVC.
Erreurs et omissions possibles. Présentation et caractéristiques modifiables
Nous vous remercions d'avoir porté votre choix sur le Boîtier JVC
d'alimentation de secours. Il peut contenir six piles sèches alcalines, ce
qui permet de faire fonctionner l'appareil pendant 20 à 50 minutes
---