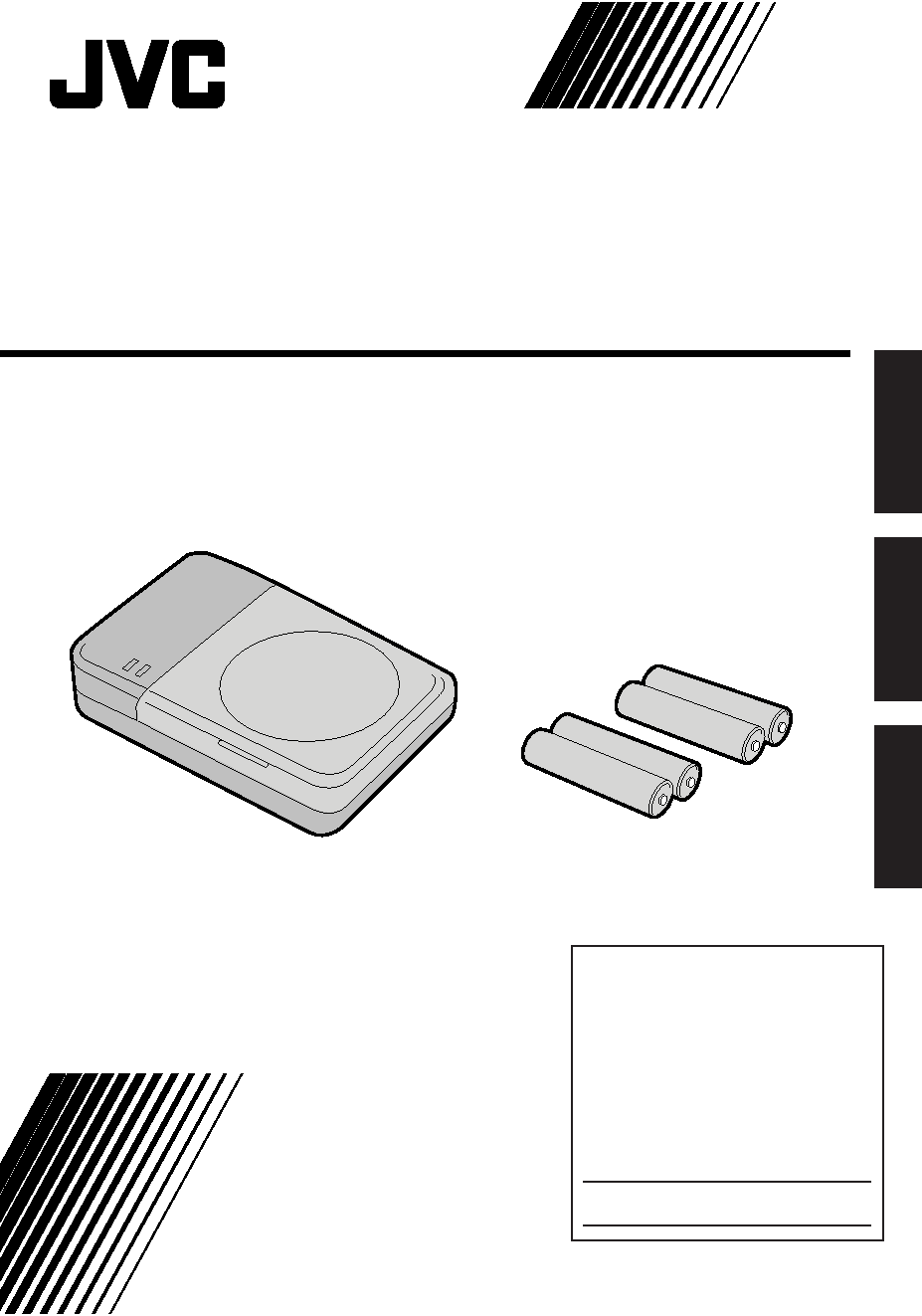 ---

This manual contains important safety instructions.
A battery can present a risk of electrical shock, burn
from high short-circuit current, fire or explosion from
vented gases. Observe proper precautions.
Use only with JVC Ni-Cd Batteries, Model
BN-V1012U. Never attempt to charge other types of
batteries in this charger as they may explode, leak,
overheat, and cause personal injury.
Use the type of power source indicated on the label.
Always supply power directly from a standard
domestic electrical outlet.
Do not use this product near water or handle it with
Unplug the charger if the batteries are not fully
charged after four hours.
---

Unplug the charger immediately if it shows unusual
signs such as smoke, odor, or noise.
Do not attempt to service this product yourself.
Refer all servicing to qualified service personnel.
Keep away from heat sources. Do not use the
charger outside the temperature range of 0°C to
Do not insert batteries into the charger backward as
they may explode, leak, overheat, and cause
Do not insert objects through any openings as they
may touch dangerous voltage points (120V AC) or
short out parts that could result in fire or electric
Never disassemble or modify this product.
Unplug this product from the wall outlet before
Use a damp cloth for cleaning; do not use liquid or
Do not use the charger within reach of children.
---

Use only this unit to charge these batteries.
Do not apply heat or force to batteries, and do not
disassemble, drop, short-circuit, or put batteries into
Do not insert the batteries into wall outlets or other
Do not insert the batteries into a car cigarette lighter
Do not solder lead wires or terminals directly to a
If battery acid gets into your eyes or on your skin,
immediately rinse the affected area well with water
and seek medical treatment. If the battery is
swallowed, seek medical treatment immediately.
The batteries should only be used in JVC Digital
Still Cameras as specified in the camera user's
When replacing batteries use the same number and
type of batteries (JVC Ni-Cd Batteries, Model
Never use JVC Ni-Cd batteries in combination with
any other type of batteries.
Always use the batteries from the same package as
a set. Do not mix old and new batteries, or charged
and discharged batteries.
Keep batteries away from heat sources.
---

To avoid fire or electric shock, do not use batteries
that are leaking or damaged in any way.
To guard against short-circuiting, do not remove the
Do not keep batteries loose in your pockets.
Dispose of the batteries in accordance with local
Use a damp cloth for cleaning.
POUR USAGE AVEC LE CHARGEUR DE PILES.
Do not store batteries with metal objects, which
could short out the batteries' circuits. Also, avoid
storing batteries in extremely hot or humid
Store batteries out of the reach of children.
The product that you have purchased is powered by
a rechargeable battery. The battery is recyclable. At
the end of its useful life, under various state and local
laws, it may be illegal to dispose of this battery into
the municipal waste stream. Check with your local
solid waste officials for details in your area for
recycling options or proper disposal.
---