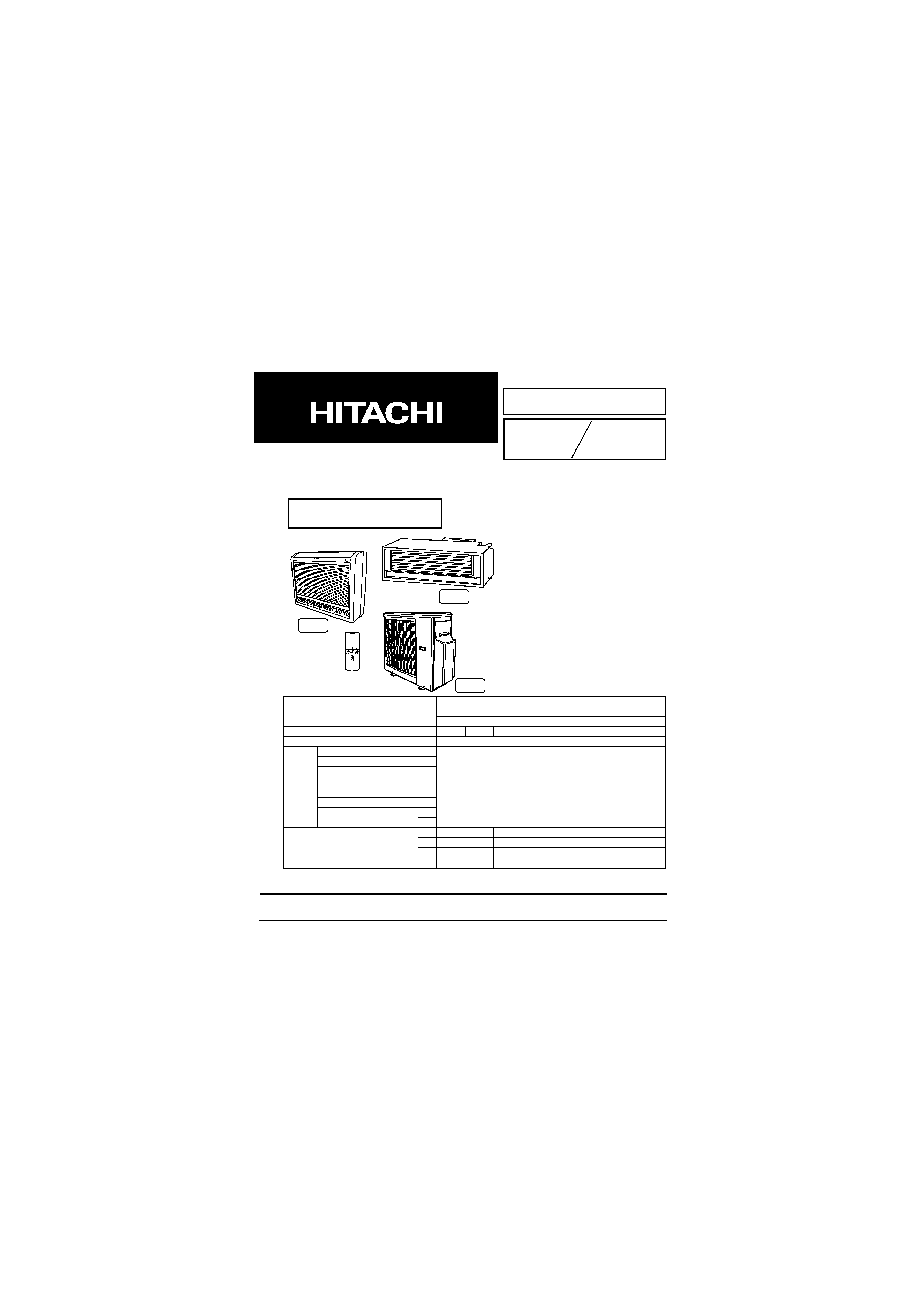 REFER TO THE FOUNDATION MANUAL
REPORTEZ-VOUS AU MANUEL DE BASE
SPECIFICATIONS AND PARTS ARE SUBJECT TO CHANGE FOR IMPROVEMENT
LES SPECIFICATIONS ET PIECES DETACHEES PEUVENT CHANGER POUR ETRE AMELIOREES.
FOR SERVICE PERSONNEL ONLY
CARACTERISTIQUES GENERALES
CARACTERISTIQUES GENERALES
CONSTRUCTION AND DIMENSIONAL DIAGRAM
WIRING DIAGRAM OF THE PRINTED WIRING BOARD
SCHÉMA ÉLECTRIQUE DU CIRCUIT IMPRIMÉ
REFRIGERATING CYCLE DIAGRAM
SCHÉMA DU CYCLE DE RÉFRIGÉRATION
DESCRIPTION OF MAIN CIRCUIT OPERATION
DESCRIPTION DES PRINCIPAUX CIRCUITS ÉLECTRIQUES
MODE OPERATOIRE DE DEPANNAGE
DISASSEMBLY AND REASSEMBLY
LISTE DES PIÉCES DE RECHANGE ET DIAGRAMME
PUISSANCE ABSORBEE TOTALE (W)
PUISSANCE ABSORBEE TOTALE (W)
DC INVERTER TRIPLE AND QUADRUPLE SYSTEM MULTI
SYSTEME DE TRIPLE ET QUADRUPLE ONDULEUR CC MULTI
REFER TO THE SPECIFICATIONS PAGE 10.
REPORTEZ-VOUS AUX SPECIFICATIONS DE LA PAGE 11.
INDOOR UNIT + OUTDOOR UNIT
Hitachi Home & Life Solutions, Inc.
---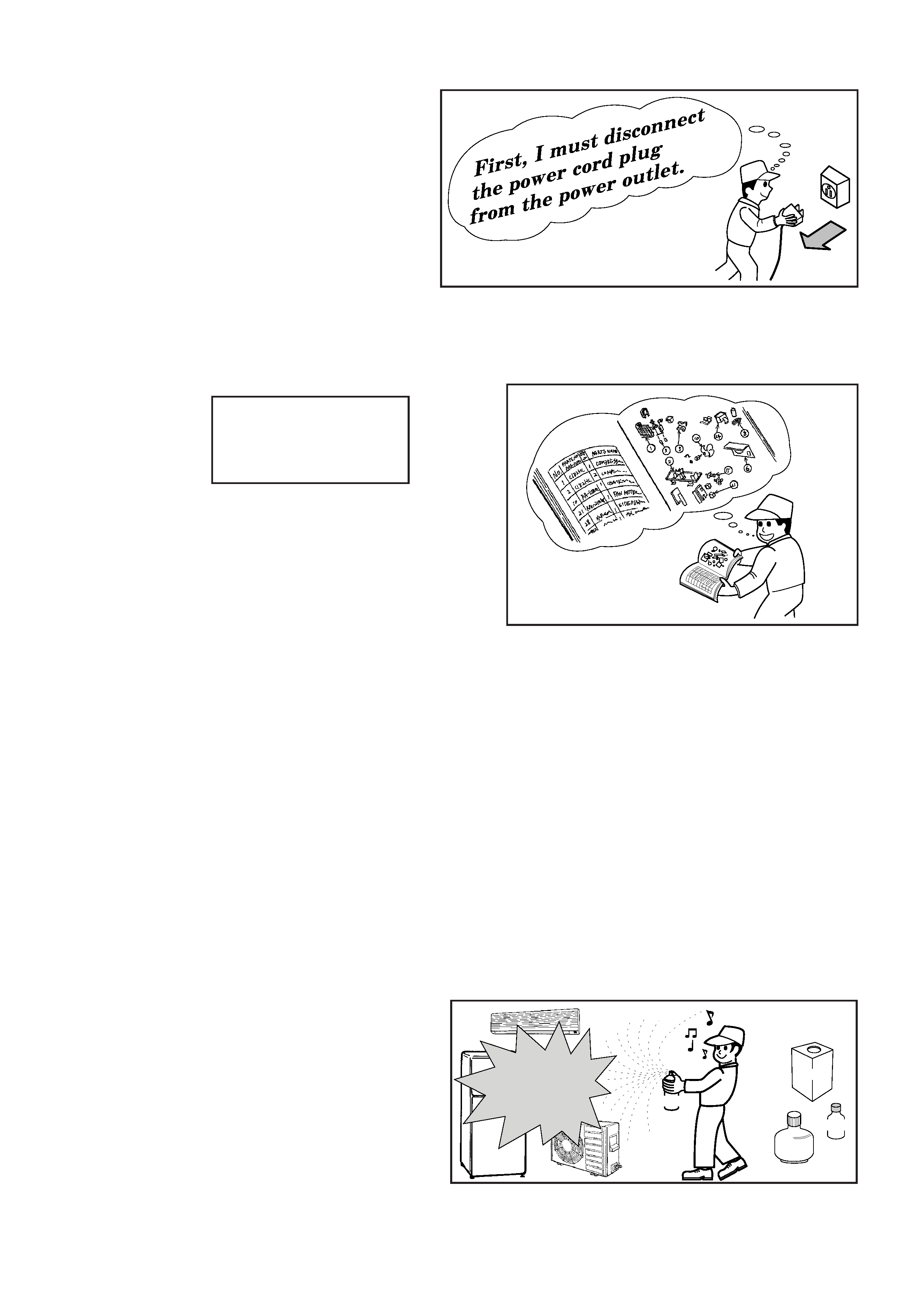 1. In order to disassemble and repair the
unit in question, be sure to disconnect the
power cord plug from the power outlet
before starting the work.
2. If it is necessary to replace any parts, they should be replaced with respective genuine parts for the unit,
and the replacement must be effected in correct manner according to the instructions in the Service
3. After completion of repairs, the initial state should be
4. Lead wires should be connected and laid as in the
5. Modification of the unit by the user himself should
absolutely be prohibited.
6. Tools and measuring instruments for use in repairs or inspection should be accurately calibrated in
7. In installing the unit having been repaired, be careful to prevent the occurrence of any accident such as
electrical shock, leak of current, or bodily injury due to the drop of any part.
8. To check the insulation of the unit, measure the insulation resistance between the power cord plug and
grounding terminal of the unit.
The insulation resistance should be 1M or more as measured by a 500V DC megger.
9. The initial location of installation such as window, floor or the other should be checked for being safe
enough to support the repaired unit again.
If it is found not so strong and safe, the unit should be installed at the initial location after reinforced or
10. Any inflammable object must not be placed
about the location of installation.
11. Check the grounding to see whether it is
proper or not, and if it is found improper,
connect the grounding terminal to the earth.
SAFETY DURING REPAIR WORK
If the contacts of electrical
parts are defective, replace
the electrical parts without
---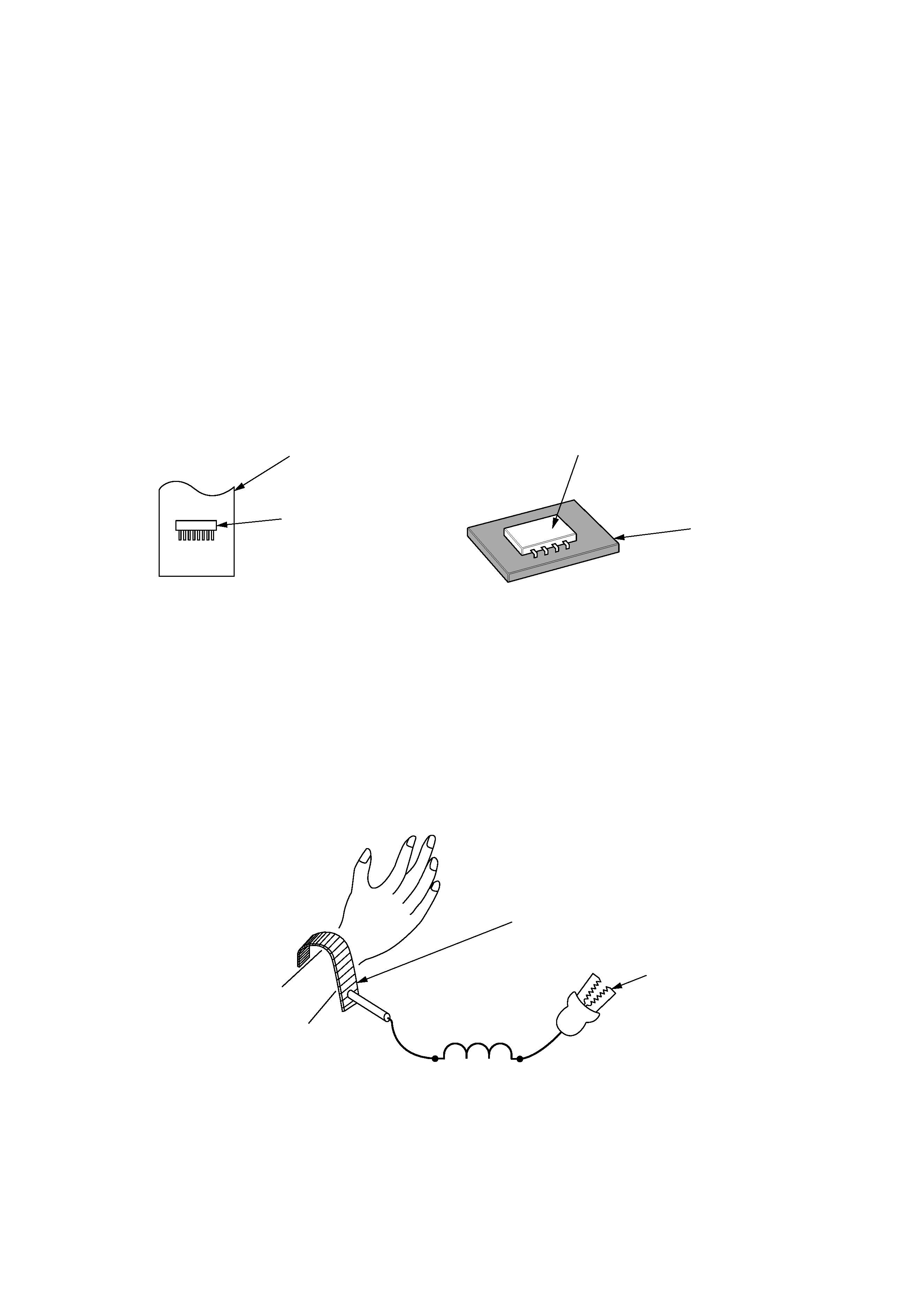 WORKING STANDARDS FOR PREVENTING BREAKAGE OF SEMICONDUCTORS
The standards provide for items to be generally observed in carrying and handling semiconductors in
relative manufactures during maintenance and handling thereof. (They apply the same to handling of
abnormal goods such as rejected goods being returned.)
(2) Integrated circuits (I.C.)
(3) Field effective transistor (F.E.T.)
(4) P.C. boards or the like to which the parts mentioned in (1) and (2) of this paragraph are equipped.
3. Itemsto be observed in handling
(1) Use a conductive container for carrying and storing of parts. (Even rejected goods should be handled in
(2) When any part is handled uncovered (in counting, packing and the like), the handling person must
always use himself as a body earth. (Make yourself a body earth by passing one M ohm earth
resistance through a ring or bracelet.)
(3) Be careful not to touch the parts with your clothing when you hold a part even if a body earth is
(4) Be sure to place a part on a metal plate with grounding.
(5) Be careful not to fail to turn off power when you repair the printed circuit board. At the same time,
try to repair the printed circuit board on a grounded metal plate.
Fig. 1 Conductive container
A conductive polyvinyl bag
Body earth (Elimik conductive band)
---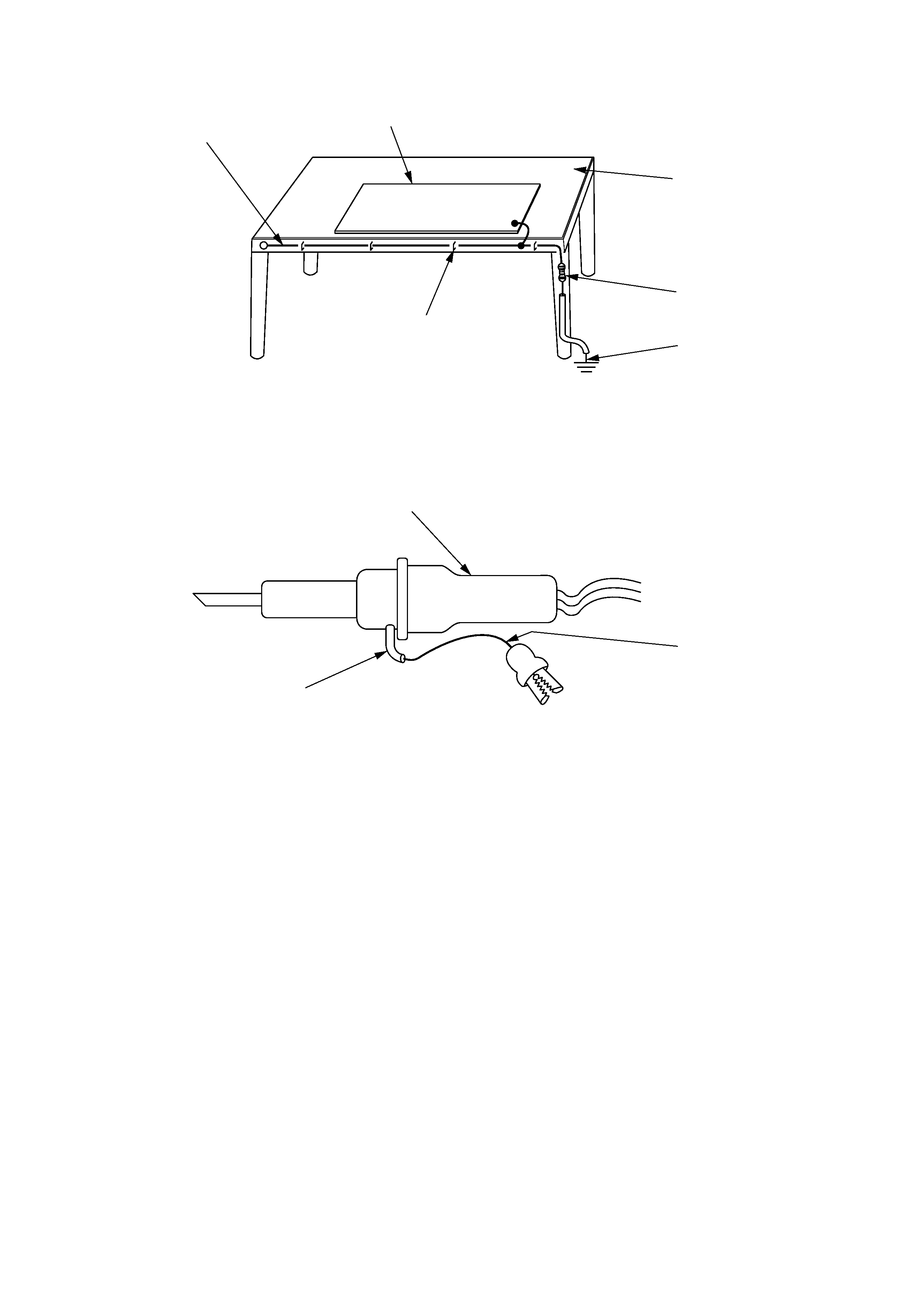 (6) Use a three wire type soldering iron including a grounding wire.
Fig.4 Grounding a solder iron
Use a high insulation mode (100V, 10M or higher) when ordinary iron is to be used.
(7) In checking circuits for maintenance, inspection, or some others, be careful not to have the test probes
of the measuring instrument shortcircuit a load circuit or the like.
Bare copper wire (for body earth)
Metal plate (of Al. stainless steel, etc.)
Fig.3 Grounding of the working table
Screw stop at the screwed
---

1. In quiet operation or stopping the running, its heard slight flowing noise of
refrigerant in the refrigerating cycle occasionally, but this noise is not abnormal for
2. When it thunders near by, it is recommend to stop the operation and to disconnect
the power cord plug from the power outlet for safety.
3. The room air conditioner dose not start automaticaly after recovery of the electric
power failure for preventing fuse blowing. Re-press START / STOP button after 3
minutes from when unit stopped.
4. If the room air conditioner is stopped by adjusting thermostat, or missoperation, and
re-start in a moment, there is occasion that the cooling and heating operation does
not start for 3 minutes, it is not abnormal and this is the result of the operation of
IC delay circuit. This IC delay circuit ensures that there is no danger of blowing
fuse or damaging parts even if operation is restarted accidentally.
5. This room air conditioner should not be used at the cooling operation when the
outside temperature is below 10ûC (50ûF).
6. This room air conditioner (the reverse cycle) should not be used when the outside
temperature is below Ð15ûC (5ûF).
If the reverse cycle is used under this condition, the outside heat exchanger is
frosted and efficiency falls.
7. When the outside heat exchanger is frosted, the front is melted by operating the
hot gas system, it is not trouble that at this time fan stops and the vapour may
rise from the outside heat exchanger.
---