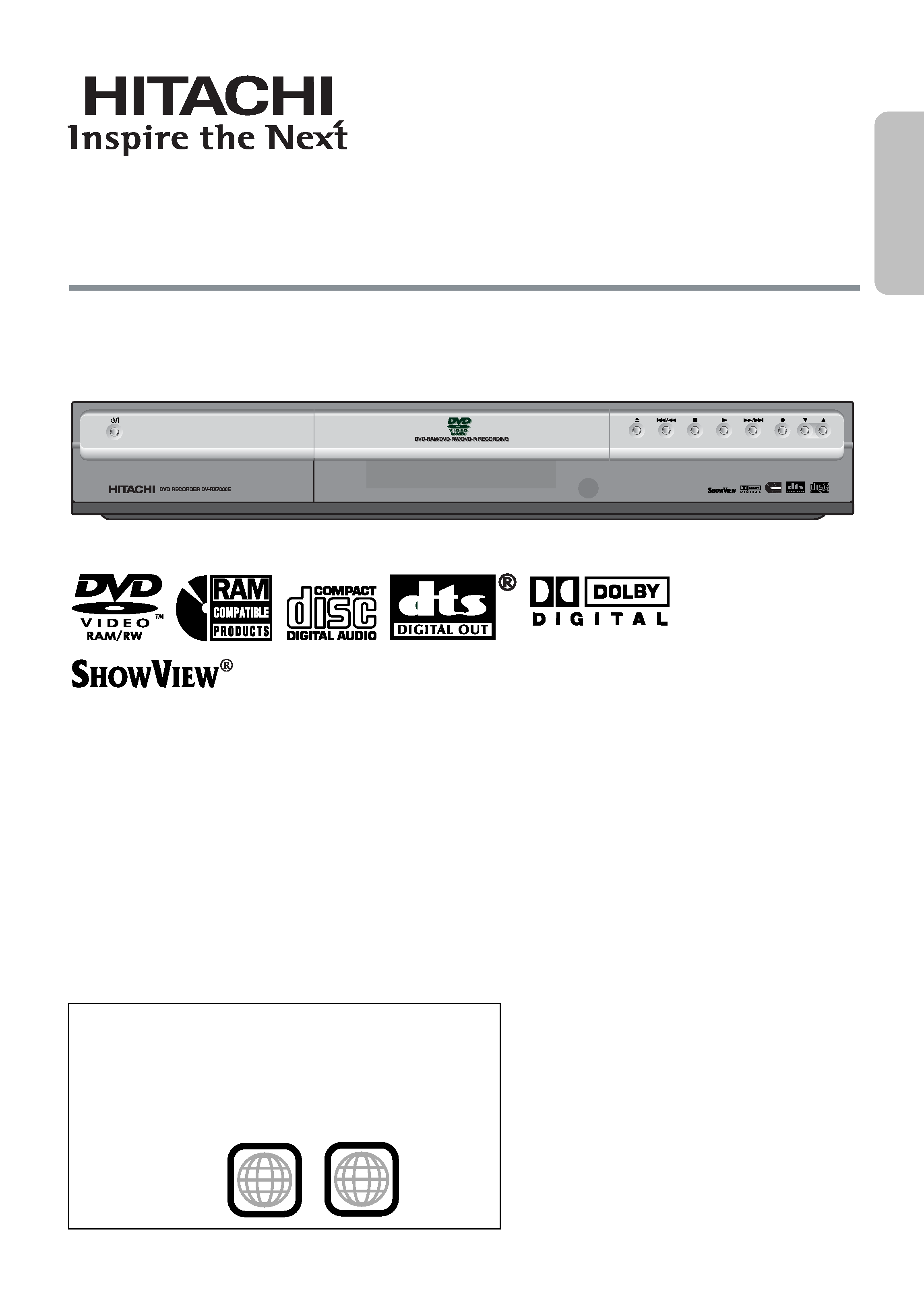 Region number supported by this unit
Region numbers are allocated to DVD players and software
according to where they are sold.
·The region number of this unit is "2".
·The unit will play DVDs marked with labels containing "2" or
Thank you for purchasing this product. For
optimum performance and safety, please read
these instructions carefully.
Before connecting, operating or adjusting this
product, please read these instructions completely.
Please keep this manual for future reference.
S
HOW
V
IEW
is a registered trademark of
Gemstar Development Corporation.
manufactured under license from
Gemstar Development Corporation.
---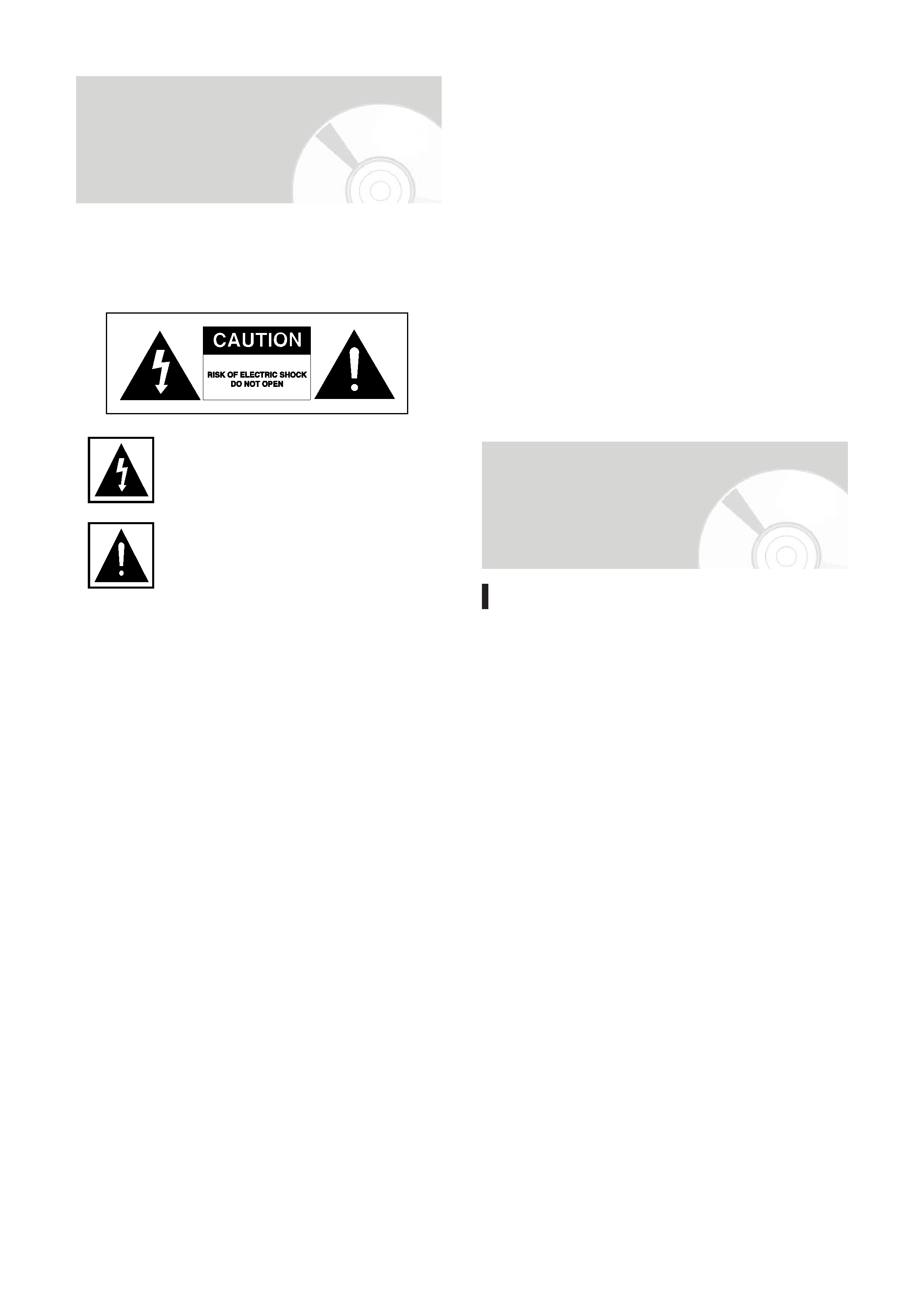 Important Safety Instructions
Read these operating instructions carefully before using
the unit. Follow all the safety instructions listed below.
Keep these operating instructions handy for future
1) Read these instructions.
2) Keep these instructions.
4) Follow all instructions.
5) Do not use this apparatus near water.
6) Clean only with dry cloth.
7) Do not block any ventilation openings, Install in
accordance with the manufacturer's instructions.
8) Do not install near any heat sources such as
radiators, heat registers, stoves, or other apparatus
(including amplifiers) that produce heat.
9) Do not defeat the safety purpose of the polarized
or grounding-type plug. A polarized plug has two
blades with one wider than the other.
A grounding-type plug has two blades and a third
grounding prong. The wide blade or the third prong
are provided for your safety. If the provided plug
does not fit into your outlet, consult an electrician
for replacement of the obsolete outlet.
10) Protect the power cord from being walked on or
pinched particularly at plugs, convenience
receptacles, and the point where they exit from the
11) Only use attachments/accessories specified by the
12) Use only with the cart, stand, tripod, bracket, or
table specified by the manufacturer, or sold with
the apparatus. When a cart is used, use caution
when moving the cart/apparatus combination to
avoid injury from tip-over.
TO REDUCE THE RISK OF ELECTRIC SHOCK, DO
NOT REMOVE THE COVER (OR BACK).
NO USER-SERVICEABLE PARTS ARE INSIDE.
REFER SERVICING TO QUALIFIED SERVICE
This symbol indicates "dangerous
voltage" inside the product that
presents a risk of electric shock or
This symbol indicates important
instructions accompanying the product.
Do not install this equipment in a confined space such
as a bookcase or similar unit.
WARNING :To prevent damage which may result in
fire or electric shock hazard, do not
expose this appliance to rain or moisture.
CAUTION : DVD RECORDERS USE AN INVISIBLE
LASER BEAM WHICH CAN CAUSE
HAZARDOUS RADIATION EXPOSURE
BE SURE TO OPERATE RECORDER
THIS PRODUCT UTILIZES A LASER.
USE OF CONTROLS OR ADJUSTMENTS OR
PERFORMANCE OF PROCEDURES OTHER THAN
THOSE SPECIFIED HEREIN MAY RESULT IN
HAZARDOUS RADIATION EXPOSURE.
DO NOT OPEN COVERS AND DO NOT REPAIR
YOURSELF. REFER SERVICING TO QUALIFIED
This product satisfies CE regulations when shielded
cables and connectors are used to connect the unit
to other equipment. To prevent electromagnetic
interference with electric appliances, such as radios
and televisions, use shielded cables and connectors for
The product unit accompanying this user manual is
licensed under certain intellectual property rights of
certain third parties. This license is limited to private
non-commercial use by end-user consumers for
No rights are granted for commercial use.
The license does not cover any product unit other than
this product unit and the license does not extend to
any unlicensed product unit or process conforming to
ISO/IEC 11172-3 or ISO/IEC 13818-3 used or sold in
combination with this product unit. The license only
covers the use of this product unit to encode and/or
decode audio files conforming to the ISO/IEC 11172-3
No rights are granted under this license for product
features or functions that do not conform to the
ISO/IEC 11172-3 or ISO/IEC 13818-3.
---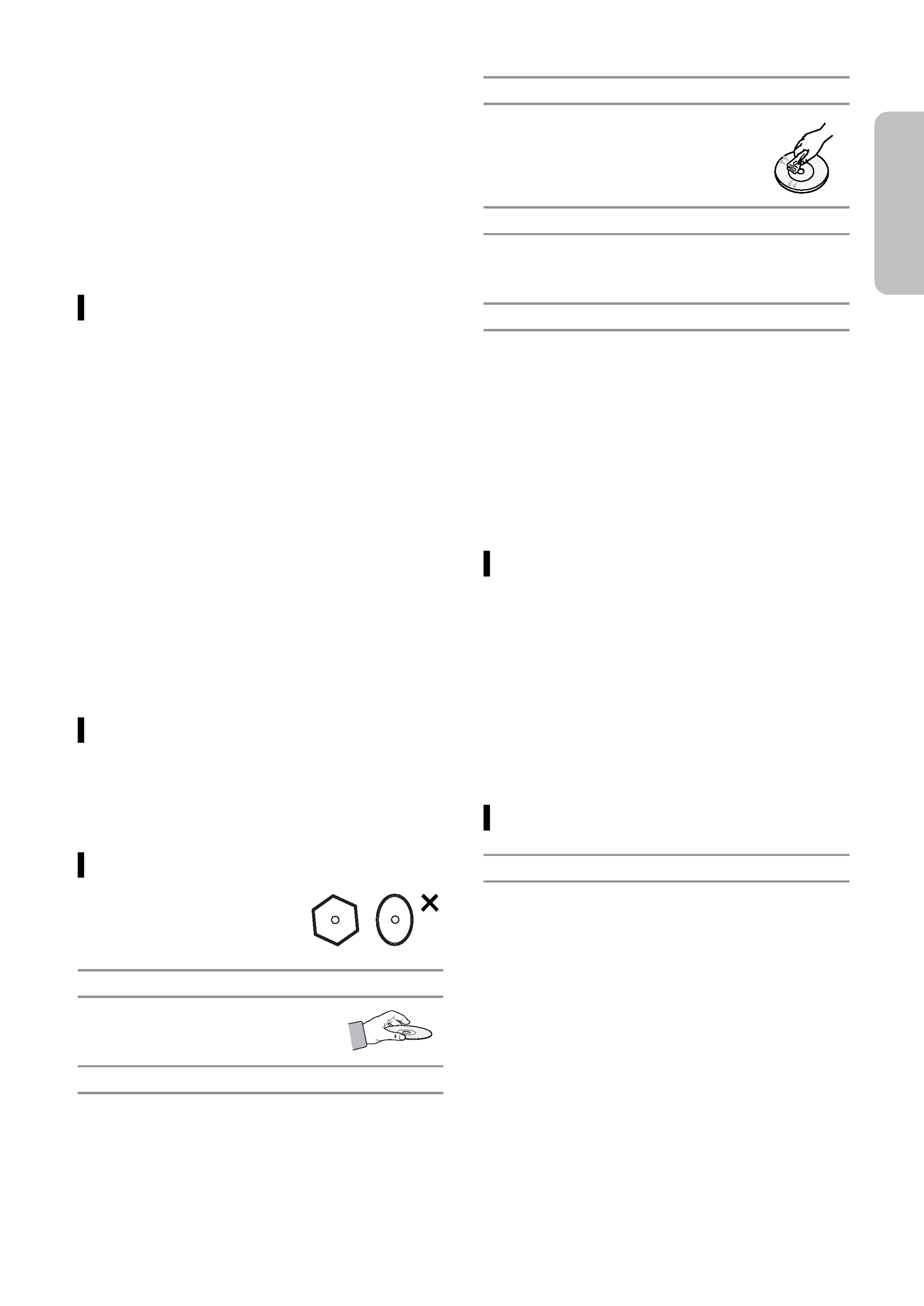 13) Unplug this apparatus during lightning storms or
when unused for long periods of time.
14) Refer all servicing to qualified service personnel.
Servicing is required when the apparatus has been
damaged in any way, such as power-supply cord or
plug is damaged, liquid has been spilled or objects
have fallen into the apparatus, the apparatus has
been exposed to rain or moisture, does not operate
normally, or has been dropped.
15) Never spill liquid of any kind on this unit.
If liquid is spilled into the unit, cousult qualified
· Before connecting other components to this recorder, be
sure to turn them all off.
· Do not move the recorder while a disc is being played, or
the disc may be scratched or broken, and the recorder's
internal parts may be damaged.
· Do not put a flower vase filled with water or any small
metal objects on the recorder.
· Be careful not to put your hand into the disc tray.
· Do not place anything other than the disc in the disc tray.
· Exterior interference such as lightning and static
electricity can affect normal operation of this recorder.
If this occurs, turn the recorder off and on again with the
POWER button, or disconnect and then reconnect the
AC power cord to the AC power outlet.
The recorder will operate normally.
· Be sure to remove the disc and turn off the recorder
·Disconnect the AC power cord from the AC outlet when
you don't intend to use the recorder for long periods of
· Clean the disc by wiping in a straight line from the inside
to the outside of the disc.
For safety reasons, be sure to disconnect the AC
power cord from the AC outlet.
· Do not use benzene, thinner, or other solvents for
·Wipe the cabinet with a soft cloth.
· Use discs with regular shapes. If
an irregular disc (a disc with a
special shape) is used, this DVD
·Avoid touching the surface of a disc
where recording is performed.
· This is used to prevent damage by dirt, scratches, etc.
when using a DVD-RAM/RW/R disc.
DVD-RAM, DVD-RW and DVD-R
· Clean with an optional DVD-RAM/PD
disc cleaner (generally available).
Do not use cleaners or cloths for CDs to
clean DVD-RAM/DVD-RW/DVD-R discs.
· Wipe off dirt or contamination on the disc with a soft
Cautions on handling discs
· Do not write on the printed side with a ball-point pen or
· Do not use record cleaning sprays or antistatic. Also, do
not use volatile chemicals, such as benzene or thinner.
· Do not apply labels or stickers to discs. (Do not use
discs fixed with exposed tape adhesive or leftover
· Do not use scratch-proof protectors or covers.
· Do not use discs printed with label printers available on
· Do not load warped or cracked discs.
Be careful not to harm the disc because the data on
these discs is highly vulnerable to the environment.
· Do not keep under direct sunlight.
·Keep in a cool ventilated area.
·Keep in a clean protection jacket.
· If you move your DVD recorder suddenly from a cold
place to a warm place, condensation may generate on
the operating parts and lens and cause abnormal disc
playback. If this occurs, remove the disc and wait for one
to two hours with the power on before attempting
·A digital versatile disc (DVD) can contain up to 135-
minutes of images, 8-language audio and 32 subtitle
languages. It is equipped with MPEG-2 picture
compression and Dolby digital surrounding, allowing you
to enjoy vivid and clear theater quality images in the
comfort of your own home.
·When switching from the first layer to the second layer of
a dual-layered DVD Video disc, there may be momentary
distortion in the image and sound.
This is not a malfunction of the unit.
· Once a DVD-R/RW recorded in Video Mode is finalized,
---

· Playback may be impossible in some cases due to the
· This unit can play back DVD-R discs recorded and
finalized with a Hitachi DVD recorder. It may not be able
to play some DVD-R discs depending on the disc and
the condition of the recording.
DVD-RW Disc Playback and Recording
· Recording and playback can be performed on a DVD-
RW discs in both the Video and VR Modes.
· Once a DVD-RW recorded in VR Mode or Video mode is
finalized, you cannot perform additional recording.
· Once a DVD-RW recorded in Video Mode is finalized, it
· In both modes, playback can be performed before and
after finalization, but additional recording, deleting and
editing cannot be performed after finalization.
· If you want to record the disc in VR Mode and then
record in V Mode, be sure to execute Format.
Be careful when executing Format because all the
recorded data may be lost.
·A DVD-RW blank disc is initialized to VR Mode when first
- This is a format that is used for recording data on a
DVD-RAM or DVD-RW disc. You can repeat recording,
editing, deleting, partial deletion, creation of playlist,
-A disc that is recorded in this mode may not be played
by an existing DVD player.
- This is a format that is used for recording data on a
DVD-RW or DVD-R disc. The disc can be played by an
existing DVD player once it has been finalized.
- If a disc that has been recorded in Video Mode by a
different maker's recorder but has not been finalized, it
cannot be played or additionally be recorded by this
DVD-RAM Disc Playback and Recording
·DVD-RAM discs come with or without a cartridge. For
this product, we recommend DVD-RAM discs that come
· Some cartridges are able to eject the disc inside.
Even if you are able to eject the disc, always use the
disc with the cartridge to ensure correct operation.
·DVD-RAM discs have a Write Protect tab in order to
avoid accidental erasure of recorded data.
With the Write Protect tab set to PROTECT, you can play
the disc, but recording or erasing will not work.
Set the Write Protect tab to UNPROTECT to format the
· Ensure that the recording mode is set to VR mode.
Otherwise, this product will not be able to play the
·You cannot play a DVD-RAM in most DVD players due to
·Only DVD-RAM standard Version 2.0 discs can be
·DVD-RAM recorded on this unit may not work with other
DVD players. To determine compatibility with these DVD-
RAM discs, refer to the user's manual for the player.
· An audio disc on which 44.1 kHz PCM Audio is recorded.
· Plays CD-DA format audio CD-R and CD-RW discs. The
unit may not be able to play some CD-R or CD-RW discs
due to the condition of the recording.
·Only CD-R discs with MP3 files recorded with ISO9660
or JOLIET format can be played back.
· Only MP3 files with the ".mp3", ".MP3" extension can be
·For MP3 files recorded with a VBR (Variable Bit Rates),
from 32 kbps to 320 kbps, the sound may cut in out.
· Playable bitrate range is from 56 kbps to 320 kbps.
· The unit can handle a maximum of 1000 files and
· Only JPEG files with the ".jpg", ".JPG" extension can be
· The unit can handle a maximum of 1000 files and
· Maximum size of progressive JPEG is 3M pixels.
·MOTION JPEG is not supported.
· If the CD-R/RW disc was not recorded as a closed
session, you may experience a delay in the early
playback time, and all recorded files may not play.
· Some CD-R/RW discs may not be playable with this unit,
depending on the device which was used to burn them.
For contents recorded on CD-R/RW media from CDs for
your personal use, playability may vary depending on
DVD-R Disc Playback and Recording
· Once a DVD-R recorded in Video Mode is finalized, it
·You can record onto the available space on the disc and
perform editing functions such as giving titles to discs
and programs and erasing programs before finalizing.
· When programming is erased from a DVD-R, that space
does not become available. Once an area on a DVD-R is
recorded on, that area is no longer a vailable for
recording, whether the recording is erased or not.
· It takes about 30 seconds for the unit to complete
recording management information after recording
· This product optimizes the DVD-R for each recording.
Optimizing is carried out when you start recording after
inserting the disc or turning on the unit.
Recording onto the disc may become impossible if
optimizing is carried out too many times.
---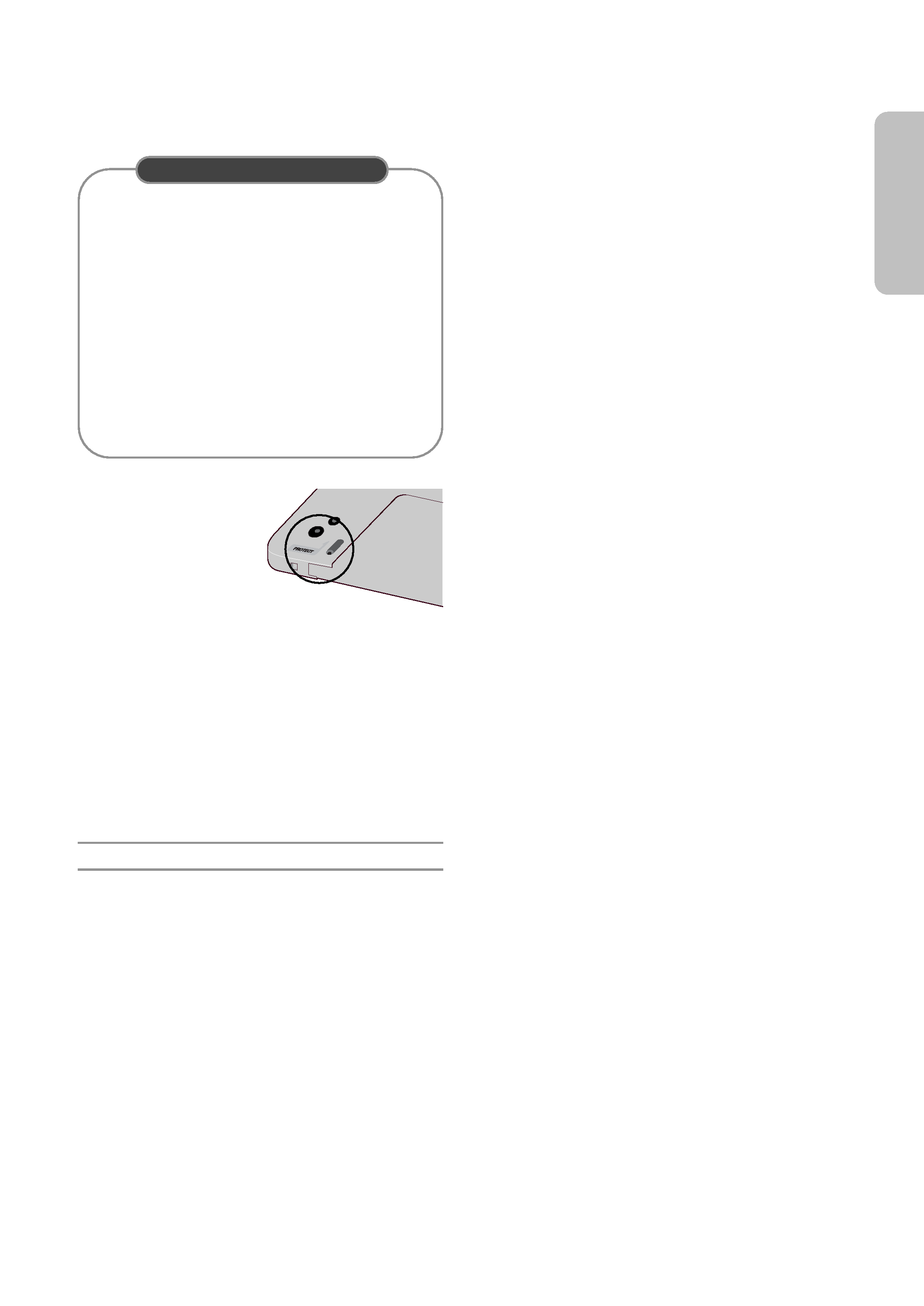 · This unit is compatible with both non-cartridge and
cartridge DVD-RAM, but the write-protect tabs on
cartridge-type discs give better protection to your
contents of your discs, as
· Cartridge-protected: With
position, the contents of
recorded, edited, or erased.
· Program-protected: See page 72 "Locking a Title"
· Disc-protected: See page 84 "Disc Protection"
DVD-RAM/DVD-RW/DVD-R discs that are
incompatible with VR/V format cannot be played with
For more information on recording a DVD, consult your
DVD-RAM/DVD-RW/DVD-R manufacturer.
If poor quality DVD-RAM/DVD-RW/DVD-R discs are
used, your recordings may fail.
Do not use the following discs!
·LD, CD-G, CD-I, Video-CD, CD-ROM, DVD-ROM,
DVD+R and DVD+RW discs should not be used in this
Disc types that can be played : CD/CD-R/CD-RW/
MP3/JPEG/DVD-Video/DVD-RAM/DVD-RW/
DVD-R. For a DVD-R/DVD-RW disc, which has been
recorded in Video Mode on another component, it can
play only when finalized.
· Some commercial discs and DVD discs purchased
outside your region may not be playable with this
When these discs are played, either "No disc." or
"Please check the regional code." will be displayed.
· If your DVD-RW disc is an illegal copy or is not in DVD
video format, it may also not be playable.
We recommend using Hitachi Maxell discs as they
have been confirmed to be compatible with this unit.
Other discs may not perform correctly.
· Many DVD discs are encoded with copy protection.
Because of this, you should only connect your DVD
recorder directly to your TV, not to a VCR.
Connecting to a VCR results in a distorted picture
from copy-protected DVD discs.
· This product incorporates copyright protection
technology that is protected by methods claims of
certain U.S. patents and other intellectual property
rights owned by Macrovision Corporation and other
rights owners. Use of this copyright protection
technology must be authorized by Macrovision
Corporation, and is intended for home and other
limited viewing uses only unless otherwise
authorized by Macrovision Corporation. Reverse
engineering or disassembly is prohibited.
---