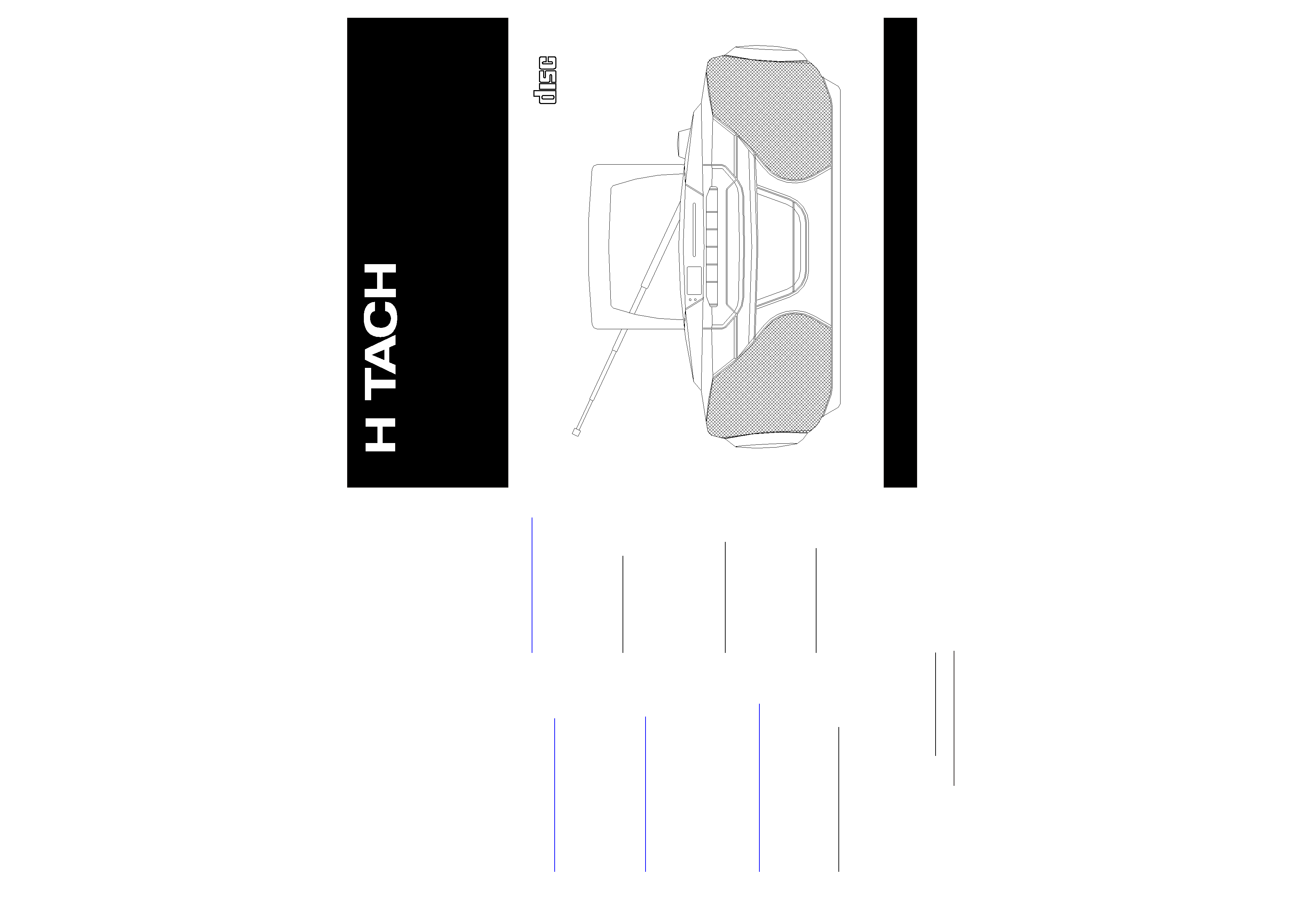 364 Kifisias & 1 Delfon Street
HITACHI SALES IBERICA, S.A
Gran Via Carlos III, 101 ­ 1
HITACHI SALES EUROPA GmbH
HITACHI SALES ITALIANA SPA
HITACHI HOME ELECTRONICS NORWAY
Hitachi, Ltd. Tokyo, Japan
International Sales Division
THE HITACHI ATAGO BUILDING,
No. 15 ­ 12, Nishi Shinbashi, 2 ­ Chome,
Minato ­ Ku, Tokyo 105-8430, Japan.
ITEM N.V./S.A. (INTERNATIONAL TRADE FOR
ELECTRONIC MATERIAL & MEDIA N.V./S.A.)
Before operating please read these instructions thoroughly
www.hitachi-consumer-eu.com
---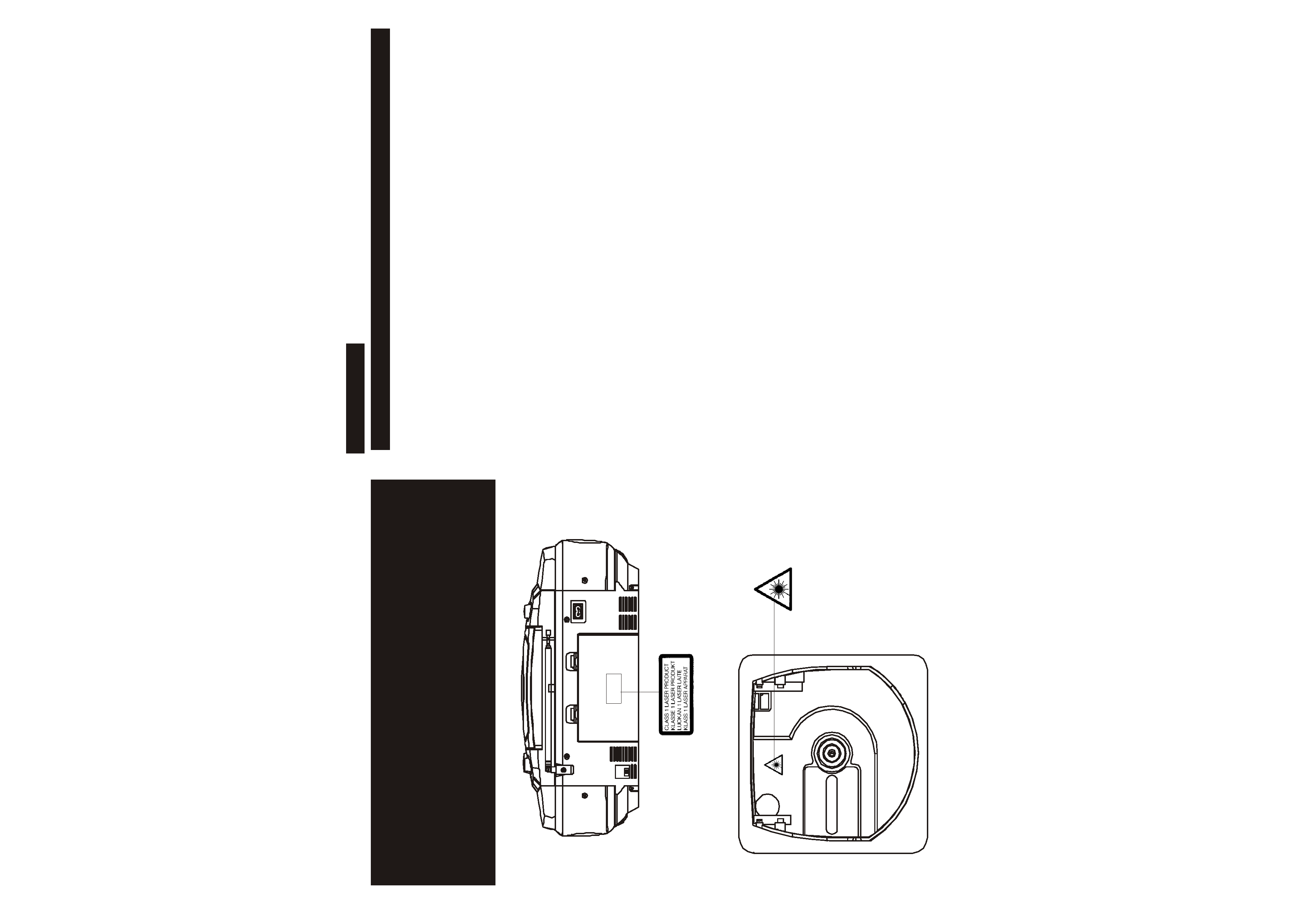 AM: Built -in ferrite bar
12V DC, "D" cell or IEC R20 or JIS R20P x 8
Main: 9cm (3.5in) x 2, Impedance: 8 ohms
Phones jack (stereo 3.5 mm)
Approx. 400(L) X 163(W) X 238(H)mm.
Approx. 3.9kg with batteries
bject to change for performance improvement without notice.
LOCATION OF EXPLANATORY LABELS
SIHCHERHEITSHINWEISE AUF DEM GRE
EMPLACEMENTS D 'E TIQUETTES EXPLICATIVES
LOCALIZACION DE LAS ETIQUETAS EXPLICATIVAS
PLACERING AV F Ö RKLARANDE ETIKETTER
Æ RKERNE OG HVAD BETYDER DE?
---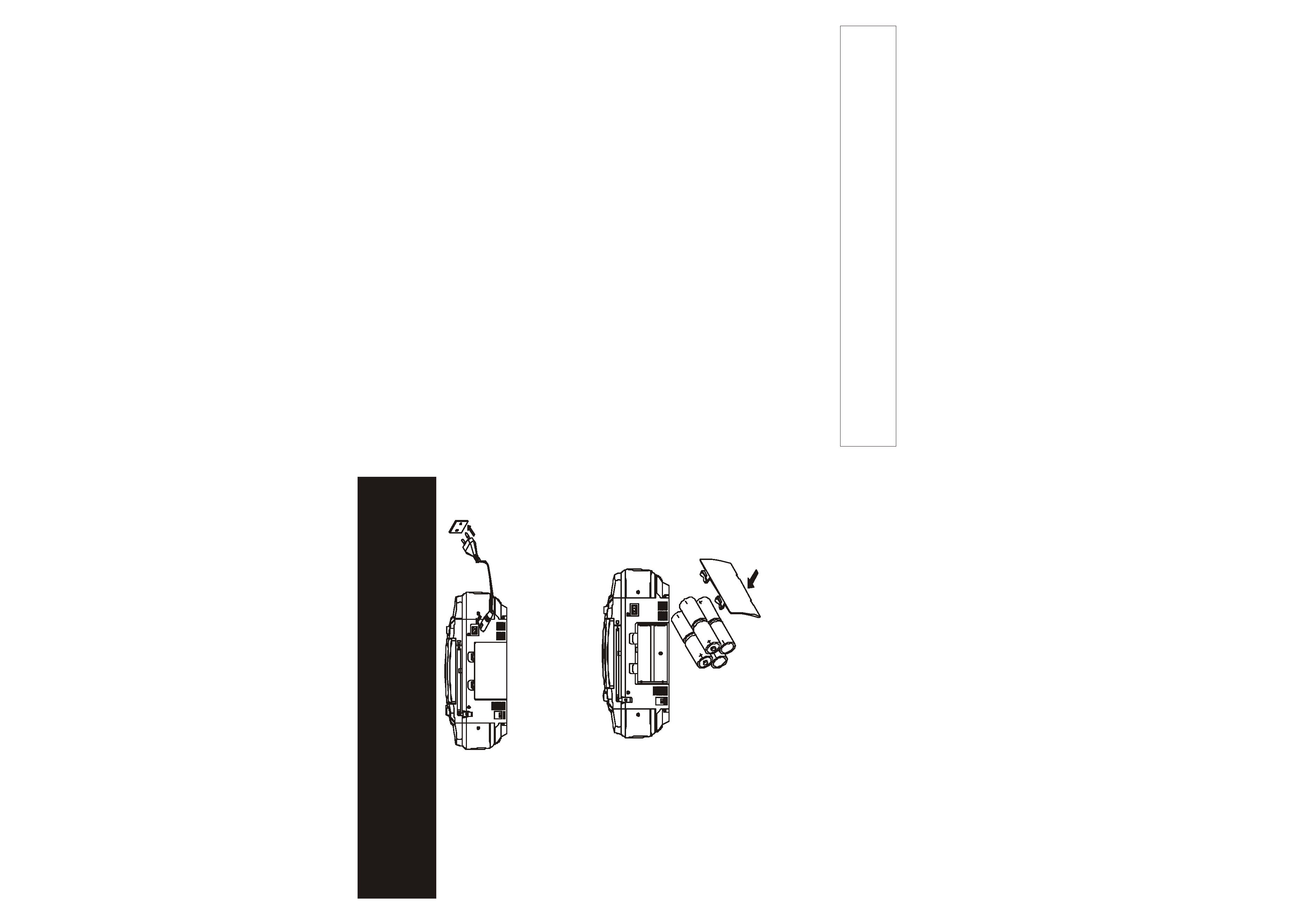 COLLEGAMENTO DI CORRENTE C.A.
ANSLUTNING TILL N ÄT STR ÖM
TOMA DE CORRIENTE GENERAL
To AC outlet AC 230V 50Hz
Zur AC -Netzdose AC 230V; 50Hz
A la sortie de courant alternatif AC 230V 50Hz
A una toma de pared domestica, 230V 50Hz
Alla uscita c.a. (to AC outlet) c.a. 230V 50Hz
Naar stopcontact Wisselstroom 230V 50Hz
Till v ä gguttag 230V 50Hz
Til stikkontakt 230V vekselstr
INSTALLAZIONE DELLA BATTERIA
12V DC 8 X IEC R20 or JIS R20P or "D" cell
DC 12V 8 X BATTERIEN DES TYPES IEC
R20 ODER JIS R20P ODER GR
12VDC, 8 piles X IEC R20 ou JIS R20P ou "D"
12V DC 8 x IEC R20 o JIS R20P o celula "D"
12V c.c. 8 x IEC R20 o JIS R20P o cella "D"
12V gelijkstro om 8 x IEC R20 of JIS R20P of
12 V likstr öm 8 st. IEC R20 eller JIS R20P eller
12V j æ vnsstr ø m 8 x IEC R20 eller JIS R20P
eller "D" celler batterier
Note: When the volume drops and the tape
speed slows down, it is sign that the batteries
Hinweis: Sie m ü ssen die Batterien auswechseln,
sobald die Lautst ä cher wird, und die
Bandlaufgeschwindigkeit langsamer wird.
vitesse de bande ralentit, c 'e st le signe de
Nota: Cuando el volumen empieza a bajar y la
velocidad de la cinta tambien, es un signo de
que las pilas necesitan reeemplazarse.
Nota Bene: Quanda il volume gocciola e
peluria della velocit à , è un segno che le batterie
devono essere sostituito.
Opgelet: Lagere geluidssterkte en verminderde
bandsnelheid betekenen dat het tijd is om de
Obs: N ä r volymen g år ned och bandhastigheten
blir l ån gsammar e är det ett tecken p ä att
batterierna beh öv er bytas.
BEM Æ RK: N år volumen blive lavere, og b ån det
kø rer langsommere rundt skal batterier skiftes.
DECLARATION OF CONFORMITY
We declare under our sole responsibility that this product, to which this declaration relates, is in conformity
with the following standards:
EN60065, EN55013, EN55020, EN61000
Following the provisions of 73/2
3/EEC, 89/336/EEC and 93/68/EEC Directives.
OBEREINSTIMMUNGSERKL ÄRUNG
Wir erkl är en unter unseret allelnlgen Verantwortung, dess dieses Produkt, auf das slch diese Erkl är ung
bezieht, den forgenden Standards entspricht:
EN60065, EN55013, EN55020, EN61000
D ÉCLARATION DE CONFORMIT É
Nous d éc larons sous notre seule responsabilit é que l 'a ppareil, auquel se r éf ér e cette EN60065, EN55013,
EN55020, EN61000 -3-2 ET EN61000 -3-3.
D 'a pr és les dispositions 73/23/EEC, 89/336EEC et 93/68EEC Directives.
DECLARACI ÓNDE CONFORMIDAD
Declaramos bajo nuestra cenlca responsabilidad que este producto, con el que esta declaraci ón se
relaciona, est á an conformidad con las siguientes normas: EN60065, EN55013, EN55020, EN61000
Siguiendo las cond iciones de las Directivas 73/23/EEC, 89/336/EEC y 93/68/EEC.
DICHIARAZIONE DI CONFORMIT Á
Dichiariamo con plena responsabilit à che questo prodotto, al quale la nostra dichiarazione si riferisca, è
conforme alle seguenti normatlye:
EN60065, EN55013, EN55020
, EN61000 -3-2 e EN61000 -3-3.
In conformit à al requistri delie direttlve EEC 73/23, EEC 89/336 e EEC 93/68.
EG VERKLARING VAN OVEREENSTEMMING
Wij verklaren onder eigen aarsprakelijkheld dat dil product waarop deze verklaring betrekking heft, in
overeensiem ming la met de volgende normen:
EN6005, EN55013, EN55020, EN61000
Krachtens de bapalingen van de 73/23/EEC, 89/336/EEC en 93/68/EEC richtlljnen.
ä eget ansvar alt denna product, viiken detta i
EN60065, EN55013, EN55020, EN61000
Enligt stadgarna I directly 73/23/EEC, 89/336/EEC och 93/68/EEC.
Vi erki æ rer p å eget ansvar, at dette product, hvortil denne erki ær ing
relaterer, stemmer overens med
EN60065, EN55013, EN55020, EN61000
-3-2 og EN61000 -3-3 eamt er I overensstemmeise med
-direktiveme 73/23/EU (EEC), 89/336/EU (EEC) og 93/68/EU (EEC).
"L A HITACHI HOME ELECTRONICS EUROPE Ltd. IN QUALIT
À DI MANDATARIO EUROPEO DEL
MARCHIO HITACHI DICHIARA CHE QUESTO PRODOTTO. E 'CONFORME AL D.M. 28/08/1991 N.
548. OTTEMPERANDO ALLE PRESCRIZIONI DI CUI AL D.M. 25/06/1985 (PARAGRAFO 3,
27/08/1987 (PARAGRAFO 3, ALLEGATO I) "
---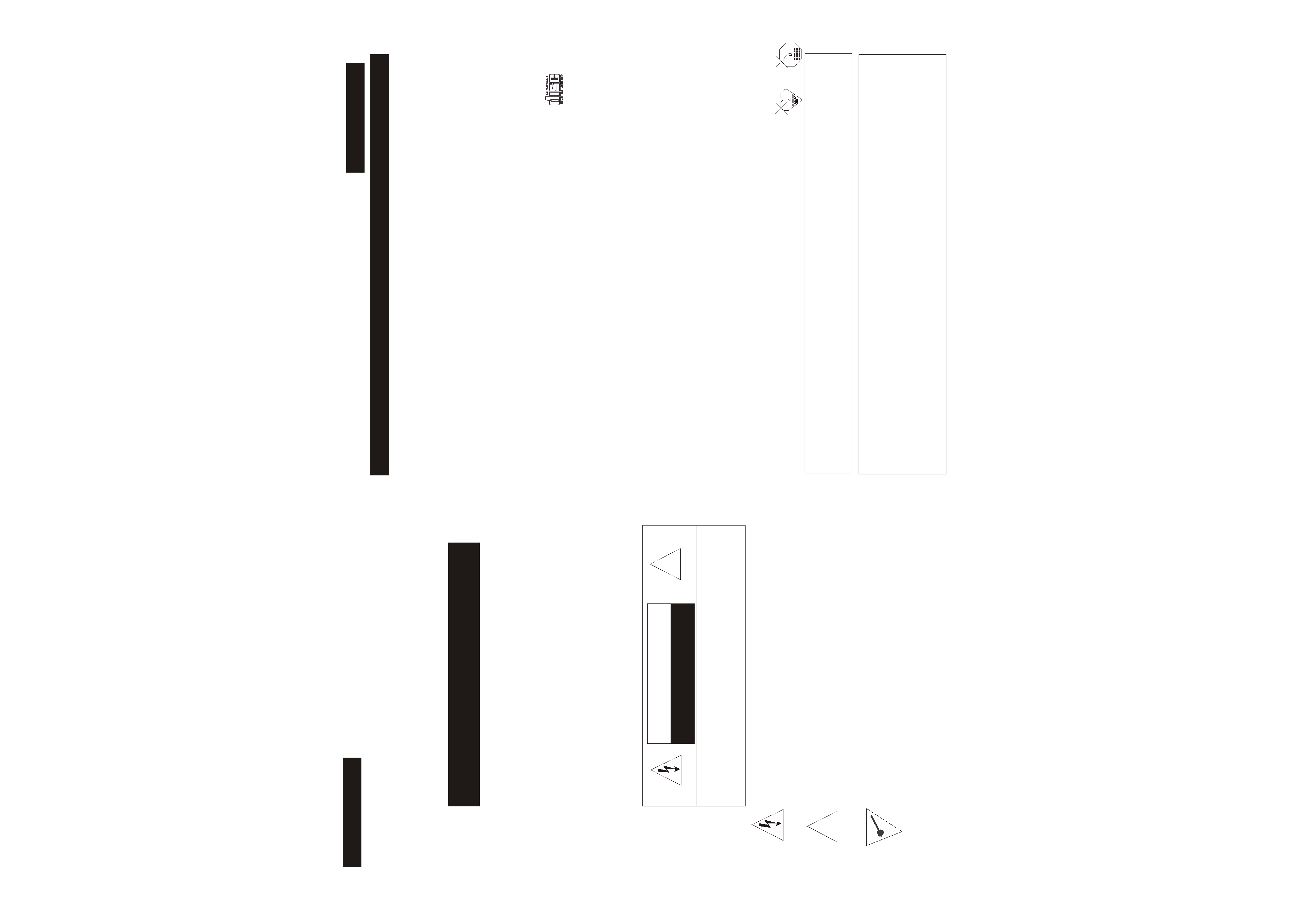 Thank you for buying this product.
Please read through these operating introductions so you will know how to operate your
equipment properly. After you have finished reading the instructions, put them in a safe
place for future reference.
WARNING: TO PREVENT FIRE OR SHOCK HAZARD,
DO NOT EXPOSE THIS UNIT TO RAIN OR MOISTURE
AVOID INSTALLING THE UNIT IN LOCATIONS DESCRIBED BELOW:
Areas exposed to direct sunlight or close to heat radiating appliances such as electric
On top of other stereo equipment that radiates too much heat.
Places lacking in ventilation or dusty places.
Areas subject to constant vibration.
Humid or mois t locations.
Operate controls and switches as described in the manual.
Before turning the power switch on for the first time, make sure the batteries and power
cords are properly installed.
Store your tapes and CDs in cool areas to avoid damage from the he
Uninsulated Dangerous Voltage that may be of sufficient magnitude to
constitute a risk of electric shock to person is present within this product 's
The Instruction Manual contains important operating and maintenance
For your safety, it is necessary to refer to the manual.
Invisible and hazardous laser radiation when open and interlock failed or
defeated. Avoid direct exposure to laser beam.
NOTE: The manufacturer is not responsible for any RADIO or TV interference caused by
unauthorized modifications to this equipment. Such modifications could void the user 's
authority to operate the equipment.
When the set is not going to be used for a long time, unplug the AC lead and remove the batteries.
Do not leave exhausted batteries in the compartment as they will leak and cause corrosion and
Never open the covers, touch the inside of the unit or insert metal objects. Any of these actions could
cause an electric shock or a fault.
If you hear thunder, unplug the power cord from the AC outlet. If the set is being used outdoors,
collapse the antenna and stop using the set.
Collapse the antenna when ca
rrying the set. If the set is carried with the antenna extended, it could
Do not expose the unit to direct sunlight, extreme heat, and high humidity, or place it near heat
sources, the sea, or in a sandy or dusty place.
Do not clean the cabinet of t
he set with strong detergents or solvents as these could damage the
We discourage the use of C -120 cassette tapes as they tend to break or jam the device.
The apparatus should not be exposed to liquid dripping or splashing.
Discs which can be played on this player have the following mark on them:
Do not move the set suddenly from a very cold room into a warm room. When a chilled CD player is
moved suddenly to a warm location, moisture condensation may form on the pick - up lens, preventing
proper operation. In this case, wait 1 to 2 hours before resuming play.
During playback, if the CD player is subjected to a sudden shock or jolt, some noise may be
produced, this is not a malfunction.
Do not place any objects in the disc compartment, it may cause damage to the mechanism.
Whenever moving the set, first, be sure to remove the disc from it, if the player is moved with the disc
loaded, the disc may be damaged.
Do not store discs in high temperature, high-humidity locations. The discs may warp and become
unusable. Also, discs with moisture on them may be unplayable. Wipe any moisture off with a soft,
dry cloth, and be sure discs are fully dry before using.
Handle the discs carefully so that fingerprints and dust do not adhere to the surface of the discs. To
clean off, use a soft cloth. Do not use a hard cloth since it may scratch the disc.
If you switch on or off a fluorescent lamp placed near the set, you may hear some interference noise;
this is not a malfunction.
Please do not use compact discs w ith cellophane tapes or with labels attached, or those CD with
peeled off stains, such as rental CD. If such discs were used on a CD player, they get trapped inside
the unit and cause malfunction.
If a CD player is being operated while you are receiving a radio broadcast, you may hear a noise with
the broadcast. If so, turn the operative switch of the CD player [OFF].
CD with special shapes (heart -shaped CDs, octagonal CDs etc.) cannot be played on this set.
Attempting to do so may damage the set. Do not use such CDs.
Electrical energy can perform many useful functions. This unit been engineered and manufactured to
assure your personal safety. Improper use can result in potential electrical shock or fire hazards. In order
not to defeat the safeguards, observe the following instructions for its installations, use and servicing.
Avoid the use of this unit in high temperature areas (such as near heating equipment) or in direct sunlight.
Do not block the unit from radiating heat.
ALWAYS PRESS STOP BUTTON AND WAIT FOR THE DISC TO STOP ROTATING BEFORE OPEN
THE CD DOOR AND TO REMOVE THE DISC. OPEN THE CD DOOR WHILE IT IS STILL ROTATING
CAUTION: TO REDUCE THE RISK OF ELECTRIC
SHOCK. DO NOT REMOVE COVER (OR BACK). NO
USER -SERVICABLE PARTS INSIDE. REFER
SERVICING TO QUALIFIED SERVICE PERSONNEL.
---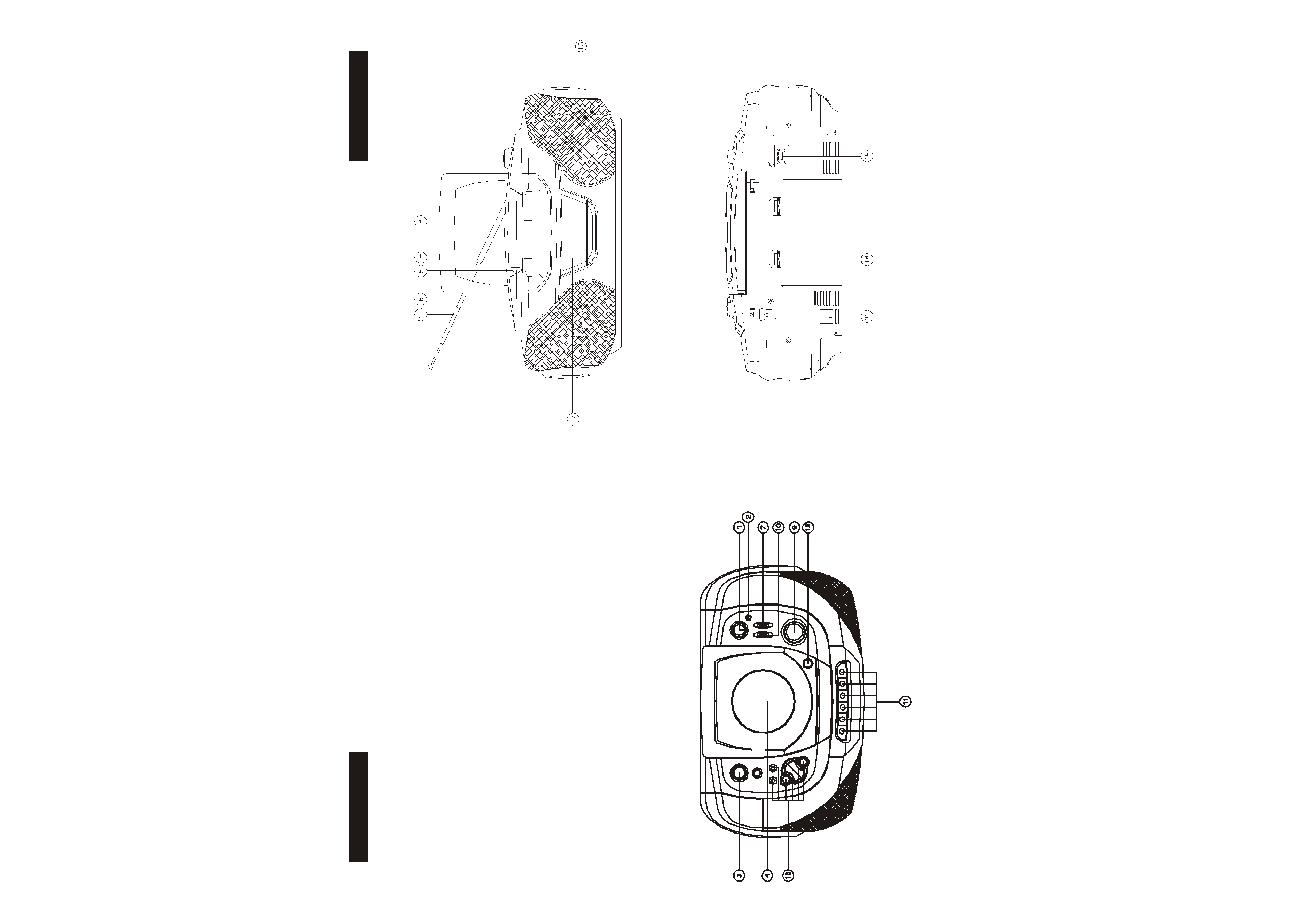 CASSETTE FUNCTION BUTTONS
---