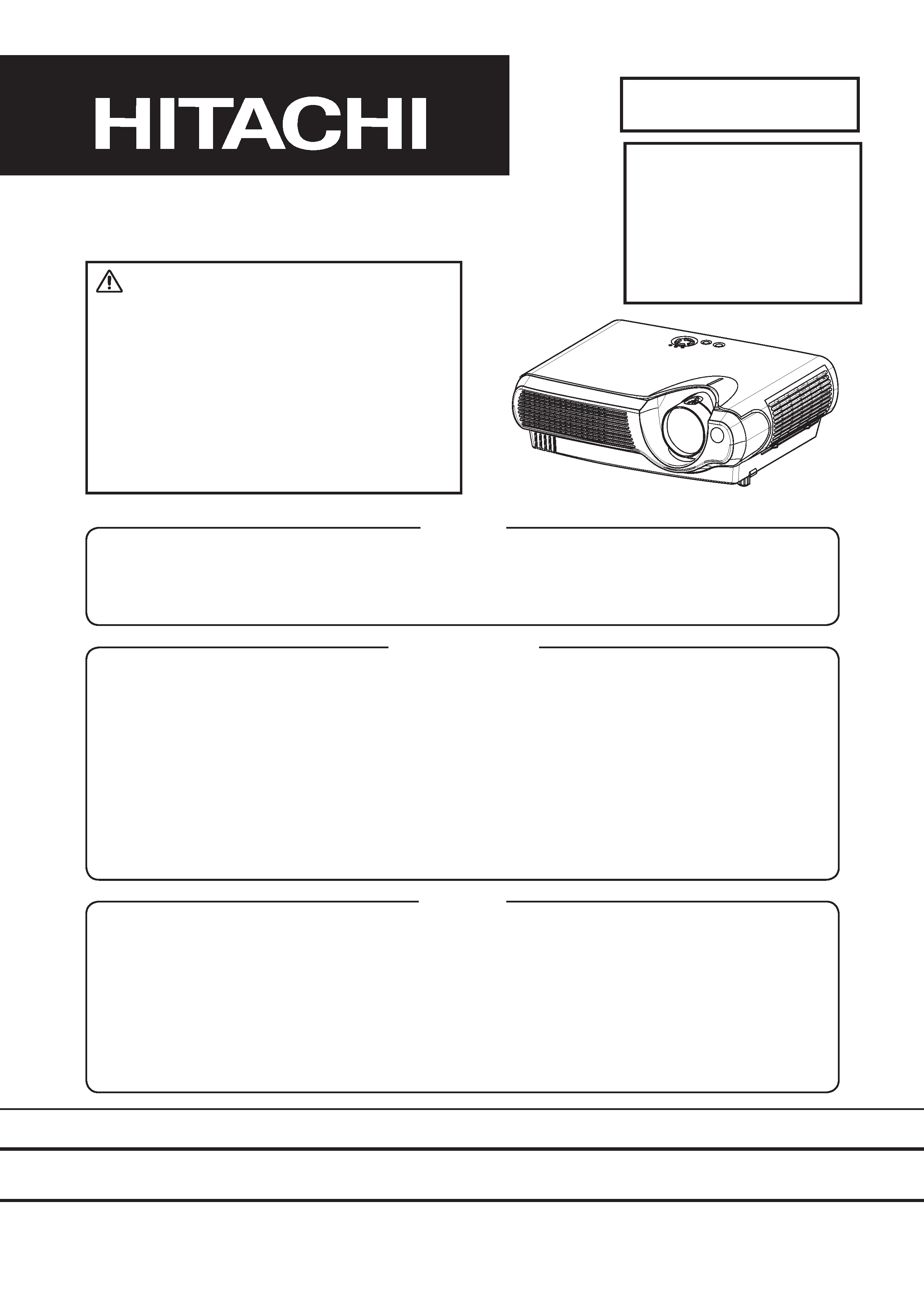 SPECIFICATIONS AND PARTS ARE SUBJECT TO CHANGE FOR IMPROVEMENT.
July 2003 Digital Media Division
Be sure to read this manual before servicing. To assure safety from fire, electric shock, injury, harmful radi-
ation and materials, various measures are provided in this Hitachi Multimedia LCD Projector. Be sure to
read cautionary items described in the manual to maintain safety before servicing.
1. When replacing the lamp, avoid burns to your fingers, the lamp becomes very hot.
2. Never touch the lamp bulb with a finger or anything else. Never drop it or give it a shock. They may
cause bursting of the bulb.
3. This projector is provided with a high voltage circuit for the lamp. Do not touch the electric parts of
power unit (main), when turn on the projector.
4. Do not touch the exhaust fan, during operation.
5. The LCD module assembly is likely to be damaged. If replacing to the LCD LENS/PRISM assembly, do
not hold the FPC of the LCD module assembly.
6. Use the cables which are included with the projector or specified.
1. Features --------------------------------------------------- 2
2. Specifications--------------------------------------------- 2
3. Names of each part ------------------------------------- 6
4. Adjustment ------------------------------------------------ 8
5. Troubleshooting------------------------------------------14
6. Service points ------------------------------------------- 19
7. Wiring diagram ------------------------------------------ 31
8. Disassembly diagram--------------------------------- 36
9. Parts List -------------------------------------------- 39
10.RS-232C communication ---------------------------- 40
11.Block diagram------------------------------------------- 48
12.Connector connection diagram -------------------- 49
13.Basic circuit diagram---------------------------------- 50
The technical information and parts shown in this
manual are not to be used for: the development,
design, production, storage or use of nuclear, chemical,
biological or missile weapons or other weapons of
mass destruction; or military purposes; or purposes that
endanger global safety and peace. Moreover, do not
sell, give, or export these items, or grant permission for
use to parties with such objectives. Forward all inquiries
---

Partial magnification function
Keystone distortion correction
Drive system TFT active matrix
Number of pixels 800 (H) × 600 (V)
System NTSC,PAL(BGDHI),SECAM,PAL-M,PAL-N,NTSC4.43,PAL60
Level Composite 1.0±0.1Vp-p(75termination)
S-Video Y : 1.0±0.1Vp-p(75termination)
C : 0.286±0.1Vp-p(NTSC burst signal,75termination)
0.3±0.1Vp-p(PAL/SECAM burst signal,75termination)
Y : 1.0±0.1Vp-p(75termination)
C
B
/P
B
: 0.7±0.1Vp-p(75termination)
C
R
/P
R
: 0.7±0.1Vp-p(75termination)
Analog RGB 0.7V p-p (75termination)
Speaker output 1.0W(mono)
Power supply AC100~120V / 2.4A , AC220~240V / 1.1A
Dimensions 332(W) × 92(H) × 254(D) mm (No including protruding parts)
Temperature Operation : 0~35°C
Accessories Remote control transmitter × 1
User's manual 1 (with safety instructions) × 1
User's manual 2 (Book or CD-ROM) × 1
---

Partial magnification function
Keystone distortion correction
Drive system TFT active matrix
Panel size 1.4cm (0.55 type)
Number of pixels 800 (H) × 600 (V)
System NTSC,PAL(BGDHI),SECAM,PAL-M,PAL-N,NTSC4.43,PAL60
Level Composite 1.0±0.1Vp-p(75termination)
S-Video Y : 1.0±0.1Vp-p(75termination)
C : 0.286±0.1Vp-p(NTSC burst signal,75termination)
0.3±0.1Vp-p(PAL/SECAM burst signal,75termination)
Y : 1.0±0.1Vp-p(75termination)
C
B
/P
B
: 0.7±0.1Vp-p(75termination)
C
R
/P
R
: 0.7±0.1Vp-p(75termination)
Analog RGB 0.7V p-p (75termination)
Speaker output 1.0W(mono)
Power supply AC100~120V / 2.4A , AC220~240V / 1.1A
Dimensions 332(W) × 92(H) × 242(D) mm (No including protruding parts)
Temperature Operation : 0~35°C
Accessories Power cord × 3
Remote control transmitter × 1
CD-ROM (User's guide) × 1
---

Partial magnification function
Keystone distortion correction
NTSC,PAL(BGDHI),SECAM,PAL-M,PAL-N,NTSC4.43,PAL60
Composite 1.0±0.1Vp-p(75termination)
S-Video Y : 1.0±0.1Vp-p(75termination)
C : 0.286±0.1Vp-p(NTSC burst signal,75termination)
0.3±0.1Vp-p(PAL/SECAM burst signal,75termination)
Y : 1.0±0.1Vp-p(75termination)
C
B
/P
B
: 0.7±0.1Vp-p(75termination)
C
R
/P
R
: 0.7±0.1Vp-p(75termination)
AC100~120V / 2.4A , AC220~240V / 1.1A
332(W) × 92(H) × 254(D) mm (No including protruding parts)
Remote control transmitter × 1
Operating Guide (CD-ROM) × 1
---

The base model of "PJ-LC5" is "CP-S210". Replacement Parts
"CP-S210". The main differences with the base model are described in the following
[ The main differences with the conventional models ]
Difference with the conventional model
---