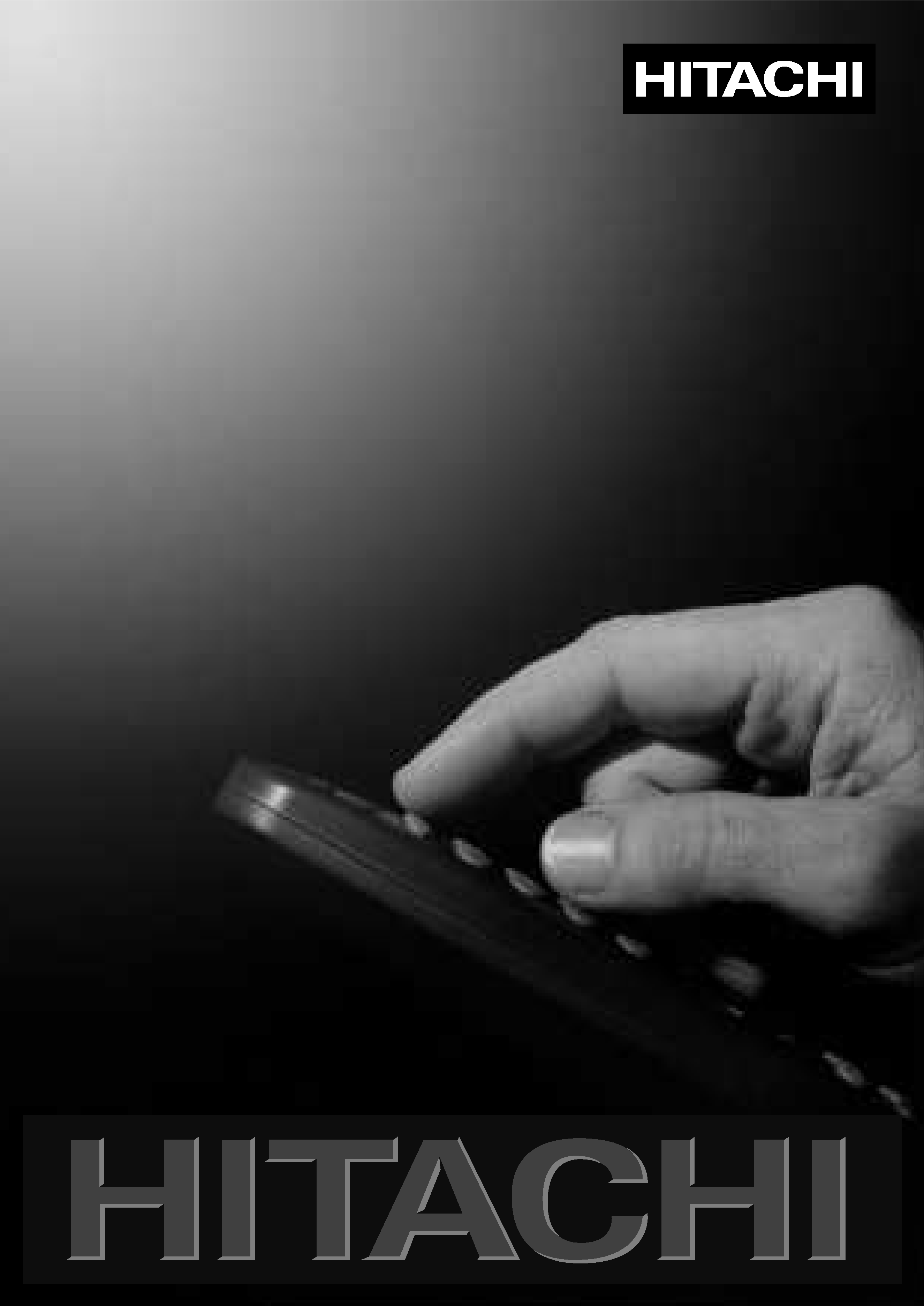 ---

Remote Control ............................................. 2
Control Panel Buttons and Rear Panel....... 3
Aerial Connections ........................................ 4
Connect Peripheral Equipment ................... 5
Via the Euroconnector .......................................... 5
Via Aerial Input ...................................................... 5
Decoder ................................................................ 5
TV and Video Recorder ......................................... 5
Playback NTSC.................................................... 5
Copy Facility ........................................................ 5
Search for and store the test signal of the video
recorder................................................................. 5
Camera and Camcorder ........................................ 5
Connect the decoder to the video recorder ............ 5
Connecting Headphones ....................................... 5
Preparation ..................................................... 6
Features ............................................................... 6
Safety Precautions ........................................ 6
Before Switching on your TV ....................... 8
Power connection ................................................. 8
Connections to the RF input socket ...................... 8
How to connect other devices ............................... 8
Inserting batteries in the remote control handset .. 8
Switching the TV ON/OFF ............................. 8
To switch the TV on .............................................. 8
To switch the TV off............................................... 8
Operating the TV ........................................... 8
A.P.S. (Automatic Programming System) ............. 8
Operating with the buttons on the TV set .............. 9
Operating with Remote Control ............................. 9
Menu System ................................................ 10
Sound Menu ....................................................... 10
Picture Menu ...................................................... 12
Feature Menu ..................................................... 13
Installation Menu................................................. 14
Program Menu .................................................... 15
Other Features ............................................ 17
TV Status............................................................ 17
Double-digit (- -) .................................................. 17
Sound Indicator ................................................... 17
Picture Mode ...................................................... 17
Mute Indicator ..................................................... 18
Volume Bar ......................................................... 18
AV Modes ........................................................... 18
Teletext ......................................................... 18
To operate Teletext .............................................. 18
To select a page of Teletext ................................ 18
To Select Index Page .......................................... 18
To Reveal concealed Information ....................... 18
To Stop Automatic Page Change ........................ 19
To exit Teletext.................................................... 19
To Display the Time ............................................ 19
Fastext ............................................................... 19
Tips................................................................ 19
Care of the Screen .............................................. 19
Poor Picture........................................................ 19
No Picture .......................................................... 19
Sound ................................................................. 19
Remote Control ................................................... 19
No solution ......................................................... 19
Specifications .............................................. 20
01-2985MAV-1244UK-ENG-ST7P-AK45-MULTI-PLL-FS-RF-TILT-CLED-50052077.p65
---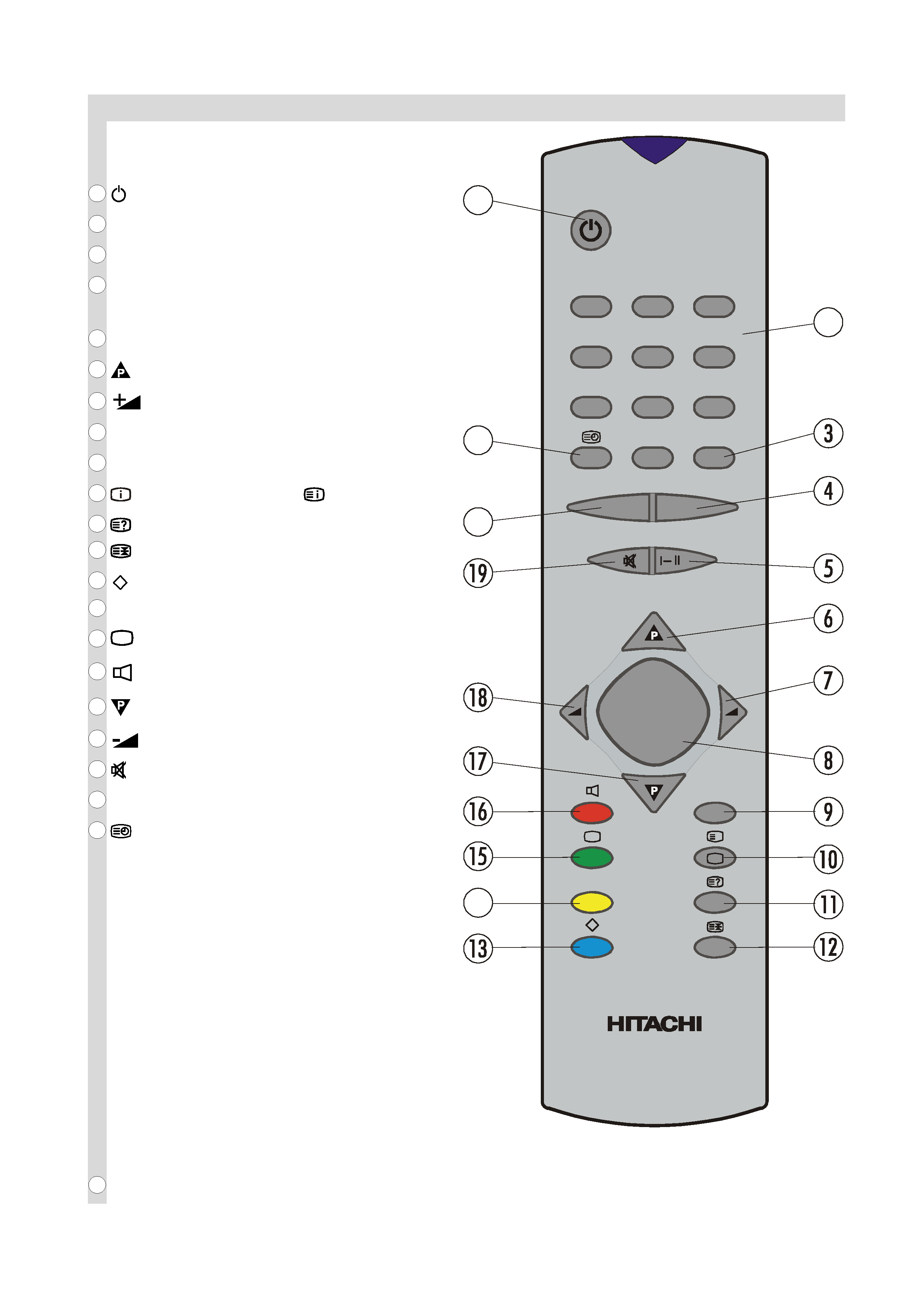 (EXT-1, RGB, EXT-2, F-AV, SVHS)
I-II = Mono / Stereo - Dual I-II
= Programme Up (Cursor Up)
= Cursor Right / Volume +
= Hold / 16:9 = Picture Mode Change ***
F (Yellow) = Features Menu
= Programme Down (Cursor Down)
16:9 = Picture Mode Change *** (AUTO, 4:3, 16:9)
01-2985MAV-1244UK-ENG-ST7P-AK45-MULTI-PLL-FS-RF-TILT-CLED-50052077.p65
---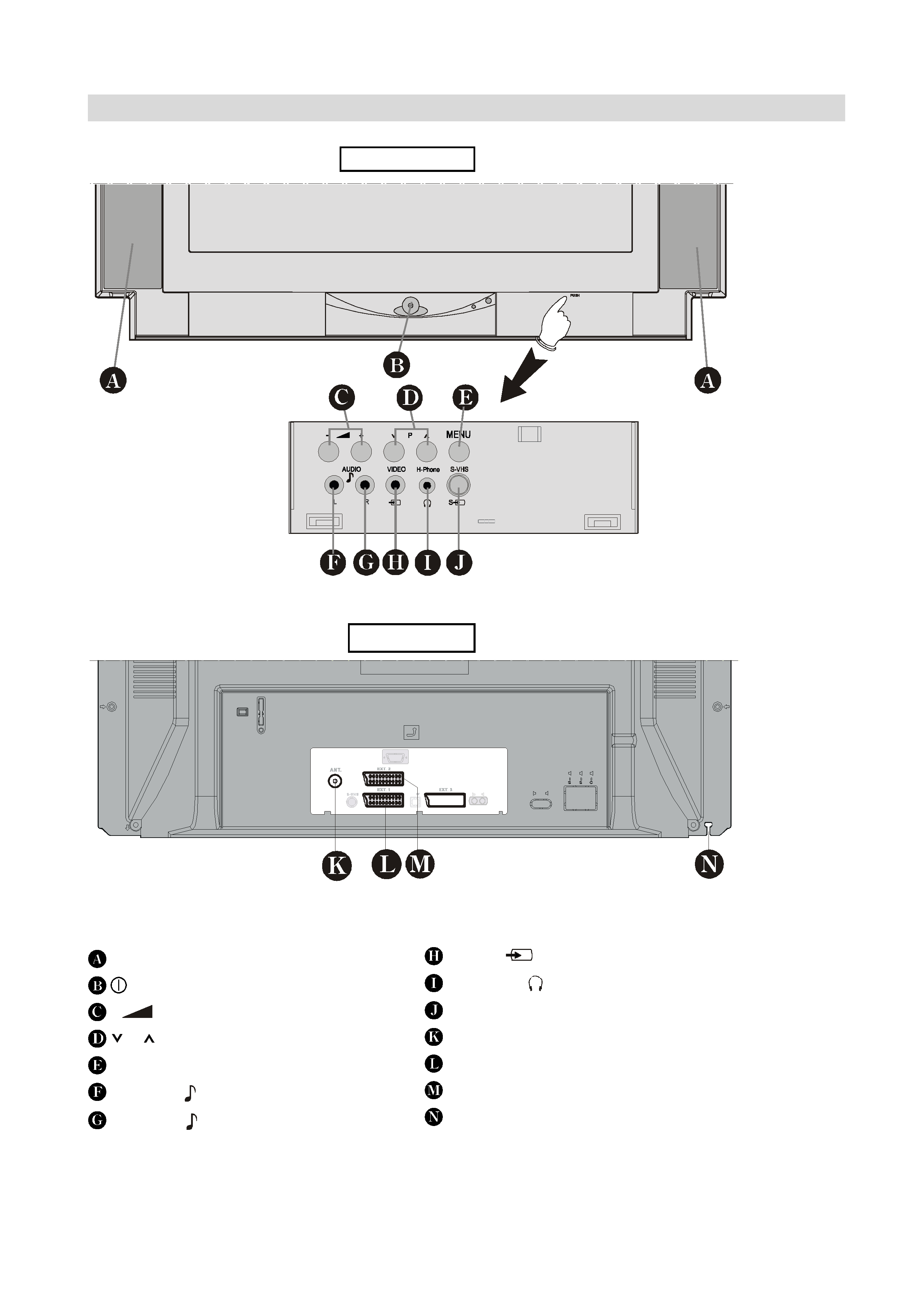 Control Panel Buttons and Rear Panel
AUDIO R ( ) = Audio right
H-PHONE ( ) = Headphone 3,6 mm Ø
EXT.1 = Scart Socket 1 (with RGB)
EXT.2 = Scart Socket 2 (with RGB)
01-2985MAV-1244UK-ENG-ST7P-AK45-MULTI-PLL-FS-RF-TILT-CLED-50052077.p65
---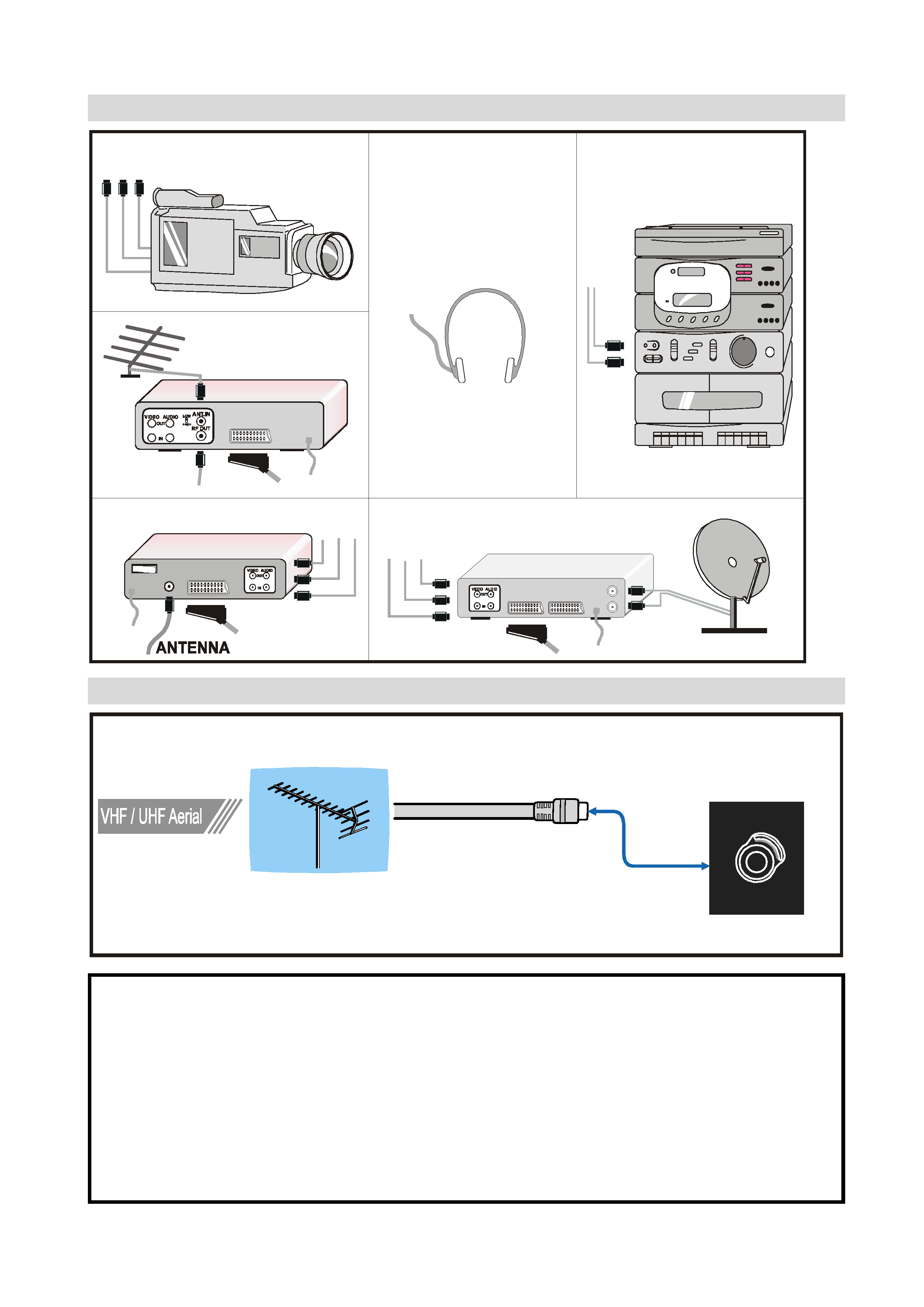 2XWGRRU $HULDO &RQQHFWLRQV
Connect Peripheral Equipment
Your TV is fitted with a "True Flat" picture tube. The surface of the screen is coated with a transparent foil
coating. Care is need in the cleaning of the screen to prevent damage.
Clean the laminated screen with a soft, clean, cotton cloth. Use only a mild solution of soapsuds and water to
moisten the cloth. Rub the surface gently with the cloth until the surface is completely dry.
Under no circumstances...
should the screen be wiped with conventional glass cleaning fluid.
should the screen be brought into contact with abrasive materials.
should soiling be removed by polishing or scouring.
01-2985MAV-1244UK-ENG-ST7P-AK45-MULTI-PLL-FS-RF-TILT-CLED-50052077.p65
---