INSTRUCCIONES DE OPERACION
---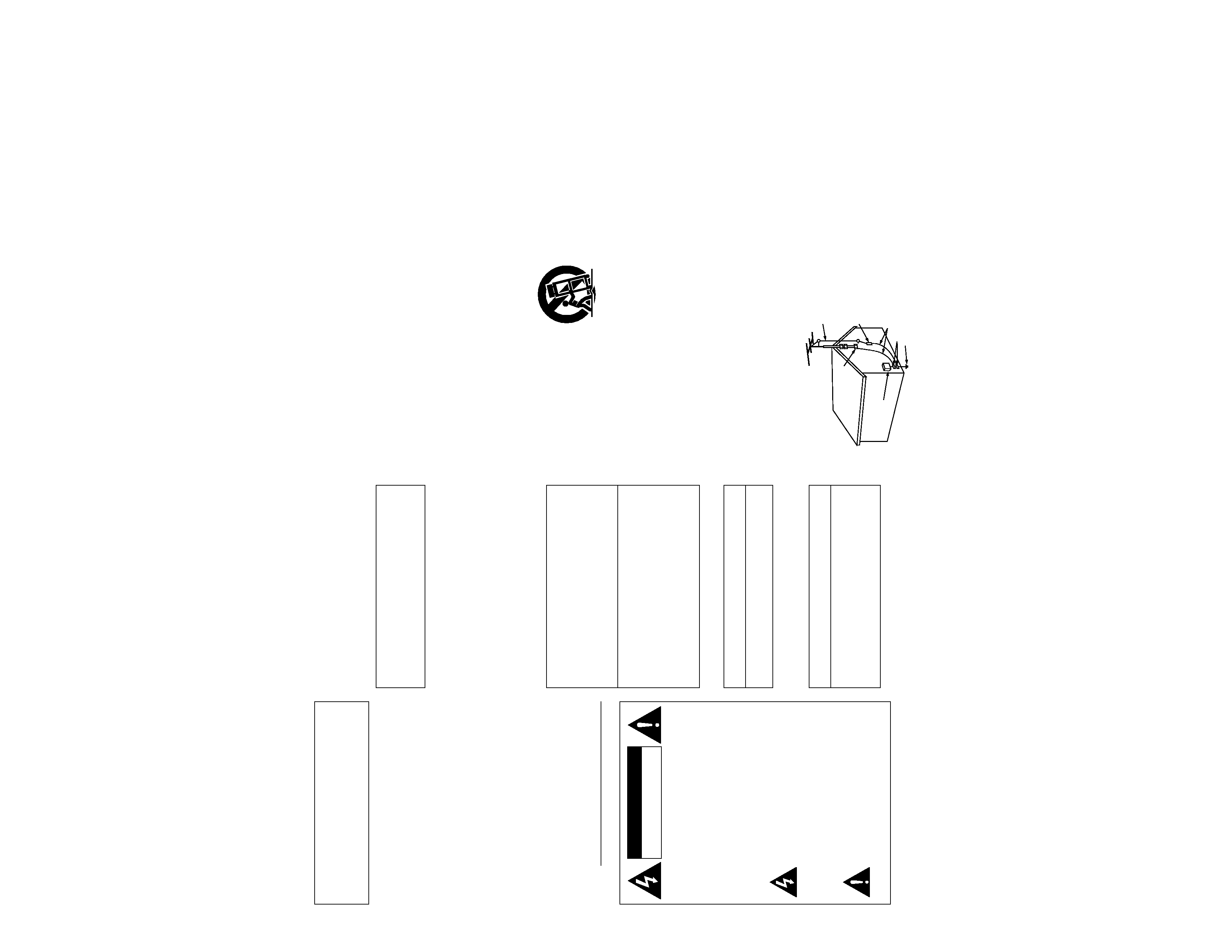 Read Instructions ­ All the safety and operating instructions
should be read before the product is operated.
Retain Instructions ­ The safety and operating instructions
should be retained for future reference.
Heed Warnings ­ All warnings on the product and in the
operating instructions should be adhered to.
Follow Instructions ­ All operating and use instructions
Cleaning ­ Unplug this product from the wall outlet before
cleaning. Do not use liquid cleaners or aerosol cleaners.
Attachments ­ Do not use attachments not recommended
by the product manufacturer as they may cause hazards.
Water and Moisture ­ Do not use this product near water ­
for example, near a bath tub, wash bowl, kitchen sink, or
laundry tub; in a wet basement; or near a swimming pool;
Accessories ­ Do not place this product on an unstable cart,
stand, tripod, bracket, or table.
causing serious injury to a child or adult, and serious
damage to the product. Use only with a cart, stand, tripod,
bracket, or table recommended by the manufacturer, or
sold with the product. Any mounting of the product should
follow the manufacturer's instructions, and should use a
cause the product and cart
10. Ventilation ­ Slots and openings in the cabinet are provided
for ventilation and to ensure reliable operation of the
product and to protect it from overheating, and these
openings must not be blocked or covered. The openings
should never be blocked by placing the product on a bed,
sofa, rug, or other similar surface. This product should not
be placed in a built-in installation such as a bookcase or rack
unless proper ventilation is provided or the manufacturer's
instructions have been adhered to.
11. Power Sources ­ This product should be operated only
from the type of power source indicated on the marking
label. If you are not sure of the type of power supply to
your home, consult your product dealer or local power
company. For products intended to operate from battery
power, or other sources, refer to the operating instructions.
12. Grounding or Polarization ­ This product may be equipped
with a polarized alternating-current line plug (a plug having
one blade wider than the other). This plug will fit into the
power outlet only one way. This is a safety feature. If you
are unable to insert the plug fully into the outlet, try
reversing the plug. If the plug should still fail to fit, contact
your electrician to replace your obsolete outlet.
defeat the safety purpose of the polarized plug.
EXAMPLE OF ANTENNA GROUNDING
NEC - NATIONAL ELECTRICAL CODE
13. Power-Cord Protection ­ Power-supply cords should be
routed so that they are not likely to be walked on or pinched
by items placed upon or against them, paying particular
attention to cords at plugs, convenience receptacles, and
the point where they exit from the product.
15. Outdoor Antenna Grounding ­ If an outside antenna or
cable system is connected to the product, be sure the
antenna or cable system is grounded so as to provide some
protection against voltage surges and built-up static
Article 810 of the National Electrical Code,
ANSI/NFPA 70, provides information with regard to proper
grounding of the mast and supporting structure, grounding
of the lead-in wire to an antenna discharge unit, size of
grounding conductors, location of antenna-discharge unit,
connection to grounding electrodes, and requirements for
the grounding electrode. See Figure A.
16. Lightning ­ For added protection for this product during a
lightning storm, or when it is left unattended and unused
for long periods of time, unplug it from the wall outlet and
disconnect the antenna or cable system. This will prevent
damage to the product due to lightning and power-line
17. Power Lines ­ An outside antenna system should not be
located in the vicinity of overhead power lines or other
electric light or power circuits, or where it can fall into such
power lines or circuits. When installing an outside antenna
system, extreme care should be taken to keep from
touching such power lines or circuits as contact with them
18. Overloading ­ Do not overload wall outlets, extension
cords, or integral convenience receptacles as this can result
in a risk of fire or electric shock.
19. Object and Liquid Entry ­ Never push objects of any kind
into this product through openings as they may touch
dangerous voltage points or short-out parts that could
result in a fire or electric shock. Never spill liquid of any
20. Servicing ­ Do not attempt to service this product yourself
as opening or removing covers may expose you to
dangerous voltage or other hazards. Refer all servicing to
qualified service personnel.
21. Damage Requiring Service ­ Unplug this product from the
wall outlet and refer servicing to qualified service personnel
under the following conditions:
a) When the power-supply cord or plug is damaged,
b) If liquid has been spilled, or objects have fallen into the
c) If the product has been exposed to rain or water,
d) If the product does not operate normally by following
the operating instructions. Adjust only those controls
that are covered by the operating instructions as an
improper adjustment of other controls may result in
damage and will often require extensive work by a
qualified technician to restore the product to its normal
e) If the product has been dropped or damaged in any way,
f) When the product exhibits a distinct change in
performance ­ this indicates a need for service.
22. Replacement Parts ­ When replacement parts are required,
be sure the service technician has used replacement parts
specified by the manufacturer or have the same
characteristics as the original part.
substitutions may result in fire, electric shock, or other
23. Safety Check ­ Upon completion of any service or repairs
to this product, ask the service technician to perform safety
checks to determine that the product is in proper operating
24. Wall or Ceiling Mounting ­ The product should be mounted
to a wall or ceiling only as recommended by the
25. Heat ­ The product should be situated away from heat
sources such as radiators, heat registers, stoves, or other
products (including amplifiers) that produce heat.
TO REDUCE THE RISK OF ELECTRIC SHOCK,
DO NOT REMOVE COVER (OR BACK). NO
USER-SERVICEABLE PARTS INSIDE. REFER
The lightning flash with arrowhead
symbol, within an equilateral triangle, is
intended to alert the user to the
presence of uninsulated "dangerous
voltage" within the product's enclosure
that may be of sufficient magnitude to
constitute a risk of electric shock to
TO PREVENT FIRE OR SHOCK HAZARD, DO
NOT EXPOSE THIS APPLIANCE TO RAIN OR
1. Handle the power supply cord carefully
Do not damage or deform the power supply cord. If
it is damaged or deformed, it may cause electric
shock or malfunction when used. When removing
from wall outlet, be sure to remove by holding the
plug attachment and not by pulling the cord.
2. Do not open the rear cover
In order to prevent electric shock, do not open the
If problems occur, contact your DENON DEALER.
3. Do not place anything inside
Do not place metal objects or spill liquid inside the
Electric shock or malfunction may result.
Please, record and retain the Model name and serial
number of your set shown on the rating label.
The exclamation point within an equilateral
triangle is intended to alert the user to the
presence of important operating and
maintenance (servicing) instructions in the
literature accompanying the appliance.
This CD player uses the semiconductor laser. To allow
you to enjoy music at a stable operation, it is
recommended to use this in a room of 5°C (41°F) ~
LABELS (for U.S.A. model only)
THIS PRODUCT COMPLIES WITH DHHS RULES 21
CFR SUBCHAPTER J APPLICABLE AT DATE OF
USE OF CONTROLS OR ADJUSTMENTS OR
REFOR-MANCE OF PROCEDURES OTHER THAN
THOSE SPECIFIED HEREIN MAY RESULT IN
HAZARDOUS RADIATION EXPOSURE.
THE COMPACT DISC PLAYER SHOULD NOT BE
ADJUSTED OR REPAIRED BY ANYONE EXCEPT
PROPERLY QUALIFIED SERVICE PERSONNEL.
This device complies with Part 15 of the FCC Rules.
conditions: (1) This device may not cause harmful
interference, and (2) this device must accept any
interference received, including interference that
may cause undesired operation.
This Class B digital apparatus meets all requirements
of the Canadian Interference-Causing Equipment
Cet appareil numérique de la classe B respecte
toutes les exigences du Règlement sur le matériel
TO PREVENT ELECTRIC SHOCK, MATCH WIDE
BLADE OF PLUG TO WIDE SLOT, FULLY INSERT.
POUR ÉVITER LES CHOCS ÉLECTRIQUES,
INTERODUIRE LA LAME LA PLUS LARGE DE LA
FICHE DANS LA BORNE CORRESPONDANTE DE
LA PRISE ET POUSSER JUSQU' AU FOND.
· POUR LES MODELE CANADIENS
---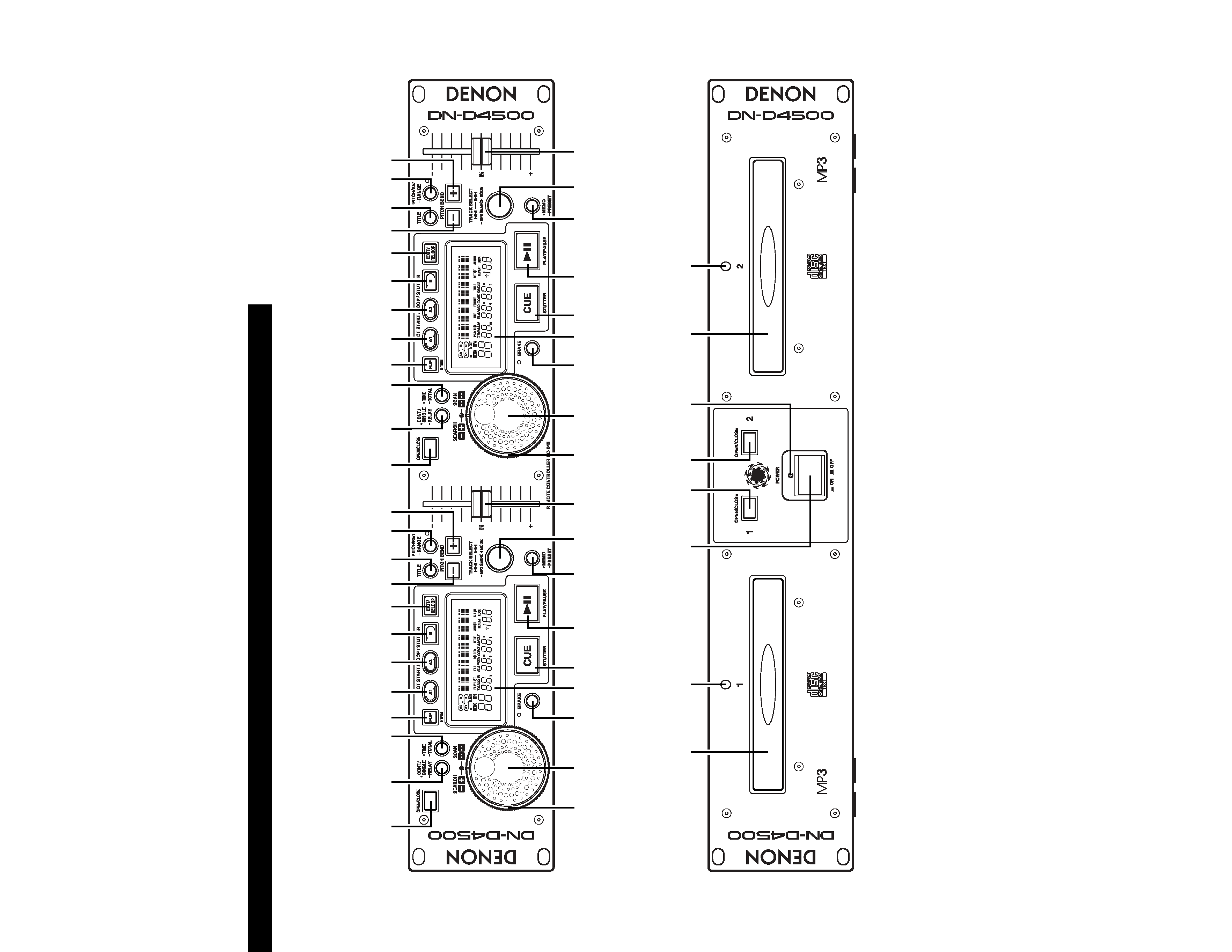 FRONT PANEL / FRONTPLATTE / PANNEAU AVANT / PANNELLO ANTERIORE /
PANEL FRONTAL / VOORPANEEL / FRONT PANELEN /
!5 !9 @0 @0 @1 @2 !2 @3 !4 !2
---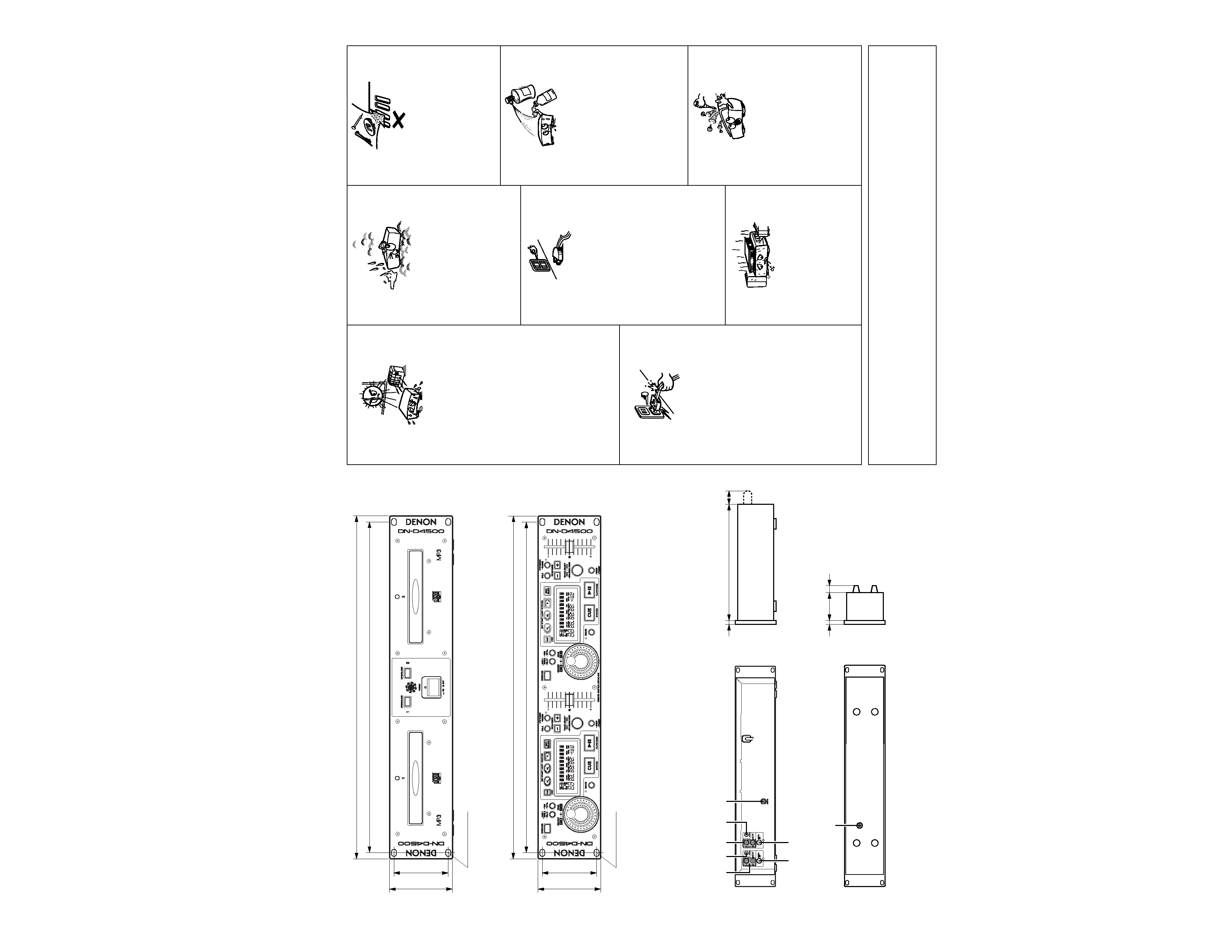 FRONT PANEL / FRONTPLATTE / PANNEAU AVANT / PANNELLO ANTERIORE /
PANEL FRONTAL / VOORPANEEL / FRONT PANELEN /
REAR PANEL / RÜCKWAND / PANNEAU ARRIERE / PANNELLO POSTERIORE /
PANEL TRASERO / ACHTERPANEEL / BAKSIDA /
NOTE ON USE / HINWEISE ZUM GEBRAUCH /
OBSERVATIONS RELATIVES A L'UTILISATION / NOTE SULL'USO
NOTAS SOBRE EL USO / ALVORENS TE GEBRUIKEN / OBSERVERA
·Avoid high temperatures.
Allow for sufficient heat dispersion when
·Vermeiden Sie hohe Temperaturen.
Luftzirkulation gewährleistet wird, wenn
das Gerät auf ein Regal gestellt wird.
·Eviter des températures élevées
Tenir compte d'une dispersion de chaleur
suffisante lors de l'installation sur une
· Evitate di esporre l'unità a temperature alte.
dispersione del calore quando installate
l'unità in un mobile per componenti audio.
· Evite altas temperaturas
Permite la suficiente dispersión del calor
cuando está instalado en la consola.
·Vermijd hoge temperaturen.
Zorg voor een degelijk hitteafvoer indien het
apparaat op een rek wordt geplaatst.
· Undvik höga temperaturer.
Se till att det finns möjlighet till god
värmeavledning vid montering i ett rack.
· Keep the apparatus free from moisture,
· Halten Sie das Gerät von Feuchtigkeit,
·Protéger l'appareil contre l'humidité, l'eau
dall'acqua e dalla polvere.
·Mantenga el equipo libre de humedad, agua
· Laat geen vochtigheid, water of stof in het
·Utsätt inte apparaten för fukt, vatten och
·Do not let foreign objects into the apparatus.
· Keine fremden Gegenstände in das Gerät
· Ne pas laisser des objets étrangers dans
·E' importante che nessun oggetto è inserito
· No deje objetos extraños dentro del equipo.
· Laat geen vreemde voorwerpen in dit
·Se till att främmande föremål inte tränger in
·Handle the power cord carefully.
Hold the plug when unplugging the cord.
· Gehen Sie vorsichtig mit dem Netzkabel
Halten Sie das Kabel am Stecker, wenn Sie
den Stecker herausziehen.
·Manipuler le cordon d'alimentation avec
Tenir la prise lors du débranchement du
· Manneggiate il filo di alimentazione con
Agite per la spina quando scollegate il cavo
·Maneje el cordón de energía con cuidado.
Sostenga el enchufe cuando desconecte el
·Hanteer het netsnoer voorzichtig.
Houd het snoer bij de stekker vast wanneer
deze moet worden aan- of losgekoppeld.
· Hantera nätkabeln varsamt.
Håll i kabeln när den kopplas från el-uttaget.
·Unplug the power cord when not using the
apparatus for long periods of time.
·Wenn das Gerät eine längere Zeit nicht
verwendet werden soll, trennen Sie das
Netzkabel vom Netzstecker.
lorsque l'appareil n'est pas utilisé pendant
· Disinnestate il filo di alimentazione quando
avete l'intenzione di non usare il filo di
alimentazione per un lungo periodo di
· Desconecte el cordón de energía cuando no
utilice el equipo por mucho tiempo.
gedurende een lange periode niet wordt
· Koppla ur nätkabeln om apparaten inte
kommer att användas i lång tid.
· Do not let insecticides, benzene, and
thinner come in contact with the apparatus.
· Lassen Sie das Gerät nicht mit Insektiziden,
·Ne pas mettre en contact des insecticides,
du benzène et un diluant avec l'appareil.
· Assicuratevvi che l'unità non venga in
contatto con insetticidi, benzolo o solventi.
· No permita el contacto de insecticidas,
gasolina y diluyentes con el equipo.
· Laat geen insektenverdelgende middelen,
benzine of verfverdunner met dit apparaat
· Se till att inte insektsmedel på spraybruk,
bensen och thinner kommer i kontakt med
· Never disassemble or modify the apparatus
auseinander zu nehmen oder auf jegliche
· Ne jamais démonter ou modifier l'appareil
d'une manière ou d'une autre.
· Non smontate mai, nè modificate l'unità in
· Nunca desarme o modifique el equipo de
· Nooit dit apparaat demonteren of op andere
·Ta inte isär apparaten och försök inte bygga
· Do not obstruct the ventilation holes.
· Die Belüftungsöffnungen dürfen nicht
· Ne pas obstruer les trous d'aération.
·Non coprite i fori di ventilazione.
·No obstruya los orificios de ventilación.
· De ventilatieopeningen mogen niet worden
· Täpp inte till ventilationsöppningarna.
* (For apparatuses with ventilation holes)
· Minimum distances around the apparatus for
· The ventilation should not be impeded by covering
the ventilation openings with items, such as
newspapers, table-cloths, curtains, etc..
· No naked flame sources, such as lighted candles,
should be placed on the apparatus.
· Attention should be drawn to the environmental
aspects of battery disposal.
· The use of apparatus in tropical and/or moderate
---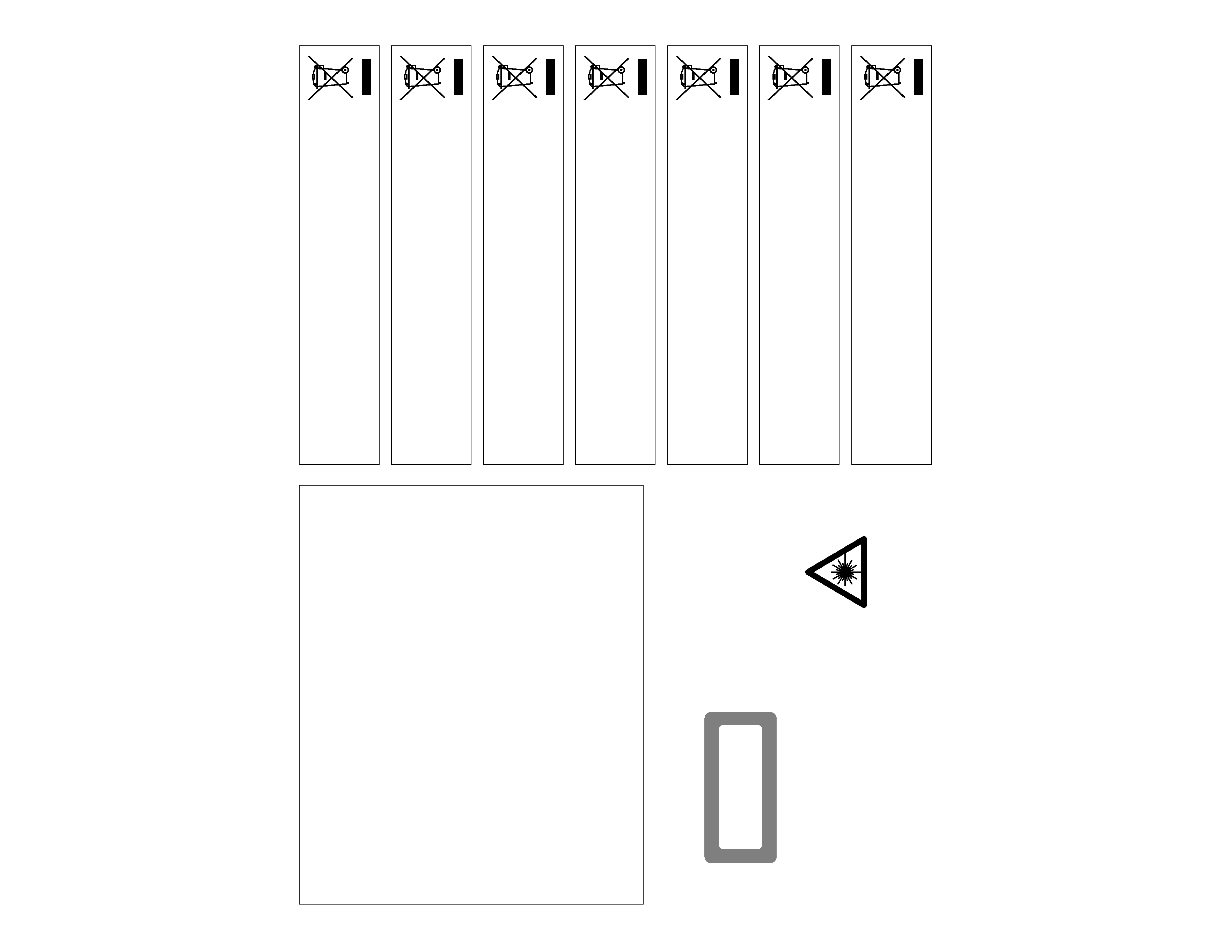 USYNLIG LASERSTRÅLING VED ÅBNING, NÅR
SIKKERHEDSAFBRYDERE ER UDE AF FUNKTION.
UNDGÅ UDSAETTELSE FOR STRÅLING.
LAITTEEN KÄYTTÄMINEN MUULLA KUIN TÄSSÄ
KÄYTTÖOHJEESSA MAINITULLA TAVALLA SAATTAA
ALTISTAA KÄYTTÄJÄN TURVALLISUUSLUOKAN 1
YLITTÄVÄLLE NÄKYMÄMTTÖMÄLLE LASERSÄTEILYLLE.
OM APPARATEN ANVÄNDS PÅ ANNAT SÄTT ÄN I DENNA
BRUKSANVISNING SPECIFICERATS, KAN ANVÄNDAREN
UTSÄTTAS FÖR OSYNLIG LASERSTRÅLNING SOM
ÖVERSKRIDER GRÄNSEN FÖR LASERKLASS 1.
This product's packaging materials are recyclable and can be reused. Please dispose of any materials in
accordance with the local recycling regulations.
When discarding the unit, comply with local rules or regulations.
Batteries should never be thrown away or incinerated but disposed of in accordance with the local regulations
concerning chemical waste.
This product and the accessories packed together constitute the applicable product according to the WEEE
directive except batteries.
Das Verpackungsmaterial dieses Produktes ist für zum Recyceln geeignet und kann wieder verwendet
werden. Bitte entsorgen Sie alle Materialien entsprechend der örtlichen Recycling-Vorschriften.
Beachten Sie bei der Entsorgung des Gerätes die örtlichen Vorschriften und Bestimmungen.
Die Batterien dürfen nicht in den Hausmüll geworfen oder verbrannt werden; bitte geben Sie die Batterien
gemäß örtlichen Bestimmungen an den Sammelstellen oder Sondermüllplätzen ab.
Dieses Produkt zusammen mit den Zubehörteilen ist das geltende Produkt der WEEE-Direktive, davon
ausgenommen sind die Batterien.
UNE REMARQUE CONCERNANT LE RECYCLAGE:
Les matériaux d'emballage de ce produit sont recyclables et peuvent être réutilisés. Veuillez disposer de tout
matériau conformément aux réglements de recylage locaux.
Lorsque vous mettez cet appareil au rebut, respectez les lois ou réglementations locales.
Les piles ne doivent jamais être jetées ou incinérées, mais mises au rebut conformément aux réglements
locaux concernant les déchets chimiques.
Ce produit et les accessoires emballés ensemble sont des produits conformes à la directive DEEE sauf pour
NOTA RELATIVA AL RICICLAGGIO:
I materiali di imballaggio di questo prodotto sono riutilizzabili e riciclabili. Smaltire i materiali conformemente
alle normative locali sul riciclaggio.
Per smaltire l'unità, osservare la normativa in vigore nel luogo di utilizzo.
Non gettare le batterie, né incenerirle, ma smaltirle conformemente alla normativa locale sui rifiuti chimici.
Questo prodotto e gli accessori inclusi nell'imballaggio sono applicabili alla direttiva RAEE, ad eccezione delle
Los materiales de embalaje de este producto son reciclables y se pueden volver a utilizar. Disponga de estos
materiales siguiendo los reglamentos de reciclaje de su localidad.
Cuando se deshaga de la unidad, cumpla con las reglas o reglamentos locales.
Las pilas nunca deberán tirarse ni incinerarse. Deberá disponer de ellas siguiendo los reglamentos de su
localidad relacionados con los desperdicios químicos.
Este producto junto con los accesorios empaquetados es el producto aplicable a la directiva RAEE excepto
EEN AANTEKENING WAT BETREFT HET RECYCLEREN:
Het inpakmateriaal van dit product is recycleerbaar en kan opnieuw gebruikt worden. Er wordt verzocht om
zich van elk afvalmateriaal te ontdoen volgens de plaatselijke voorschriften.
Volg voor het wegdoen van de speler de voorschriften voor de verwijdering van wit- en bruingoed op.
Batterijen mogen nooit worden weggegooid of verbrand, maar moeten volgens de plaatselijke voorschriften
betreffende chemisch afval worden verwijderd.
Op dit product en de meegeleverde accessoires, m.u.v. de batterijen is de richtlijn voor afgedankte
elektrische en elektronische apparaten (WEEE) van toepassing.
EN KOMMENTAR OM ÅTERVINNING:
återvinningsbestämmelser.
När du kasserar enheten ska du göra det i överensstämmelse med lokala regler och bestämmelser.
Batterier får absolut inte kastas i soporna eller brännas. Kassera dem enligt lokala bestämmelser för kemiskt
Denna apparat och de tillbehör som levereras med den är de som uppfyller gällande WEEE-direktiv, med
· DECLARATION OF CONFORMITY
We declare under our sole responsibility that this
product, to which this declaration relates, is in
conformity with the following standards:
EN60065, EN55013, EN55020, EN61000-3-2 and
Following the provisions of 73/23/EEC, 89/336/EEC
· ÜBEREINSTIMMUNGSERKLÄRUNG
Wir erklären unter unserer Verantwortung, daß
dieses Produkt, auf das sich diese Erklärung
bezieht, den folgenden Standards entspricht:
EN60065, EN55013, EN55020, EN61000-3-2 und
73/23/EEC, 89/336/EEC und 93/68/EEC.
· DECLARATION DE CONFORMITE
Nous déclarons sous notre seule responsabilité
que l'appareil, auquel se réfère cette déclaration,
est conforme aux standards suivants:
EN60065, EN55013, EN55020, EN61000-3-2 et
D'après les dispositions de la Directive 73/23/EEC,
· DICHIARAZIONE DI CONFORMITÀ
Dichiariamo con piena responsabilità che questo
prodotto, al quale la nostra dichiarazione si riferisce,
è conforme alle seguenti normative:
EN60065, EN55013, EN55020, EN61000-3-2 e
In conformità con le condizioni delle direttive
73/23/EEC, 89/336/EEC e 93/68/EEC.
QUESTO PRODOTTO E' CONFORME
· DECLARACIÓN DE CONFORMIDAD
Declaramos bajo nuestra exclusiva responsabilidad
que este producto al que hace referencia esta
declaración, está conforme con los siguientes
EN60065, EN55013, EN55020, EN61000-3-2 y
Siguiendo las provisiones de las Directivas
73/23/EEC, 89/336/EEC y 93/68/EEC.
· EENVORMIGHEIDSVERKLARING
Wij verklaren uitsluitend op onze verantwoordelijkheid
dat dit produkt, waarop deze verklaring betrekking
heeft, in overeenstemming is met de volgende
EN60065, EN55013, EN55020, EN61000-3-2 en
Volgens de bepalingen van de Richtlijnen 73/23/EEC,
Härmed intygas helt på eget ansvar att denna
produkt, vilken detta intyg avser, uppfyller följande
EN60065, EN55013, EN55020, EN61000-3-2 och
Enligt stadgarna i direktiv 73/23/EEC, 89/336/EEC
---