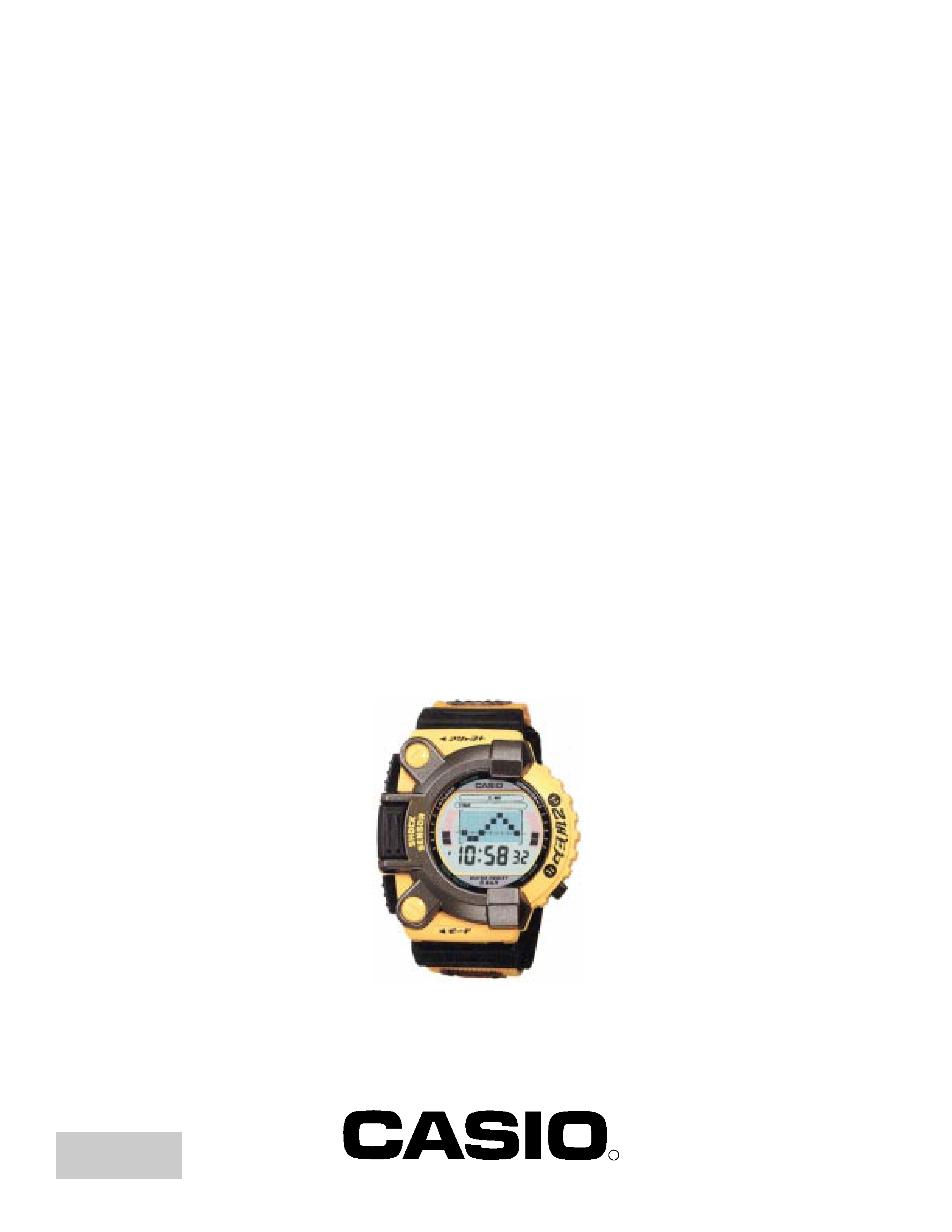 ---

1. SPECIFICATIONS: QW-1456 ...................................................................... 1
2. OPERATION CHART: QW-1456 ................................................................. 2
3. DRAWINGS ................................................................................................. 9
3-1. BLOCK DIAGRAMS: QW-1456 .....................................................................
3-2. CHECKING TERMINALS AND COMPONENTS: QW-1456 .......................
4. EXPLODED VIEW: QW-1456 .................................................................... 11
5. PARTS LIST: QW-1456 ............................................................................. 12
6. PRECAUTIONS FOR REPAIR: QW-1456 ................................................ 13
6-1. AC (ALL CLEAR) AND REMOVING OF MODULE ....................................
6-2. ACCURACY CHECKING ............................................................................
---

1. SPECIFICATIONS: QW-1456
Piezo plate on Back cover
·Electro-luminescent backlight
·Meter mode: Measurement of punch, kick, etc. power and speed
·Game mode: Virtural boxing game of punching and blocking
· Regular timekeeping: Hr, min, sec, am/pm, mo date, day
---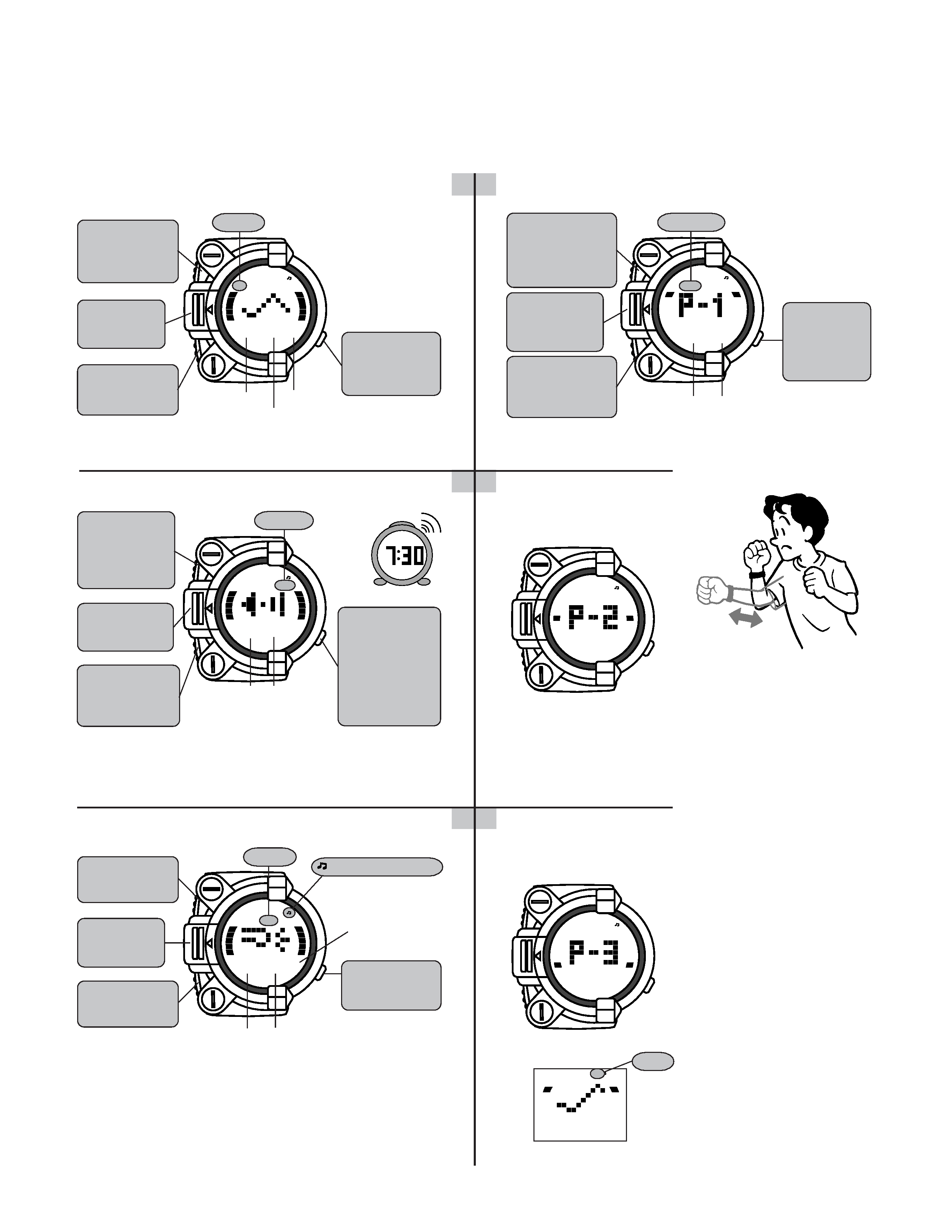 2. OPERATION CHART: QW-1456
Press the C button to change from mode to mode.
· The watch automatically returns to the Timekeeping Mode if you do not perform any button operation for two or three minutes in any other mode.
· The Meter Mode can be used to
measure the power and speed of
· The Meter Mode has three mem-
ories, named P-1, P-2, and P-3.
Measured data is automatically
saved to the memory whose in-
dicator is on the display when the
measurement is performed.
· When you press the C button to
change to another Meter Mode
memory, any power and speed
data already stored in that mem-
ory appears on the display.
· Whenever you display a Meter
Mode memory's contents, a
wave graph moves across the
display. The height of the wave
is according to the size of the
measurement data stored in the
· Holding down the A button while
in the Meter Mode displays the
maximum measured power val-
· Pressing the A and B buttons at
the same time while in the Meter
Mode clears the measured data
from the memory whose screen
is displayed (P-1, P-2, P-3), and
the maximum measured power
· Use this mode to set an alarm time.
· It can also be used to turn the hourly time signal (which sounds at
the top of each hour) on and off.
· Holding down the A button sounds the alarm.
This game is a virtual boxing match where you test your punch power
and reaction in a battle against the watch's built-in computer. You
start out ranked 30th, and try to work your way up to the top where
you are crowned the Champion of the World.
· Holding down the A button displays the number of KO wins and
A built-in shock sensor can be used to measure the power (destruc-
tive force) and speed of a punch, kick, throw, swing, or other action.
---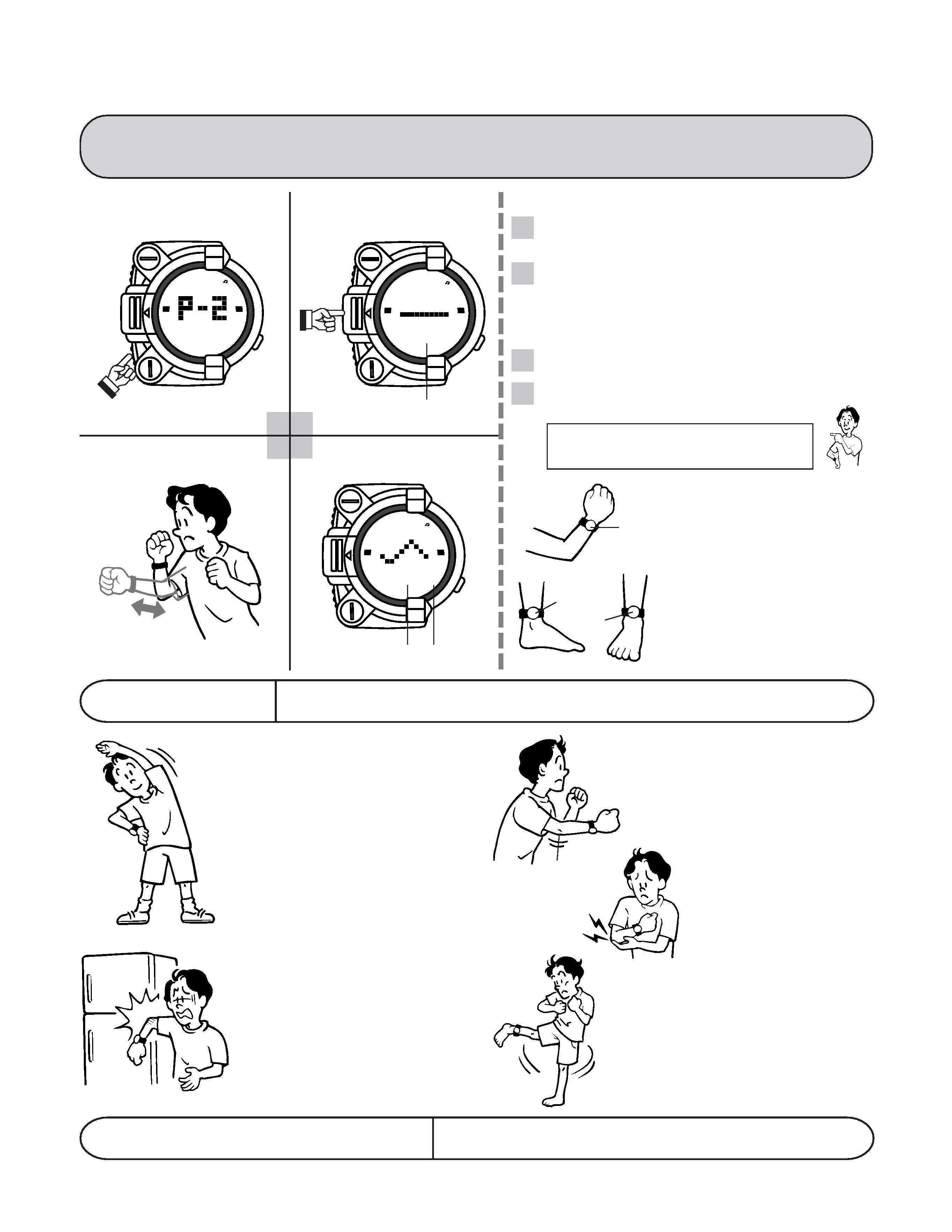 Start a measurement operation.
The built-in sensor used to measure power and speed is preset to measure in the direction of a punch motion. This means that the values
produced in the Meter Mode cannot be used to compare the relative power and speed between two different motions (between punching
and kicking, for example).
Select a Meter Mode memory.
· Always warm up for about five
minutes before punching, kick-
ing, or any other strenuous ac-
tivity. Punching or kicking with-
out warming up can result in in-
jury. Take special care to warm
up and stretch your shoulders,
arms, and back. Do not overdo
punching and kicking, and
avoid performing too many
punches or kicks during the
· When punching and kicking,
take care to avoid hitting any
people, animals, or objects
nearby. Hitting another person
or object can result in personal
injury to you or another person.
· For punching, affix the watch securely
to either your left or right wrist. The
watch should be high enough on your
arm and tightened snug enough so it
does not ride down to the back of your
· For kicking, affix the watch securely
to either your left or right ankle. The
body of the watch should be located
so it is either at the front or side of
your leg. The watch should be high
enough on your leg and tightened
snug enough so it does not ride down
to the top of your foot when you kick.
· If you want to compare your power with a friend's,
you need to input some personal data. See "To
· Fully extending your arm or leg
when punching or kicking can
produce pain in your joints,
bones, and muscles. To avoid
this, you should stop your
punch or kick just of full exten-
sion so your arm or leg joints
are still relaxed and slightly
· Should you experience any
pain when performing a mea-
surement, immediately stop the
activity you are performing and
· Whenever performing a mea-
surement with the watch affixed
to your ankle, take particular
care that you do not lose your
balance and fall over, possibly
injuring yourself or others. Do
not try to raise your leg too high
Remember those around you.....
When using the Meter Mode or Game Mode, never hit or kick another
person, an animal, or an object, and never throw an object or this watch.
Note the following important precautions before performing any operations in the Meter Mode or
before using the Game Mode.
To perform a measurement in the Meter Mode
In the Timekeeping Mode, press the C
twice (P-2) or three times (P-3) to display the Meter Mode
memory screen you want to use.
X button and the watch performs a 4-second count-
down, with each second indicated by a beep and the num-
bers 3, 2, 1, 0 appearing successively on the display. After
the fourth beep, perform a punching or kicking motion.
· Measurement is performed for about two seconds after the
Be sure to read the "SAFETY PRECAUTIONS" and "Impor-
tant!" before performing a punching or kicking motion.
Measured power and speed values are expressed in special
---