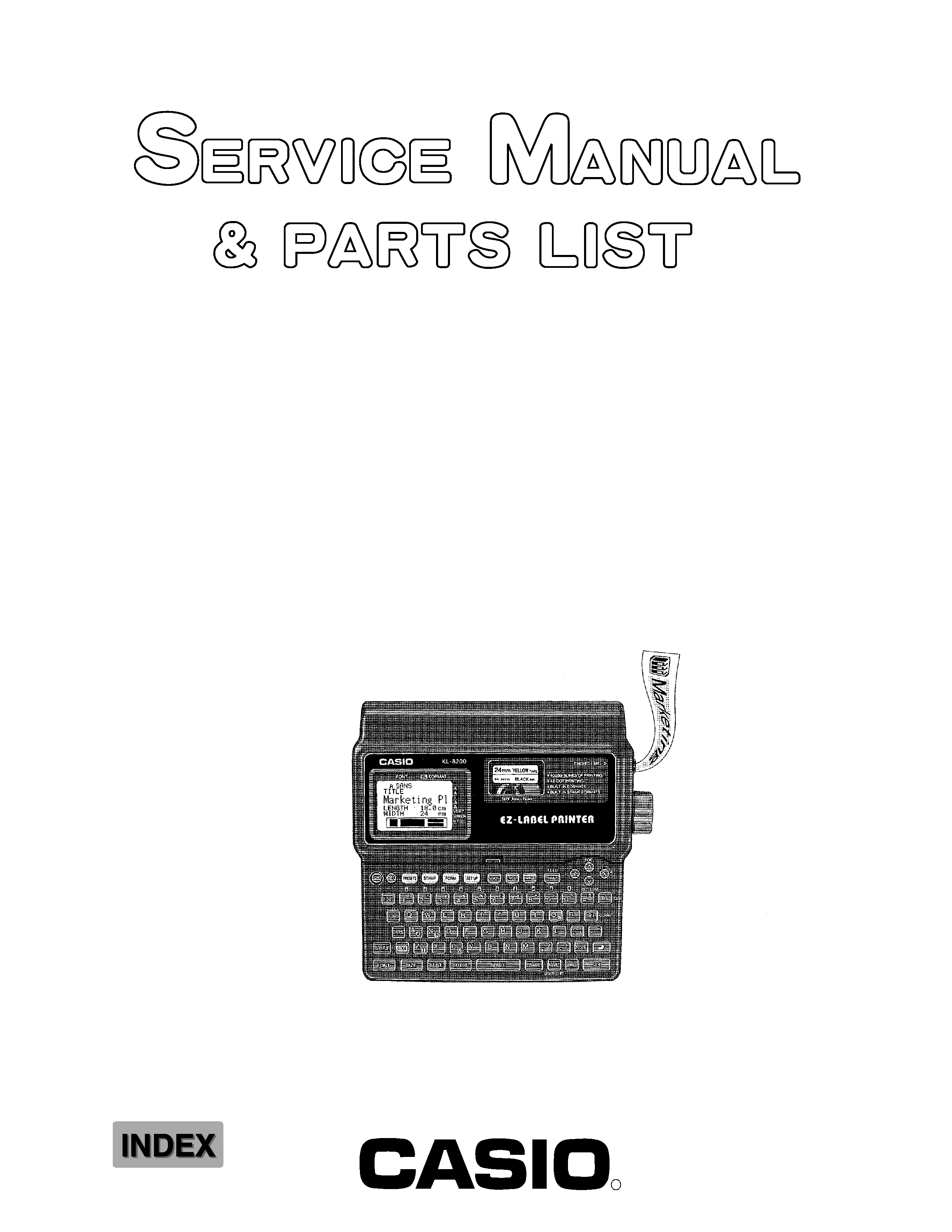 ---

1. SPECIFICATIONS --------------------------------------------------------------------------------- 1
2. MEASUREMENT ----------------------------------------------------------------------------------- 2
3. CLEANING THE PRINTER HEAD AND ROLLER ---------------------------------------- 2
4. RESET OPERATION ----------------------------------------------------------------------------- 3
5. BLOCK DIAGRAM -------------------------------------------------------------------------------- 4
6. PRECAUTIONS ------------------------------------------------------------------------------------ 5
7. LSI PIN FUNCTION ------------------------------------------------------------------------------- 6
8. DIAGNOSTIC PROGRAM ----------------------------------------------------------------------- 7
9. ERROR MESSAGES ----------------------------------------------------------------------------- 9
10. SCHEMATIC DIAGRAMS --------------------------------------------------------------------- 10
10-1. Main Block -------------------------------------------------------------------------------------------
10-2. Power Supply ---------------------------------------------------------------------------------------
10-3. LCD Block --------------------------------------------------------------------------------------------
10-4. Sub Block --------------------------------------------------------------------------------------------
11. PARTS LIST --------------------------------------------------------------------------------------- 14
12. EXPLODED VIEW ------------------------------------------------------------------------------- 16
---

Alpha (English and other languages): 52 (A ~ Z, a ~ z), 99 (Á, ß, Ç, Z etc.)
Symbols/Greek and Russian characters:
Approximately 10 mm/second
4 mm (6 mm tape); 8 mm (9 mm tape); 10 mm (12 mm tape); 16 mm (18/
New Sans-serif, New Sans-Serif Italic, New Sans-serif Rounded, New
Roman, New Roman Italic, Oldface, Oldface Italic, Courier, Logostyle,
Richstroke, Stencil, Bold Script, Black Letter
NONE, NARROW, MEDIUM, WIDE
Normal, bold, outline, shadow, raised
18 mm or 24 mm tape: 8 lines
One CR2032 lithium battery
Approximately six minutes after last key operation
10 °C to 35 °C (50 °F to 95 °F)
54.6 (H) x 196 (W) x 184.3 (D) mm
(2
1
/
8
" (H) x 7
23
/
32
" (W) x 7
1
/
4
" (D))
630 g (22 oz.) (including battery)
---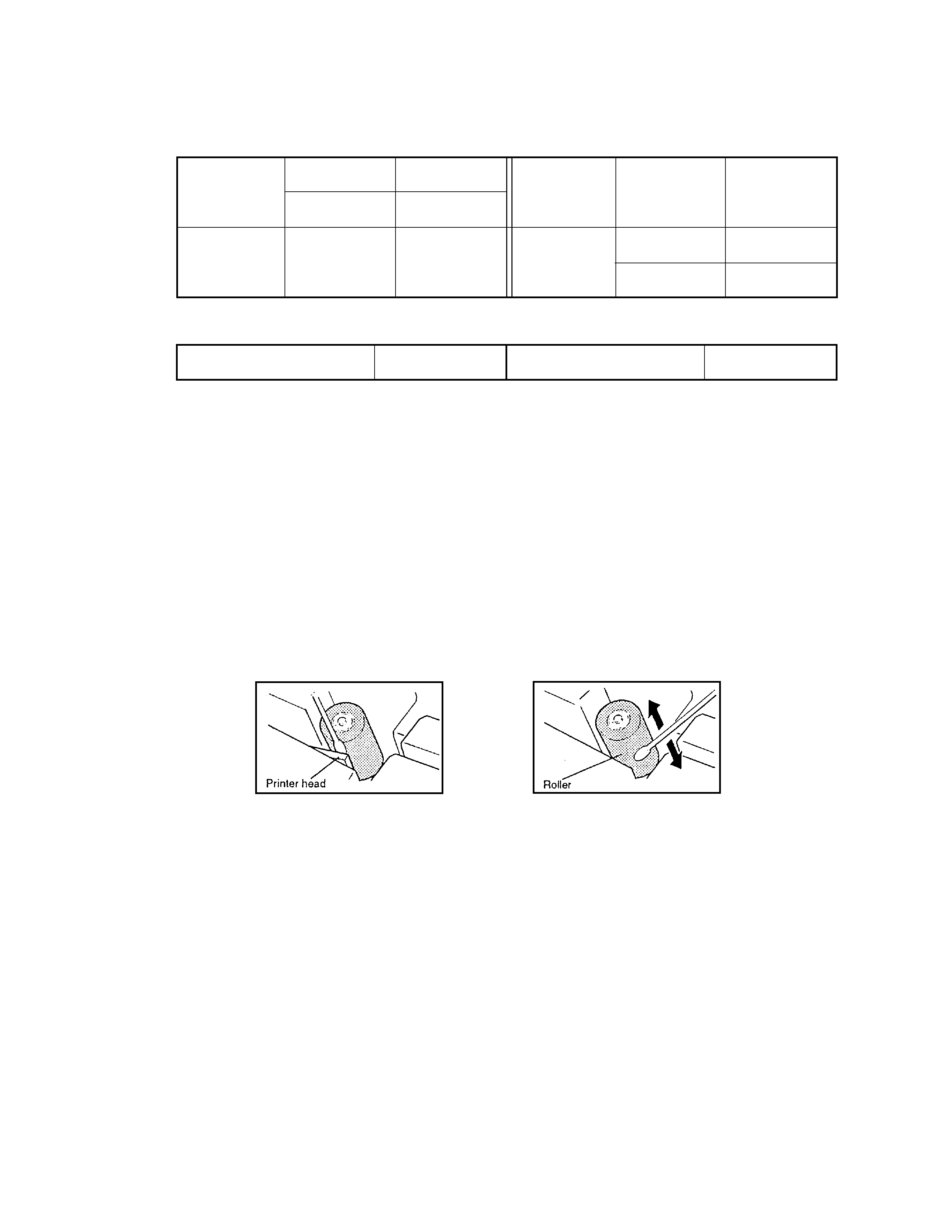 (Note: Test voltage: DC 12 V
3. CLEANING THE PRINTER HEAD AND ROLLER
A dirty printer head and roller can result in poor printing quality. If you have problems with print quality,
use the following procedure to clean the printer head and roller.
To clean the printer head and roller
1. Make sure the label printer is turned off.
2. Press the tape cartridge compartment cover release and open the compartment cover.
3. Remove the tape cartridge.
4. Use a cotton swab dipped in alcohol to clean the printer head and roller as shown in the illustration.
5. Replace the tape cartridge and close the compartment cover.
---

Resetting initialize the memory
You should reset the memory of the label printer before using it for the first time, after you have not
used it for a long time, or if nothing happens when you turn power on.
Resetting label printer memory clears its memory of all input data.
1. Make sure that label printer power is off.
2. While holding down the PRINT and ESC key, press ON to turn power on.
3. Press SET to initialize the label printer or ESC to abort the operation without initializing anything.
· The following are the initial setting of the label printer whenever you turn it power on or reset the
---