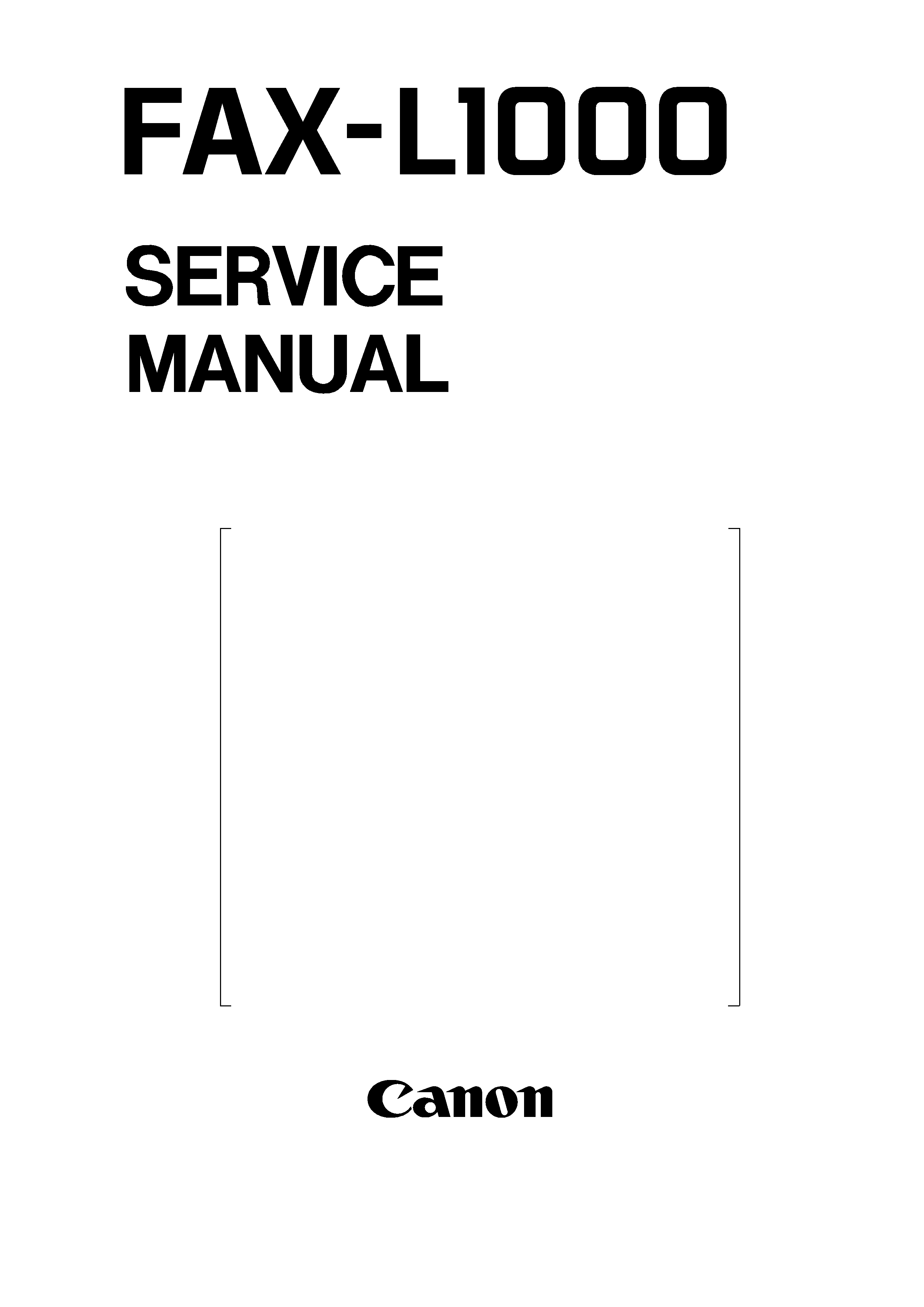 COPYRIGHT © 2000 CANON INC.
CANON FAX-L1000 FEB. 2000 PRINTED IN JAPAN (IMPRIME AU JAPON)
---

This manual has been issued by Canon Inc. for qualified persons to learn technical theory, installation,
maintenance, and repair of products. This manual covers all localities where the products are sold. For this
reason, there may be information in this manual that does not apply to your locality.
This manual may contain technical inaccuracies or typographical errors due to improvements or changes in
products. When changes occur in applicable products or in the content of this manual, Canon will release
technical information as the need arises. In the event of major changes in the contents of this manual over a long
or short period, Canon will issue a new editions of this manual.
The following paragraph does not apply to any countries where such provisions are inconsistent with local
The product names and company names described in this manual are the registered trademarks of the individual
This manual is copyrighted with all rights reserved. Under the copyright laws, this manual may not be copied,
reproduced or translated into another language, in whole or in part, without the written consent of Canon Inc..
Copyright © 2000 by Canon Inc.
Office Imaging Products Technical Support Dept. 3
5-1 Hakusan 7-Chome, Toride-city, Ibaraki 302-8501, Japan
This manual was produced on an Apple Macintosh
®
, personal computer, final pages were printed on AGFA SelectSet Avantra
All graphics were produced with Macromedia
®
FreeHand
®
8.0J.
All documents and all page layouts were created with Adobe PageMaker
®
6.5J.
---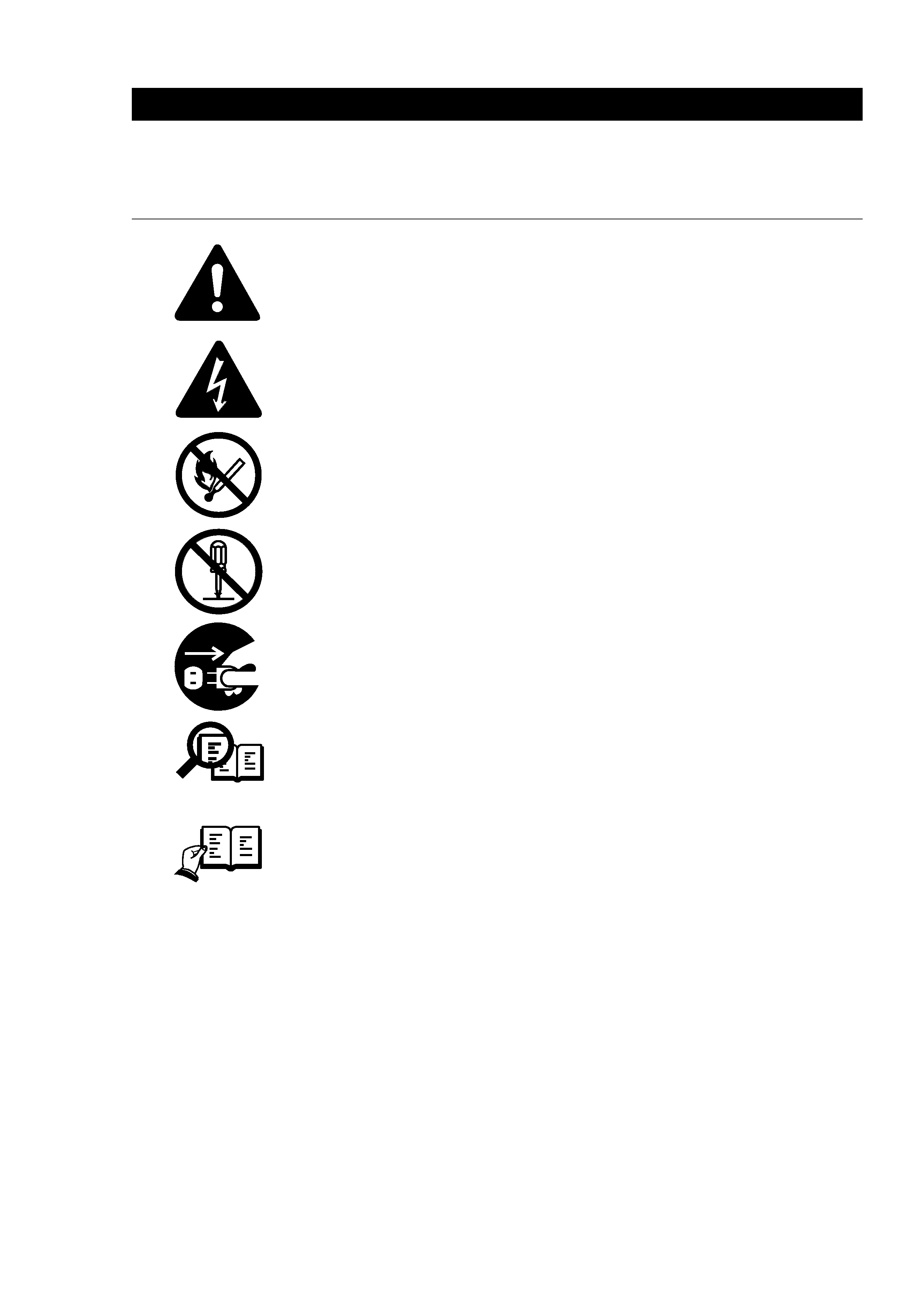 The marks used in this manual have the following meanings.
Indicates a general caution or warning, or otherwise to communicate the
Warns of the possibility of an electric shock.
Informs you of fire-related cautions.
Warns against disassembly of parts.
Informs you that the plug must be removed from the power outlet before
Gives useful information to understand descriptions.
Indicates sections to be read to obtain more detailed information.
---

This manual consists of the following five chapters, each providing appropriate information
needed to service the product.
Chapter 1: Safety and Precautions
Provides cautions and warnings needed when servicing the product while ensuring safety, and
explains the protective functions built into the product.
Be sure to go through the descriptions.
Chapter 2: Operating Instructions
Shows how to operate the product correctly, while explaining how to use service data and
switches needed for service work.
Chapter 3: Technical Reference
Offers an outline of the product and explains its mechanisms and new features so as to
provide a technical understanding of the product.
Chapter 4: Maintenance and Service
Contains information needed to ensure the performance of the product, including adjustments
to make during assembly as well as troubleshooting.
Contains information needed for installation, including descriptions related to options.
· For more details of user operations and user reports, see the separate volume
· Procedures for assembly/disassembly are not given in this manual. See the
illustrations in the separate volume of
PARTS CATALOG
.
· Detailed description of each SSSW/parameter is not given in this manual
except the new SSSWs/parameters added to this fax.
As necessary, see
G3 Facsimile SERVICE DATA HANDBOOK (Rev. 0)
.
· Detailed description of each error code is not given in this manual except the
new error codes added to this fax. As necessary, see
G3 Facsimile Error
---

---