---

Choosing a Location for Your Printer
Automatically Feeding Paper
Manually Feeding Thick Paper or Transparencies
Loading Paper in Landscape Orientation
Pausing a Print Operation
Performing Automatic Line Feeds
Using the Printer With Your Software
Setting Up Windows for Your Printer
Setting Up Other Software Applications
Software and Printer Compatibility
Replacing the Ink Cartridge
---

editiing by Jason Plank and Cindy Cassat
Printer Command Summaries and Character Set
---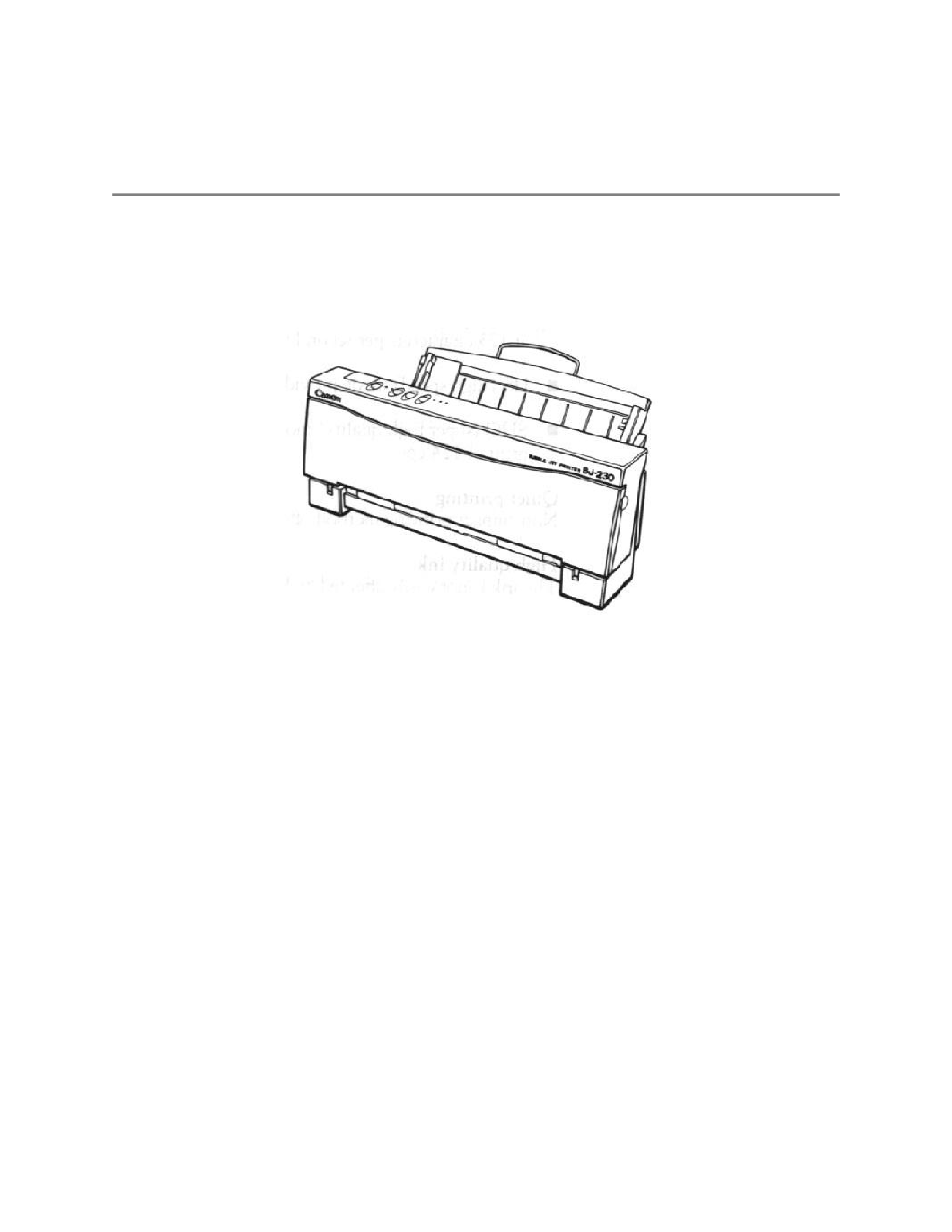 Congratulations on your purchase of the Canon Bubble Jet Printer BJ-
230. We appreciate you choosing this printer to meet your printing
needs. It offers exceptional print quality, flexible paper handling, fast
printing speeds, and trouble-free operation.
This chapter introduces you to the features of your new printer and
describes how to use this User's Manual.
The Bubble Jet Printer BJ-230 produces high-quality printing by
incorporating many useful features.
High-performance print head offers 360X360 dots per inch (dpi) for
Convenient paper handling
An automatic sheet feeder holds up to 100 sheets of letter or legal-size
paper, 50 sheets of ledger-size paper, 10 envelopes, or 10 transparencies
Two resident printer control modes:
BJ-10 mode emulates the IBM Proprinter X24E printer
Epson LQ mode emulates the Epson LQ-510 printer
The print modes allow you to choose between print quality, speed, and
---

HQ (high quality) mode provides high quality and high speed at
173 characters per second (cps)
HS (high speed) mode provides draft quality at 248 cps
SHQ(super high quality) mode provides the highest quality print
Non-impact printing method offer quiet operation
The replacement ink cartridge contains both the ink and the print head;
when it runs out of ink, you simply replace it
Lightweight (7.7 1b/3.5 kg)
This section describes the contents and conventions of this manual.
This manual includes all the information you need to set up and operate
your printer in several easy-to-read chapters.
Introduces you to the features of the printer, and describes how this
Chapter 2, Setting Up the Printer
Describes how to select a location for your printer, and how to unpack
Describes how to select paper and how to load it in the printer. It also
shows you how to print on envelopes and thick paper.
Chapter 4, Using the Operator Panel
Explains how to control your printer using the buttons on the operator
Chapter 5, Using the Printer With Software
Describes how to install a printer driver and select a printer control
mode. It also describes how to use the printer with Windows.
Chapter 6, Maintaining the Printer
---