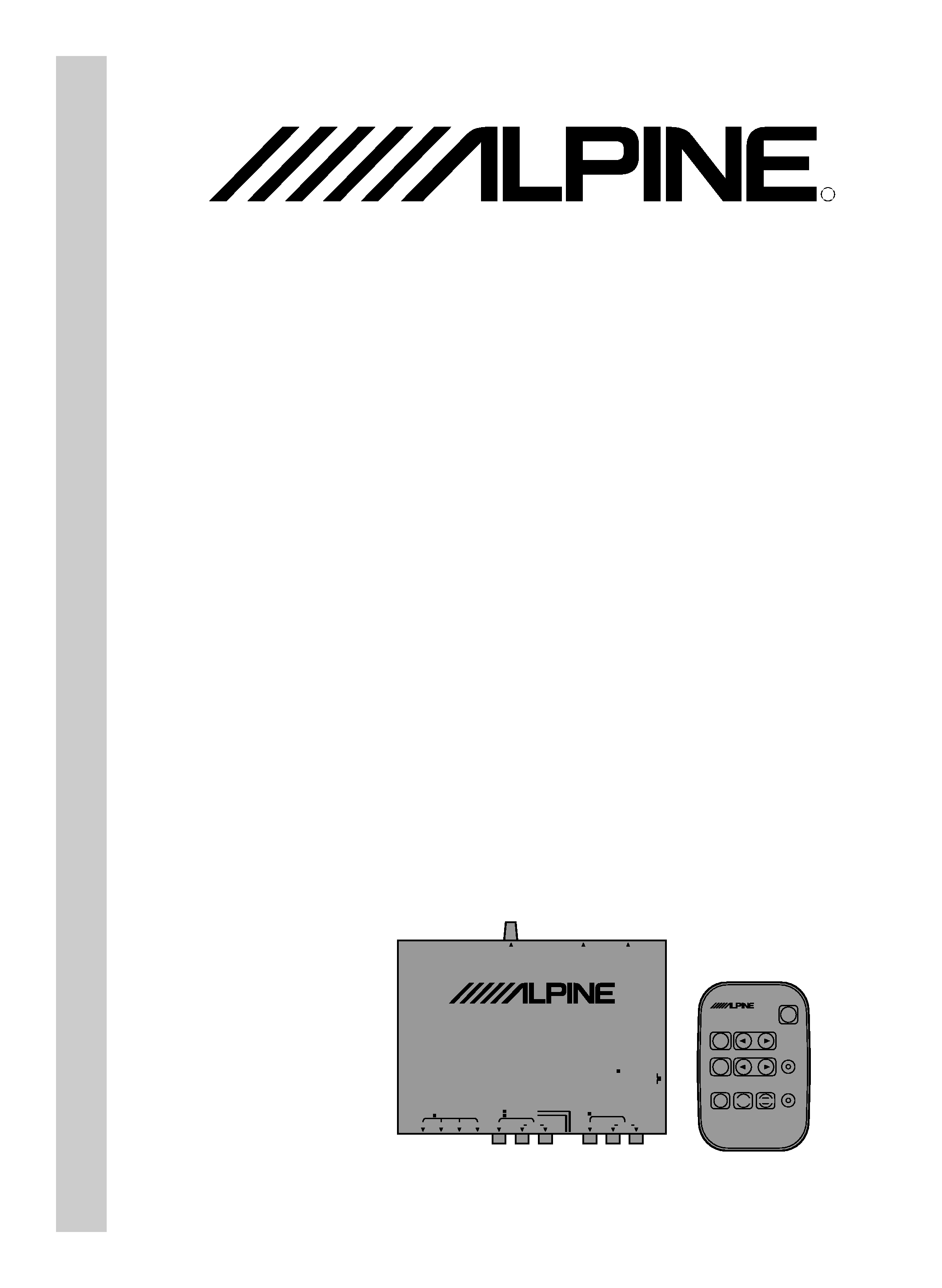 Please read this manual to maximize your
enjoyment of the outstanding performance and
feature capabilities of the equipment, then retain
the manual for future reference.
Veuillez lire ce mode d'emploi pour tirer
pleinementprofitdesexcellentesperformances
et fonctions de cet appareil, et conservez-le
pour toute référence future.
Lea este manual, por favor, para disfrutar al
máximo de las excepcionales prestaciones y
posibilidades funcionales que ofrece el equipo,
luego guarde el manual para usarlo como
---

The exclamation point within an equilateral
triangle and "WARNING" are intended to alert
the user to the presence of important operating
Failure to heed the instructions will result in
Le point d'exclamation dans un triangle
équilatéral et la mention "WARNING" sont
destinés à attirer l'attention de l'utilisateur sur
la présence d'instructions importantes.
Le non respect de ces instructions peut
provoquer de graves blessures, voire la mort.
El símbolo de exclamación dentro del
triángulo y "WARNING" tienen como fin
alertar al usuario de la presencia de
instrucciones de operación importantes.
El hacer caso omiso de las instrucciones
podría ocasionar heridas graves o la muerte.
DO NOT DISASSEMBLE OR AL-
TER. Doing so may lead to accident,
KEEP SMALL ARTICLES OUT OF
THE REACH OF CHILDREN. If
swallowed, consult a physician
FUSES. Failure to do so may result in
HALT USE IMMEDIATELY IF A
PROBLEM APPEARS. When prob-
lems occur such as a lack of sound or
video, foreign objects inside the unit,
smoke coming out, or noxious odors,
stop use immediately and contact the
dealer where you bought the equip-
ment. Failure to do so may result in an
---

FIER. Il y a risque d'accident ou de
NE PAS LAISSER DE PETITES
ENFANTS. En cas d'ingestion,
consultez immédiatement un
L'AMPERAGE APPROPRIE. Il y a
risque d'incendie ou de choc
PROBLEME. Si un problème se
présente, absence du son ou de
l'image, objets tombés dans
l'appareil, dégagement de fumée ou
d'odeurs nocives, arrêtez
immédiatement l'appareil et
contactez le revendeur où vous
l'avez acheté. Il y a risque d'accident
NO DESMONTE O ALTERE. Si lo
hace, podrá ocasionar un accidente,
incendio o descarga eléctrica.
PEQUEÑOS FUERA DEL ALCANCE
DE LOS NIÑOS. Si tragasen algo,
FUSIBLES. De lo contrario, podrá
ocasionar un incendio o descarga
DEJE DE USARLO INMEDIATA-
MENTE SI APARECE ALGUN PRO-
BLEMA. Cuando ocurran problemas
tales como falta de sonido o video,
caiga algún objeto dentro de la
unidad, el aparato despida humo u
olores nocivos, deje de usarlo inme-
diatamente y póngase en contacto
con el distribuidor al que haya com-
prado el equipo. En caso contrario
podrá ocasionar un accidente o
---

EXCESSIVELY. Keep the volume at a
level where you can still hear outside
noises while driving. Driving while
unable to hear outside noises could
be the cause of accident.
DO NOT USE THIS EQUIPMENT
STATED FOR THE VEHICLE. Failure
to do so may result in electric shock or
WITH OLD BATTERIES. INSERT
POLARITY. When inserting the
batteries, be sure to observe proper
polarity (+ and ­) as instructed.
Rupture or chemical leakage from the
battery may cause fire or personal
---

VOLUME. Réglez le volume de
manière à pouvoir entendre les
bruits extérieurs pendant la conduite.
Si vous ne pouvez pas entendre les
bruits extérieurs quand vous
conduisez, vous risquez un accident.
NE PAS UTILISER L'APPAREIL
CEUX ENONCES. Il y a risque de
choc électrique ou de blessure.
DES PILES NEUVES. RESPECTEZ
AUSSI LA POLARITE DES PILES.
Quand vous insérez les piles, veillez
à respecter la polarité (+) et (­),
comme indiqué. Une rupture ou une
fuite des piles peuvent causer un
incendie ou des blessures
EXCESIVAMENTE. Mantenga el
volumen a un nivel que no le impida
escuchar los sonidos del exterior
mientras conduce. El conducir sin
poder escuchar los ruidos del exterior
puede ocasionar un accidente.
NO UTILICE ESTE EQUIPO CON
OTROS FINES A LOS INDICADOS
contrario, podrá ocasionar una
descarga eléctrica o heridas.
NO MEZCLE PILAS NUEVAS CON
VIEJAS. INSERTELAS CON LAS
POLARIDADES CORRECTAMENTE
ORIENTADAS. Cuando las inserte
en su compartimiento, cerciórese de
colocarlas con las polaridades (+ y ­)
como se indica. La rotura o la fuga de
sustancias químicas de las pilas
podrá ocasionar un incendio o
---