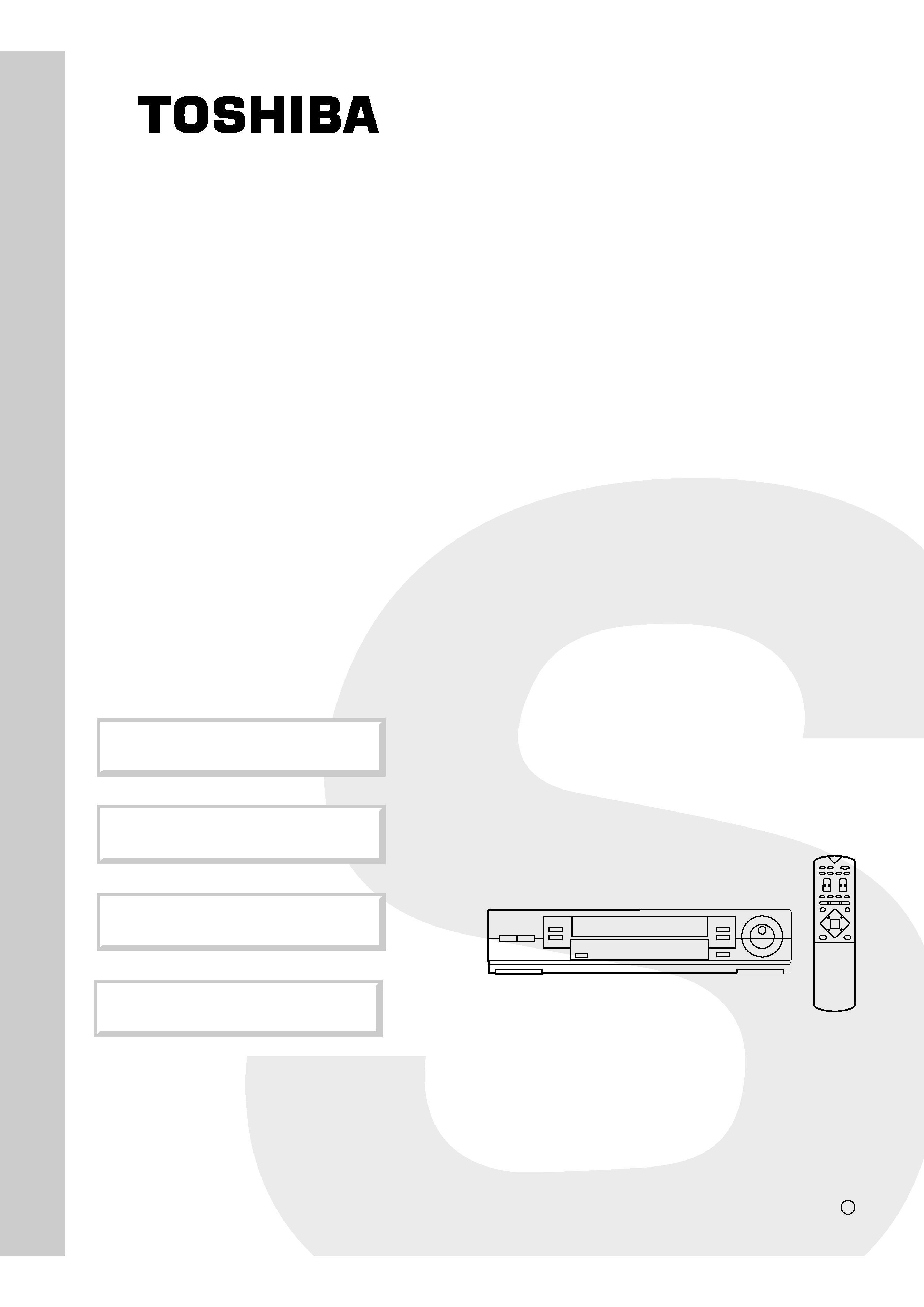 ---

---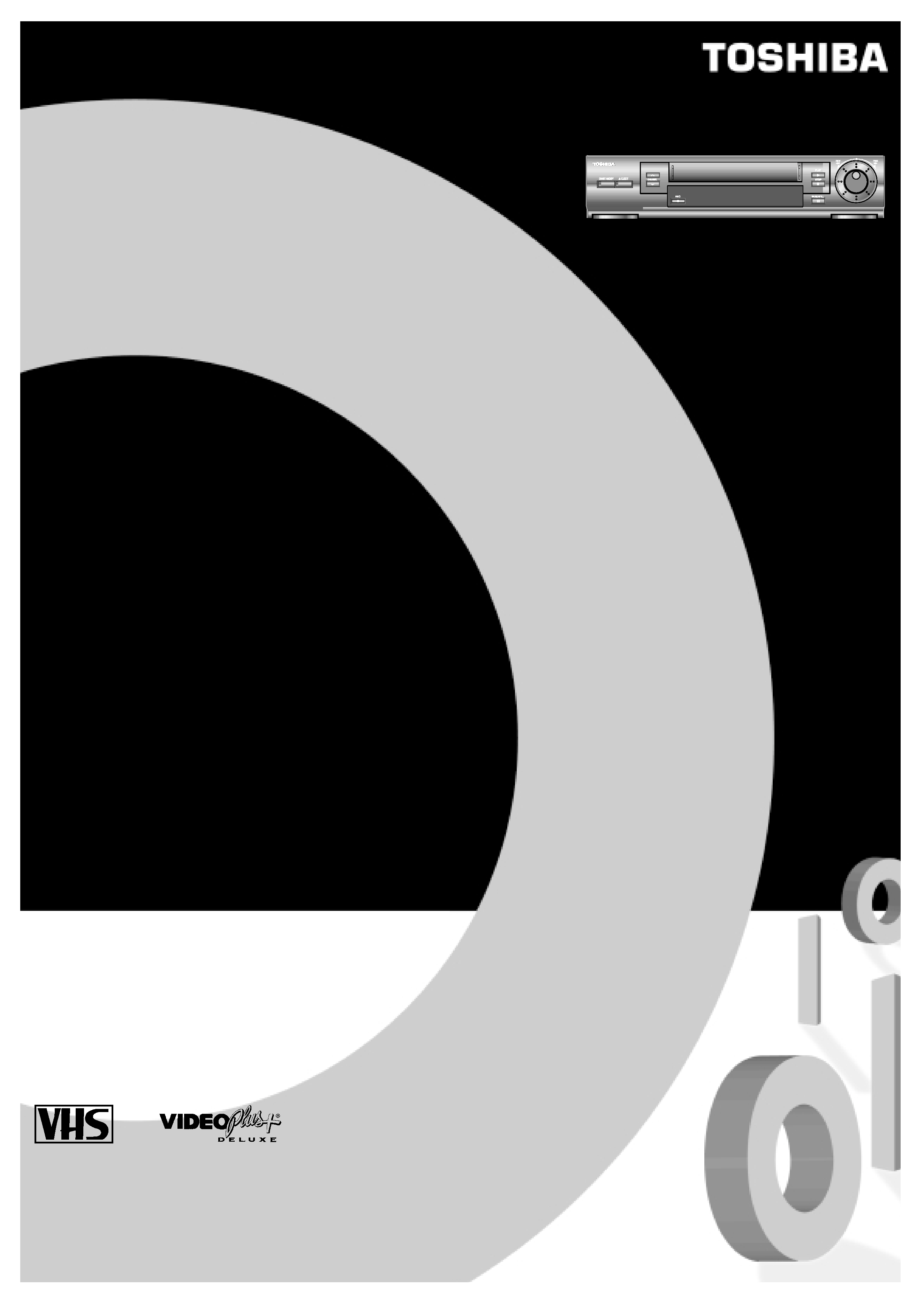 ---

Some "DOs" and "DON'Ts" for you
This equipment has been designed and manufactured to meet international safety standards but, like any
electrical equipment, care must be taken if you are to obtain the best results and safety is to be assured. So,
please read the points below for your own safety. They are of a general nature, intended to help you with all
your electronic consumer products and some points may not apply to the goods you have just purchased.
All Toshiba television stands are designed to house Toshiba
video recorders and other Toshiba AV equipment whilst
providing adequate ventilation. However, if you do not use a
Toshiba stand, ensure that there is free space of at least 10cm
at the sides and rear and 7cm above the video recorder to
provide adequate ventilation.
Moisture Condensation ...
Never operate the VTR immediately after moving it from a
cold location to a warm location. Leave it for TWO TO THREE
hours without operating it. When the VTR is exposed to such
a change in temperature, moisture may condense on the
cylinder inside of the VTR ­ one of its most crucial internal
parts. If moisture condensation occurs inside the VTR, the
cassette tape may stick to the surface of the cylinder causing
damage to the tape itself and the video head.
The mains supply required for this equipment is 230 ­ 240V
AC 50Hz. Never connect to a DC supply or any other power
source. DO ensure that the VTR is not standing on the mains
lead. DO NOT cut off the mains plug from this equipment,
this incorporates a special Radio Interference Filter, the
removal of which will impair its performance. In the UK, the
fuse fitted in this plug is 3A, and is approved by ASTA or BSI
to BS1362. It should only be replaced by a correctly rated
and approved type and the fuse cover must be refitted. IF IN
DOUBT PLEASE CONSULT A COMPETENT ELECTRICIAN.
DO
read the operating instructions before you attempt to
DO
ensure that all electrical connections (including the
mains plug, extension leads and inter-connections between
pieces of equipment) are properly made and in accordance
with the manufacturers' instructions.
Switch off and withdraw the mains plug when making or
DO
consult your dealer if you are ever in doubt about the
installation, operation or safety of your equipment.
DO
be careful with glass panels or doors on equipment.
DON'T
remove any fixed cover as this may expose
DON'T
obstruct the ventilation of the equipment, for
example, with curtains or soft furnishings.
Overheating will cause damage and shorten the life of the
DON'T
allow electrical equipment to be exposed to rain or
DON'T
place hot objects such as candles or nightlights on,
or close to, the equipment. High temperatures can melt
plastic and lead to fires.
DON'T
use makeshift stands and NEVER fix legs with wood
screws. To ensure complete safety, always fit the
manufacturer's approved stand or legs with the fixings
provided according to the instructions.
DON'T
listen to headphones at high volume, as such use
can permanently damage your hearing.
DON'T
leave equipment switched on when it is
unattended, unless it is specifically stated that it is designed
for unattended operation or has a standby mode. Switch off
using the switch on the equipment and make sure your
family know how to do this. Special arrangements may need
to be made for infirm or handicapped people.
DON'T
continue to operate the equipment if you are in any
doubt about it working normally, or it is damaged in any way
­ switch off, withdraw the mains plug and consult your
ABOVE ALL ­ NEVER let anyone, especially children,
push anything into holes, slots or any other
openings in the case ­ this could result in a fatal
NEVER guess or take chances with electrical
equipment of any kind ­ it is better to be safe than
---

For your safety
­ Some "DOs" and "DON'Ts" for you. Please read this page before you begin
General Identification of the VTR Controls
­ Front Controls, Rear Connections & Front Display Panel
Your Remote Control
­ Familiarise yourself with the At a Glance illustration
Preparing your Remote Control
­ Batteries, Effective Range information & Caring for the Remote Controller
Connecting the Leads and Auto Set Up
­ Connecting the Aerial
Auto Set Up
continued ­ Tuning In: All Channels Found, Some Channels Found, No Channels Found
Checking the Auto Set Up
­ Checking the Auto Set Up has stored the channels correctly
Channel Swapping
­ When the VTR hasn't tuned in ALL of the stations in Auto Set Up
Manual Tuning and Cable TV Installation
Additional RF Tuning Information
­ Reducing interference from other stations or AV equipment
Watching a Pre-Recorded Tape
Tracking and Picture Enhancing Digital Noise Reduction
­ Obtaining the best picture and sound
Variable Speed Playback
­ Picture Search, FF/Rew and Slow Motion
Trick Play Functions
­ Holding and advancing images and frames on the screen
VIDEO Plus+
®
system Recording
­ Recording television programmes using the PlusCode
®
One Touch Record
­ Advanced OTR ­ Recording the selected video channel at the touch of a button
Using On-Screen Programming
­ Setting up the VTR to record
User Settings
­ Presetting the VTR to your chosen defaults:
nexTViewLink ­ automatically recording the TV station;
TAPE SELECT ­ selecting tape speed; 16:9 ­ (Wide Screen) Compatibility;
NICAM; ECO MODE; ADJUST CLOCK;
TV PICTURE RECORD; PROGRAMME DELIVERY CONTROL (PDC);
MENU BACKGROUND; VIDEO Plus+ EXTEND; COLOUR ~ mono picture enhancement;
NTSC Playback
­ Viewing NTSC tapes on PAL ONLY or 4.43 compatible televisions
Connections
­ Connecting and positioning the Set top box receiver
Control of Set top box Channels via Set top box Control
­ Brand Types and Channel Orders
Using Set top box Control to change channels on the Set top box and Set top box Monitor to view in stereo
Recording from Set top box
­ VIDEO Plus+
®
Deluxe system recordings from Set top box, OTR and Timer Recordings
Hi-Fi Stereo Sound System
­ Selecting between different soundtracks
Audio Dubbing
­ Adding soundtracks to previously-recorded tapes
Editing a Video Tape
­ Replacing scenes on a recorded tape
On-screen and VTR front panel displays
Index marks and Index searches
­ Electronically `marking' tapes during recordings
Multi-Brand Remote Control
Additional Information for your reference
For your guidance, before calling for help...
answers to some possible queries
Specifications and Accessories
information on the V-860UK and V-830UK VTR
---