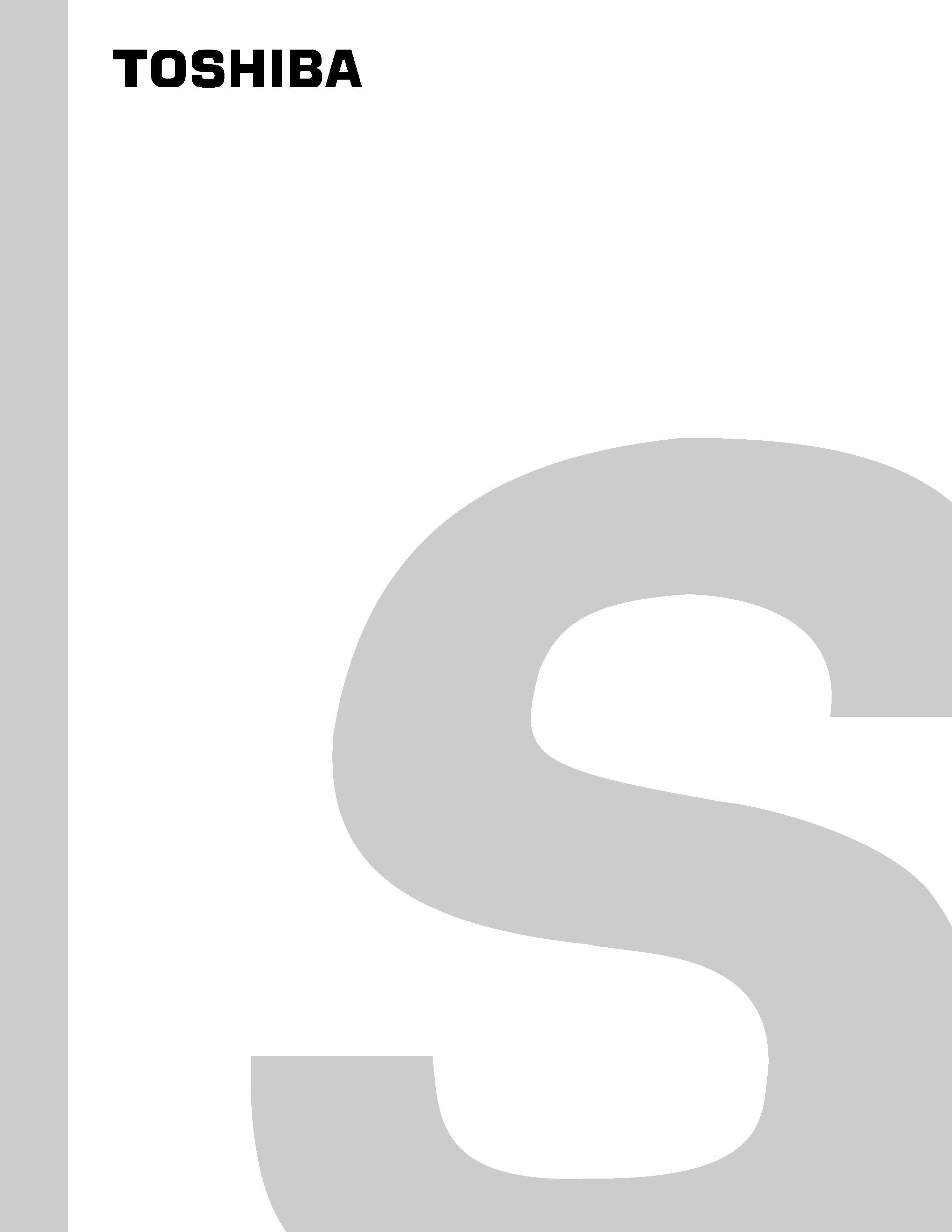 PRINTED IN CHINA, MAR,1999
---

SAFETY PRECAUTIONS .................................................................................... 1
OPERATING CONTROLS ................................................................................... 2
ALIGNMENT PROCEDURE ............................................................................... 5
BLOCK DIAGRAM .............................................................................................. 6
SCHEMATIC DIAGRAMS .................................................................................. 7
TROUBLE SHOOTING......................................................................................... 9
IC AND TRANSISTOR VOLTAGE CHART .................................................14
SEMICONDUCTOR LEAD IDENTIFICATION ..............................................24
ELECTRICAL PARTS LOCATION .................................................................31
WIRING DIAGRAMS ..........................................................................................33
EXPLODED VIEW AND MECHANICAL PARTS LIST .............................35
PART LIST ...........................................................................................................39
SPECIFICATIONS ................................................................................................55
Before returning any TOSHIBA DSSS to the customer , a safety check of the entire instrument
should be made. The service technician must be sure that no protective device build into the
instrument by the manufacturer has
become defective or inadvertently degraded during
Alterations of design or circuitry of these models should not be made.
Any design changes or additions such as, but not limited to, circuit modifications, auxiliary
speaker jacks, switches, grounding, active or passive circuitry, etc. may alter the safety
characteristics of these models and potentially create a hazardous situation for the user.
Any design alterations or additions will void the manufacturer's warranty and will further relieve
the manufacturer of responsibility for personal injury or property damage resulting therefrom.
Many electrical and mechanical parts in this chassis have special characteristics. These
characeristics often pass unnoticed and the protection afforded by them cannot necessarily be
obtained by using replace ment component rated for higher voltage, wattage, etc. Replacement
parts that have these special safety characteristics are identified in this manual and its
supplements electrical components having such features are identified by a
schematic diagram and the parts list . Before replacing any of these components read the parts
list in this manual carefully. The use of sunstitute replacement parts that do not have the same
safety characteristics as spectified in the parts list may create shock , fire or other hazards.
---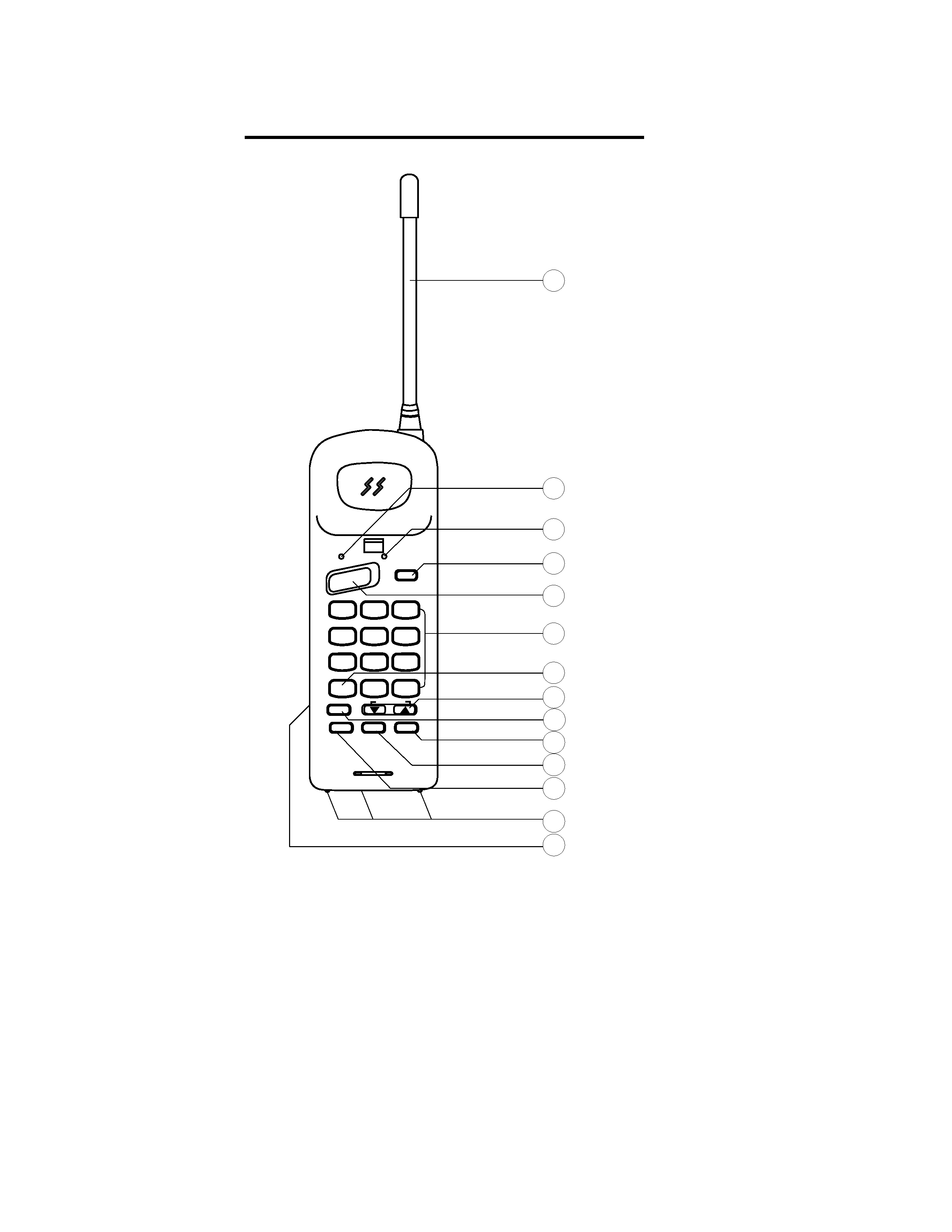 1. Flexible Antenna - purable high - gain flexible antenna.
2. TALK LED - The LED lights when the handset is in talk mode.
3. Batt / Range - Blinks on and off at different Frequency when the handset battery needs to be recharged /
Handset too far from base.
4.FLASH/RINGER TONE- Access services such as call waiting and call Forwarding / Four different types ringing
5. Talk button - Places Handset into talk mode / places Handset into standby mode when the Handset is in talk
6. Dialing key - Used for dialing numbers, storing numbers in menory.
7.TONE- Temporary set the telephone into tone mode.
8.VOL/RING VOLUME- Control the loudness of the receiver and the ringer.
9. Mute - Temporarily turn off the microphone / To go back the Two way conversation press Mute key again.
10.REDIAL/PULSE- Redials the last number dialed / To insert a pause in a phone number.
11.HOLD- To put a call on hold.
12.MEMORY- Used when storing number in memory / To diail a number from memory.
13.CHARGE CONTACTS- Provides power to charger the handset when it is placed on the base unit.
---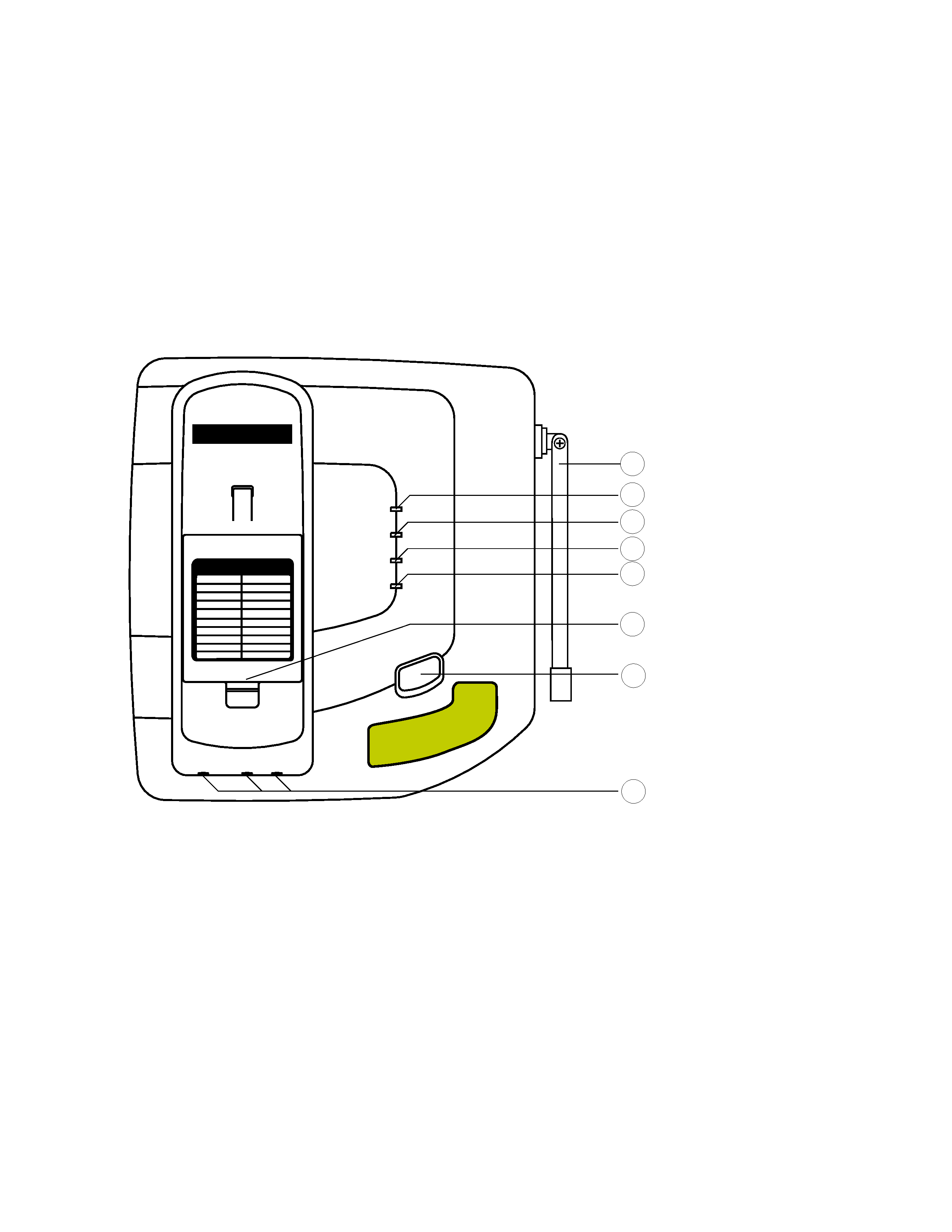 TOLL FREE CUSTOMER SERVICE
1. Antenna - Durable high - fain rod antenna.
2. SPARE BATT LED - Illuminates steadily when a battery is placed in the base unit charge cradle.
3. IN-USE LED - Illuminates when handset is off hook (line engaged).
4. CHARGE LED - Goes on when the handset is in teh cradle and the battery is charging.
5. POWER LED - Illuminates when power is applied to base unit.
6. Memory Dialing cord - Memeory location recording .
7. PAGE - To page the handset , press page key once.Pressing the PAGE a second time will cancel
8. Charging Contacts - Provides power to charge the handset when it is placed on the base unit.
---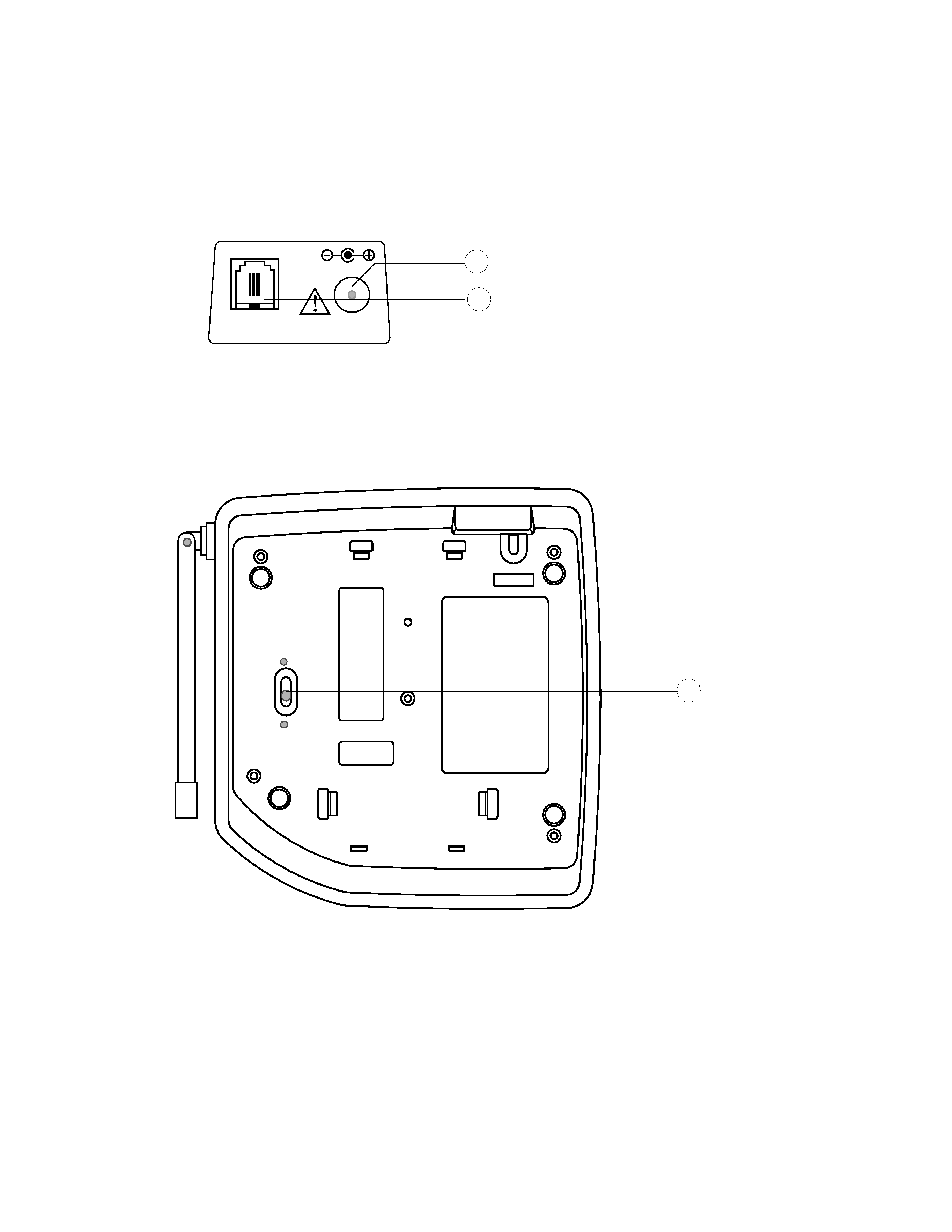 9. Phone Cord Jack - Plugs one end of the telephone line cord into standard RJ11
telephone line jack and the other end into.
10. POWER ADAPROR JACK - Insert one of the plugs into the jack.
11. TONE/ PULSE Switch - Set the dialing mode between DTMF and PULSE.
---