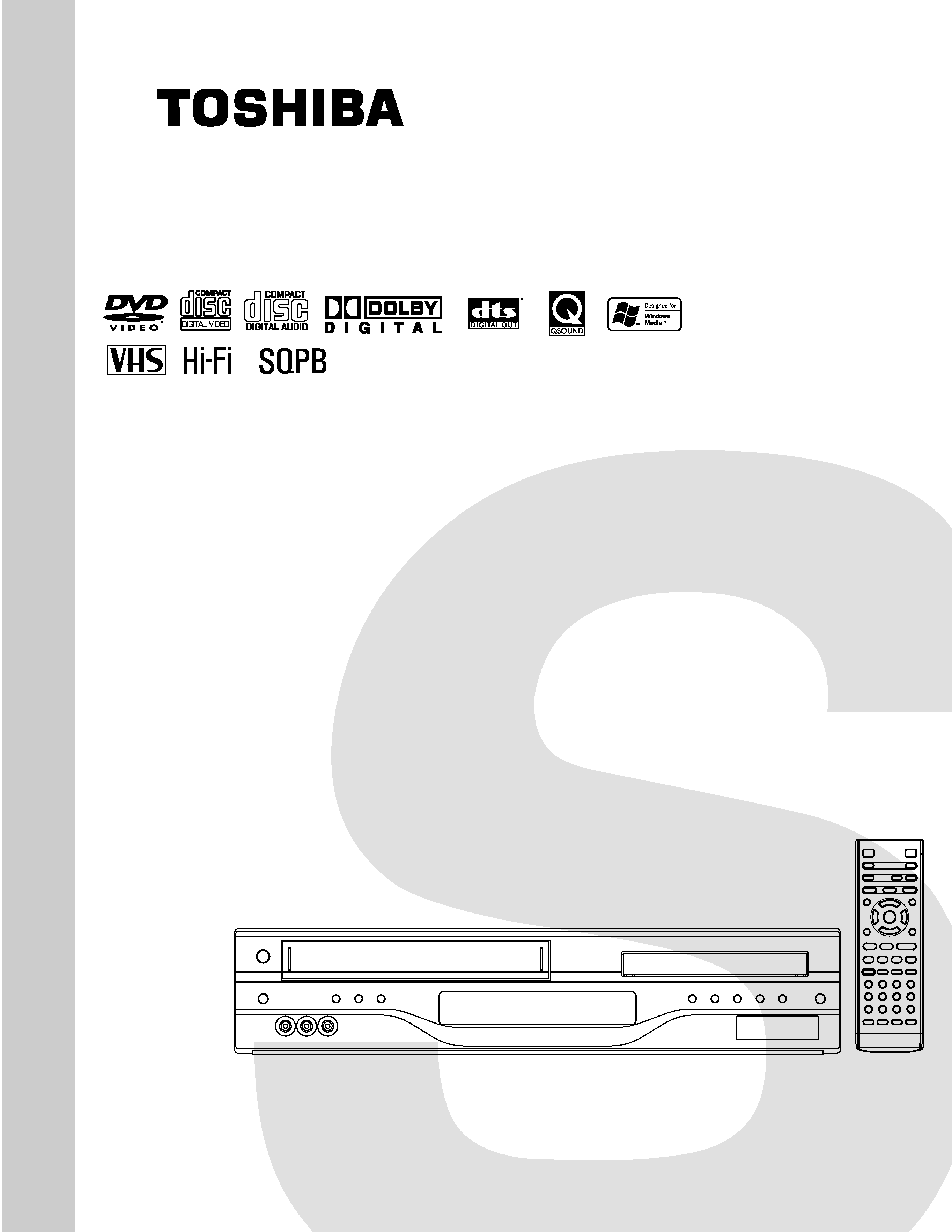 DOCUMENT CREATED IN JAPAN, May, 2005
Please see the rating label on the back panel and
confirm the model name before repair.
---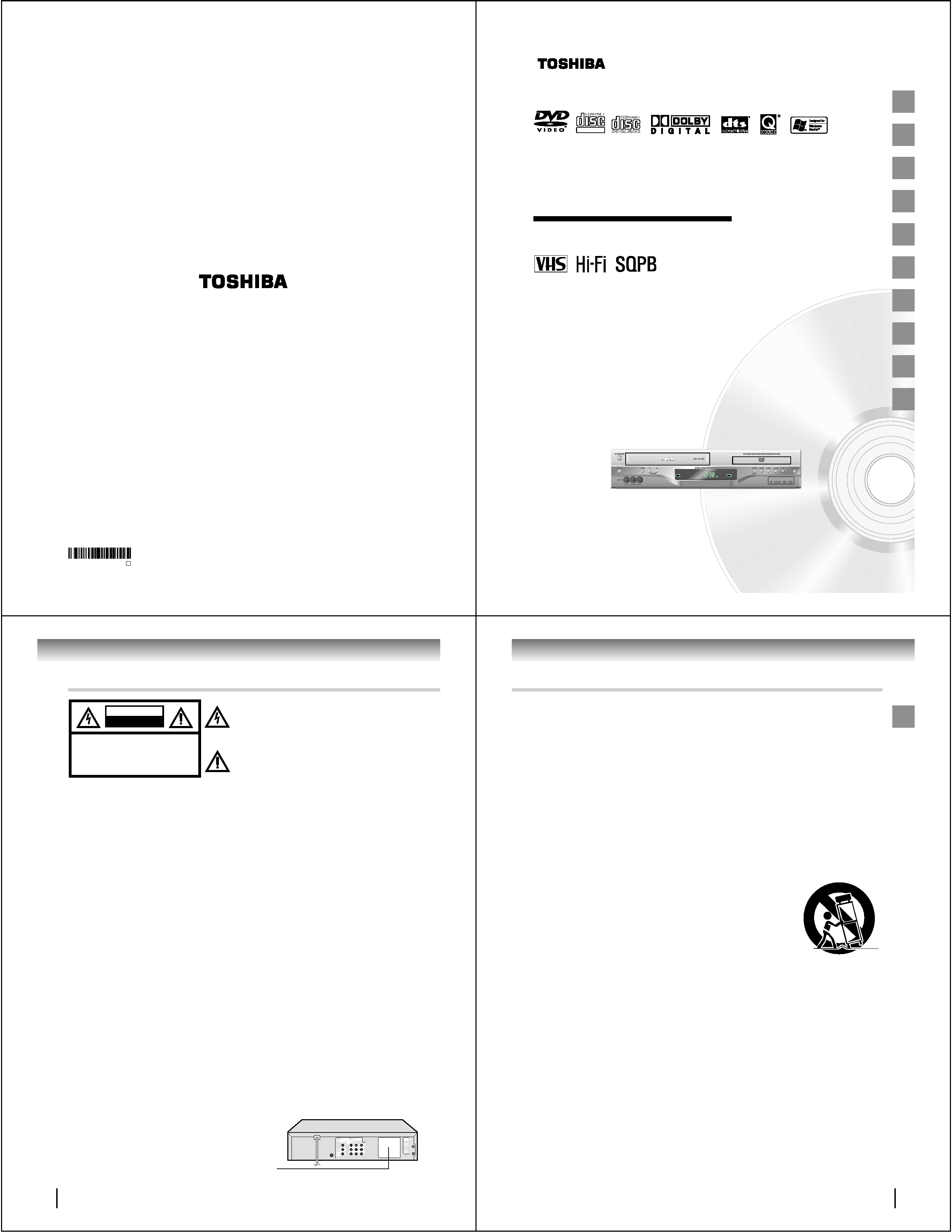 ColorStream and ColorStream Pro are registered trademarks of Toshiba America Consumer Products, L.L.C.
©2005 Toshiba Corporation
This device does not tape-record copy protected DVD Video Discs.
WARNING:
TO REDUCE THE RISK OF FIRE OR ELECTRIC SHOCK, do not expose this appliance to rain
CAUTION:
TO PREVENT ELECTRIC SHOCK DO NOT USE THIS POLARIZED PLUG WITH AN
EXTENSION CORD, RECEPTACLE OR OTHER OUTLET UNLESS THE BLADES CAN
BE FULLY INSERTED TO PREVENT BLADE EXPOSURE.
:
This equipment has been tested and found to comply with the limits for a Class B digital device,
pursuant to Part 15 of the FCC Rules. These limits are designed to provide reasonable protection
against harmful interference in a residential installation. This equipment generates, uses and can
radiate radio frequency energy and, if not installed and used in accordance with the instructions,
may cause harmful interference to radio communications.
However, there is no guarantee that interference will not occur in a particular installation. If this
equipment does cause harmful interference to radio or television reception, which can be deter-
mined by turning the equipment off and on, the user is encouraged to try to correct the interference
by one or more of the following measures:
- Reorient or relocate the receiving antenna.
- Increase the separation between the equipment and receiver.
- Connect the equipment into an outlet on a circuit different from that to which the receiver is
- Consult the dealer or an experienced radio/TV technician for help.
CAUTION:
Changes or modifications not expressly approved by the partly responsible for compliance with the
FCC Rules could void the user's authority to operate this equipment.
CAUTION:
THIS DIGITAL VIDEO PLAYER EMPLOYS A LASER SYSTEM.
TO ENSURE PROPER USE OF THIS PRODUCT, PLEASE READ THIS USER'S GUIDE CARE-
FULLY AND RETAIN FOR FUTURE REFERENCE. SHOULD THE UNIT REQUIRE MAINTE-
NANCE, CONTACT AN AUTHORIZED SERVICE LOCATION.
USE OF CONTROLS, ADJUSTMENTS OR THE PERFORMANCE OF PROCEDURES OTHER
THAN THOSE SPECIFIED HEREIN MAY RESULT IN HAZARDOUS RADIATION EXPOSURE.
TO PREVENT DIRECT EXPOSURE TO LASER BEAM, DO NOT TRY TO OPEN THE ENCLO-
SURE. VISIBLE LASER RADIATION MAY BE PRESENT WHEN THE ENCLOSURE IS OPENED.
The lightning flash with arrowhead symbol, within an
equilateral triangle is intended to alert the user to the presence
of uninsulated dangerous voltage within the product's
enclosure that may be of sufficient magnitude to constitute a
risk of electric shock to persons.
The exclamation point within an equilateral triangle is intended
to alert the user to the presence of important operating and
maintenance (servicing) instructions in the literature
accompanying the appliance.
Location of the required Marking
The rating sheet and the safety caution are on the rear of the unit.
CERTIFICATION: COMPLIES WITH FDA RADIATION PERFORMANCE
STANDARDS, 21 CFR SUBCHAPTER J.
CAUTION:
TOREDUCETHERISKOFELECTRIC
SHOCK, DO NOT REMOVE COVER
(OR BACK). NO USER-SERVICEABLE
PARTS INSIDE. REFER SERVICING TO
QUALIFIED SERVICE PERSONNEL.
All the safety and operating instructions should be read before the unit is operated.
The safety and operating instructions should be retained for future reference.
All warnings on the unit and in the operating instructions should be adhered to.
All operating and use instructions should be followed.
Unplug this unit from the wall outlet before cleaning. Do not use liquid cleaners or aerosol cleaners.
Use a soft dry cloth for cleaning the exterior cabinet only.
The manufacturer of this unit does not make any recommendations for attachments, as they may cause
Do not use this unit near water. For example, near a bathtub, washbowl, kitchen sink, laundry tub, in a wet
basement, or near a swimming pool.
Do not place this unit on an unstable cart, stand, tripod, bracket, or table.
The unit may fall, causing serious injury, and serious damage to the unit.
8A. An appliance and cart combination should be moved with care. Quick stops,
excessive force, and uneven surfaces may cause the appliance and cart
Slots and openings in the cabinet back or bottom are provided for ventilation,
to ensure reliable operation of the unit, and to protect it from overheating.
These openings must not be blocked or covered. The openings should never be blocked by placing the unit
on a bed, sofa, rug, or other similar surface. This unit should never be placed near or over a radiator or heat
source. This unit should not be placed in a built-in installation such as a bookcase or rack unless proper
ventilation is provided and/or the manufacturer's instructions have been adhered to.
This unit should be operated only from the type of power source indicated on the rating plate. If you are not
sure of the type of power supply to your home, consult your appliance dealer or local power company.
11. GROUNDING OR POLARIZATION
This unit is equipped with a polarized alternating-current line plug (a plug having one blade wider than the
other). This plug will fit into the power outlet only one way. This is a safety feature. If you are unable to
insert the plug fully into the outlet, try reversing the plug. If the plug should still fail to fit, contact your
electrician to replace your obsolete outlet. Do not defeat the safety purpose of the grounding-type plug.
12. POWER-CORD PROTECTION
Power-supply cords should be routed so that they are not likely to be walked on or pinched by items placed
upon or against them, paying particular attention to cords at plugs, convenience receptacles, and the point
where they exit from the appliance.
(symbol provided by RETAC)
---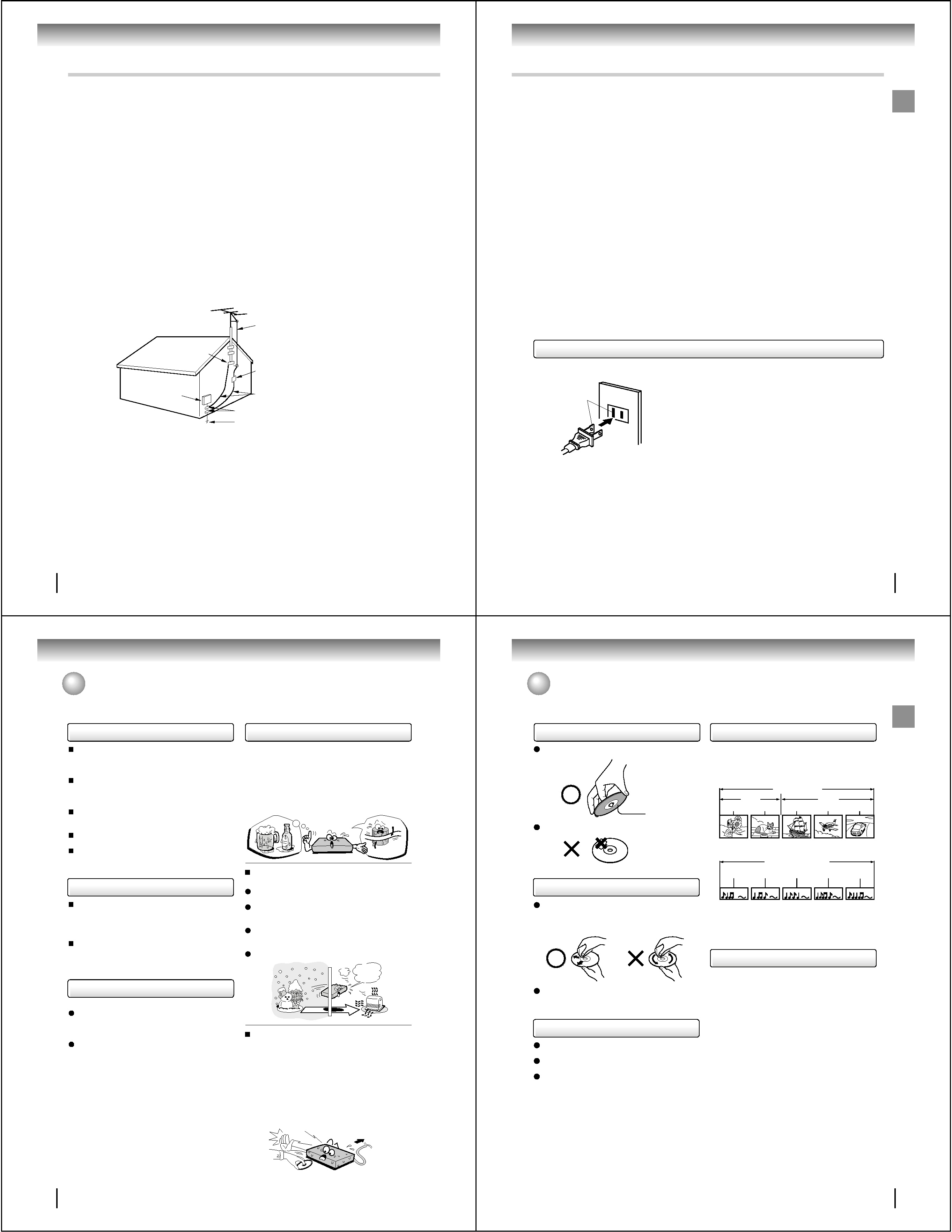 To protect your unit from a lightning storm, or when it is left unattended and unused for long periods of time,
unplug it from the wall outlet and disconnect the antenna or cable system. This will prevent damage to the
unit due to lightning and power line surges.
An outside antenna system should not be located in the vicinity of overhead power lines or other electric
light or power circuits, or where it can fall onto or against such power lines or circuits. When installing an
outside antenna system, extreme care should be taken to keep from touching such power lines or circuits,
as contact with them might be fatal.
Do not overload wall outlets and extension cords, as this can result in a risk of fire or electric shock.
16. OBJECT AND LIQUID ENTRY
Do not push objects through any openings in this unit, as they may touch dangerous voltage points or short
out parts that could result in fire or electric shock. Never spill or spray any type of liquid into the unit.
17. OUTDOOR ANTENNA GROUNDING
If an outside antenna or cable system is connected to the unit, be sure the antenna or cable system is
grounded to provide some protection against voltage surges and built-up static charges, Section 810 of the
National Electrical Code, ANSI/NFPA 70, provides information with respect to proper grounding of the mast
and supporting structure, grounding of the lead-in wire to an antenna discharge unit, size of grounding
conductors, location of antenna discharge unit, connection to grounding electrodes, and requirements for
EXAMPLE OF ANTENNA GROUNDING AS PER THE
NEC-NATIONAL ELECTRICAL CODE
Do not attempt to service this unit yourself as opening or removing covers may expose you to dangerous
voltage or other hazards. Refer all servicing to qualified service personnel.
a. When the power-supply cord or plug is damaged.
b. If liquid has been spilled, or objects have fallen into the unit.
c. If the unit has been exposed to rain or water.
d. If the unit does not operate normally by following the operating instructions. Adjust only those controls that
are covered by the operating instructions, as an improper adjustment of other controls may result in damage
and will often require extensive work by a qualified technician to restore the unit to its normal operation.
e. If the unit has been dropped or the cabinet has been damaged.
f . When the unit exhibits a distinct change in performance, this indicates a need for service.
When replacement parts are required, be sure the service technician uses replacement parts specified by
the manufacturer or those that have the same characteristics as the original part.
Unauthorized substitutions may result in fire, electric shock or other hazards.
Upon completion of any service or repairs to this unit, ask the service technician to perform safety checks to
determine that the unit is in proper operating condition.
The product should be situated away from heat sources such as radiators, heat registers, stoves, or other
products (including amplifiers) that produce heat.
Keep your fingers well clear of the disc tray as it is closing. It may cause serious personal injury.
When you connect the product to other equipment, turn off the power and unplug all of the equipment from
the wall outlet. Failure to do so may cause a product damage. Read the owner's manual of the other
equipment carefully and follow the instructions when making any connections.
Do not look into the opening of the disc tray or ventilation opening of the product to see the source of the
laser beam. It may cause sight damage.
Do not use a cracked, deformed, or repaired disc. These discs are easily broken and may cause serious
personal injury and product malfunction.
26. NOTE TO CABLE TV SYSTEM INSTALLER
This reminder is provided to call the Cable TV system installer's attention to Article 820-40 of the NEC that
provides guidelines for proper grounding and, in particular, specifies that the cable ground shall be con-
nected to the grounding system of the building, as close to the point of cable entry as practical.
Use the AC polarized line cord provided for operation on AC. Insert
the AC cord plug into a standard 120V 60Hz polarized AC outlet.
· Never connect the AC line cord plug to other than the specified
voltage (120V 60Hz). Use the attached power cord only.
· If the polarized AC cord does not fit into a non-polarized AC
outlet, do not attempt to file or cut the blade. It is the user's
responsibility to have an electrician replace the obsolete outlet.
· If you cause a static discharge when touching the unit and the
unit fails to function, simply unplug the unit from the AC outlet
and plug it back in. The unit should return to normal operation.
(One blade is wider than the other.)
IMPORTANT SAFEGUARDS
/ Power source
When shipping the DVD/VCR, the original shipping
carton and packing materials come in handy. For
maximum protection, repack the unit as it was
originally packed at the factory.
Do not use volatile liquids, such as insect spray, near
the DVD/VCR. Do not leave rubber or plastic
products to contact the DVD/VCR for a prolonged
period. They will leave marks on the finish.
The top and rear panels of the DVD/VCR may
become warm after a long period of use. This is not a
When the DVD/VCR is not in use, be sure to remove
the disc and the video cassette turn off the power.
If you do not use the DVD/VCR for a long period, the
unit may not function properly in the future. Turn on
and use the DVD/VCR occasionally.
Place the DVD/VCR on a level surface. Do not use it
on a shaky or unstable surface such as a wobbling
table or inclined stand. The loaded disc or the video
tape may become dis-aligned and damage the DVD/
When you place this DVD/VCR near a TV, radio, or
VCR, the playback picture may become poor and the
sound may be distorted. In this case, place the DVD/
VCR away from the TV, radio or VCR.
Use a soft, dry cloth for cleaning.
Do not use any type of solvent, such as thinner and
benzine, as they may damage the surface of the
If you use a chemical saturated cloth to clean the unit,
follow that product's instructions.
Note on moisture condensation
Moisture condensation damages the DVD/VCR.
Please read the following carefully.
Moisture condensation occurs, for example, when you
pour a cold drink into a glass on a warm day. Drops of
water form on the outside of the glass. In the same way,
moisture may condense on the head drum or the optical
pick-up lens inside this unit, one of the most crucial
internal parts of the DVD/VCR.
Moisture condensation occurs during the
When you bring the DVD/VCR directly from a cold
When you use the DVD/VCR in a room where you
just turned on the heater, or a place where the cold
wind from the air conditioner directly hits the unit.
In summer, when you use the DVD/VCR in a hot and
humid place just after you move the unit from an air
When you use the DVD/VCR in a humid place.
Do not use the DVD/VCR when moisture
If you use the DVD/VCR in such a situation, it may
damage discs and internal parts. Remove the disc or
the video tape, connect the power cord of the DVD/
VCR to the wall outlet, turn on the DVD/VCR, and
leave it for two or three hours. After two or three
hours, the DVD/VCR will have warmed up and
evaporated any moisture. Keep the DVD/VCR
connected to the wall outlet and moisture
condensation will seldom occur.
Do not touch the playback side of the disc.
Do not attach paper or tape to discs.
Fingerprints and dust on the disc cause picture and
sound deterioration. Wipe the disc from the center
outwards with a soft cloth. Always keep the disc
Do not use any type of solvent such as thinner,
benzine, commercially available cleaners or antistatic
spray for vinyl LPs. It may damage the disc.
Do not store discs in a place subject to direct sunlight
Do not store discs in places subject to moisture and
dust such as a bathroom or near a humidifier.
Store discs vertically in a case. Stacking or placing
objects on discs outside of their case may cause
Structure of disc contents
Normally, DVD video discs are divided into titles, and
the titles are sub-divided into chapters. VIDEO CDs and
audio CDs are divided into tracks.
Each title, chapter or track is assigned a number, which
is called "title number", "chapter number" or "track
There may be discs that do not have these numbers.
The unauthorized recording, use, distribution, or
revision of television programs, videotapes, DVDs and
other materials, is prohibited under the Copyright Laws
of the United States and other countries, and may
subject you to civil and/or criminal liability.
This product incorporates copyright protection
technology that is protected by method claims of certain
U.S. patents and other intellectual property rights owned
by Macrovision Corporation and other rights owners.
Use of this copyright protection technology must be
authorized by Macrovision Corporation, and is intended
for home and other limited viewing uses only unless
otherwise authorized by Macrovision Corporation.
Reverse engineering or disassembly is prohibited.
---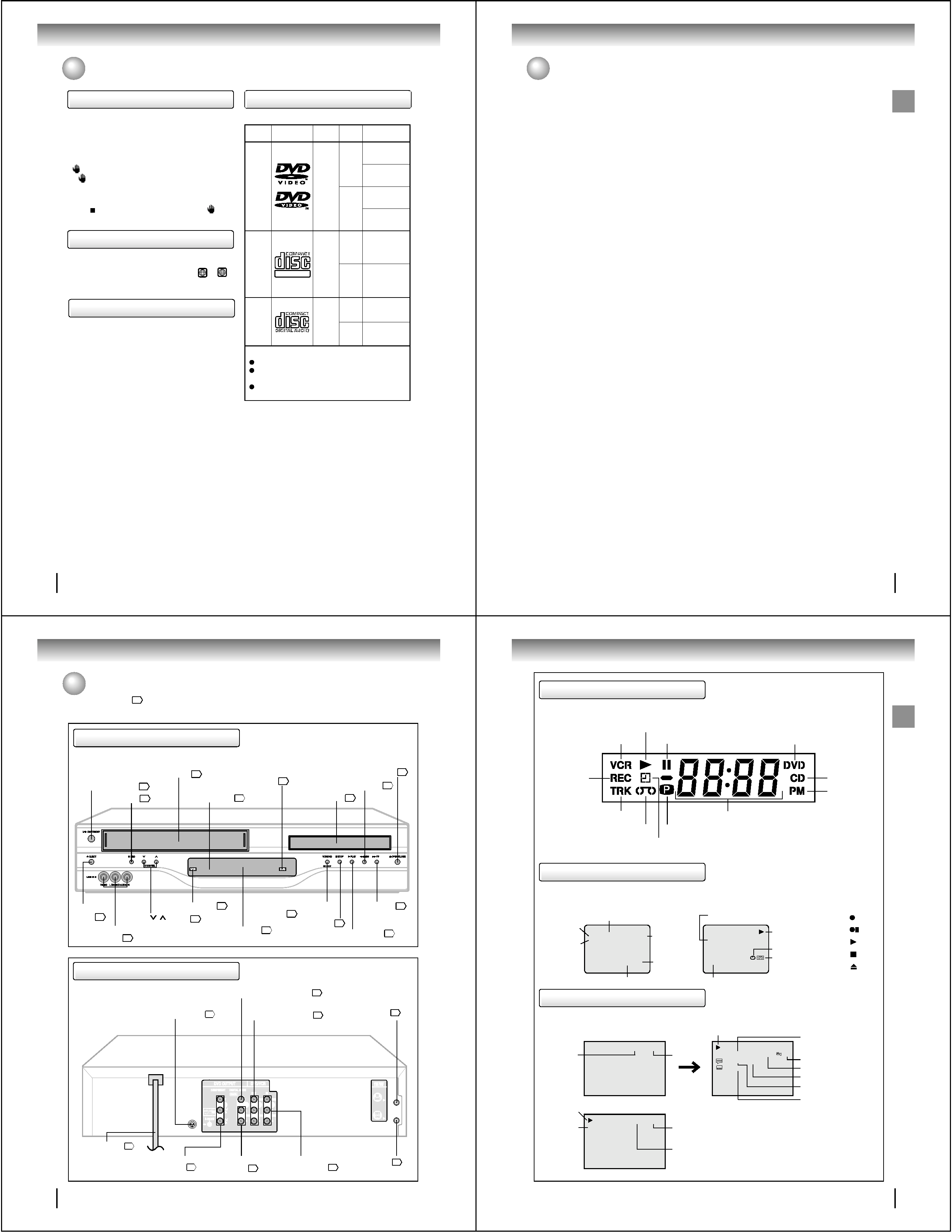 About this owner's manual
This owner's manual explains the basic instructions of
this DVD/VCR. Some DVD video discs are produced in
a manner that allows specific or limited operation during
playback. As such, the DVD/VCR may not respond to all
operating commands. This is not a defect in the DVD/
VCR. Refer to instruction notes of discs.
" may appear on the TV screen during operation.
" means that the operation is not permitted by the
For example, sometimes it is unable to stop the
playback of copyright message of the disc when the
STOP ( ) button is pressed. Alternatively, the "
also indicate that the feature is not available for the disc.
The region number of this DVD/VCR is 1. If region
numbers, which stand for their playable area, are printed
on your DVD video disc and you do not find
1
or
ALL
,
disc playback will not be allowed by the player. (In this
case, the DVD/VCR will display a message on-screen.)
This DVD/VCR supports Video CDs equipped with the
PBC (Version 2.0) function. (PBC is the abbreviation of
Playback Control.) You can enjoy two playback
variations depending on types of discs.
· Video CD not equipped with PBC function
Sound and movie can be played on this DVD/VCR in
the same way as an audio CD.
· Video CD equipped with PBC function
In addition to operation of a Video CD not equipped
with the PBC function, you can enjoy playback of
interactive software with search function by using the
menu displayed on the TV screen (Menu Playback).
Some of the functions described in this owner's
manual may not work with some discs.
This DVD/VCR can play the following discs.
· You cannot play discs other than those listed above.
· You cannot play discs of DVD-RAM, DVD-ROM, Photo
CD, etc., or non standardized discs even if they may
· Some CD-R/RWs cannot be played back depending
on the recording conditions.
· This DVD/VCR uses the NTSC color system, and
cannot play DVD video discs recorded in any other
color system (PAL, SECAM, etc.).
Because of problems and errors that can occur
during the creation of DVD and Video CD software
and/or the manufacture of DVD and Video CD discs,
Toshiba cannot guarantee that this DVD/VCR will
play every feature of every DVD bearing the DVD
logo and/or every Video CD bearing the CD logo.
As one of the creators of DVD technology, Toshiba
DVD players are manufactured using the highest
standards of quality, and as a result, such
incompatibilities are rare. If you happen to experience
any difficulty playing a DVD or a Video CD on a this
DVD/VCR, please feel free to call our Contact listed
in "How to Obtain Warranty Services" (page 65).
Notes on discs (continued)
The following discs are also available.
DVD-R/RW discs of DVD video format
CD-R/CD-RW discs of CD-DA, Video CD, SVCD,
Kodak Picture CD and FUJICOLOR CD format
Some of these discs may be incompatible.
SAFETY PRECAUTIONS ................................ 2
IMPORTANT SAFEGUARDS .......................... 3
Power source ................................................... 5
Precautions ...................................................... 6
Notes on discs .................................................. 7
Contents. .......................................................... 9
Identification of controls ................................. 10
Antenna connections ...................................... 14
Cable TV connections .................................... 16
Connecting to a TV ........................................ 18
Connecting to optional equipment .................. 20
Recording a TV program ................................ 34
One-touch Timer Recording (OTR) ................ 36
Timer recording .............................................. 37
Stereo recording and playback ...................... 39
Second Audio Program (SAP) ........................ 39
Duplicating a video tape ................................. 40
Recording a DVD/CD disc .............................. 41
Loading and unloading a cassette tape ......... 29
Cassette tape playback .................................. 30
Special playback ............................................ 31
Convenience function ..................................... 32
Setting the video channel ............................... 22
Setting the language ...................................... 23
Clock setting ................................................... 24
Tuner setting .................................................. 27
Playing a disc ................................................. 42
Zooming ......................................................... 45
Locating desired scene .................................. 45
Marking desired scenes ................................. 46
Repeat playback ............................................. 47
A-B Repeat playback ...................................... 47
Program playback .......................................... 48
Random playback ........................................... 48
Changing angles ............................................ 49
Title selection ................................................. 49
DVD menu ...................................................... 49
Changing soundtrack language ..................... 50
Setting surround sound .................................. 50
Subtitles ......................................................... 51
To turn off the PBC ......................................... 51
MP3/WMA/JPEG operation ............................ 52
Customizing the function settings .................. 55
Temporary disabling of rating level by
DVD disc ........................................................ 60
Language code list ......................................... 61
Troubleshooting ............................................. 62
Specifications ................................................. 63
Limited warranty ............................................. 64
Identification of controls
DVD COAXIAL DIGITAL AUDIO OUT jack
20
DVD/CD/VCD operation status
Press CALL to display VCR operation status on the screen.
To cancel the display, press CALL again.
Each press of DISPLAY, the status display of the disc will appear on the screen and change as follows.
Timer Recording indicator (VCR)
Multifunctional indicator
Tape loaded indicator (VCR)
Disc inserted indicator (DVD)
---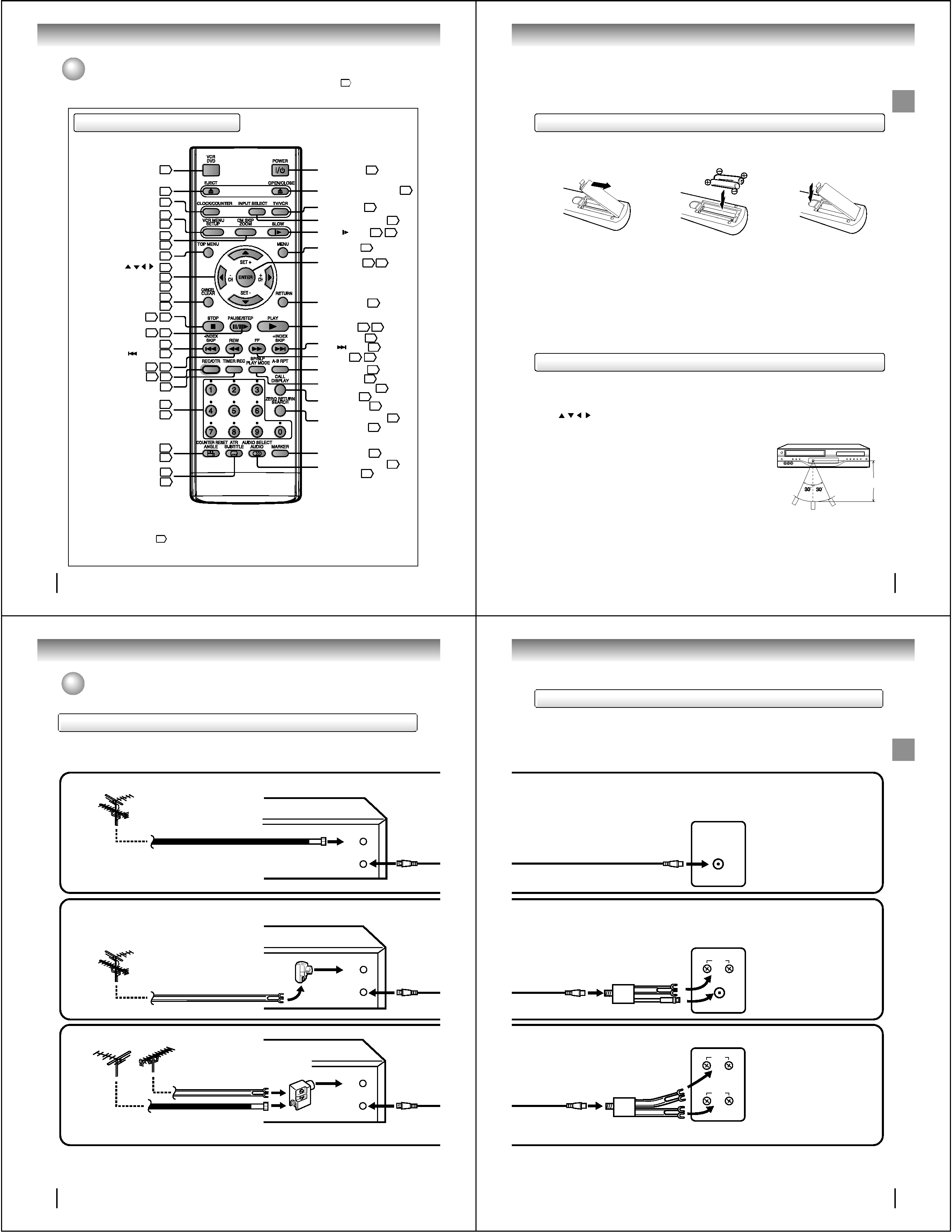 Use the MENU button to display the menu included on
many DVD video discs. To operate a menu, follow the
instructions in "DVD Menu."
49
Identification of Controls (Continued)
The instructions in this manual describe the functions on the remote control. See the page in
OPEN/CLOSE button (DVD) "
· Aim the remote control at the remote sensor and press control buttons to
· Operate the remote control within 30
° angle on either side of the remote
sensor, up to a distance of approx. 7 meters.
Install two "AAA" batteries
(supplied), paying attention to the
polarity diagram in the battery
Open the battery compart-
ment cover in the direction of
Never throw batteries into a fire.
· Be sure to use AAA size batteries.
· Dispose of batteries in a designated disposal area.
· Batteries should always be disposed of with the environment in mind. Always dispose of batteries in accordance with
applicable laws and regulations.
· If the remote control does not operate correctly, or if the operating range becomes reduced, replace batteries with
· When necessary to replace batteries in the remote control, always replace both batteries with new ones. Never mix
battery types or use new and used batteries in combination.
· Always remove batteries from remote control if they are dead or if the remote control is not to be used for an
extended period of time. This will prevent battery acid from leaking into the battery compartment.
· Press POWER to turn the DVD/VCR on or off.
· Select your desired operating mode (DVD or VCR) using VCR DVD.
(DVD or VCR indicator on the front panel will show you which mode is selected.)
· Press CH + or CH ­ to move through the channels one channel at a time.
are also used to navigate on-screen menu system.
· You can directly access specific channels using Direct channel selection buttons (0­9).
· Each press of VCR DVD on the remote control, switches the screen between the VCR screen (VCR mode) and the
· A clear picture will not be obtained by the DVD/VCR unless the antenna signal is good. Connect the antenna to
· For better quality recording, an indoor antenna or a telescopic antenna is not recommended. The use of an outdoor type
· If you are not sure about the connection, please refer to qualified service personnel.
The DVD/VCR must be connected "between" the antenna and the TV. First, disconnect the antenna from the TV and
connect it to the DVD/VCR. Then connect the DVD/VCR to the TV. Below are 3 common methods of connecting an antenna
system to a DVD/VCR. Find the type of antenna system you are using and follow the connection diagram.
If both VHF and UHF antennas have 300 ohm twin lead (flat) wires, use a combiner having two 300 ohm inputs and
Combination VHF/UHF Antenna with 75 ohm Coaxial Cable
Combination VHF/UHF Antenna with 300 ohm Twin Lead (Flat) Wire
Separate VHF and UHF Antennas
300 ohm Twin Lead (Flat) Wire
Matching Transformer 300 ohm Input 75
ohm output (not supplied)
300 ohm Twin Lead (Flat) Wire
Combiner 75/300 ohm Inputs 75 ohm output
If you are using an antenna system, follow these instructions. If you are a Cable TV subscriber, skip ahead to page 16 for
Antenna to DVD/VCR connection
If a VHF or UHF antenna is used,
set the TV/CABLE menu option to
If a VHF or UHF antenna is used,
set the TV/CABLE menu option
If a VHF or UHF antenna is used,
set the TV/CABLE menu option to
75 ohm Coaxial Cable (supplied)
TV with single 75 ohm VHF/UHF antenna
TV with 300 ohm UHF and 75 ohm VHF
TV with 300 ohm UHF and 300 ohm VHF
After you have connected the antenna to the DVD/VCR, you must connect the DVD/VCR to the TV.
Below are 3 common methods of connecting your DVD/VCR to a TV. Find the type of TV you are using and follow the
This DVD/VCR has a single 75 ohm output for connection to a TV. If your TV has separate VHF and UHF antenna
inputs (numbers 2 and 3 below), use a splitter to connect the DVD/VCR to the TV for VHF and UHF reception.
---