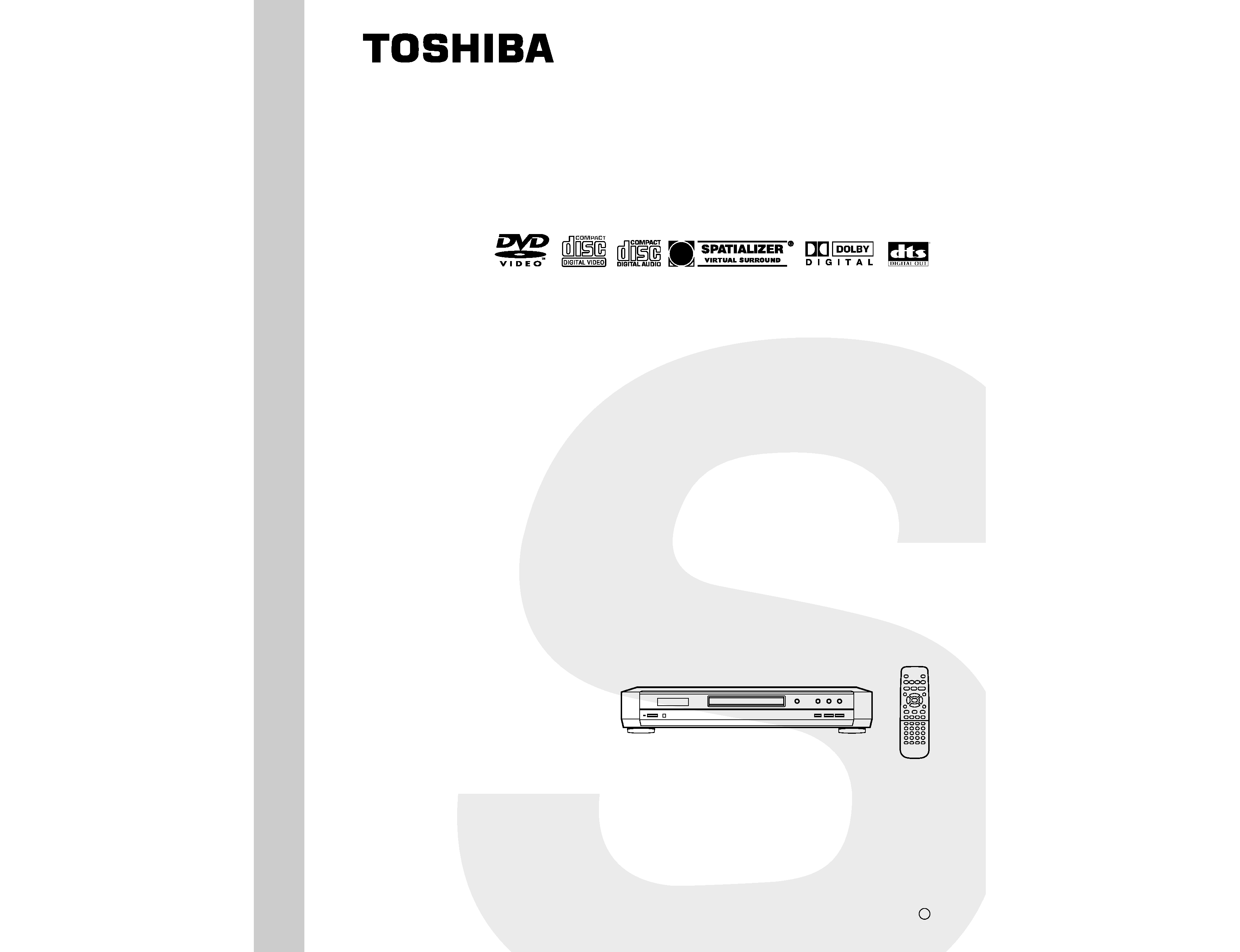 ---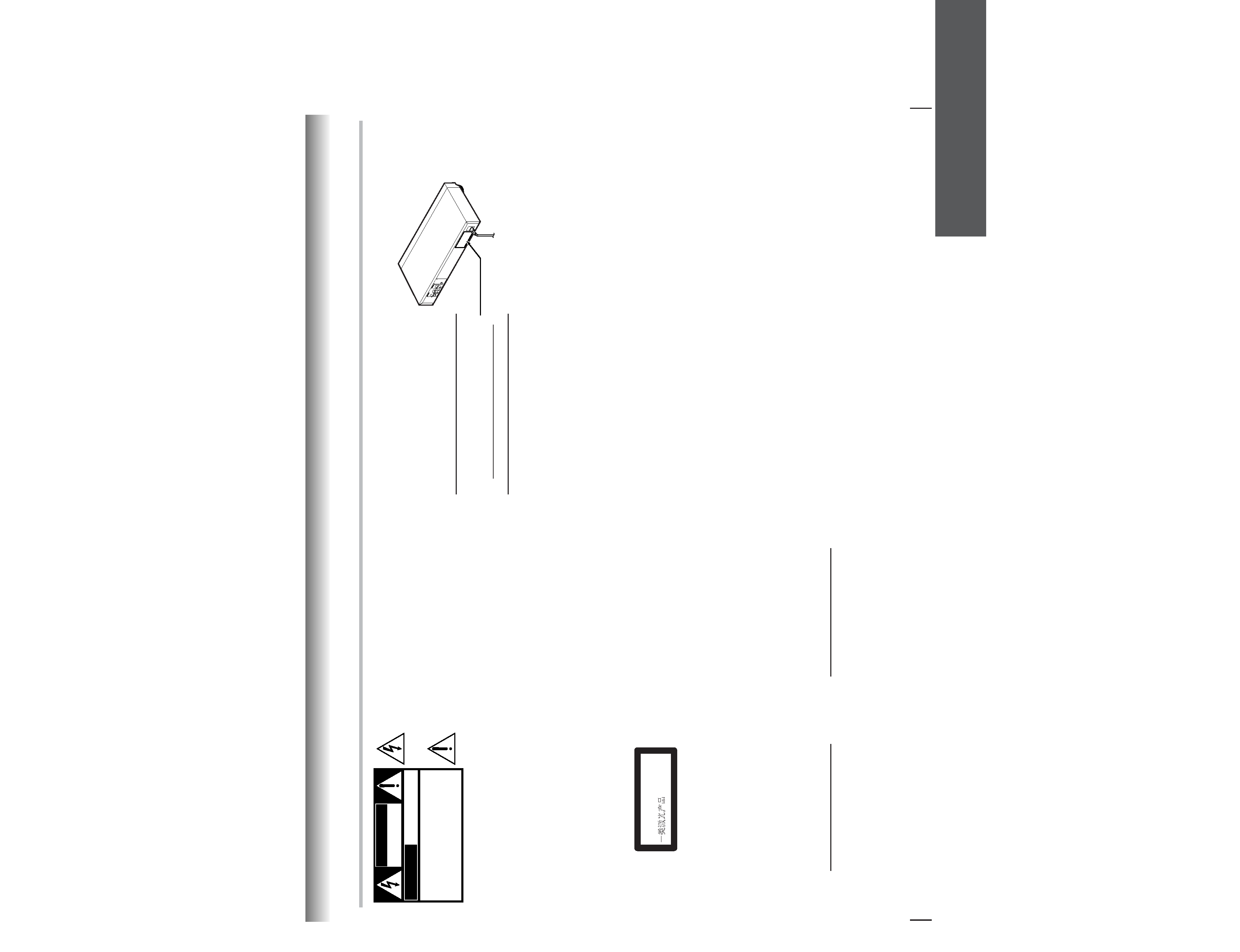 TO REDUCE THE RISK OF FIRE OR ELECTRIC SHOCK, DO NOT EXPOSE THIS APPLIANCE
TO RAIN OR MOISTURE. DANGEROUS HIGH VOLTAGES ARE PRESENT INSIDE THE
ENCLOSURE. DO NOT OPEN THE CABINET. REFER SERVICING TO QUALIFIED PERSONNEL
This Digital Video Disc Player employs a Laser System.
To ensure proper use of this product, please read this owner's manual carefully and retain for
future reference. Should the unit require maintenance, contact an authorized service location -
Use of controls or adjustments or performance of procedures other than those specified herein
may result in hazardous radiation exposure.
To prevent direct exposure to laser beam, do not try to open the enclosure.
Visible and invisible laser radiation when open and interlocks defeated.
In the spaces provided below, record the Model and Serial No. located on the rear panel of your DVD video
Retain this information for future reference.
The lightning flash with arrowhead symbol, within an equilat-
eral triangle, is intended to alert the user to the presence of
uninsulated "dangerous voltage" within the product's enclo-
sure that may be of sufficient magnitude to constitute a risk
of electric shock to persons.
The exclamation point within an equilateral triangle is in-
tended to alert the user to the presence of important operat-
ing and maintenance (servicing) instructions in the literature
accompanying the appliance.
RISQUE DE CHOC ELECTRIQUE NE
COVER (OR BACK). NO USERSERVICEABLE
QUALIFIED SERVICE PERSONNEL.
Location of the required label
TO REDUCE THE RISK OF ELECTRIC SHOCK.
DO NOT REMOVE COVER. REFER SERVICING
TO QUALIFIED SERVICE PERSONNEL.
---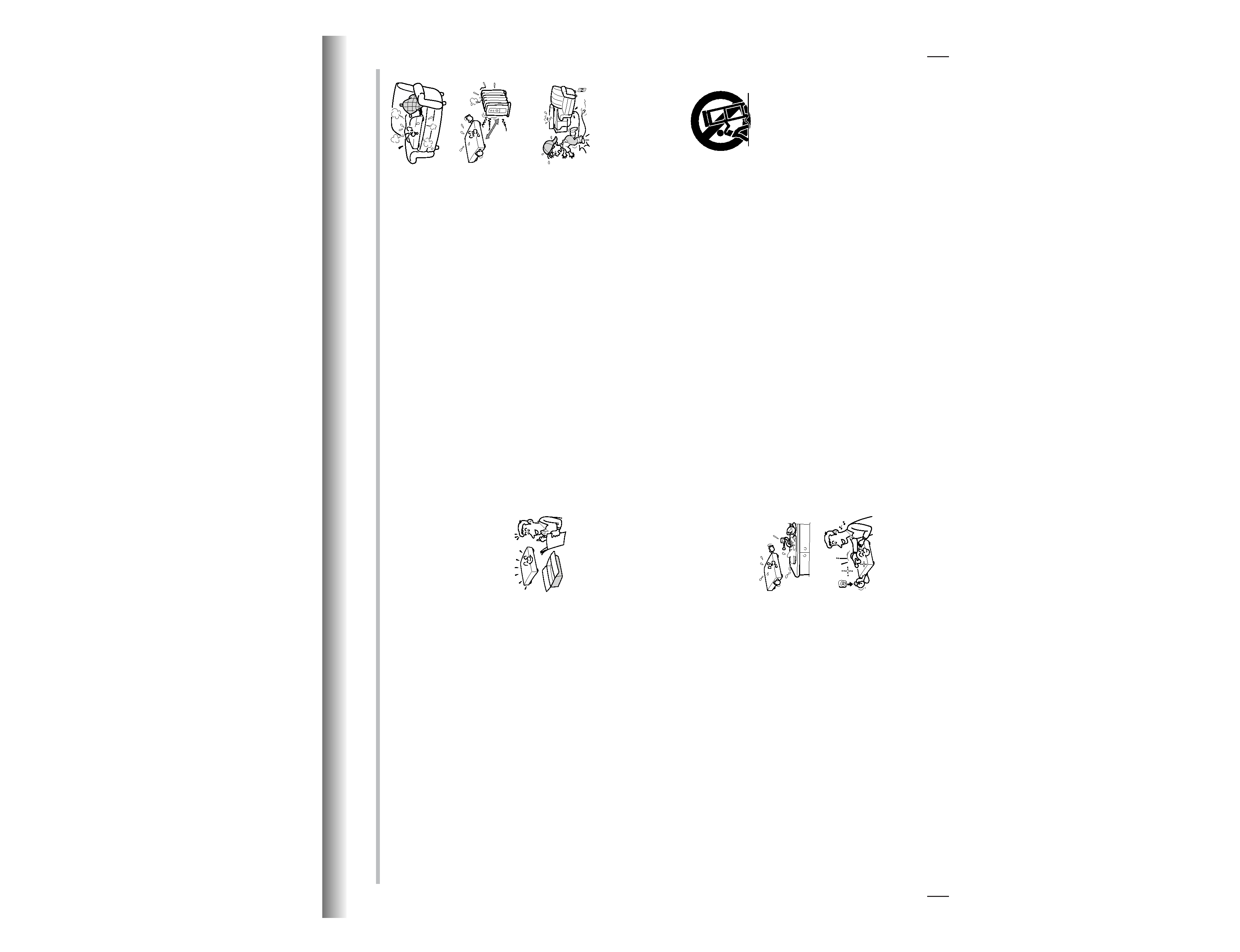 IMPORTANT SAFETY INSTRUCTIONS
CAUTION: PLEASE READ AND OBSERVE ALL WARNINGS AND INSTRUCTIONS GIVEN IN THIS
OWNER'S MANUAL AND THOSE MARKED ON THE UNIT. RETAIN THIS BOOKLET FOR
This set has been designed and manufactured to assure personal safety. Improper use can result in electric
shock or fire hazard. The safeguards incorporated in this unit will protect you if you observe the following
procedures for installation, use and servicing. This unit is fully transistorized and does not contain any parts that
can be repaired by the user.
DO NOT REMOVE THE CABINET COVER, OR YOU MAY BE EXPOSED TO DANGEROUS VOLTAGE.
REFER SERVICING TO QUALIFIED SERVICE PERSONNEL ONLY.
1. Read these instructions.
2. Keep these instructions.
4. Follow all instructions.
5. Do not use this apparatus near water.
6. Clean only with dry cloth.
7. Do not block any ventilation openings. Install in accordance with the
manufacturer's instructions.
8. Do not install near any heat sources such as radiators, heat registers, stoves,
or other apparatus (including amplifiers) that produce heat.
9. Protect the power cord from being walked on or pinched particularly at plugs,
convenience receptacles, and the point where they exit from the apparatus.
10. Only use attachments/accessories specified by the manufacturer.
11. Use only with the cart, stand, tripod, bracket, or table specified by the
manufacturer, or sold with the apparatus. When a cart is used, use caution
when moving the cart/apparatus combination to avoid injury from tip-over.
---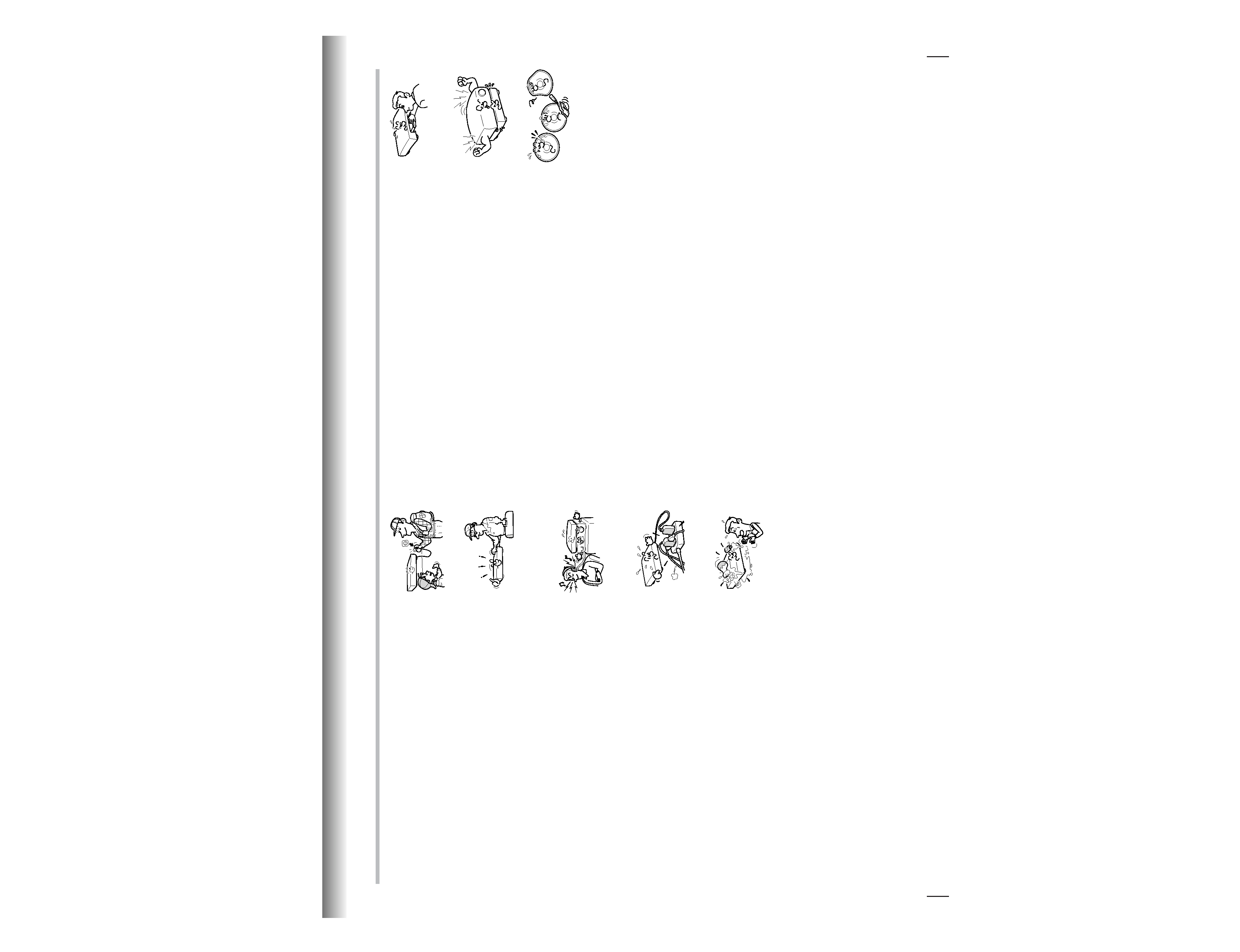 IMPORTANT SAFETY INSTRUCTIONS
12. Unplug this apparatus during lightning storms or when unused for long periods
13. Refer all servicing to qualified service personnel. Servicing is required when
the apparatus has been damaged in any way, such as power-supply cord or
plug is damaged, liquid has been spilled or objects have fallen into the
apparatus, the apparatus has been exposed to rain or moisture, does not
operate normally, or has been dropped.
14. When you use headphones, keep the volume at a moderate level. If you use
the headphones continuously with high volume sound, it may cause hearing
15. Do not overload wall outlets; extension cords, or integral convenience
receptacles as this can result in a risk of fire or electric shock.
16. Never insert objects of any kind into this apparatus through openings as they
may touch dangerous voltage points or short-out parts that could result in a
fire or electric shock. Never spill liquid of any kind on the apparatus.
17. Keep your fingers well clear of the disc tray as it is closing. Neglecting to do
so may cause serious personal injury.
18. Do not place a heavy object on or step on the apparatus. The object may fall,
causing serious personal injury and serious damage to the apparatus.
19. Do not use a cracked, deformed, or repaired disc. These discs are easily
broken and may cause serious personal injury and apparatus malfunction.
---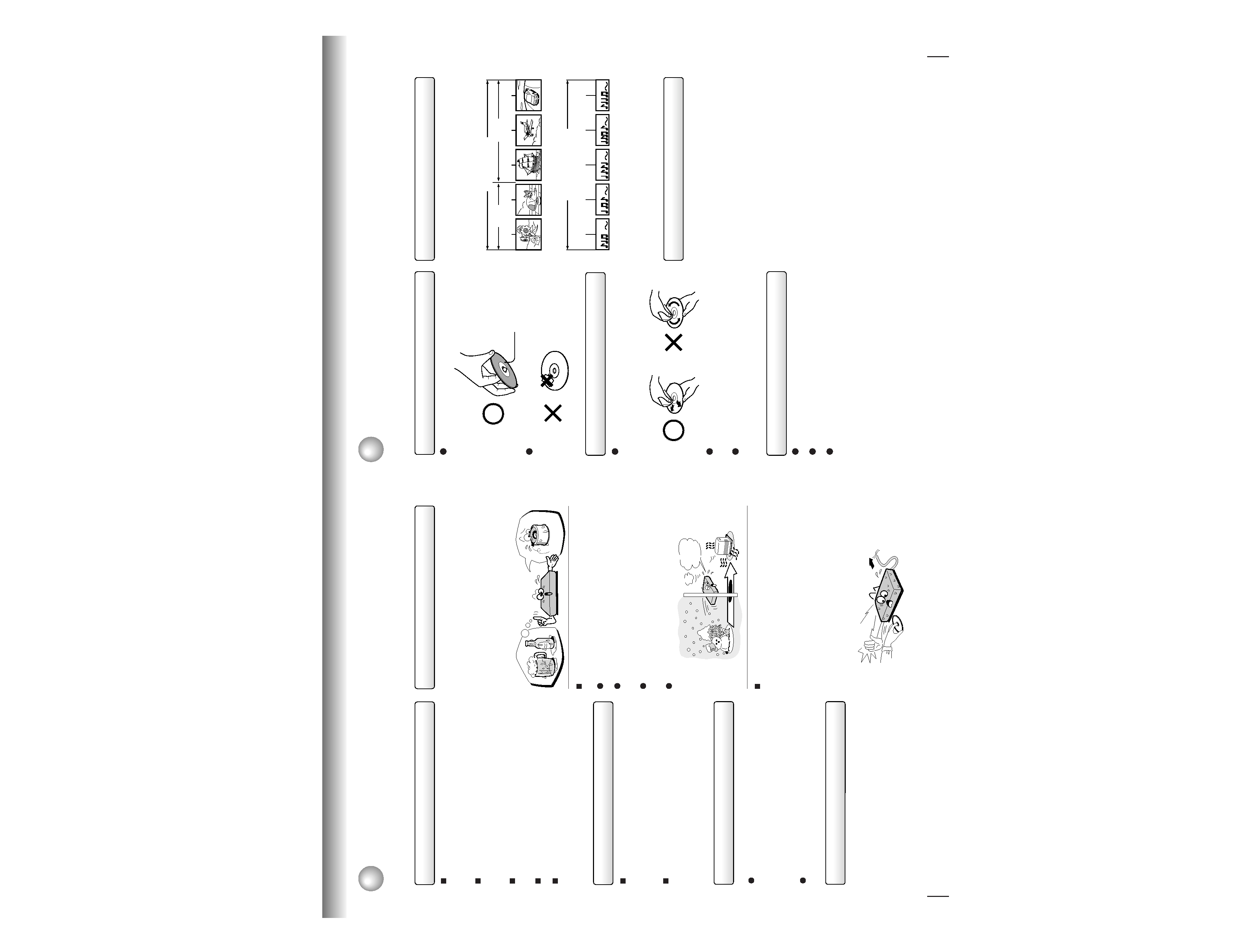 When shipping the DVD video player, the original
shipping carton and packing materials come in handy.
For maximum protection, repack the unit as it was
originally packed at the factory.
Do not use volatile liquids, such as insect spray, near
the DVD video player. Do not leave rubber or plastic
products in contact with the DVD video player for a
long time. They will leave marks on the finish.
The top and rear panels of the DVD video player may
become warm after a long period of use. This is not a
When the DVD video player is not in use, be sure to
remove the disc and turn off the power.
If you do not use the DVD video player for a long
period, the unit may not function properly in the
future. Turn on and use the DVD video player
Place the DVD video player on a level surface. Do not
use it on a shaky or unstable surface such as a
wobbling table or inclined stand. The loaded disc may
come off the proper position and cause damage to
When you place this DVD video player near a TV,
radio, or VTR, the playback picture may become poor
and the sound may be distorted. In this case, place
the DVD video player away from the TV, radio, or
Use a soft, dry cloth for cleaning.
For stubborn dirt, soak the cloth in a weak detergent
solution, wring well and wipe. Use a dry cloth to wipe
Do not use any type of solvent, such as thinner and
benzine, as they may damage the surface of the DVD
If you use a chemical saturated cloth to clean the unit,
follow that product's instructions.
To obtain a clear picture
The DVD video player is a high technology, precision
device. If the optical pick-up lens and disc drive parts
are dirty or worn down, the picture quality becomes
poor. To obtain a clear picture, we recommend regular
inspection and maintenance (cleaning or parts
replacement) every 1,000 hours of use depending on
the operating environment. For details, contact your
Notes on moisture condensation
Moisture condensation damages the DVD video
player. Please read the following carefully.
Moisture condensation occurs, for example, when you
pour a cold drink into a glass on a warm day. Drops of
water form on the outside of the glass. In the same way,
moisture may condense on the optical pick-up lens
inside this unit, one of the most crucial internal parts of
Moisture condensation occurs during the
When you bring the DVD video player directly from a
cold place to a warm place.
When you use the DVD video player in a room where
you just turned on the heater, or a place where the
cold wind from the air conditioner directly hits the unit.
In summer, when you use the DVD video player in a
hot and humid place just after you move the unit from
When you use the DVD video player in a humid place.
Do not use the DVD video player when moisture
If you use the DVD video player in such a situation, it
may damage discs and internal parts. Remove the
disc, connect the power cord of the DVD video player
to the wall outlet, turn on the DVD video player, and
leave it for two or three hours. After two or three
hours, the DVD video player will have warmed up and
evaporated any moisture. Keep the DVD video player
connected to the wall outlet and moisture
condensation will seldom occur.
Do not touch the playback side of the disc.
Do not attach paper or tape to discs.
Fingerprints and dust on the disc cause picture and
sound deterioration. Wipe the disc from the center
outwards with a soft cloth. Always keep the disc
If you cannot wipe off the dust with a soft cloth, wipe
the disc lightly with a slightly moistened soft cloth and
Do not use any type of solvent such as thinner,
benzine, commercially available cleaners or antistatic
spray for vinyl LPs. It may damage the disc.
Do not store discs in a place subject to direct sunlight
Do not store discs in places subject to moisture and
dust such as a bathroom or near a humidifier.
Store discs vertically in a case. Stacking or placing
objects on discs outside of their case may cause
Structure of disc contents
Normally, DVD video discs are divided into titles, and
the titles are sub-divided into chapters. VIDEO CDs/
audio CDs are divided into tracks.
Each title, chapter or track is assigned a number, which
is called "title number", "chapter number" or "track
There may be discs that do not have these numbers.
It is forbidden by law to copy, broadcast, show,
broadcast on cable, play in public, and rent copyrighted
material without permission.
DVD video discs are copy protected, and any recordings
made from these discs will be distorted.
This product incorporates copyright protection
technology that is protected by method claims of certain
U.S. patents and other intellectual property rights owned
by Macrovision Corporation and other rights owners.
Use of this copyright protection technology must be
authorized by Macrovision Corporation, and is intended
for home and other limited viewing uses only unless
otherwise authorized by Macrovision Corporation.
Reverse engineering or disassembly is prohibited.
---