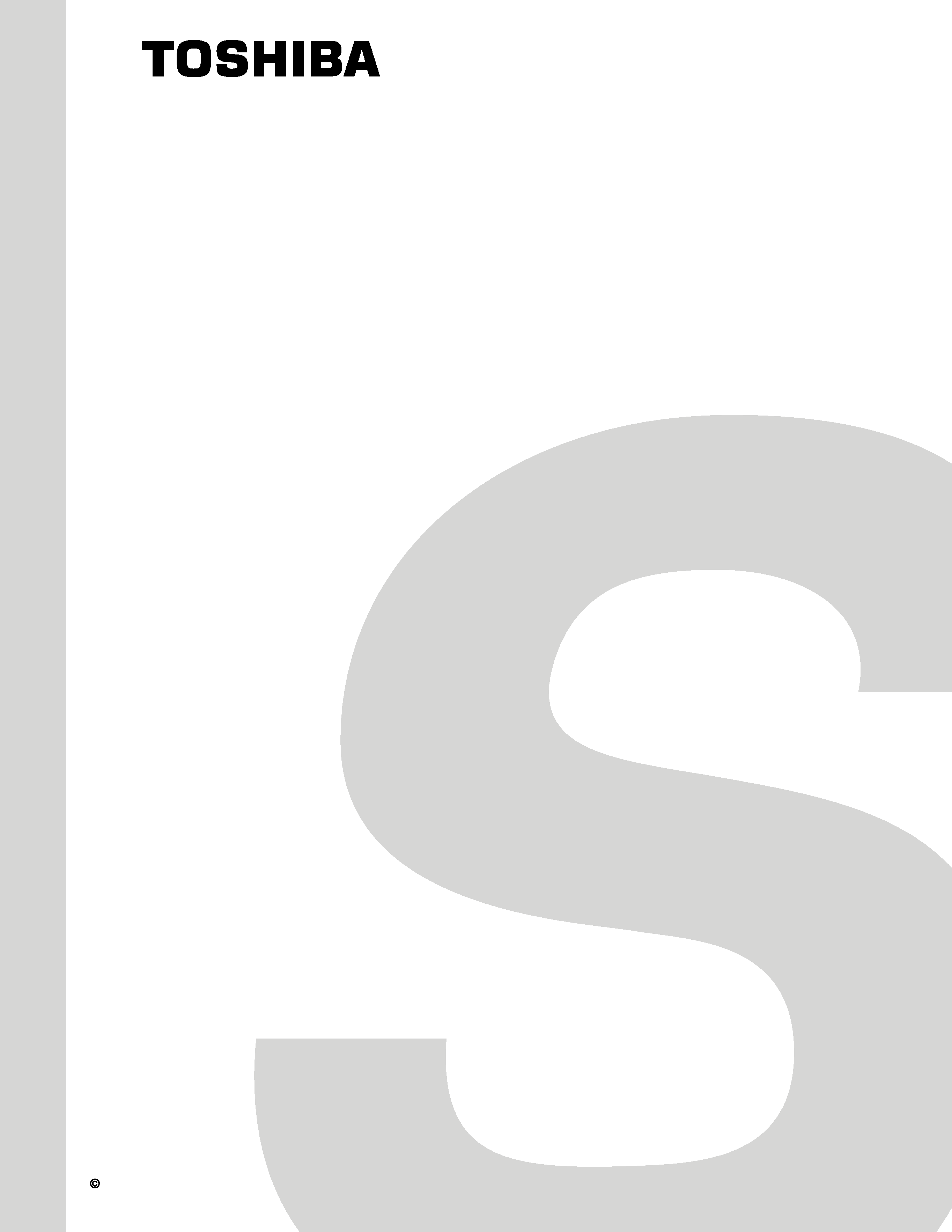 Published in Japan, May. 2005 (YC)
65H85C is the same as 51/57H84 except for the parts list, SPK/CAPA and DEF
POWER pcbs, and SPK/CAPA and DEF POWER schematic diagrams on back of
Use this service manual together with the original service manual of 46/51/57H84
(File No. 020-200404 Revised.1).
---

This product is manufactured using lead-free solder as a part of a movement within the CE
industry at large to be environmentally responsible. Lead-free solder must be used in the servicing
and repair of this product.
This product is manufactured using lead free solder.
DO NOT USE LEAD BASED SOLDER TO REPAIR THIS PRODUCT !
The melting temperature of lead-free solder is higher than that of leaded solder by 86
°C to 40°C). Use of a soldering iron designed for lead-based solders to repair product made
with lead-free solder may result in damage to the component and or PCB being soldered. Great
care should be made to ensure high-quality soldering when servicing this product
when soldering large components, through-hole pins, and on PCBs
required to melt lead-free solder is high.
---

WARNING: BEFORE SERVICING THIS CHASSIS, READ THE "X-RAY RADIATION PRECAUTION", "SAFETY PRECAUTION"
AND "PRODUCT SAFETY NOTICE" ON PAGE 3 OF THE ORIGINAL SERVICE MANUAL (File No. 020-200404 Revised.1).
CAUTION: The international hazard symbols "
" in the schematic diagram and the parts list designate components which
have special characteristics important for safety and should be replaced only with types identical to those in the original
circuit or specified in the parts list. The mounting position of replacements is to be identical with originals. Before replacing
any of these components, read carefully the PRODUCT SAFETY NOTICE of the original service manual (File No. 020-
200404 Revised.1). Do not degrade the safety of the receiver through improper servicing.
· The part number must be used when ordering parts, in order to assist in processing, be sure to include the Model
· The PC board assembly with
mark is no longer available after the end of the production.
CHASSIS AND CABINET REPLACEMENT PARTS LIST
Capacitors ............. CD
Resistors ............... CF
(All CD and PF capacitors are ±5%, 50V and all resistors, ±5%, 1/6W unless otherwise noted.)
ELECTROLYTIO, 50V 3.3UF M
ELECTROLYTIC, 10V 220UF M 3A
CERAMIC CHIP, 50V F 1000PF Z
ELECTROLYTIC, 50V 4.7UF M
ELECTROLYTIC, 16V 220UF M
ELECTROLYTIC, 10V 220UF M 3A
CERAMIC CHIP, 25V F 0.1UF Z
ELECTROLYTIC, 16V 100UF M
PLASTIC FILM , 63V 0.1UF J
ELECTROLYTIC, 50V 1UF M 3A
PLASTIC FILM, 50V 0.022UF J
CERAMIC CHIP, 50V B 1000PF K
ELECTROLYTIC, 25V 100UF M 3A
CERAMIC CHIP, 50V B 0.01UF K
CERAMIC CHIP, 50V B 3300PF K
PLASTIC FILM, 63V 0.047UF J
ELECTROLYTIC, 10V 1000UF M 3A
ELECTROLYTIC, 50V 100UF M
ELECTROLYTIC, 50V 100UF M
CERAMIC CHIP, 25V B 0.047UF K
PLASTIC FILM, 100V 0.22UF J
CERAMIC CHIP, 16V B 0.1UF K
PLASTIC FILM, 100V 2200PF J
ELECTROLYTIC, 16V 10UF M 3A
ELECTROLYTIC, 50V 100UF M
PLASTIC FILM, 100V 0.047UF J
CERAMIC CHIP, 50V B 470PF K
ELECTROLYTIC, 16V 10UF M 3A
ELECTROLYTIC, 16V 47UF M 3A
CERAMIC CHIP, 16V B 0.1UF K
CERAMIC CHIP, 25V B 0.047UF K
ELECTROLYTIC, 50V 2.2UF M 3A
CERAMIC CHIP, 16V B 0.1UF K
CERAMIC DISC, 500V B 3300PF K
CERAMIC DISC, 500V B 390PF K
PLASTIC FILM , 63V 0.1UF J
PLASTIC FILM, 200V 0.12UF J
CERAMIC DISC, 2KV B 1500PF K
ELECTROLYTIC, 100V 22UF M 3A
PLASTIC FILM, 250V 1.5UF J
CERAMIC CHIP, 50V CH 330PF J
PLASTIC FILM , 63V 0.1UF J
CERAMIC CHIP, 50V B 1000PF K
PLASTIC FILM, 400V 0.3UF J
PLASTIC FILM, 400V 0.27UF J
CERAMIC DISC, 2KV B 2200PFK
PLASTIC FILM, 50V 0.033UF J
PLASTIC FILM, 1800VH 1000PF H
PLASTIC FILM, 1800VH 4700PF H
PLASTIC FILM, 1800VH 3600PF H
PLASTIC FILM, 200V 0.047UF J
ELECTROLYTIC, 160V 33UF M
CERAMIC DISC, 500V B 220PF K
ELECTROLYTIC, 25V 1000UF M 3A
ELECTROLYTIC, 200V 22UF M
CERAMIC CHIP, 50V B 6800PF K
PLASTIC FILM, 630V 5600PF J
PLASTIC FILM, 630V 6800PF J
CERAMIC CHIP, 16V B 0.1UF K
CERAMIC CHIP, 10V B 0.33UF K
CERAMIC CHIP, 50V B 8200PF K
CERAMIC CHIP, 50V CH 47PF J
ELECTROLYTIC, 16V 47UF M 3A
ELECTROLYTIC, 16V 10UF M 3A
PLASTIC FILM, 63V 0.47UF J
ELECTROLYTIC, NP, 16V 100UF M 3A
ELECTROLYTIC, 16V 22UF M 3A
CERAMIC CHIP, 50V B 680PF K
CERAMIC CHIP, 50V B 680PF K
ELECTROLYTIC, 50V 4.7UF M 3A
ELECTROLYTIC, 50V 4.7UF M 3A
ELECTROLYTIC, 50V 4.7UF M 3A
ELECTROLYTIC, 50V 4.7UF M 3A
ELECTROLYTIC, 25V 100UF M 3A
ELECTROLYTIC, 50V 10UF M 3A
ELECTROLYTIC, 16V 220UF M 3A
---

ELECTROLYTIC, 50V 4.7UF M 3A
ELECTROLYTIC, 50V 10UF M 3A
ELECTROLYTIC, 50V 10UF M 3A
CERAMIC CHIP, 50V B 0.01UF K
ELECTROLYTIC, 50V 4.7UF M 3A
ELECTROLYTIC, 35V 2200UF M 3A
CERAMIC CHIP, 50V B 0.01UF K
ELECTROLYTIC, 50V 2.2UF M 3A
ELECTROLYTIC, 25V 100UF M
CHEMICON NP 25V 222 25V 2200UF M
CHEMICON NP 25V 222 25V 2200UF M
PLASTIC FILM, AC275V 0.47UF M
CERAMIC DISC, AC250V E 4700PF
CHEMICON 200V 102M LGQ2D102MESHTL
CHEMICON 200V 102M LGQ2D102MESHTL
CERAMIC DISC, AC250V E 2200PF M
CERAMIC DISC, AC250V E 2200PF M
CERAMIC DISC, AC250V B 470PF K
ELECTROLYTIC, 250V 22UF M 3A
ELECTROLYTIC, 10V 2200UF M 3A
PLASTIC FILM , 63V 0.1UF J
CERAMIC DISC, 2KV 100PF K
ELECTROLYTIC, 50V 2.2UF M 3A
ELECTROLYTIC, 16V 100UF M 3A
ELECTROLYTIC, 35V 560UF M 3A
ELECTROLYTIC, 35V 560UF M 3A
ELECTROLYTIC, 25V 470UF M 3A
ELECTROLYTIC, 25V 470UF M 3A
ELECTROLYTIC, 25V 47UF M 3A
CERAMIC DISC, 500V B 0.01UF K
CERAMIC DISC, 2KV R 470PF K
PLASTIC FILM, 63V 0.22UF J
PLASTIC FILM, 50V 4700PF J
ELECTROLYTIC, 50V 47UF M 3A
ELECTROLYTIC, 200V 2.2UF M 3A
PLASTIC FILM, 800V 0.1UF H
CERAMIC DISC, 2KV 680PF K
PLASTIC FILM, 63V 0.22UF J
CERAMIC DISC, 2KV 220PF K
PLASTIC FILM, 63V 0.47UF J
CERAMIC DISC, 2KV 820PF K
CERAMIC DISC, 500V B 1000PF K
CERAMIC DISC, 2KV 330PF K
CERAMIC DISC, 2KV 330PF K
ELECTROLYTIC, 160V 330UF M 3D
ELECTROLYTIC, 35V 1000UF M 3A
PLASTIC FILM, 63V 0.22UF J
ELECTROLYTIC, 16V 1000UF M 3A
ELECTROLYTIC, 16V 1000UF M 3A
ELECTROLYTIC, 10V 1000UF M 3A
CERAMIC CHIP, 16V B 0.1UF K
CERAMIC DISC, 2KV B 1000PF K
ELECTROLYTIC, 16V 100UF M
CERAMIC DISC, 50V F 0.01UF Z
CERAMIC CHIP, 50V B 470PF K
ELECTROLYTIC, 250V 22UF M 3A
CERAMIC DISC, 500V B 100PF K
CERAMIC DISC, 2KV B 1000PF K
ELECTROLYTIC, 16V 100UF M
CERAMIC DISC, 50V F 0.01UF Z
CERAMIC CHIP, 50V B 470PF K
ELECTROLYTIC, 250V 22UF M 3A
CERAMIC DISC, 500V B 100PF K
CERAMIC DISC, 2KV B 1000PF K
ELECTROLYTIC, 16V 100UF M
CERAMIC CHIP, 50V B 470PF K
CERAMIC DISC, 50V F 0.01UF Z
ELECTROLYTIC, 250V 22UF M 3A
CERAMIC DISC, 500V B 100PF K
CERAMIC CHIP, 16V B 1UF K
CERAMIC CHIP, 16V B 1UF K
CERAMIC CHIP, 16V B 1UF K
ELECTROLYTIC, 16V 100UF M
ELECTORLYTIC, 16V 10UF M 7L 3A
ELECTROLYTIC, 16V 10UF M 3A
CERAMIC CHIP, 50V B 0.01UF K
ELECTROLYTIC, 50V 4.7UF M 7L 3A
CERAMIC CHIP, 50V SL 33PF J
CERAMIC CHIP, 16V B 0.1UF K
ELECTROLYTIC, 160V 47UF M
CERAMIC DISC, 500V B 4700PF K
CERAMIC DISC, 500V B 4700PF K
ELECTORLYTIC, 16V 47UF M 3A
ELECTORLYTIC, 16V 47UF M 3A
CERAMIC DISC, 500V SL 56PF J
ELECTROLYTIC, 160V 10UF M
CERAMIC CHIP, 16V B 0.1UF K
PLASTIC FILM, 63V 0.33UF J
ELECTROLYTIC, 25V 100UF M 3A
ELECTROLYTIC, 16V 47UF M 3A
PLASTIC FILM, 63V 0.33UF J
CERAMIC CHIP, 50V CH 330PF J
ELECTROLYTIC, 50V 220UF M 3A
ELECTROLYTIC, 50V 220UF M 3A
CERAMIC CHIP, 50V CH 330PF J
CERAMIC CHIP, 50V CH 330PF J
CERAMIC CHIP, 50V CH 330PF J
ELECTROLYTIC, 50V 220UF M 3A
ELECTROLYTIC, 50V 220UF M 3A
CERAMIC CHIP, 50V CH 330PF J
CERAMIC CHIP, 50V CH 330PF J
ELECTROLYTIC, 10V 47UF M 3A
ELECTROLYTIC, 50V 47UF M 3A
ELECTROLYTIC, 50V 47UF M 3A
ELECTROLYTIC, 50V 470UF M 3A
ELECTROLYTIC, 10V 47UF M 3A
ELECTROLYTIC, 10V 47UF M 3A
ELECTROLYTIC, 25V 22UF M 3A
ELECTROLYTIC, 25V 22UF M 3A
CERAMIC CHIP, 16V B 0.1UF K
CERAMIC CHIP, 16V B 0.1UF K
ELECTROLYTIC, 16V 22UF M 3A
CERAMIC DISC, 50V B 1000PF K
ELECTROLYTIC, 10V 470UF M
ELECTROLYTIC, 16V 100UF M
CERAMIC DISC, 50V F 0.01UF Z
CERAMIC DISC, 50V B 1000PF K
CERAMIC DISC, 50V B 1000PF K
ELECTROLYTIC, 10V 220UF M 3A
CERAMIC CHIP, 50V F 1000PF Z
CERAMIC CHIP, 50V B 0.039UF K
---

OXIDE METAL FILM, 1W 22K OHM J
CARBON FILM, 1/6W 15K OHM G
CARBON FILM, 1/6W 18K OHM G
CARBON FILM, 1/6W 18K OHM G
CARBON FILM, 1/6W 27K OHM G
CARBON FILM, 1/6W 120K OHM J
CARBON FILM, 1/6W 4.7K OHM J
CARBON FILM, 1/6W 4.7K OHM J
CARBON FILM, 1/6W 1K OHM J
CARBON FILM, 1/6W 100K OHM J
CARBON FILM, 1/6W 75 OHM J
CARBON FILM, 1/6W 75 OHM J
CARBON FILM, 1/6W 75 OHM J
CARBON FILM, 1/6W 75 OHM J
CARBON FILM, 1/6W 75 OHM J
CARBON FILM, 1/6W 75 OHM J
CARBON FILM, 1/6W 100 OHM J
OXIDE METAL FILM, 1W 1 OHM J
CARBON FILM, 1/6W 56K OHM J
METAL FILM, 1/4W 10K OHM F
METAL FILM, 1/4W 10K OHM F
OXIDE METAL FILM, 1/2W 1.2 OHM J
CARBON FILM, 1/6W 10K OHM J
OXIDE METAL FILM, 1W 150 OHM J
OXIDE METAL FILM, 1W 390 OHM J
CARBON FILM, 1/6W 10K OHM J
CARBON FILM, 1/6W 2.2K OHM J
CARBON FILM, 1/6W 10K OHM J
CARBON FILM, 1/6W 1K OHM J
OXIDE METAL FILM, 1W 560 OHM J
OXIDE METAL FILM, 1W 560 OHM J
OXIDE METAL FILM, 1W 560 OHM J
OXIDE METAL FILM, 1W 100 OHM J
CARBON FILM, 1/6W 100 OHM J
OXIDE METAL FILM, 1W 6.8K OHM J
OXIDE METAL FILM, 1/2W 10 OHM J
OXIDE METAL FILM, 3W 22 OHM J
OXIDE METAL FILM, 3W 22 OHM J
OXIDE METAL FILM, 2W 2.2 OHM J
OXIDE METAL FILM, 2W 15K OHM J
CARBON FILM, 1/6W 100 OHM J
OXIDE METAL FILM, 2W 150 OHM J
CARBON FILM, 1/6W 2.2K OHM J
CARBON FILM, 1/6W 10K OHM J
CARBON FILM, 1/6W 22K OHM J
CARBON COMPOSITION, 1/2W 1K OHM J
CARBON FILM, 1/2W 100K OHM J
CARBON FILM, 1/2W 100K OHM J
CARBON FILM, 1/6W 100 OHM J
CARBON FILM, 1W 220K OHM J
CARBON COMPOSITION, 1/2W 1K OHM J
OXIDE METAL FILM, 2W 1K OHM J
CARBON FILM, 1/2W 270K OHM J
CARBON FILM, 1/2W 270K OHM J
CARBON FILM, 1/2W 270K OHM J
CARBON FILM, 1/6W 3.3K OHM J
CARBON FILM, 1/6W 47K OHM J
OXIDE METAL FILM, 1/2W 1 OHM J
OXIDE METAL FILM, 1W 0.39 OHM J
OXIDE METAL FILM, 1W 47K OHM J
CARBON FILM, 1/6W 5.6K OHM J
CARBON FILM, 1/6W 1.5K OHM J
CARBON FILM, 1/6W 43K OHM J
OXIDE METAL FILM, 1W 0.47 OHM J
CARBON FILM, 1/6W 220K OHM J
CARBON FILM, 1/2W 39K OHM J
CARBON FILM, 1/6W 100 OHM J
CARBON FILM, 1/6W 10K OHM J
---