PUBLISHED IN JAPAN, Sep., 2002
---

SAFETY PRECAUTIONS .................................................................................................................................. 2-1
USER'S MANUAL .............................................................................................................................................. 3-1
TROUBLESHOOTING ....................................................................................................................................... 4-1
METHOD OF ADJUSTMENTS .......................................................................................................................... 5-1
METHOD OF DISASSEMBLY ........................................................................................................................... 6-1
PACKAGING ...................................................................................................................................................... 7-1
PART LIST ......................................................................................................................................................... 8-1
CONNECTION DIAGRAMS ............................................................................................................................... 9-1
BLOCK DIAGRAM ........................................................................................................................................... 10-1
---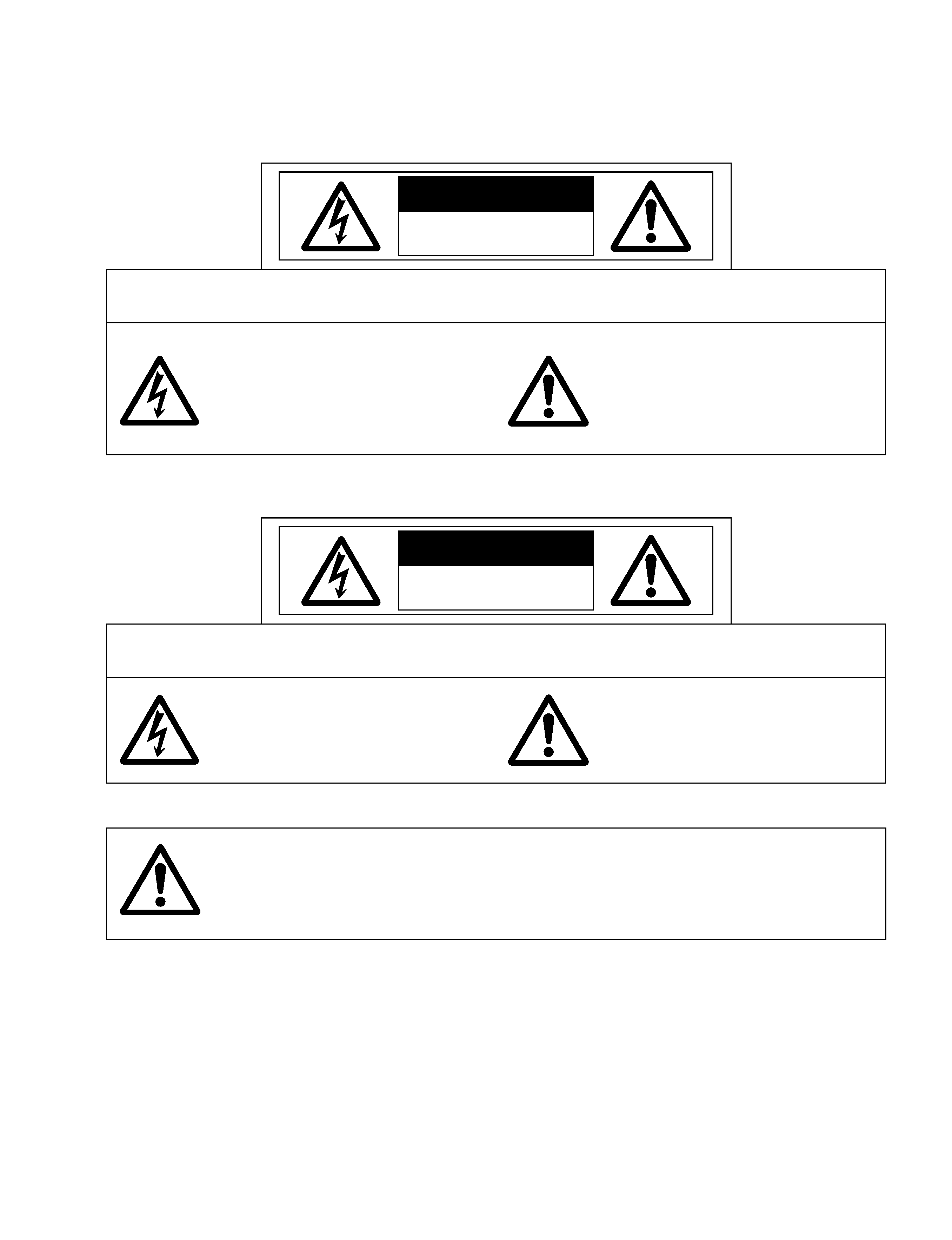 TO REDUCE THE RISK OF ELECTRIC SHOCK, DO NOT OPEN REAR COVER. NO USER-SERVICEABLE
PARTS INSIDE. REFER SERVICING TO QUALIFIED SERVICE PERSONNEL.
This symbol warns the user that unin-
sulated voltage within the unit may have
sufficient magnitude to cause electric
shock. Therefore, it is dangerous to make
any kind of contact with any part inside of
This symbol alerts the user that important
literature concerning the operation and
maintenance of this unit has been
Therefore, it should be read carefully in
order to avoid any problems.
POUR EVITER LES RISQUES D' ELECTROCUTION, NE PAS ENLEVER LE CONVERCLE ARRÈRE. AUCUN DES
ELEMENTS INTERNES NE DOIT ETRE REPARE PAR L'UTILISATEUR. NE CONFIER L' ENTRETIEN QU'A UN
L'éclair fléché dans un triangle équilatéral est
destiné à avertir l'utilisateur de la présence,
dans l'appareil, d'une zone non-isolée soumise
à une haute tension dont l'intensité est suffi-
sante pour constituer un risque d'électro-
Le point d'exclamation dans un triangle équi-
latéral est destiné à attirer l' attention de l'uti-
lisateur sur la présence d'informations de
founctionnement et d'entretien importantes dans
la brochure accompagnant l'appareil.
HEATSINK MAY BE ENERGIZED.
---

1. Before returning an instrument to the customer, al-
ways make a safety check of the entire instrument, in-
cluding, but not limited to, the following items.
a. Be sure that no built-in protective devices are
defective and/or have been defeated during
servicing. (1) Protective shields are provided on
this chassis to protect both the technician and
the customer. Correctly replace all missing pro-
tective shields, including any removed for serv-
icing convenience. (2) When reinstalling the
chassis and/or other assembly in the cabinet, be
sure to put back in place all protective devices,
including,but not limited to, nonmetallic control
knobs,insulating fishpapers,adjustment and
compartment covers/shields, and isolation re-
sistor/capacitor networks. Do not operate this
instrument or permit it to be operated with-
out all protective devices correctly installed
b. Be sure that there are no cabinet openings
through which an adult or child might be able to
insert their fingers and contact a hazardous volt-
age. Such opening include,but are not limited to,
(1) spacing between the picture tube and the
cabinet mask, (2) excessively wide cabinet ven-
tilation slots, and (3) an improperly fitted and/or
incorrectly secured cabinet back cover.
c. Leakage Current Hot Check -- With the instru-
ment completely reassembled,plug the AC line
cord directly into a 240V AC outlet. (Do not use
an isolation transformer during this test.) Use a
leakage current tester or a metering system that
complies with American National Standards In-
stitutes (ANSI) C101.1 Leakage Current for Ap-
pliances and Underwriters Laboratories(UL)
1950. With the instrument AC switch first in the
ON position and then in the OFF position, mea-
from a known earth ground (metal
waterpipe, conduit,etc.) to all exposed metal
parts of the instrument(antennas, handle
bracket, metal cabinet, screwheads, metallic
overlays, control shafts,etc.), especially any ex-
posed metal parts that offer an electrical return
path to the chassis. Any current measured must
not exceed 3.5 milliamp. Reverse the instru-
ment power cord plug in the outlet and repeat
test.ANY MEASUREMENTS NOT WITHIN
THE LIMITS SPECIFIED HEREIN INDICATE A
POTENTIAL SHOCK HAZARD THAT MUST
BE ELIMINATED BEFORE RETURNING THE
INSTRUMENT TO THE CUSTOMER.
2. Read and comply with all caution and safety-related
notes on or inside the Monitor cabinet, on the Pro-
jection Monitor chassis, or on the picture tube.
3. Design Alteration Warning -- Do not alter or add
to the mechanical or electrical design of this unit.
Design alterations and additions, including, but not
limited to, circuit modifications and the addition of
the items such as auxiliary audio and/or video out-
put connections might alter the safety characteris-
tics of this Monitor and create a hazard to the user.
Any design alterations or additions will void the
manufacturer's warranty and will make you,the
servicer,responsible for personal injury or property
damage resulting therefrom.
4. Hot Chassis Warning -- a. Some
MultiSync Monitor
chassis are electrically connected directly to one
conductor of the AC power cord and may be safely
serviced without an isolation transformer only if the
AC power plug is inserted so that the chassis is
connected to the ground side of the AC power
source. To confirm that the AC power plug is in-
serted correctly, with an AC voltmeter measure be-
tween the chassis and a known earth ground. If a
voltage reading in excess of 1.0V is obtained, re-
move and reinsert the AC power plug in the oppo-
site polarity and again measure the voltage poten-
tial between the chassis and a known earth ground.
b. Some
Plasma
chassis normally have 85V AC
(RMS), between chassis and earth ground regard-
less of the AC plug polarity. These chassis can be
safely serviced only with an isolation transformer
inserted in the power line between the receiver and
the AC power source, for both personnel and test
equipment protection. c. Some
Plasma
chassis
have a secondary ground systems in addition to the
main chassis ground. This secondary ground sys-
tem is not isolated from the AC power line. The two
ground system are electrically separated by insulat-
ing material that must not be defeated or altered.
---

5. Observe original lead dress. Take extra care to
assure correct lead dress in the following areas:
a. near sharp edges, b. near thermally hot parts--
be sure that leads and components do not touch
thermally hot parts, c. the AC supply, d. high volt-
age, and e. antenna wiring. Always inspect in all
areas for pinched, out-of-place, or frayed wiring. Do
not change spacing between components, and be-
tween components and the printed-circuit board.
Check AC power cord for damage.
6. Components,parts, and/or wiring that appear to
have overheated or are otherwise damaged should
be replaced with components, parts, or wiring that
meet original specifications. Additionally,determine
the cause of overheating and/or damage and, if
necessary, take corrective action to remove any
7. PRODUCT SAFETY NOTICE --Many
MultiSync
electrical and mechanical parts have spe-
cial safety-related characteristics some of which
are often not evident from visual inspection, nor
can the protection they give necessarily be ob-
tained by replacing them with components rated
for higher voltage, wattage, etc. Parts that have
special safety characteristics are identified in this
service data by shading with a
mark in the parts list. Use
of a substitute replacement part that does not have
the same safety characteristics as the recom-
mended replacement part in this service data parts
list might create shock, fire, and/or other hazards.
---