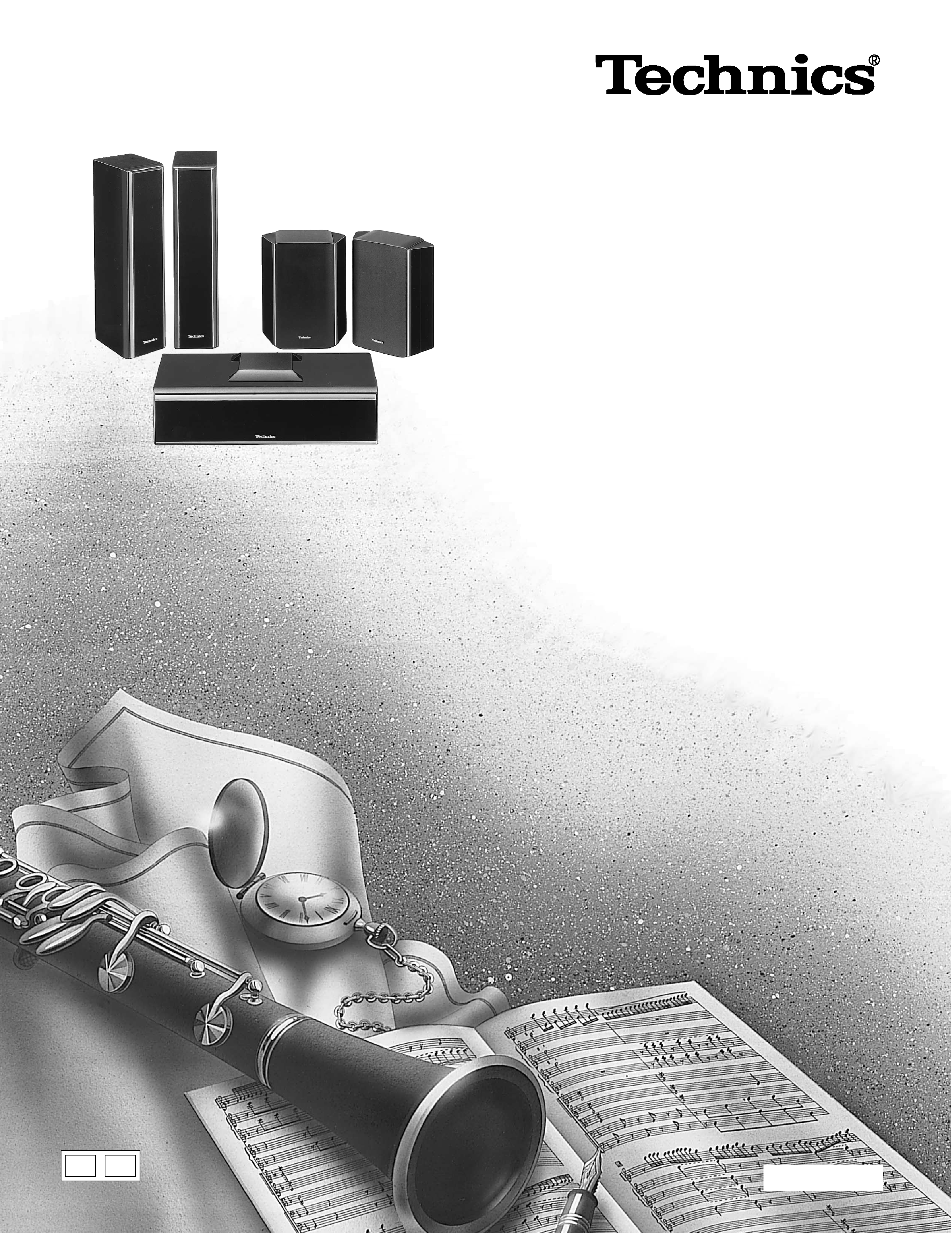 Instrucciones de funcionamiento
Instrukcja dla uzytkownika
Niniejsza instrukcja zostal/a opracowana na podstawie oryginalnej
publikacji firmy MATSUSHITA ELECTRIC INDUSTRIAL CO., LTD.
---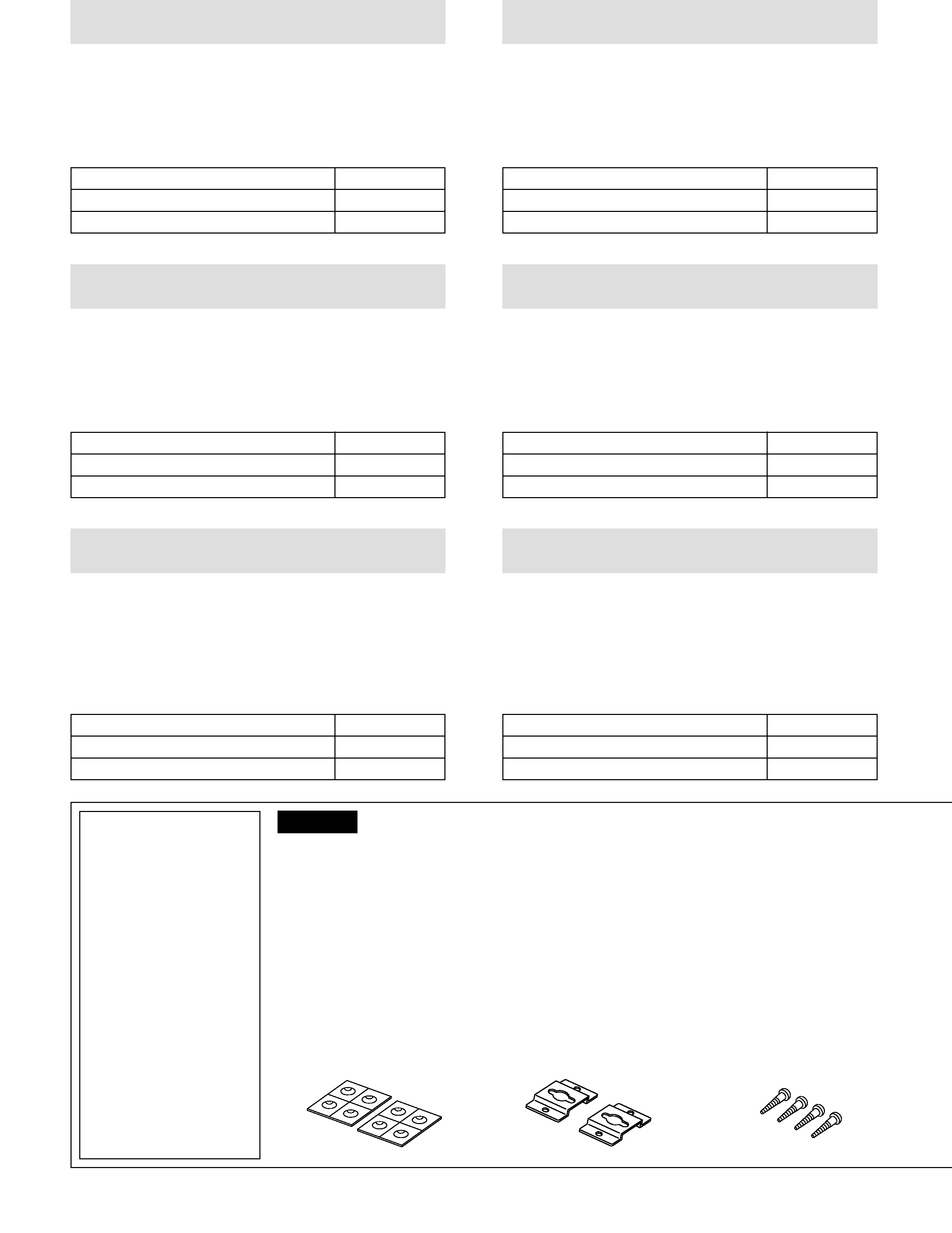 Thank you for purchasing this product.
Before operating this unit, please read these instructions
completely. Please save this manual.
This manual combines the operating instructions for the following
Gracias por adquirir este producto.
Antes de operar este aparato, tenga la bondad de leer estas
instrucciones completamente. Por favor guarde este manual.
Este manual combina las instrucciones de operación para los
sistemas de altavoces siguientes.
Vielen Dank, daß Sie sich für dieses Gerät entschieden haben.
Lesen Sie bitte diese Bedienungsanleitung genau durch, bevor Sie
Diese Bedienungsanleitung enthält die Anleitungen für die
folgenden Lautsprechersysteme:
Dziekujemy za zakupienie niniejszego produktu.
Przed uz ytkowaniem niniejszych urzadzen
zapoznanie sie z instrukcja obsl/ ugi. Prosimy o zachowanie
Niniejsza instrukcja obsl/ ugi zawiera instrukcje dotyczace
nastepujacych zestawów gl/os
Grazie per aver acquistato questo prodotto.
Prima di operare sull'unità, leggere attentamente queste istruzioni.
Conservare questo manuale.
Questo manuale riunisce le istruzioni d'uso per i seguenti sistemi
Dekujeme za zakoupení tohoto vy
Dríve nez zacnete jakékoli operace s touto jednotkou, prostudujte si
prosím cely´ tento návod. Uschovejte si prosím tento návod k
Tento návod k obsluze lze pouzívat pro následující reproduktorové
Patas de altavoces (8 piezas)
Lautsprecher-Gummifüße (8 Stück)
Piedini per altoparlanti (8 p.zi)
Luidsprekervoeten (8 stuks)
Nozky reprosoustavy (8 ks)
Metal wall mounts (2 pcs.)
Monturas de pared de metal (2 piezas)
Fixations murales en métal (2)
Metallbeslag för väggmontering (2 st.)
Metallhalterungen (2 Stück)
Sostegni metallici per montaggio
Metalen muurbevestigingsstukken
Metalbeslag til ophængning (2 stk.)
Kovové stenové úchytky (2 ks)
---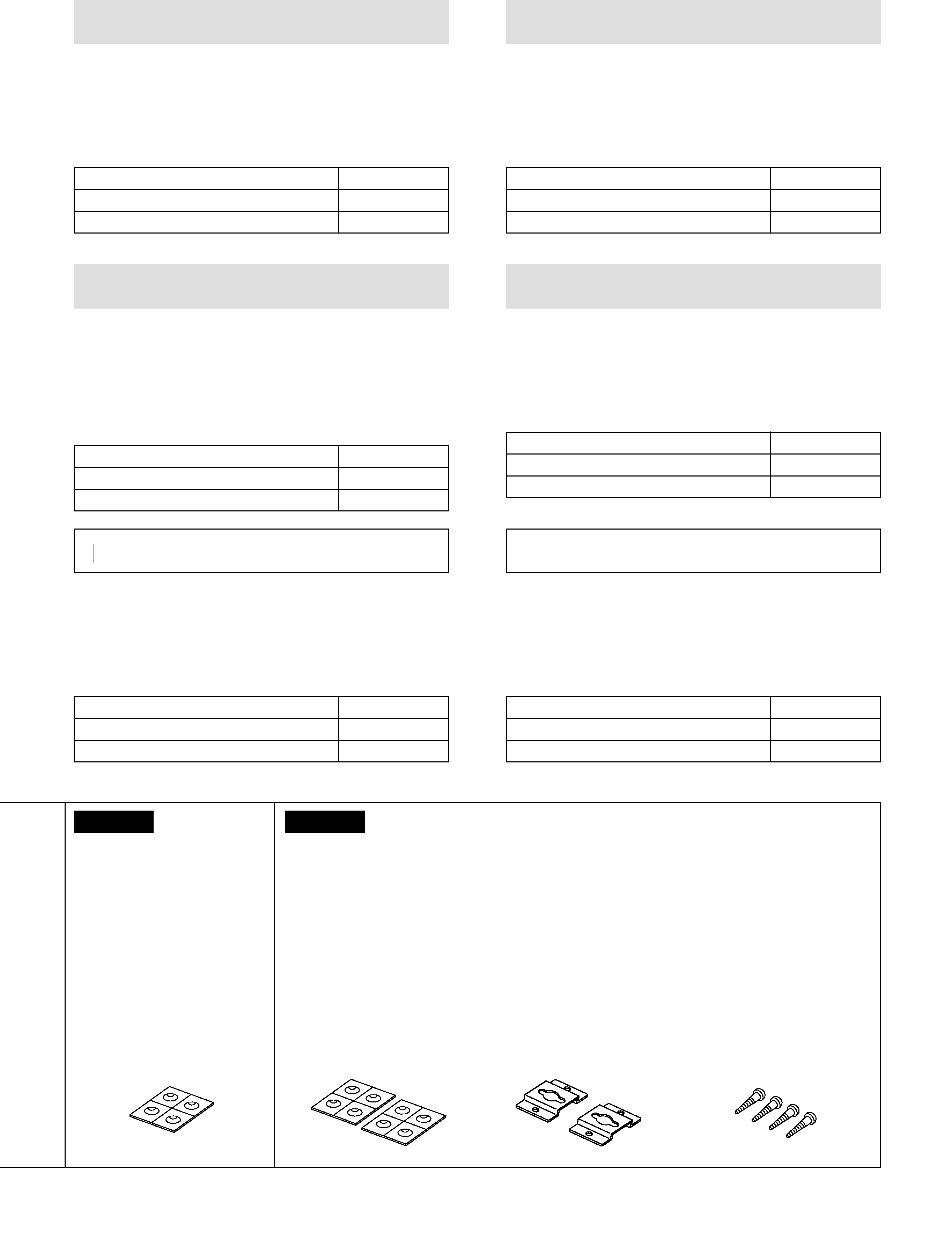 Nous vous remercions d'avoir acheté ce produit.
Avant d'utiliser cet appareil, veuillez lire attentivement les présentes
instructions. Conservez ce mode d'emploi dans un endroit sûr.
Les instructions contenues dans ce mode d'emploi concernent les
Vi tackar för inköpet av denna produkt.
Läs noga denna bruksanvisning innan enheten tas i bruk. Förvara
bruksanvisningen nära till hands för framtida referens.
Instruktionerna i denna bruksanvisning gäller följande
Hartelijk dank voor het aanschaffen van dit apparaat.
Wilt u alvorens dit apparaat te gebruiken deze gebruiksaanwijzing
volledig doorlezen a.u.b. Bewaar deze gebruiksaanwijzing voor
Deze gebruiksaanwijzing bevat de bedieningsinstructies voor de
volgende luidsprekersystemen:
Tak fordi du har købt dette højttalersæt.
Før du tager højttalerne i brug, bør du læse denne instruktionsbog
omhyggeligt. Gem venligst instruktionsbogen til senere brug.
Denne instruktionsbog gælder for de følgende højttalersystemer.
Patas de altavoces (4 piezas)
Lautsprecher-Gummifüße (4 Stück)
Piedini per altoparlanti (4 p.zi)
Luidsprekervoeten (4 stuks)
Nozky reprosoustavy (4 ks)
Patas de altavoces (8 piezas)
Piedini per altoparlanti (8 p.zi)
Luidsprekervoeten (8 stuks)
Nozky reprosoustavy (8 ks)
Metal wall mounts (2 pcs.)
Monturas de pared de metal (2 piezas)
Fixations murales en métal (2)
Metallbeslag för väggmontering (2 st.)
Metallhalterungen (2 Stück)
Sostegni metallici per montaggio a
Metalen muurbevestigingsstukken
Metalbeslag til ophængning (2 stk.)
Kovové stenové úchytky (2 ks)
---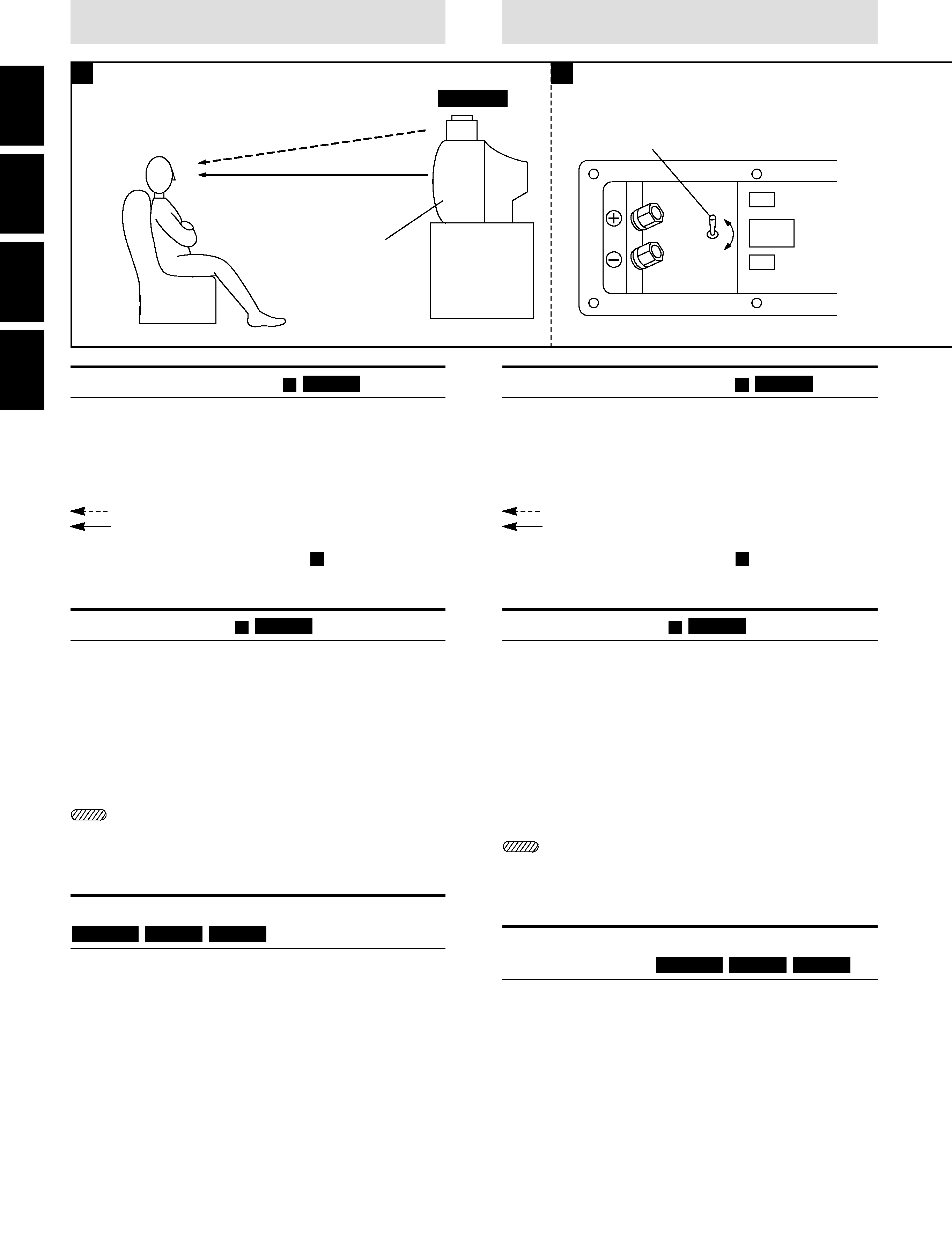 The center speaker (SB-C500) has a center focus function. This
function takes advantage of the relationship between the sense of
hearing and the psychological properties of hearing and sight. This
means that center channel sounds-for example actors voices-seem
to come from the TV screen, even if the speaker itself is on top of
the TV. Try it out with a movie.
: How it seems to be coming
How to turn the center focus on
Use the switch on the back of the speaker to turn it on.
Turn it off when it is not needed.
The surround speakers SB-S500 reproduce mid-to low frequency
signals from the front and mid-to high frequency signals from the
rear. With Technics specially developed mode, a dipole sound field
is created around mid range signals.
The sound from the surround speakers is more natural because it is
not aimed directly at the listener.
To get the best out of bass sounds, the low frequency sound range
is not split. Tweeters are fitted to the rear to deal with sources that
need conspicuous orientation (e.g. AC-3).
HIGH: High freqency sound
High quality dome tweeter
The dome tweeters in these speakers are coated with a carefully
selected special high polymer so that the tweeters perform their
function (i.e. lessening the inferiority of signal transmission) even
better. Playback in the high frequency range has a better quality
Interruptor de foco central
Interrupteur de mise au point centrale
El altavoz central (SB-C500) tiene una función de foco central.
Esta función se aprovecha de la relación entre el sentido del oído y
las propiedades psicológicas del oído y la vista. Esto significa que
los sonidos del canal central-por ejemplo las voces de los actores-
parecen venir de la pantalla del televisor, aunque el altavoz mismo
estuviera encima del televisor. Haga la prueba con una película.
: Como parece estar viniendo
Cómo encender el foco central
Use el interruptor en la parte de atrás del altavoz para encenderlo.
Apáguelo cuando cuando no lo necesite.
Los altavoces surround SB-S500 reproducen señales de media a
baja frecuencia por la parte delantera y señales de frecuencia
media a alta desde la parte posterior. Con un modo especialmente
desarrollado por Technics, un campo de sonido dipolo es creado
alrededor de las señales de rango medio.
El sonido de los altavoces surround es más natural porque no está
dirigido directamente al oyente.
Para obtener lo mejor de los sonidos graves, el sonido de baja
frecuencia no está dividido. Altavoces de agudos (tweeters) están
instalados en la parte posterior para encargarse de fuentes que
necesitan una orientación conspicua (p.ej. AC-3).
LOW: Sonido de baja frecuencia
MID: Sonido de frecuencia media
HIGH: Sonido de frecuencia alta
SPL: Nivel de la presión de sonido
Altavoz de agudos (tweeter) de domo
Los tweeters de domo en estos altavoces están revestidos con un
alto polímero especial cuidadosamente seleccionado de modo que
los tweeters realicen su función (esto es, disminuir la inferioridad de
la señal de transmisión ) aún mejor. La reproducción en el rango de
alta frecuencia tiene una mejor calidad debido a ésto.
---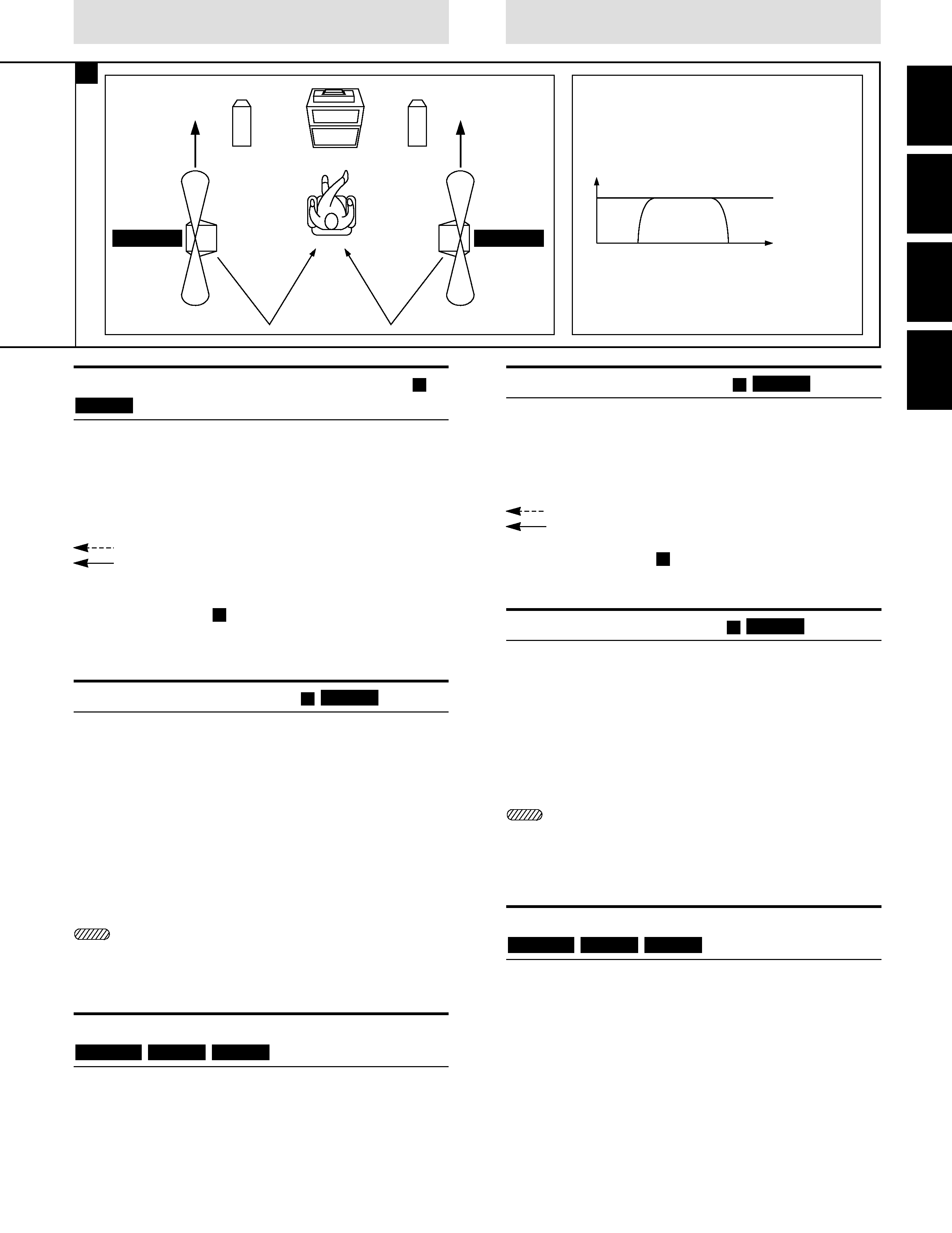 Mitthögtalaren (SB-C500) har en funktion för mittfokus. Denna
funktion utnyttjar förhållandet mellan hörselförmågan och de
psykologiska egenskaperna hos hörsel och syn. Ljudet från
mitthögtalaren - t.ex. aktörernas röster - tycks därför komma från
själva TV-skärmen, även om högtalaren är placerad ovanpä TV:n.
Testa funktionen nästa gång du tittar pä en film.
Använd omkopplaren på högtalarens baksida för att slå på
funktionen. Slå av omkopplaren när funktionen inte behövs.
Surroundhögtalarna SB-S500 återger signaler av medelhög till låg
frekvens från framsidan och signaler av medelhög till hög frekvens
från baksidan. Med Technics specialutvecklade funktion skapas ett
dipoligt ljudfält runt signalerna i mellanregistret.
Ljudet från surroundhögtalarna ter sig mera naturligt då det inte är
riktat direkt mot lyssnaren.
För att återge bästa möjliga basljud är ljudomfånget för låga
frekvenser inte delat. Diskantelement är inbyggda på baksidan för
att hantera källor som behöver tydlig inriktning (t.ex. AC-3).
LOW: Ljud av låg frekvens
MID: Ljud av medelhög frekvens
HIGH: Ljud av hög frekvens
Domdiskantelement av hög kvalitet
Domdiskantelementen i dessa högtalare är bestrukna med ett noga
utvalt specialpolymer som gör att de fyller sin funktion (d.v.s. att
förbättra signalöverföringen) ännu bättre. Återgivningen av
diskanttoner blir därmed klar och tydlig.
Fonction de mise au point centrale
L'enceinte centrale (SB-C500) possède une fonction de mise au
point centrale. Cette fonction est basée sur la relation entre le sens
de l'ouïe et les propriétés psychologiques de l'ouïe et de la vue. En
d'autres termes, les sons du canal central-par exemple la voix des
acteurs-semblent provenir de l'écran du téléviseur, même si le
personnage qui parle se trouve lui-même placé en haut du
téléviseur. Essayez cette fonction en visionnant un film.
: La manière dont le son semble venir
Comment mettre la fonction de mise au point
Pour la mettre en circuit, mettre l'interrupteur situé au dos de
l'enceinte sur la position de marche. Le mettre sur la position d'arrêt
si on ne veut pas utiliser la fonction.
.
Les enceintes ambiophoniques SB-S500 permettent de reproduire
les signaux de fréquences basses à moyennes du côté avant et les
signaux de fréquences moyennes à hautes du côté arrière. Grâce à
ce mode spécialement développé par Technics, un champ sonore
dipolaire est créé autour des signaux de plage de fréquences
Les sons provenant des enceintes ambiophoniques sont plus
naturels car ils ne sont pas orientés directement vers l'auditeur.
Pour reproduire au mieux des sons graves, la plage des sons de
basses fréquences n'est pas divisée. Les tweeters sont fixés sur le
côté arrière afin de mieux s'adapter aux sources sonores nécessitant
une orientation particulièrement précise (par exemple, AC-3).
LOW: Sons de basses fréquences
MID: Sons de fréquences moyennes
HIGH: Sons de hautes fréquences
SPL: Niveau de pression sonore
Tweeter en dôme de haute qualité
Les tweeters en dôme de ces enceintes dont recouvertes d'un
revêtement en polymère haut spécial choisi de façon que les
tweeters puissent remplir leur fonction (c-à-d. diminuer la
transmission des signaux inférieurs) de manière encore plus
satisfaisante. Pour cette raison, la reproduction des signaux de
hautes fréquences sera de meilleure qualité.
---