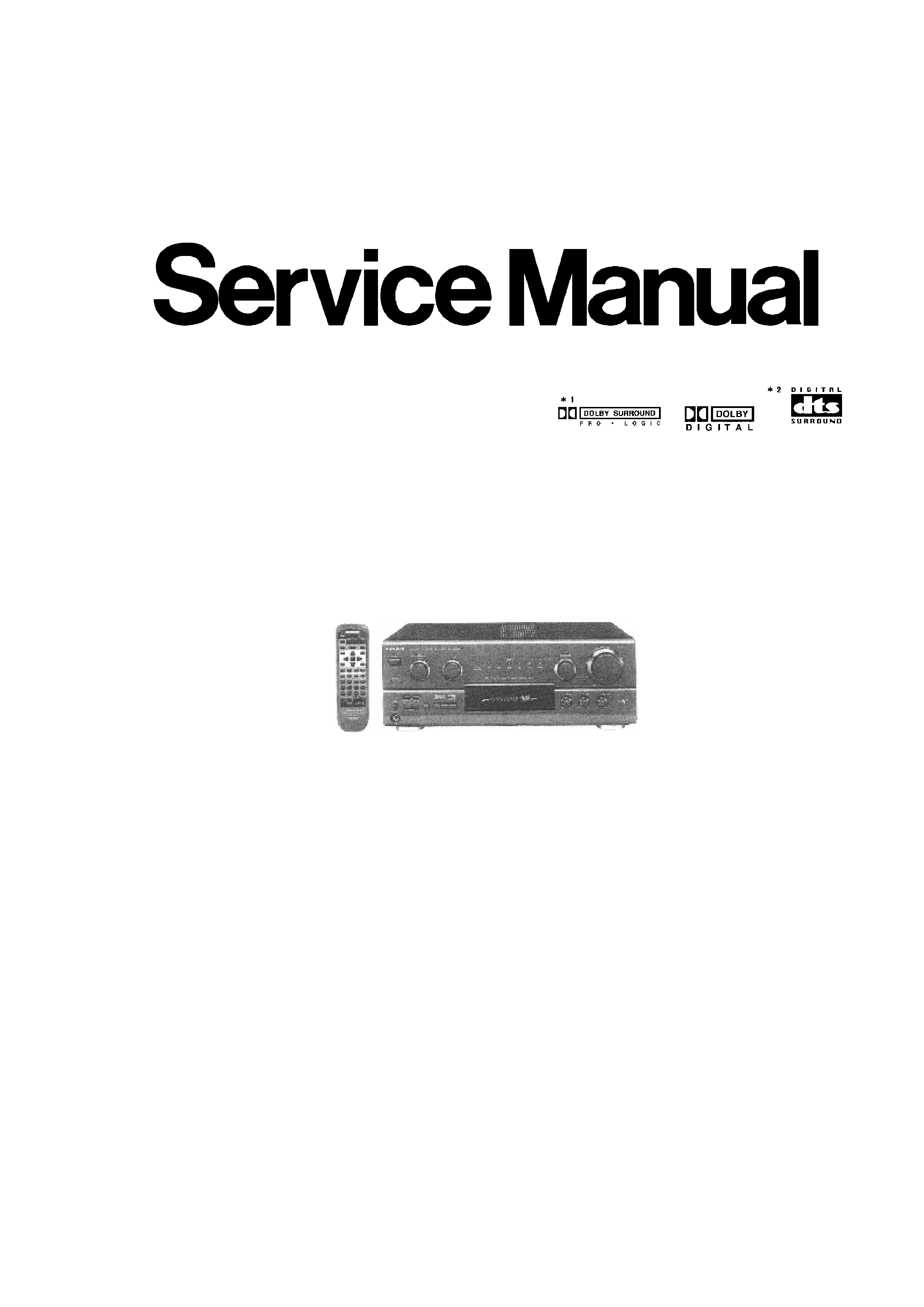 AV Control Stereo Receiver
--- Rated minimum sine wave RMS power output
20Hz - 20kHz both channels driven / 0.05% total harmonic
1kHz continuous power output both channels driven
0.05% total harmonic distortion
Total harmonic distortion
rated power at 20Hz - 20kHz
Power output at 1 kHz each channel driven
0.9% total harmonic distortion
Front / Center / Surround
Low frequency damping factor
PHONO / CD, TAPE, DVD, TV,
PHONO / CD, TAPE, DVD, TV,
50Hz, +10 to -10dB / 20kHz,
Subwoofer frequency response / (-
50 dB quieting sensitivity
---

Total harmonic distortion
Alternate channel selectivity
Spurious response rejection at
Frequency range / Sensitivity /
Selectivity / IF rejection at 1000kHz
Output voltage at 1V input
Maximum input voltage / Input/
Power supply / Power consumption
320.5mm / (16-15/16"x6-7/
Power consumption in standby /
1. Specifications are subject to change without notice. / Mass and
dimensions are approximate.
2. Total harmonic distortion is measured by the digital spectrum /
Manufactured under license from Dolby Laboratories
Licensing / Corporation. "Dolby", the double-D symbol and
"PRO LOGIC" / are trade marks of Dolby Laboratories
This product is manufactured under license from DTS, / Inc.
2000 Matsushita Electric Industrial Co., Ltd. All rights reserved.
---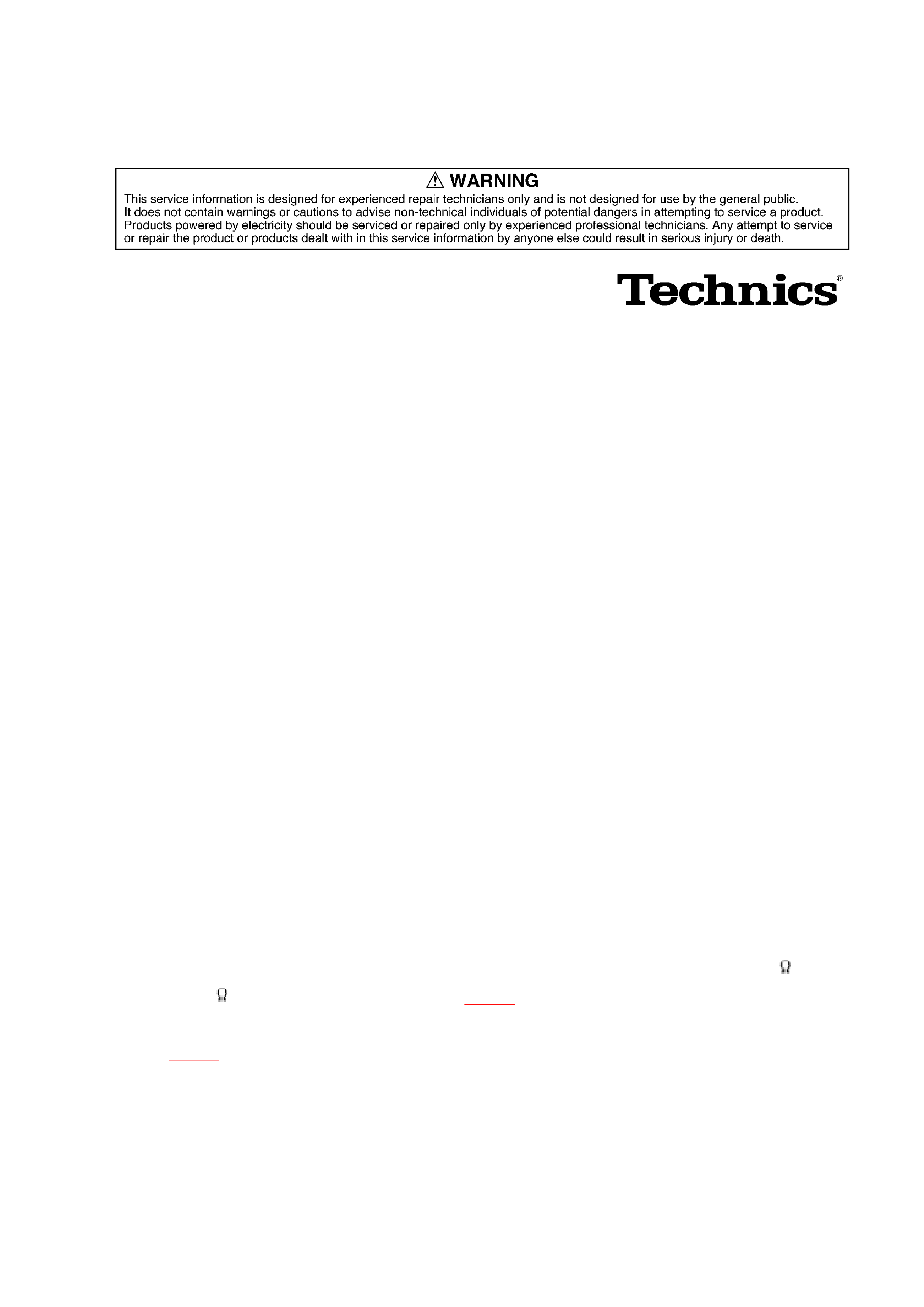 Unauthorized copying and distribution is a violation of law.
(This "Safety Precaution" is applied only in U.S.A.)
1. Before servicing, unplug the power cord to prevent an electric
2. When replacing parts, use only manufacturer's recommended
3. Check the condition of the power cord. Replace if wear or
4. After servicing, be sure to restore the lead dress, insulation
barriers, insulation papers, shields, etc.
5. Before returning the serviced equipment to the customer, be sure
to make the following insulation resistance test to prevent the
customer from being exposed to a shock hazard.
1.1. Insulation Resistance Test
1. Unplug the power cord and short the two prongs of the plug with
2. Turn on the power switch.
3. Measure the resistance value with ohmmeter between the jumper
AC plug and each exposed metal cabinet part, such as
screwheads, antenna, control shafts, handle brackets, etc. /
Equipment with antenna terminals should read between 3M
to all exposed parts*. (
Fig.1
) / Equipment without antenna
terminals should read approximately infinity to all exposed parts.
(
Fig.2
) / *Note : Some exposed parts may be isolated from the
chassis by design. These will read infinity.
4. If the measurement is outside the specified limits, there is a
possibility of a shock hazard. The equipment should be repaired
---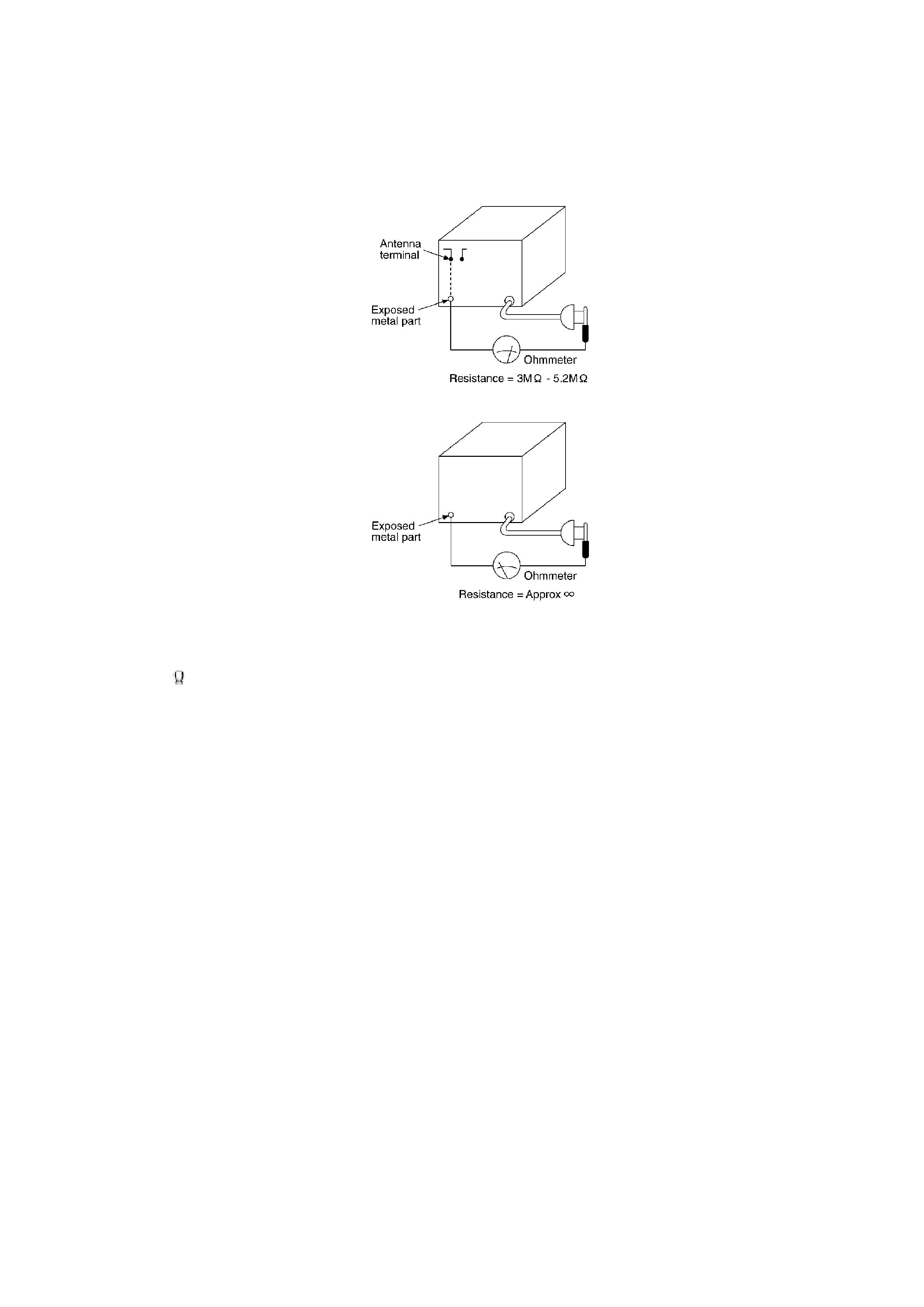 and rechecked before it is returned to the customer.
2. Before Repair and adjustment
Disconnect AC power, discharge Power Supply Capacitors C703, C704, C705 and C706 through
, 5W resistor to ground. / DO NOT SHORT-CIRCUIT DIRECTLY (with a screwdriver blade,
for instance), as this may destroy solid state devices. / After repairs are completed, restore
power gradually using a variac, to avoid overcurrent. / Current consumption at AC120V, 60Hz in
NO SIGNAL mode should be 600-1000mA.
The protection circuitry may have operated if either of the following conditions are noticed:
- No sound is heard when the power is turned on.
- Sound stops during a performance.
The function of this circuitry is to prevent circuitry damage if, for example, the positive and
negative speaker connection wires are "shorted", or if speaker systems with an impedance less
than the indicated rated impedance of the amplifier are used. / If this occurs, follow the
procedure outlines below:
2. Determine the cause of the problem and correct it.
3. Turn on the power once again after one minute.
When the protection circuitry functions, the unit will not operate
unless the power is first turned off and then on again.
---