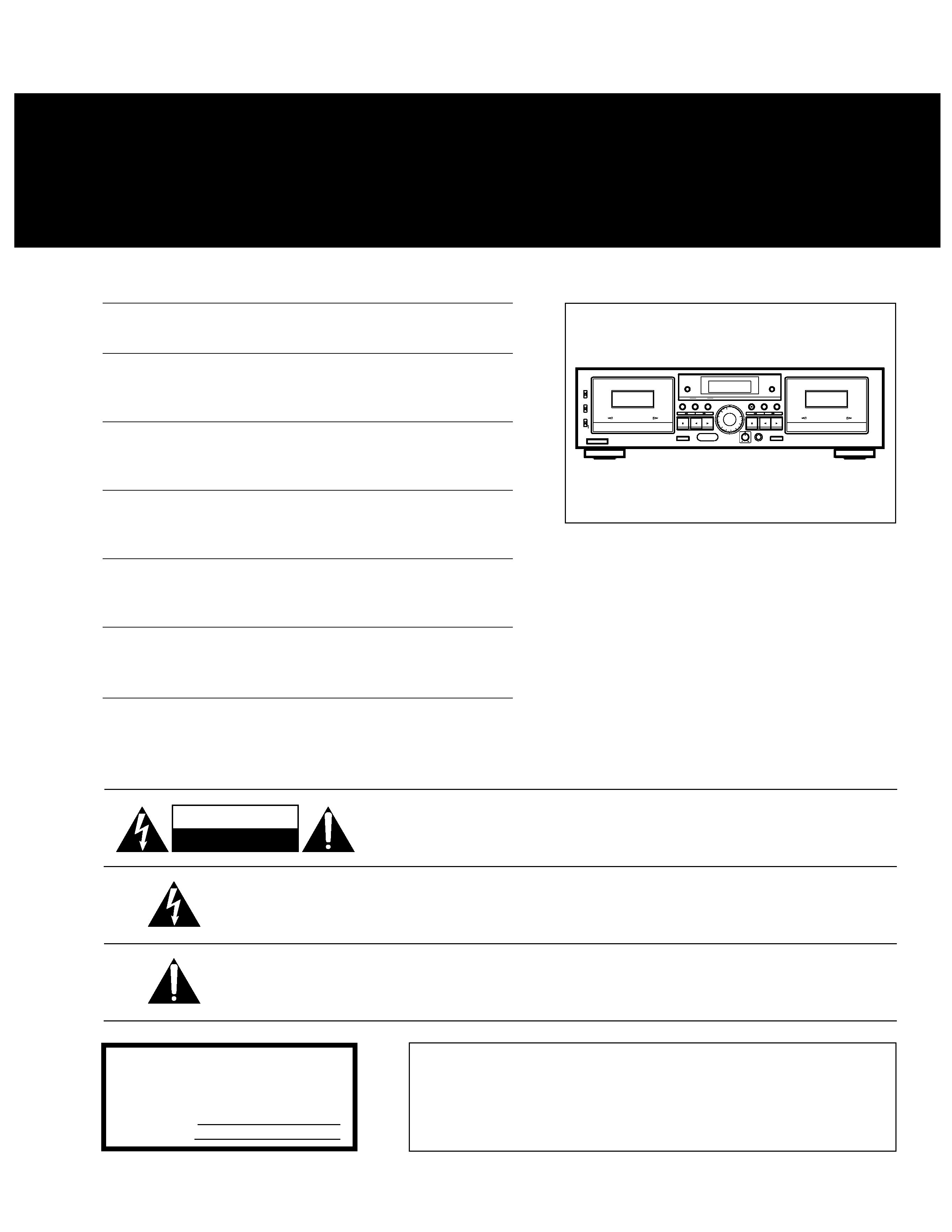 Thanks for buying a TEAC. Read this manual carefully to get the best
performance from this unit.
Nous vous remercions pour l'achat d'un appareil TEAC.
Lire ce manuel avec attention pour obtenir les meilleures performances
possibles de cet appareil.
Vielen Dank für den Kauf dieses TEAC-Geräts.
Bitte lesen Sie diese Anleitung sorgfältig durch, um die Leistungs-
fähigkeit dieses Geräts optimal nutzen zu können.
Grazie per aver acquistato un prodotto TEAC.
Leggere attentamente questo manuale per ottenere le migliori
prestazioni da questo apparecchio.
Enhorabuena por la adquisición de un TEAC.
Lea detenidamente este manual a fin de obtener el mejor rendimiento de
Dank u voor de aanschaf van een TEAC.
Lees deze gebruiksaanwijzing aandachtig door teneinde de beste
prestaties van dit toestel te verkrijgen.
OWNER'S MANUAL ......................... 4
MANUEL DU PROPRIETAIRE ...........10
BEDIENUNGSANLEITUNG................16
MANUALE DI ISTRUZIONI ...............22
MANUAL DEL USUARIO ..................28
GEBRUIKSAANWIJZING ..................35
This appliance has a serial number located
on the rear panel. Please record the model
number and serial number and retain them
WARNING: TO PREVENT FIRE OR SHOCK
HAZARD, DO NOT EXPOSE THIS
APPLIANCE TO RAIN OR MOISTURE.
CAUTION: TO REDUCE THE RISK OF ELECTRIC SHOCK, DO NOT
REMOVE COVER (OR BACK). NO USER-SERVICEABLE PARTS
INSIDE. REFER SERVICING TO QUALIFIED SERVICE PERSONNEL.
The lightning flash with arrowhead symbol,within equilateral triangle,is intended to alert
the user to the presence of uninsulated"dangerous voltage" within the product's enclosure
that may be of sufficient magnitude to constitute a risk of electric shock to persons.
The exclamation point within an equilateral triangle is intended to alert the user to the
presence of important operating and maintenance (servicing) instructions in the
literature accompanying the appliance.
---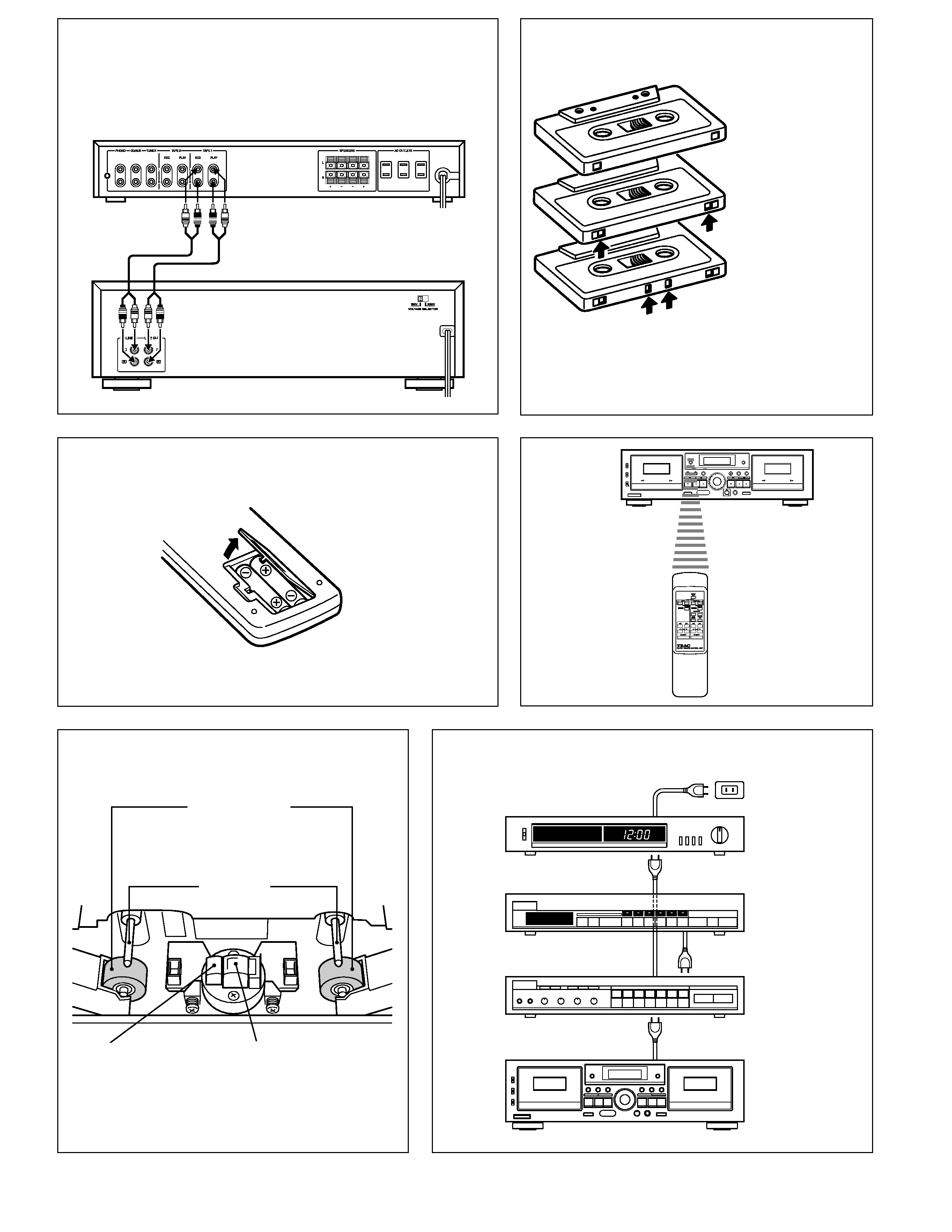 Nastri al cromo (Cobalto)
Cintas de cromo (cobalto)
Chroom (kobalt) cassettes
Tape position identification holes
Trous d'identification de type de bande
Bandsorten-Identifikationsöffnungen
Fori di identificazione del tipo
Orificios de identificación del tipo de cinta
Bandsoortidentifikatiegaten
Connections/Raccordements de base/Grundsätzliche Anschlüsse/
Collegamenti di base/Conexiones básicas/Basisaansluitingen
Amplificador estereofónico
Inserimento delle batterie
Vervangen van de batterijen
Zusätzliche Netzsteckdose
Tomacorriente CA auxiliar
Tête d'enregistrement/lecture
registrazione/riproducción
---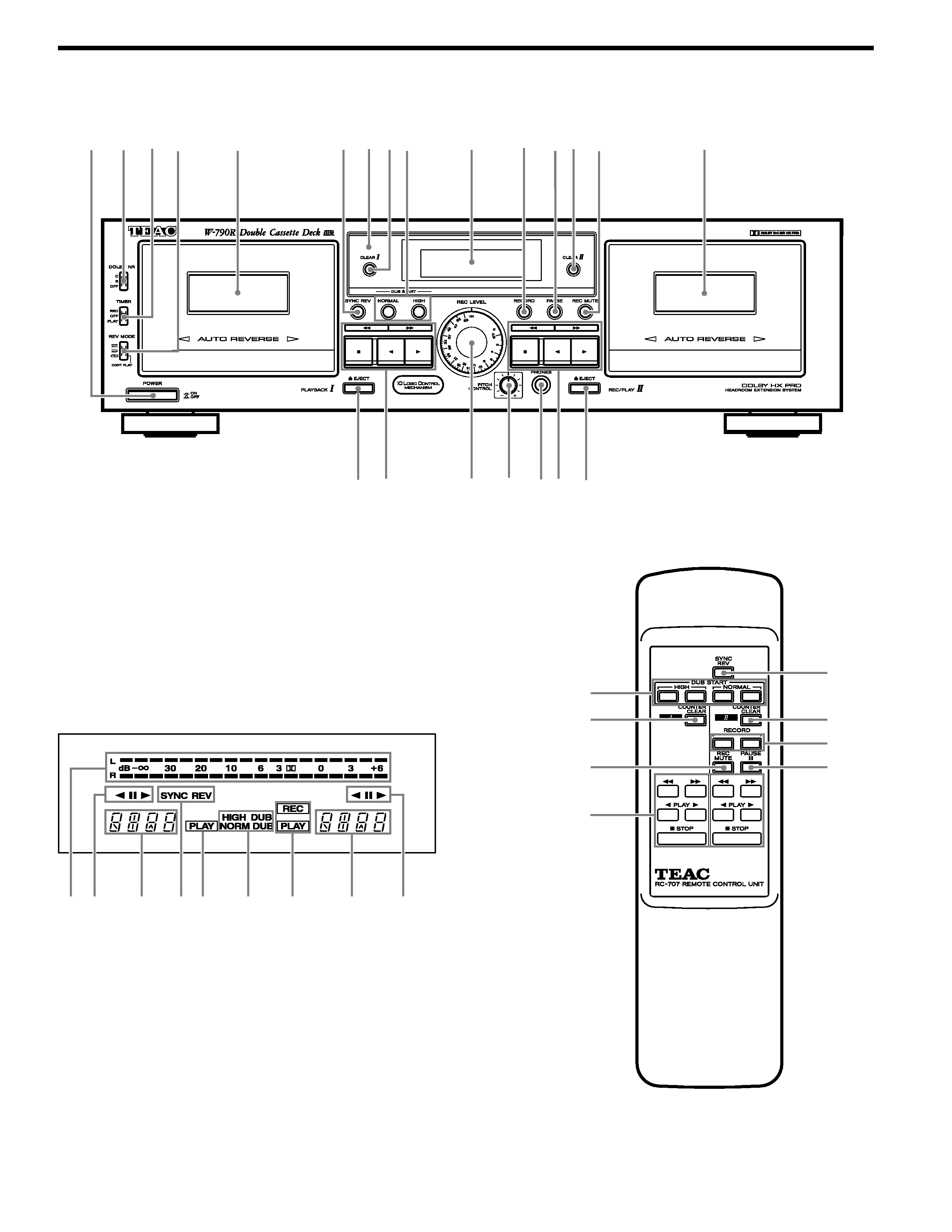 Front Panel/Panneau avant/Frontplatte/Pannello anteriore/Panel frontal/Voorpaneel
Reference Illustrations/Illustrations de référence/Bezugsabbildungen/Illustrazioni di riferimento/
Illustraciones de referencia/Referentieafbeeldingen
Unità per il comando a distanza
Afstandsbedieningseenheid
---

Features and Controls (Fig. 7)
Avoid using the deck in the following
At high temperatures (near a heater,
exposed to direct sunlight, etc.).
At extremely low temperatures.
Where there is excessive humidity.
Where power line voltage fluctuations
are severe (in which case the use of a
voltage regulator may be advisable).
For the automatic tape select function to
work properly, metal and chrome (cobalt)
tapes must have identification holes.
Do not store tapes in the following places:
On top of heaters, exposed to direct
sunlight or in any other places with high
Near speakers, on TV sets or amplifiers
or where they would be exposed to
Where humidity is high and in dirty,
Avoid dropping or subjecting cassettes
Note: If you switch the power off, be sure
to wait for more than 3 seconds before
OFF : Set to this position when you do not
want to use any noise reduction
B : Set to this position when making a
recording using the Dolby B noise
reduction system, or playing back
tapes recorded with Dolby B NR.
Set to this position when making a
recording using the Dolby C noise
reduction system, or playing back
tapes recorded with Dolby C NR.
4 REV (Reverse) MODE Switch
6 SYNC REV (Reverse) Button
(Infrared Signal Reception Window)
Pressing the COUNTER CLEAR Button
resets the multi-counter to "0000".
9 DUB (Dubbing) START Button
To enter the dubbing mode using the
remote control, press the two DUB START
1 Direction & Pause Indicators
q RECORD Button (TAPE II only)
To enter the record mode using the remote
control, press the two RECORD buttons
Front Panel/Remote Control Unit
Turn off the power switches of all
equipment before making connections.
Read the instructions of each
component you intend to use with the
LINE OUT Terminals on the tape deck
should be connected to the TAPE PLAY or
LINE IN jacks on the amplifier/receiver.
LINE IN Terminals on the tape deck should
be connected to the REC OUT jacks on the
Be sure to connect the power cord to an
AC outlet which supplies the correct
voltage, as set by the voltage selector.
IMPORTANT (for U.K. Customers)
DO NOT cut off the mains plug from this
equipment. If the plug fitted is not
suitable for the power points in your
home or the cable is too short to reach
a power point, then obtain an
appropriate safety approved extension
lead or consult your dealer.
If nonetheless the mains plug is cut off,
remove the fuse and dispose of the plug
immediately, to avoid a possible shock
hazard by inadvertent connection to the
If this product is not provided with a
mains plug, or one has to be fitted, then
follow the instructions given below:
IMPORTANT. DO NOT make any
connection to the larger terminal which
is marked with the letter E or by the
safety earth symbol ç or coloured
GREEN or GREEN-and-YELLOW.
The wires in the mains lead on this
product are coloured in accordance
As these colours may not correspond
with the coloured markings identifying
the terminals in your plug proceed as
The wire which is coloured BLUE must
be connected to the terminal which is
marked with the letter N or coloured
The wire which is coloured BROWN
must be connected to the terminal
which is marked with the letter L or
When replacing the fuse only a
correctly rated approved type should
be used and be sure to re-fit the fuse
*Dolby noise reduction and HX Pro
headroom extension manufactured under
Licensing Corporation. HX Pro originated
"DOLBY", the double-D symbol and
"HX PRO" are trademarks of Dolby
Laboratories Licensing Corporation.
---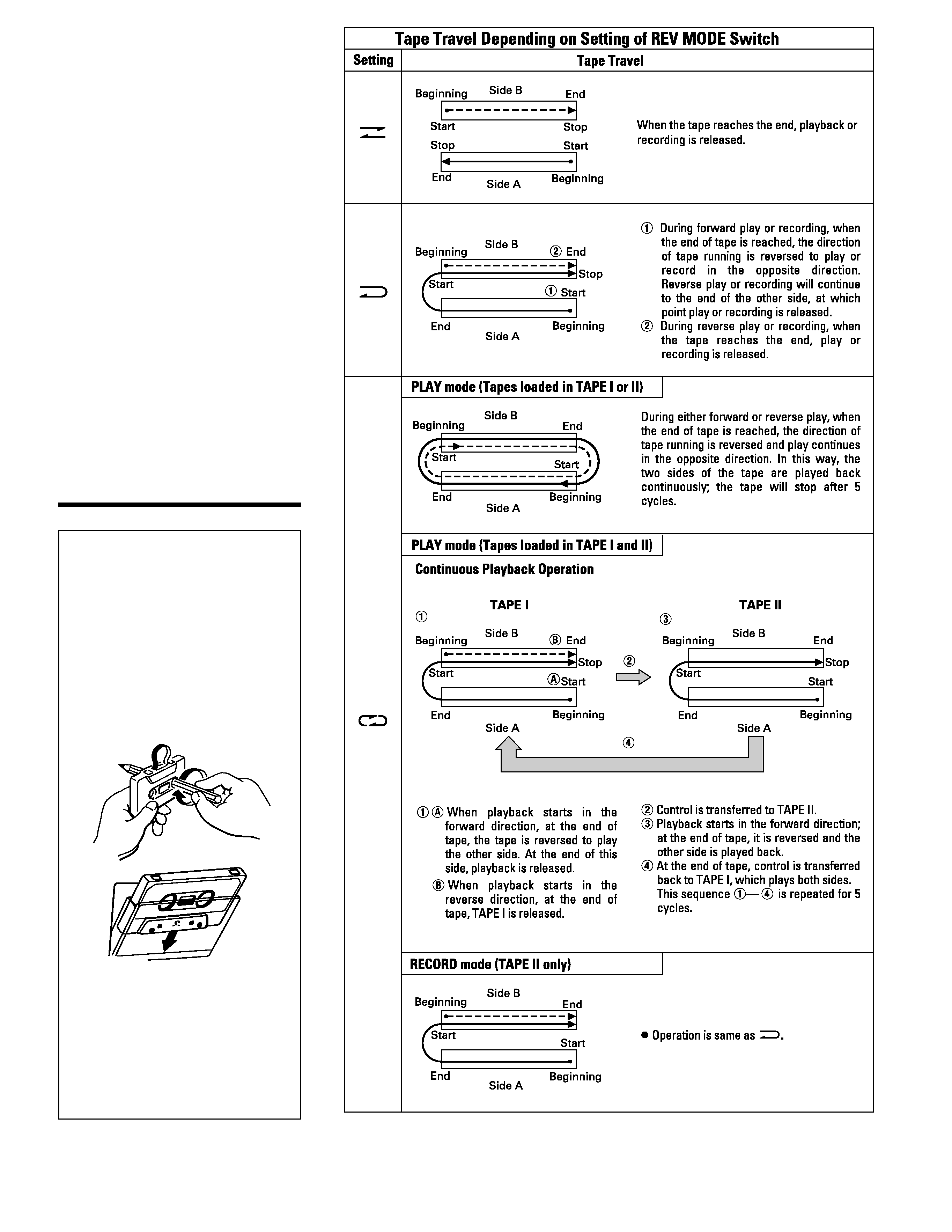 w PAUSE Button (TAPE II only)
e REC (Record) MUTE Button
r EJECT Button (TAPE I/TAPE II)
Ò : Fast Forward/CPS Button
y REC (Record) LEVEL Control
u PITCH CONTROL (TAPE I only)
Connect 8-ohm stereo headphones to this
jack for private listening or monitoring.
1. Use your finger or a pencil to turn the
cassette's hub and take up any slack
Note: Avoid touching the tape.
Fingerprints attract dust and dirt.
2. Press the eject button ()* to open
the cassette compartment door.
3. Load the cassette tape with its open
4. Gently close the compartment door.
The cassette holder cannot be opened
during recording or playback.
If the power has been switched off
during play or recording, ejecting the
cassette may be impossible. In such a
case, switch the power on and press
---