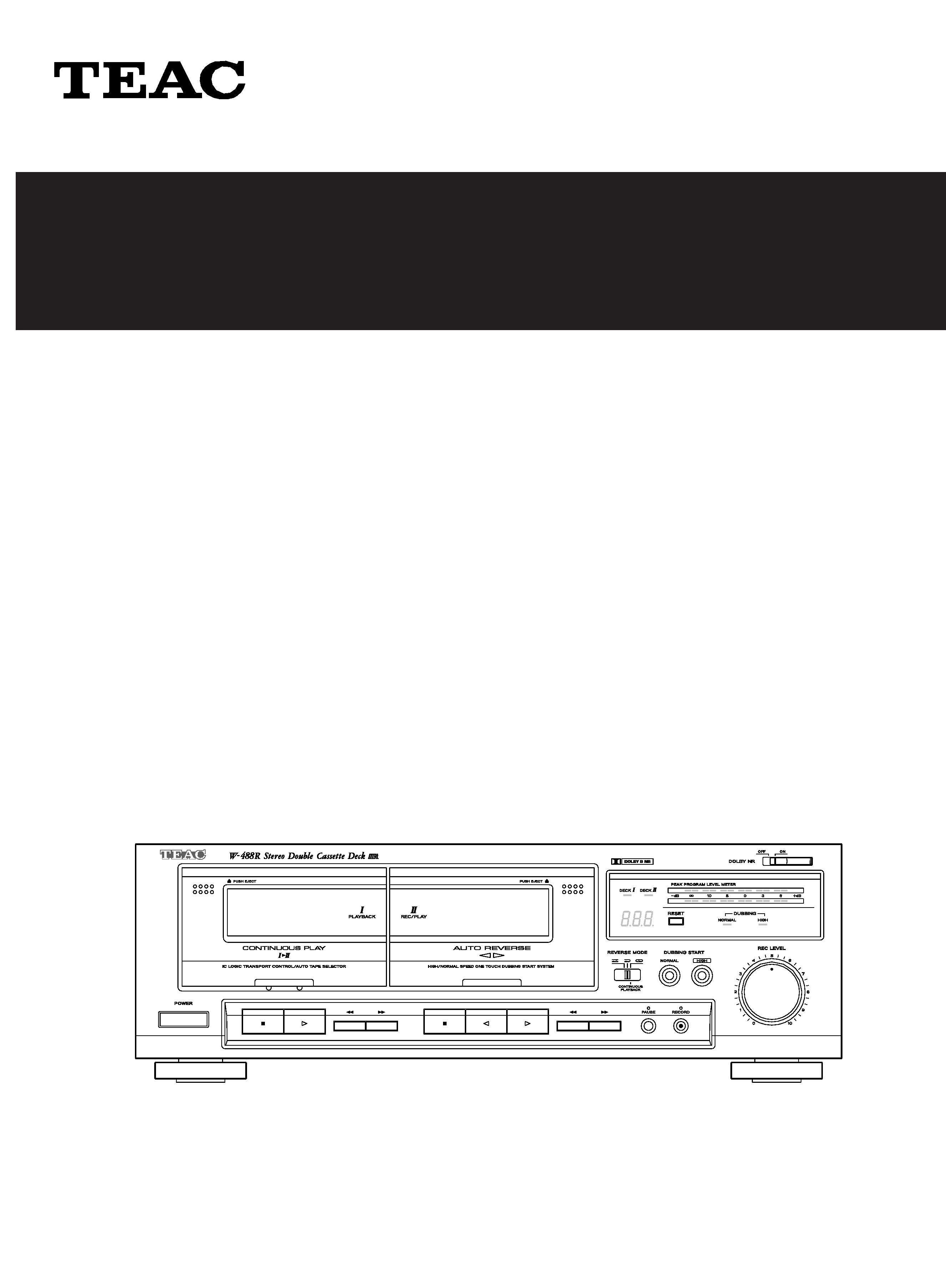 Stereo Double Cassette Deck
PRINTED IN CHINA 0899 MA-0277B
Thanks for buying a TEAC. Read this manual carefully to get the best performance from this unit.
Nous vous remercions pour l'achat d'un appareil TEAC. Lire ce manuel avec attention pour obtenir les
meilleures performances possibles de cet appareil.
---

Lire ceci avant de faire fonctionner l'appareil
< Choisir avec soin l'endroit où vous placerez votre appareil. Eviter
de le placer directement au soleil ou près d'une source de
chaleur. Eviter aussi les endroits sujets à des vibrations, à de la
poussière excessive, à la chaleur, au froid ou à l'humidité.
Toujours le garder éloigné de sources de bourdonnements telles
que des transformateurs ou moteurs.
< Ne pas ouvrir le coffret car ceci risquerait de provoquer des
dommages aux circuits ou des chocs électriques. Si un objet
rentre dans l'appareil, contacter votre revendeur.
< Lors du débranchement du cordon d'alimentation de la prise
murale, toujours tirer sur la fiche et non sur le cordon.
< Ne pas essayer de nettoyer l'appareil avec des solvants
chimiques car ceci pourrait endommager le fini de l'appareil.
Utiliser un chiffon propre et sec.
< Garder soigneusement ce manuel d'instructions pour une
Read this before operation
< Choose unit installation location carefully. Avoid placing it in direct
sunlight or close to a source of heat. Also avoid locations subject
to vibrations and excessive dust, heat, cold or moisture. Keep
away from sources that hum, such as transformers or motors.
< Do not open the cabinet as this might result in damage to the
circuitry or electrical shock. If a foreign object should get into the
set, contact your dealer.
< When removing the power plug from the wall outlet, always pull
directly on the plug, never yank the cord.
< Do not attempt to clean the unit with chemical solvents as this
might damage the finish. Use a clean, dry cloth.
< Keep this manual in a safe place for future reference.
< DO NOT REMOVE THE PROTECTIVE HOUSING USING
< USE OF CONTROLS OR ADJUSTMENTS OR PERFORMANCE OF
PROCEDURES OTHER THAN THOSE SPECIFIED HEREIN MAY
RESULT IN HAZARDOUS RADIATION EXPOSURE.
< IF THIS PRODUCT DEVELOPS TROUBLE, MAKE A CONTACT
WITH OUR SERVICEMAN, AND DO NOT USE THE PRODUCT IN A
TO PREVENT ELECTRIC SHOCK, MATCH WIDE BLADE OF PLUG TO
POUR ÉVITER LES CHOCS ÉLECTRIQUES, INTRODUIRE LA LAME LA
FICHE DANS LA BORNE CORRESPONDANTE
DE LA PRISE ET POUSSER JUSQU'AU FOND.
WARNING: TO PREVENT FIRE OR SHOCK HAZARD, DO NOT EXPOSE THIS APPLIANCE TO RAIN OR MOISTURE.
CAUTION: TO REDUCE THE RISK OF ELECTRIC SHOCK, DO NOT REMOVE COVER (OR BACK). NO USER-
SERVICEABLE PARTS INSIDE. REFER SERVICING TO QUALIFIED SERVICE PERSONNEL.
R
THE EXCLAMATION POINT WITHIN AN EQUILATERAL TRIANGLE IS INTENDED TO ALERT THE USER TO THE PRESENCE OF IMPORTANT
OPERATING AND MAINTENANCE (SERVICING) INSTRUCTIONS IN THE LITERATURE ACCOMPANYING THE APPLIANCE.
THE LIGHTNING FLASH WITH ARROWHEAD SYMBOL, WITHIN AN EQUILATERAL TRIANGLE, IS INTENDED TO ALERT THE USER TO THE
PRESENCE OF UNINSULATED "DANGEROUS VOLTAGE" WITHIN THE PRODUCT'S ENCLOSURE THAT MAY BE OF SUFFICIENT MAGNITUDE TO
CONSTITUTE A RISK OF ELECTRIC SHOCK TO PERSONS.
---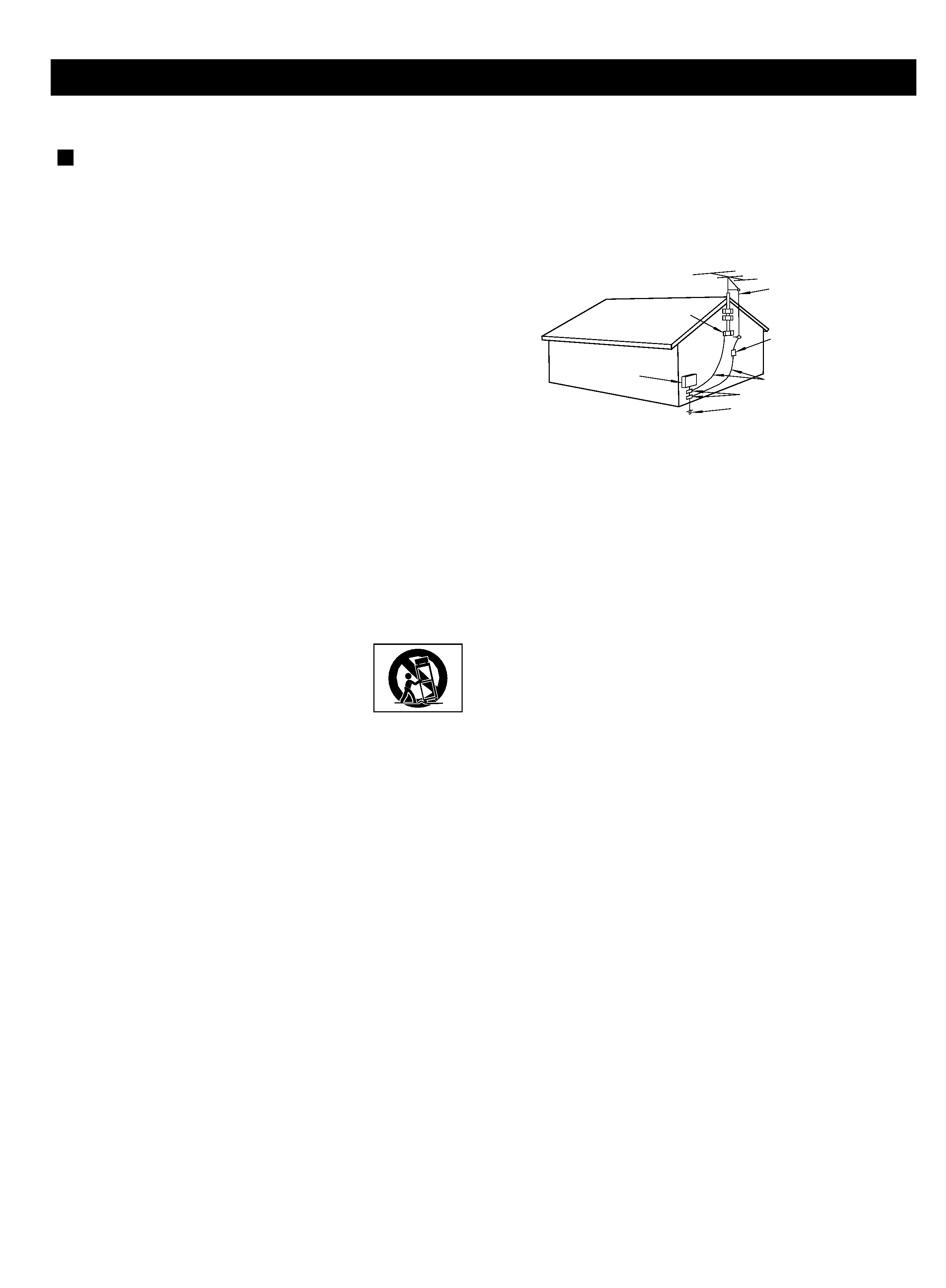 < Read all of these Instructions.
< Save these Instructions for later use.
< Follow all Warnings and Instructions marked on the audio equipment.
1) Read Instructions -- All the safety and operating instructions should
be read before the product is operated.
2) Retain Instructions -- The safety and operating instructions should
be retained for future reference.
3) Heed Warnings -- All warnings on the product and in the operating
instructions should be adhered to.
4) Follow Instructions -- All operating and use instructions should be
5) Cleaning -- Unplug this product from the wall outlet before cleaning.
Do not use liquid cleaners or aerosol cleaners. Use a damp cloth for
6) Attachments -- Do not use attachments not recommended by the
product manufacturer as they may cause hazards.
7) Water and Moisture -- Do not use this product near water -- for
example, near a bath tub, wash bowl, kitchen sink, or laundry tub; in a
wet basement; or near a swimming pool; and the like.
8) Accessories -- Do not place this product on an unstable cart, stand,
tripod, bracket, or table. The product may fall, causing serious injury to
a child or adult, and serious damage to the product. Use only with a
cart, stand, tripod, bracket, or table recommended by the manufacturer,
or sold with the product. Any mounting of the product should follow the
manufacturer's instructions, and should use a mounting accessory
recommended by the manufacturer.
9) A product and cart combination should be moved with care. Quick
stops, excessive force, and uneven surfaces may
cause the product and cart combination to overturn.
10) Ventilation -- Slots and openings in the cabinet
are provided for ventilation and to ensure reliable
operation of the product and to protect it from overheating, and these
openings must not be blocked or covered. The openings should never
be blocked by placing the product on a bed, sofa, rug, or other similar
surface. This product should not be placed in a built-in installation such
as a bookcase or rack unless proper ventilation is provided or the
manufacturer's instructions have been adhered to.
11) Power Sources -- This product should be operated only from the
type of power source indicated on the marking label. If you are not sure
of the type of power supply to your home, consult your product dealer
or local power company. For products intended to operate from battery
power, or other sources, refer to the operating instructions.
12) Grounding or Polarization -- This product may be equipped with a
polarized alternating-current line plug (a plug having one blade wider
than the other). This plug will fit into the power outlet only one way. This
is a safety feature. If you are unable to insert the plug fully into the
outlet, try reversing the plug. If the plug should still fail to fit, contact
your electrician to replace your obsolete outlet. Do not defeat the safety
purpose of the polarized plug.
13) Power-Cord Protection -- Power-supply cords should be routed so
that they are not likely to be walked on or pinched by items placed upon
or against them, paying particular attention to cords at plugs,
convenience receptacles, and the point where they exit from the
14) Outdoor Antenna Grounding -- If an outside antenna or
system is connected to the product, be sure the antenna or cable
system is grounded so as to provide some protection against voltage
surges and built-up static charges. Article 810 of the National Electrical
Code, ANSI/NFPA 70, provides information with regard to proper
grounding of the mast and supporting structure, grounding of the lead-
in wire to an antenna discharge unit, size of grounding conductors,
location of antenna-discharge unit, connection to grounding electrodes,
and requirements for the grounding electrode.
Note to CATV system installer:
This reminder is provided to call the CATV system installer's attention to
Section 820-40 of the NEC which provides guidelines for proper
grounding and, in particular, specifies that the cable ground shall be
connected to the grounding system of the building, as close to the point
of cable entry as practical."
15) Lightning -- For added protection for this product during a lightning
storm, or when it is left unattended and unused for long periods of time,
unplug it from the wall outlet and disconnect the antenna or cable
system. This will prevent damage to the product due to lightning and
16) Power Lines -- An outside antenna system should not be located in
the vicinity of overhead power lines or other electric light or power
circuits, or where it can fall into such power lines or circuits. When
installing an outside antenna system, extreme care should be taken to
keep from touching such power lines or circuits as contact with them
17) Overloading -- Do not overload wall outlets, extension cords, or
integral convenience receptacles as this can result in risk of fire or
18) Object and Liquid Entry -- Never push objects of any kind into this
product through openings as they may touch dangerous voltage points
or short-out parts that could result in a fire or electric shock. Never spill
liquid of any kind on the product.
19) Servicing -- Do not attempt to service this product yourself as
opening or removing covers may expose you to dangerous voltage or
other hazards. Refer all servicing to qualified service personnel.
20) Damage Requiring Service -- Unplug this product from the wall
outlet and refer servicing to qualified service personnel under the
a ) when the power-supply cord or plug is damaged.
b ) if liquid has been spilled, or objects have fallen into the product.
c ) if the product has been exposed to rain or water.
d) if the product does not operate normally by following the operating
instructions. Adjust only those controls that are covered by the
operating instructions as an improper adjustment of other controls may
result in damage and will often require extensive work by a qualified
technician to restore the product to its normal operation.
e) if the product has been dropped or damaged in any way.
f) when the product exhibits a distinct change in performance _ this
indicates a need for service.
21) Replacement Parts -- When replacement parts are required, be
sure the service technician has used replacement parts specified by
the manufacturer or have the same characteristics as the original part.
Unauthorized substitutions may result in fire, electric shock, or other
22) Safety Check -- Upon completion of any service or repairs to this
product, ask the service technician to perform safety checks to
determine that the product is in proper operating condition.
23) Wall or Ceiling Mounting -- The product should be mounted to a
wall or ceiling only as recommended by the manufacturer.
24) Heat -- The product should be situated away from heat sources
such as radiators, heat registers, stoves, or other products (including
amplifiers) that produce heat.
NEC - NATIONAL ELECTRICAL CODE
Example of Antenna Grounding
as per National Electrical
Important Safety Instructions
---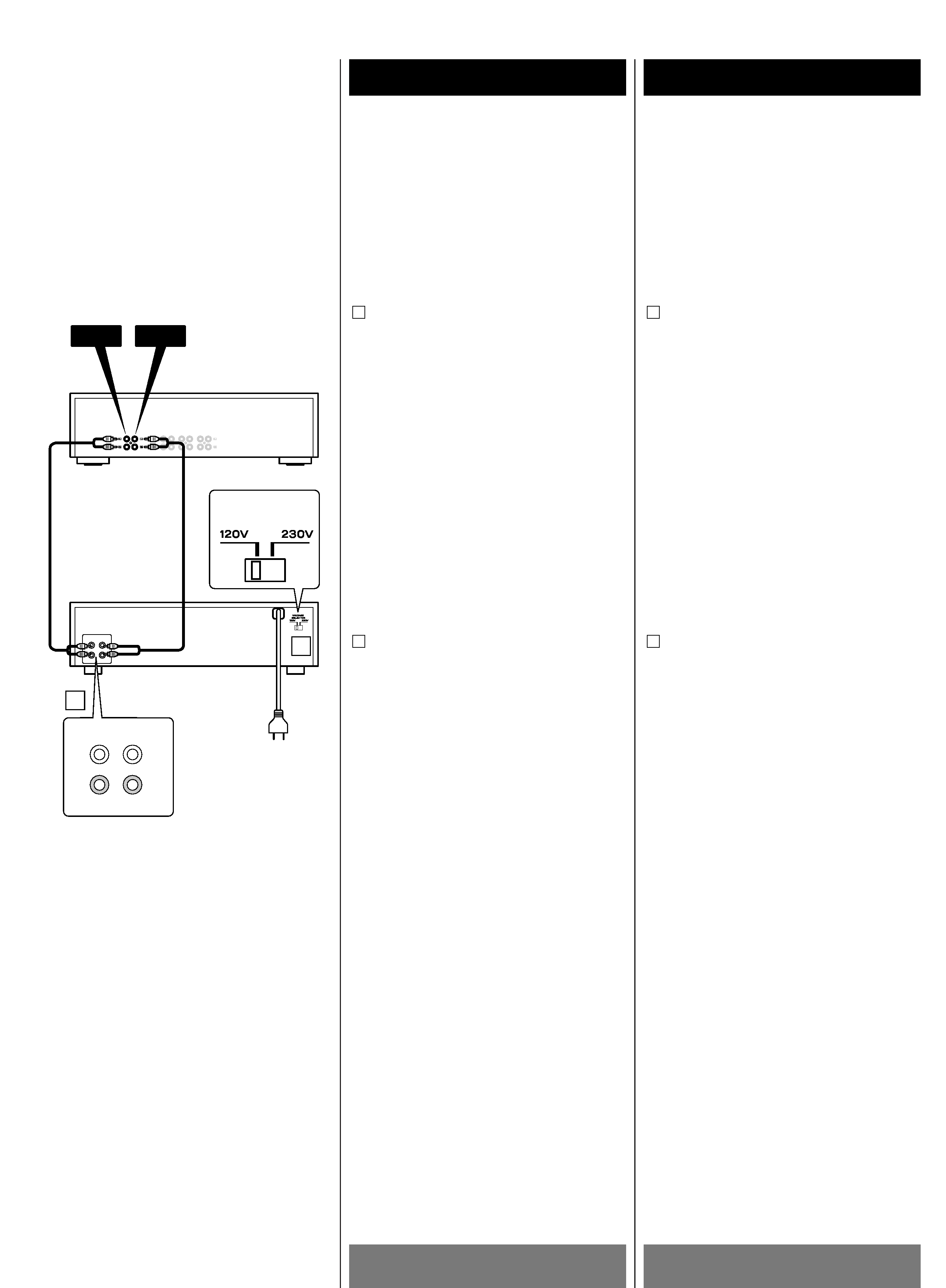 Do not plug the power cord of any
component into AC outlets and do not turn
their POWER switches on until all
connections have been performed.
Ne pas brancher aucun composants et ne
pas les allumer jusqu'à temps que toutes
les connextions soit faites.
Connect the LINE IN/OUTPUT jacks to the
amplifier by audio signal connection
white plug w white jack(L:left)
red plug w red jack(R:right)
< Be sure to insert each plug securely. To
prevent hum and noise, do not bundle the
connection cords with the power cord or
Connecteurs LINE IN/OUTPUT
Branchez ces prises sur l'Amplificateur à
l'aide du câble à fiches coaxiales.
< Assurez vous de connecter:
w connecteur blanc (L:gauche)
w connecteur rouge (R:droit)
< Assurez-vous que chaque fiche est
enfoncée bien à fond. Pour éviter le
ronflement, éloignez les câbles de
raccordement du cordon d'alimentation et
des câbles des haut-parleurs.
(General export models only)
Be sure to remove the power cord from
the AC outlet before repositioning the
voltage converter switch.
1. Locate the voltage selector on the bottom
2. Using a flat-bladed screwdriver, set to the
appropriate 230V or 120V position
IN NORTH AMERICA USE ONLY ON 120 V
Changement de tension (Modèles
s'exportation générale seulement)
Bien débrancher le cordon d'alimentation
de la prise secteur avant de repositionner
le sélecteur de changement de tension.
1. Localiser le sélecteur de tension par le
2. En utilisant un tournevis à lame plate,
régler sur la position appropriée 230V ou
120V en fonction de la tension locale.
DANS L'AMÉRIQUE DU NORD: UTILISABLE
SUR 120 V D'ALIMENTATION UNIQUEMENT.
---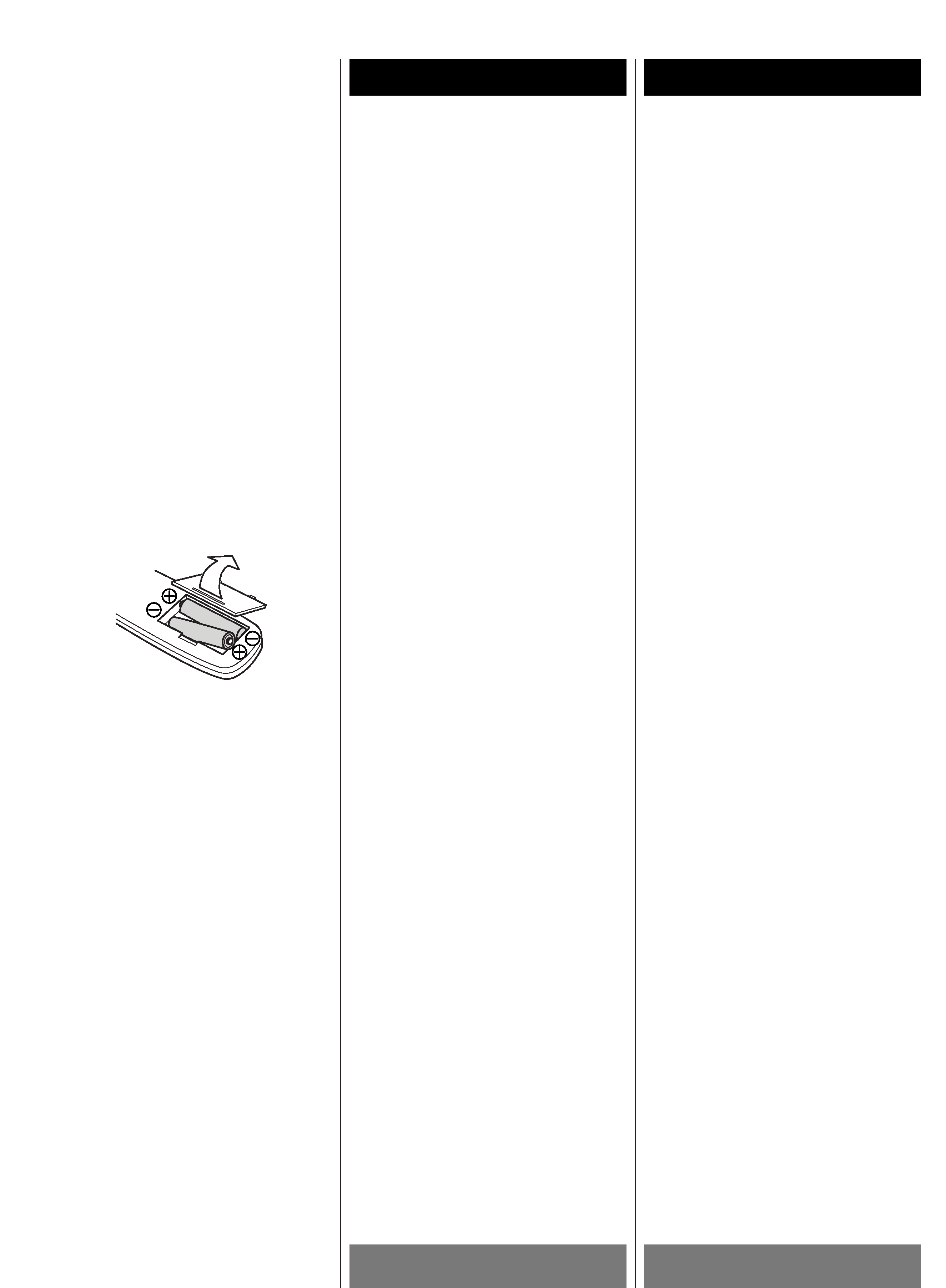 Using the Remote Control Unit
The provided Remote Control Unit allows
the unit to be operated from a distance.
When operating the remote control unit,
point it towards the REMOTE SENSOR on
the front panel of the unit.
< Even if the remote control unit is operated
within the effective range, remote control
operation may be impossible if there are
any obstacles between the unit and the
< If the remote control unit is operated near
other appliances which generate infrared
rays, or if other remote control devices
using infrared rays are used near the unit,
it may operate incorrectly. Conversely, the
other appliances may operate incorrectly.
If the distance required between the
remote control unit and main unit
decreases, the batteries are exhausted. In
this case replace the batteries with new
Precautions concerning batteries
< Be sure to insert two "AA"(R6, SUM-3) dry
batteries with correct positive "+" and
< Use batteries of the same type. Never use
different types of batteries together.
< Rechargeable and non-rechargeable
batteries can be used. Refer to the
precautions on their labels.
< When the remote control unit is not to be
used for a long time (more than a month),
remove the batteries from the remote
control unit to prevent them from leaking.
If they leak, wipe away the liquid inside
the battery compartment and replace the
< Do not heat or disassemble batteries and
never dispose of old batteries by throwing
Si vous remarquez que la distance entre le
boîtier de télécommande et le lecteur
fonctionnement correct, ceci indique que
les piles sont usées. Dans ce cas,
remplacer les piles par des neuves.
Précautions à observer concernant les piles
< Bien placer les piles("AA", R6, SUM-3) en
respectant les polarités positives "+" et
< Utiliser des piles du même type. Ne jamais
essayer d'utiliser des types de pile
< Des piles ou des batteries peuvent être
utilisées. Se référer à leurs étiquettes pour
les précautions à respecter.
< Si le boîtier de télécommande n'est pas
utilisé pendant une longue période (plus
d'un mois), retirer les piles du boîtier de
télécommande pour éviter des fuites de
pile. Si elles coulent, essuyer le liquide
dans le compartiment des piles et
remplacer les piles par des neuves.
< Ne pas chauffer, démonter les piles ni les
Utilisation de la télécommande
Le boîtier de télécommande fourni permet
la commande à distance de l'appareil.
télécommande, le diriger vers le détecteur
de télécommande du panneau avant de
< Même si le boîtier de télécommande est
activé dans la zone de fonctionnement, la
impossible s'il y a des obstacles entre le
lecteur et le boîtier de télécommande.
< Si le boîtier de télécommande fonctionne
dans le voisinage d'autres appareils
générant des rayons infrarouges, ou si
d'autres télécommandes utilisant des
rayons infrarouges sont utilisées près du
lecteur, le lecteur peut ne pas bien
fonctionner. Dans la situation inverse, les
autres appareils peuvent ne pas bien
---