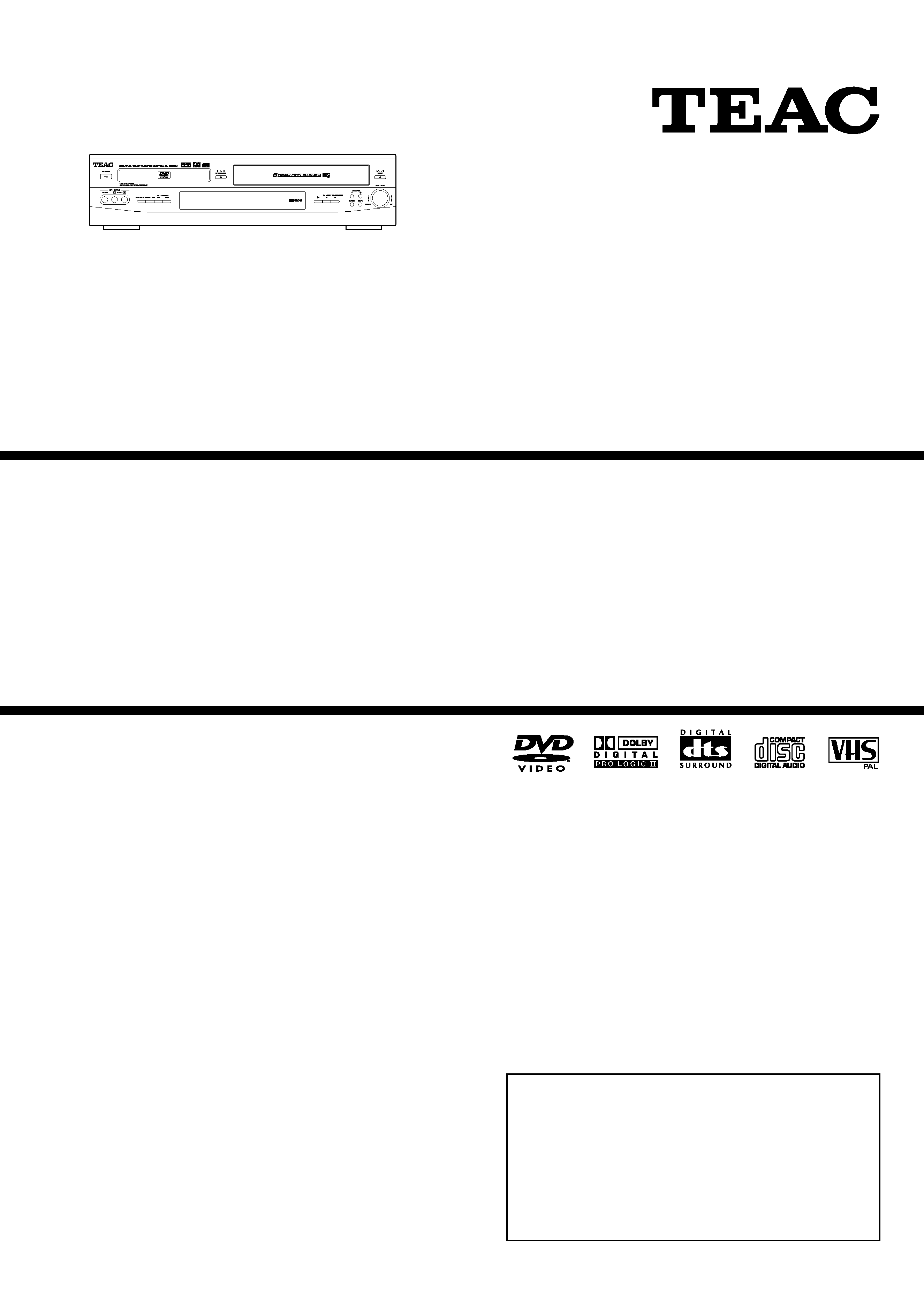 VCR/DVD HOME THEATER SYSTEM
Effective : September, 2003
Parts marked with this sign are safety critical components. They
must be replaced with identical components - refer to the appropriate
parts list and ensure exact replacement.
Before returning appliance to the customer, make leakage-current or
resistance measurements to determine that exposed parts are
acceptably insulated from the supply circuit.
IC AND TRANSISTOR VOLTAGE CHART
---

Output Power (6 ohms, 1KHz, 1% T.H.D) : Stereo
Output Power (6 ohms, 1KHz, 1% T.H.D)
Subwoofer (1 Channel Driven)
S/N Ratio (IHF-A Weighted)
VCR (audio) Section [Hi-Fi]
NOTE: Design and specifications are subject to change and improvement without notice
---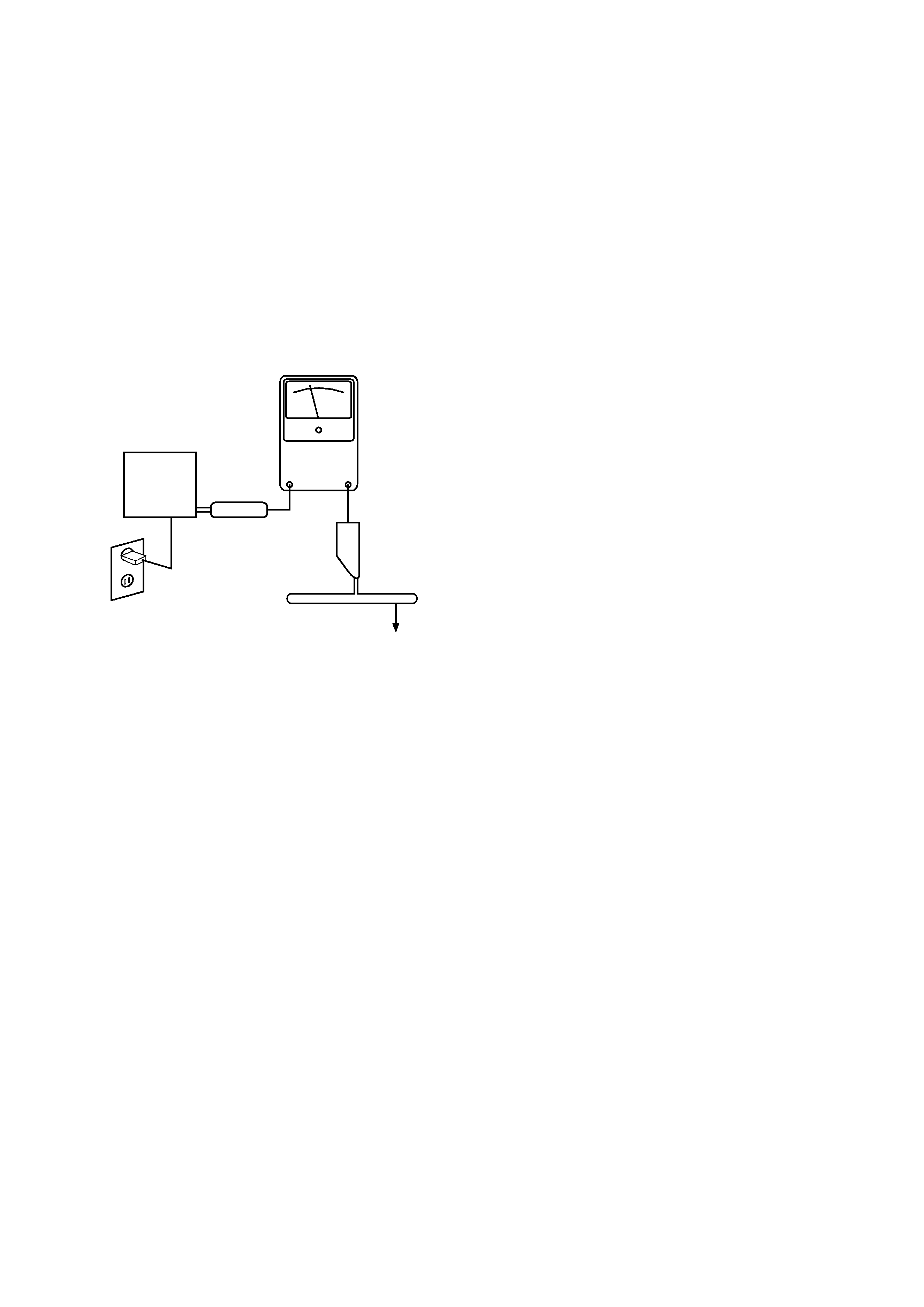 The following check should be performed for the continued
protection of the customer and service technician.
Measure leakage current to a known earth ground (water
pipe, conduit, etc.) by connecting a leakage current tester
between the earth ground and all exposed metal parts of the
appliance (input/output terminals, screwheads, metal
overlays, control shaft, etc.). Plug the AC line cord of the
appliance directly into a 120V AC 60Hz outlet and turn the
AC power switch on. Any current measured must not exceed
ANY MEASUREMENTS NOT WITHIN THE LIMITS
POTENTIAL SHOCK HAZARD AND MUST BE
CORRECTED BEFORE RETURNING THE APPLIANCE
---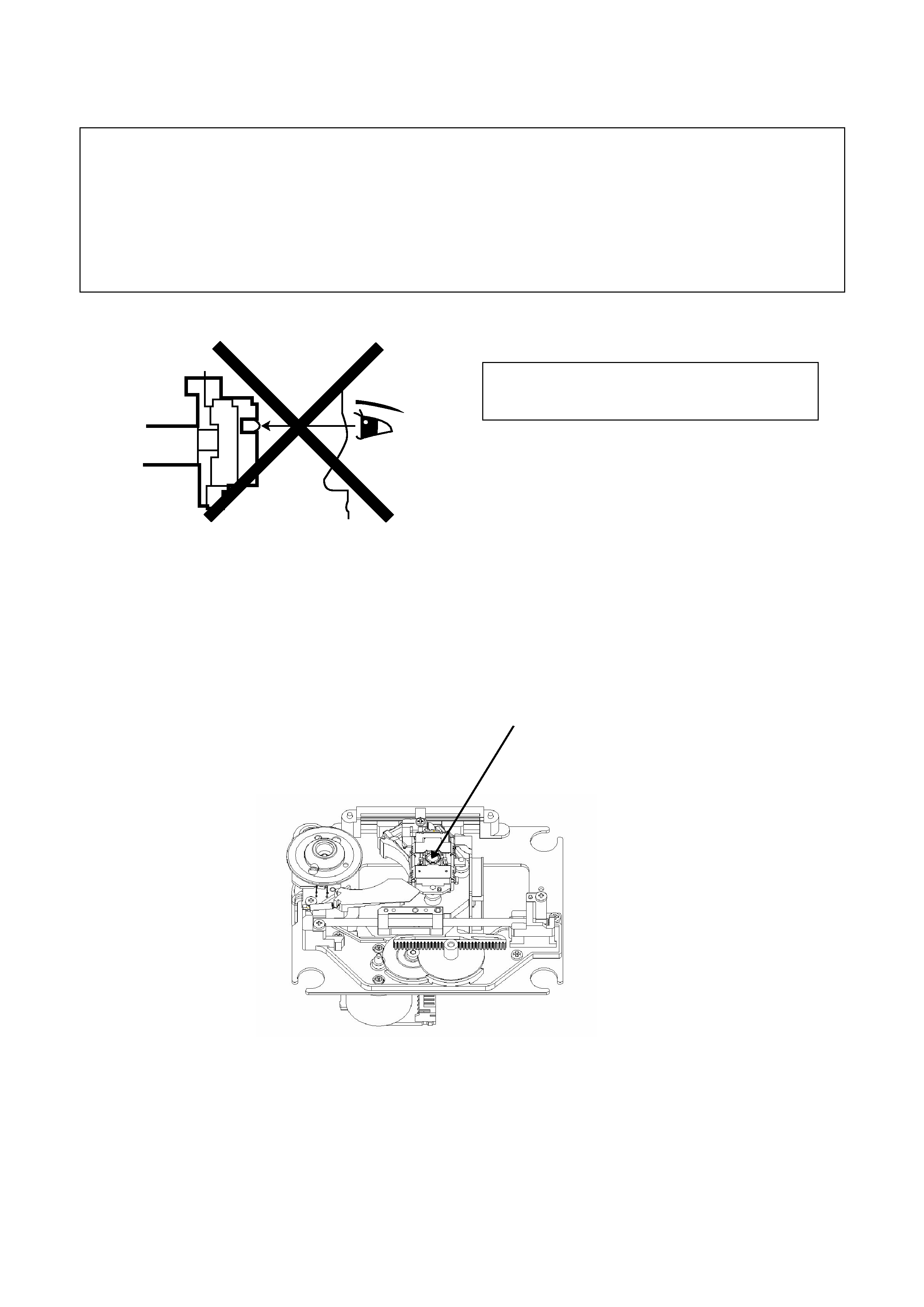 LASER BEAM SAFETY PRECAUTIONS
INVISIBLE LASER RADIATION
AVOID DIRECT EXPOSURE TO BEAM
This Receiver uses a pickup that emits a laser beam.
The laser beam is emitted from the location shown in the figure. When checking the laser diode, be sure to keep your eyes
at least 1 foot away from the pickup lens when the diode is turned on. Do not look directly at the laser beam.
Caution: Use of controls and adjustments, or doing procedures other than those specified herein, may result in hazardous
Do not look directly at the laser beam coming
from the pickup or allow it to strike against your
---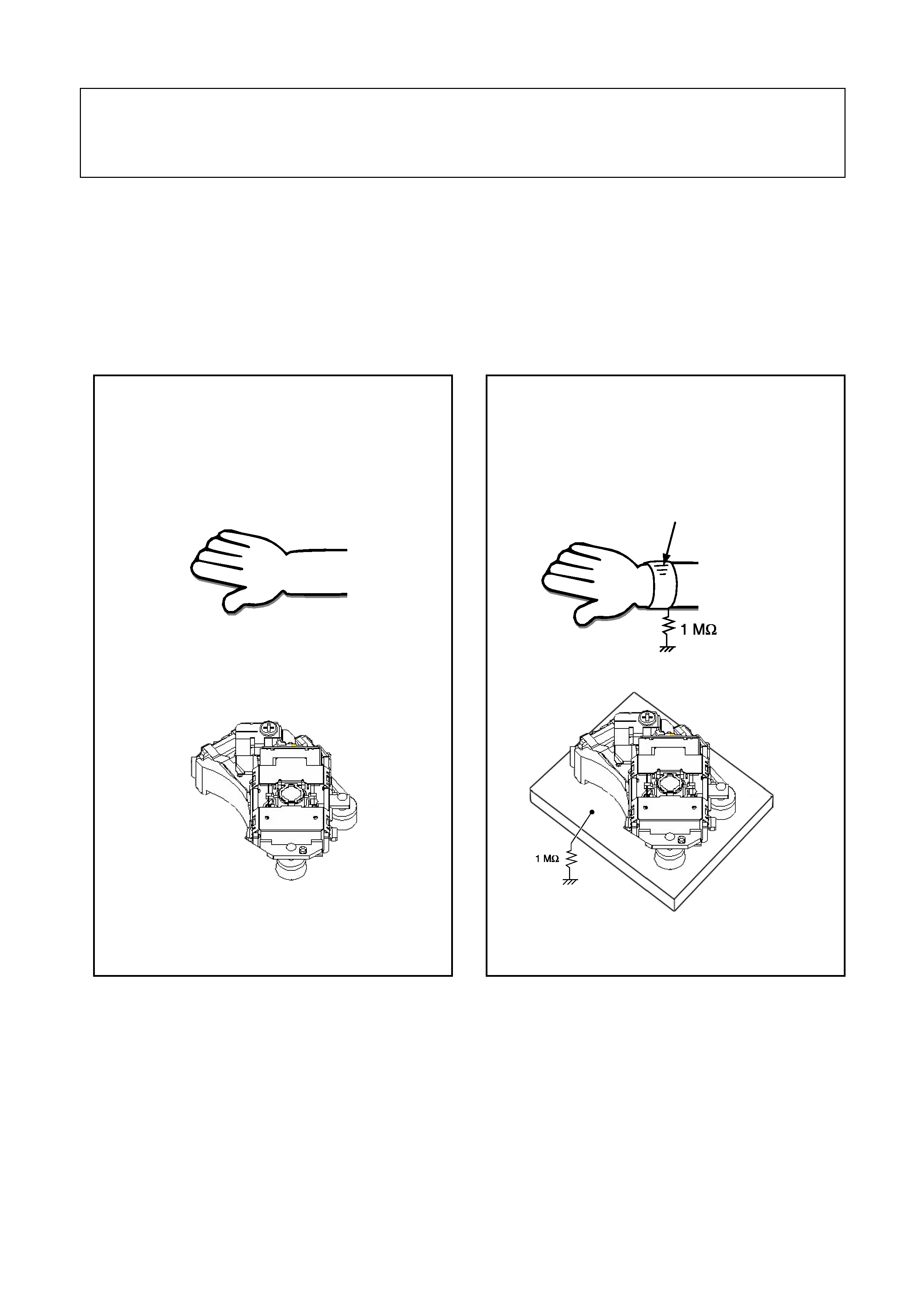 The laser diode in the optical system of this receiver can be damaged by electrostatic discharge from clothes,
body, etc. Proper electrostatic grounding for service personnel is required during servicing.
BEFORE REPAIRING THE DVD MECHANISM
Many of the components used in this compact disc player, including the laser pickup, are sensitive to electrostatic
Service personnel should be grounded with an electrostatic armband (1M ohm).
Caution: Static charge on clothing does not escape through a body grounding wristband. Be careful not to contact the
pickup or electrical components with your clothing.
b. Workbench and Tool Grounding:
A properly-grounded electroconductive plate (1 M ohm) or metal sheet should be fitted to the workbench surface.
Tools and instruments (soldering irons, scopes, etc.) should be grounded to prevent AC leakage.
c. Make two standard ESD solder bridges on the Laser optic PC Board
Before disassembly of mechanism or disconnect any cables in it, make two standard ESD solder bridges on the laser
Ground conductive wristband
---