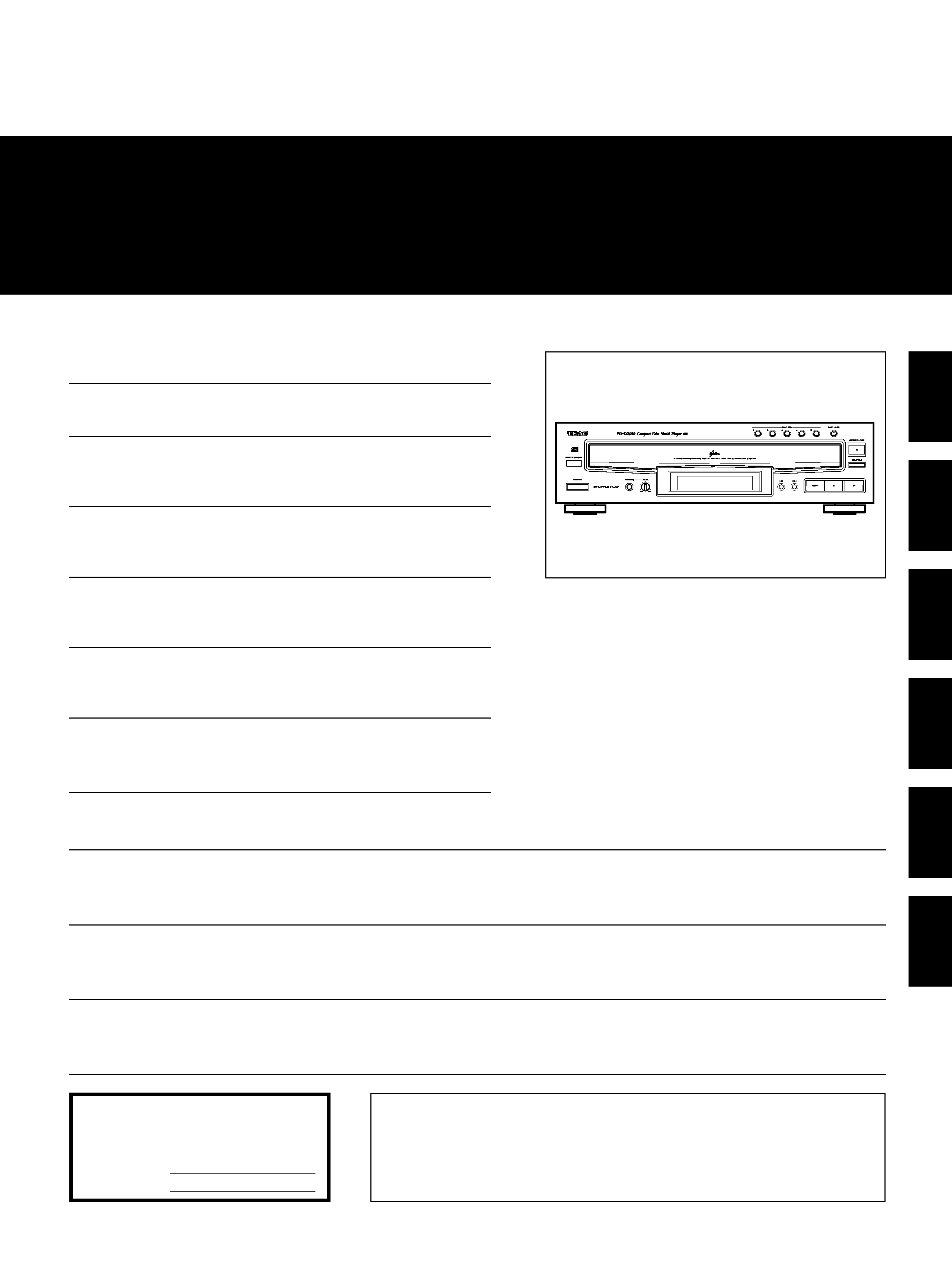 This appliance has a serial number located
on the rear panel. Please record the model
number and serial number and retain them
WARNING: TO PREVENT FIRE OR SHOCK
HAZARD, DO NOT EXPOSE THIS
APPLIANCE TO RAIN OR MOISTURE.
The exclamation point within an equilateral triangle is intended to alert the user to the
presence of important operating and maintenance (servicing) instructions in the literature
accompanying the appliance.
The lightning flash with arrowhead symbol, within an equilateral triangle, is intended to alert
the user to the presence of uninsulated "dangerous voltage" within the product's enclosure
that may be of sufficient magnitude to constitute a risk of electric shock to persons.
CAUTION: TO REDUCE THE RISK OF ELECTRIC SHOCK, DO NOT
REMOVE COVER (OR BACK). NO USER-SERVICEABLE PARTS INSIDE.
REFER SERVICING TO QUALIFIED SERVICE PERSONNEL.
Thanks for buying a TEAC. Read this manual carefully to get the best
performance from this unit.
Nous vous remercions pour l'achat d'un appareil TEAC.
Lire ce manuel avec attention pour obtenir les meilleures performances
possibles de cet appareil.
Vielen Dank für den Kauf dieses TEAC-Geräts.
Bitte lesen Sie diese Anleitung sorgfältig durch, um die Leistungs-
fähigkeit dieses Geräts optimal nutzen zu können.
Grazie per aver acquistato un prodotto TEAC.
Leggere attentamente questo manuale per ottenere le migliori
prestazioni da questo apparecchio.
Enhorabuena por la adquisición de un TEAC.
Lea detenidamente este manual a fin de obtener el mejor rendimiento de
Dank u voor de aanschaf van een TEAC.
Lees deze gebruiksaanwijzing aandachtig door teneinde de beste
prestaties van dit toestel te verkrijgen.
OWNER'S MANUAL ......................... 3
MANUEL DU PROPRIETAIRE ...........10
BEDIENUNGSANLEITUNG................18
MANUALE DI ISTRUZIONI ...............25
MANUAL DEL USUARIO ..................33
GEBRUIKSAANWIJZING ..................40
---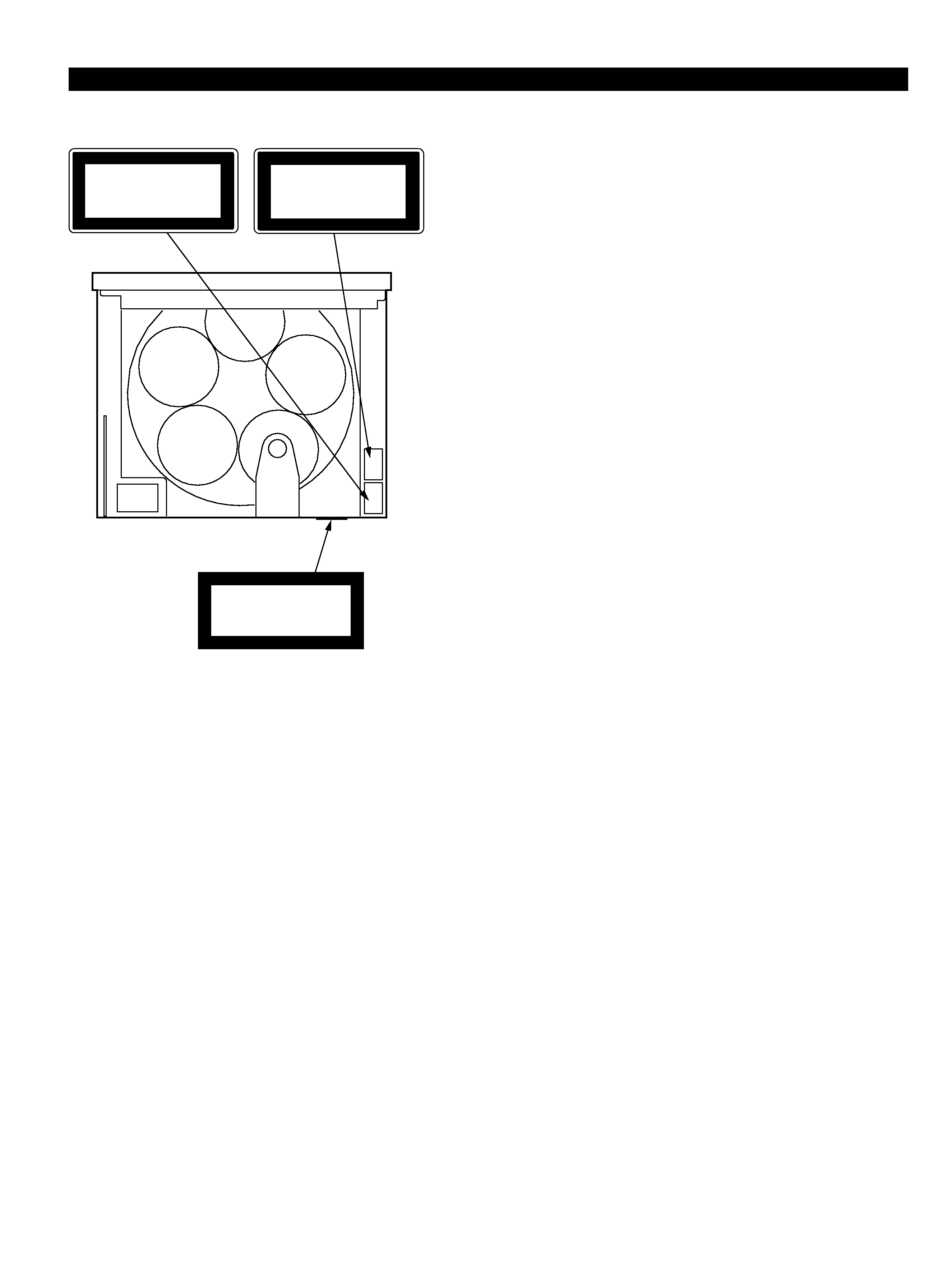 1
THIS LAVEL IS ATTACHED TO THE PLACE AS ILLUSTRATED TO INFORM THAT
THE APPARATUS CONTAINS A LASER COMPONENT.
1
DIESE AUFKLEBEMARKE IST AN DEM IN DER ABBILDUNG GEZEIGTEN ORT
ANGEBRACHT UM DARAUF HINZUWEISEN, DASS IM INNERN DES GERÄTS EINE
LASER-KOMPONENTE BEFINDET.
1
PÅSKRIFTEN SITTER PÅ APPARATEN SOM VISAS SOM UPPMANING OM ATT
APPARATEN OMFATTAR EN INBYGGD LASERKOMPONENT.
1
DETTE MÆRKAT ER ANBRAGT SOM VIST I ILLUSTRATIONEN FOR AT ADVARE
BRUGEREN OM AT APPARATET INDEHOLDER EN LASERKOMPONENT.
2
DETTE MÆRKAT ER SOM VIST PÅ ILLUSTRATIONEN ANBRAGT PÅ INDERSIDEN
AF TOPDÆKSLET FOR AT ADVARE BRUGEREN OM AT YDERLIGERE
FREMTRÆNGEN VIL VÆRE FORBUNDET MED FARE FOR AT UDSÆTTE SIG FOR
ADVARSEL -- BETJENING AF ANDRE KONTROLLER OG REGULATORER ELLER
BENYTTELES AF ANDRE FREMGANGSMÅDER END BESKREVET HERI ER
FORBUNDET MED FARE FOR UDSÆTTELSE FOR LASERSTRÅLING.
VARING: APPARATEN INNEHÅLLER LASER LOMPONENT MED
STRÅLNING ÖVERSTIGANDE KLASS 1.
"ADVARSEL: USYNLIG LASERSTRÅLING VED ÅBNING NAR
SIKKERHEDSAFBRYDERE ER UDE AF FUNKTION. UNDGÅ
UDSAETTELSE FOR STRÅLING"
"VAROITUS! SUOJAKOTELOA EI SAA AVATA. LAITE SISÄLTÄÄ
LASERDIODIN. JOKA LÄHETTÄ (NÄKYMÄTÖNTÄ) SILMILLE
VAARALLISTA LASERSÄTEILYÄ".
ADVARSEL: USYNLIG LASERBESTRÅLING NÅR DENNE
DELEN ER ÅPEN OG SIKKERHETSSPERREN ER UTKOBLET
UNNGÅ UTSETTELSE FOR STRÅLING.
CAUTION - INVISIBLE LASER RADIATION WHEN OPEN AND
INTERLOCKS DEFEATED. AVOID EXPOSURE TO BEAM.
VORSICHT! UNSICHTBARE LASERSTRAHLUNGTRITT AUS.
WENN DECKEL GEÖFFNET UND WENN
SICHERHEITSVERRIEGELUNG ÜBERBRÜCKT IST.
NICHT DEM STRAHL AUSSETZEN !
VARNING - OSYNLIG LASERSTRÅLNING NÄR DENNA DEL
ÄR ÖPPNAD OCH SPÄRR ÄR URKOPPLAD.
ADVARSEL - USYNLIG LASERSTRÅLING VED ÅBNING, NÅR
SIKKERHEDSAFBRYDERE ER UDE AF FUNKTION.
UNDGÅ UDSÆTTELSE FOR STRÅLING.
SUOJAKOTELOA EI SAA AVATA. LAITE SISÄLTÄÄ
LASERDIODIN, JOKA LÄHETTÄÄ (NÄKYMÄTÖNTÄ)
SILMILLE VAARALLISTA LASERSÄTEILYÄ.
ADVARSEL - USYNLIG LASERBESTRÅLING NÅR DENNE DELEN ER
ÅPEN OG SIKKERHETSSPERREN ER UTKOBLET.
UNNGÅ UTSETTELSE FOR STRÅLING.
---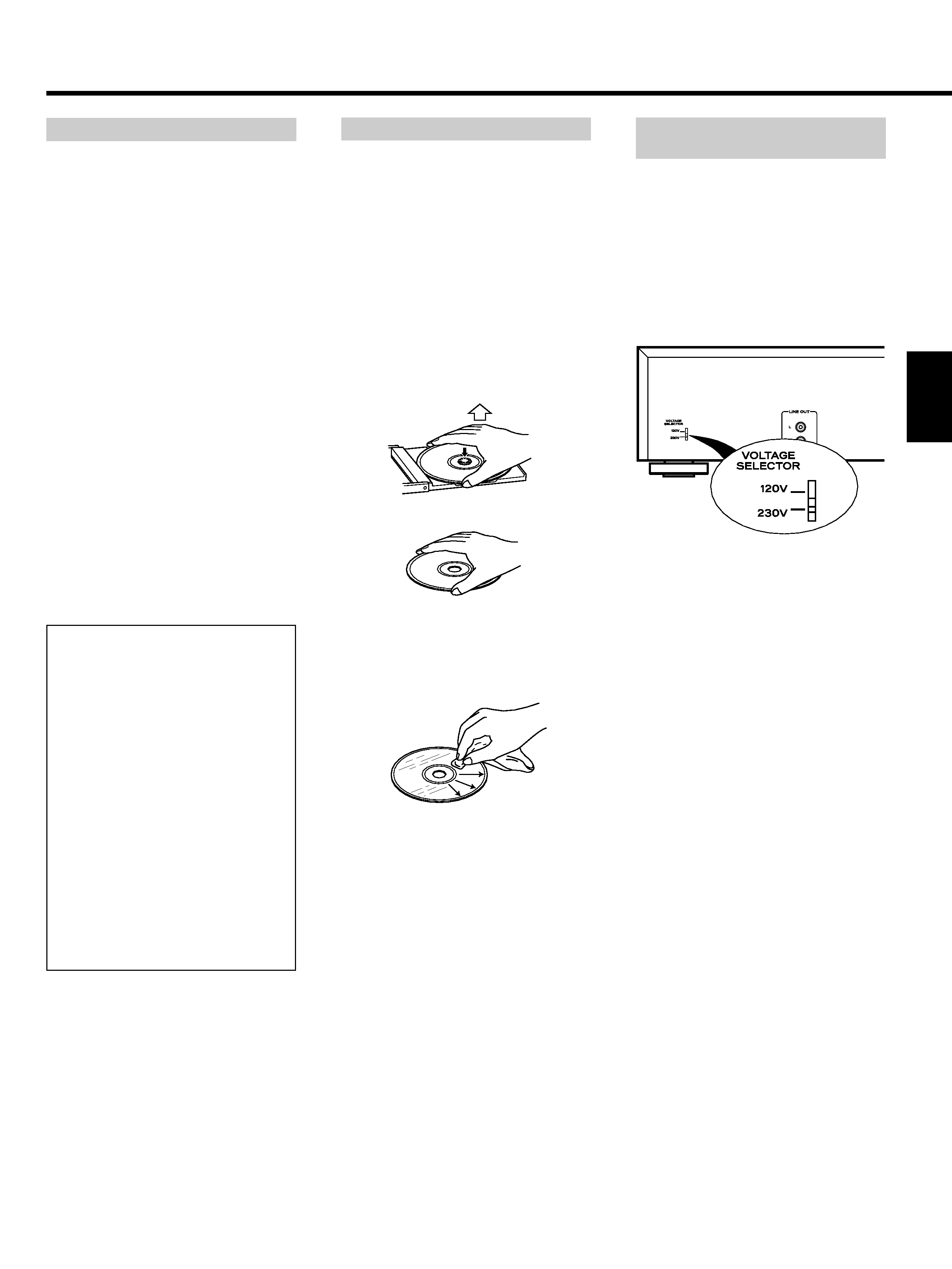 Be sure to remove the power cord from the
AC outlet before repositioning the voltage
1. Locate the voltage selector on the rear
2. Using a flat-bladed screwdriver, set to
the appropriate 230 V or 120 V position
(For general export models)
O Choose the installation location of your
unit carefully. Avoid placing it in direct
sunlight or close to a source of heat.
Also avoid locations subject to
vibrations and excessive dust, heat,
cold or moisture. Keep away from such
sources that hum, such as transformers
O Do not open the cabinet as this might
result in damage to the circuitry or
electrical shock. If a foreign object
should get into the set, contact your
O Be sure not to handle discs with dirty
fingers. Never insert a disc which has a
O When removing the power plug from
the wall outlet, always pull directly on
the plug, never yank the cord.
O To keep the laser-pickup clean, do not
touch it, and do not forget to close the
O Do not attempt to clean the unit with
chemical solvents as this might damage
the finish. Use a clean, dry cloth.
O Keep this manual in a safe place for
This unit has been designed specifically for
reproduction of compact discs bearing the
"
D
" mark. No other discs can be
O Always place the compact disc in the
disc tray with the label facing upward.
(Compact discs can be played only on
O To remove a disc from its storage case,
press down on the center of the case
and lift the disc out, holding it carefully
O Fingermarks and dust should be
carefully wiped off the disc's recorded
surface with a soft cloth.
O Never use such chemicals as record
sprays, antistatic sprays or fluid,
benzine or thinner to clean compact
irreparable damage to the disc's plastic
O Discs should be returned to their cases
after use to avoid serious scratches
that could cause the laser pickup to
O Do not expose discs to direct sunlight or
high humidity and temperature for
Long exposure to high temperatures
O Do not stick paper or write anything
with a ballpoint pen on the surface of
Read This Before Operating
When the player (or a compact disc) is
moved from a cold to a warm place or
used after a sudden temperature
change, there is the danger of
condensation. Water vapor in the air
could condense on the mechanism or
the laser pickup. If droplets of water
form on these parts, correct playback
will be impossible because the laser
cannot read the information from the
disc correctly. To prevent this, if you
are going to use the player in a
condition where condensation could
occur, you should leave the player for
1 or 2 hours after plugging it into an AC
outlet depending on the amount of
condensation. If this is done, the
player will stabilize at the temperature
---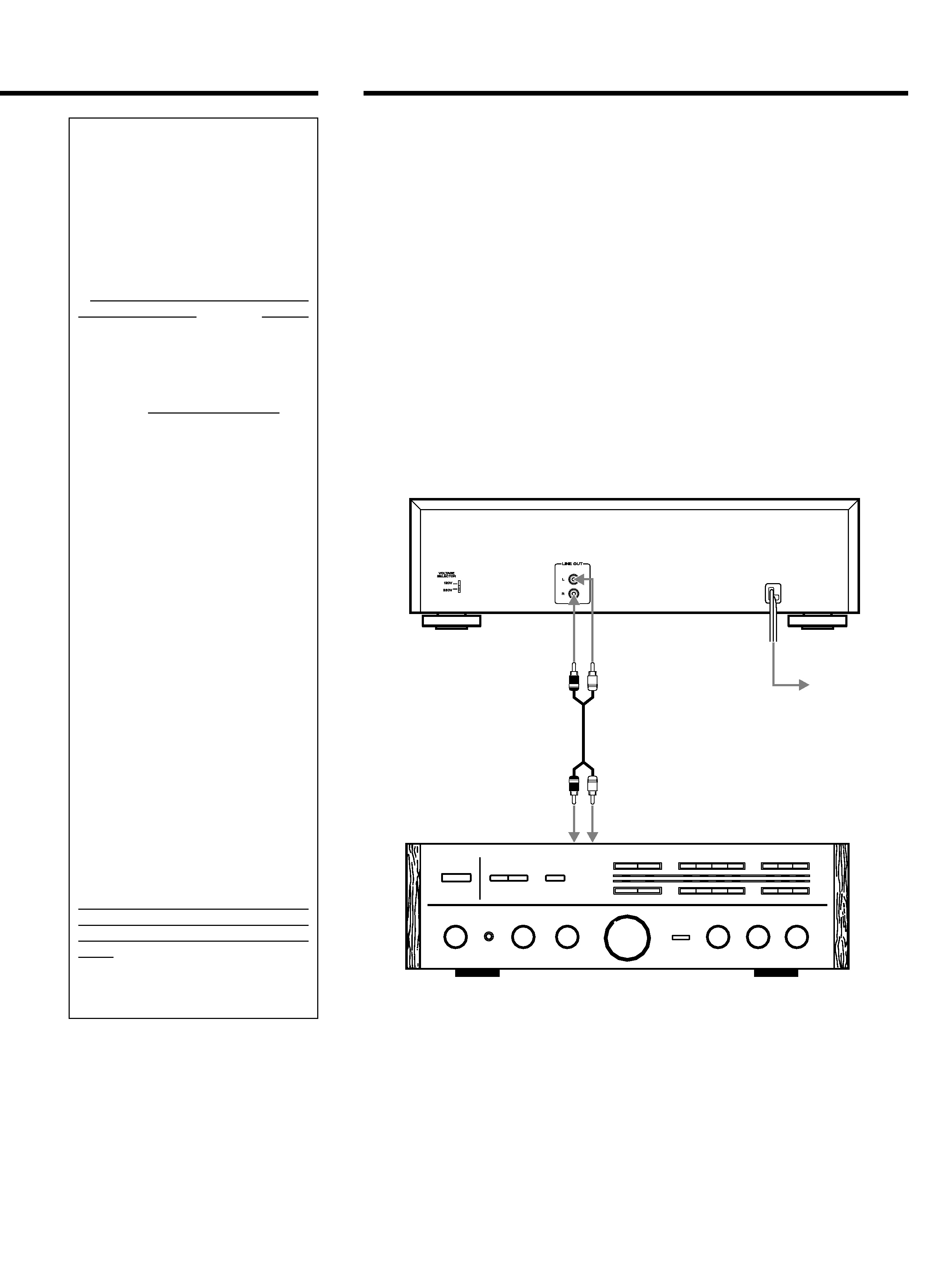 Before making connections, be sure to
read the instruction manual of the stereo
amplifier carefully and turn the power of
the stereo amplifier and the player OFF.
Connect the LINE OUT terminals to the CD
terminals, etc. of the stereo amplifier using
If the CD player interferes with the tuner,
TV reciever, etc., allow a reasonable
Be sure to connect the power cord to an
AC outlet which supplies the correct
When using headphones, connect the
headphone plug into the PHONES jack.
O Adjust the level of the signals output
IMPORTANT (for U.K. Customers)
DO NOT cut off the mains plug from this
equipment. If the plug fitted is not
suitable for the power points in your
home or the cable is too short to reach
a power point, then obtain an
appropriate safety approved extension
lead or consult your dealer.
If nonetheless the mains plug is cut off,
remove the fuse and dispose of the plug
immediately, to avoid a possible shock
hazard by inadvertent connection to the
If this product is not provided with a
mains plug, or one has to be fitted, then
follow the instructions given below:
IMPORTANT. DO NOT make any
connection to the larger terminal which
is marked with the letter E or by the
safety earth symbo © or coloured
GREEN or GREEN-and-YELLOW.
The wires in the mains lead on this
product are coloured in accordance
As these colours may not correspond
with the coloured markings identifying
the terminals in your plug proceed as
The wire which is coloured BLUE must
be connected to the terminal which is
marked with the letter N or coloured
The wire which is coloured BROWN
must be connected to the terminal
which is marked with the letter L or
When replacing the fuse only a
correctly rated approved type should
be used and be sure to re-fit the fuse
---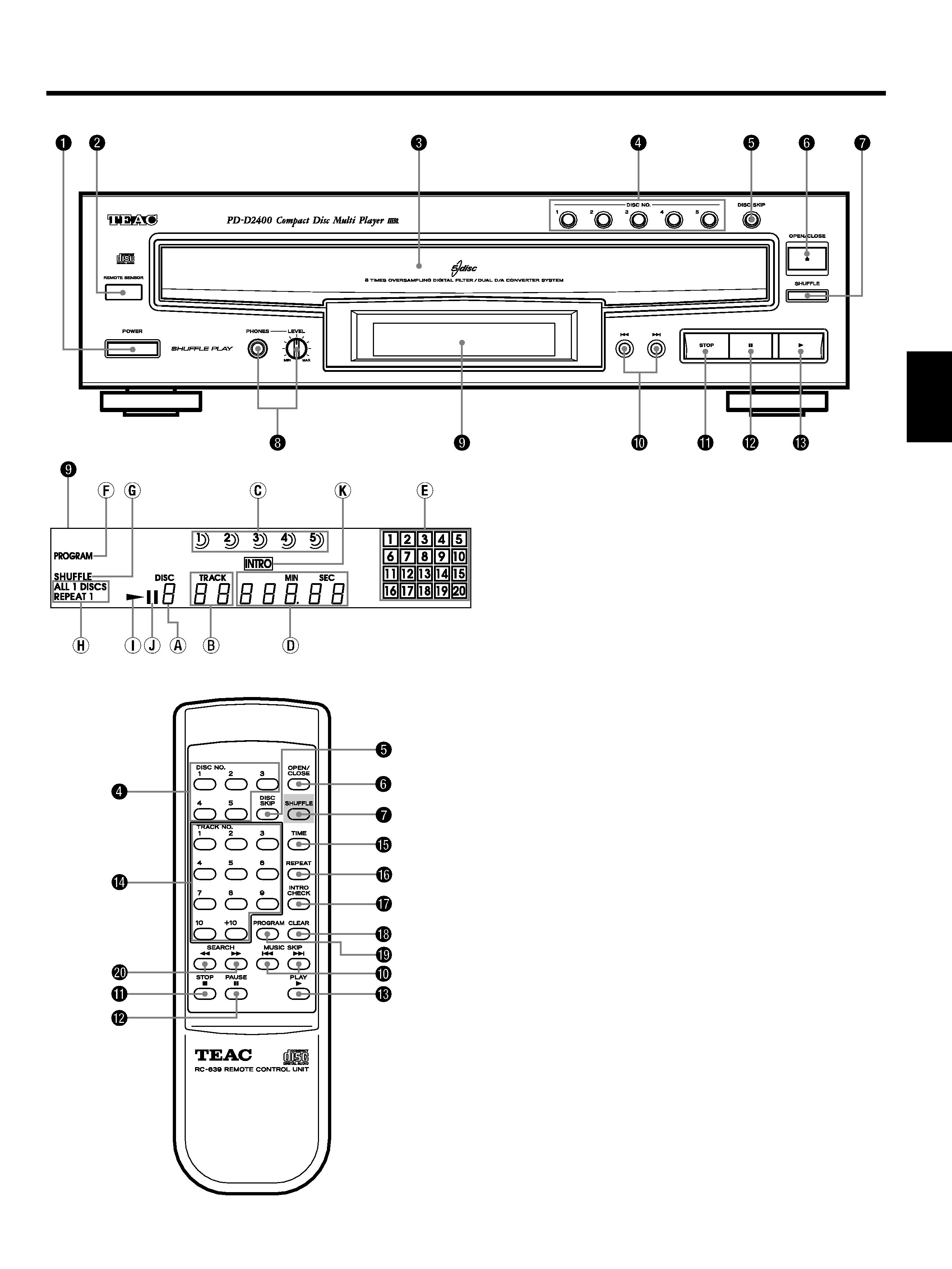 4 DISC NO. (1 - 5) buttons
8 PHONES jack / LEVEL control
9 Multi-function display window
c Disc indicators 1) 2) 3) 4) 5)
0 MUSIC SKIP (Ú¿Æ) buttons
---