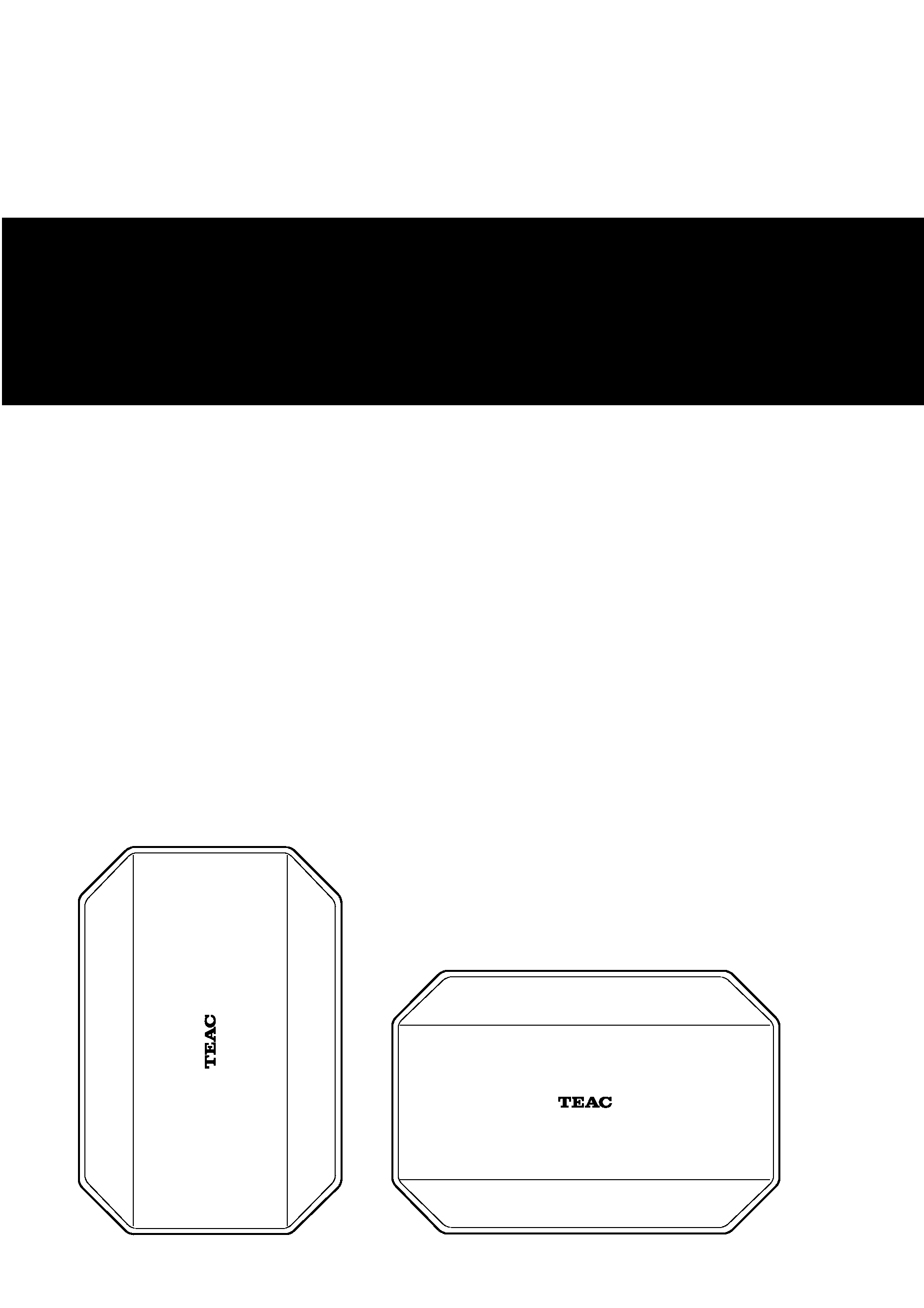 Indoor/Outdoor Compact Speaker
---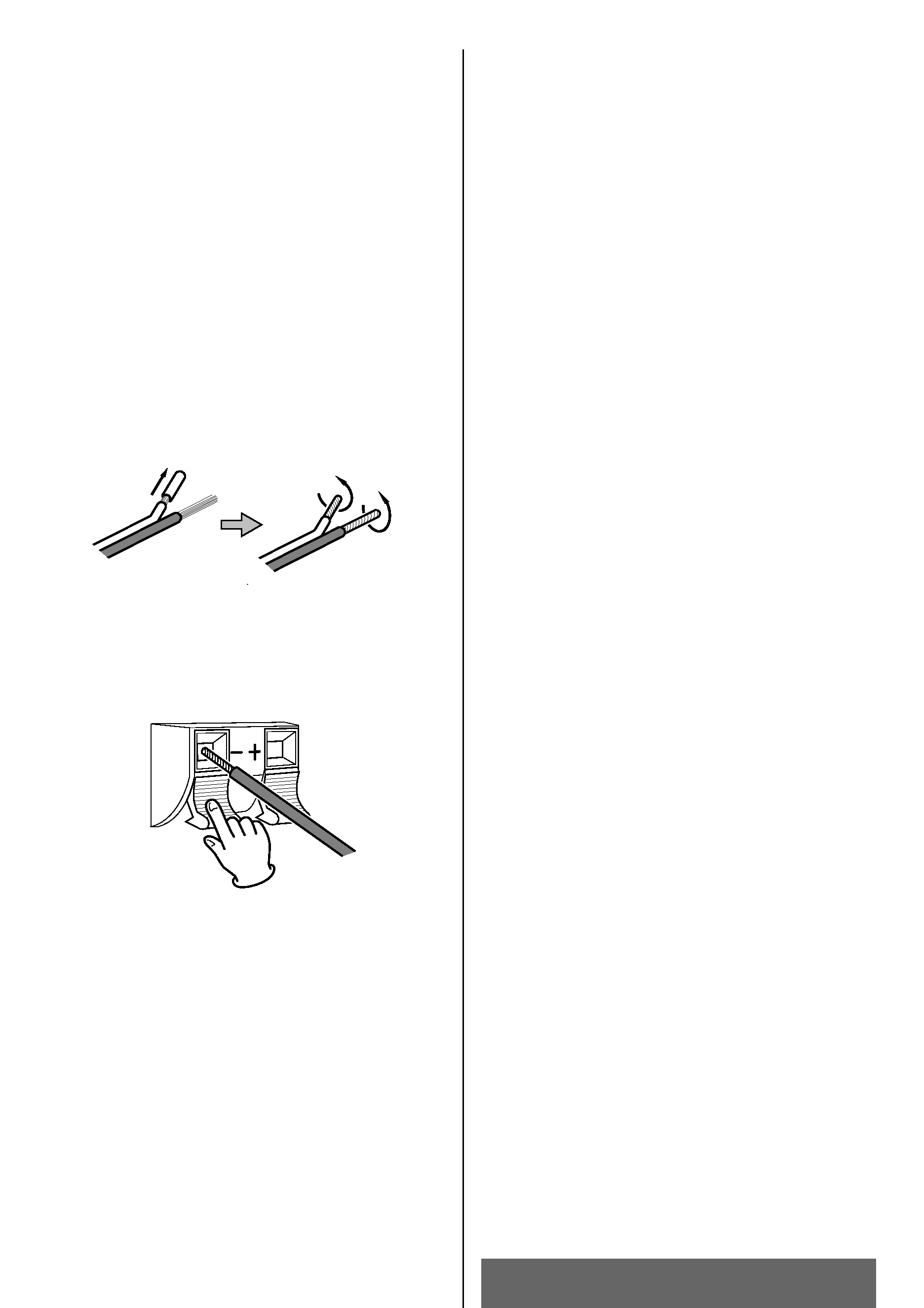 The LS-X890 is designed to accurately
reproduce high fidelity music. The discrete,
compact design is ideal for many applications
where larger speakers would be impractical,
while the weather tight cabinets make them
suitable for outdoor listening environments.
They may also be used independently where
space is a consideration, or they may be used
to enhance subwoofer and home theater
< Be sure to read the instruction manual of
the amplifier carefully and switch the
power off before connecting the speaker.
< Connect the provided speaker cables (or
other suitable cables) from the speaker
terminals to the terminals of the amplifier.
< Strip off the insulation from the ends of the
cable and twist the bare strands together
to facilitate connections.
< Be sure that the positive + terminal of the
speaker is connected to the corresponding
+ terminal of the amplifier, and that
< When connecting to an amplifier having an
output higher than the maximum rated input
of the speaker, be careful not to exceed the
speaker's maximum input, otherwise it will
Thank you for choosing TEAC. Read this
manual carefully to get the best performance
---

Gli altoparlanti LS-X890 sono stati realizzati
per riprodurre musica con accurata fedeltà. Le
loro piccole dimensioni li rendono adatti a
molti utilizzi soprattutto dove altri più grandi
non sarebbero pratici. Il mobile, cioè la cassa
è a prova di intemperie, ciò vuol dire che gli
LS-X890 possono essere utilizzati anche per
sonorizzazioni di esterni.
Possono essere usati come sistema
indipendente oppure, con l'aggiunta di un
subwoofer, possono diventare i satelliti di un
impianto di altoparlanti per home theatre.
< Prima di collegare questi altoparlanti Vi
consigliamo di leggere attentamente le
istruzioni dell'amplificatore e comunque di
accertar Vi che sia spento.
< Collegare con i cavetti in dotazione (o con
dell'amplificatore a quelli posti sul retro
< Togliere da uno a due centimetri di guaina
di plastica alle estremità dei cavetti ed
arrotolare le parti nude in metallo per
facilitarne l'inserimento nei morsetti.
< Attenzione a collegare il terminale positivo
+ di ciascun altoparlante al terminale
positivo + dell'amplificatore e lo stesso
per i terminali negativi _.
< Se dovrete collegare questi altoparlanti ad
un amplificatore di potenza maggiore
rispetto a quella massima ammessa per gli
altoparlanti, fate attenzione a non alzare
troppo il volume: potreste danneggiarli e
questo sarebbe un danno non coperto dalla
Les LS-X890 sont conçues pour reproduire
précisément Ia musique haute fidélité.
La présentation compacte et discrète est
idéale pour de nombreuses applications où
des enceintes plus grandes seraient
impraticables, alors que les coffrets résistants
au temps les rendent utilisables pour des
environnements d'écoute en extérieur. Elles
peuvent également être utilisées de façon
considération, ou elIes peuvent être utilisées
pour relever un subwoofer ou des systèmes
< S'assurer de lire Ie manuel d'instructions
de l'amplificateur et d'éteindre l'appareil
avant de connecter l'enceinte.
< Raccorder Ie câble de haut-parleur fourni
(ou autre câble convenable) des bornes du
< Dénuder les extrémitês du câble et tordre
les fils ainsi dégarnis de sorte à faciliter
< Il faut s'assurer que Ia borne positive + de
l'enceinte est en liaison avec Ia borne +
de l'amplificateur, et que Ia négative _
< Lors de Ia connexion à un amplificateur
ayant une tension de sortie supérieure à Ia
puissance d'entrée nominale maximale de
l'enceinte, veiller à ne pas dépasser Ia
puissance d'entrée maximale de l'enceinte,
Nous vous remercions pour l'achat d'un
appareil TEAC. Lire ce manuel avec attention
pour obtenir les meilleures performances
possibles de cet appareil.
Grazie per aver acquistato un prodotto TEAC.
Leggere attentamente questo manuale per
ottenere le migliori prestazioni da questo
---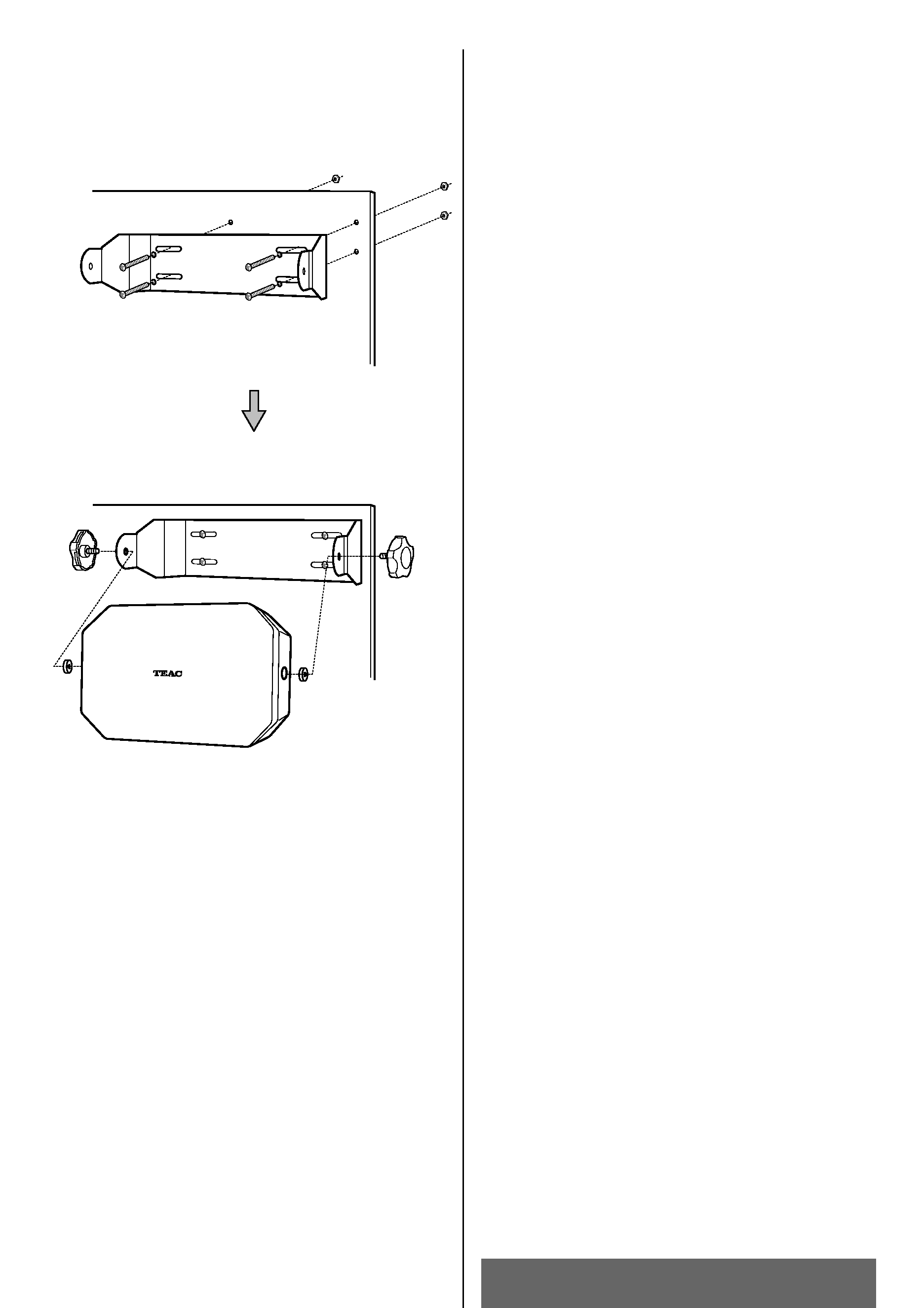 Prior to use, ensure that mounted places like
the wall or ceiling are strong enough to
withstand the weight of the speaker and
bracket. The guarantee does not cover
accidents caused by improper mounting.
< Fix the brackets onto the ceiling or wall and
then mount the speakers to the brackets,
< When mounting the speaker systems
outdoors, ensure that rainwater does not
< For safety, always mount these speakers on
a wall that is reinforced from behind. Never
mount a speaker on a wall made of unrein-
forced drywall or plasterboard.
< The LS-X890 is a water-resistant system
but is not completely waterproof system.
Thus, do not splash water on them
intentionally or submerge them in water.
< Some color disturbance may occur when
the speakers are placed in contact with a
< Do not attempt to clean the cabinet with
chemical solvents as this might damage the
---

Istruzioni per il montaggio
Prima di istallare definitivamente gli
altoparlanti assicuratevi che la parete o il
soffitto al quale correte applicarli sia
sufficientemente robusta da sopportarne il
peso, la garanzia non copre danni provocati
< Eseguite prima il montaggio delle staffe
sulla parete (o sul soffitto) e poi montate gli
altoparlanti sulle staffe usando le viti a
mano incluse nella confezione.
< Se istallerete gli altoparlanti all'aperto fate
in mode di posizionarli in maniera tale che
la pioggia non possa raggiungere i
terminali di collegamento dei cavi posti sul
< Per la Vostra e l'altrui sicurezza montate
questi altoparlanti su una parete od un
muro sufficientemente robusti. Un semplice
intonaco non è sufficiente a reggerne il
< Gli LS-X890 sono resistenti all'acqua ed
all'umidità ma non sono completamente
Quindi non annaffiateli intenzionalmente nè
tantomeno immergeteli nell'acqua.
< Se collocherete questi altoparlanti a
contatto con un televisore, la resa
cromatica di questo sarà disturbata.
< Non pulite l'esterno degli altoparlanti con
prodotti chimici (solventi etc.) perché ne
danneggerete la verniciatura.
Avant utilisation, s'assurer que les endroits de
montage comme des murs ou Ie plafond sont
assez résistants pour supporter Ie poids de
l`enceinte et du support. La garantie ne couvre
pas les accidents causés par un montage
< Fixer les supports au plafond ou au mur,
puis monter les enceintes sur les supports
en utilisant les vis commodes.
< En montant les enceintes en extérieur,
s'assurer que l'eau de pluie ne vienne pas
< Pour des raisons de sécurité, toujours
monter ces enceintes sur un mur qui est
renforcé par derrière. Ne jamais monter
une enceinte sur une paroi creuse ou une
< Les LS-X890 sont résistantes à l'eau, mais
ne sont pas complètement étanches. Par
intentionnellement avec de I'eau ni les
< Certaines perturbations de couleur peuvent
se produire quand les enceintes sont
placées en contact avec un téIéviseur.
< Ne pas essayer de nettoyer Ie coffret avec
des solvants chimiques car ceci pourrait
endommager le fini du coffret.
---