Home Theater Speaker System
Sistema de altavoces de cine en casa
Sistema di diffusori per Home Theater
Thank you for choosing TEAC. Read
this manual carefully to get the best
performance from this unit.
Before Use . . . . . . . . . . . . . . . . . . . . . . 2
Placement of the speakers . . . . . . . . . . 2
Connections. . . . . . . . . . . . . . . . . . . . . 4
Positioning of the Speakers . . . . . . . . . 6
Subwoofer . . . . . . . . . . . . . . . . . . . . . . 8
Specifications . . . . . . . . . . . . . . . . . . . 10
Enhorabuena por la adquisición de un
TEAC. Lea detenidamente este
manual a fin de obtener el mejor
rendimiento de esta unidad.
Antes de comenzar . . . . . . . . . . . . . . . 3
Colocación de los altavoces . . . . . . . . . 3
Conexiones de altavoz . . . . . . . . . . . . . 5
Emplazamiento de los altavoces . . . . . . 7
Subwoofer . . . . . . . . . . . . . . . . . . . . . . 9
Especificaciones . . . . . . . . . . . . . . . . . 11
Grazie per aver acquistato un
prodotto TEAC. Leggere attentamente
questo manuale per ottenere le
Istruzioni preliminari . . . . . . . . . . . . . . . 3
Posizionamento dei diffusori. . . . . . . . . 3
Collegamento dei diffusori . . . . . . . . . . 5
Disposizione dei diffusori . . . . . . . . . . . 7
Subwoofer . . . . . . . . . . . . . . . . . . . . . . 9
Caratteristiche tecniche . . . . . . . . . . . 11
---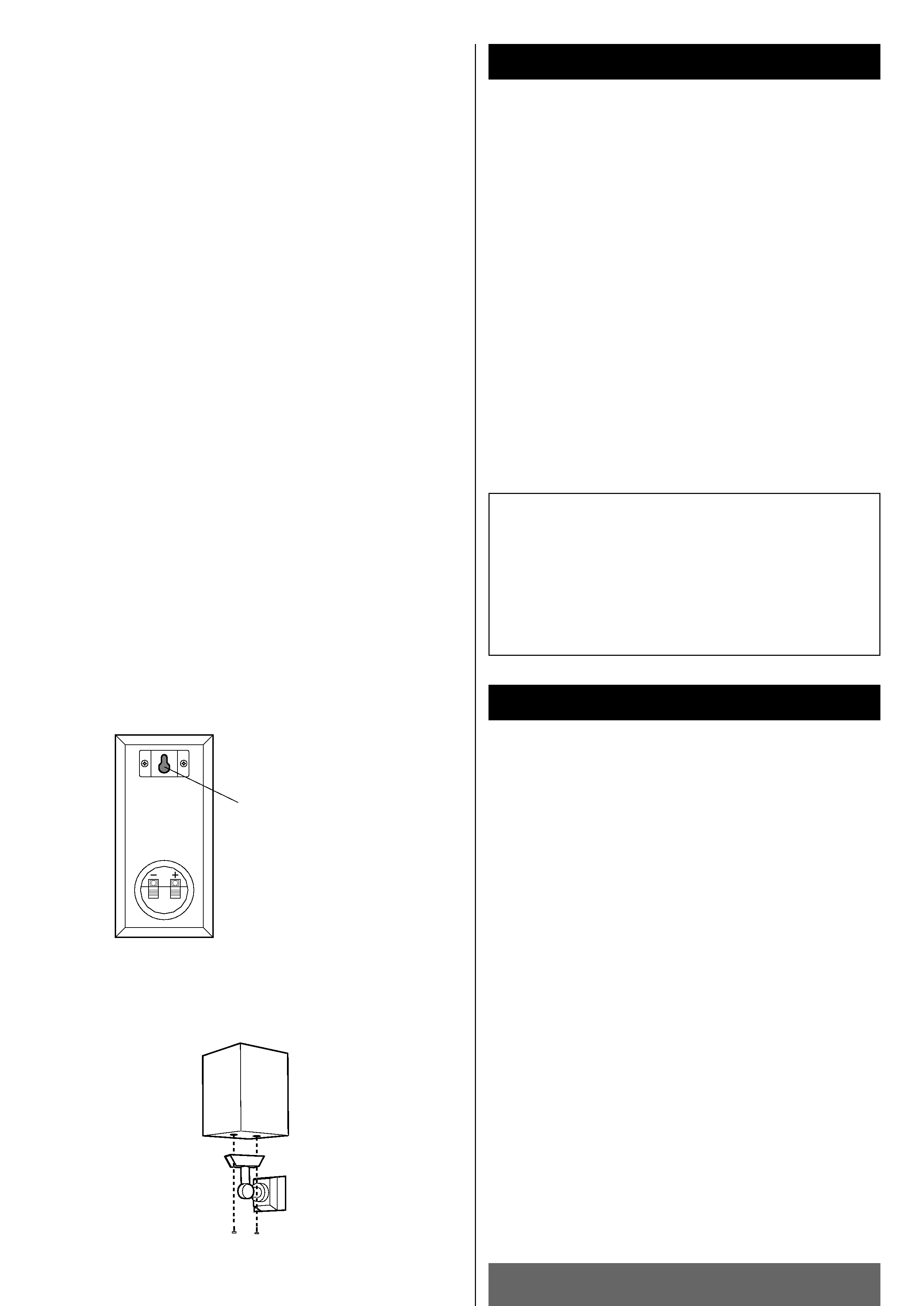 Read this before operation
Choose the installation location of your unit carefully. Avoid
placing it in direct sunlight or close to a source of heat. Also
avoid locations subject to vibrations and excessive dust, heat,
Do not open the cabinet as this might result in damage to the
circuitry or electrical shock. If a foreign object should get into
the unit, contact your dealer or service company.
When removing the power plug from the wall outlet, always
pull directly on the plug, never yank the cord.
Do not attempt to clean the unit with chemical solvents as
this might damage the finish. Use a clean, dry or slightly
Keep this manual in a safe place for future reference.
Ensure this product is not exposed to dripping or splashing
and that no object filled with liquids, such as vases, is placed
Do not install this equipment in a confined space such as a
book case or similar unit. Allow adequate air circulation
You can place the speakers on a shelf, floor, etc. or mount
them on a wall using commercially available screws or
When placing the speakers on a flat surface, stick the
supplied nonskid pads to the corners of the speaker's
Prior to use, ensure that mounted places like the wall or
ceiling are strong enough to withstand the weight of the
1. Fix commercially available M4 screws to the wall.
Make sure the screws are securely fixed in the narrow part of
Use the supplied screws to attach commercially available
brackets to the bottom of the speakers.
Placement of the speakers
---

El producto no deberá quedar expuesto a goteos o
salpicaduras, ni servir de base para objetos que contengan
líquido (jarrones, etc.).
No instale este equipo en espacios cerrados tales como
estantes de libros o similares.
Elija cuidadosamente el emplazamiento de la unidad. No
coloque la unidad a la luz solar directa ni cerca de fuentes de
calor. Evite también los lugares expuestos a vibraciones o a un
exceso de suciedad, frío, calor o humedad.
No abra la carcasa de la unidad, ya que podrían dañarse los
circuitos o producirse descargas eléctricas. Si entra algún
cuerpo extraño en la unidad, póngase en contacto con su
distribuidor o empresa de servicios.
Cuando desconecte el cable de la toma mural, sostenga
únicamente el conector y nunca el propio cable.
No intente limpiar la unidad con disolventes químicos, ya que
podrían dañar el acabado. Utilice un paño limpio y seco.
Conserve el manual en un lugar seguro para futuras
Prima di mettere in funzione l'apparecchio, si prega di
leggere attentamente queste istruzioni.
Scegliere con cura il luogo dove installare l'apparecchio,
evitando che sia esposto alla luce solare diretta o troppo
vicino ad una sorgente di calore. Evitare anche luoghi soggetti
a vibrazioni, sbalzi di temperatura o condizioni eccessive di
Non togliere il coperchio, per non correre il rischio di
danneggiare i circuiti interni o provocare fenomeni di
folgorazione. Se un oggetto estraneo dovesse penetrare
nell'apparecchio, rivolgersi al rivenditore o al Servizio
Dovendo staccare il cavo d'alimentazione dalla presa di rete,
non tirarlo direttamente, ma afferrarlo per la spina.
Per la pulizia dell'apparecchio non usare solventi chimici, che
potrebbero danneggiare la finitura esterna. Basta passare un
Conservare questo manuale in un luogo sicuro, dove sia facile
consultarlo in caso di necessità.
Non esporre quest'apparecchio al rischio di ricevere spruzzi
d'acqua, e non appoggiarvi sopra oggetti contenenti acqua o
Non installare l'apparecchio in uno spazio ristretto, come il
vano di una libreria o un ripiano analogo.
I diffusori si possono collocare su uno scaffale, oppure
montare su appositi supporti (come il TEAC modello ST-
D2000); si possono anche appendere ad una parete fissandoli
con viti normalmente disponibili, o con staffe adeguate.
Prima di effettuare il montaggio, accertarsi che la parete
scelta sia in grado di sopportare il peso del diffusore e della
1. Inserire nella parete due viti M4, disponibili in commercio.
2. Appendere il diffusore, accertandosi che la testa delle viti entri
perfettamente nella parte stretta degli appositi fori, praticati
Per utilizzare staffe di montaggio (opzionali), fissarle al
pannello inferiore dei diffusori con le viti M6 in dotazione.
Posizionamento dei diffusori
Puede situar los altavoces en un estante, en el suelo, etc., o
fijarlos a una pared con unos tornillos que puede adquirir en
un comercio o con unos dispositivos de fijación adecuados.
Asegúrese previamente de que la pared o el techo resistirán el
peso del altavoz y del soporte.
1. Fije los tornillos M4 a la pared.
Asegúrese de que los tornillos hayan encajado en el
estrechamiento del orificio.
Fije la base de los altavoces a unos soportes convencionales
con los tornillos suministrados.
Colocación de los altavoces
---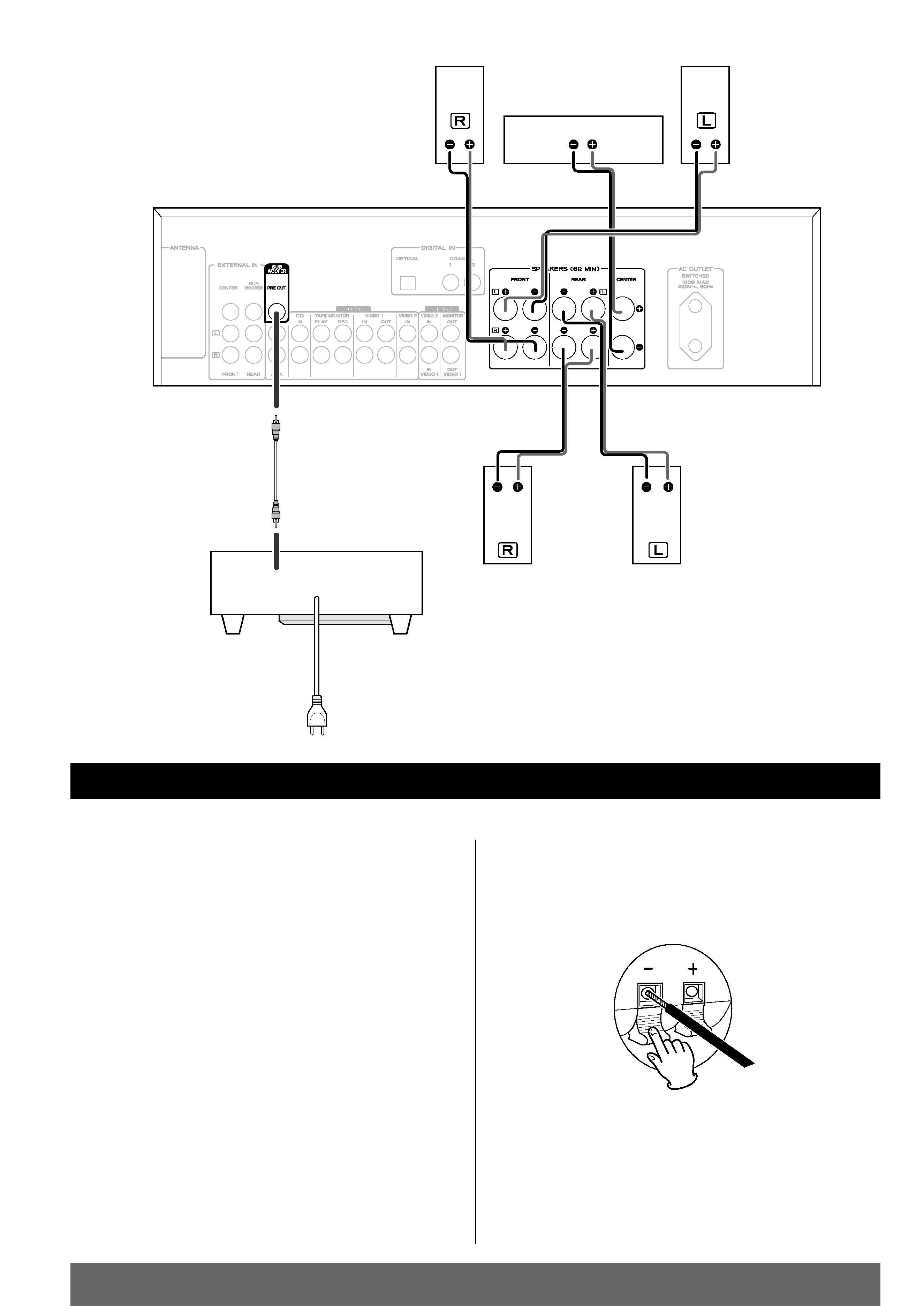 Be sure to read the instruction manual of the amplifier
carefully and switch the power off before connecting the
Connect the provided speaker cables (or other suitable cables)
from the speaker terminals to the terminals of the amplifier.
The speaker terminals and cables are distinguished by colors.
Be sure to match the color of the cables with the color of the
Be sure that the positive + terminal of the speaker is
connected to the corresponding + terminal of the amplifier,
and that negative ­ matches ­.
When connecting to an amplifier having an output higher
than the maximum rated input of the speaker, be careful not
to exceed the speaker's maximum input, otherwise it will
Press the lever, insert the stripped and twisted end of the
cord, then release the lever. Make sure it is fastened securely
by pulling the cord lightly.
---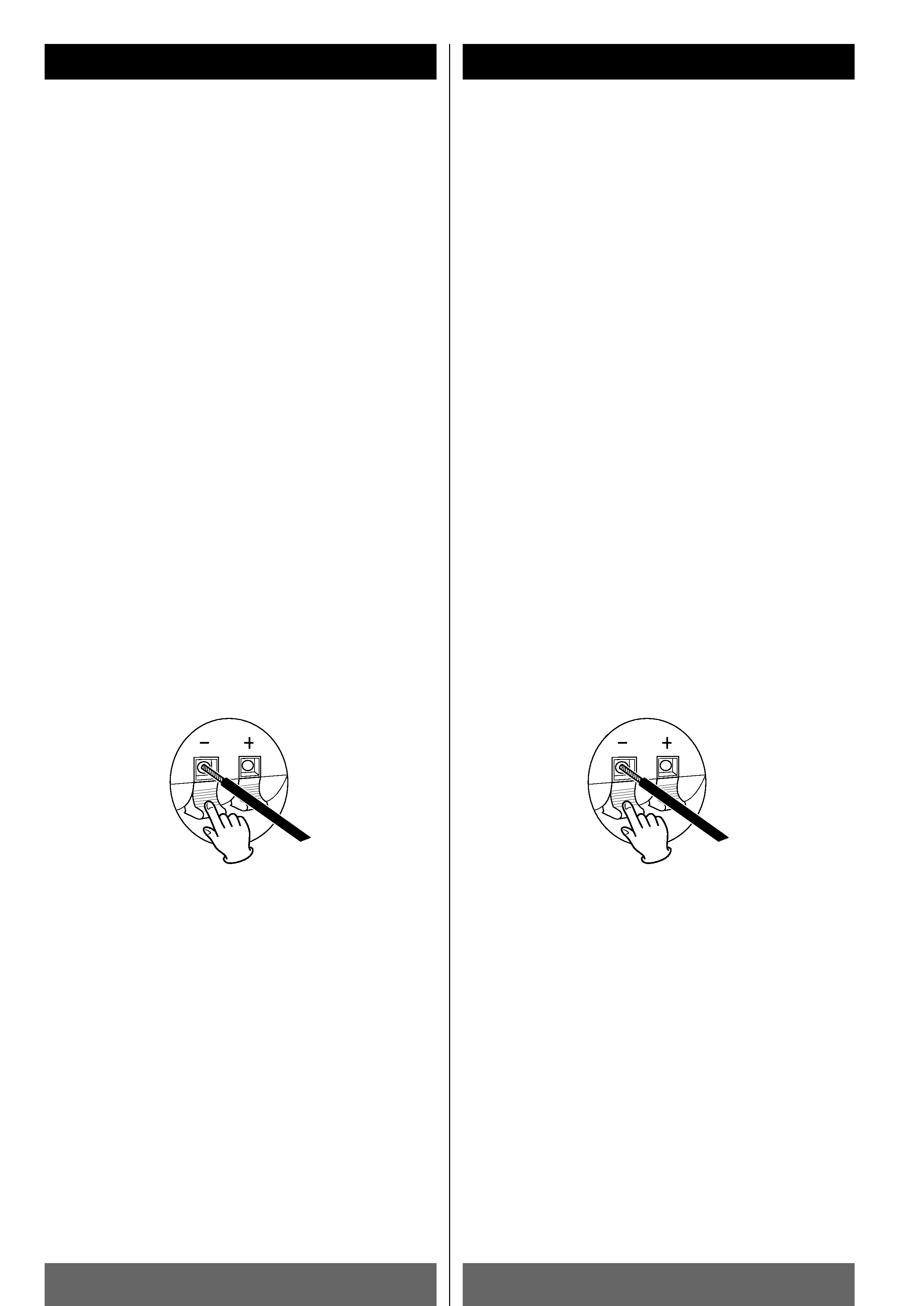 Premere la linguetta, inserire l'estremità del cavo, messa a
nudo e attorcigliata, e rilasciare la linguetta. Tirare poi
leggermente il cavo per controllare che sia ben inserito.
Pulse el mando, inserte los extremos pelados y enroscados del
cable, y luego suelte el mando. Asegúrese de que esté
con seguridad, tirando ligeramente del cable.
Lea el manual de instrucciones del amplificador y apague la
unidad antes de conectar el altavoz.
Conecte los terminales del altavoz a los del amplificador con
los cables de altavoz suministrados (o con otros cables
Los terminales y cables de altavoz se presentan en distintos
colores. Compruebe que el color de los cables coincide con el
Compruebe que el terminal positivo (+) del altavoz está
conectado al terminal + del amplificador, y que los polos
Si el amplificador posee una salida más alta que la entrada
nominal máxima del altavoz, procure no sobrepasar este valor
del altavoz para evitar dañarlo.
Leggere molto attentamente il manuale d'istruzioni
dell'amplificatore; ricordarsi di togliere l'alimentazione prima
di effettuare il collegamento dei diffusori.
Collegare gli appositi cavetti in dotazione (od altri cavi
adeguati) ai relativi terminali sul diffusore e sull'amplificatore.
Per poterli distinguere con sicurezza, terminali e cavi dei
diffusori sono identificati da colori diversi.
Accertarsi che il colore dei cavi corrisponda sempre a quello
Verificare che i terminali positivo (+) e negativo (-) del
diffusore siano collegati ai corrispondenti terminali (+) e (­)
Quando l'amplificatore da collegare ha una potenza d'uscita
superiore rispetto al valore massimo d'ingresso previsto per il
diffusore, attenzione a non superare tale valore per non
correre il rischio di danneggiare il diffusore stesso.
Collegamento dei diffusori
---