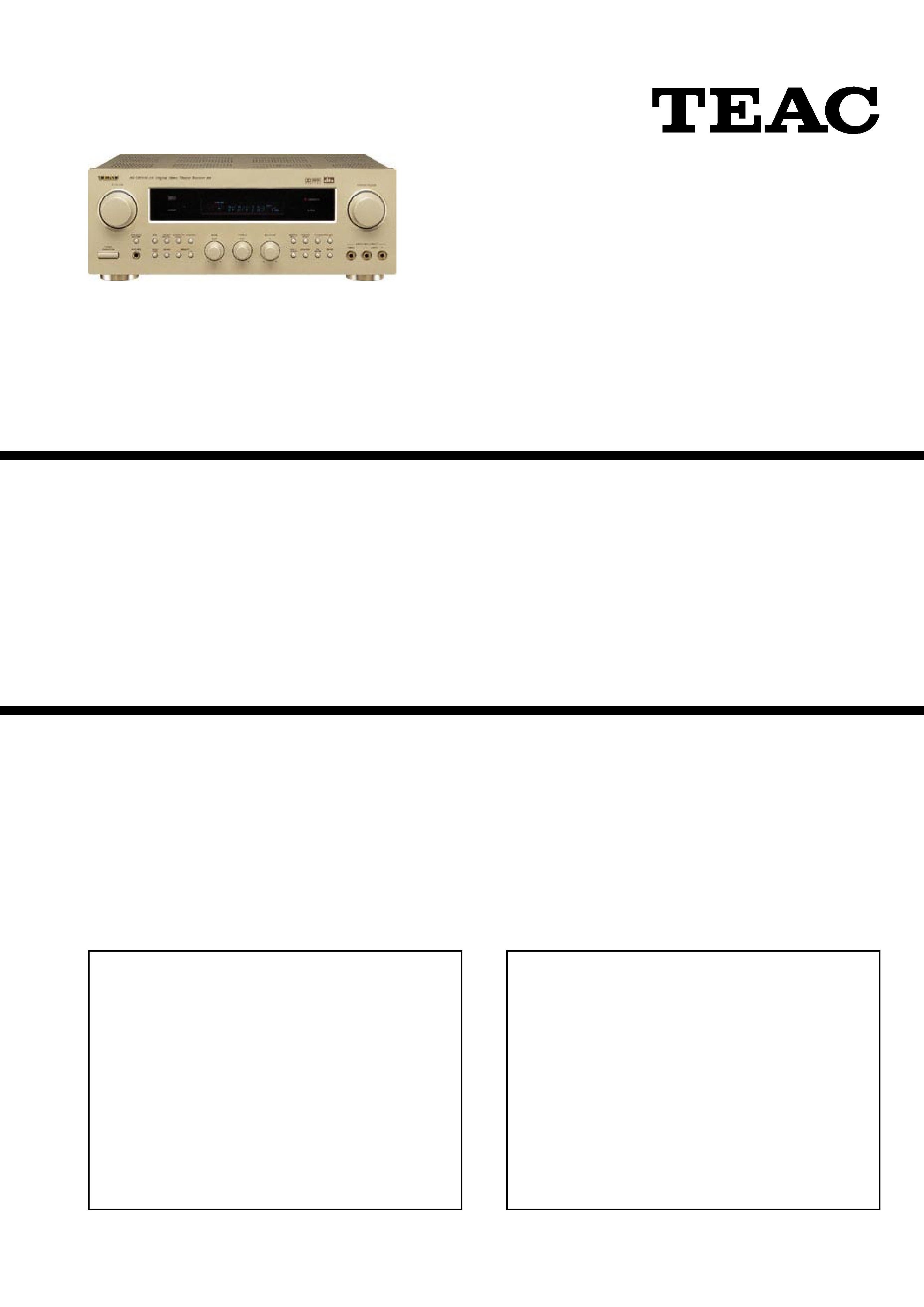 AV Digital Surround Receiver
Effective : January, 2002
MEASUREMENTS AND ADJUSTMENTS
IC BLOCK DIAGRAMS AND PIN FUNCTIONS
EXPLODED VIEWS AND PARTS LIST
PC boards shown are viewed from parts side.
The parts with no reference number or no parts number in the
exploded views are not supplied.
As regards the resistors and capacitors, refer to the circuit diagrams
contained in this manual.
Parts marked with this sign are safety critical components. They
must be replaced with identical components - refer to the appropriate
parts list and ensure exact replacement.
Parts of [ ] mark can be used only with the version designated.
---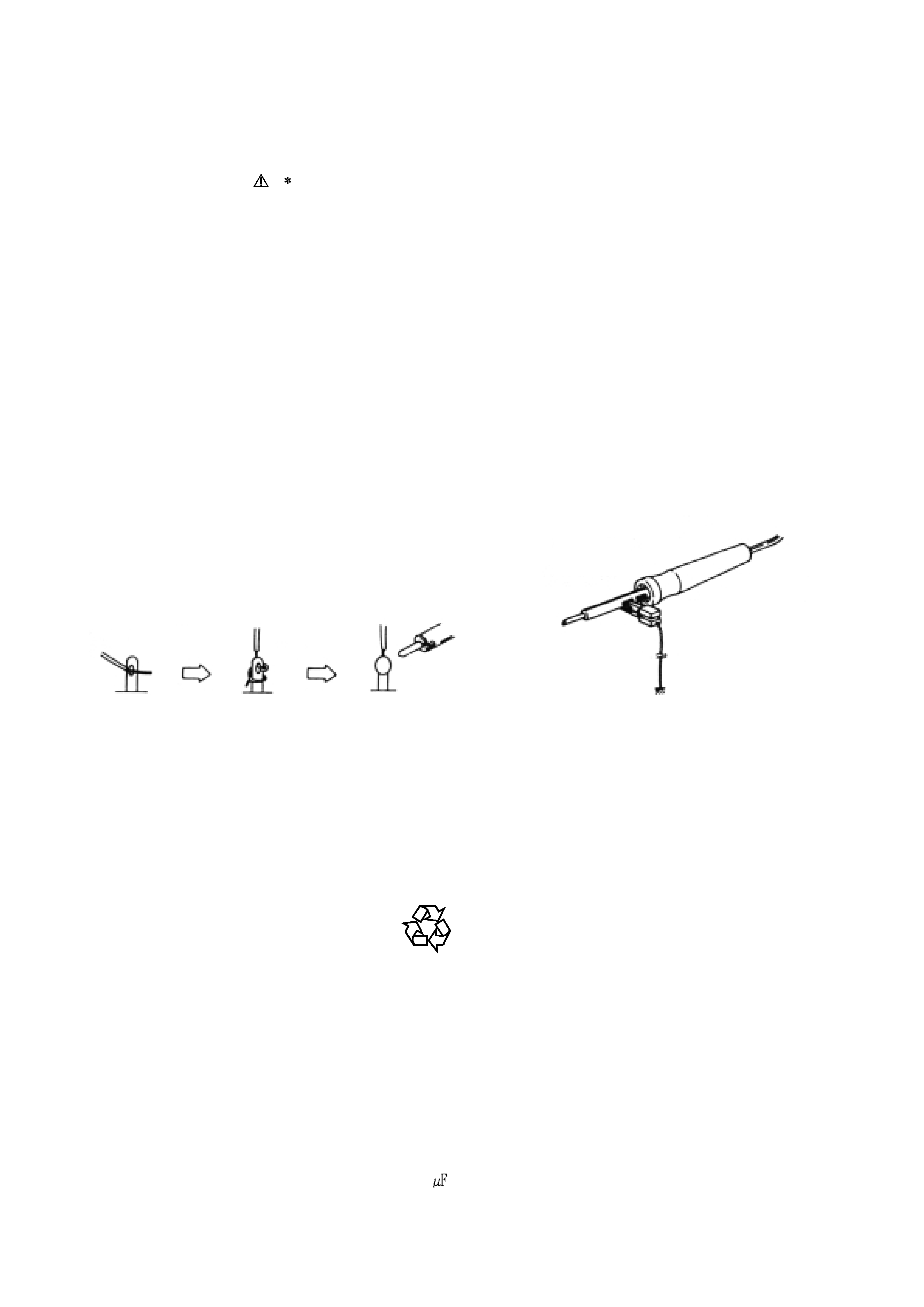 PRECAUTIONS DURING SERVICING
1. Parts identifide by the
( )symbol parts are critical
for safety. Replace only with parts number specified.
2. In addition to safety, other parts and assemblies are
specified for conformance with such regulations as
those applying to spurious radiation.
These must also be replaced only with specifide
Examples :RF converters, tuner units, antenna
selectswitches, RF cables, noise blocking capacitors,
noise blocking filters, etc.
3. Use specified internal wiring. Note especially :
1) Wires covered with PVC tubing
2) Double insulated wires
4. Use specified insulating materials for hazardous live
3) Spacers(insulating barriers)
4) Insulation sheets for transistors
5) Plastic screws for fixing micro switches
5. When replacing AC primary side components
(transformers, power cords, noise blocking
capacitors, etc.), wrap ends of wires securely about
the terminals before soldering.
6. Make sure that wires to do not contact heat
producing parts (heat sinks, oxide metal film
resistors, fusible resistors, etc.).
7. Check that replaced wires do not contact sharp
8. Also check areas surrounding repaired locations.
9. Make sure that foreign objects (screws, solder
droplets, etc.) do not remain inside the set.
MAKE YOUR CONTRIBUTION TO PROTECT
Used batteries with the ISO symbol for recycling
as well as small accumulators (rechargeable
batteries), mini-batteries (cells) and starter
batteries should not be thrown into the garbage
Please leave them at an appropriate depot. All other house-
hold batteries can be thrown out with the household waste.
SAFETY CHECK AFTER SERVICING
After servicing, make measurements of leakage-current
or resistance in order to determine that exposed parts
are acceptably insulated from the supply circuit.
The leakage-current measurement should be done
between accessible metal parts (such as chassis,
ground terminal, microphone jacks, signal input/output
connectors, etc.) and the earth ground through a
resister of 1500 ohms paralleled with a 0.15
capacitor, under the unit's normal working conditions.
The leakage-current should be less than 0.5mA rms AC.
The resistance measurement should be done between
accessible exposed metal parts and power cord plug
prongs with the power switch (if included) "ON". The
resistance should be more than 2.2M Ohms.
When repairing or adjusting the unit, please note the
1. Do not put excessive pressure on the mechanical
part (operation part), including the pick-up block, as
extremely high mechanical precision is required in
2. When the base is removed for repair adjustment,
make sure that there are no metal obiects in the
narrow gap between the P. C. board or the mecha
3. The Micro-Computer and the CD signal processing
ICs can be damaged by static electricity or leakage
from a soldering iron during repairing. While
soldering, please take the precautions against
leakage as in the illustration.
4. Do not loosen any screws in the pick-up block.
When handing the pick-up block, please refer to the
points to NOTE when replacing the pick-up block.
5. Keep safety for hazardous invisible Laser Radiation,
DO NOT watch the Laser Beam (Objective lens)
6. Models for some countries, laser warning labels are
affixed on the unit and inside of the unit, as shown
below. Read it carefully for your safety, when
repairing or adjusting the unit.
---

Surround Output Power (0.9 % THD, 1 kHz, 8 ohms):
DOLBY DIGITAL: REAR 0 ­ 15 ms
DOLBY PRO LOGIC: REAR 15 ­ 30 ms
Audio Input Sensitivity/Impedance:
CD-R/TAPE REC: 200 mV/2.2 k ohms
*LINE: 20 Hz ­ 65 kHz, +1/ ­3 dB
TREBLE: ± 10 dB at 10 kHz
Sampling Frequency: 32 kHz, 44.1 kHz, 48 kHz, 96 kHz
DIGITAL Input Level/Impedance:
DIGITAL 1, 2 (OPTICAL): ­15 dBm -- ­21 dBm
DIGITAL 3 (COAXIAL): 0.5 Vp-p / 75 ohms
(Without notes 100.1 MHz, 65 dBf)
87.5 MHz ­ 108.0 MHz (50 kHz steps, [us/c]:100kHz steps)
Usable Sensitivity (IHF):
50 dB Quieting Sensitivity:
Image Rejection Ratio: 80 dB ( [us/c]: 45dB )
AM Suppression Ratio: 55 dB
Total Harmonic Distortion (1 kHz):
Frequency Response: 30 Hz ­ 15 kHz, +1/ ­1.5 dB
Stereo Separation (1 kHz): 40 dB
522 kHz ­ 1,620 kHz (10 kHz steps)
539 kHz ­ 1,720 kHz (10 kHz steps: [us/c] )
Usable Sensitivity: 55 dB/m
Total Harmonic Distortion: 0.8% at 85 dB/m
Signal-to-Noise Ratio: 45 dB at 85 dB/m
Input Sensitivity/Impedance: 1.0 Vp-p/75 ohms
Output Level/Impedance: 1.0 Vp-p/75 ohms
Switched x 2, Total 100 W max. (1 A max.)
435 x 165 x 350 mm (17-1/8" x 6-1/2" x 13-3/4")
[US/C] : 9.4kg(20-11/16lb)
FM T-type Antenna x 1[E/uk]
Remote Control Unit (UR-417) x 1
* LINE means CD, CD-R/TAPE, VCR/VIDEO 1, DBS/VIDEO 2,
DVD/VIDEO 3 and AUX/VIDEO 4.
Improvements may result in specifications and features
Illustrations may differ slightly from production models.
---

---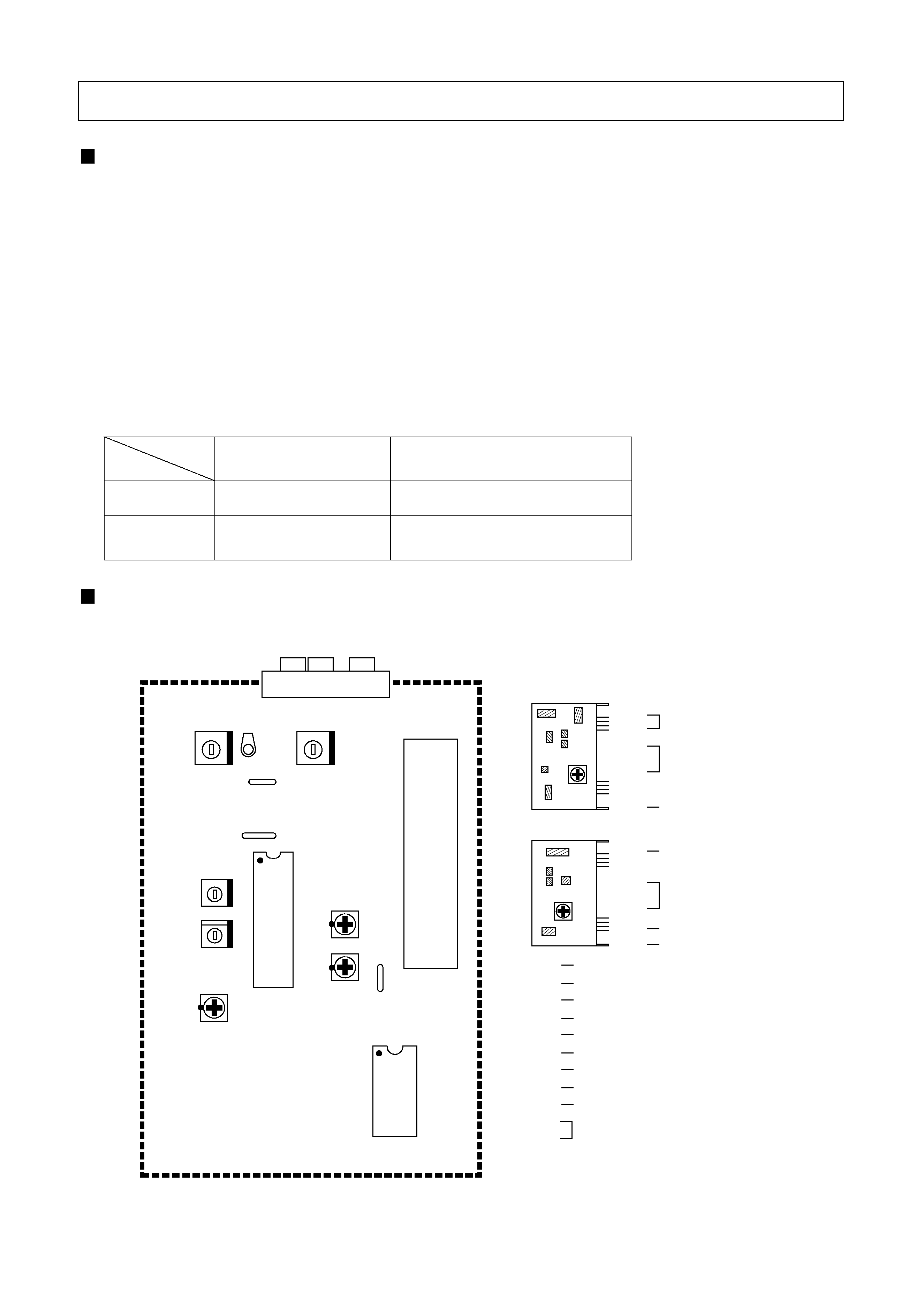 Test loop antenna (AM Adjustment)
Dummy antenna (FM Adjustment)
1. Check power-source voltage.
2. Set the function switch to band aligned.
3. Keep the signal input as low as possible to adjust accurately.
4. Modulation and modulation frequency.
MEASUREMENTS AND ADJUSTMENTS
100% (40 kHz Dev.) [E/UK]
100% (75 kHz Dev.) [US/J]
AM ANT TRIMMER (1503kHz/1510kHz)
AM IFT COIL (612kHz/610kHz)
---