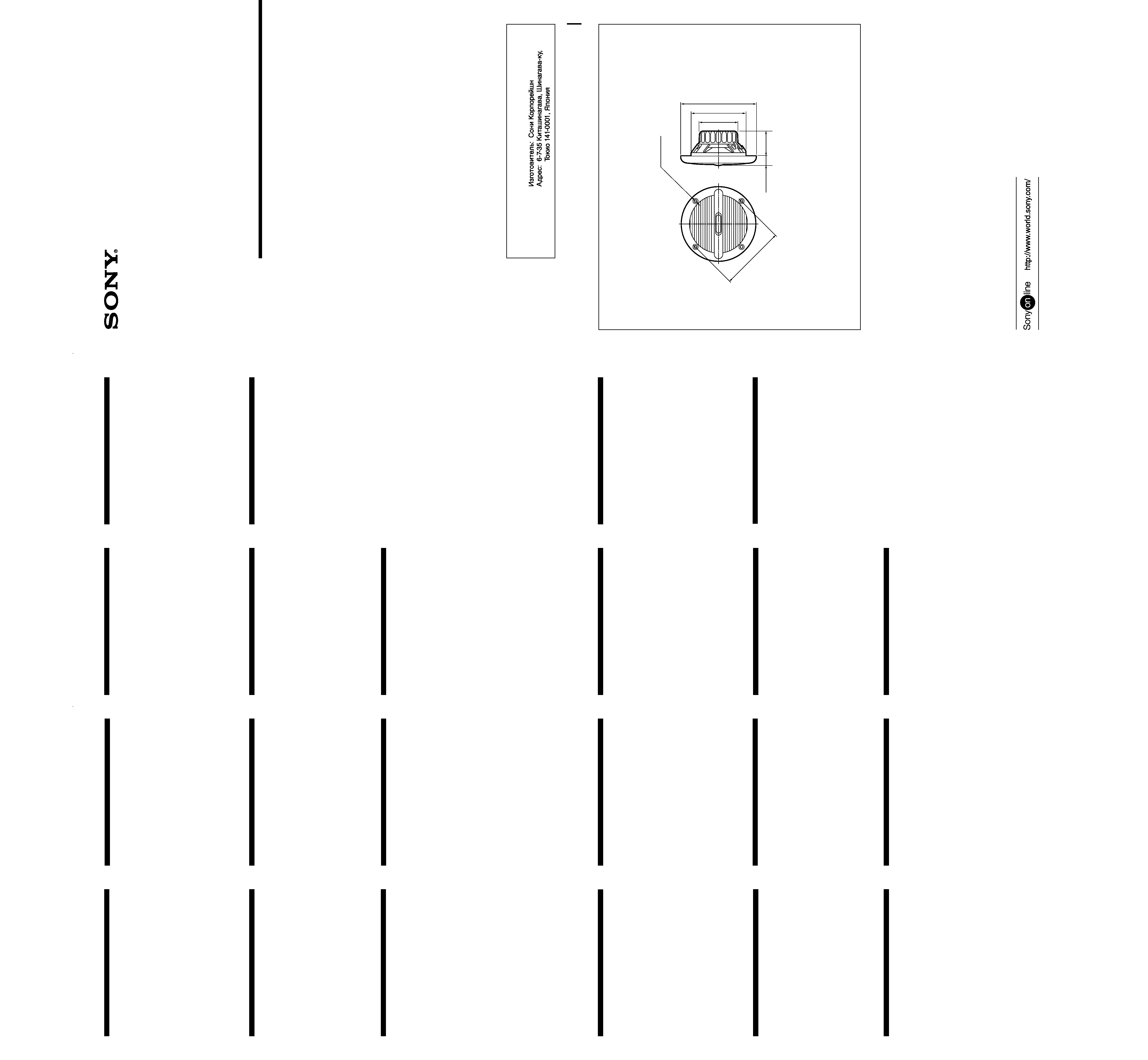 16 cm (6
1
/
2
in.) dual-cone
Maximum input power 80 watts
Approx. 750 g (1 Ib 10 oz)
Design and specifications subject to change without
Max. Eingangsleistung 80 Watt
ca. 750 g pro Lautsprecher
Änderungen, die dem technischen Fortschritt dienen,
·Steuern Sie die Lautsprecher nicht mit zu hoher
·Halten Sie bespielte Kassetten, Uhren und
Kreditkarten mit Magnetcodierung von den
Lautsprechern fern, um eine Beschädigung
durch die Magneten zu vermeiden.
·Berühren Sie beim Einbau nicht die
Lautsprecherkegel, da sie sonst beschädigt
16 cm (
6
1
/
2
pouces) type
Puissance d'entrée maximum
10 onces) par haut-parleur
La conception et les spécifications peuvent être
Potencia máxima de entrada
Respuesta de frecuencia 40 ­ 20.000 Hz
Diseño y especificaciones sujetos a cambio sin previo
·Eviter de soumettre le système de
haut-parleurs à une puissance supérieure à la
·Garder les bandes enregistrées, les montres et
les cartes de crédit utilisant un code
magnétique à l'écart du système de haut-
parleurs pour éviter tout dommage causé par
les aimants des haut-parleurs.
·Pendant le montage, veiller à ne pas toucher le
cône du haut-parleur, pour ne pas
·Tenga cuidado de no utilizar el altavoz con una
potencia que sobrepase la máxima admisible.
·Mantenga las cintas grabadas, los relojes y las
tarjetas de crédito que empleen codificación
magnética alejadas de los altavoces a fin de
evitar el daño que podría causar el imán de los
·Durante el montaje, tenga cuidado de no tocar
el cono del altavoz, porque podría danarlo.
·Let op dat u de luidspreker niet boven het
maximale ingangsvermogen belast.
·Houd bespeelde cassettes, horloges en
magnetisch gekodeerde kredietkaarten uit de
buurt van de luidsprekers, om beschadiging
hiervan door het magnetisch veld van de
luidsprekers te voorkomen.
·Let op dat u tijdens het monteren, het konische
gedeelte van de luidspreker niet aanraakt, om
beschadiging te voorkomen.
·Försök att inte enbart köra högtalarsystemet
·Kom ihåg att inspelade kassettband, klockor
och kreditkort med magnetremsa kan skadas
av magneterna i högtalarna och du bör därför
inte lägga dem i närheten av högtalarna.
·Se till att du inte kommer åt högtalarnas koner
under installationen eftersom de är ömtåliga
·Evite utilizar o altifalante com uma potência
continuamente superior à potência máxima
·Mantenha afastados do sistema de altifalantes
cassettes gravadas, relógios e cartões de crédito
que utilizam codificação magnética para evitar
que sofram danos causados pelo íman dos
·Durante a instalação, tenha cuidado para não
tocar no cone do altifalante para não o
·Non utilizzare il sistema diffusori oltre la
potenza massima consentita.
·Tenere lontano dal sistema diffusori nastri
registrati, orologi o carte di credito a
codificazione magnetica per impedire che
vengano danneggiati dai magneti nei diffusori.
·Durante il montaggio fare attenzione a non
toccare il cono del diffusore perché può
Wijzigingen in ontwerp en technische gegevens
Rätt till ändringar förbehålles.
Potência máxima de entrada
Resposta em frequência 40 ­ 20.000 Hz
Aprox. 750 g por altifalante
Design e especifações sujeitos a alterações sem aviso
Potenza di ingresso massima
Circa 750 g per diffusore
Il design e le caratteristiche tecniche sono soggetti a
modifiche senza preavviso.
Projekt i dane techniczne mog ulec zmianie bez
·Gloników nie naley stosowa powyej ich
·Nagrane kasety magnetofonowe, zegarki i
karty kredytowe kodowane magnetycznie
naley przechowywa z dala od gloników,
aby nie zostaly uszkodzone przez magnesy
znajdujce si w glonikach.
·Podczas montau nie naley dotyka kopulek
glonika, aby ich nie uszkodzi.
·Do not use the speaker system beyond its
maximum power handling capacity.
·Keep recorded tapes, watches, and credit cards
with magnetic coding away from the speakers
in order to prevent damage caused by the
·During installation, do not touch the speaker
cones in order to prevent damage to them.
---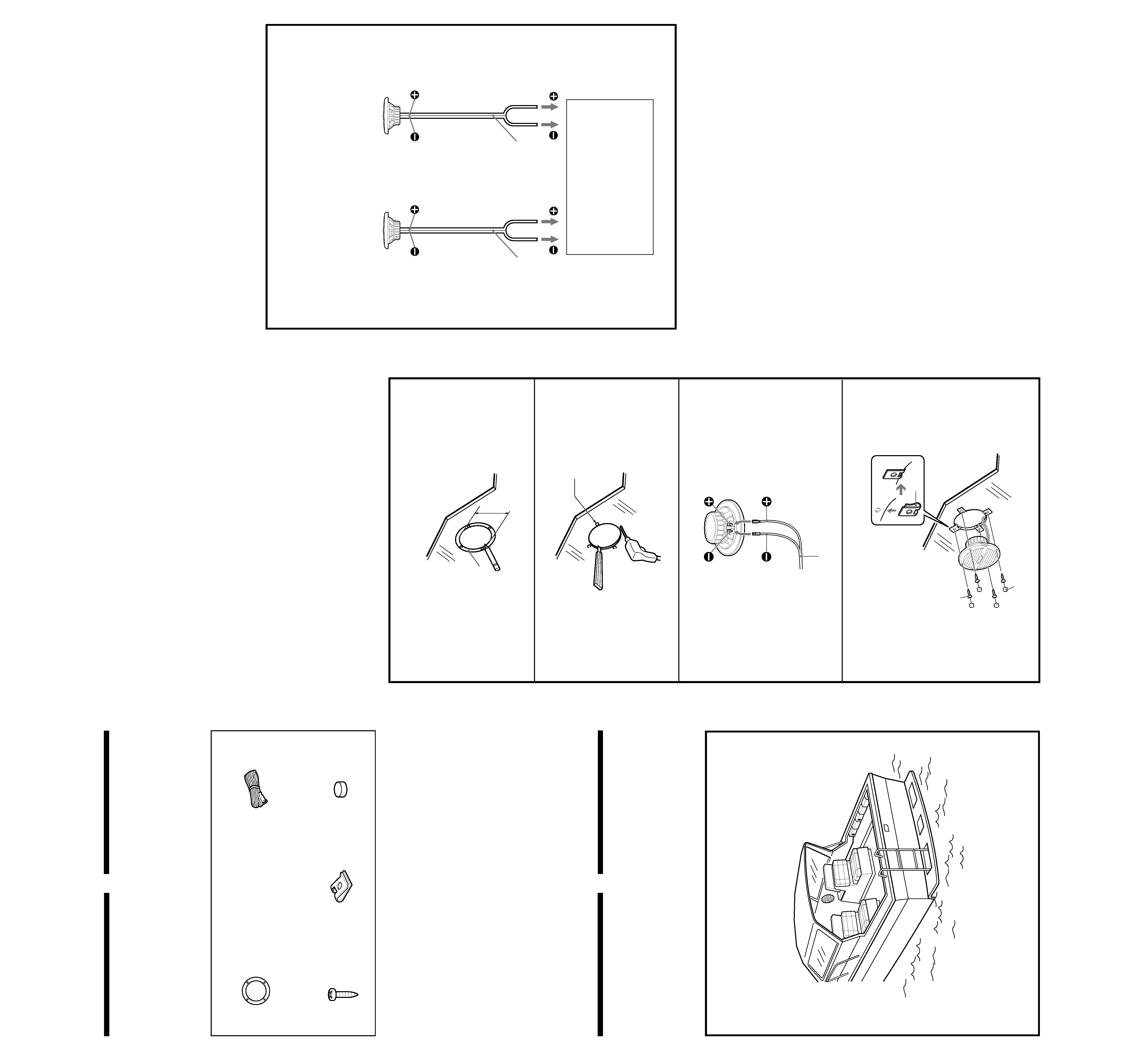 Amplificateur de puissance
Printed on the carton flap
Impresa en la caja de cartón
Auf der Kartonklappe aufgedruckt
Gedrukt op de kartonnen verpakking
Wydrukowany na opakowaniu
A depth of at least 59 mm (2
3
/
8
in.) is required
Une profondeur d'au moins 59 mm (2
3
/
8
po.)
est nécessaire pour effectuer le montage
Para el montaje alineado, es necesaria una
profundidad mínima de 59 mm.
Für einen versenkten Einbau ist eine
Einbautiefe von mindestens 59 mm
Een inbouwdiepte van minstens 59 mm is
nodig voor montage in één vlak.
È necessaria una profondità di almeno 59 mm
per il montaggio allineato.
É necessária uma profundidade de pelo menos
59 mm para a montagem do suporte.
Ett djup på minst 59 mm krävs för infälld
Minimalna glboko wpuszczenia gloników
wymagana przy ich wmontowywaniu wynosi
---