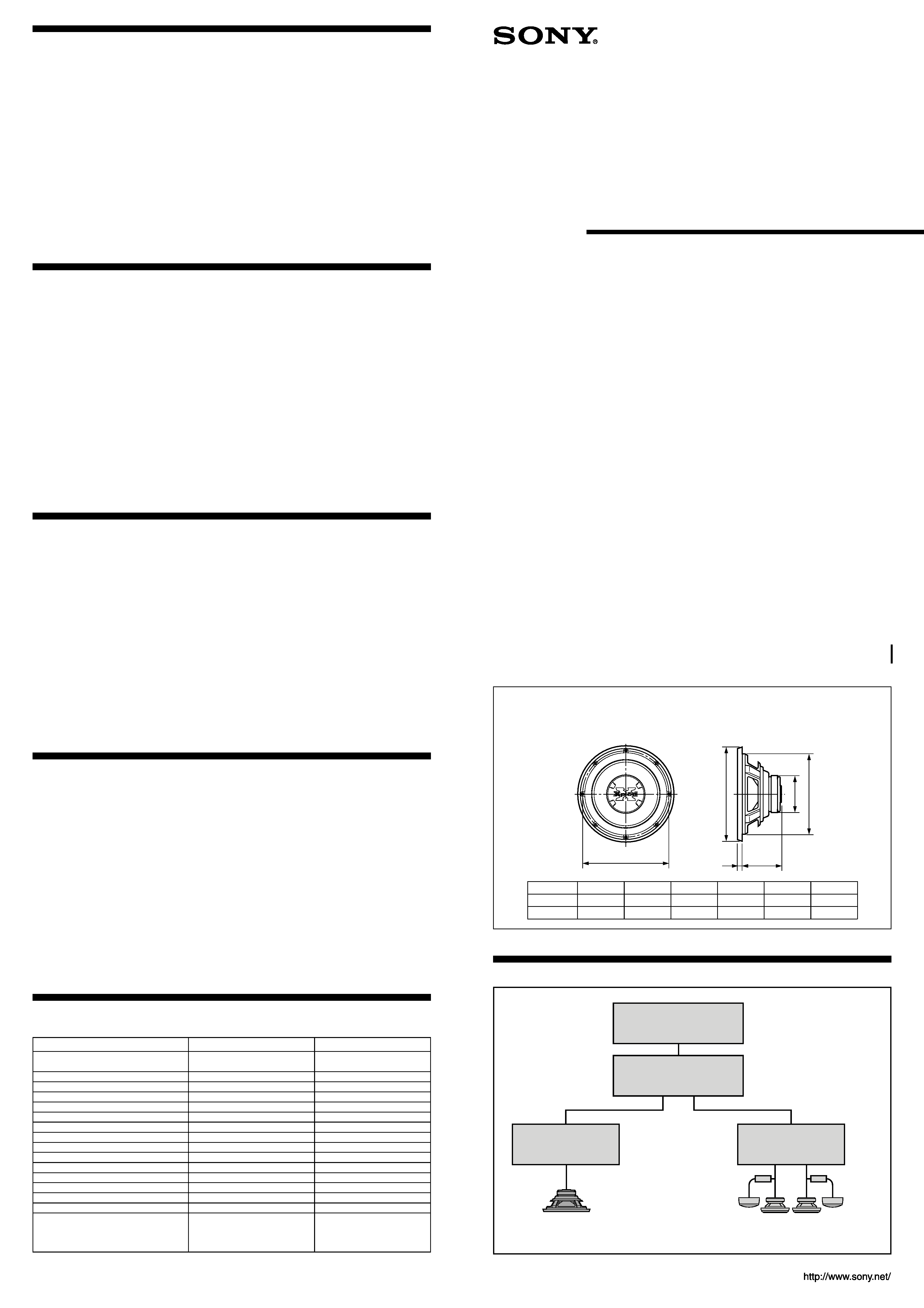 Vol. del alojamiento (neto)
Haut-parleur de graves 30 cm (12 po), type en cône
Env. 4,3 kg (9 lb 8 oz) par haut-parleur
Haut-parleur de graves 25 cm (10 po), type en cône
Env. 3,5 kg (7 lb 11 oz) par haut-parleur
La conception et les spécifications sont modifiables sans préavis.
Sony Corporation 2003
Printed in Thailand
Haut-parleur d'extrême-graves
Altavoz potenciador de graves
Connections/Connexions/Conexiones/
Sistema de audio de automóvil
Electronic crossover network
Circuit séparateur de fréquences
Altavoz de graves de 30 cm, tipo cónico
Aprox. 4,3 kg por altavoz
Componentes para instalación
Altavoz de graves de 25 cm, tipo cónico
Aprox. 3,5 kg por altavoz
Componentes para instalación
Diseño y especificaciones sujetos a cambio sin previo aviso.
Woofer 30 cm (12 in.), cone type
Approx. 4.3 kg (9 lb. 8 oz.) per speaker
Woofer 25 cm (10 in.) , cone type
Approx. 3.5 kg (7 lb. 11 oz.) per speaker
Design and specifications are subject to change without notice.
ø294 (11
5
/
8
) ø323 (12
3
/
4
) ø276 (10
7
/
8
) ø145 (5
3
/
4
)
ø246 (9
3
/
4
) ø273 (10
3
/
4
) ø230 (9
1
/
8
) ø135 (5
3
/
8
)
Thiele/Small parameters/Paramètres de Thiele-Small
Parámetros "Thiele/Small"/
Recommended Enclosure : Sealed type
Boîtier recommandé : de type scellé
Alojamiento recomendado: Sellado
---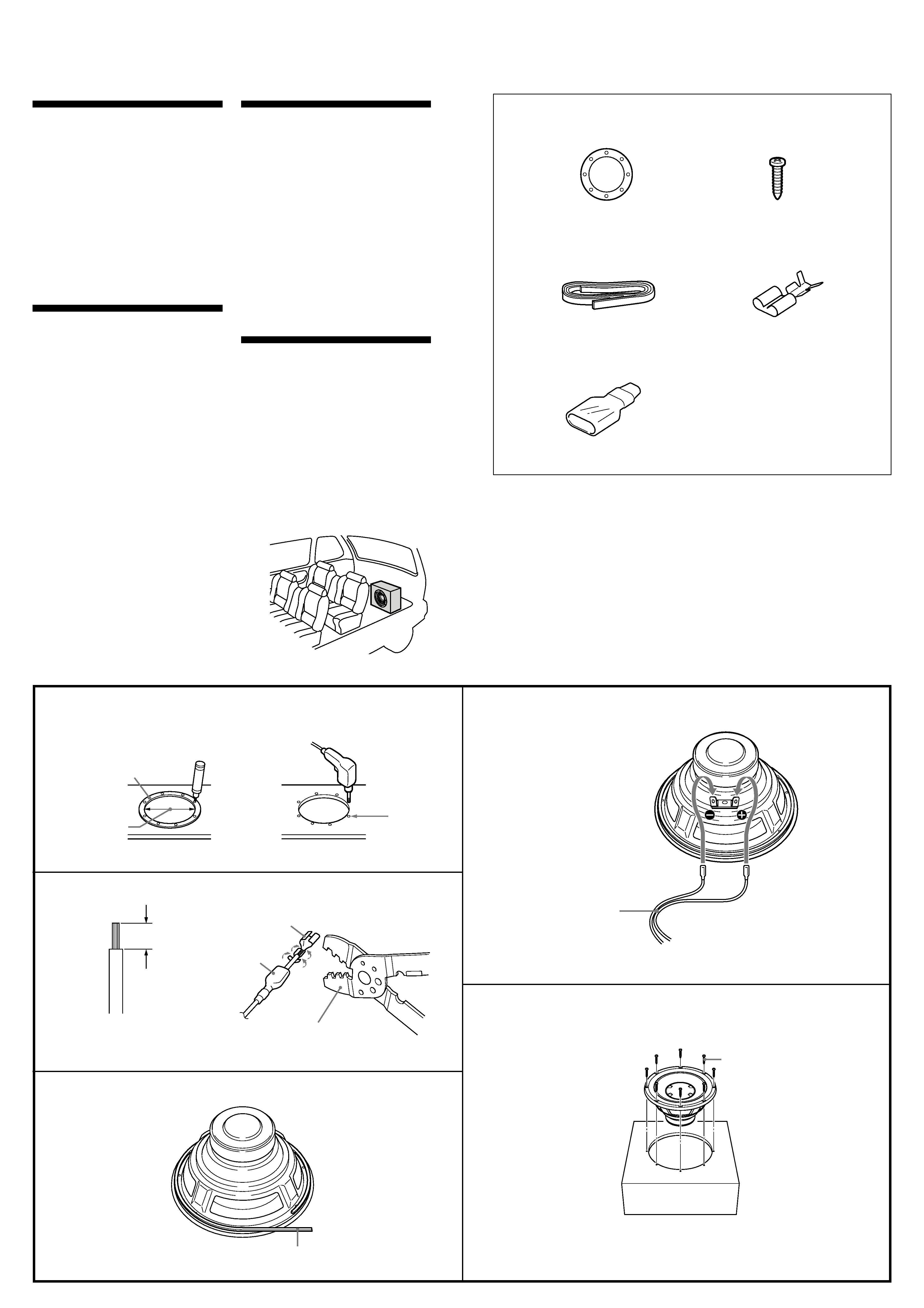 Installation/Installation/
·Be careful not to operate the speaker system
with the power exceeding its handling
·Keep recorded tapes,watches,and personal
credit cards using magnetic coding away from
the speaker system to protect them from
damage caused by the magnets in the
·When installing the unit, be careful not to
damage the diaphragm by hand or tools.
·The subwoofer is heavy, so attach it firmly to
a solid thick, baffle plate or metal board.
·Make a woofer box, using wooden boards at
least 19 mm (3/4 in.)-thick.
·Veillez à ne pas faire fonctionner le système de
haut-parleurs à une puissance qui dépasse sa
charge nominale efficace.
·Tenez les cassettes enregistrées, les montres et
les cartes de crédit et tout autre objet utilisant
un code magnétique à l'écart du système de
haut-parleurs de manière à éviter tout
dommage causé par les aimants intégrés dans
·Lorsque vous installez l'appareil, veillez à ne
pas endommager le diaphragme avec les
·Comme le haut-parleur d'extrême-graves est
lourd, fixez-le sur un écran de haut-parleur
épais et robuste ou sur une plaque métallique.
·Construisez un caisson de haut-parleur avec
des planches d'au moins 19 mm d'épaisseur
Speaker cord (not supplied)
Fil de haut-parleur (non fourni)
Cable de altavoz (no suministrado)
Crimping plier (not supplied)
Pince à sertir (non fournie)
Grimpadora (no suministrado)
·Tenga cuidado de no emplear el sistema de
altavoces con una potencia que sobrepase su
capacidad máxima admisible.
·Mantenga alejados del sistema de altavoces las
cintas grabadas, relojes o tarjetas de crédito
con codificación magnética para evitar daños
que posiblemente causaría el imán de los
·Al instalar la unidad, tenga cuidado de no
dañar el diafragma con las manos o con alguna
·El altavoz potenciador de graves es pesado.
Por tanto, fíjelo firmemente a una placa de
bafle sólida y gruesa o a una placa metálica.
·Construya una caja para el altavoz de graves
utilizando tablas de madera con un espesor
---