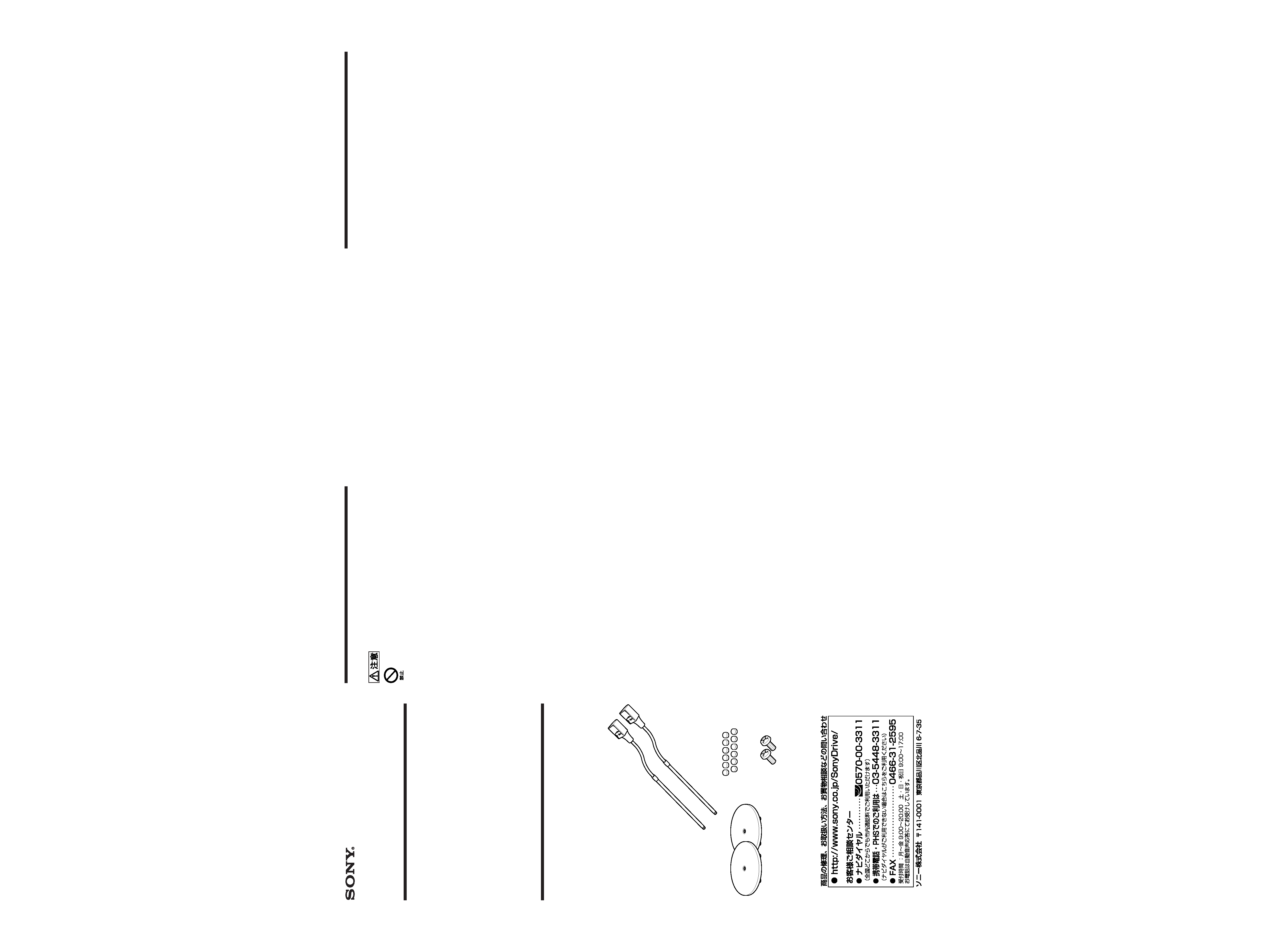 SONY WS-FV10D (JP/GB/FR/DE/ES/NL/SE/IT/PT/DK/FI/CT/CS) 4-246-697-01(1)
· Recommended for use with the
Sony small speaker system.
· Be sure to place the speaker stand
in a flat, horizontal place.
Clean the pipe stand, the base, and
the bracket with a soft cloth slightly
moistened with a mild detergent
solution. Do not use any type of
abrasive pad, scouring powder or
solvent such as thinner, benzine or
If you have any questions or problems
concerning your system, please
consult your nearest Sony dealer.
· Utilisation recommandée avec le
système de petits haut-parleurs
·Veillez à installer le support
d'enceinte dans un endroit plat et
Nettoyez le tube socle, la base et
l'applique avec un chiffon doux
légèrement imprégné d'une solution
détergente douce. N'utilisez aucun
type de tampon abrasif, de poudre à
récurer ou de solvant comme du
dissolvant, du benzène ou de l'alcool.
Si vous avez des questions ou si vous
rencontrez des problèmes avec votre
système, consultez votre revendeur
Mass Approx. 3.3 kg (7 lb 5 oz)
Design and specifications are subject
to change without notice.
Poids Env. 3,3 kg (7 li. 5 on.)
La conception et les spécifications
sont sujettes à modification sans
Diseño y especificaciones sujetos a
Design e especificações sujeitos a
alterações sem aviso prévio.
Änderungen, die dem technischen
Fortschritt dienen, bleiben
· Recomendado para su uso con el
sistema de altavoces pequeños
· Instale el soporte de altavoz en un
lugar horizontal y plano.
Limpie el tubo de soporte, la base y el
soporte con una paño suave
ligeramente humedecido con una
solución detergente poco concentrada.
No utilice ningún estropajo abrasivo,
detergente concentrado ni disolventes
como diluyentes, bencina o alcohol.
Si tiene problemas o preguntas acerca
de este sistema, póngase en contacto
con el proveedor Sony más próximo.
· Recomendado para utilização com
o sistema de altifalantes de
pequenas dimensões da Sony.
· Certifique-se de colocar o suporte
de altifalante num local plano e
Limpe o tubo de suporte, a base e o
suporte com um pano macio
ligeiramente humedecido numa
solução de detergente suave. Não
utilize nenhum tipo de esfregão ou pó
de limpeza abrasivo, nem solventes
como diluente, álcool ou benzina.
Em caso de dúvidas ou problemas
relativos a este sistema, consulte um
· Empfohlen zur Verwendung mit
einem Kompaktlautsprechersystem
· Diesen Ständer ausschließlich auf
einer flachen, waagerechten Fläche
Reinigen Sie den Rohrständer, den
Fuß und den Montagebügel mit
einem weichen Tuch, das Sie leicht
mit einer milden Reinigungslösung
angefeuchtet haben. Verwenden Sie
Lösungsmittel wie Verdünnung,
Sollten an dem System Probleme
auftreten oder sollten Sie Fragen
haben, wenden Sie sich bitte an Ihren
Wijzigingen in ontwerp en
technische gegevens voorbehouden,
Il design e le caratteristiche tecniche
sono soggetti a modifiche senza
Rätt till ändringar förbehålles.
Vi forbeholder os ret til at ændre
design og specifikationer uden
Pidätämme oikeuden muuttaa
ulkoasua ja teknisiä ominaisuuksia
ilman erillistä ilmoitusta.
· Aanbevolen voor kleine Sony
· Zet de luidsprekerstandaard op een
vlakke, horizontale ondergrond.
Reinig de stang, de sokkel en de steun
met een zachte doek die lichtjes is
bevochtigd met een zacht zeepsopje.
Gebruik geen schuursponsje,
schuurpoeder of oplosmiddelen, zoals
thinner, benzine of alcohol.
Als u vragen of problemen hebt met
betrekking tot het systeem, kunt u
dichtstbijzijnde Sony-handelaar.
· Da utilizzare con il sistema
diffusori Sony di dimensioni
· Collocare il supporto del diffusore
in un posto piatto, non inclinato.
Pulire l'asta, la base e la staffa con un
panno morbido leggermente
inumidito con una soluzione
detergente neutra. Non utilizzare
alcun tipo di spugnetta o polvere
abrasiva, né solventi quali diluente,
In caso di domande o problemi
relativi al sistema, rivolgersi al più
· Rekommenderas för Sonys små
högtalarstativen på en plan och
Rengör rörstativet, bottenplattan och
fästet med en mjuk duk lätt fuktad
med ett milt rengöringsmedel.
Använd inga typer av skurdukar,
skurpulver eller lösningsmedel som
t.ex. thinner, bensin eller alkohol.
Om du har några frågor eller om du
får något problem med systemet
kontaktar du närmaste Sony-
· Anbefalet til brug med det lille
højttalerstanden på et fladt, vandret
Rengør standerrøret, basen og
beslagene med en blød klud, der er
rengøringsmiddel. Undgå at bruge
nogen form for slibemiddel,
skurepulver eller opløsningsmiddel,
Hvis du har spørgsmål eller
problemer med systemet, skal du
kontakte den nærmeste Sony-
· Suositellaan käytettäväksi vain
Sonyn pienten kaiuttimien kanssa.
· Aseta kaiutinteline tasaiselle ja
Puhdista jalustaputki, jalusta ja
kiinnitin mietoon pesuaineliuokseen
kevyesti kostutetulla pehmeällä
liinalla. Älä käytä hankaustyynyjä tai
-jauhetta äläkä tinneriä, alkoholia,
bensiiniä tai muita liuottimia.
Jos sinulla on laitteeseen liittyviä
kysymyksiä tai ongelmia, ota
---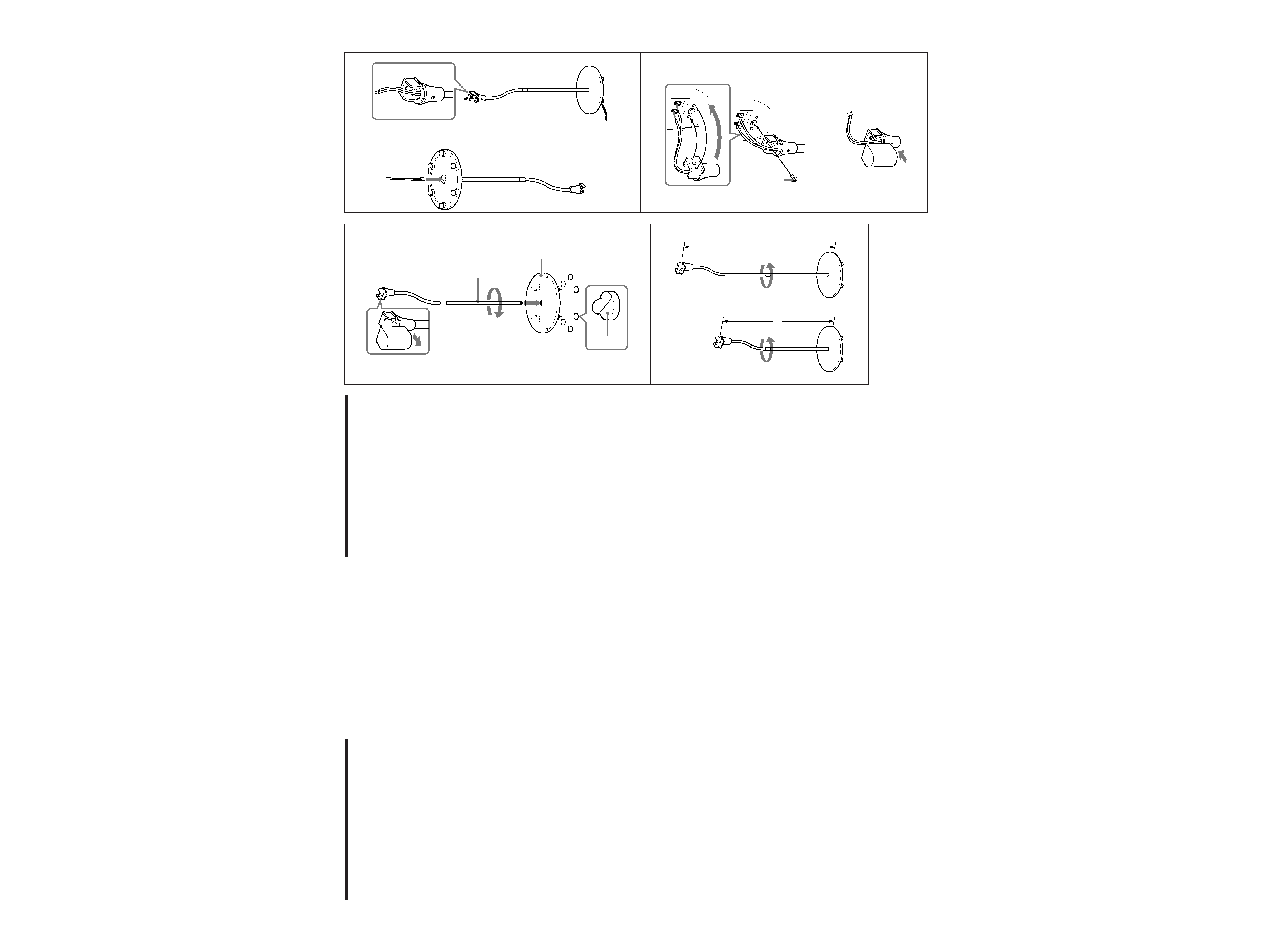 SONY WS-FV10D (JP/GB/FR/DE/ES/NL/SE/IT/PT/DK/FI/CT/CS) 4-246-697-01(1)
Attach the foot pads (C) to the bottom of the
base (B), then screw the pipe stand fully (A) into the
Adjust the pipe stand to a height of 720 mm (28
3
/
8
in.)
to 1,080 mm (42
5
/
8
in.).
Turn the pipe stand up side down, and then straighten
and feed the speaker cord through the hole in the base.
Tightly secure the speaker to the mount with the screw
Fixez les tampons (C) sous la base (B), puis vissez
entièrement le tube socle (A) dans le trou de la base.
Ajustez le tube socle à une hauteur de 720 mm
(28
3
/
8
po) à 1 080 mm (42
5
/
8
po).
Retournez le tube socle à l'envers, passez le fil
d'enceinte à travers l'orifice de la base, puis remettez
le tube socle à l'endroit.
Fixez solidement l'enceinte à la monture avec la vis
Coloque las almohadillas (C) en la parte inferior de la
base (B) y, a continuación, ajuste firmemente el tubo
de soporte (A) en el orificio de la base.
Ajuste el tubo de soporte a una altura entre 720 mm y
Gire el tubo de soporte hacia abajo y, a continuación,
estire el cable del altavoz e introdúzcalo por el orificio
Fije firmemente el altavoz a la montura con el tornillo
Coloque os apoios (C) na parte inferior da base (B) e
depois aparafuse bem o tubo de suporte (A) no
Ajuste o tubo de suporte a uma altura entre 720 mm e
Vire o tubo de suporte ao contrário, endireite e passe o
cabo do altifalante pelo orifício da base.
Fixe bem o altifalante à base com o parafuso (D).
Die Fußpolster (C) an der Unterseite des Fußes (B)
anbringen, dann den Rohrständer ganz (A) in die
Bohrung im Fuß hineinschrauben.
Den Rohrständer auf eine Höhe zwischen 720 und
Den Rohrständer umdrehen, das Lautsprecherkabel
gerade ziehen und dann durch die Bohrung im Fuß
Den Lautsprecher mit der Schraube (D) fest an die
Montageplatte anschrauben.
Bevestig de voetkussentjes (C) aan de onderkant van
de sokkel (B) en schroef vervolgens de stang (A)
volledig in het gat in de sokkel.
Verstel de staander op de gewenste hoogte, van
Draai de stang om, trek het luidsprekersnoer recht en
leid het door de opening in de sokkel.
Bevestig de luidspreker goed op de steun met behulp
Applicare i piedini antiscivolo (C) nella parte inferiore
della base (B), quindi avvitare completamente l'asta
(A) nel fºoro della base.
Regolare l'asta ad un'altezza da 720 mm a 1.080 mm.
Capovolgere l'asta, quindi estendere il cavo del
diffusore e inserirlo nel foro della base.
Fissare saldamente il diffusore al supporto mediante la
Fäst fotdynorna (C) på bottenplattans undersida (B)
och skruva sedan ned röret (A) i hålet i bottenplattan
så att det sitter fast ordentligt.
Ställ in rörstativets höjd på mellan 720 och 1 080 mm.
Vänd rörstativet upp och ned, sträck sedan ut
högtalarkabeln och led den genom hålet i
Skruva fast högtalaren ordentligt i monteringsplattan
Sæt beskyttelsespuderne (C) på undersiden af basen
(B) , og skru derefter standerrøret (A) helt ind i
Indstil standerrøret til en højde af 720 mm til
Vend standerrøret på hovedet og ret ud, og før
højttalerkablet gennem hullet i basen.
Fastgør højttaleren til beslaget ved hjælp af skruen
Kiinnitä pehmustetyynyt (C) jalustan pohjaan (B) ja
kierrä jalustaputki sitten täydellisesti (A) jalustassa
Säädä putkituen korkeudeksi 720 mm - 1 080 mm.
Käännä jalustaputki ylösalaisin, suorista kaiutinjohto ja
pujota kaiutinjohto sitten jalustassa olevan reiän läpi.
Kiinnitä kaiutin pitävästi jalustaan ruuvilla (D).
Use caution when placing the stand on a specially treated (waxed,
oiled, polished, etc.) floor, as staining or discoloration may result.
Remarque sur l'installation
Prenez les précautions nécessaires lors de l'installation du support
sur un plancher traité (ciré, huilé, verni, etc.) pour éviter
l'apparition de taches ou la décoloration du sol.
Nota acerca de la ubicación
Tenga cuidado si coloca el soporte en suelos tratados de manera
especial (encerados, barnizados con aceites, pulidos, etc.), ya que
es posible que aparezcan manchas o se descoloren.
Tenha cuidado ao colocar o suporte numa superfície com
tratamento especial (encerada, oleada, polida, etc.) porque pode
manchá-la ou descolorá-la.
Seien Sie vorsichtig, wenn Sie den Ständer auf einen besonders
behandelten Fußboden (gewachst, geölt, poliert usw.) stellen, da
es zu Flecken oder Verfärbungen kommen kann.
Ga voorzichtig te werk wanneer u de staander op een speciaal
behandelde vloer (met was of olie behandeld, gepolijst, enzovoort)
plaatst; anders kunnen vlekken of verkleuringen optreden.
Se il supporto viene collocato su un pavimento trattato con
prodotti specifici, quali cera, olio o lucidanti, prestare attenzione
onde evitare macchie o perdita di colore.
Var försiktig när du placerar högtalarstativet på ett ytbehandlat
golv (vaxat, oljat, polerat eller liknande) eftersom högtalarstativet
kan orsaka fläckar eller missfärgningar.
Vær forsigtig, når stativet anbringes på et specialbehandlet gulv
(vokset, olieret, poleret osv.), da det kan medføre pletter eller
Jalustan sijoittamista koskeva
Ole varovainen, jos sijoitat jalustan erikoiskäsitellylle (esimerkiksi
vahatulle, kiillotetulle tai öljytylle) lattialle, koska tällöin voi
syntyä tahroja tai värjäytymiä.
---