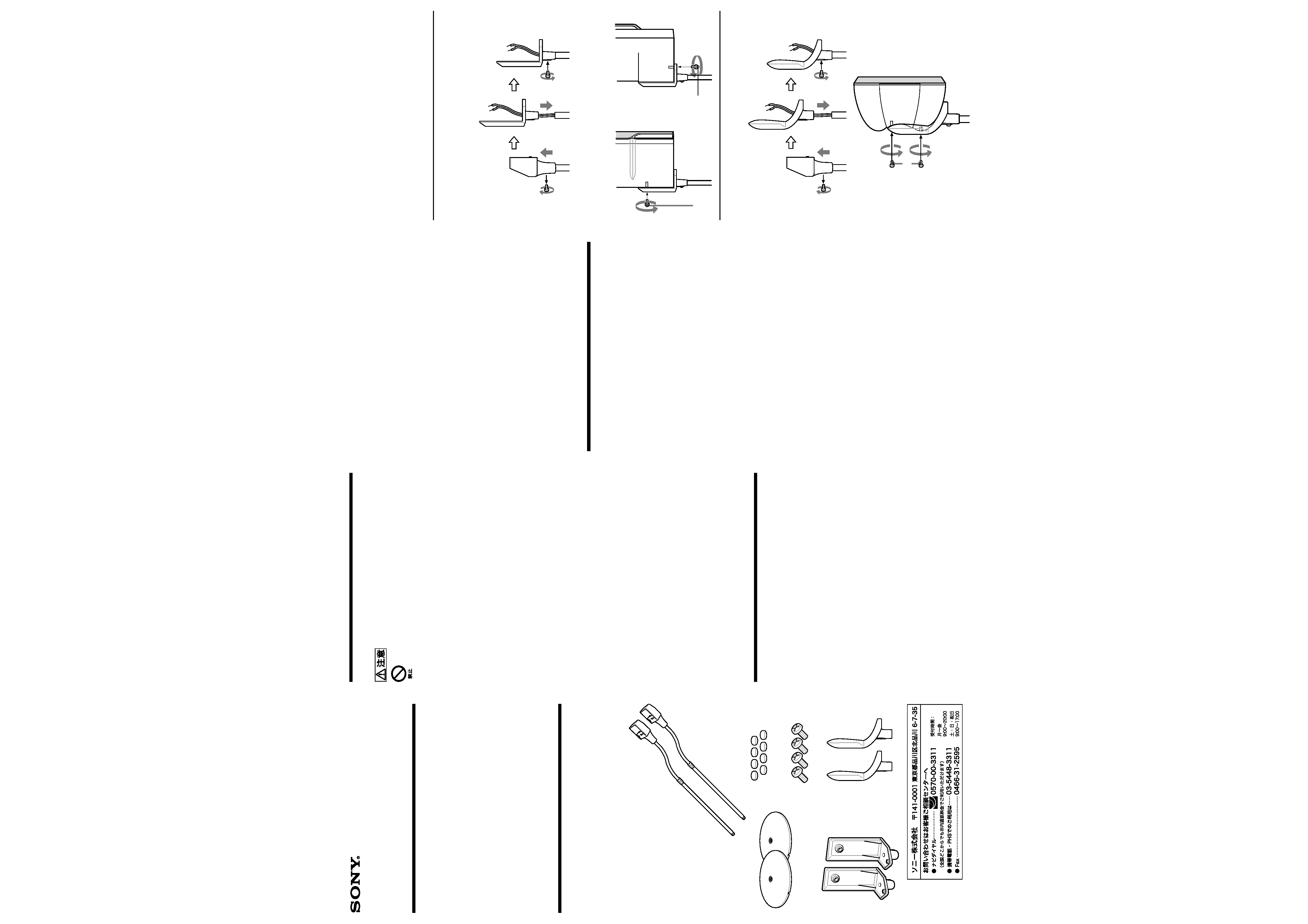 1999
Printed in Taiwan, R.O.C.
· Recommended for use with the Sony
· Be sure to place the speaker stand in a
· Utilisation recommandée avec le
système de petits haut-parleurs Sony.
· Installez bien le support d'enceinte à
un emplacement horizontal et plat.
· Recomendado para su uso con el
sistema de altavoces pequeños Sony.
· Instale el soporte de altavoz en un
lugar horizontal y plano.
· Recomendado para utilização com o
sistema de altifalantes de pequenas
· Certifique-se de colocar o suporte de
altifalante num local plano e nivelado.
· Empfohlen zur Verwendung mit einem
Kompaktlautsprechersystem von Sony.
· Diesen Ständer ausschließlich auf einer
flachen, waagerechten Fläche
Mass Approx. 3.1 kg (6 lb 13 oz)
Design and specifications are subject
to change without notice.
Poids Env. 3,1 kg (6 li. 13 on.)
La conception et les spécifications
sont modifiables sans préavis.
· Aanbevolen voor kleine Sony
· Zet de luidsprekerstandaard vooral op
een stevige, vlakke horizontale
· Da utilizzare con il sistema diffusori
Sony di dimensioni ridotte.
· Collocare il sostegno del diffusore in
un posto piatto, non inclinato.
· Rekommenderas för Sonys små
· Var noga med att ställa
högtalarstativen på en plan och
· Anbefalet til brug med det lille Sony-
· Sørg for at anbringe højttalerstanden
på et fladt, vandret sted.
· Suositellaan käytettäväksi vain Sonyn
pienten kaiuttimien kanssa.
· Aseta kaiutinteline tasaiselle ja
Diseño y especificaciones subjetos a
Design e especificações sujeitos a
alterações sem aviso prévio.
Änderungen, die dem technischen
Fortschritt dienen, bleiben
Wijzigingen in ontwerp en
technische gegevens voorbehouden,
Disegno e caratteristiche tecniche
soggetti a modifiche senza
Rätt till ändringar förbehålles.
Vi forbeholder os ret til at ændre
design og specifikationer uden
Pidätämme oikeuden muuttaa
ulkoasua ja teknisiä ominaisuuksia
ilman erillistä ilmoitusta.
Depending on the type of speakers,
the mounts originally attached to
the stands need to be replaced with
either E or F. The speaker models
that require the mount replacements
are described in the following
En fonction du type des haut-
parleurs, les composants de
montage livrés d'origine avec les
supports devront être remplacés
avec la partie E ou F. Les modèles
des haut-parleurs nécessitant un
remplacement des composants de
montage sont décrits dans les
Dependiendo del tipo de altavoces,
es preciso sustituir las monturas
originalmente fijadas a los soportes
con la pieza E o F. Los modelos
de altavoz que requieren la
sustitución de monturas se
describen en las siguientes
Dependendo do tipo de altifalantes,
os suportes montados de origem nos
pés têm de ser substituídos pelos
suportes E ou F. Os modelos de
altifalantes que precisam da
substituição dos suportes são
descritos nas ilustrações abaixo.
DAV-S300, DVPK-S300, HT-5000D/
1200D/1000D/DDW910/DDW820/DW710/
DW620/DW610/K215/K170, SA-VE505/
Bei einigen Lautsprechertypen
müssen die ursprünglich am Ständer
befestigten Teile durch E oder
ersetzt werden. Bei welchen
Lautsprechermodellen die Teile
ersetzt werden müssen, ist in den
folgenden Abbildungen dargestellt.
Bij sommige luidsprekers moeten de
originele steunen op de stands
worden vervangen door E of F. De
luidsprekers waarvoor de steunen
moeten worden vervangen, hier
A seconda del tipo di diffusori,
potrebbe essere necessario sostituire
originariamente applicati ai sostegni.
Nelle illustrazioni riportate di
seguito vengono specificati i modelli
di diffusori che richiedono la
sostituzione degli attacchi.
Beroende på vilken typ av högtalare
du har, kan du behöva byta ut
fästena på högtalarstativen mot
högtalarmodeller som du behöver
byta ut fästena för visas i följande
Afhængig af højttalertypen, skal de
holdere, som oprindeligt var
fastgjort til stativerne, erstattes med
højttalermodeller, som kræver andre
holdere, er beskrevet i følgende
Kaiuttimien tyypin mukaan
jalustoihin alun perin kiinnitetyt
asennuskiinnikkeet on vaihdettava
Asennuskiinnikkeiden vaihtoa
vaativat kaiutinmallit on esitetty
---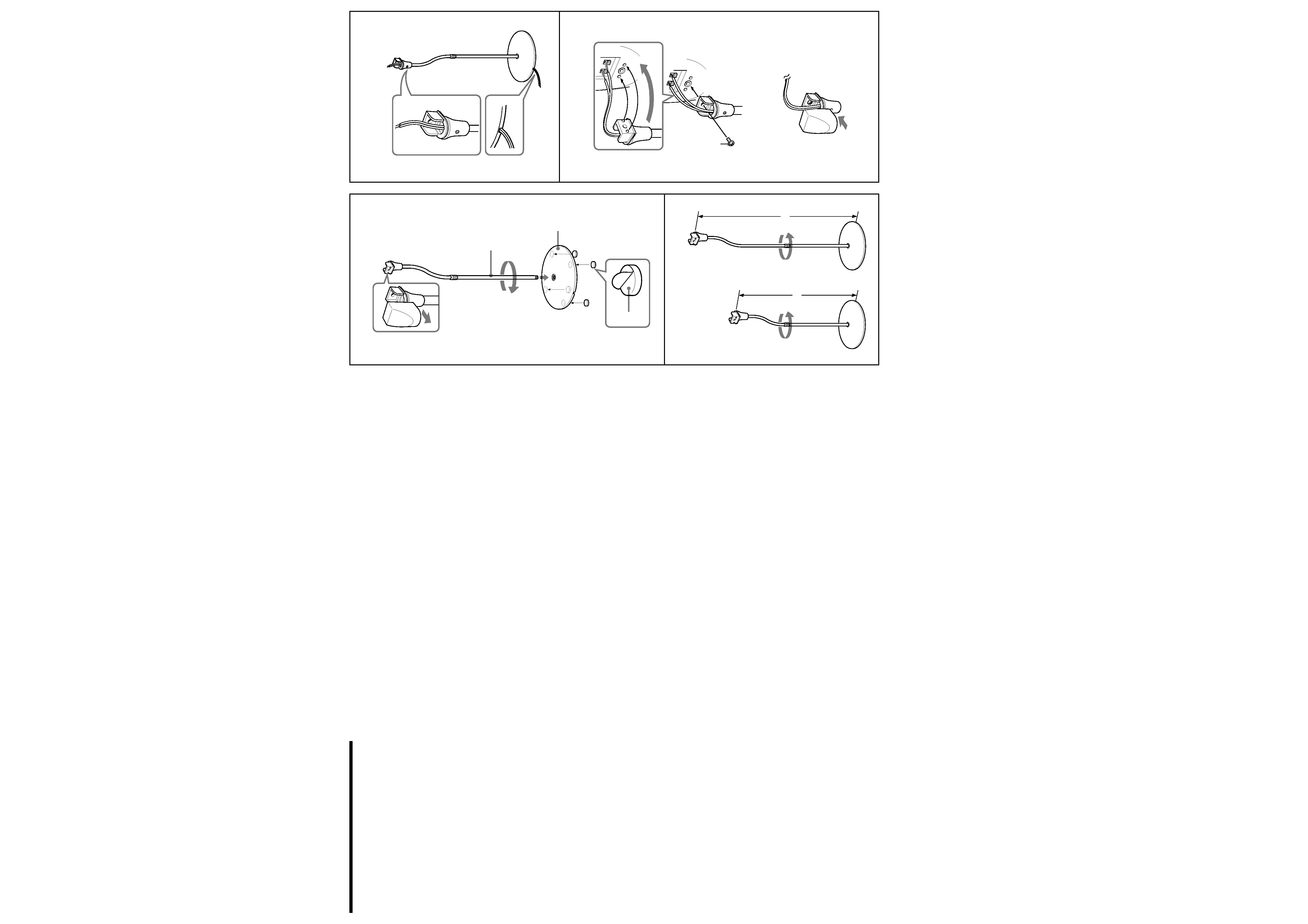 Attach the foot pads (C) to the bottom of the
base (B), then screw the pipe stand (A) into the hole
Adjust the pipe stand to a height of 720 mm (28
3
/
8
in.)
to 1,080 mm (42
5
/
8
in.).
Pass the speaker cord into the hole under the base and
out from the hole in the mount.
Secure the speaker to the mount with the screw (D).
Collez les tampons (C) sous la base (B) et vissez le
tube socle (A) dans le trou de la base.
Ajustez le tube socle à une hauteur de 720 mm
(28
3
/
8
po) à 1.080 mm (42
5
/
8
po).
Faites passer le cordon d'enceinte dans le trou sous la
base et ressortir par le trou de la monture.
Fixez l'enceinte à la monture avec la vis (D).
Instale los forros de pata (C) en la parte inferior de la
base (B) y atornille el tubo de soporte (A) en el
Ajuste el tubo de soporte a una altura de 720 mm a
Pase el cable de altavoz por el orificio por debajo de la
base y saque por el orificio en la montura.
Asegure el altavoz en la montura con el tornillo (D).
Coloque os apoios de base (C) na superfície inferior
da base (B). Em seguida, aparafuse o tubo de suporte
Ajuste o tubo de suporte a uma altura entre 720 mm e
Passe o cabo do altifalante por dentro do buraco sob a
base, fazendo-o sair pelo buraco do suporte.
Fixe o altifalante no suporte com o parafuso (D).
Die Fußpolster (C) an die Füße (B) anbringen und
den Rohrständer in die Bohrung im Fuß (A) schrauben.
Den Rohrständer auf eine Höhe zwischen 720 und
Das Lautsprecherkabel von unten durch den Fuß
führen, so daß es oben aus dem Rohrständer wieder
Den Lautsprecher mit der Schraube (D) an der
Bevestig de plakvoetjes (C) onderop de grondplaat
(B) en schroef de staander (A) in de opening in de
Verstel de staander op de gewenste hoogte, van
Leid het luidsprekersnoer door de opening onderin de
grondplaat, door de staander heen de luidsprekersteun
Zet de luidspreker op de steun vast met de schroef
Fissare i cuscinetti di base (C) sulla parte inferiore
della base (B) e avvitare il supporto tubolare (A) nel
foro che si trova nella base.
Regolare il supporto tubolare ad un'altezza da 720 mm
Far passare il cavo del diffusore nel foro sotto la base e
fuori dal foro nella base di supporto.
Fissare il diffusore alla base di supporto con la vite
Sätt fast fotdynorna (C) på bottenplattans undersida
(B) och skruva sedan i rörstativet (A) i hålet i
Ställ in rörstativets höjd på mellan 720 och 1.080 mm.
Dra högtalarkabeln genom hålet under bottenplattan
och ut genom hålet i monteringsfästet.
Skruva fast högtalaren i monteringsfästet med skruven
Sæt fødderne (C) på undersiden af basen (B) og skru
derefter standerrøret (A) ind i hullet i basen.
Indstil standerrøret til en højde af 720 mm til
Stik højttalerkablet ind i hullet under basen og ud
gennem hullet på undersiden.
Fastgør derefter højttaleren til undersiden med skruen
Kiinnitä jalkalevyt (C) alustan pohjaan (B) ja ruuvaa
putkituki (A) alustassa olevaan aukkoon.
Säädä putkituen korkeudeksi 720 mm - 1.080 mm.
Kuljeta kaiutinjohto alustan alla olevan reiän läpi ja
ulos asennustelineen reiästä.
Kiinnitä kaiutin asennustelineeseen ruuvilla (D).
---