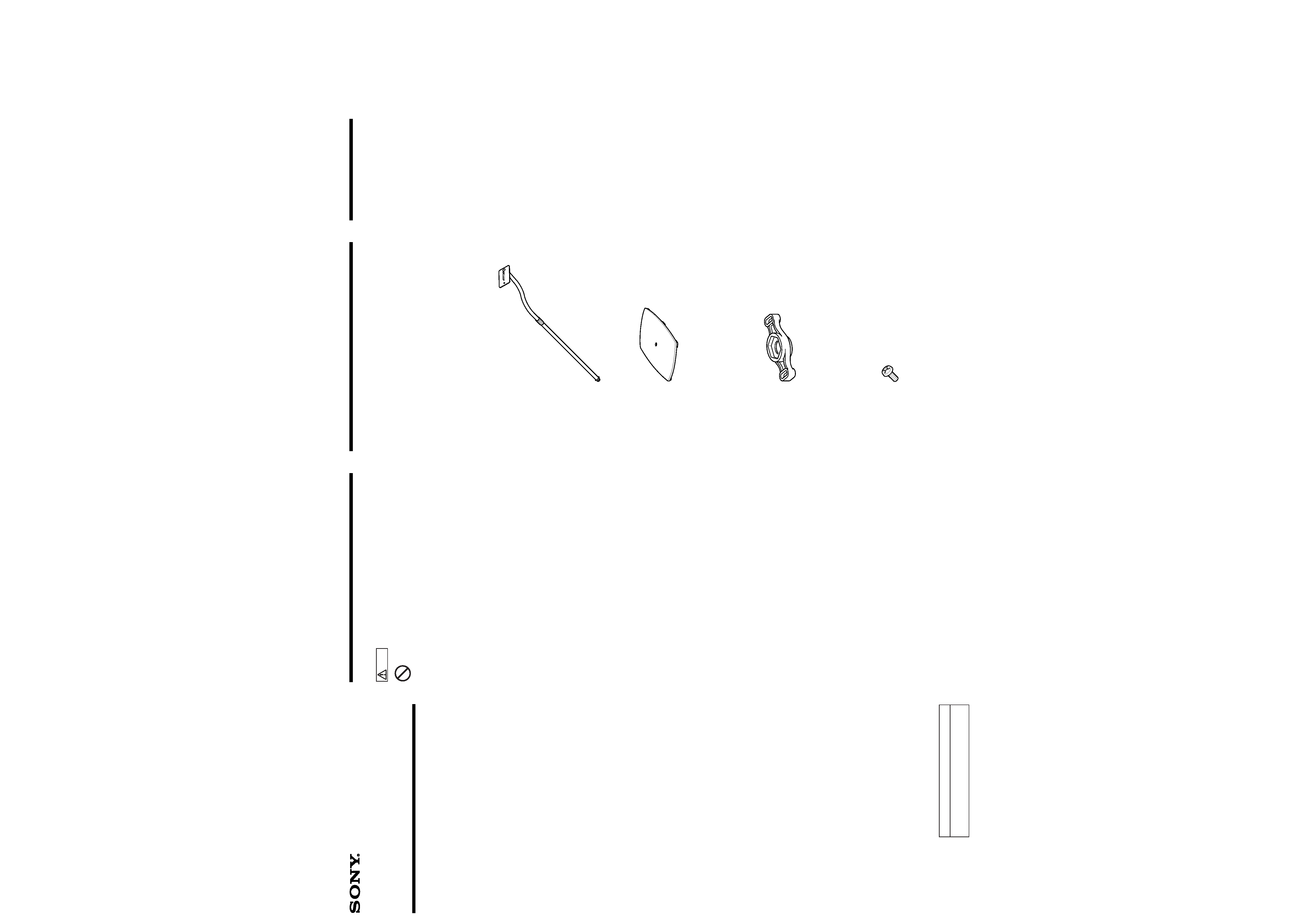 · For use with the SA-VE150/VE130 speaker system only.
· Be sure to place the speaker stand in a flat, horizontal place.
· A utiliser uniquement avec des enceintes SA-VE150.
· Installez bien le support d'enceinte à un emplacement horizontal et plat.
· Sólo para uso con el sistema de altavoces SA-VE150.
· Instale el soporte de altavoz en un lugar horizontal y plano.
· Utilize somente com o sistema de altifalantes SA-VE150.
· Certifique-se de colocar o suporte de altifalante num local plano e
· Dieser Stand darf ausschließlich für das Lautsprechersystem SA-VE150
· Diesen Stand ausschließlich auf einer flachen, waagerechten Fläche
· Alleen geschikt voor gebruik met SA-VE150 luidsprekers.
· Zet de luidsprekerstandaard vooral op een stevige, vlak horizontale
· Solo per l'uso con il sistema di diffusori SA-VE150.
· Collocare il sostegno del diffusore in un posto piatto, non inclinato.
· Dessa stative är endast avsedda att användas tillsammans med
högtalarsystemet SA-VE150.
· Var noga med att ställa högtalarstativen på en plan och horisontell yta.
· Kun til brug med SA-VE150 højttalersystemet.
· Sørg for at anbringe højttalerstanden på et fladt, vandret sted.
· Käytettäväksi ainoastaan kaiutinjärjestelmän SA-VE150 kanssa.
· Aseta kaiutinteline tasaiselle ja vaakasuoralle paikalle.
Mass Approx. 2.5 kg (5 lb 8 oz)
Design and specifications are subject
to change without notice.
Poids Env. 2,5 kg (5 li. 8 on.)
La conception et les spécifications
sont modifiables sans préavis.
Diseño y especificaciones subjetos a
Design e especificações sujeitos a
alterações sem aviso prévio.
Änderungen, die dem technischen
Fortschritt dienen, bleiben
Wijzigingen in ontwerp en
technische gegevens voorbehouden,
Disegno e caratteristiche tecniche
soggetti a modifiche senza
Rätt till ändringar förbehålles.
Vi forbeholder os ret til at ændre
design og specifikationer uden
Pidätämme oikeuden muuttaa
ulkoasua ja teknisiä ominaisuuksia
ilman erillistä ilmoitusta.
---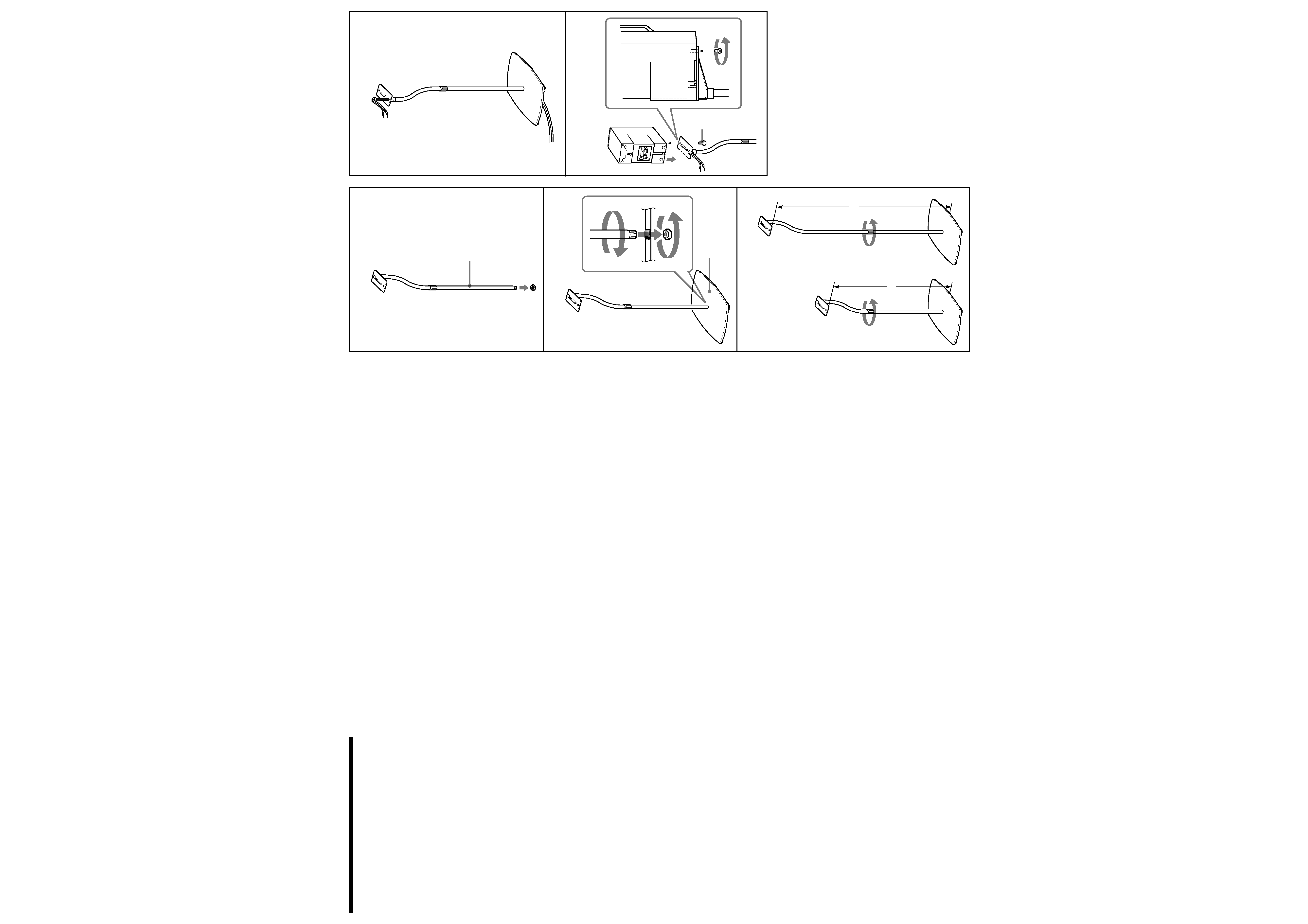 1 Remove the nut from end of the pipe stand (A).
2 Screw the pipe stand into the hole in the base (B) and
reattach the nut onto the end of the pipe stand and tighten it
3 Adjust the pipe stand to a height of 700 mm (27
5
/
8
in.) to
4 Pass the speaker cord through the pipe stand and out from
5 With the speaker cord inserted into the groove on the bottom
of the speaker, place the speaker onto the speaker mount,
aligning the bottom hole (towards the back) with the guide-pin
on the mount, then secure the speaker with the screw (C).
1 Retirez l'écrou de l'extrémité du tube socle (A).
2 Vissez le tube socle dans le trou de la base (B), puis replacez
l'écrou sur l'autre extrémité du tube socle et serrez-le avec la
3 Ajustez le tube socle à une hauteur de 700 mm (27
5
/
8
po) à
4 Faites passer le cordon d'enceinte dans le tube socle et sortez-
5 Le cordon d'enceinte inséré dans la cannelure sur le dessous de
l'enceinte, placez l'enceinte sur le support d'enceinte, en
alignant le trou du dessous (vers l'arrière) sur la cheville guide
du support, puis fixez l'enceinte avec la vis (C).
1 Quite la tuerca de la punta del tubo de soporte (A).
2 Atornille el tubo de soporte en el orificio en la base (B) y
vuelva a colocar la tuerca en la punta del tubo de soporte,
apretándola con la llave.
3 Ajuste el tubo de soporte a una altura de 700 mm a 1.050 mm.
4 Pase el cable de altavoz por el tubo de soporte y hágalo salir
5 Instale el cable de altavoz en la ranura en la parte inferior del
altavoz e instale el altavoz en la montura de altavoz, alineando
el orificio en el fondo (hacia atrás) con el pasador guía en la
montura, y asegure el altavoz con el tornillo (C).
1 Remova a porca da extremidade do tubo de suporte (A).
2 Aparafuse o tubo de suporte na base (B), volte a instalar a
porca na extremidade do tubo de suporte e aperte-a com a
3 Ajuste o tubo de suporte a uma altura entre 700 mm e
4 Passe o cabo do altifalante por dentro do tubo, fazendo-o sair
5 Com o cabo do altifalante inserido na ranhura existente no
fundo do altifalante, posicione o altifalante sobre o suporte e
alinhe o buraco do fundo (quase atrás) com o pino-guia da
armação. Fixe então o altifalante com o parafuso (C).
1 Die Mutter vom Ende des Rohrständers (A) abschrauben.
2 Den Rohrständer in die Bohrung im Fuß (B) schrauben, und die
Mutter von unten her wieder aufschrauben, dann mit dem
Sechskantschlüssel festziehen.
3 Den Rohrständer auf eine Höhe zwischen 700 und 1.050 mm
4 Das Lautsprecherkabel von oben durch den Rohrständer führen,
so daß es unter dem Fuß wieder austritt.
5 Das Lautsprecherkabel in den Aussparungen am Boden des
Lautsprechers führen, dann den Lautsprecher auf die
Montageplatte setzen, die Bohrung (hinten) mit dem
Führungsstift der Montageplatte ausrichten, dann den
Lautsprecher mit der Schraube (C) sichern.
1 Verwijder de moer van het uiteinde van de staander (A).
2 Schroef de staander in de opening in de grondplaat (B) en
breng dan de moer weer op het uiteinde van de staander aan
en draai deze vast met de moersleutel.
3 Verstel de staander op de gewenste hoogte, van 700 mm tot
4 Leid het luidsprekersnoer door de staander en vanonder de
5 Leid het luidsprekersnoeren door de groef aan de onderkant
van de luidspreker, plaats de luidspreker op de steun, met de
opening (achter aan de onderkant) over de geleidepen op de
steun en zet dan de luidspreker vast met de schroef (C).
1 Rimuovere il dado dall'estremità del supporto tubolare (A).
2 Avvitare il supporto tubolare nel foro che si trova nella base
(B) e riattaccare il dado all'estremità del supporto tubolare e
stringerlo con una chiave.
3 Regolare il supporto tubolare ad un'altezza da 700 mm a
4 Far passare il cavo del diffusore attraverso il supporto tubolare
e farlo uscire da sotto la base.
5 Con il cavo del diffusore inserito nella scanalatura alla base del
diffusore, collocare il diffusore sulla base di supporto del
diffusore, allineare il foro della base (verso la parte posteriore)
con il perno guida che si trova sulla base del supporto del
diffusore, quindi fissare il diffusore con la vite (C).
1 Skruva loss muttern i änden av rörstativet (A).
2 Skruva i rörstativet i hålet i bottenplattan (B) och skruva
sedan tillbaka muttern på rörstativets ände och dra åt den med
3 Ställ in rörstativets höjd på mellan 700 och 1.050 mm.
4 Dra högtalarkabeln genom rörstativet och ut under
5 Passa in högtalarkabeln i spåret på högtalarens undersida och
placera högtalaren på monteringsfästet så att bottenhålet
(baktill) hamnar rakt över styrstiftet på monteringsfästet, och
skruva sedan fast högtalaren med skruven (C).
1 Fjern bolten fra enden af standerrøret (A).
2 Skru standerrøret ind i hullet i foden (B) og sæt møtrikken på
enden af standerrøret igen. Stram møtrikken med nøglen.
3 Indstil standerrøret til en højde af 700 mm til 1.050 mm.
4 Stik højttalerkablet gennem standerrøret og ud under foden.
5 Anbring højttalerkablet i rillen på undersiden af højttaleren, og
stil højttaleren på højttalerbeslaget med hullet i undersiden
(mod bagsiden) ud for styretappen beslaget. Fastgør derefter
højttaleren med skruen (C).
1 Irrota mutteri putkituen (A) päästä.
2 Ruuvaa putkituki alustassa (B) olevaan aukkoon, kiinnitä
mutteri takaisin putkituen päähän ja kiristä se ruuviavaimella.
3 Säädä putkituen korkeudeksi 700 mm - 1.050 mm.
4 Kuljeta kaiutinjohto putkituen läpi ja ulos alustan alta.
5 Aseta kaiutinjohto kaiuttimen pohjassa olevaan vakoon, aseta
kaiutin kaiutintelineelle asettamalla pohjassa oleva aukko
(taaksepäin) telineen ohjaintapille ja kiinnitä kaiutin ruuvilla
---