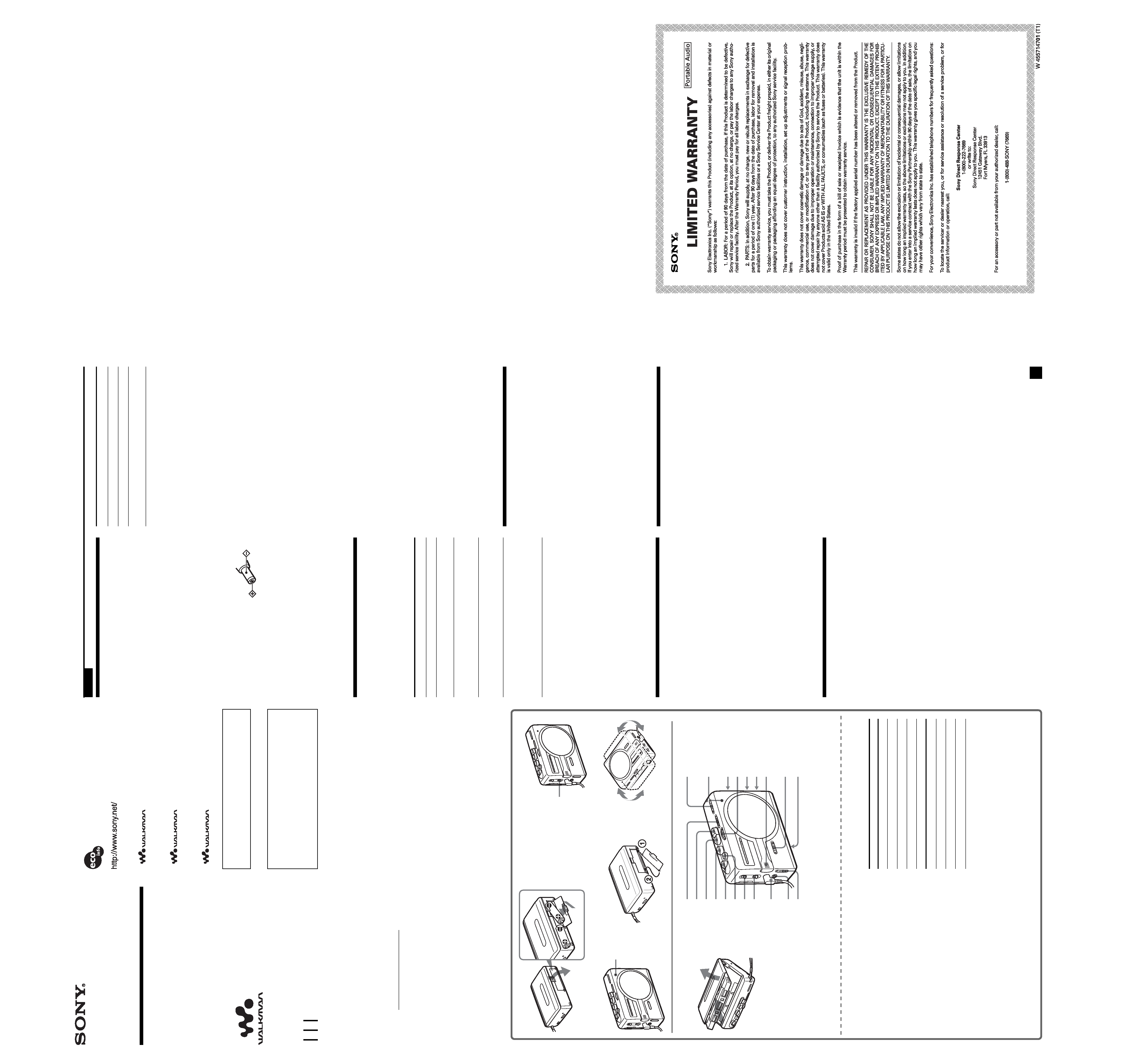 Sony Corporation ©2002 Printed in Malaysia
Manual de instrucciones
(inverso)
Printed using VOC (Volatile Organic Compound)-free
FM: 65.0 - 107.9 MHz (Eastern Europe)
87.5 - 108 MHz (Italy and Saudi Arabia)
87.6 - 108 MHz (North, Central and South America)
87.6 - 107.9 MHz (Other countries)
AM: 526.5 - 1 606.5 kHz (Italy and Saudi Arabia)
530 - 1 710 kHz (North, Central and South America)
531 - 1 602 kHz (Other countries)
Recording: 100 - 8 000 Hz
Headphones (i) jack, Load impedance 8 - 300
Approx. 5 cm (2 in.) dia.
External DC 3 V power sources
(w/h/d), excl. projecting parts and controls
Approx. 187 g (6.6 oz) (main unit only)
Stereo headphones or Stereo earphones (1)
Design and specifications are subject to change without
Battery life* (approximate hours)
(using headphones/earphones)
* Measured value by the standard of JEITA (Japan Electronics
and Information Technology Industries Association).
(Using a Sony HF series cassette tape)
**When using LR6 (SG) Sony "STAMINA" alkaline dry
batteries (produced in Japan).
The battery life may be shorter depending on the operating
condition, the surrounding temperature and battery type.
Slide open the battery compartment lid, and insert
two size AA (R6) dry batteries with correct polarity.
Replace the batteries with new ones when the BATT
For maximum performance we recommend that you use
To attach the battery compartment lid if it
Attach it as illustrated. A-C
Connect the AC power adaptor
AC-E30HG (not supplied) to
the DC IN 3 V jack and to the
wall outlet. Do not use any
Specifications for AC-E30HG vary for each area.
Check your local voltage and the shape of the plug
· Connect the AC power adaptor to an easily accessible
AC outlet. Should you notice an abnormality in the AC
power adaptor, disconnect it from the AC outlet
· Do not touch the AC power adaptor with wet hands.
2 Set (RADIO OFF) TAPE/AM/FM to
Press and hold M FF/CUE and
release it at the point you want
REVIEW and release it at the
PAUSE in the direction of the
To release pause, slide PAUSE
to the opposite direction of the
* When the tape ends, the depressed button NPLAY is
released automatically (Auto shut-off function).
** If you leave the unit after the tape has been wound or
rewound, the batteries will be consumed rapidly. Be
Do not open the cassette holder while the tape is running.
Set SPEAKER/i to SPEAKER. The sound will play
from the speaker and no sound from the
headphones/earphones. When the speaker is in use,
the AVLS function will not work.
Since the headphones/earphones cord serves as an
FM antenna, connect the headphones/earphones
even when using the speaker.
1 Set (RADIO OFF) TAPE/AM/FM to AM or
2 Turn TUNING to tune in to the station you
Set (RADIO OFF) TAPE/AM/FM to (RADIO OFF)
To improve broadcast reception
B
·For FM: Extend the headphones/earphones cord
(antenna). If the reception is still not good, adjust
·For AM: Reorient the unit itself.
· If the record-protect tab is broken, you cannot record
· Use new batteries when recording.
· If a howling occurs, turn down the volume.
· When recording with the microphone, the sound to be
recorded cannot be heard through the speaker.
1 Insert a TYPE I (normal) tape.
2 To record with the built-in microphone:
Place the unit on a hard surface (such as
a desk) with the cassette holder side
down, so that the microphone can record
Set (RADIO OFF) TAPE/AM/FM to
To record from the radio:
Set (RADIO OFF) TAPE/AM/FM to AM
Tune in to the station you want to record
(see "Listening to the Radio").
PLAY is pressed simultaneously and
recording starts. The recording level is
Start recording during z REC during playback
To reduce noise while recording AM
Set the ISS (Interference Suppress Switch) to the
position that reduces noise the most.
· The recording level is fixed.
· Actual recording will start about 2 seconds after you
press z REC. Press z REC about 2 seconds before the
moment you want to start recording, or you will miss
the beginning of your recording.
· Do not use a high-position (TYPE II) or metal (TYPE
IV) tape. If you do, the sound may be distorted when
you play back the tape, or the previous recording may
not be erased completely.
· Do not connect or disconnect the headphones/
earphones to/from the i jack while recording from
the radio. The recording condition may change
abruptly, or noise may be recorded.
· When recording with the microphone, do not place it
near a lamp cord or a fluorescent lamp as this may
cause interference noise.
· No other operation can be done while recording. For
other operations, stop recording first.
To prevent a tape from being accidentally
Break off the tabs from side A and/or B. To reuse the
tape for recording, cover the tab hole with adhesive
Recording from various sound sources
To record with an external microphone
Connect an external microphone to the MIC (PLUG
Use a microphone such as the ECM-DS70P (not
When using a plug-in-power system microphone,
the power to the microphone is supplied from this
To record from another equipment
Connect another equipment to the MIC (PLUG IN
POWER) jack using such as the RK-G134 connecting
(Only when using headphones/earphones)
Protecting your hearing--AVLS
(Automatic Volume Limiter System)
Set AVLS to LIMIT. The maximum volume is kept
down to protect your ears even if you turn the
To cancel the AVLS function, set AVLS to NORM.
Listening with powerful sound
Set SOUND BOOST to ON to obtain the Sound Boost
effect which emphasizes both treble and bass.
When you set AVLS to LIMIT, the SOUND BOOST
· Do not carry dry batteries with coins or other metallic objects.
It can generate heat if the positive and negative terminals of the
batteries are accidentally contacted by a metallic object.
· When you are not going to use your Walkman for a long time,
remove the batteries to prevent damage from battery leakage
· Do not put any heavy object on top of the unit. The unit may be
· Do not leave the unit in a location near heat sources, or in a
place subject to direct sunlight, excessive dust or sand,
moisture, rain, mechanical shock, or in a car with its windows
·We do not recommend the use of tape longer than 90 minutes.
They are very thin and tend to be stretched easily. This may
cause malfunction of the unit or sound deterioration.
· If the unit has not been used for a long time, set it in the
playback mode to warm it up for a few minutes before you
· Keep personal credit cards using magnetic coding or spring-
wound watches, etc., away from the unit to prevent possible
damage from the magnet used in the speaker.
Do not use headphones/earphones while driving, cycling, or
operating any motorized vehicle. It may create a traffic hazard
and is illegal in some areas. It can also be potentially dangerous
to play your headphones/earphones at high volume while
walking, especially at pedestrian crossings.
You should exercise extreme caution or discontinue use in
potentially hazardous situations.
Preventing hearing damage
Do not use headphones/earphones at high volume. Hearing
experts advise against continuous, loud and extended play. If
you experience a ringing in your ears, reduce the volume or
Keep the volume at a moderate level. This will allow you to hear
outside sounds and to be considerate to the people around you.
· Clean the tape head and tape path using a cotton swab and
commercially available cleaning solvent after every 10 hours of
·To clean the exterior, use a soft cloth slightly moistened in
water. Do not use alcohol, benzine or thinner.
· Clean the headphones/earphones plugs periodically.
* There is a tactile dot beside VOL on the main unit to show the direction to turn up the volume.
**The button/jack has a tactile dot.
For customers in the United States
The model number is located at the front and the serial
number is located inside the cassette holder. Record
these numbers in the space provided below. Refer to
them whenever you call upon your Sony dealer
Please register this product on line at www.sony.com/
<http://www.sony.com/productregistration>
Proper registration will enable us to send you periodic
mailings about new products, services, and other
important announcements. Registering your product
will also allow us to contact you in the unlikely event
that the product needs adjustment or modification.
This device complies with Part 15 of the FCC Rules.
Operation is subject to the following two conditions:
(1) This device may not cause harmful interference, and
(2) this device must accept any interference received,
including interference that may cause undesired
You are cautioned that any changes or modifications not
expressly approved in this manual could void your
authority to operate this equipment.
POR FAVOR LEA DETALLADAMENTE ESTE
MANUAL DE INSTRUCCIONES ANTES DE
CONECTAR Y OPERAR ESTE EQUIPO.
RECUERDE QUE UN MAL USO DE SU
APARATO PODRIA ANULAR LA GARANTIA.
This warranty is valid only in the United States.
Cette carte n'est valide qu'aux Etats-Unis.
Esta garantía es válida solamente en los EE. UU.
A pleine puissance, l'écoute prolongée du
baladeur peut endommager l'oreille de
"WALKMAN" is a registered trademark of Sony Corporation to
represent Headphone Stereo products.
is a trademark of Sony Corporation.
"WALKMAN" est une marque déposée par Sony Corporation pour
représenter les produits stéréo dotés d'écouteurs.
est une marque de Sony Corporation.
"WALKMAN" es una marca registrada de Sony Corporation que
representa los productos audífonos estéreo.
es una marca de fábrica de Sony
---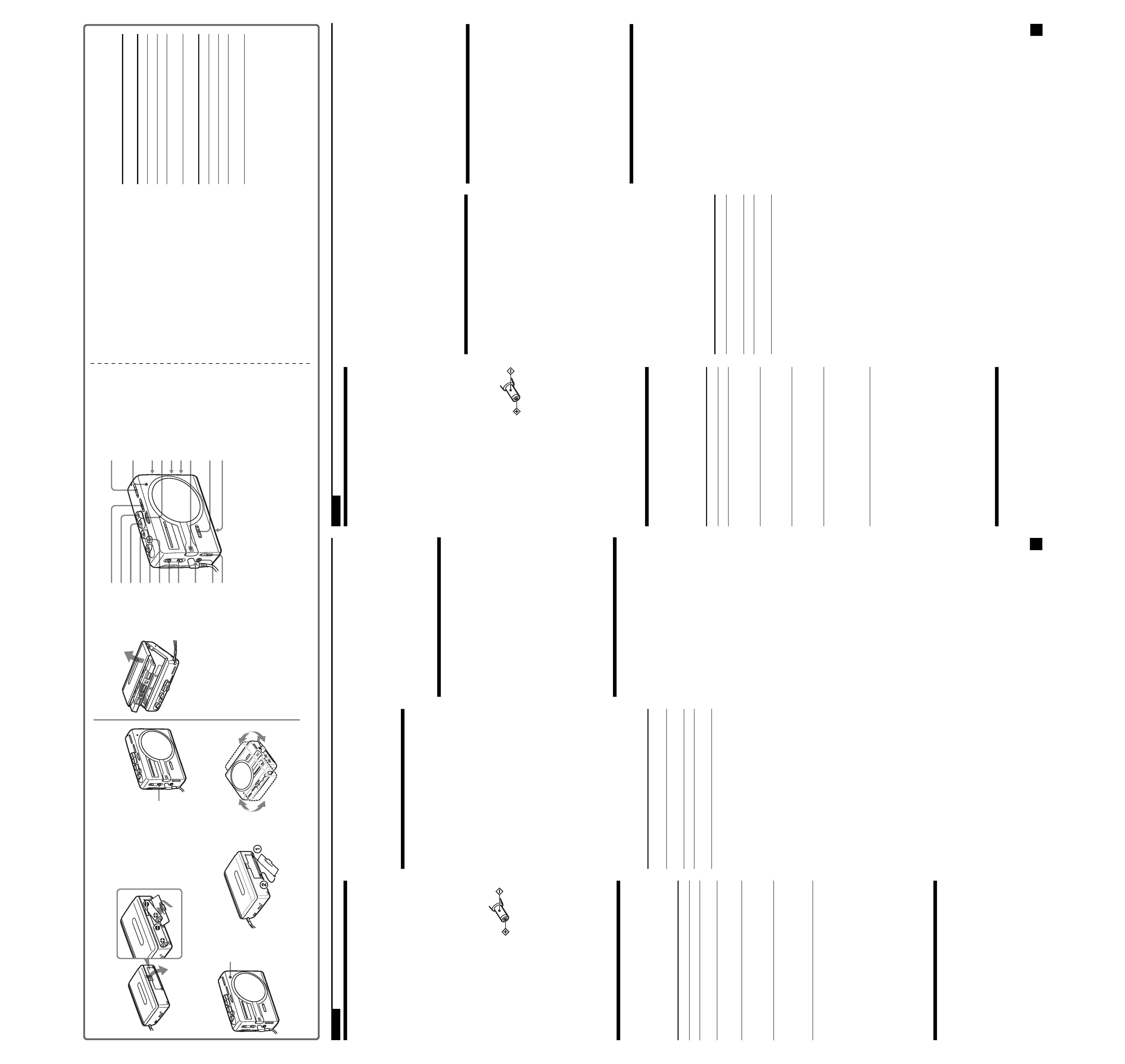 Un point tactile à côté de VOL sur l'appareil principal indique le sens de rotation du bouton de volume.
** Le bouton/la prise comporte un point en relief.
En la unidad principal existe un punto táctil junto a VOL que muestra la dirección para subir el volumen.
** El botón/la toma tiene un punto táctil.
Deslice y abra la tapa del compartimento para pilas e
inserte dos pilas secas de tamaño AA (R6) con la
Sustituya las pilas por unas nuevas cuando se
debilite el indicador BATT. A-B
Para obtener el máximo rendimiento, se recomienda
utilizar pilas alcalinas Sony.
Para fijar la tapa del compartimento de la
pila cuando se haya desprendido
Hágalo como se ilustra a continuación. A-C
Para utilizar alimentación externa
corriente alterna AC-E30HG
(no suministrado) a la toma DC
IN 3V y a la toma de pared. No
utilice ningún otro adaptador
Las especificaciones para AC-E30HG varían
dependiendo de la ubicación. Compruebe el voltaje
local y la forma del enchufe antes de adquirir el
· Conecte el adaptador de alimentación de ca a una
toma de corriente de ca de fácil acceso. Si detecta
alguna anomalía en el adaptador de alimentación de
ca, desconéctelo inmediatamente de la toma de
· No toque el adaptador de alimentación de ca con las
2 Ajuste (RADIO OFF) TAPE/AM/FM en
Hacer que la cinta avance
* Cuando finaliza la cinta, el botón NPLAY salta
automáticamente (función de apagado automático).
** Si deja la unidad activada una vez bobinada o
rebobinada la cinta, las pilas se consumirán
rápidamente. Asegúrese de pulsar xSTOP.
No abra el compartimento del casete mientras está
Deslice el interruptor SPEAKER/i a SPEAKER. El
sonido se reproducirá desde el altavoz y no se oirá
Cuando se están utilizando el altavoz, la función
AVLS no se encuentra operativa.
Dado que el cable sirve como antena de FM, conecte
los auriculares con casco/auriculares incluso cuando
esté utilizando el altavoz.
1 Ajuste (RADIO OFF) TAPE/AM/FM en
2 Gire TUNING para sintonizar la emisora
Ajuste (RADIO OFF) TAPE/AM/FM en (RADIO
Para mejorar la recepción de la emisión
B
·Para FM: Extienda el cable de los auriculares con
casco/auriculares (antena). Si la recepción sigue
siendo deficiente, ajuste FM ST/MONO o DX/
· Para AM: Cambie la orientación de la propia unidad.
· Si la lengüeta de protección contra grabación está rota,
no se puede grabar en esa cara.
· Utilice pilas nuevas cuando grabe.
· Si se produce un efecto de aullido, reduzca el volumen.
· Cuando se grabe con un micrófono, el sonido que va a
grabarse no se oirá a través de el altavoz.
1 Inserte una cinta normal (TYPE I).
2 Para grabar con el micrófono
Coloque la unidad sobre una superficie
dura (como, por ejemplo, un escritorio)
con el compartimento del casete
mirando hacia abajo, de forma que el
micrófono pueda grabar con eficiencia.
Ajuste (RADIO OFF) TAPE/AM/FM
Ajuste (RADIO OFF) TAPE/AM/FM
Sintonice la emisora que desea grabar
(consulte "Recepción de la radio").
Se pulsa N PLAY de forma simultánea y
comienza la grabación. El nivel de
grabación se ajusta automáticamente.
Para reducir el ruido cuando se graban
Ajuste ISS (Interruptor de supresión de
interferencias) en la posición en la que el ruido se
· Los niveles de grabación son fijos.
· La grabación real comenzará transcurridos unos 2
segundos después de pulsar z REC. Pulse z REC
unos 2 segundos antes del momento en el que desea
iniciar la grabación o se perderá el principio de la
· No utilice ninguna cinta de posición alta (TYPE II) ni
de metal (TYPE IV). Si lo hace, es posible que el sonido
se distorsione cuando vuelva a reproducir la cinta o
que la grabación anterior no se elimine por completo.
· No conecte ni desconecte los auriculares con casco/
auriculares de la toma i mientras esté grabando de la
radio. La condición de grabación podría cambiar
repentinamente o podrían grabarse ruidos.
· Cuando grabe con micrófono, no lo coloque cerca del
cable de una lámpara ni cerca de una lámpara
fluorescente ya que podrían producirse ruidos de
· No puede realizarse ninguna otra operación mientras
se está grabando. Para realizar otras operaciones,
detenga primero la grabación.
Para evitar grabar encima de una cinta de
Retire las lengüetas de la cara A y/o B. Para volver a
utilizar la cinta para grabar, cubra el orificio de la
lengüeta con cinta adhesiva.
Grabación de distintas fuentes de sonido
Grabación con un micrófono externo
Conecte un micrófono a la toma MIC (PLUG IN
Emplee un micrófono-, como el ECM-DS70P (no
Si utiliza un micrófono con sistema de alimentación por
enchufe, esta unidad suministrará la alimentación al
Grabación desde otro equipo
Conecte otro equipo a la toma MIC (PLUG IN
POWER) mediante el cable de conexión RK-G134
(Sólo cuando se utilizan los auriculares)
Para proteger sus oídos -- AVLS (Sistema
de limitación automática del volumen)
Ajuste AVLS en LIMIT. Aunque lo aumente, el
volumen máximo se mantendrá en un nivel inferior
con el fin de proteger sus oídos.
Para cancelar la función AVLS, ajuste AVLS en
Ajuste SOUND BOOST en ON para obtener el efecto
potenciador de sonido que aumenta tanto los agudos
Cuando ajuste AVLS en LIMIT, el efecto SOUND
· No transporte pilas secas junto con monedas u otros objetos
metálicos. Puede generarse calentamiento si los terminales
positivo y negativo de las pilas entran accidentalmente en
contacto mediante un objeto metálico.
· Cuando no vaya a utilizar el Walkman durante mucho tiempo,
extraiga las pilas para evitar los daños provocados por fugas y
la consecuente corrosión.
· No deje caer la unidad ni la golpee, puesto que podría provocar
· No deje la unidad cerca de fuentes térmicas, ni en un lugar
sometido a la luz solar directa, a polvo excesivo, a arena, a la
humedad, a la lluvia, a golpes, ni en el interior de un automóvil
con las ventanillas cerradas.
· No se recomienda la utilización de cintas de más de 90 minutos
de duración. Dichas cintas son muy finas y suelen dilatarse con
facilidad, lo que puede provocar errores de funcionamiento de
la unidad o un deterioro del sonido.
· Si no ha utilizado la unidad durante mucho tiempo, póngala en
el modo de reproducción para que se caliente durante algunos
minutos antes de empezar a usarla de nuevo.
· Mantenga las tarjetas de crédito personales que utilizan código
magnético y los relojes por pulsaciones, etc. alejados de la
unidad para evitar posibles daños provocados por el imán
Auriculares con casco/auriculares
Seguridad en la carretera
No utilice los auriculares con casco/auriculares cuando
conduzca, vaya en bicicleta, o maneje cualquier vehículo
motorizado. Esto podría suponer un peligro para el tráfico, y es
ilegal en ciertas zonas. También puede resultar potencialmente
peligroso escuchar a través de los auriculares con casco/
auriculares a gran volumen mientras camina, especialmente en
pasos cebra. En situaciones potencialmente peligrosas, deberá
tener mucho cuidado o dejar de utilizar los auriculares.
Evite utilizar los auriculares con casco/auriculares a gran
volumen. Los especialistas del sistema auditivo desaconsejan la
escucha prolongada a gran nivel. Si experimenta un silbido en
sus oídos, reduzca el volumen o deje de escuchar a través de los
Mantenga el volumen a un nivel moderado. Esto le permitirá
escuchar los sonidos del exterior y respetar a quienes se
encuentren a su alrededor.
· Limpie el cabezal y la trayectoria de la cinta mediante un paño
de algodón y una solución detergente normal transcurridas 10
· Para limpiar la parte exterior, utilice un paño suave
ligeramente humedecido con agua. No utilice alcohol, bencina
· Limpie periódicamente las clavijas del mando a distancia
y los auriculares con casco/auriculares.
Faites glisser le couvercle du logement desa piles
pour l'ouvrir et insérez deux piles sèches du format
AA (R6) en respectant la polarité.
Remplacez les piles par des piles neuves lorsque le
voyant BATT baisse en intensité. A-B
Il est conseillé d'utiliser piles alcalines Sony pour une
Pour fixer le couvercle du logement de la
pile s'il s'est détaché accidentellement
Fixez-le de la façon suivante. A-C
Branchez l'adaptateur secteur à la
prise DC IN 3V et à une prise de
l'adaptateur secteur AC-E30HG
(non fourni). N'utilisez pas
d'autre adaptateur secteur CA.
Les spécifications pour l'AC-E30HG varient suivant les
zones géographiques. Vérifiez avant l'achat votre
tension secteur locale et le modèle de la fiche.
· Branchez l'adaptateur secteur sur une prise de courant
facile d'accès. Si l'adaptateur secteur présente une
anomalie, débranchez-le immédiatement de la prise de
· Ne touchez pas l'adaptateur secteur avec des mains
2 Réglez (RADIO OFF) TAPE/AM/FM sur
Appuyez sur/faites coulisser
et libérez-le à l'endroit
d'enregistrement, relâchez
*A la fin de la cassette, le bouton NPLAY enfoncé est
relâché automatiquement (Fonction Auto shut-off).
** Si vous n'utilisez pas l'appareil après un bobinage ou
un rebobinage, la pile s'use rapidement. Appuyez
N'ouvrez pas le logement de la cassette pendant la
Pour utiliser le haut-parleur
Réglez SPEAKER/i sur SPEAKER. Le son est émis
du haut-parleur et non des écouteurs/du casque.
Lorsque le haut-parleur est en marche, la fonction
Etant donné que le cordon des écouteurs/du casque
sert d'antenne FM, connectez les écouteurs/le casque
même lors de l'utilisation du haut-parleur.
1 Réglez (RADIO OFF) TAPE/AM/FM sur
2 Activez TUNING pour régler la station
Réglez (RADIO OFF) TAPE/AM/FM sur (RADIO
Pour améliorer la réception radio
B
·Pour FM: Déployez le câble (antenne) du casque/
des écouteurs. Si la qualité de la réception n'est
toujours pas satisfaisante, réglez FM ST/MONO ou
·Pour AM: Réorientez l'appareil proprement dit.
· Si la languette de protection en écriture est cassée,
vous ne pouvez pas enregistrer cette face.
· Utilisez de nouvelles piles pour l'enregistrement.
· En cas de bruit strident, baissez le volume.
· Lors de l'enregistrement avec le microphone, le son à
enregistrer n'est pas audible à travers le haut-parleur.
1 Introduisez une cassette normale (TYPE I).
2 Pour enregistrer avec le microphone
Posez l'appareil sur une surface dure
(comme un bureau) en orientant le porte-
cassette vers le haut de sorte à optimiser
l'enregistrement à l'aide du micro plat.
Réglez (RADIO OFF) TAPE/AM/FM sur
Pour enregistrer de la radio:
Réglez (RADIO OFF) TAPE/AM/FM sur
Accordez la station que vous voulez
enregistrer (voir "Ecoute de la radio").
PLAY s'enfonce simultanément et
l'enregistrement démarre. Le niveau
d'enregistrement est réglé
Interrompre temporairement
Démarrer l'enregistrement
Pour réduire le bruit pendant
l'enregistrement d'émissions AM
Réglez le commutateur ISS (Interference Suppress
Switch) sur la position qui réduit au mieux le bruit.
Remarques sur l'enregistrement
· Le niveau d'enregistrement est fixe.
· L'enregistrement proprement dit commencera environ
2 secondes après que z REC a été activé. Pour ne pas
manquer le début de l'enregistrement, appuyez sur
REC 2 secondes environ avant le moment où
l'enregistrement doit commencer.
· N'utilisez pas de cassette de position haute (TYPE II)
ni métal (TYPE IV). Sinon le son risque de présenter de
la distorsion à la lecture ou l'enregistrement précédent
risque de ne pas être entièrement effacé.
· Ne branchez et ne débranchez pas les écouteurs/le
casque de la prise i pendant l'enregistrement de la
radio. Les conditions d'enregistrement peuvent
changer rapidement ou du bruit risque d'être
· Pour éviter les interférences, ne posez pas l'appareil
près d'un cordon de lampe ou d'une lampe
fluorescente lors de l'enregistrement avec le
· Aucune autre fonction ne peut être utilisée pendant
l'enregistrement. Arrêtez d'abord l'enregistrement
pour utiliser une autre fonction.
Pour éviter un enregistrement accidentel
Brisez les taquets de la face A et/ou B. Pour réutiliser
la cassette pour l'enregistrement, recouvrez l'orifice
Enregistrement à partir de
différentes sources sonores
Enregistrement avec un microphone externe
Branchez un microphone sur la prise MIC (PLUG IN
Utilisez un microphone, par exemple un ECM-
Si vous utilisez un microphone auto-alimenté,
l'alimentation du microphone est assurée par cet
Enregistrement à partir d'un autre
Branchez un autre appareil sur la prise MIC (PLUG
IN POWER) à l'aide d'un cordon de raccordement
Utilisation d'autres fonctions
(Uniquement lors de l'utilisation du casque/
Protection de l'ouïe--Fonction AVLS
(limitation automatique du volume)
Réglez AVLS sur LIMIT. Le volume maximum est
maintenu à un niveau relativement faible afin de
Pour annuler la fonction AVLS, réglez AVLS sur
Réglez SOUND BOOST sur ON pour une
optimisation du son qui met en valeur les aigus et les
Lorsque vous réglez la fonction AVLS sur LIMIT, l'effet
· Ne transportez pas des piles sèches avec des pièces de monnaie
ou autres objets métalliques. Les piles peuvent produire de la
chaleur si leurs bornes positive et négative entrent
accidentellement en contact à cause d'un objet métallique.
· Si vous ne comptez pas utiliser le Walkman pendant un certain
temps, enlevez las piles pour éviter tout dommage dû à une
fuite d'électrolyte et à la corrosion qui en résulte.
· Ne laissez pas tomber l'appareil et ne le cognez pas car il
risquerait de ne plus fonctionner.
· Ne laissez pas l'appareil près d'une source de chaleur, dans un
endroit exposé au soleil, à une poussière intense, au sable, à
l'humidité, à la pluie, à des chocs mécaniques, ni dans une
voiture aux fenêtres closes.
·L'utilisation de cassettes supérieures à 90 minutes n'est pas
recommandée. Elles sont très fines et tendent à s'étirer
facilement. Ceci risque de provoquer un dysfonctionnement de
l`appareil ou une déformation du son.
· Si l'appareil n'a pas été utilisé pendant longtemps, mettez-le en
mode de lecture pendant quelques minutes pour le chauffer
avant de l'utiliser de nouveau.
· Eloignez de l'appareil les cartes de crédit disposant d'une
bande magnétique ou les montres à ressort, car l'aimant du
haut-parleur de l'appareil pourrait les endommager.
Ne vous servez pas des écouteurs ou d'un casque pendant la
conduite d'une voiture, d'une moto ou de tout autre véhicule
motorisé, afin d'éviter tout accident de la circulation. En outre, il
est interdit dans certains pays d'utiliser un casque ou des
Il peut être également dangereux d'écouter à volume élevé tout
en marchant, spécialement lorsque vous traversez une route.
Soyez toujours extrêmement prudent ou cessez d'utiliser cet
appareil dans les situations présentant des risques d'accident.
Prévention des dommages auditifs
Evitez d'utiliser les écouteurs ou le casque à volume élevé. Les
médecins déconseillent une écoute prolongée à volume trop
élevé. Si vous percevez un sifflement dans les oreilles, mieux
vaut réduire le volume ou cesser d'écouter.
Ne gênez pas les personnes qui vous
Maintenez un volume modéré d'écoute. Vous pourrez ainsi
entendre les sons extérieurs et être attentifs aux gens qui vous
·Toutes les 10 heures d'utilisation, nettoyez la tête et le passage
de bande de la cassette avec un coton-tige et un solvant de
nettoyage disponible dans le commerce.
· Pour nettoyer le coffret, utilisez un chiffon doux légèrement
humecté d'eau. Ne pas utiliser d'alcool, de benzine ni de
· Nettoyez régulièrement les fiches du casque/des écouteurs et
celle de la télécommande.
FM: 65,0 à 107,9 MHz (Europe de l'est)
87,5 à 108 MHz (Italie et Arabie saoudite)
87,6 à 108 MHz (Amérique du nord, centrale et du
87, 6 à 107, 9 MHz (Autres pays)
AM: 526,5 à 1 606,5 kHz (Italie et Arabie saoudite)
530 à 1 710 kHz (Amérique du nord, centrale et du
531 à 1 602 kHz (Autres pays)
Réponse en fréquence Lecture: 40 - 15 000 Hz
Enregistrement: 100 - 8 000 Hz
Prise d'entrée de microphone (MIC)
Impédance de charge de 8 - 300
Piles du format AA (R6) x 2
Sources d'alimentation 3 V CC externes
(l/h/p), parties saillantes et commandes non comprises
Env. 187 g (6,6 onces) (appareil principal
Ecouteurs ou casque stéréo (1)
Pour les utilisateurs en France
En cas de remplacement du casque/écouteurs, référez-vous
au modèle de casques/écouteurs adaptés à votre appareil
La conception et les spécifications peuvent être modifiées
Autonomie de la pile* (Approx. en heures)
(utilisation du casque/des écouteurs)
(utilisation du haut-parleur)
*Valeur mesurée conformément aux normes JEITA (Japan
Electronics and Information Technology Industries
Association). (Avec une cassette Sony modèle HF)
** En cas d'utilisation du piles sèches alcalines LR6 (SG)
Sony "STAMINA" (produite au Japon).
L'autonomie de la pile peut être légèrement plus courte en
fonction des conditions d'utilisation, de la température
extérieure et du type de pile utilisé.
---